Email is perhaps the most valuable marketing tool for an eCommerce business. But, while everyone knows it's important, hardly anyone is doing it right. (Trust us: We've done the audits.)
Robust email marketing is about more than just growing your subscriber list and sending out as many communications as possible. It takes great copy, sophisticated segmentation, and the right messaging to turn your subscribers into loyal customers.
Our client Vitrazza knew this — which was why they came to us earlier this year to take their email marketing to the next level.
With a few foundational changes (and one killer holiday weekend campaign), we helped them:
Increase email revenue by 55%
Improve click-through rate by 20%
Boost open rate to more than 30% on campaigns and more than 50% on the welcome flow
In this blog, we'll tell you exactly how we did it — and how you can use our strategies to boost your email marketing, too.
First Up: The Welcome Flow
With email marketing, you have your automated flows and your campaigns. A lot of eCommerce businesses focus on their sales campaigns (those "% off" emails that get people to click), but I'd argue the welcome flow is one of the most important factors for your email marketing success.
I like to compare email marketing to dating. Trying to get your customer to buy a product with your very first welcome email is like proposing on the first date. Sure, some people do it, but the conversion rate is pretty low. To get your customer to invest in a relationship with your business, there needs to be a courtship. Enter your welcome flow.
Prior to our partnership, Vitrazza used the out-of-the-box welcome flow from Klaviyo. For businesses just starting out their email marketing, this is a great solution. But, for the best results over time, you need to go a little deeper.
It's all about taking a look at the data, identifying where your brand can improve, and what you can change to get your brand there. For Vitrazza, we discovered it was all about the messaging.
Welcome Email #1: The Introduction
Because Vitrazza offers high-end, luxury products, their customer purchase journey is longer than average. At the same time, their company is continually growing and adding new products, providing a wealth of news and topics to share with potential customers.
We knew their welcome flow needed to be tailored to that — to give their audience a chance to get to know Vitrazza, get to like Vitrazza, and, ultimately, want to buy from Vitrazza.
So, the first email in their welcome flow had to do two things:
Deliver on the promised discount that got customers to subscribe in the first place
Introduce the unique selling propositions of Vitrazza and its products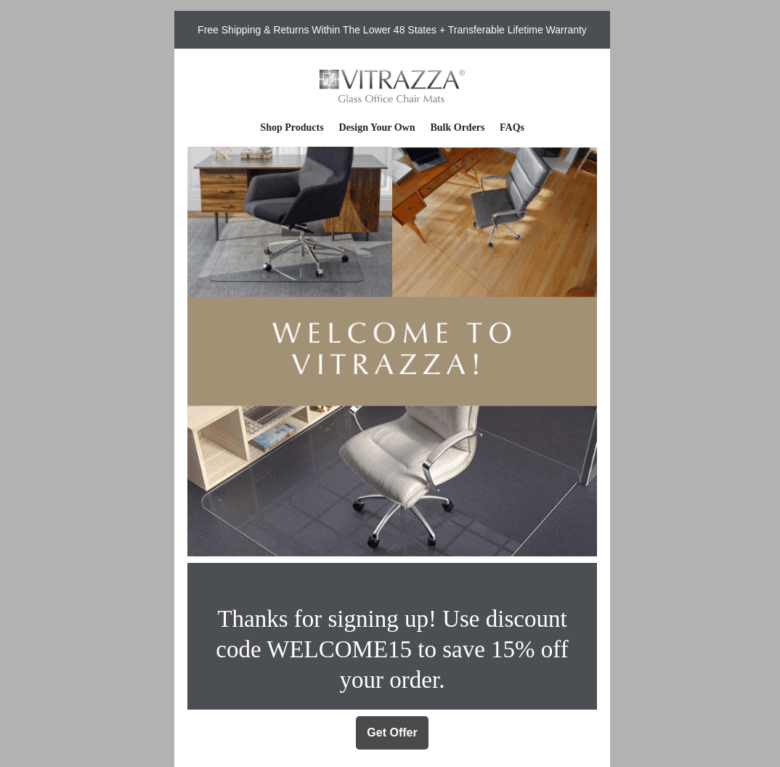 As you can see, when a customer opens their first email from Vitrazza, it immediately provides a 15% code for the site. But, since most customers will not buy a Vitrazza glass chair mat right away, the email also introduces reasons why they should, including reviews from users, brand positioning, and the personal touch of their president and CEO, George Pardo.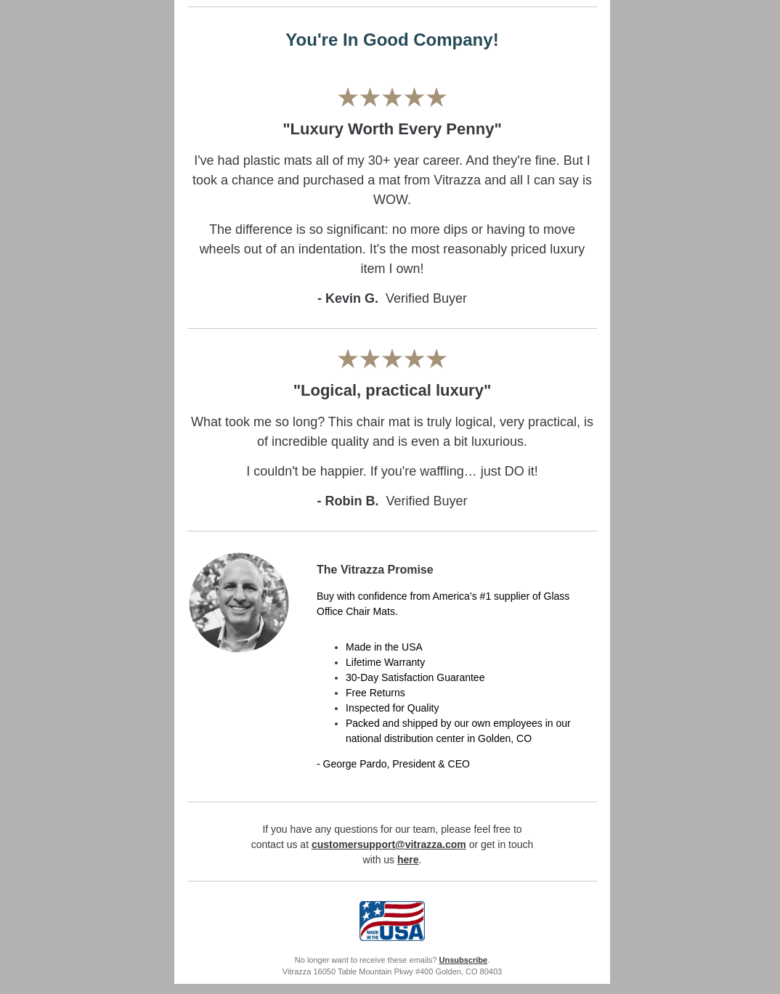 It may seem simple on its face, but it's the perfect first introduction to Vitrazza as a brand.
Open rate: 51%
Click rate: 9%
Order rate: 10%

While it may not seem like a lot on its face, a 10% order rate is fantastic, considering the average order value for a Vitrazza customer is more than $360.
Welcome Email #2: The Selling Proposition
The price point of a Vitrazza glass chair mat can be a difficult pill to swallow for some customers. So, we use the second welcome email to explain why the price is worth it, including product details and the free shipping policy. Of course, we include the 15% code, in case the customer had forgotten about it.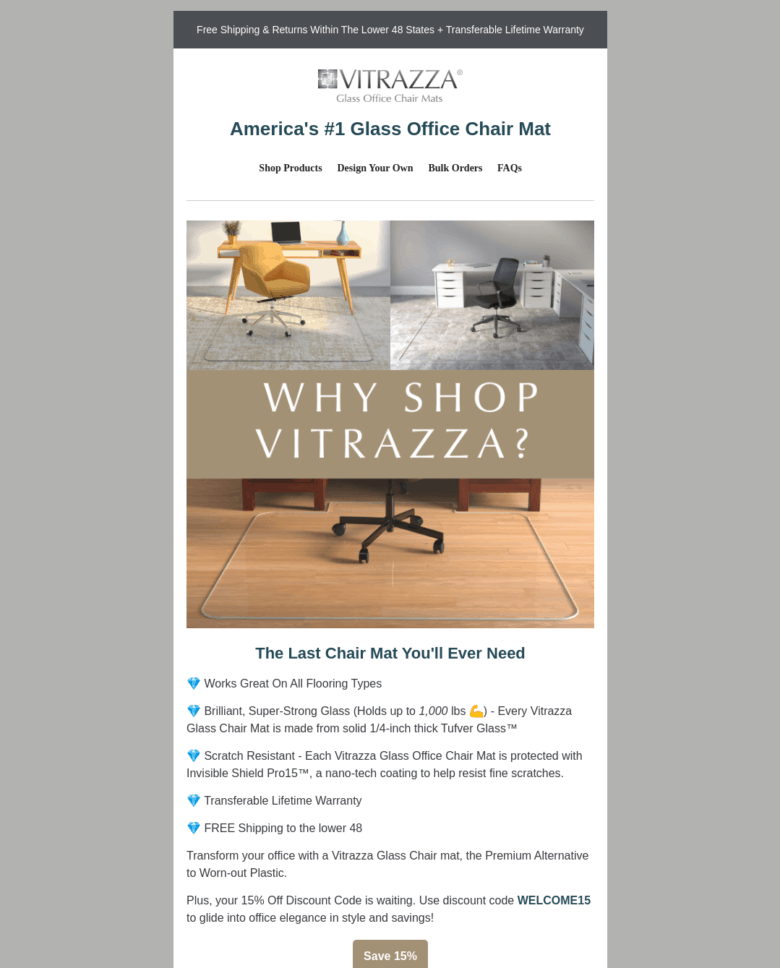 As we did in the previous email, we offer customer reviews and George's personal note. We also introduce the best sellers, for those customers who are already curious enough to look at product offerings.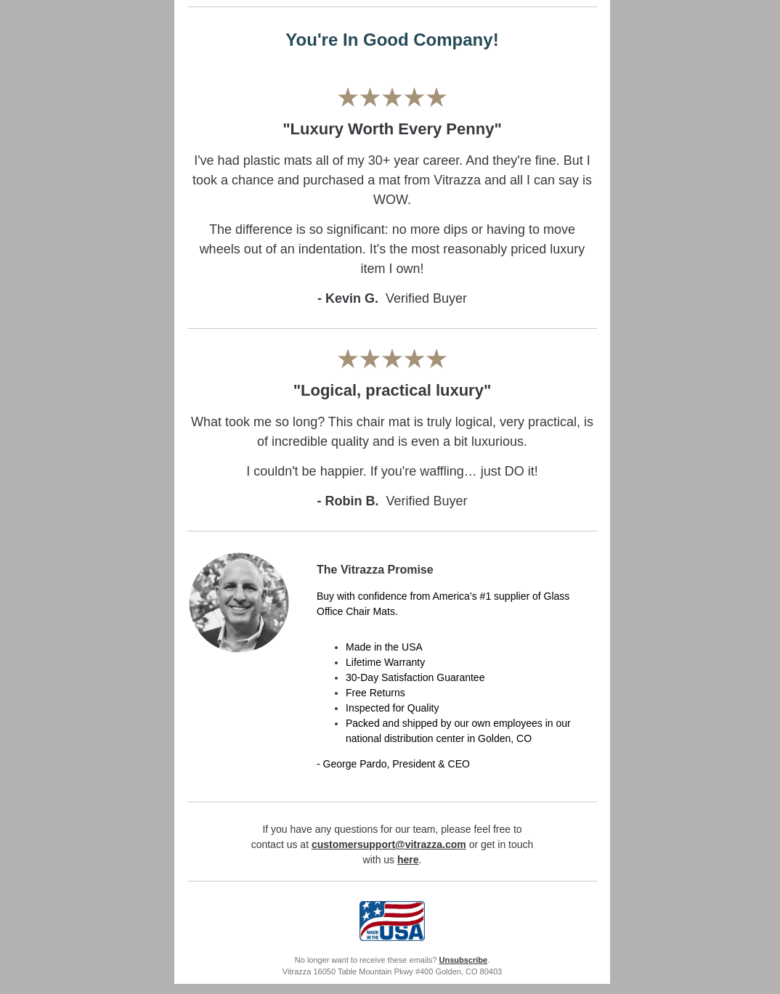 Open rate: 34%
Click rate: 4%
Order rate: 1.4%
Welcome Email #3: The Social Proof
We've been running Vitrazza's paid social campaigns for a while, and one thing is clear: Social proof ad creative is gold for their high-priced, luxury item. Customers want to see people like them and know the product will meet their expectations, so we often incorporate user-generated content into our social ad creative.
Knowing the benefits of UGC, we added more of it to our third email of the welcome flow. The email leads with one of our highest-performing videos on paid social: an authentic video testimonial by customer Mark. We're not even linking to this video on Vitrazza's site; the link takes the viewers to Vitrazza's Youtube channel, instead.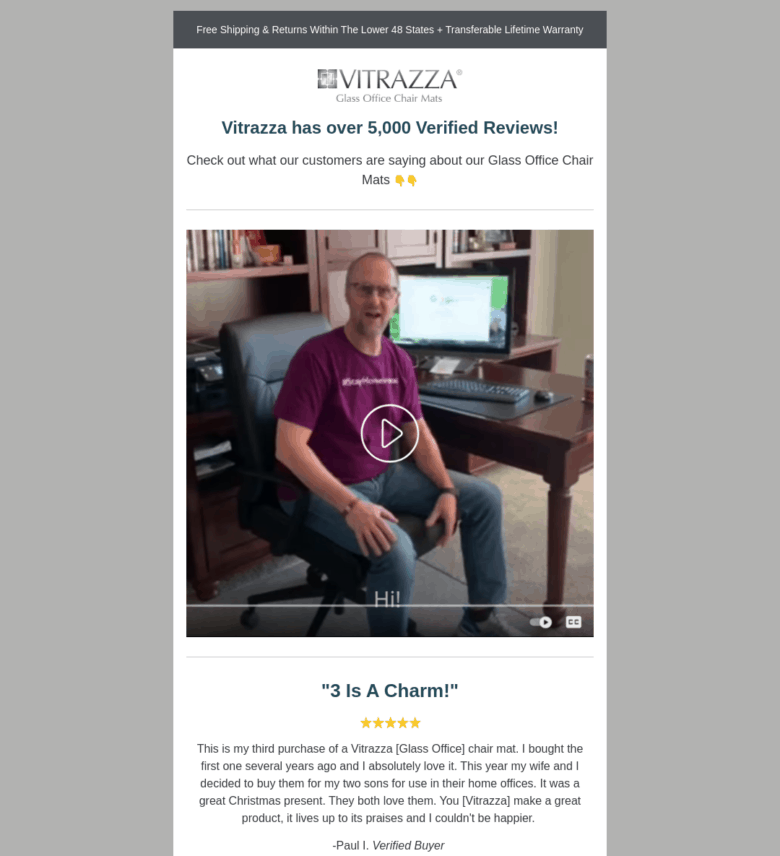 The goal here is not to get them to purchase. Instead, it's to say, "Don't take our word for it. Trust these everyday customers instead."
As we have in the other emails, we follow this hero feature with several other reviews as more social proof.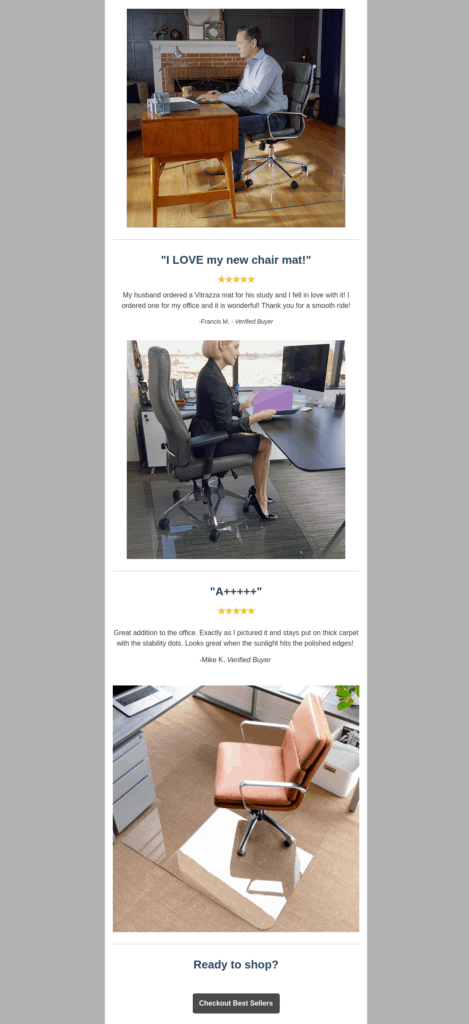 Open rate: 28%
Click rate: 6%
Order rate: 0.6%
Discover more about how we used UGC in ad creative to help Vitrazza reach $1 million in sales per month.
Welcome Email #4: The Personal Touch
Compared to other forms of advertising, email is a very personal medium. You're not placing native ads into customer's social feeds of updates from family and friends; you're hitting their inbox directly, because they gave you express permission to do so. Your email marketing should respect that trust from your customers, and you should make them feel appreciated in return.
Vitrazza ends out its welcome flow with this personal touch, in the form of a special message from Pardo. Using existing creative and ad copy, we crafted a closing message that feels more human-to-human than brand-to-human.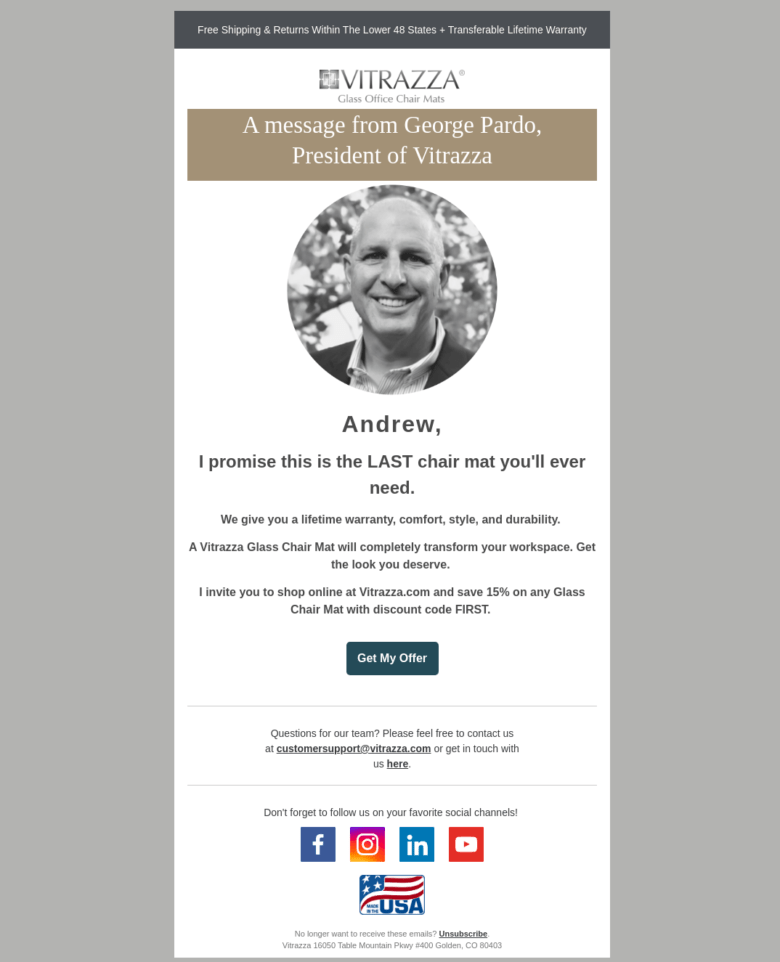 It's short, sweet, and to the point. There's no overt selling tactics here, save for the brief mention of the discount code and the website. Instead, it's a personal appeal to the customer — and, for most, the start of a long-term email relationship.
Open rate: 30.5%
Click rate: 3.5%
Order rate: 1.2%
The Overall Results
To put it mildly, Vitrazza's new welcome flow has revolutionized their revenue, generating outstanding open rates, click rates, and orders, ultimately driving more than half a million dollars ($564,200) in revenue in less than four months.
An On-Brand Holiday Campaign
Vitrazza's three-email Memorial Day campaign was actually their first test for us — and we surpassed all of our expectations by bringing in more than $90,000 in revenue.
Vitrazza takes pride in (and focuses much of their branding on) the fact that they're an American-owned and -made company. Combine that with the patriotism of the Memorial Day holiday, and you've got an opportunity to make a revenue killing.
So, in addition to the standard sale discount (20% off), we centered the campaign messaging around that patriotic theme. We amplified the messaging with images of their products being made in their American warehouse, with an American flag in the background to boot.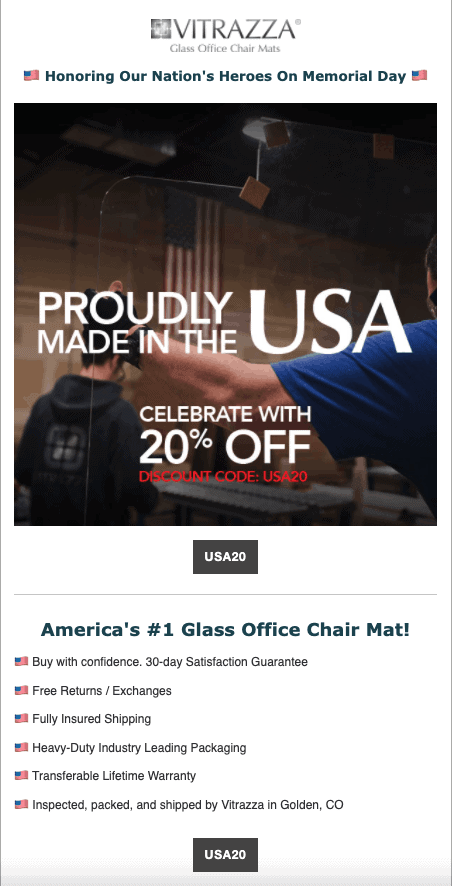 We incorporated American-flag emojis and our American-made selling proposition into the copy, with a USA-branded discount code to really bring it home. Of course, we followed it up with the copy that works in the welcome flow: social proof (especially reviews mentioning "made in the USA") and a heartfelt pitch from George.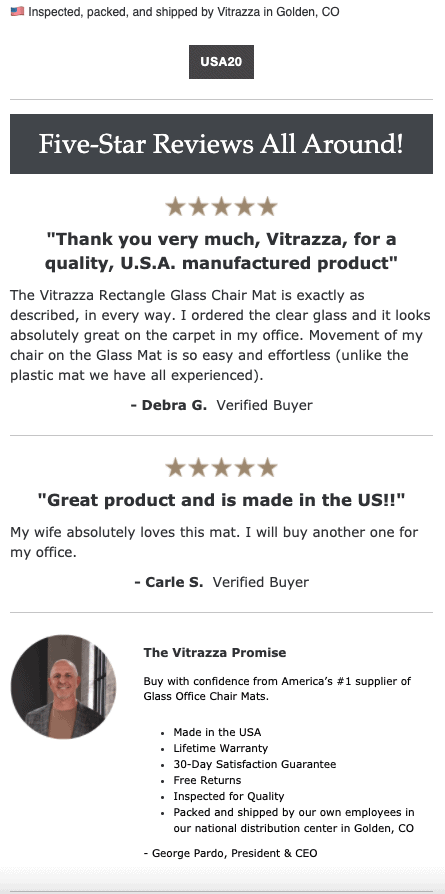 Copy and creative weren't the only factors at play in this campaign. Segmentation played an equally important role in driving purchases.
Vitrazza already had a robust subscriber list — but quantity is not always the same as quality. Not all of these subscribers were worthwhile prospects; some had already purchased the product, whereas others hadn't engaged with their emails in months.
For the best probability of success, we sent our Memorial Day campaigns to a highly engaged audience (those who had opened and clicked within the past 60 days). With a three-email campaign and an increasingly urgent message each time, we were able to create one of Vitrazza's most successful email campaigns ever.
Total purchases: $92,274
Open rate: 34%
Click rate: 1.2%
Order rate: 0.25%

While it doesn't sound like much, it's an "excellent" benchmark by Klaviyo's standards.
A little (albeit pandemic) comparison: Vitrazza's two-email Memorial Day campaign in 2020 only generated $26,000 in revenue.
Each of our three Memorial Day emails in 2021 single-handedly beat the combined campaign revenue in 2020.
Looking to the Future: The Email Opportunities are Endless
Like all digital marketing, email is continually evolving. But, by knowing what works with your brand on other platforms, you can easily drive success with your email flows and campaigns, just like we did with Vitrazza.
We're looking forward to our continued partnership with Vitrazza and our plans to:
Run A/B tests on welcome flow send times
Refine other automated flows, especially post-purchase
Cross-sell with new product listings
Experiment with SMS and text message marketing
With all these strategies and more, generating $90,000 from one campaign is just the start. We won't rest until we push the boundaries and find the right creative for Vitrazza's unique audience — and build a connection with them that goes beyond the once-a-month sale.Want to see what results your email campaigns can generate? Discover what our team can do for your eCommerce business by requesting a free proposal from our experts anytime.