eCommerce conversion rates often seem like impossible figures to move, especially during the holiday shopping season. After all, when you're driving thousands more users to your site looking for that perfect holiday gift, your conversion rate is bound to decrease.
But you don't just have to sit back and accept whatever this holiday season has in store for you.
By testing and making changes today, you can get your online store in its best shape for the flurry of holiday shoppers that will soon be on their way. This is the busiest time of the year, after all.
Today, we'll recommend 10 holiday eCommerce strategies to consider for the 2023 season, based on our experience working with dozens of online retailers over the past decade.
Give them a try today to discover what works best for your site, or contact our team today to learn more about our limited-time Holiday Conversion Rate Tune-Up offer.
10 Conversion Rate Strategies to Test for the 2023 Holiday Season
After several years of decreasing online conversion rates during the holiday shopping season, Black Friday and Cyber Monday conversion rates clocked in at normal levels in 2023, with the latter demonstrating the highest average conversion rate of the season (6.9% on desktop devices).
These averages are a marked improvement from years past, including the global average of 4.5% in 2019.
While 2023's holiday conversion rate averages will be a mystery until the season concludes and the new year begins, you can still attempt to maximize your site's conversion rates with these optimization strategies:
1. Implement a site code freeze.
Black Friday and Cyber Monday are likely the peak season for your online business, so you want to risk as few website issues as possible. Most companies will go into a site code freeze sometime after Halloween (and definitely before Thanksgiving) to prevent any last-minute errors that could decimate holiday sales.
If you're going to test anything before the holiday season, we recommend doing so over the next few months. Then, confirm your site is working correctly — and "freeze" it until the holiday shopping sprees are complete.
A few words of caution: Make sure all your code is actually complete before the freeze deadline and that you're on the same page with your developer about timelines for wish list items. A website code freeze won't do you any good if you're freezing poorly written or incomplete code.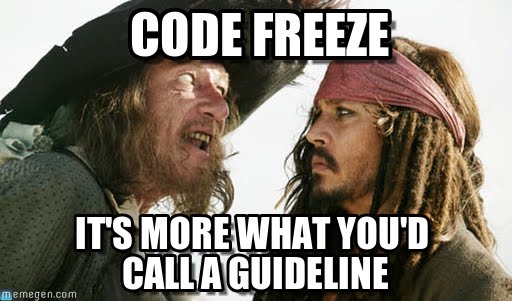 2. If you don't implement a site freeze, don't rely on holiday test data.
Some of our clients decide against a code freeze during the holiday season, preferring to continue to run site tests during the holidays. That's their prerogative, and it's yours, as well, should you choose to do the same.
Because of the increased traffic during this season, some eCommerce businesses think it's the best time to run tests. After all, more shoppers, more statistically significant results, right?
Not quite.
The shoppers who come to your site on Black Friday and Cyber Monday (a.k.a. BFCM) are not your average customers. They have different goals and, thus, will behave differently. Their data is not what you should be basing your year-round marketing strategy on.
Our recommendation: If you keep running tests during the holiday season, do not use those metrics or data points to plan strategies for non-holiday periods.

Remember, this will be the first holiday shopping season with Google Analytics 4. If you haven't yet sorted your data tracking and reporting strategy, that should be a top priority for your dev and marketing teams.
If you need help getting your data in order, reach out to our GA4-certified experts for help.
3. Start running your tests now.
Now that we've got that out of the way, it's time to dive into potential site optimizations. If you want to run tests on or optimize your website for the holiday season, now's the time to do it.
Conversion tests typically take a long time to brainstorm, plan, and design — not to mention implement across your site. Even if you have the most responsive developer in the world, they will likely have a long list of to-dos for other clients. Of course, there's also the time it takes to run a test for statistically significant results.
All in all, it can take at least three weeks (and more likely a month or more) to get the results you're looking for.
If you're sold on testing optimizations before the holidays, we recommend talking to your developer as soon as possible to create a prioritized to-do list. (Alternatively, you can download our free Black Friday & Cyber Monday Digital Marketing Checklist for a full list of our team's recommendations.)
The video below is hosted on YouTube. If you need assistance with viewing the video, please contact [email protected].
4. Get your site up to speed before anything else.
Your first priority? Improving your site speed.
If your site is struggling to perform with its usual number of shoppers, it's only going to get worse when the holidays open the floodgates. Unfortunately, slow site speed can have a significant impact on both desktop and mobile conversion rates because of the negative user experience it creates.
Not sure where your website stands? Check out Google's Page Speed Insights, and then loop in your technical SEO team to determine the priority of certain optimizations, like:
Moving content to a CDN or caching pages
Optimizing your site code and removing unnecessary characters
Reducing redirects
Optimizing images
And more
5. Add easy seasonal elements.
Customers love the holidays, so plan for some easy holiday-themed messaging and images across your site, especially on important landing pages.
By adding global seasonal elements like a Santa Claus in the top navigation, you keep holiday shopping at the top of your customers' minds (and give them a little holly jolly joy).
While you can't test out these elements ahead of time (no one wants to see Santa Claus during Halloween), we've found these additions rarely do any sort of harm to our clients' conversion rates.

6. Minimize abandoned carts.
On Black Friday 2021, almost 78% of shoppers abandoned their online shopping carts before the checkout process was complete.
That's a huge amount of lost revenue — but there are some strategies for bringing down that number for your eCommerce site.
Consider using some of these approaches:
Exit pop-ups offering discounts, promos, or other special offers
Abandoned cart email campaigns (loop in your email experts for this one)
Clarity on shipping costs from the start (more on that below)
7. Focus messaging and navigation on gift-giving.
Another way to avoid cart abandonment? Giving your customers a "wish list" or "save for later" option.
Not only does this allow them to easily retain products, but it also gives them a convenient way of sending their list to family and friends asking about gift ideas.
While we haven't seen this addition move the needle much on conversion rate, it's usually an easy thing to add to your site and a huge bonus for certain subsets of customers.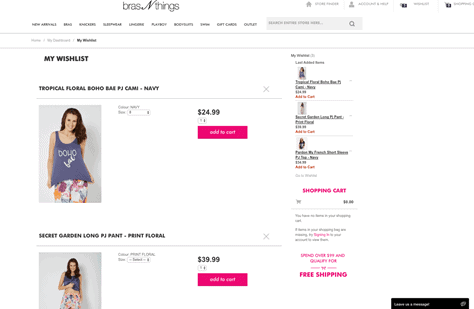 On the same note, remember that many customers will be buying for others during this time. You can make the gift-giving process easier for them by:
Promoting gift cards front and center
Offering gift-wrap options
Detailing easy shipping and return policies on category and product pages
8. Emphasize scarcity and urgency.
People tend to want what they can't have — and when there are only a few products left in stock, they're much more likely to hit the "purchase" button.
That's why we recommend using scarcity notifications on your product pages, like so:

Overusing this technique can backfire, however. Make sure that your inventory is accurately reflected when using "low stock alerts" notifications; otherwise, you break your customers' trust when they see this alert displayed over days or even weeks.
You should also incorporate shipping deadlines on your product pages. Shipping has been finicky for many eCommerce stores over the last few years, so let your potential customers know what to expect — especially if they want to get a certain product by Christmas or Hanukkah.
By emphasizing your shipping cutoffs for the holidays, you urge shoppers to get their orders in now, rather than wait and run the risk of purchases not arriving in time: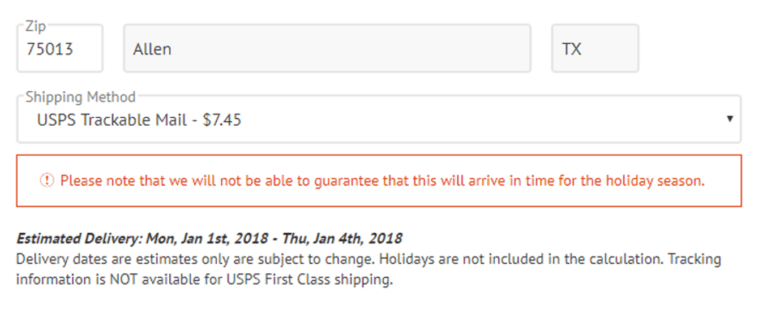 9. Update recommendation widgets.
While COVID-induced problems with product stock and supply chains have largely disappeared in 2023, there's no telling how holiday demand will impact your current inventory numbers.
To be safe, we recommend that you anticipate certain popular products will sell out during the holiday season — and that you give your customers some alternatives to keep them on your site.
The easiest option is updating your product recommendations. Not only will this give your customers similar products in case their originally desired item is out of stock, but it also boosts the chance that they will purchase additional products and increase your average order value.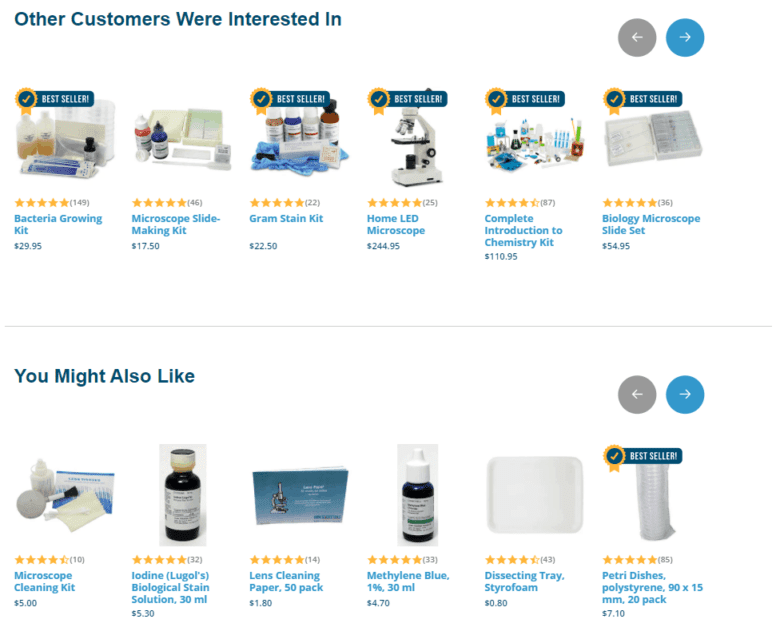 When we say "updating," we actually mean doing it manually.
Most product recommendations are automatically generated through your site's algorithm — but remember that your shoppers behave differently during the holidays.
We recommend looking at your historical holiday purchases, identifying which products were typically bought together, and updating your recommendations by hand for this once-a-year consumer behavior.
10. Keep your eyes on the big picture.
In a list of tips about optimizing your conversion rate, it seems contradictory to tell you that it doesn't really matter.
But that's the actual truth.
During the holiday season, it all comes down to revenue. As mentioned above, you can expect your average eCommerce conversion rate to actually drop during the upcoming shopping frenzy — but it's just a fact of numbers. More holiday website traffic means more visitors, who may or may not convert, which will lower your conversion rate.
Here's an example: Like most eCommerce businesses, one of our clients historically experiences a spurt in traffic during November and December. Last year, it was a 100% increase.
However, even though their conversion rate dropped by 20%, their revenue numbers still went up by 100%, which is what they really cared about at the end of the day.
Ask yourself: Are you meeting the revenue targets you've set? How does your site revenue compare to past holiday seasons?
If those answers are satisfactory, you can laugh about your conversion rates all the way to the bank.
Get Started Today with a Team of Experts
As you prepare for this year's Black Friday and subsequent Cyber Week, use the tips above to optimize your site and (hopefully) create higher conversion rates for your store.
Remember: Some of these strategies will be easier to implement than others, so we recommend starting with the simplest fixes (like improving site speed and adding shipping notifications) to get the biggest bang for your buck.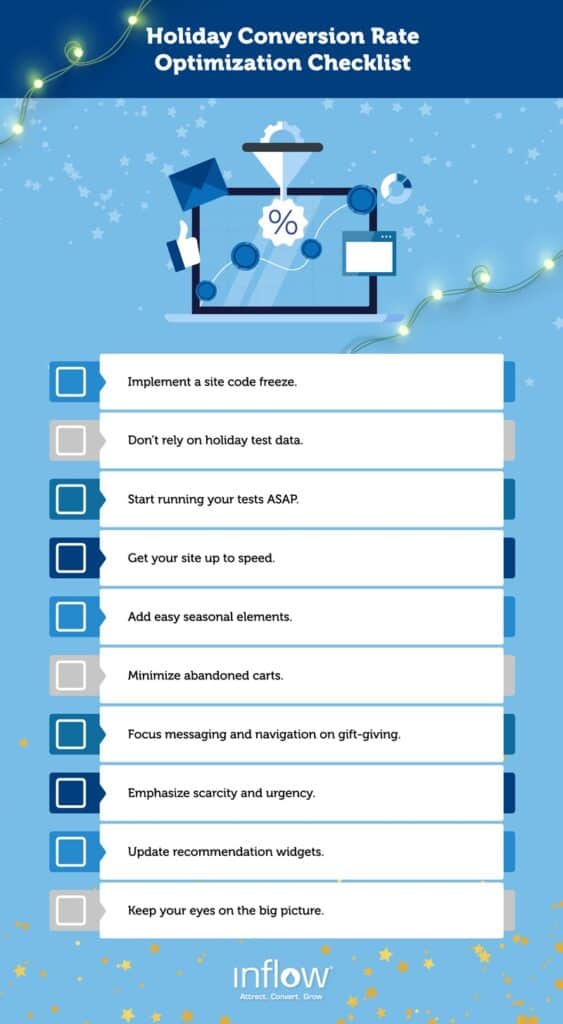 Keep in mind that testing for conversion rate can be tricky, especially if you leave it to the last minute.
If you don't do it right, you risk seriously harming your online sales potential over the next few months.
Fortunately, you can avoid that risk by working with an eCommerce rate conversion optimization expert, like those on Inflow's team. These digital marketers can evaluate your desktop and mobile sites, understand your goals and needs, and then incorporate them into a full-fledged strategy tailored to your specific site.
Curious? Learn more about our Holiday Conversion Rate Tune-Up and what our team can do for you by contacting us today.
In the meantime, check out our other eCommerce holiday marketing strategies to build your multi-channel approach:
Happy optimizing, and may the holiday shopping odds be ever in your favor.