By Everett Sizemore 
with Contributions from Alex Juel and Sara Downey Robinson
Writing compelling content and blog posts for multiple audience personas takes a unique finesse. It's possible to get too caught up in hyper-specificity when creating content, which can hinder creativity. For example, how does one come up with an engaging article related to high fashion heels while your brand is trying to connect with moms, outdoorsmen, athletes and several other segments? Won't you alienate each persona while writing for the others?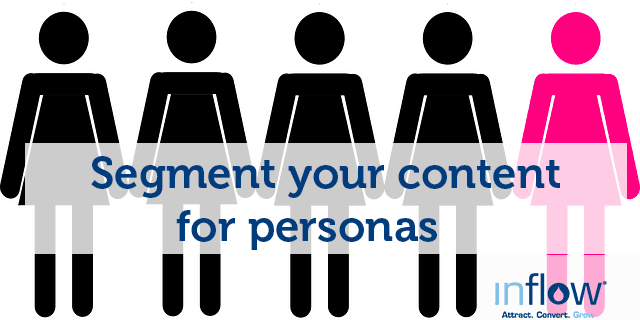 The goal is to curate content and product selections for each persona in order to provide a user experience that feels customized for different audience segments.
The obstacle is identifying the visitor and presenting the appropriate content. There are many ways to tackle this from a technology perspective. For example, you could identify visitors by email address (requires logging in or submitting a form), social account (requires permission), cookie (not cross-device, sometimes blocked, limited time), IP (not specific enough), device fingerprinting (technological and privacy issues)… all of which have their own strengths and weaknesses.
Enter The Beauty of Inbound Marketing for eCommerce
One of the reasons we love SEO at Inflow is because visitors generally self-select. Someone searching for running shoes is probably a runner (or buying a gift), and probably wants to see a category page with a lifestyle image of someone running, and a selection of running shoes with various filtering options like brand, function, price, color, gender, etc. This is obvious stuff that most retail brands have covered.
However, I am often surprised at how few of them have developed a persona for that segment. They could produce more effective content in order to introduce more of that segment to the brand, and to funnel them into that customized category page or various product pages.
Persona-Based Experience Customization
Let's start by looking at an example from Zappos.com. They have an interesting way of blogging to disparate segments. Zappos has a controlled sprawl of blogs directed toward what we can assume are their personas.
They translate their eCommerce sales categories into blog categories to help users find relevant information for exactly the type of stuff they're looking for. For example, one look at The Style Room category for Zappos tells you it's directed at affluent women in their 30s-40s who value elegant fashion. We might call such a segment "affluent fashionistas," which could be represented by a persona of a smartly-dressed, established, career-oriented woman with a taste for great style. Let's name her "Haute Fashionista."
The Style Room is targeting Mrs. Fashionista when she is ready to shop.
With the more content-focused Glance blog, Zappos seems to be attracting millennial women with content that appeals to them at earlier stages in the buying cycle.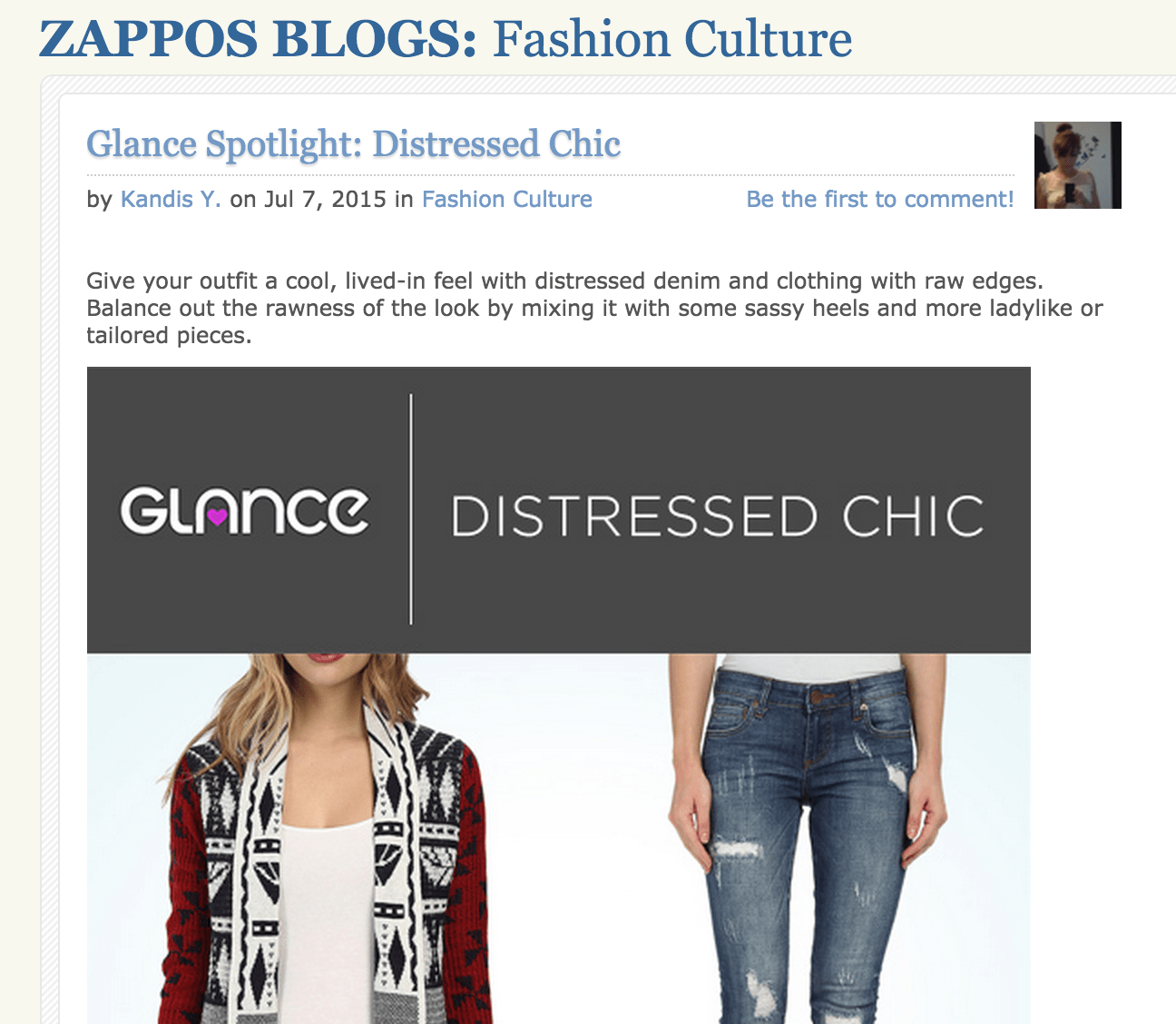 The Style Room is about curating products and customizing the shopping experience for affluent fashionistas. Glance is about curating content for millennials, including recommended products. This is lifestyle blogging.
[embedyt]http://www.youtube.com/watch?v=fo14l1LoJ6E[/embedyt]
Other Segments
In the picture below, Zappos incorporates one of the most commonly used lifestyle blogger tactics: alliteration and a set content theme (Menswear Monday).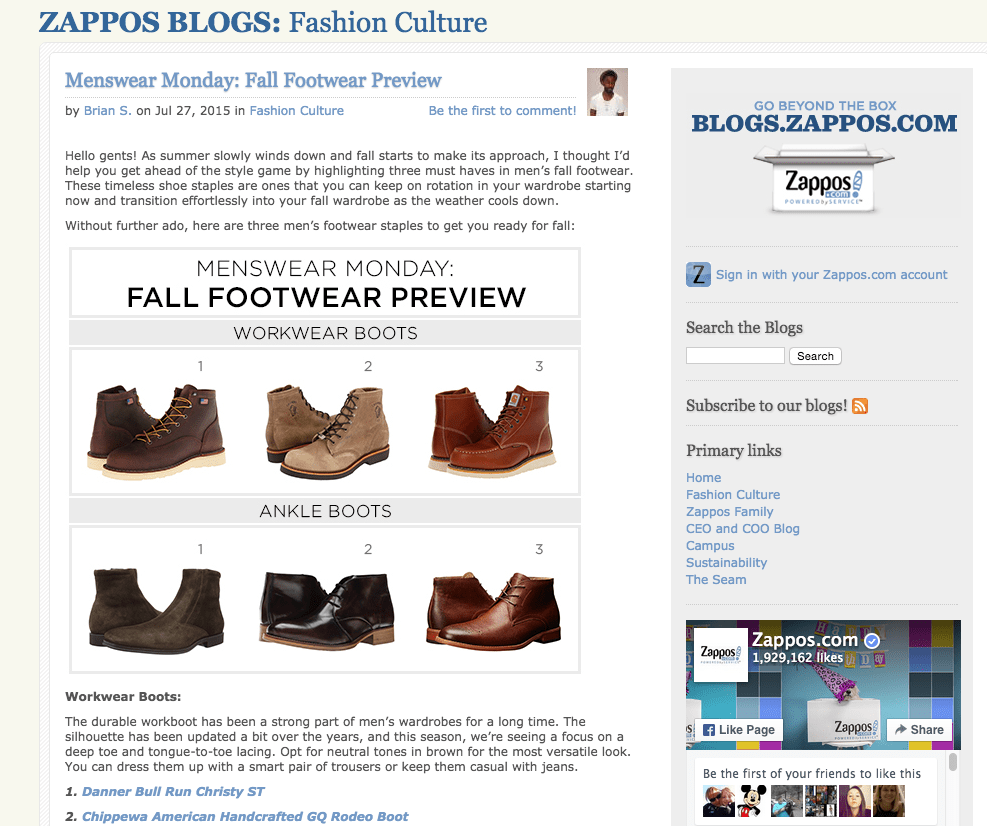 You'll see a variety of posts on their blog that could appeal to multiple segments, like the one below, tagged "Kids." One could surmise it is targeted at parents preparing for the onslaught of purchasing known as "Back To School."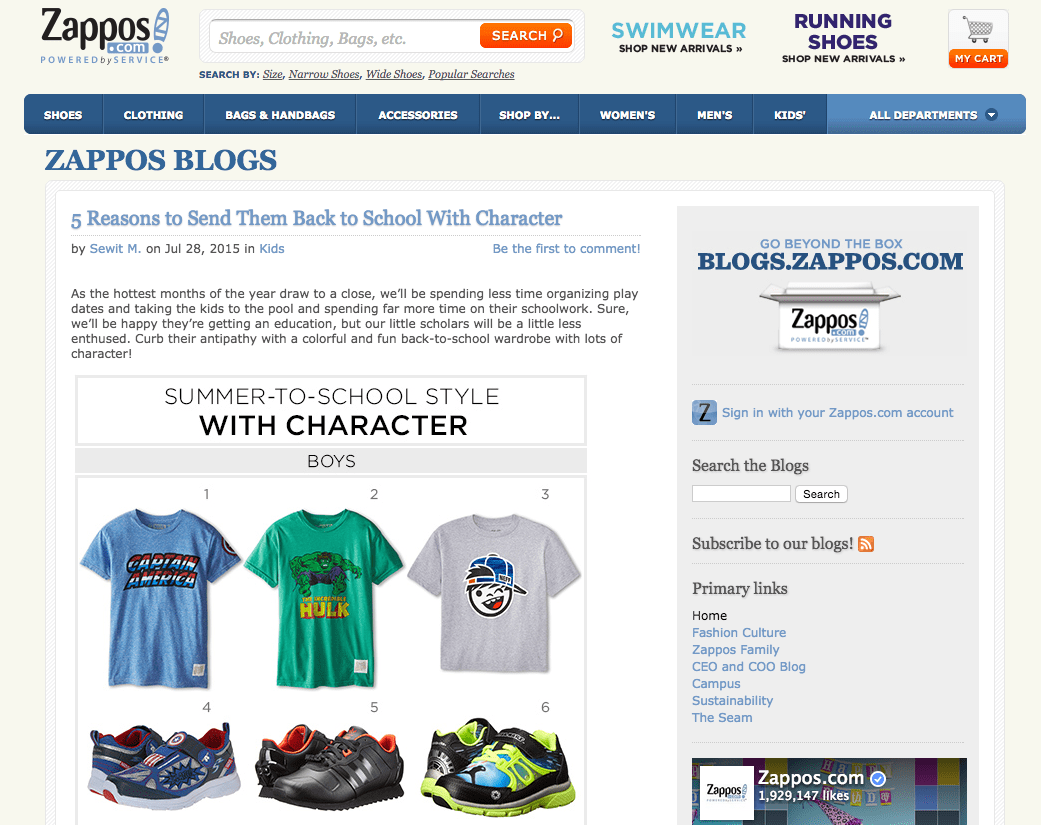 For another segmentation topic, try Weddings! They produce great wedding-related content on the "Wedding Blog," which is really just a category on their main blog. I'm sure this content, when published just prior to the "wedding season," does very well among the "engaged" segment.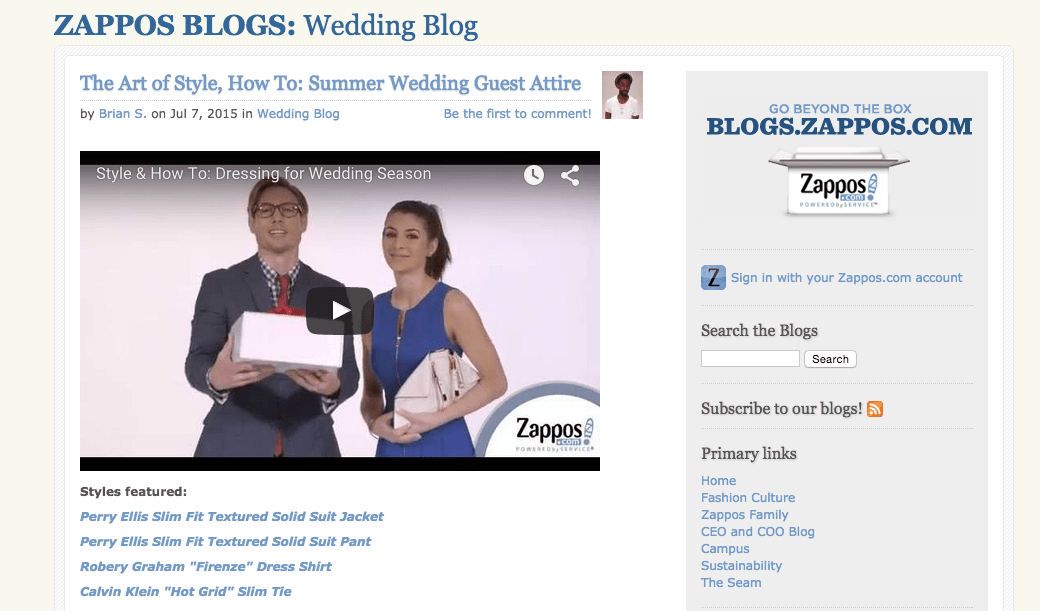 Or Western! The "Western Guy" persona is not likely to be interested in anything about White Haute, or amping up your style for a summer wedding. Rather than simply directing Western Guy to the men's clothing category, Zappos has created a unique brand experience that treats the "Western" category as its own mini-blog using relevant lifestyle images, products and other content to target this particular persona. They've done the same thing for  bicycle enthusiasts, runners, golfers and more.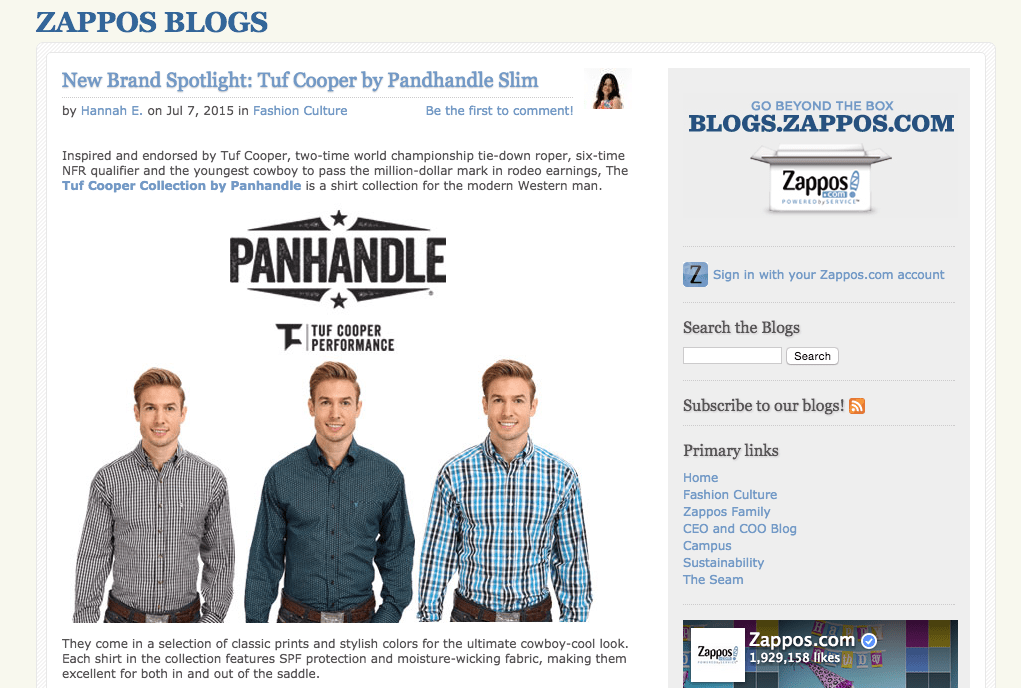 Or Outdoorsmen Enthusiasts!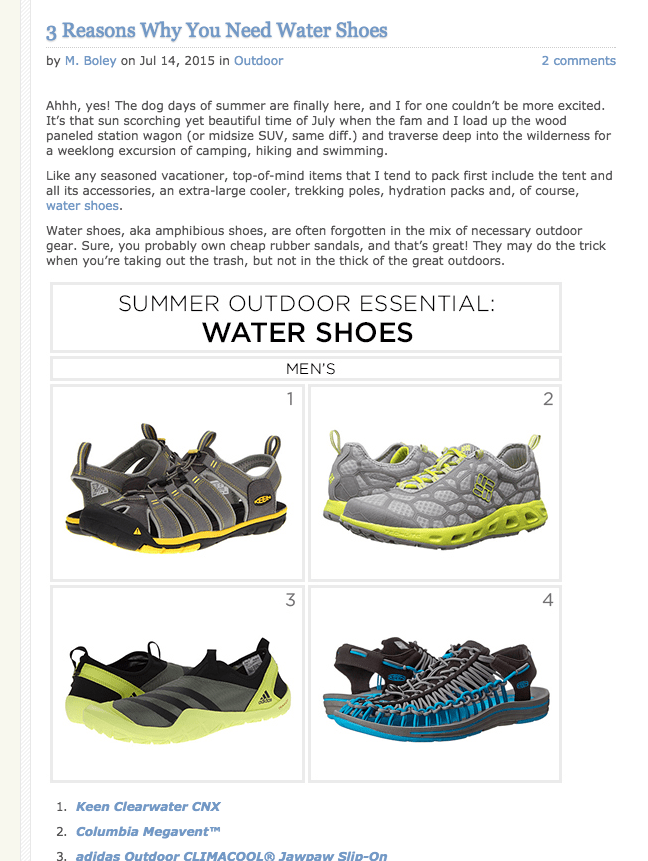 And The Seam, a young contemporary blog…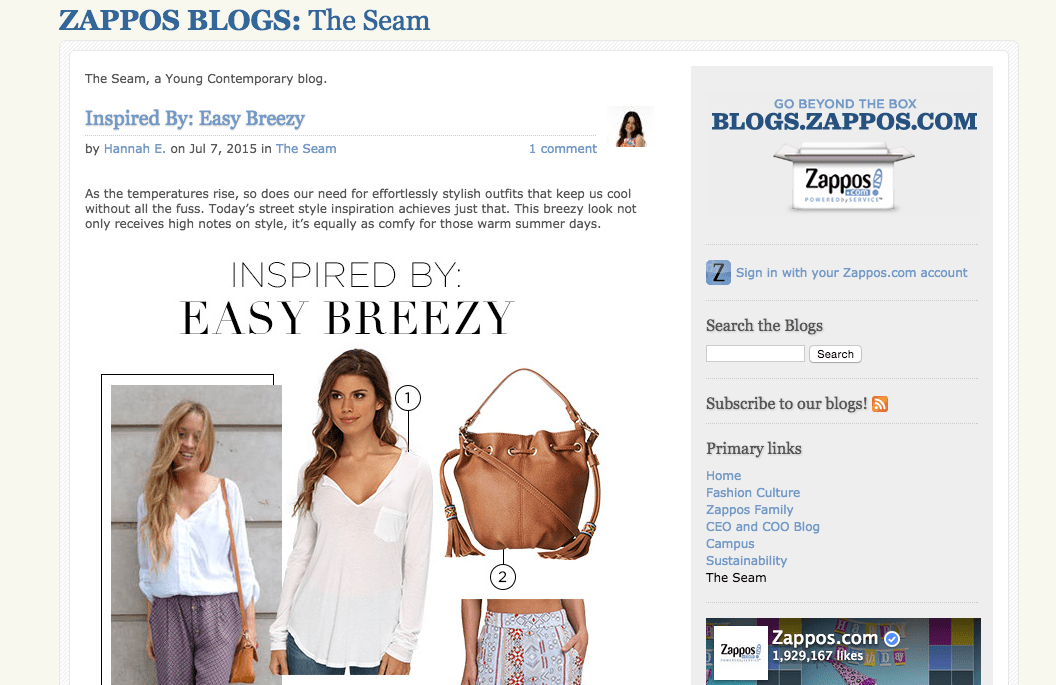 They're categorizing blog posts. So what?
Zappos is doing much more than that, and you can too. Here are some ideas:
Create audience personas. This is a must-do first step.
Using your persona research, figure out which product categories appeal to very specific segments and customize the experience on each page for the right segment/s. For example:

Lifestyle images and videos showing people like them
A curated product selection
Content that addresses their pain points and has the right value proposition

Using your persona research, figure out which blog categories appeal to very specific segments and customize the experience for each of these categories. For example:

Name the biggest categories (with specific audiences) and treat them as "mini blogs"
Customize static content to the top of these category pages

Include a lifestyle image showing people like them
Include textual content that informs or entertains them
What we can learn from Zappos
Persona research is critical to understanding your segments, and to make sure you're presenting the right content to them.
Identify valuable segments (using persona-based research) and provide them with a more custom experience. This has been called "Curated eCommerce" by Fast Company. It includes the curated collections mentioned in this Forbes article, as well as the curated content experience discussed in this post by Retail TouchPoints.
Try Not Selling Anything At All – Sometimes
Some of the most popular blogs for brands concerned primarily with lead-generation consistently publish content to entertain and help their audience solve problems. HubSpot (marketing automation software) published a blog called  Is Your Coworker an A-hole?. The Buffer (social media scheduling tool) published Why We Have Our Best Ideas in the Shower: The Science of Creativity, and American Express created the OPEN Forum to talk about anything and everything a business owner might be interested in. They're not [just] talking about themselves or their products & services. They're creating content that their audience likes.
A lot of eCommerce brands are using lifestyle blogs to accomplish the same thing. They publish content that interests their audience while occasionally mentioning their products. A lot of these sites, such as Zappos, are providing content for both a general audience (a crosshatch of their personas) and then segmenting content into areas/sections/mini-blogs  to provide a more customized experience for specific audience personas.
Do What Etsy Does, But Better
Etsy puts out some phenomenal content, including a lot of great how-to/DIY articles and videos. The Etsy team curates the content by large categories like "DIY Projects" and "Weddings." They also have a section called "Tastemakers" where shop owners, experts and readers get to curate content.
The opportunity here is that none of these major categories are very customized in their look and feel. The "Weddings" section in the screenshot below doesn't have a lifestyle image at the top depicting the perfect wedding of two beautiful people in Hawaii. It has the same sidebar content as all of the other categories. There isn't any static textual content related to weddings.
But wait a minute, what's this?
Navigating to Etsy's "Wedding" page on the blog takes you to this tag page (pictured above). However, if you were to arrive at this category page (pictured below) for weddings, you'd get a much better experience. I wonder if they just put the wrong link in the navigation… What's up Etsy?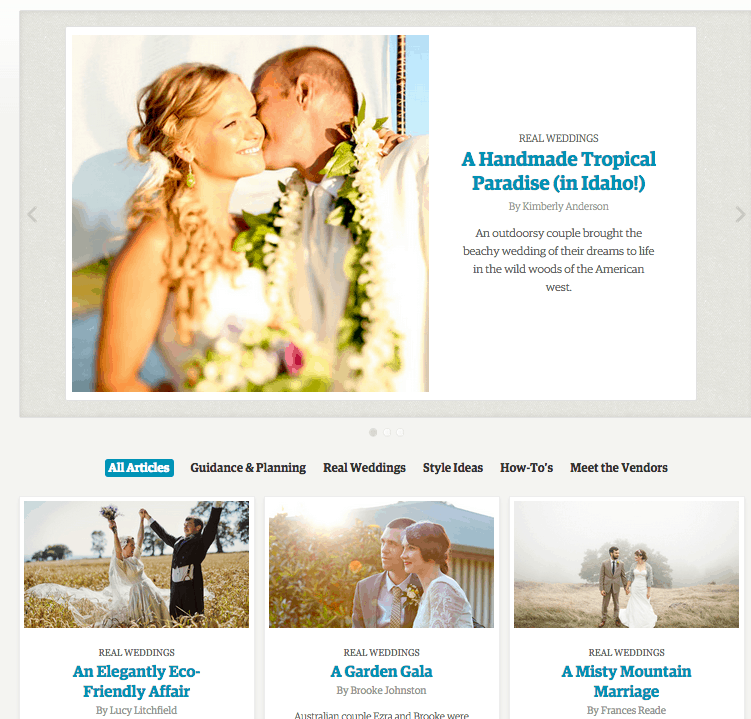 In The End, Lifestyle is What Sells
Highlight life and then every so often, mention how valuable your product can be for someone interested in what you have to offer. In this deceptively simple way, you will attract more qualified visitors from search and social, and convert more of that traffic into repeat customers and brand evangelists.
More Examples
Not every eCommerce store can afford a dedicated research and development unit like Zappos. Here are a few other brands that are doing similar things with product and content curation targeting different segments of their customer base.
Affluent Men Dressing for Weddings – Marks & Spencer Buying/Style Guide
Affluent Men Dressing for Affluent Sports – Marks & Spencer Buying/Style Guide
LUSH feels more like a magazine than an eCommerce site. They feature values-based lifestyle images and news along with their products.
Hover over the categories on BackCountry.com to see image "collections" pages, which are more focused on a specific lifestyle segment (e.g. active families in the screenshot below) than their traditional category pages. Here's a category page. And here's a collections page. Big difference in the experience, right? Even some of their most broad category pages, like Women's Clothing, are content-rich (though the content could be better targeted).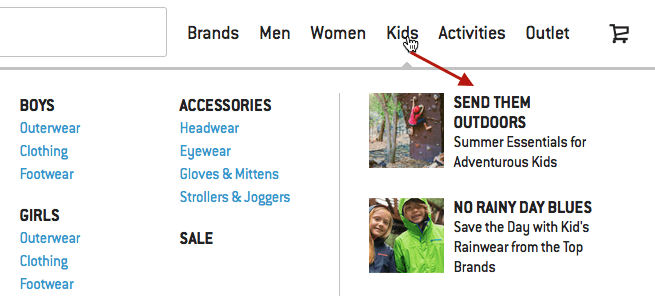 Do you have any examples of smaller sites incorporating better targeting of segments with lifestyle content and product curation? If so, we'd love to check them out! Please share…