Developing personas for a business can take as long as you want it to take, and can be as expensive as you can afford. Nothing beats comprehensive surveys asking real people – especially real customers – about their likes, dislikes, roadblocks, goals, demographics… There are also companies that can provide highly targeted, accurate data to work with (e.g. Forrester, Gartner, Gallup, Nielsen…) but the cost of surveys, studies and proprietary data is often cost-prohibitive for our clients.
For the purposes of SEO, PPC, social media marketing and content marketing, traditional "personas" can be too time consuming and too resource intensive (i.e. too expensive). They can also be too general if they don't contain the specific information we need to intelligently conduct our campaigns.
For all of these reasons and more, we've developed our own in-house process to get the information we need about our clients' existing and potential audience segments. Below is how we would approach a typical audience persona project. But first, let's step back and establish some working definitions…
A persona is a profile of an imaginary person used to represent the relevant characteristics of a particular audience segment. An audience segment is the aggregate of many existing and potential customers who have certain characteristics in common (e.g. age, gender, interest, occupation…).
Traditional Marketing Personas Vs. Inbound Audience Personas
The difference between "traditional" marketing personas and the ones we do at Inflow can be summed up as:
Changes in focus and reduction of costs.
Let's face it, most "SEO" and inbound marketing clients don't have $80,000 to $250,000 to spend on robust marketing personas. It depends on the client, but you're probably looking at the $1,000 to $10,000 budget range. For this reason we had to find ways to do personas faster, and with less expensive data sources, which I'll cover in more depth later.
Traditional marketing personas are heavily focused on getting the demographics accurate, and laying out the behaviors, motivations, goals and frustrations shared by the segment. Sometimes influencers and media consumption habits are included in the narrative, but with limited focus. Also, only existing and potential customers are included.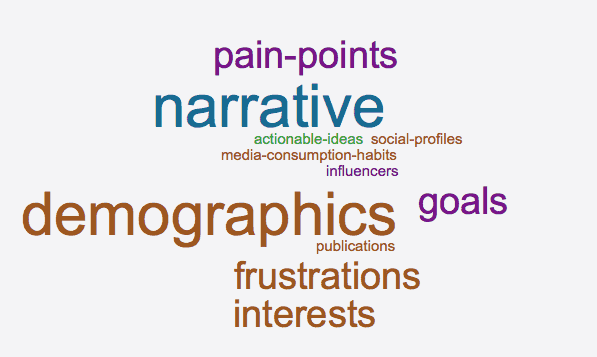 We've found our needs to be more concerned with the influencers, websites and publications associated with each segment, and have adjusted the process accordingly while finding ways to keep the costs down by using free data sources and spending less time on the narrative.
Because heavy emphasis goes into influencer research, we often create personas based on segments that don't match the definition of "existing or potential customer." This is because influencers, while important, are often well beyond needing a clients' product or service. Yet they are still a potential audience for content. One example is that while SEOs and inbound marketers aren't typically Inflow clients, this content about audience profiles has been developed for them because they influence our potential clients.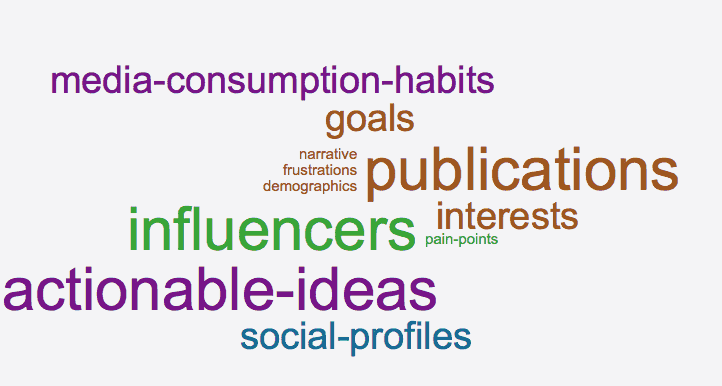 For us, while audience profiles are certainly helpful to have around, the real value of putting them together is that we get to know our clients' potential and existing customers, as well as the influencers who may not ever become a customer, but who can help us reach the other segments. This leads organically to actionable ideas that we can help the client implement to reach their goals.
An Example Inflow Audience Persona
Before going into the nuts and bolts of segment ideation and hunting down supporting data, it may help to see an example of what we're talking about here. The series of screenshots below represent different sections of one audience persona.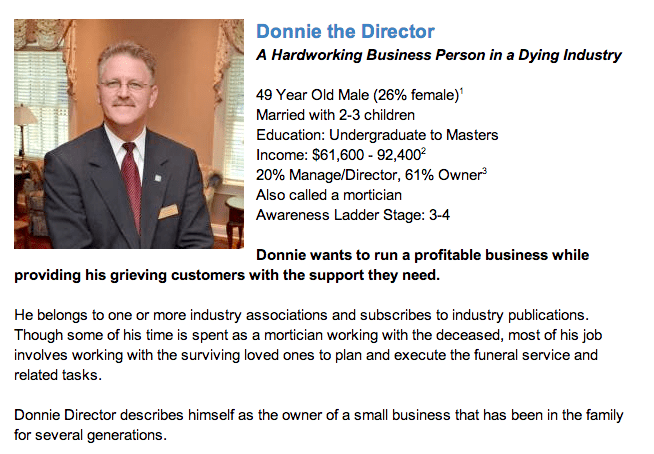 The audience profile demographics data can be found in various places, including GA Demographics, Quantcast and (more often than not) industry publications (e.g. marketing studies, media kits…).

Some sources you'll often find in our audience persona footnotes include: Studies and white papers from industry organizations, stats from the Bureau of Labor Statistics, and industry publication media kits. We incorporate these resources into other areas of the profile as well.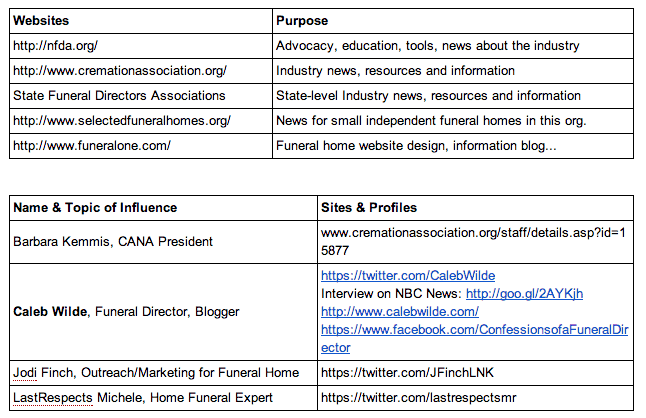 The two sections in the screenshot above are really the backbone of our personas when it comes to informing our content marketing efforts.
An easy takeaway for most scenarios is to simply target people who follow an industry-specific business, website or celebrity on social sites like Facebook, Twitter, Pinterest and LinkedIn. Facebook seems to offer the most opportunities here, but as native ad platforms continue to evolve we'll see better targeting elsewhere.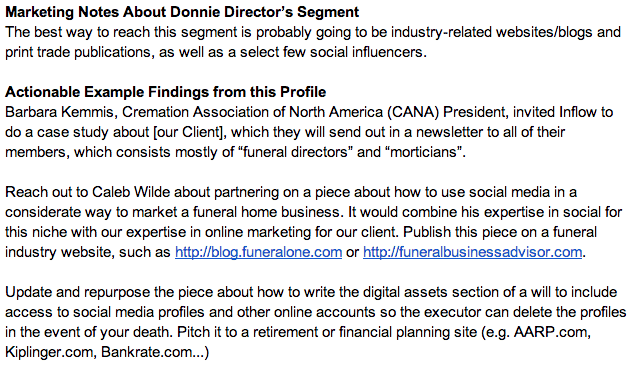 One advantage to this approach is that it tends to build relationships over time. I don't mean the kind of relationship where you're paying someone for a link, but the kind where you are associating your clients' brand – which may be relatively unknown in their industry – with well-known industry influencers and established brands. Getting influencer buy-in isn't always necessary – or even possible – but it can usually be done if you provide value to the influencer in some way (by shared exposure, for example). Consider it a more communication-intensive, but ultimately cheaper, way to promote content when compared with PPC, social and display advertising. As the PR industry experts put it:
"Nothing we say about ourselves is as influential as someone else saying it about us."
Segment Ideation
Audience profiles, or personas, are based on audience segments. The segments can come from a variety of sources, including what the client tells you when asked to describe their customers. Beware of stopping there, however. For example, a client that sells landscaping supplies might say "Our customers are landscapers and DIY homeowners," which is technically correct, but they could be missing out on a lot of other great opportunities. What about the people responsible for purchasing supplies for "parks and recreation" departments all over the country? What about golf course groundskeepers? And, by the way, did you know that they're actually called "golf course superintendents" and they have an industry organization called the Golf Course Superintendents Association of America (GCSAA), which publishes a PDF report on industry salaries and budgets? And did you know that, according to Superintendent Magazine's media kit, their readers are interested in "new products and technology" for golf course groundskeeping? Sometimes the client doesn't know what they don't know.
Audience Segment Ideation
This is how we approach the segment ideation portion of an audience profile project. Though typically done in sequence, there are often exceptions:
Ask the client to describe their different types of customers in as much detail as they can.
Ask the client if they would like to branch out and attract slightly different types of customers and, if so, to please describe them…
Ask the client's call-center supervisor or customer service manager to provide information about common complaints, reasons for returns and questions they receive from existing customers.
Review Google Analytics data. Ensuring that Universal Analytics and Demographics & Interests Reports are collecting data will make the process easier.
Review Quantcast data. It may be worth adding the script to the site (with client permission) for several months to gain insights about their visitors.
Brainstorm any additional potential customer segments and send to client for review and feedback.
Brainstorm any potential audience segments that are not likely to become customers (i.e. influencers). For example, a skate shop may want to reach professional skaters who will probably never shop with them, but who could introduce their brand to thousands of potential customers via their fanbase by participating in an interview, giveaway or some other strategic partnership.
Persona / Profile Worksheets
Once you have the list of segments it is time to start gathering data about them. Don't start writing the personas just yet because you still don't know much about each segment, and may waste a lot of time wondering what to do next, or trying to "make up" enough fluff to fill in the gaps.
A useful tool in this process is a simple Excel spreadsheet with a row for each segment and a column for each data-point. We also have a similar one for influencers and one for content ideation, which we put in separate tabs within the same Google Spreadsheet.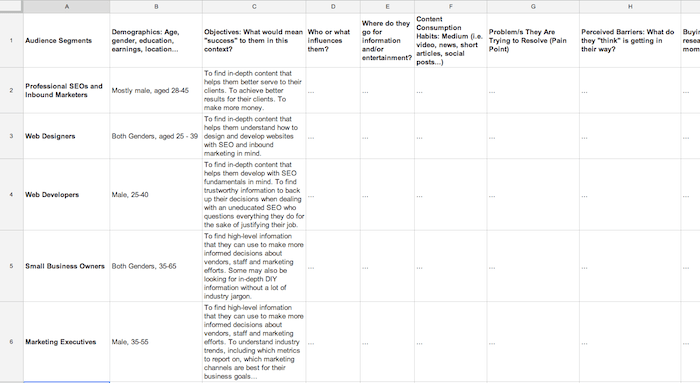 Here is a link to our audience profiles worksheet where you will find a tab for Segment Data (for each of the future profiles/personas), as well as tabs for Influencer Stalking, and Content Ideation. Feel free to make a copy (you will only have "view" access) and customize it for your own needs.
Data Sources
Once you have the list of segments (which are to become personas) and a place to put the data, it's time to start filling in the blanks. Here are some resources for finding the data you need:
Industry Organizations
Look for reports by industry organizations with data on the industry. Sometimes they sell these reports, but you can often get them for free if you tell them you're writing an article about it, as these organizations often exist in part to promote the industry in the media. Search Google for things like (site:IndustryDomain.org report), (site:IndustryDomain.org survey), (site:IndustryDomain.org demographics), (site:IndustryDomain.org statistics), or (site:IndustryDomain.org study). If all else fails, pick up the phone.
Industry Publications
Look for media kits by trade publications, which mirror the demographics of the industry they serve. Sometimes this can be a one-stop-shop for all of the free demographics data you need for a given segment. Search Google for things like (site:PublicationDomain.com "media kit") or check the footer links for "Media Kit" or "Advertising".
PPC Data for Client
Retargeting data contains potential audience information. See this Seer Interactive article.
Quantcast
The client must place the script on their site to get the most useful data.
GA Demographics
Must be enabled on client's GA account.
Client's Experience
Work this into your intake process.
BLS.Gov
United States Department of Labor statistics for the most popular industries (e.g. real estate, legal, construction, military, teachers, sales…)
Facebook Search
Shows pages liked by people who liked any other page. E.g. People who liked Inflow also liked Moz and Hubspot.
Google Trends
Related websites, searches, regional interests… Use for strategic content calendar.
Bing Ads Intelligence
A downloadable tool.
Facebook Audience Insights
From client's FB ad management account. This feature is even better than the original FB Insights.
YouTube Analytics
From client's YT channel per video or channel-wide. Provides Location, Gender and device data.
Consumer Barometer
Great for certain niches (i.e. travel, online shopping, shoes, home appliances…
Compete.com
Good for traffic sources / where are their existing customers online?
Follower Wonk
Find social influencers by topic or profile. Also, view a "word cloud" of phrases found on follower's profiles.
Klear
Demographics data by interest or skillset of Twitter uses.
Uber Suggest
Find related searches to expand the list and uncover entry points.
Adwords Keyword Planner
Keyword research and traffic estimates
SEMRush
Competitive Analytics, Related Keywords and Basic Demographics
Survey Monkey
For validation of our assumptions and more in-depth personas
Google Consumer Surveys
Another survey option
Google Public Data
Data / Statistics from Government Resources around the world. For example, I could use this to find the average Life Expectancy in the United States of people who were born in a certain year.
Marketing Charts
A goldmine of data. Stats for time spent social networking by age, gender, marital status… Teen vs adult game use, Online buying habits by age group…
Zanran
Must register. Search for data & stats about topics.
Data 360
Data for journalists. Useful for backing up assumptions.
Bottlenose Sonar Solo
Good for topic ideas, trending topics, finding customers, influencers, etc…
Tag Crowd
Useful if you have a list of keywords from social profiles. You can visualize the words that appear most. But FollowerWonk does this all for you…
SimilarWeb
Great site for doing basic domain research, including referring sites, next sites, and basic demographics.
Pew Research Center
Great for politics and economy data.
Other Resources
If there is one thing we have learned about applying an old-school marketing concept to new-school inbound strategies, it's that everyone has their own way of doing things. Hopefully some of you will take what we've put out here and customize it to your own needs. And hopefully you will then decide to share your own approach so we can all continue to learn from each other. With that in mind, I'd like to share a few resources that heavily influenced me as I developed our first few sets of audience profiles / personas…
Have Your Say…
The larger marketing world has been doing robust personas since the mid-90s (e.g. "day-in-the-life archetype descriptions" by Ogilvy) so they've had plenty of time to develop processes and templates for their needs. As inbound marketers coming from the old-school SEO world – we're just getting started. How would you like to see Inbound Marketing Personas and Audience Profiles evolve? What questions should they answer for you as a marketer? Have you developed your own in the past and, if so, how long did they take, what was in them and – above all – were they useful to you and your client? Please share below… And thanks for reading!