Recently we tested the presence of the Better Business Bureau's seal on one of our retail client's eCommerce sites. Specifically, we tested its impact on conversions.
And we were very surprised by what we found.
In an A/B test with and without the badge, the version without the badge resulted in a 5% lift in conversions.
The version with the BBB badge had less conversions.

This is the opposite result we've found in the past, when the badge lifted conversions in other tests we'd run.
So what was different?
Our hypothesis is this: it's not the badge itself. It's what customers find when they click through the badge to the company's business profile on the BBB's site.
Customer reviews.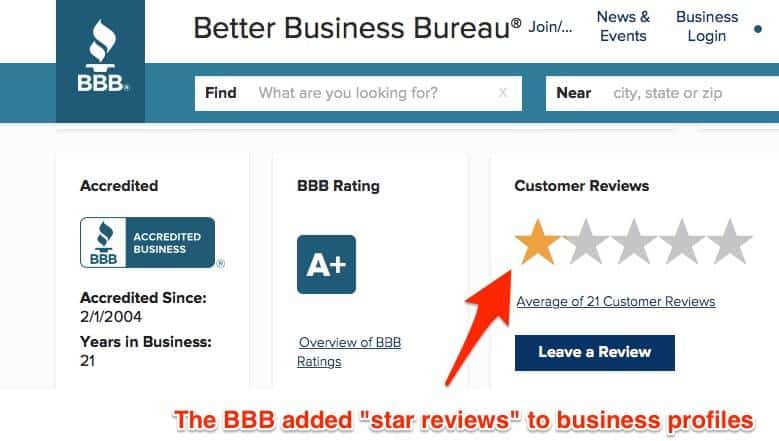 Our previous tests occurred before the BBB added customer reviews to business profile pages.
In this article, we're going to walk through the consequences of the BBB's decision to roll out customer reviews on its website, including data from our own tests and what we recommend doing about it.
Before Star Reviews
Consumers view the BBB with respect. Because of this, in the past, we found that including a badge on your site can increase brand trust — and conversions.
In fact, previous tests resulted in a 4 to 15% lift in conversions with the BBB seal.
This is true of other trusted seals, as well. Over many tests of different security and customer service seals, we found that Norton, McAfee and BBB seals were the most likely to increase conversions.
But, in the case of the BBB, it wasn't just the badge that helped.
We suspect that part of why the BBB badge worked so well in the past is because potential customers could click on the badge to a business's profile on the BBB site.
There they'd find useful information about a business, such as the number of years it has been in business and BBB accredited. Having a detailed history of the business can increase consumer trust.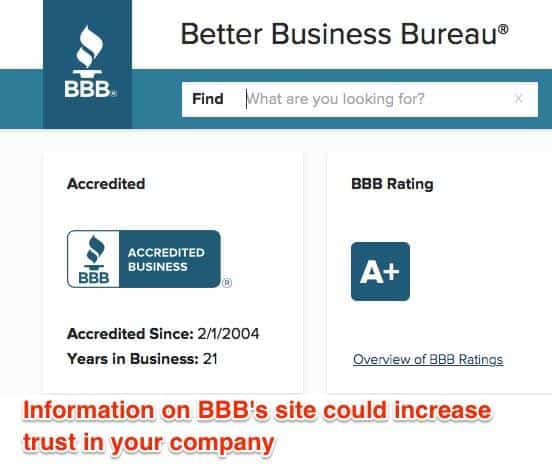 Visitors that are likely to be positively impacted by the presence of a BBB seal are interested in the company whose site they're visiting. And those visitors may click through it to read about the company.
This used to be a good thing.
Until the addition of the star reviews.
Note: Making small changes to your site, such as adding or removing a trust badge, can make big differences to your conversion rate. Want to know what else we'd recommend?  Get started now.
After Star Reviews
In 2014, the BBB began rolling out star-based customer reviews on business profile pages. But because business profiles are managed by local branches of the BBB, you might not have been impacted until recently.
Now, if you use the BBB badge on your site, it may be negatively impacting your eCommerce site.
This is what we found in our most recent A/B test (with and without the BBB badge).
The version without the BBB badge resulted in a 5.3% lift in conversions with a 99% confidence rate.
Completely opposite what we'd seen in the past.
Even companies with an A+ BBB rating can still have a low star average. In fact, it's very common.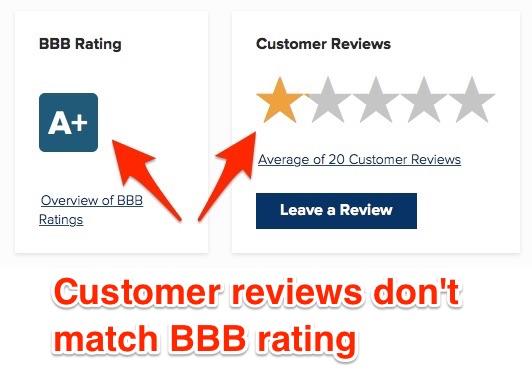 People don't go to the BBB to say positive things about a business —  they go to complain about a company and prompt them to resolve their issue.
Now, customer complaints and reviews are separate things. When a consumer files a complaint against a company, the business can improve its letter grade by responding to and resolving that complaint.
On the other hand, the business cannot raise its customer review score. It's simply the average number of stars left by customers.
This is why visitors may see an A+ Rating on your site, and then click through to find one-star reviews on the BBB's site, which can kill their trust in your brand.
Why The BBB Added Star Reviews
Katherine Hutt, a national spokesperson for the BBB explained that online reviews were tied to the organization's mission. "For more than a century, BBB has been all about fostering trust in the marketplace between businesses and consumers. What started out as a truth-in-advertising campaign in 1912 has grown to include dispute resolution, industry self-regulation, consumer education, and charity reports."
Reviews are vetted by BBB team members and require reviewers to prove that they were a customer before the review is posted.
The reviews are meant to be a more credible way for customers to find information about a business they're interested in.
We Recommend Testing and Alternative Sources for Reviews
If you have a BBB seal on your site, we recommend testing the impact of linking to the BBB's site.
We also recommend looking into alternative customer review platforms, such as Trustpilot or ShopperApproved. These platforms automatically aggregate your reviews and send them to Google to be used on search pages.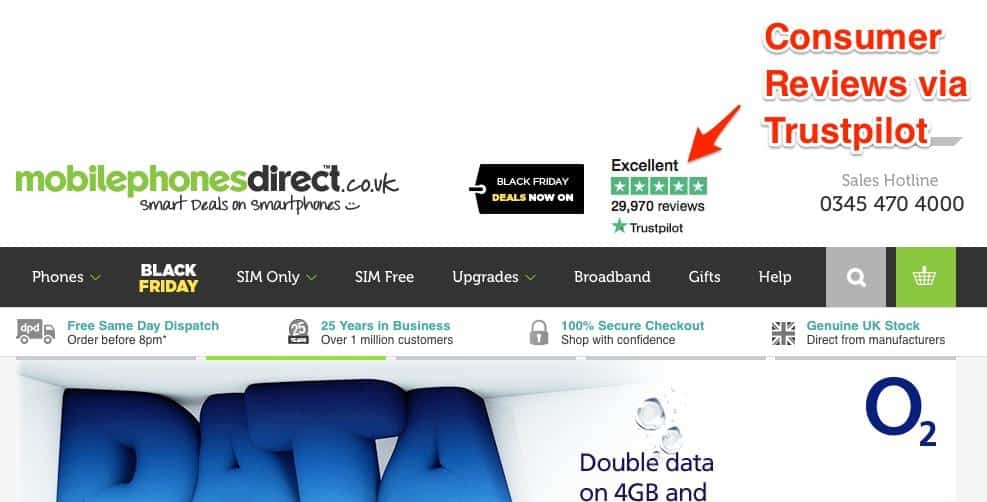 The benefit of such a platform is that you can set up emails and online forms to encourage your customers to review your business.
The placement and size of trust badges can make a difference when it comes to conversion optimization.
If you're interested in implementing a review platform or testing the presence of trust badges, we can help. Contact Us.