It's no secret that Amazon is the most popular eCommerce website in the world. And, with a seemingly unlimited advertising budget, the brand seems dead-set on complete global customer domination.
So, how can a small or mid-sized eCommerce company ever compete?
Whether we're talking paid or organic listings, getting your products and website URLs to appear in the search engine results pages (SERPs) is a challenge. Add in the behemoth of Amazon, which can outbid you at every corner, and the race may seem over before it's even begun.
But there is hope.
Today, we'll explore this David vs. Goliath situation in more depth, discussing:
Whether you should really care about Amazon's domination
Which marketing strategies can help you improve your campaigns
And whether your brand should take the next step to become an Amazon retailer
First, a Silver Lining
Many of our eCommerce clients get discouraged when they see their well-optimized ads and organically ranking content fall behind Amazon in the SERPs.They often ask us, "Is there anything we can do about it? How can small businesses ever compete with Amazon today?"
We understand the frustration. However, this is the wrong question to ask.
Instead, ask yourself this: "Does it really matter?"
Barring some catastrophic business change, Amazon will continue to rule the eCommerce market. But here's the thing: Most small and mid-sized businesses aren't directly competing with Amazon anyway.
Amazon doesn't actually care which products sell well. Its business model is simply to rake in as much revenue as possible.
Your eCommerce business, on the other hand, has a smaller and more direct goal. You have a specific niche in which you want to perform well, which means you have a better understanding of your target audience and what makes them convert. You have the knowledge (and freedom!) to experiment with your content, ads, and the customer experience in a way that the corporate overlords at Amazon don't.
Finally, remember this: Getting your products to rank in the SERPs isn't the end goal. Increasing your revenue is.
And, with the freedom and unique vertical research your brand can do, there are plenty of opportunities to make that happen, even with eCommerce giants like Amazon lurking in the corners.
We'll discuss some of them below.
How to "Compete" With Amazon
If you're a small or mid-sized eCommerce store, you'll never truly "compete" with Amazon and its unlimited resources. (And that's okay.)
But, with a few strategic moves, you can continue driving valuable traffic and new customers to your website instead.
Focus on Niche Opportunities
As we've mentioned above, your eCommerce brand has an advantage over Amazon.
When it comes to your target audience and their buying journey, you have unique, detailed data gathered from years of research and customer acquisition. You can use this to target those opportunities that Amazon doesn't.
Spend your smaller budget and time on these niche, detailed opportunities that bring a better chance of conversion.
Long-Tail Keywords
High-volume, head search terms are near impossible for one business to monopolize, although Amazon will try.
While these keywords are exciting to rank for, they shouldn't be your only focus. Instead, we recommend our clients use a long-tail keyword strategy — that is, longer queries that have lower volume but a higher user search intent.
Take, for example, the head term "animal repellent." When you search this high-volume, broader keyword in Google, Amazon pops up in both paid and organic listings.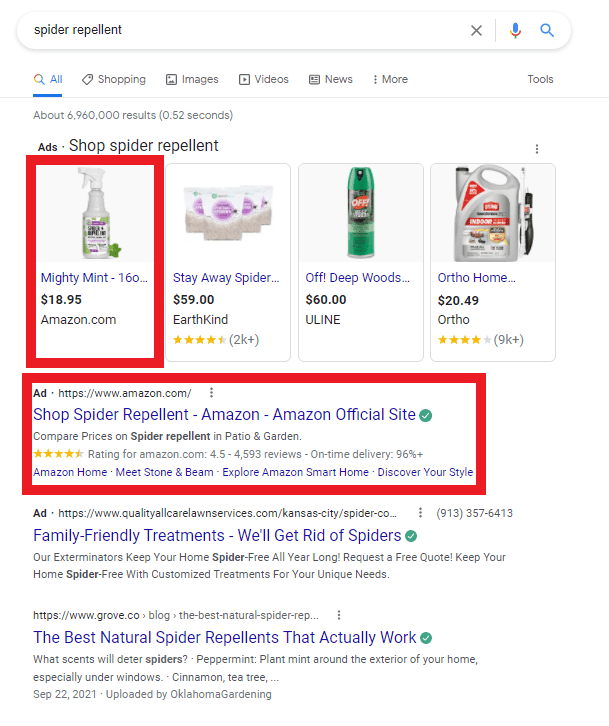 With an average monthly search volume of 8,100, your brand wouldn't be fighting just Amazon to be listed in these results but also countless other eCommerce sites.
For a more niche approach, you could use specific keywords like "natural spider repellent" or "essential oils deter spiders" — which will more effectively capture those customers who are looking for eco-friendly products.
While this search still sees Amazon in the Google Shopping Ads, there are smaller businesses represented, too (such as our client, EarthKind). The organic listings also provide more opportunities for strategic content ("How to Naturally Repel Spiders from Your House") that your brand can create.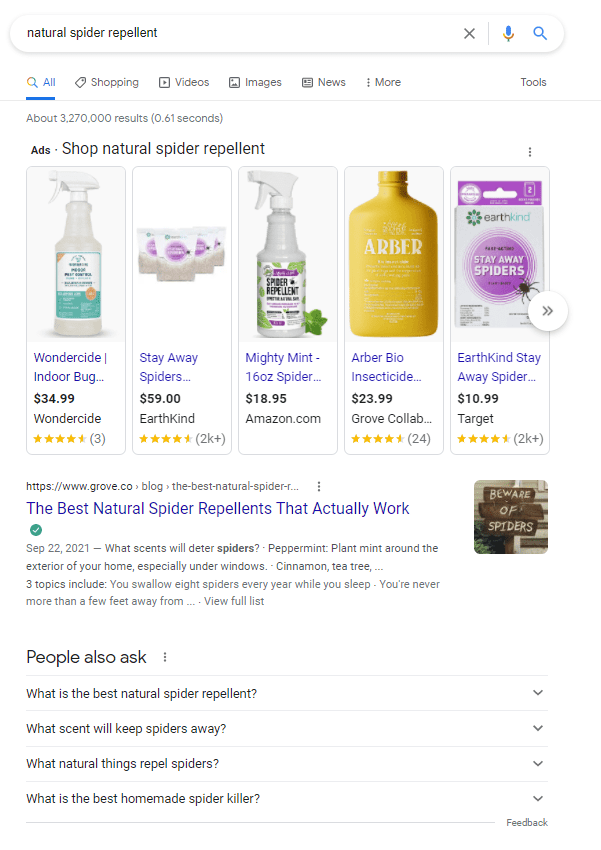 Yes, search volume for these longer-tail keywords is lower than those larger head terms — but that also means your brand faces less competition and, in the case of paid search ads, lower costs per click.
These keywords also have a higher likelihood of converting, which means you'll not only get more traffic to your site but turn those visitors into purchasers.
Roundup Content
Speaking of strategic content marketing, our SEO team has found this to be an incredible opportunity for smaller eCommerce brands to differentiate themselves in the SERPs — especially from retail giants like Amazon, Walmart, eBay, and others.
When we say "strategic content," we're referring to long-form website content like blogs and product guides. The latter is a highly effective opportunity for organic SEO efforts; Google is increasingly serving up product and buying guides for "best of" searches, instead of category pages like it used to.
Anecdotally, we've noticed that Amazon doesn't seem to be able to rank for "best of" and similar roundup keywords — likely, because it doesn't invest in strategic content the way that a smaller, more niche brand could.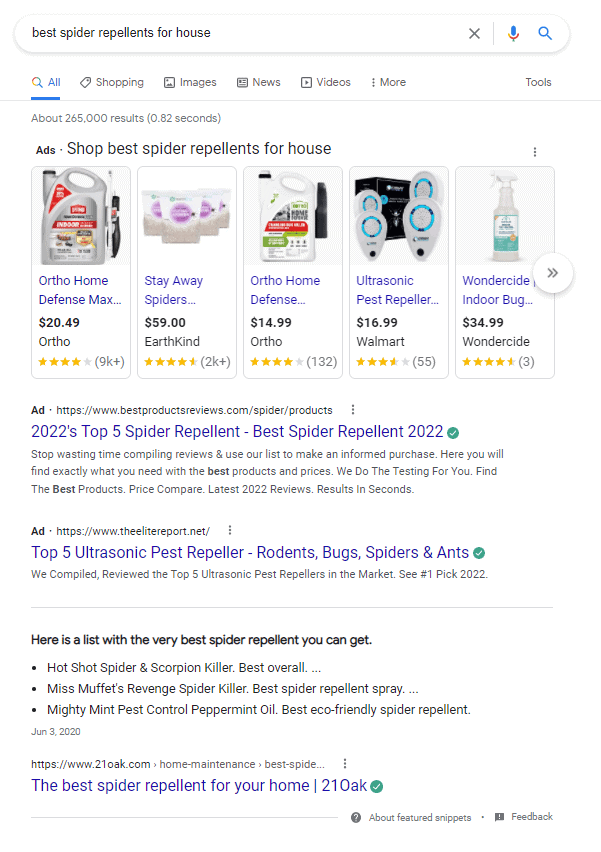 Buying guides don't just help your brand appear in the SERPs; they can drive online retail sales, too. Our six-figure revenue guide is just one example.
The more helpful content you provide during a customer's buying journey, the more likely they'll remember your brand when it comes time to purchase.
Keep Testing Your Strategy
When you don't have the powerful budget that Amazon does for Google Ads, you need to focus on other differentiators that make your ads and product listings stand out in the results.
Sure, budget is unavoidably a key part of your eCommerce Google Ads strategy, but it's not the only determinant of whether your ads get served in the SERPs.
To improve your campaign performance, keep testing:
Ad copy
Product titles
Product descriptions
And more
Even if your budget stays the same, you could see substantial changes in performance just from those adjustments.
The same approach applies to your organic efforts, too, especially with your product page content.
To make your organic listings more attractive than Amazon's, add product and review schemas, which provide more information right in the SERPs. You can also optimize your content for unique SERP features, like featured videos, images, People Also Ask sections, and more.
Because Amazon's product volume is so high, they can't devote the same time to this strategy, opening up opportunities for your brand.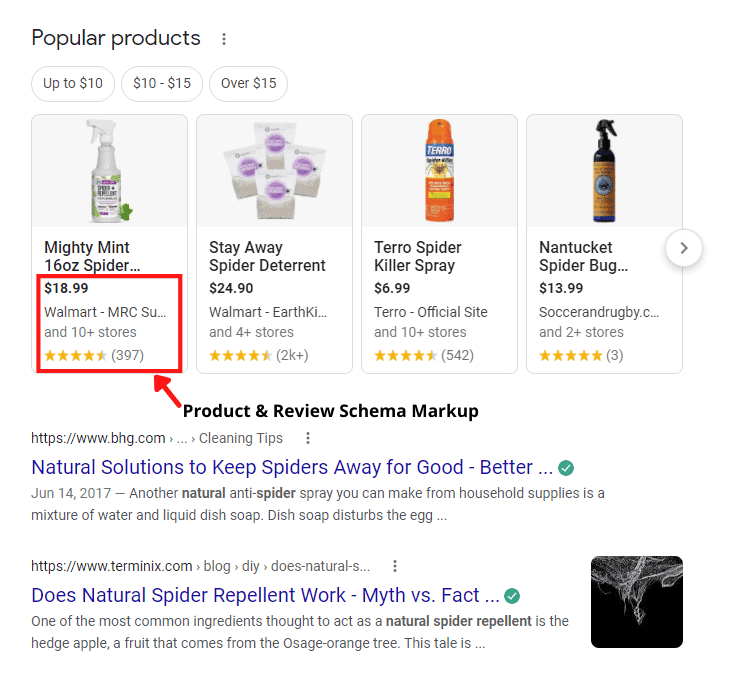 Perfect Your Value-Add
Finally, remember that your business has something Amazon will never have: the benefit of not being a giant corporation that brushes ethics and morals aside in the quest for ever-growing revenue.
Those customers who prefer to buy from Amazon will always buy from Amazon. Even if you run an Amazon store yourself, customers who buy from you on that site are Amazon's, not your brand's.
Your opportunity lies in those conscientious anti-Amazon shoppers — and those who don't have a preference either way.
These customers' needs are far more narrow than the average Amazon customer. It's up to you to identify those and highlight your product features that meet those unique wants and needs.
To make your products more attractive, take the time to beef up your product page content. Use a variety of photos, reviews, videos, and more, and don't forget to continually experiment with product page design and other features. All of this is aimed at answering your shoppers' questions, making them trust your brand, and convincing them to purchase from you.
On a higher level, think about the big picture: What can your brand offer that Amazon can't?
Maybe that's a sustainable production process, fair wages for employees, an ethical brand mission, or better customer service. Identify what makes you different (and what keeps your loyal customers coming back for more). Then, highlight that in your brand messaging.
To Amazon, customers are just a means to an end.
By understanding your customers on a deeper level and offering personalized marketing that builds a real relationship, you can show them that you care, a feeling they don't get from their Prime membership — and that Amazon can't replicate.
Should Your Business Take the Amazon Leap?
All that said, the old adage applies here: If you can't beat them, join them.
If your business is focused on competing with Amazon (or you simply want to expand your revenue opportunities), you might consider becoming an Amazon seller. By selling on Amazon, you can reach more than 95 million Prime Members.
You don't have to sell your full product inventory on Amazon, either. Instead, you can use Amazon to get further traction on your best-selling and highest-margin items.
You can also sell main products on Amazon, showing images of accessories that can only be bought on your site. That way, you can make a higher margin and collect valuable customer information, which you won't get with direct Amazon purchases.
But not all eCommerce businesses can (or even should) advertise on Amazon. In order to make a profit in this online marketplace, you have to play by Amazon's rules, which can be tricky to meet, especially if you're facing ongoing business and industry challenges (pandemic-related or not).
Instead of asking, "Is Amazon right for my business?" ask yourself this:
"Is my business right for Amazon?"
Ultimately, the answer will depend on a few key factors:
You manufacture your own products.
When you sell on Amazon, the marketplace takes a set commission, regardless of your product prices. Typically, this averages between 8% and 15%.
If you manufacture your own products, you'll be in more control of your production prices. In turn, you can afford to set your prices at a level that makes sense for this commission cut.
You should also ask yourself:
Can my warehouses create enough product to keep my products in stock? When you sell on Amazon, your customer base expands — and your production line should be ready for that pressure.
Will my product be eligible for free shipping or two-day shipping with Amazon Prime? Both of these will improve your online shopper conversion rate and customer performance.
Do I have sufficient shipping capabilities? Are you able to keep up with Amazon's strict shipping and delivery requirements, or should you consider Fulfill by Amazon, which will cut further into your margins?
You have great visuals.
Amazon is, first and foremost, a visual platform. To grab customers' attention, you need attractive product images that stand out from the crowd.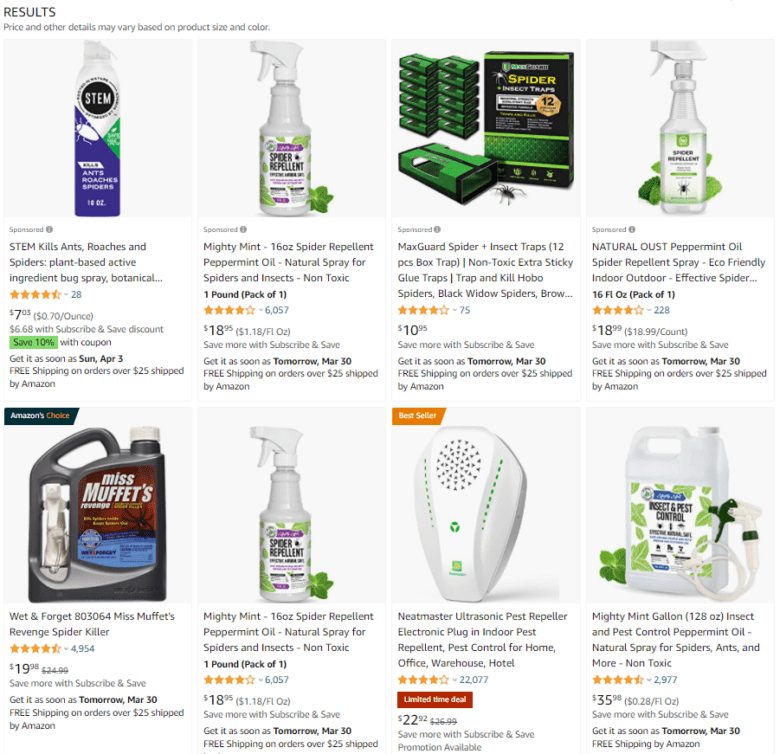 Old manufacturers' images won't cut it here. You need to invest in high-quality, in-house images (and, even better, videos!) that can show off your attractive products.
Unless you can invest in those images (and continually keep them updated), your product listings likely won't get shown over competitors with more attractive product photos.
Great images are also required to help sell your product. Once you've got someone to click on your listing, images with key product features help close the sale, like this example from our client Vitrazza.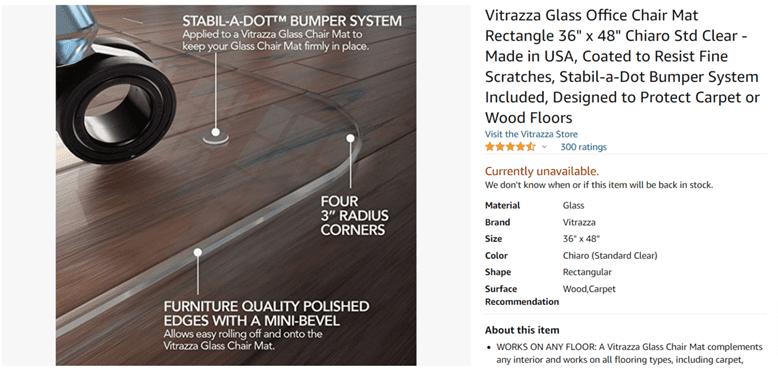 You have the budget to invest.
As mentioned, Amazon takes a commission with each product you sell. But that's not the only fee you'll pay.
Fulfillment fees, monthly membership fees, and additional costs (like advertising and product storage) can quickly eat away at your profit margins. Add in Amazon ads — which are crucial for success in this marketplace — and your brand will need a substantial amount of capital to break even.
For more guidance on whether Amazon is right for your brand, check out these resources:
Creating an "Amazon-Proof" Strategy
Unfortunately, in today's eCommerce ecosystem, there's simply no "competing" with Amazon and its behemoth ways.
But that doesn't mean your online store is doomed. On the contrary, there are plenty of ways your brand can still succeed in Amazon's shadow.
Instead of seeing Amazon as a direct competitor, we recommend viewing the brand as a sort of adjacent performer in your niche. You can keep an eye on its performance over time, but don't allow it to dictate your entire digital marketing strategy.
Take the wins where you can find them, and keep experimenting to improve over time.
As an eCommerce digital marketing agency, we've helped dozens of online retailers grow without Amazon. We can help you do the same with a personalized approach that incorporates your brand strengths and finds opportunities that Amazon is missing.
Learn more by requesting a free site audit and proposal now.