Unless you've been living under a rock, you know that Google's Universal Analytics is in its last year of life. Starting in July 2023, UA will cease processing data — meaning that now is the time to start using Google Analytics 4 (GA4).
But, before you start migrating your accounts, you need to know exactly what Google Analytics 4 is and what it means for your eCommerce business.
Over the last few years, our team here at Inflow has been diving into GA4, learning everything we can about the new platform to prep our clients for migration. Throughout this summer, we'll be publishing guides to every step in the process: setting up your accounts, migrating your data, creating your reports, and more.
Today, we'll start by exploring everything you need to know about Google Analytics 4, including how it differs from Universal Analytics and the features we're most excited about.
Need an expert to help you migrate or audit your existing Google Analytics accounts? Contact us for a free project proposal today.
What is Google Analytics 4?
While Google Analytics 4 retains the name of the most valuable free analytics tools out there, not much else is the same in this new version of the platform.
Google Analytics 4 has been completely rebuilt from the ground up, which means your team needs to be re-trained on GA4 and all its capabilities in the next year (we recommend sooner rather than later).
In many ways, GA4 redefines many of the core analytics concepts digital marketers have come to know and love over the past decade, including metrics like users and sessions. And, while this update comes with a learning curve, it also comes with many advantages that exceed Universal Analytics' existing capabilities (more on that below).
Google Analytics 4 vs. Universal Analytics
So, what exactly are the major differences between Google Analytics 4 and Universal Analytics?
As we've alluded to above, perhaps the biggest change is how Google Analytics 4 tracks users and sessions. In Universal Analytics, these events were tracked as different "hit" types — but, in GA4, every hit (page views, events, social, transaction, etc.) is now tracked as an "event."
For this reason, Google recommends that you rethink your data collection as you transition to GA4. You can't directly import your UA setup into a GA4 property (and trying to will only confuse your team).
Instead, you need to consider GA4 as its own beast with its own unique approach (because it is).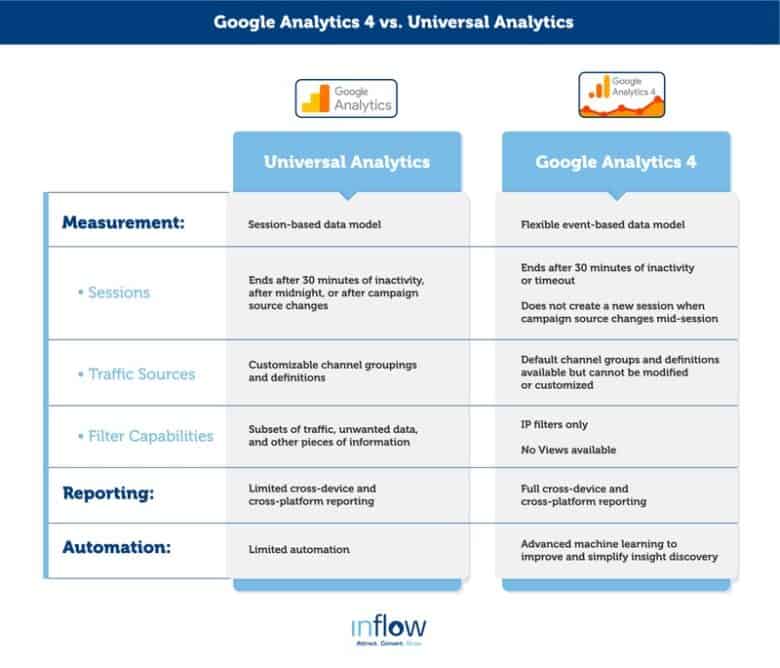 Read more about the differences between these platforms in Google's complete guide.
Pros & Cons of Google Analytics 4
In our opinion, Google Analytics has great potential for our eCommerce clients — but it's not 100% baked quite yet.
We anticipate Google will continue to release updates over the next year as the Universal Analytics deadline looms, hopefully to enhance the platform's existing functionality and improve on those areas where it's currently lacking.
The video below is hosted on YouTube. If you need assistance with viewing the video, please contact [email protected].
In the meantime, here's the current status of GA4's pros and cons:
Pros:
1. Measure Users Across Devices and Channels
Universal Analytics unfortunately could not track users across devices and channels, leading to many double-tracked site views. Google Analytics 4 solves that problem by implementing a more robust and accurate event-tracking system.
Now, if a customer uses both their mobile phone and desktop to view the same website, Google Analytics can recognize those views are from the same user — giving businesses a better understanding of the customer journey.
It's a capability that we've never had before, and we're excited for the more accurate data we'll receive from this update.
2. Gain Increased Access to Insights
Through new features like machine learning, different attribution models, and access to unsampled data, businesses will have much more granular, insightful analytics data at their fingertips. GA4 can also surface anomalies (potential patterns in user behavior) that we've found helpful in informing our client campaigns.
Combine that with GA4's ever-improving reporting capabilities, and you can now create custom reports built around your business needs and goals — not limited to a "one-size-fits-all" model.
3. Predict User Behavior with Analytics Intelligence
With all the user data above, Google Analytics 4 can predict purchase probability, an incredibly useful tool for eCommerce sites. By reviewing past customer behavior, the platform can identify which customers are likely to make conversions and which customers are more likely to disengage from your website completely.
Even better: GA4 can also predict the types of revenue that could be generated from real-time user interactions and customers. Use this predictive data to build and target those particular audiences, and you'll see your return on ad spend (ROAS) climb.
4. Integrate in New Ways for Reporting & Bidding
All this new data isn't just limited to displaying in your reports. With GA4, you can now integrate those findings into your Google Ads and Display & Video 360 accounts, too.
The easier integration allows for much quicker, more straightforward cross-platform sharing, allowing your team to find and bid on the most effective audiences for your goals.
Cons:
1. Limited "Out-of-the-Box" Reporting Options
If you're used to Universal Analytics' easy reporting options, Google Analytics 4 will be quite a shock.
With UA, managers could easily install their tracking and reports without much configuration. GA4, on the other hand, offers more customizable options — which can make your initial setup process much harder.
Working with a trained agency can help you configure your reports without a headache. Otherwise, be prepared for some frustrating lack of capabilities in GA4's current iteration.
2. Limited Data Retention
Unlike Universal Analytics, Google Analytics only retains 14 months of historical data. That means you'll no longer be able to compare data sets beyond a year-over-year comparison.
Fortunately, you can still export and store older historical data using a data warehousing solution.
Here at Inflow, we're using BigQuery data streams to store our clients' data that falls outside the 14-month period. That way, our clients and strategists can review historical data for seasonality analysis — especially important for our eCommerce clients.
Why You Should Start Your Migration Today
In our opinion, Google Analytics 4 is a superior analytics platform to Universal Analytics, and we're excited for the tracking and reporting possibilities it brings. However, because it is so different from previous GA iterations, it does require some time to learn — which means your business can't afford to put off your transition any longer.
To maintain your year-over-year data, your new properties should be configured and tracking as of July 1, 2022.
But, since that's only a couple of days away, remember this: Some data is better than no data at all. Even if you can't complete your migration by July 1, plan to do so as quickly as possible to retain your historical data and set your reports up for success.
Don't have the time or expertise to do it on your own? We've developed a straightforward, five-phased migration plan for our clients, and we're happy to do the same for you. Contact us today to get a project proposal for your GA4 migration, whether your site is eCommerce, B2C, or something else.
We'll be happy to transition your accounts, configure your reports, and get your business set up for a successful GA4 future.
In the meantime, stay tuned for our next pieces in our GA4 series, tackling everything you need to know about configuring your accounts on your own.