Customers have come to expect more and more info about a product before making a purchase.
What customers expect from an eCommerce product page greatly depends on the norms set by popular eCommerce sites, which is why each year we analyze leading eCommerce sites across dozens of categories to identify what features and technology they're using.
In this post, we detail our research about product page design trends, complete with examples from many of the websites we studied.
For product pages on leading eCommerce sites in 2018, here are:
Note: Want to talk to our CRO team (who performed this study) about how your site compares to the best-in-class? Reach out here or schedule a call above.
Part 1: Popular Features for eCommerce Product Pages
For product pages across the leading eCommerce sites we studied, these five features were extremely common:
Feature #1: Wishlists
In use on 17 of 20 best-in-class websites
Seventeen of the 20 best-in-class sites maintain a wishlist feature on their product pages. We also found many sites have a "save to wishlist" CTA on their gallery pages.
The number of sites with gated wishlists — that required a user to login before saving a product — are decreasing. Based on our testing, ungating favorites or wishlists increases their usage, sales, and registration.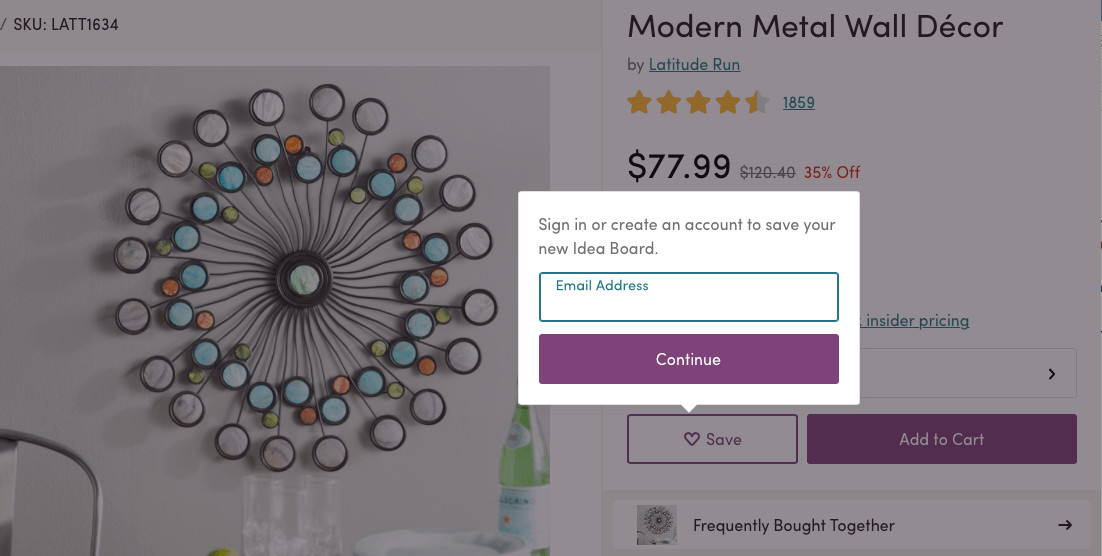 On mobile, while wishlists are still popular, we found fewer sites maintaining them than we did last year, which potentially reflects the difficulty of successfully implementing this feature on mobile devices. The majority of mobile sites require a user to register as their first action after selecting an item to save to a wishlist.
Feature #2: Customer Reviews
In use on 15 of 20 best-in-class websites
We classified reviews as a "must-have feature" because your customers expect them — they are now the norm.
Importantly, implementing a review feature isn't enough on its own. Your reviews need to be filled in for them to work. If you don't have many reviews on a product page, it can result in distrust of your brand.

Feature #3: Personalized Cross-Selling
In use on 14 of 20 best-in-class websites
It is becoming a convention to use personalized language such as "You Might Also Like," or "Complete the Look"  to display other products on a product page. This is often done via a recommendation engine rather than curating related products.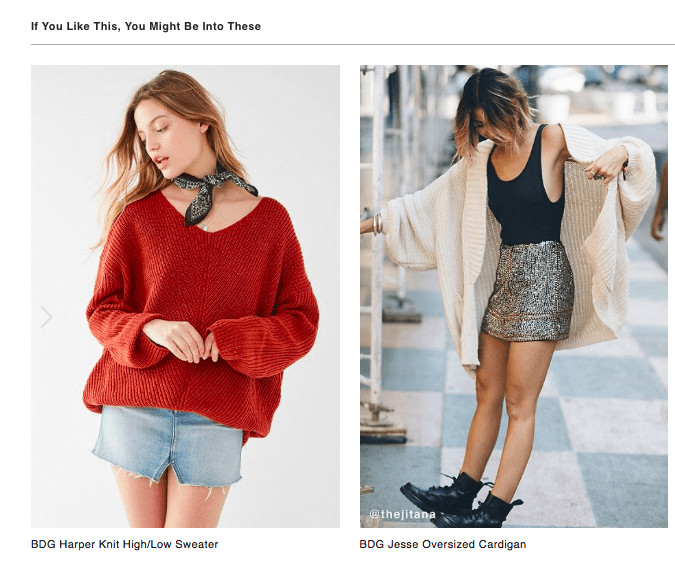 Feature #4: Sticky Navbars
In use on 13 of 20 best-in-class websites
Another option we see more and more are sticky anchored navbars that allow users to scroll down or click to the appropriate section.
For lengthy product pages, this helps customers find the information they need — without getting lost on the page.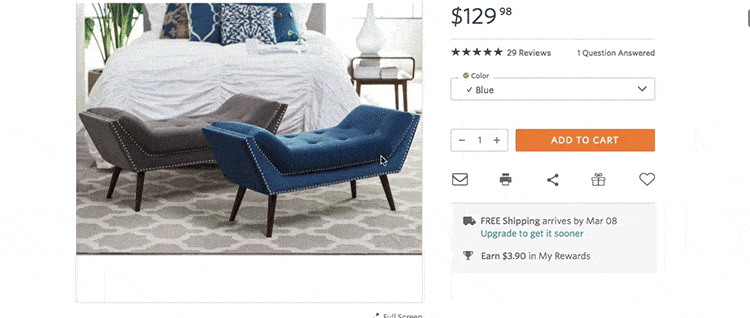 Feature #5: Click Through Product Images
In use on 12 of 20 best-in-class websites
Alternative views for product images is in use by the majority of sites we compared. Per the current convention, users must click to get to the next image.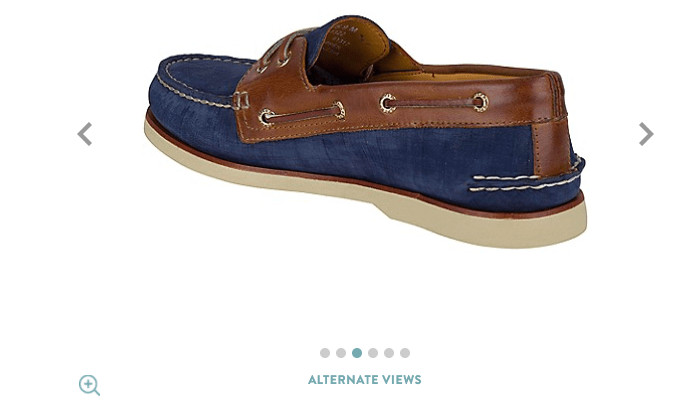 However, an up-and-coming feature is to allow users to change the main image displayed by simply mousing over the thumbnail. Although currently only four of the best-in-class sites are using this feature, it has tested well for our clients.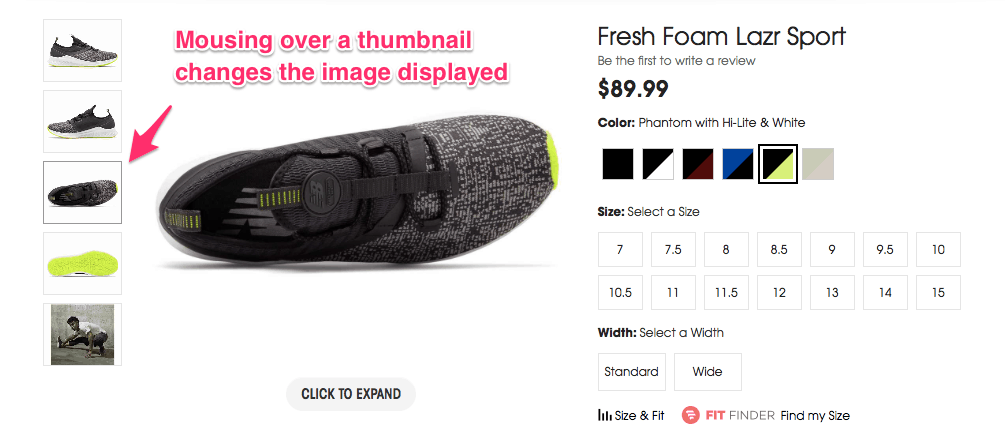 Part 2: Up-and-Coming Features for Product Page Design
We also found several up-and-coming features for product page design.
These aren't in use on all of the websites we studied, but they are being adopted by more and more companies when compared to our research from last year.
Feature #6: Customer Question and Answer
In use on 6 of 19 best-in-class websites (1 site not applicable)
Customer Q&A is slowly catching on within eCommerce. When done well, this feature can go a long way to building trust through transparency and customer engagement.
One note about Q&A: it's often not executed well. To do it right, make sure your customer support team is answering customer questions quickly and professionally.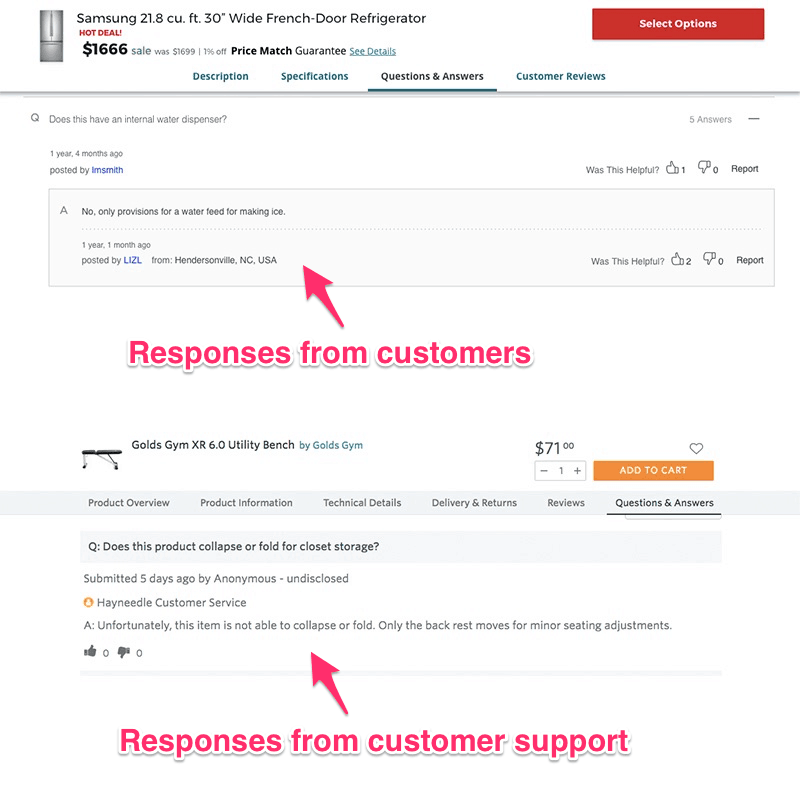 Feature #7: Product Videos
In use on 5 of 19 best-in-class websites (1 site not applicable)
Product videos have taken off over the past year as well — with more sites adding them to their product pages.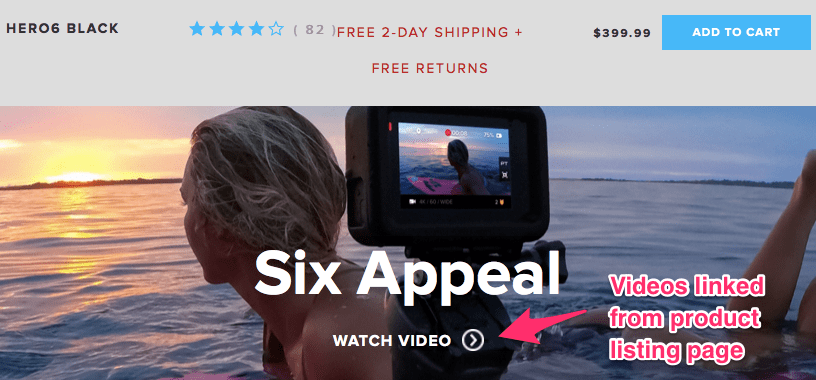 Part 3: Product Page Features That Are Becoming Less Popular
Finally, here are two product page features — while still in use on many eCommerce sites — we're seeing used less than they were last year.
Feature #8: People Who Viewed/Bought Also…
In use on 9 of 19 best-in-class websites (1 site not applicable)
"People who bought this item also bought …" is still a must-have feature when accessories are required for an item; however, this is best displayed after a user adds the item to their cart.
Displaying products from the same designer or brand for multi-brand eCommerce sites is also becoming less popular. Based on our testing, we have not found it to drive sales.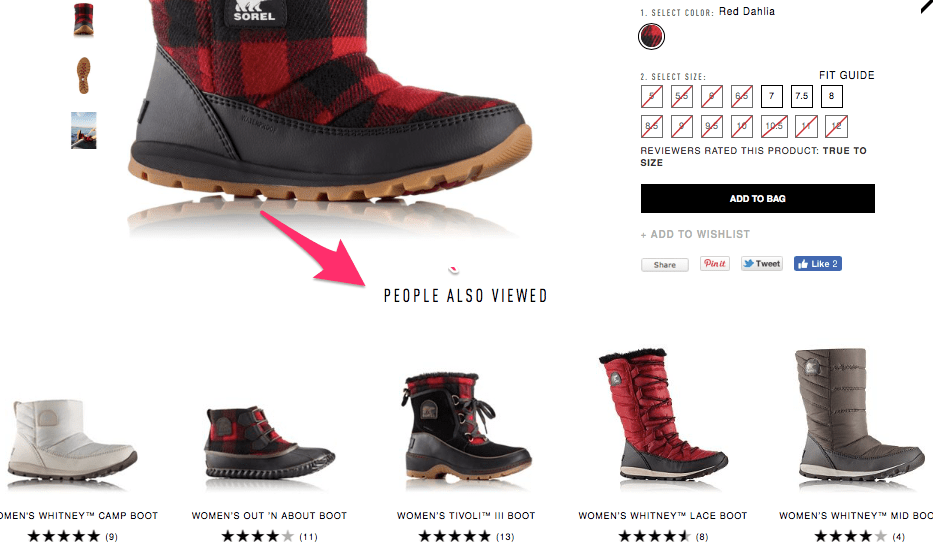 Feature #9: Comparing Products on the Product Page
In use on 1 of 20 best-in-class websites
Best-in-class sites have all but abandoned comparing products on the product page unless it's very important to differentiate between a few comparable products — as with Webroot's antivirus offerings.
Note: Want help improving the product pages on your eCommerce site? Contact us to discuss how to optimize your site for conversions.