Now that this summer's Google Analytics 4 deadline has come and gone, our marketing agency has been hard at work setting up the conversion tracking and reports our eCommerce clients need to inform their marketing and business strategies.
Today, we're going to focus on one particular GA4 integration: CallRail.
For those who missed it, CallRail recently released its Google Analytics 4 integration to send your phone call, text, chat, and form submission data to events you've created within the analytics platform.
While the CallRail has done the best it can at this time, its current integration is, unfortunately, limited — and remains at the whims of Google's ever-changing platform.
This isn't a challenge unique to CallRail. In fact, it's one we've seen often with various Google Analytics integrations and plugins over the last few months in configuring our clients' reports.
Today, we'll help you reduce the burden from this new integration's limitations with our free CallRail GA4 Configuration Tool, created to help you easily pass your CallRail data into your new GA4 reports.

Why We Created This Tool
The current CallRail integration is passing lots of call-tracking data to Google Analytics 4 via the Measurement Protocol. However, it's not possible yet for CallRail to "integrate" with a user session in GA4 in the same way it did in Universal Analytics.
In other words, while you can still see the source/medium of your calls/texts/chats from CallRail, that attribution data won't be in the same place that you're used to seeing it for all your other reporting.
To view this information and use it for your reporting, you'll need to take a few extra steps to set up Custom Dimensions, Custom Metrics, and Conversion Events in Google Analytics 4.
Unfortunately, this can be a time-consuming process, especially if you're having to do it for multiple Google Analytics properties.
So, we created a tool to help — one that cuts down that 30-minute process into mere seconds with a little spreadsheet magic.
How to Use Our CallRail GA4 Configuration Tool
Inflow's CallRail GA4 Configuration Tool quickly and easily creates the Custom Dimensions, Custom Metrics, and Conversion Events you need to see your CallRail data in Google Analytics 4.
It's a simple setup, too — a plug-and-play version that any digital marketer can implement for their GA4 property.
(Note: You'll need to first integrate GA4 within your CallRail account before using our tool; otherwise, the connection won't work properly. Do this by logging into CallRail, selecting the GA4 integration, entering your measurement ID, and confirming you want to send data to GA4.)
Here's how to use our tool:
Step 1: Make A Copy of Our CallRail GA4 Configuration Tool.
Because of its value to our fellow digital marketers, we've chosen to share this Google Sheets tool for free.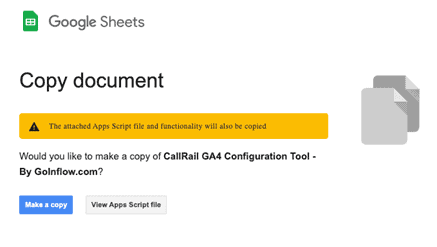 Step 2: Add the Analytics Admin API.
To feed this tool into your Google Analytics accounts, you'll need to add the Analytics Admin API service. You can do this in the "Apps Script" menu dropdown (found under "Extensions" in Google Sheets).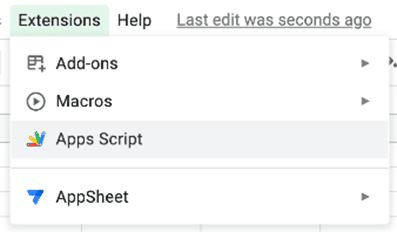 Add the API.

Then, navigate to the "Configure GA4" tab.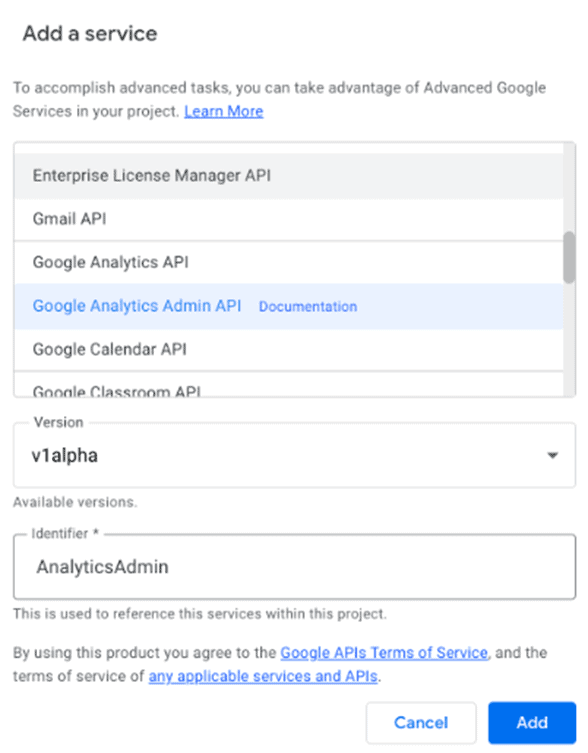 Note: You may be prompted to grant access to your Analytics property. You must do that for the tool to work properly.
Step 3: Add Your GA4 Property ID to the Tool.
Once you've set up your API connection, simply add your GA4 Property ID into the highlighted box on our tool.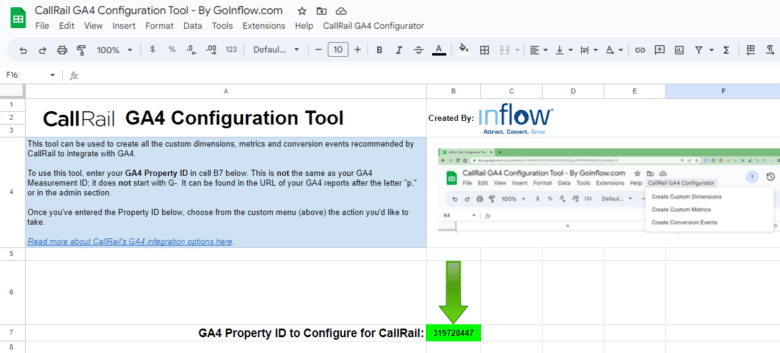 This ID is not the same as your GA4 Measurement ID (it does not start with "G-"). You'll find this ID in the URL of your GA4 reports after the letter "p," or in the admin section of your account.

Step 4: Choose the Action You'd Like to Take.
Now, you're ready to set up Custom Dimensions, Custom Metrics, or Conversion Events with the tool.
Navigate to the "CallRail GA4 Configurator" drop-down, where you can choose from one of these actions to complete your data setup.
Where to See Your CallRail Data in GA4
Once you've completed the custom definition setup for the data you want to report on, you'll need to take another step to easily find that data within your Google Analytics 4 platform.
You have two options:
Create a custom report in Google Analytics 4 that includes these metrics.
Customize your existing standard reports to include these new custom metrics.
You must receive at least one event through the integration before using these custom definitions in your reports.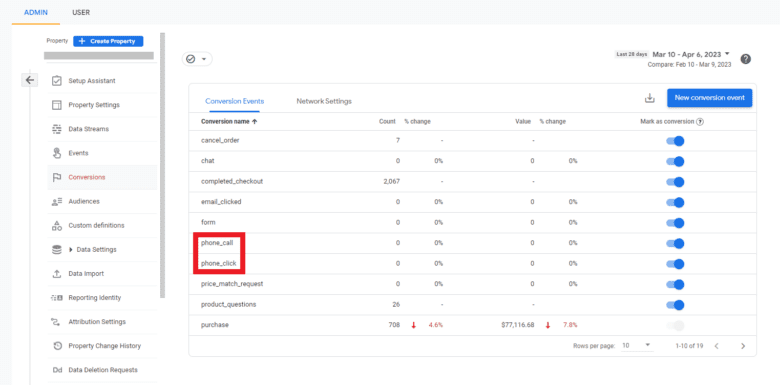 Note: You cannot use this CallRail tool for your Google Ads integration. Fortunately, CallRail's Google Ads integration works wonderfully for this purpose.
Download our CallRail GA4 Configuration Tool Now
And there you have it — everything you need to create your custom metrics to pass your CallRail data into your new Google Analytics 4 properties.
We hope this guide and tool are helpful in fleshing out your Google Analytics 4 reports as it fits your business goals. Remember: If you need further help configuring your GA4 accounts or training your marketing and business teams, Inflow is always here to help.
In the meantime, download our free tool below to get started:
Get the CallRail GA4 Configuration Tool for Free!
Step 1
Want more great content?
It's totally not required, but if you'd like to join our mailing list, we will email our Inflow Insights once a month, as well as weekly content alerts.
Step 2
Get the tool!
Click the button below to open your very own copy of the CallRail GA4 Configuration Tool.