With less than a year until the transition deadline, you're likely in the midst of migrating your Universal Analytics accounts into new Google Analytics 4 properties. (Bonus points if you've already completed the process!)
However, as you start evaluating your data, things may not match up. Perhaps you're seeing fewer sessions and users in your new GA4 reports, or maybe you're missing revenue in one platform or another.
What gives? Is Google screwing you over with its new analytics platform?
While GA4 is admittedly still a work in progress, your data inconsistencies likely aren't a flaw in the system. They're part of the design.
Today, we'll walk you through what we mean.
Using our experience tracking client data over the last few months, we'll explain how GA4 and UA compare in terms of metrics and reporting. We'll also touch on how their data models stack up against your eCommerce platform — and how you can take all of this into account to develop a nuanced understanding of your reporting moving forward.
In the meantime, if you'd like our experts to audit your current GA4 setup and/or explain how this data compares to your UA history, contact our experts now.
GA4 vs. Universal Analytics
We've talked about it before, but it's worth stating again: The biggest differences between Universal Analytics and Google Analytics 4 stem from the latter's improvements in data tracking.
In session-based Universal Analytics, website events (like sessions, users, etc.) were tracked as different "hit" types. With GA4, Google overhauled that process, instead tracking every hit type as an "event" in and of itself.
The result: An event-based data tracking system that looks and feels very different from Universal Analytics, requiring digital marketers across the globe to completely rethink their data collection strategy.
So, how do those changes in tracking and functionality affect what you'll see in your reports, especially when comparing Google Analytics 4 vs. Universal Analytics?
Below, we'll discuss some of the most common metrics we've discussed with eCommerce clients when it comes to inconsistencies in reporting. For further reading, we also recommend Google's comprehensive guide, which compares every key difference in metrics across its two analytics platforms.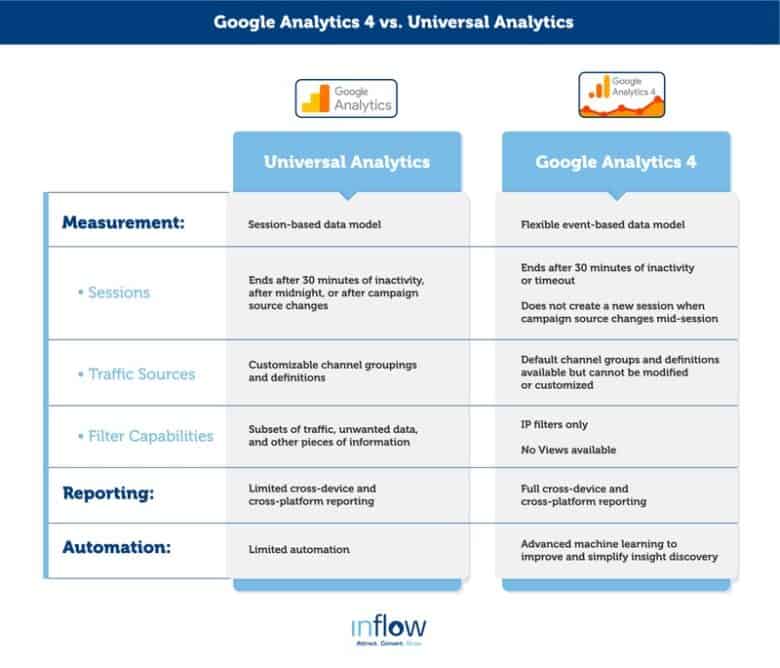 1. Bounce Rate
First, let's talk about the most recently released metric in Google Analytics 4: bounce rate.
Back when we first transitioned our clients' accounts in the spring, bounce rate didn't exist in GA4. We anticipated it being added in later, and we were right: Bounce rate was added to the platform in early July.
But it's not the bounce rate you're used to in Universal Analytics.
Instead of the percentage of single-page sessions with no page interaction, the GA4 bounce rate is the percentage of sessions that were not engaged (ie. lasting 10 seconds or longer, having at least one conversion events, or having at least two screen/pageviews). In other words, it's the opposite of your page engagement rate.
So, for example, if a user connects to your website, reads a blog for a few minutes without any other interactions, and then leaves, that no longer qualifies as a bounce. Compare that to UA, where even a full blog read could be counted as a bounce if no links were clicked or no other events triggered by user interactions.
2. Sessions
Because of GA4's switch in its approach to data tracking, sessions are now also calculated differently than they were in Universal Analytics.
First, visitors must meet the "engagement" requirements detailed above to count as a "session." Secondly, how long that engaged session lasts is based on different parameters than in UA — most crucially, that sessions are not restarted at midnight or when a new campaign source is encountered (both of which were qualifiers for a new session in Universal Analytics).
For this reason, your GA4 property may report a smaller number of sessions than your UA property, although they'll likely be generally comparable.
3. Users
Similarly to sessions, you can usually expect to see fewer users reported in your Google Analytics 4 tracking. This is due to the platform's arguably biggest improvement: its ability to track users across devices as one, rather than create new users as they switched devices (as Universal Analytics did).
Don't panic about this discrepancy in users between GA4 and UA. Instead, celebrate it as a more accurate, streamlined version of user tracking, eliminating any double-counting across devices.
Like in UA, GA4 tracks three different "categories" of users. While most of the metric descriptors remain the same, note that GA4's primary user metric is "Active Users," compared to UA's "Total Users."
Thus, make sure to update your reporting accordingly.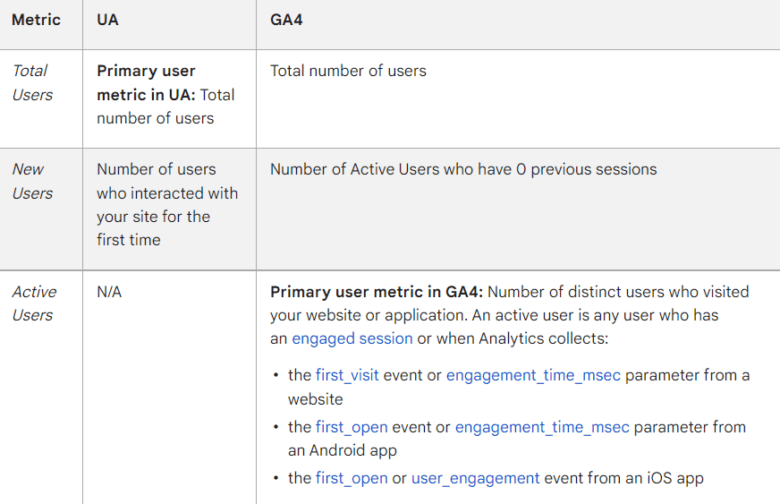 4. Purchases
These eCommerce transactions are another metric that should compare closely across Universal Analytics and Google Analytics 4 — because the "events" are tracked almost exactly the same across both platforms.
As Google itself states, "We never expect all events to be collected perfectly… However, these events are atomic and critical, so event counts should match closely across UA/GA4."
Any small differences you do see will likely be because of changes in timezone settings or filters on your UA profile, and they will be less visible when viewing longer time periods (like months instead of days).
5. Goals/Conversions
Finally, let's talk about the more "customizable" metrics available in Google Analytics 4: conversions.
Previously tracked as "goals" in Universal Analytics, any GA4 conversion events must be specified by website managers. Typically, these include non-purchase custom events like "Form Submit," "Email Submit," "Save for Later," etc.
In yet another contrast with UA, Google Analytics 4 can track multiple conversions for the same event per session. For example, if a user were to submit multiple contact forms in one session on Universal Analytics, that goal would fire once. In GA4, the platform will track multiple conversions from those multiple submissions — a feature that has caused more than one headache for our eCommerce clients in the past few months.
Because of GA4's limited approach to conversions (ie. using one "event" rather than several hit types), you may not be able to exactly duplicate your UA goals in the new platform. If you're struggling to replicate your Universal Analytics properties in GA4, we recommend working with an expert to set up and configure your tracking.
Comparing These Data Points
As you continue your transition from Universal Analytics to full-time Google Analytics 4 reporting, we recommend simultaneous tracking on both platforms. That way, you can better understand how GA4 compares to UA (and vice versa) and get a more accurate understanding of your website performance.
To that end, we've created a free, downloadable Google Analytics Comparison Dashboard to get you started.
Within it, you'll find a simple plug-and-play template, where you can simultaneously track and compare your data from both Google Analytics properties. With this side-by-side approach, your marketing team can better analyze your metrics and create a more effective marketing strategy moving forward.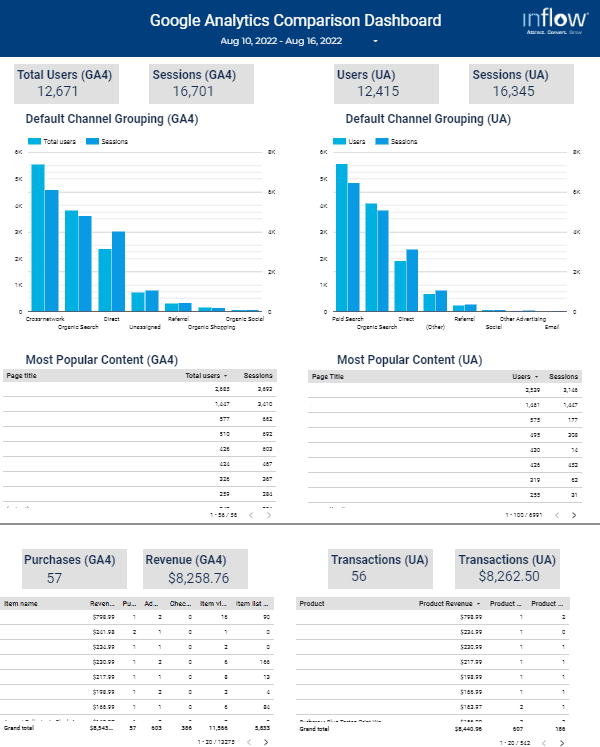 Download it for free now by filling out the form below.
Download Our Google Analytics
Comparison Dashboard now.
Don't Forget Your eCommerce Platform
As you're reviewing how your data compares in Universal Analytics vs. Google Analytics 4, don't forget to keep your eCommerce platform in mind, too.
Most website hosting softwares provide their own in-platform reporting, especially those serving eCommerce clients. While this can be another helpful resource for understanding your performance, use the tools with a grain of salt — because they'll often report different numbers than Google Analytics.
As an example, let's look at Shopify.
Unfortunately, Shopify will never match up perfectly with the data you receive from Google Analytics 4, a situation we've seen frequently over the past few months while transitioning our eCommerce clients. There are a few reasons why:
Shopify apps can interfere with GA4 eCommerce tracking. Many Shopify plugins and applications allow for ease in setting up site events like email subscriptions, upsells, cross-sells, checkouts, and add-to-carts. However, they frequently impact our ability to collect data in GA4, too. While we're actively searching for solutions, many eCommerce sites right now can only receive GA4 data on "view product" and "purchase" — nothing in between.
Certain browser features can block GA4's tracking. If your shoppers use ad blockers while browsing your site, some of their actions may be hidden from Google's trackers. Similarly, if your site uses JavaScript, but your customers' browsers don't execute it properly, your web analytics data in GA4 may be inaccurate.
Shopify tracks differently than GA4. Because the two platforms track events differently, there may be inconsistencies in subsequent data. For example, most basic Shopify stores will not register (or at least correctly register) checkout events like "begin_checkout," "add_shipping_info," etc.
You can read more about potential reasons for inconsistencies in Analyzify's guide.
Again, this variability in data is nothing to panic about. As Analyzify reports, if your data discrepancy is anywhere between 10% and 12%, consider yourself in the "normal" range. (Here at Inflow, our clients have regularly stayed between 1% and 10% discrepancy, with some being even closer than that!)
Once your Shopify and GA4 discrepancy levels surpass 15%, however, it's time to bring in an expert for some problem-solving.
Use a Comprehensive Reporting Perspective
As your team starts using GA4 reporting more over the next year, be prepared for these data inconsistencies to emerge along the way.
You could have the wrong analytics setup, your customers might be using VPNs or not loading the web page entirely, or certain browser features (looking at you, Safari) may be messing with your analytics tracking. Whatever the issues are, by identifying them now, you'll have plenty of time to find a solution and reconcile any differences moving forward.
Remember: Our Google Analytics Comparison Dashboard can help you track this data all in one place for ease of analysis. But, if you need more advanced help in configuring your Google Analytics 4 tracking, our team is happy to audit your current account setup and recommend personalized improvements for your business needs. (Just contact us here to get started.)
In the meantime, review our other Google Analytics 4 resources below to better inform your DIY process: