In a world where AI platforms can produce content at rates never seen before, many eCommerce businesses get stuck in the rat race of populating their websites with ever more blogs, product pages, and other helpful content.
But content creation is only part of the game.
To maximize both your SEO and customer experience efforts, you also need to understand how your current material is performing. And that means performing a content audit.
We know: Content audits can be tedious and overwhelming. You might have to review thousands of blog posts and product pages. It can be difficult to figure out where exactly to start, what content strategies to follow, and how to optimize effectively for search engines.
So, this guide is here to help.
Today, we'll walk you through every step of our content audit process, developed from years of working with eCommerce businesses just like yours.
Use it now to create an effective SEO content marketing strategy that boosts your organic performance, conversion rates, and overall revenue.
Want to skip ahead to the TL;DR version? Download our Content Audit Toolkit to get started now.

Table of Contents

What Is a Content Audit?
A content audit is an analysis of all the content on your site, including blog posts, product pages, landing pages, and any other written material. It helps you understand what content you currently have, how it's performing, and what needs to be improved or removed.
Content audits can be conducted for various different reasons. Perhaps your organic traffic has been slipping, and you want to identify the reasons why. Maybe you've hired a new SEO or content marketing manager who wants the lay of the land. In other cases, you might just want to organize your unwieldy number of web pages.
Whatever your reasoning for doing one, a content audit helps you identify issues or problems with your current content strategy and how you can enhance it moving forward.
Along the way, you'll use certain metrics to determine how each page is performing and what your next steps should be in the context of your overall content marketing plan.
In an ideal world, a business's content library should be audited every other year to ensure it is up to date. However, we recognize that's not possible for every marketing team, so we suggest fitting this process into your schedule as it allows.
Why Content Audits are Important
A content audit isn't just important for your content marketing strategy; it's also key in related marketing efforts like search engine optimization (SEO). After all, only by understanding where your current content is can you know the improvements you can make moving forward.
More specifically, content audits can be used to:
Identify underperforming content for improvement or deletion
Identify top-performing content to inform overall strategy
Serve as a content gap analysis of competitors' sites
Better understand how to execute a keyword research strategy based on what content is (and isn't) ranking
Discover new content marketing possibilities and gaps in the customer journey
Revamp stale content to be more engaging in terms of tone, writing style, and overall approach
Revisit the accuracy of certain claims and data points to ensure everything is current and relevant
Rewrite old content or create new material to better suit your brand's current goals and target audience's needs
Refresh content in light of algorithm updates (such as Google's Core Updates) to ensure that it remains SEO-friendly.
The nature and scope of your next steps after a content audit will be determined by which objectives are most important to you and how much bandwidth you have to invest in content going forward.
Ultimately, the goal is to ensure that evergreen content is repurposed and that old, irrelevant content is regularly deleted — keeping your content fresh for both customers and for search engines.
A Reminder for Ecommerce Businesses
In many ways, an eCommerce content audit is the same as a content audit for any other website.
However, one indicator is far more vital on eCommerce sites than on any other type of site: revenue.
While most content audits will recommend that you focus on sessions to analyze a page's performance, in the online shopping space, your ultimate goal will always be to drive sales, not just traffic.
Every piece of content you create should directly impact your bottom line. A content audit is just one way to ensure that your efforts are actually driving revenue for your eCommerce business. Indeed, with the right tracking systems, you can associate revenue with not just product pages but other pages, as well!
If you're running an eCommerce content audit, we highly recommend keeping revenue at the top of your mind during your audit process.
To that end, we've created this comprehensive eCommerce content audit guide, complete with an eCommerce Content Audit Toolkit, a video walkthrough, and a spreadsheet template to follow.
How to Do a Content Audit: The eCommerce Edition
Below, we'll walk you through every step of the content audit and analysis process. This is the same process we use for our eCommerce clients, and it's a great way to get started if the idea of conducting a content audit on your own leaves you overwhelmed.
Even if your site isn't an eCommerce website, you can still use this guide to analyze your website's performance and create a content marketing strategy. Make sure, however, to create a set of goals and KPIs based on what's important for your site, since those may differ from the metrics we recommend for online businesses.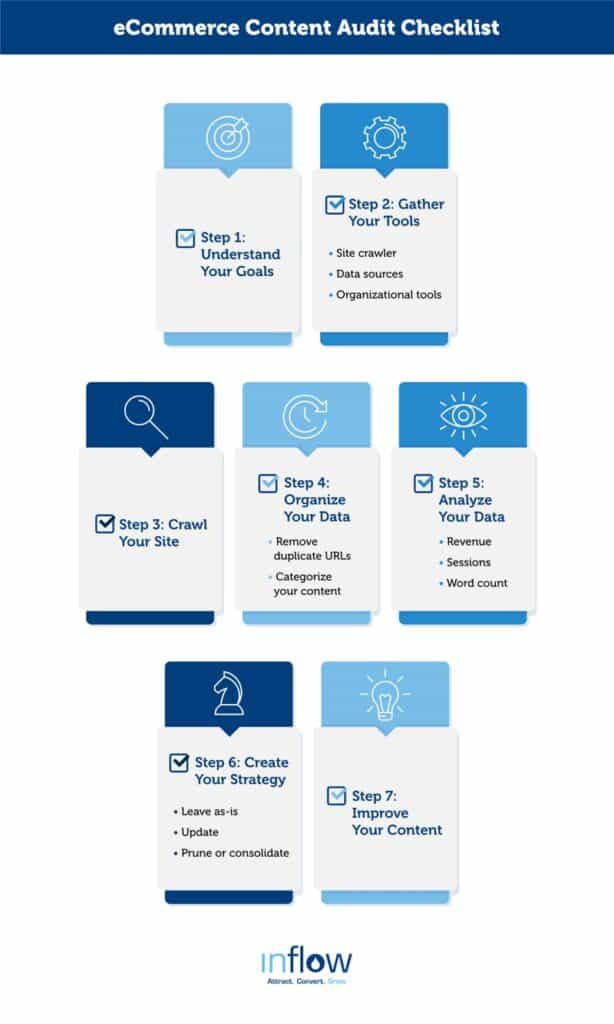 Step 1: Understand Your Goals
Before diving into your content audit, you need a clear understanding of what you plan to gain.
Are you looking to improve traffic numbers? Prune your site of old content? Increase your site revenue? Find content gaps and new marketing opportunities?
All of these play a role in a content audit, but we recommend choosing a few bigger goals to guide your decisions. Otherwise, you could get overwhelmed by all the possibilities.
It might be helpful to create a checklist before you review each URL to remind yourself of what you're looking for and which metrics to keep an eye on. Doing this will help you stay focused and make decisions more easily.
Step 2: Gather Your Tools
If you want to run an efficient content audit, we recommend having a few tools on hand:
Site Crawler
Use tools like Screaming Frog, Ahrefs, or Semrush to pull your site data.
We recommend Screaming Frog since it allows for integration with other data sources to pull not just your on-page data but also important metrics like sessions, bounce rate, time on page, and revenue.
Data Sources
The data sources you use are up to you. At a minimum, we recommend Google Analytics & Google Search Console and an external source like Ahrefs or Semrush.
Make sure that your Google Analytics & Search Console accounts are tracking accurately. If your data is incorrect, the rest of your content audit will be of little worth.
Organization Tools
You'll be dealing with a lot of data during your audit, so you'll need a way to organize it.
A spreadsheet is the most commonly used tool, but you might also want to use a content audit template.
There are plenty of organizational tools out there, but we recommend our eCommerce Content Audit Toolkit. Not only will you receive a spreadsheet template to organize your data, but you'll also get a step-by-step, eCom-specific walkthrough for the steps ahead.
Step 3: Crawl Your Site
The next thing you need to do as part of your eCommerce content audit is to crawl your site for an overview of its URLs, metadata, and performance metrics.
To crawl your site, you'll need to use a tool like Screaming Frog or Ahrefs. These tools will track down every URL on your site and pull important metrics like traffic, bounce rate, time on page, and revenue.
Using your crawler of choice, run a crawl on your site to analyze all content of your choosing. Adjust your settings to avoid crawling dynamic URLs like faceted navigation URLs, internal site search URLs, and the like. Otherwise, you'll crawl pages multiple times and have to wade through potentially hundreds or thousands of pages to identify the right ones.
For those using Screaming Frog, we've detailed our crawl settings in the video below. You can also download our custom Screaming Frog configuration file as part of our eCommerce Content Audit Toolkit.
The video below is hosted on YouTube. If you need assistance with viewing the video, please contact [email protected].
Step 4: Organize Your Data
Site crawls often churn out data in an unorganized manner.
To make analyzing your content inventory much easier, take a minute to organize and categorize your URLs. (Our toolkit also gives you a Google Sheets template to do so.)
Remove Duplicate URLs
Even with the right crawl settings, duplicate URLs with parameters can still slip through the cracks.
Save yourself time by identifying those in your spreadsheet and removing them — but only after making sure the original URL has been crawled.
Categorize Your Content
Whether your crawl returns hundreds or thousands of URLs, you'll need to categorize them for easier viewing and content analysis.
For eCommerce sites, we recommend using the following buckets:
Page type
Buyer's journey stage
Content format
Publication date
Content hub/cluster
We find categorizing by page type to be the easiest method for eCommerce businesses. Because the value of each page type differs (i.e., the goal for a product page is very different than a long-form blog page), arranging by this type allows you to better see how certain content is performing against the goals you've set for that specific page.
Start this process by searching for URL subcategories like "/blog" or "/product." Depending on how well-organized your site is, some manual work will be required — but taking this step now will save you a lot of time in the long run!
Once you've categorized your content, you might also want to add details about its production to guide you later on. For example, taking note of which team wrote an article and its production time will allow you to assign tasks more efficiently when it's time to refresh your content.
Take note of these helpful details:
Author/team that produced it (content team, marketing team, social media team, etc.)
Content production time
Type of content (blog, case study, infographic, guide, etc.)
Content goal (traffic, backlinks, engagement, conversions, etc.)
Word count
Engagement (bounce rate, average time on page, social shares, etc.)
Step 5: Analyze Your Data
Now, the fun begins.
You'll need to analyze each URL or page type against your desired performance goals. (This is where the goals you established in Step 1 will come in handy.) You won't be able to make strategic decisions about your content if you don't know what you're comparing against.
Below are a few key metrics to consider during your analysis.
Remember: Your strategic recommendations for each page should be based on a combination of metrics, not just one or two.
Revenue
Revenue is the metric you should consider above all metrics. It is, after all, the reason eCommerce businesses exist.
As such, even pages with low traffic and poor content should be kept if they are driving revenue (or, for non-eCom sites, leads).
We recommend sorting your URLs by revenue to see those that are highest-performing. These should be the pages you focus on most when improving on-page content.
Sessions
After revenue comes sessions.
Sessions refer to the number of times a user visits your site. Traffic is a crucial part of bringing in new customers, and your most popular content is a good indicator of which topics are performing well (and what you can do more of).
Review content with the most sessions to determine those that can be improved and those that can inspire new, related content pieces.
On the flip side, review any pages with extremely low traffic. (This "standard" will depend on your site's average traffic and performance.) If they aren't driving any revenue, they are likely candidates for pruning from your site.
Word Count
One of the biggest areas of opportunity is "thin content" — low-quality content that can be quickly improved. The biggest indicator of thin content is a low word count.
Obviously, "low" will be relative for each site. Here at Inflow, we typically review any page with less than 800 words. Some of these pages may be old and outdated and can be pruned. Others could be quickly improved with new copy or images to boost their organic performance.
A note for eCommerce businesses: Even product pages should have at least 600 words of content.
Step 6: Create Your Strategy
As you go through the URLs in your spreadsheet and evaluate the data, you can start making a plan for each.
For our team, this boils down to three choices:
Leave As-Is
This is the default choice if you don't see any clear improvement opportunities. We typically leave pages as-is for two reasons:
They are already driving revenue.
They aren't high enough on priority to justify the effort required to improve them.
Update
We recommend updating low-performing pages, especially eCommerce product pages or evergreen blog posts.
If you have the resources to update them, these pages will likely perform better in search and help you lower your eCommerce site's bounce rate.
Get started with our guide to improving product page SEO and content.
Prune (or Consolidate)
This is our team's default choice for pages with little to no traffic or content that isn't performing well. If you don't see an opportunity to improve a page, it's likely best to prune it from your site (or consolidate the content with a better performing URL).
This can save you time and resources spent on SEO and content marketing.
---
Ultimately, your strategy will come down to more than just the metrics associated with each URL. After all, in an ideal world, we'd be able to improve every page on a site — but bandwidth often doesn't allow for that.
Instead, you and your digital marketing team should discuss which content is most worth your time. Create a priority list of these URLs, and then leave others as-is until you have the time and resources to revisit them in the future.
Step 7: Start Improving Your Content
Now that you have a strategy in place, it's time to improve your eCommerce content.
The improvements you make to each piece of content will differ depending on your objectives and how well the material is currently performing. For example, if a blog page gets lots of traffic but has a high bounce rate, you'd start by rewriting your content intro, not reworking the whole piece.
If you're improving content for an eCommerce site, start with this checklist:
Rewrite or expand your on-page content: Review competing pieces to see where you can add new content like examples, tips, step-by-step guides, and more.
Update your product descriptions: Make sure the language you're using is clear, concise, and convincing.
Add new images or videos: People love visual content, so consider adding photos or videos to your existing material.
Prune old content: Go through your existing blog posts and web pages and remove any outdated information or material that is no longer relevant. (See how this strategy boosted one client's strategic content revenue by 64%.)
Add user-generated content: If you have happy customers, showcase their reviews and testimonials on your site.
Refresh your content: You may not need to rewrite a whole piece to improve your organic performance. Add in new details to keep your content accurate and relevant. (Read how our client increased strategic content revenue by 965% through streamlining their content.)
Improve your content structure: Add the right subheadings, pictures, and breaks to your content to improve a wall of text.
Update your CTAs: Convert better with more attractive, persuasive calls to action.
Optimize your metadata: If you only have time for the "quick hits" on your content, we recommend updating your meta titles (title tags), meta descriptions, and H1s. Get started with our SEO copywriting guide now.
Add internal linking: Internal linking is crucial for eCommerce sites. You'll help direct your readers to important pages (like product pages) and improve their user experience on your site.
Update broken links: Review both internal and external links to remove 404s or other broken links.
Don't confine these strategy changes to your one-time content audit, though. Use what you've learned from this audit to further enhance your overall content marketing plan, and keep updating it as you evaluate your progress.
While a content audit is a one-time project, the strategy that arises from it is not.
Start Your Content Audit Today
Now that you understand how to do a content audit and what should be included in one, you're ready to get started on your own project. Use our step-by-step guide and checklist to create an actionable plan that will help you improve your eCommerce content and increase conversions.
While it requires a great deal of time and resources, when done right, a proper content audit can work wonders for your eCommerce site's organic performance and revenue. In fact, the insights we've gained for clients from these website audits have assisted in thousands of dollars of increased sales, as you can read below:
It's obvious why a content audit is one of the first steps our SEO team takes with any client; it sets their strategy up for success in a way that diving straight into content simply cannot.
If you're ready to begin auditing your website content, download our eCommerce Content Audit Toolkit for free today.