When we ask eCommerce site owners what data they most want and need, they almost always say the same thing:
What are successful eCommerce sites doing today to convert traffic into paying customers online?
To answer this question, every year we analyze 20 best-in-class eCommerce sites to figure out what they're doing. We look at everything—design, messaging, site flow, UX, and even their technology stacks—and generate a 270-point matrix of mobile, desktop, and tech stack decisions of 20 Best In Class eCommerce sites.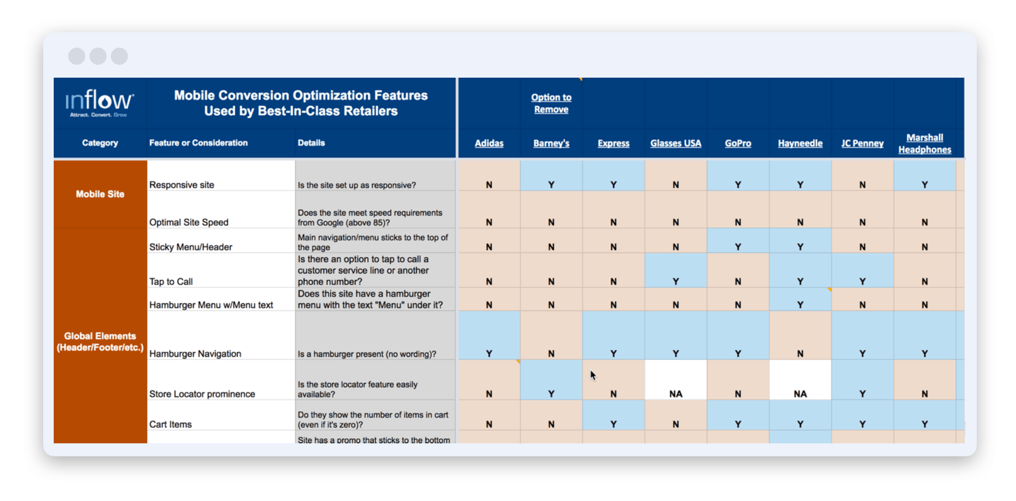 This year, our analysis took over 100 hours to complete.
You can get details on our methodology, download the full matrix, and learn how we selected the 20 Best In Class sites—or skip below to see 12 key insights from this year's study.
Access the Full 2018 Best In Class Matrix
Previous Years:
2017 Inflow eCommerce Best In Class Matrix and Report
The 20 Best In Class Ecommerce Sites of 2018
We generated our 270-point matrix of UX and tech stack decisions by analyzing 20 of the top eCommerce sites of the year.
Both for Desktop: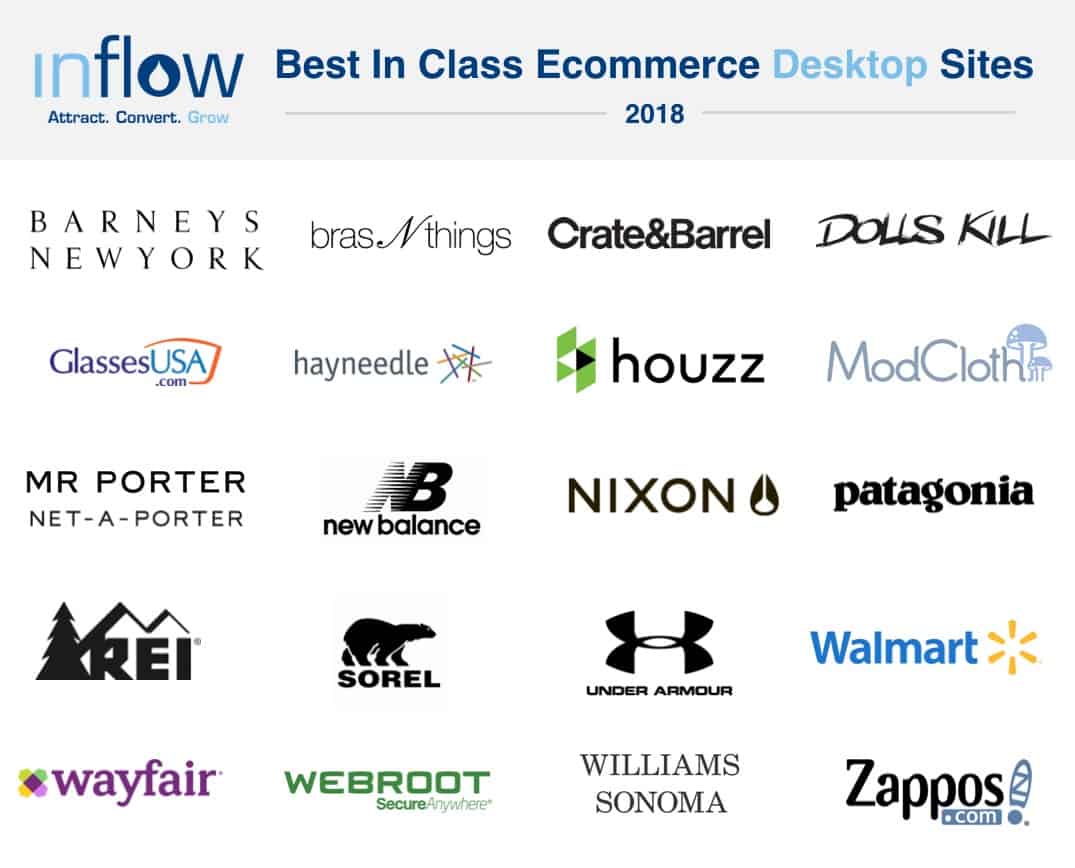 And Mobile: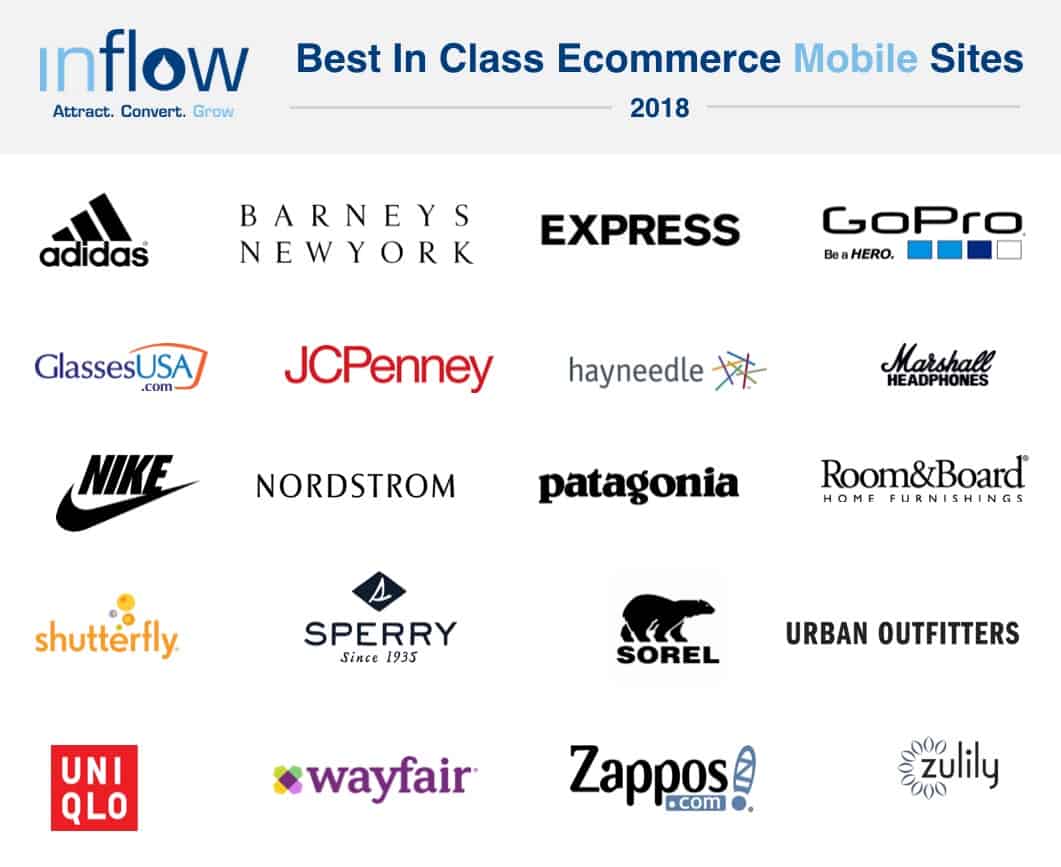 We first made our Best In Class list in 2013, and have updated it every year since.
As we've mentioned in our past reports, picking 20 "Best in Class" eCommerce sites can seem arbitrary and opinionated, but we feel the Inflow conversion rate optimization (CRO) team is uniquely qualified to compile this list.
Over the past 7 years, we've run over 6000 AB tests across 100 eCommerce sites, resulting in over millions of dollars of conversion and revenue increases. We've seen what works, what doesn't work, and even built our own in-house A/B testing software to execute our experiments precisely and accurately.
Our panel typically starts with 50 sites and progressively narrows it down—this year to a final 20.
We use three criteria tiers to produce the best in class list:
Heuristic Analysis
Our 1,000+ Most Recent Test History
Awards and Accolades
You can read more about our methodology and those three criteria in last year's report summary.
[section class="wc-shortcodes-box wc-shortcodes-box-primary" align="center"]Note: Want to talk to our CRO team (who performed this study) about how your site compares to the best in class? Reach out here or schedule a call above. [/section]
12 Key Insights from Our Study
Of the 200+ insights in our study, 12 of them stood out as especially notable:
1. Mobile: Homepage Hero Image Slider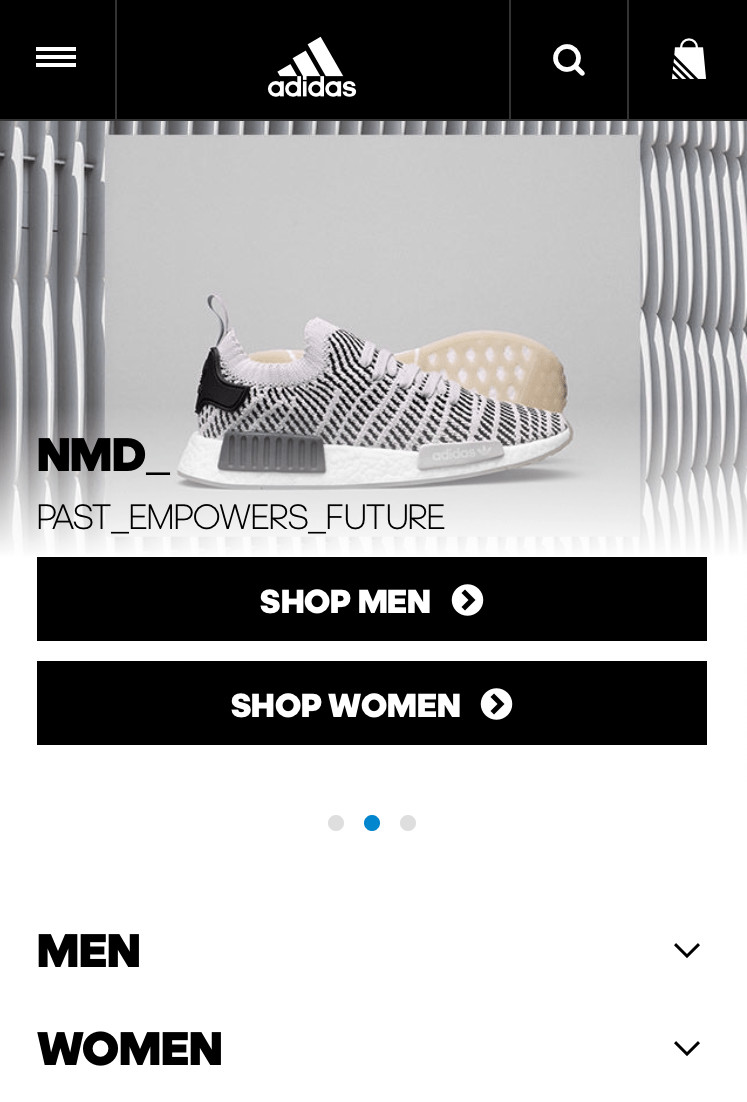 Long despised by CROs everywhere, it looks like the rotating hero slider is finally going away. This year's list sees only 2 sites still rotating the hero banner, down from 7 last year.
2. Mobile: Top Nav on Mobile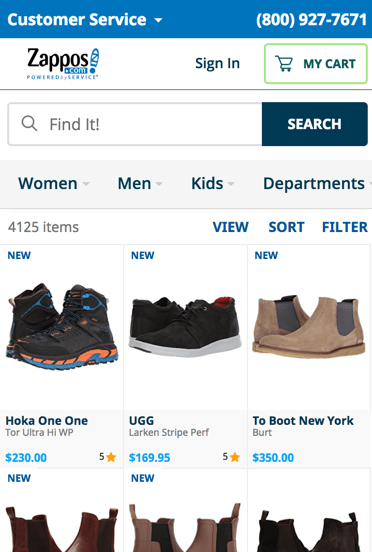 Having a top nav on mobile is something only a few innovative sites are doing. Currently only 2 out of 20 of the Best in Class sites has a mobile top nav. The Inflow conversion team has tested this all last year and it has yet to NOT work. One layer of additional innovation is to have a mega menu integrated with the top nav, which only 1 (Zappos above) out of the 20 are doing.
3. Mobile: In Navigation Promotion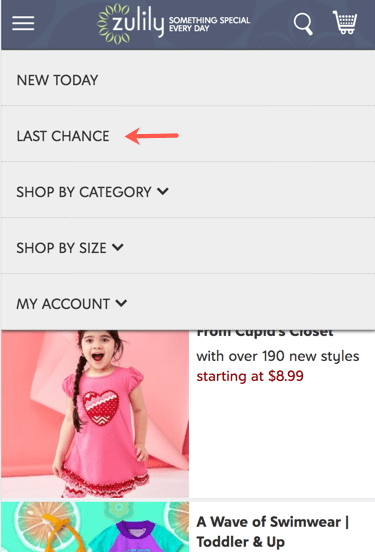 Using promotional banners within navigation is an emerging trend for mobile. Last year only one site from our survey did this on mobile; this year we saw usage hit 30%.
4. Mobile: Show Local Inventory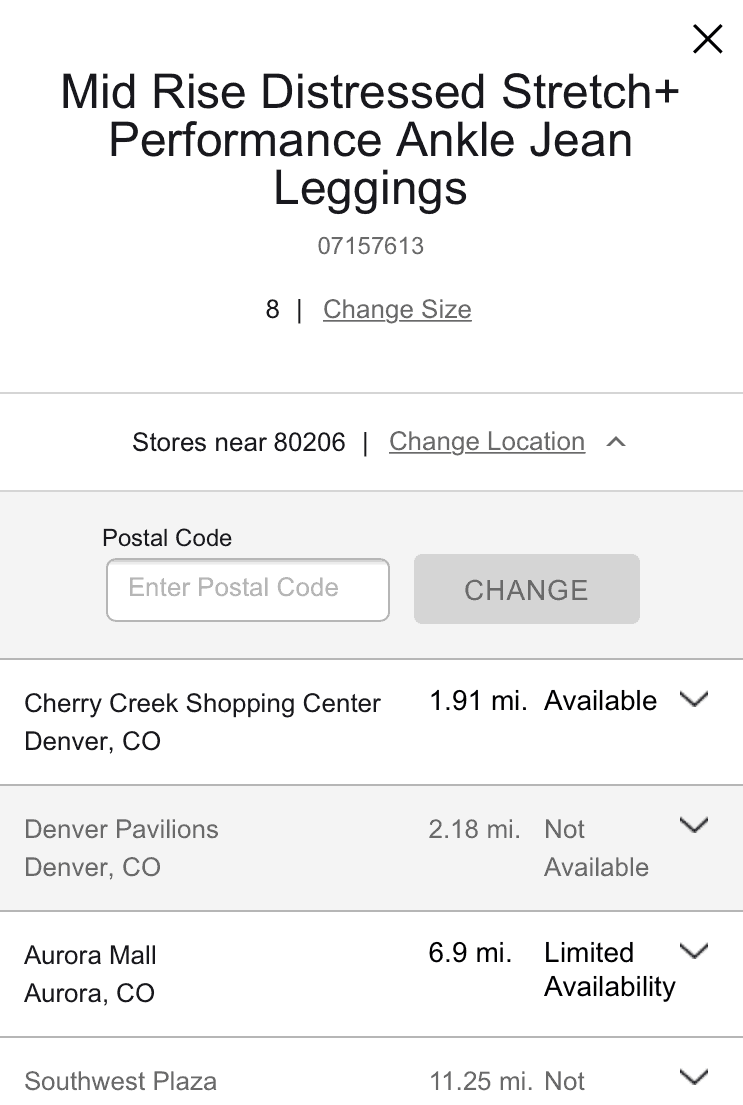 Showing local inventory doubled compared to last year as stores are finally figuring out that displaying local availability is key to thriving online. If you have brick and mortar stores, the Inflow conversion team definitely recommends you test this.
5. Mobile: Take Online Order In-store for Completion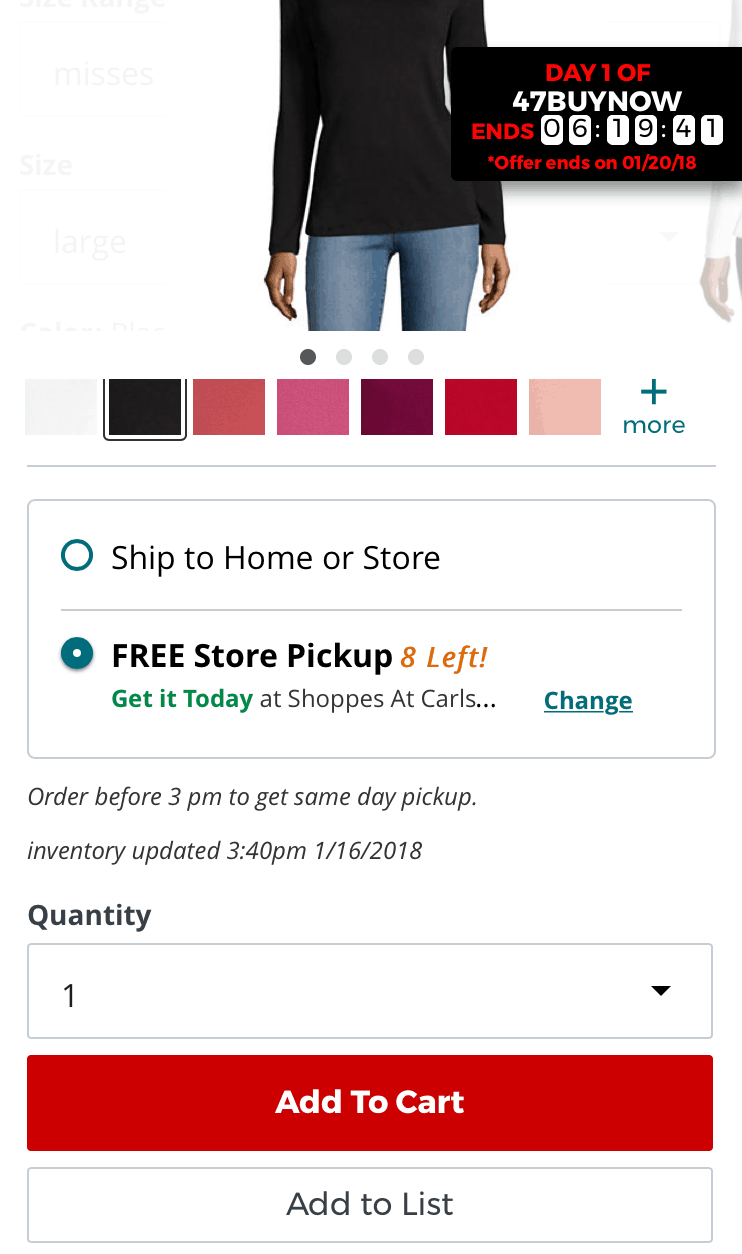 Last year, none of the sites in our survey had a mobile option to reserve an item for pickup or allow users to print their wish list to take into the store. This year, three stores are using this feature, and we expect more to follow. The Inflow conversion team sees in-store completion as a major emerging trend—absolutely worth testing if you have brick and mortar stores.
6. Desktop: Take Online Order In-store for Completion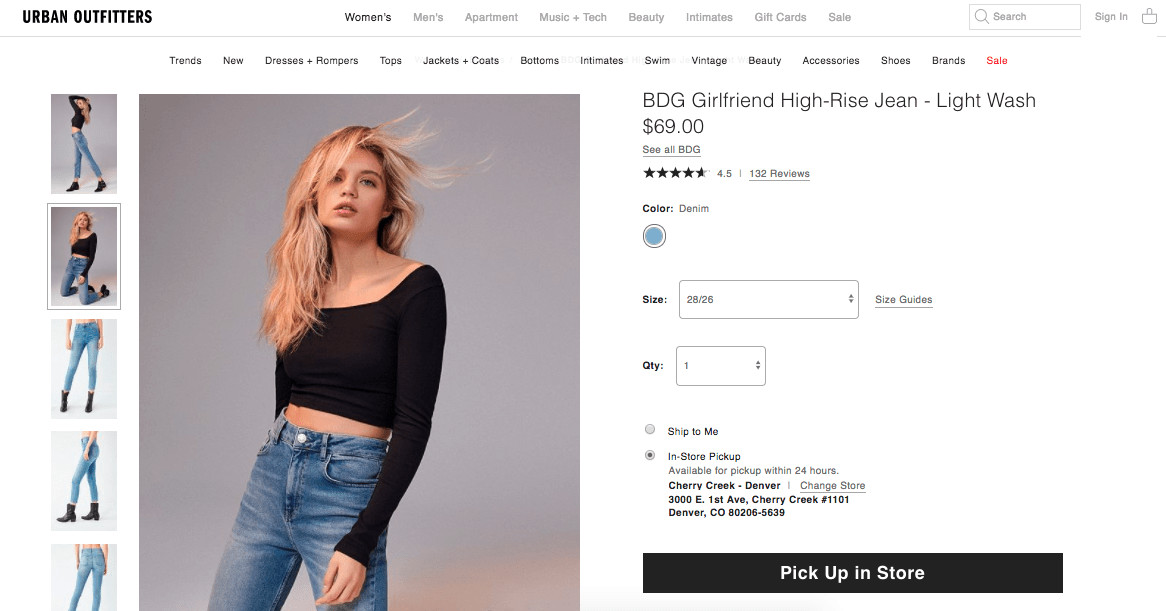 We saw a dramatic growth last year for in-store pickup. Previously, only Walmart and REI, the 2 biggest retailers on the list, had this option. For companies with a broad brick and mortar presence, we believe this is going to become imperative over the next few years.
7. Desktop: Promotions Within Mega Menu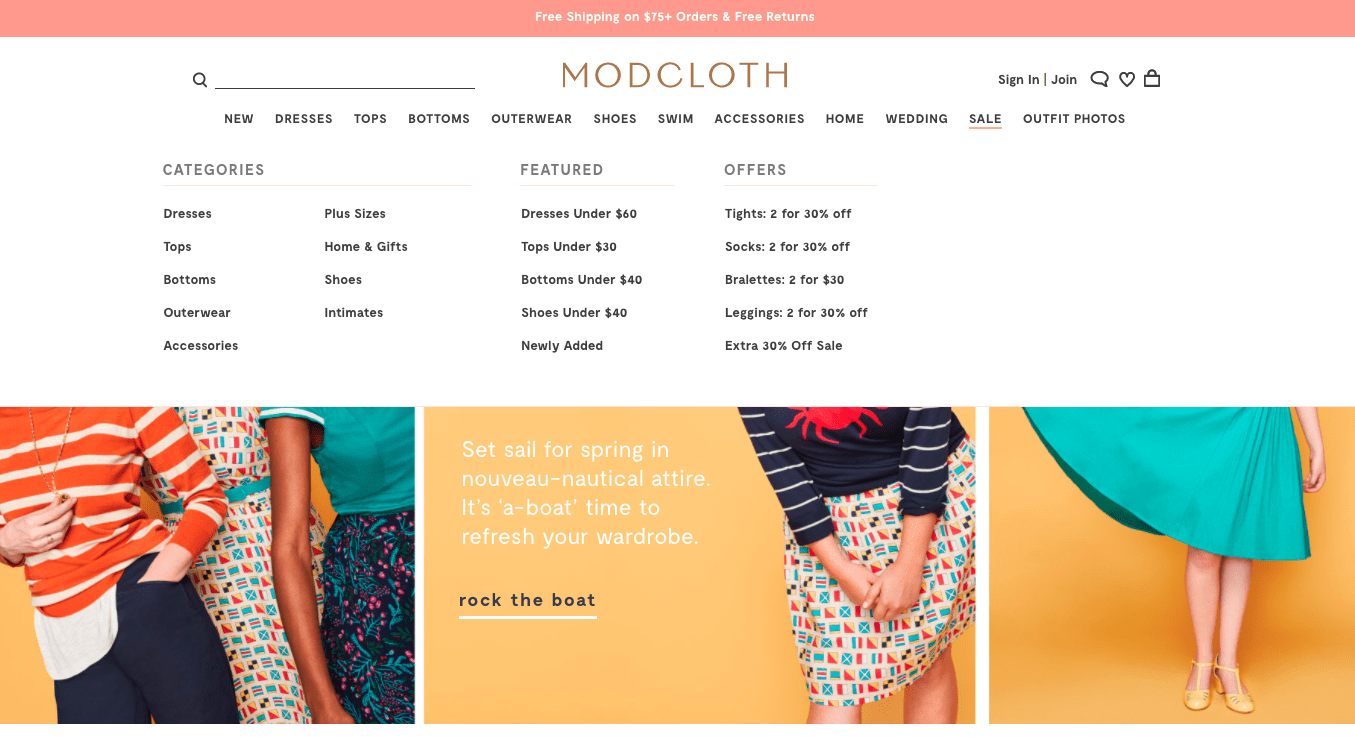 Promotions within the mega menu has become a dominant trend and is still trending up with fully 75% of companies using it. With lots of basic product navigation, additional streams, and other features competing for space on the page, sometimes there just is not enough room to have visual promotions.
8. Desktop: Global Promotion Elements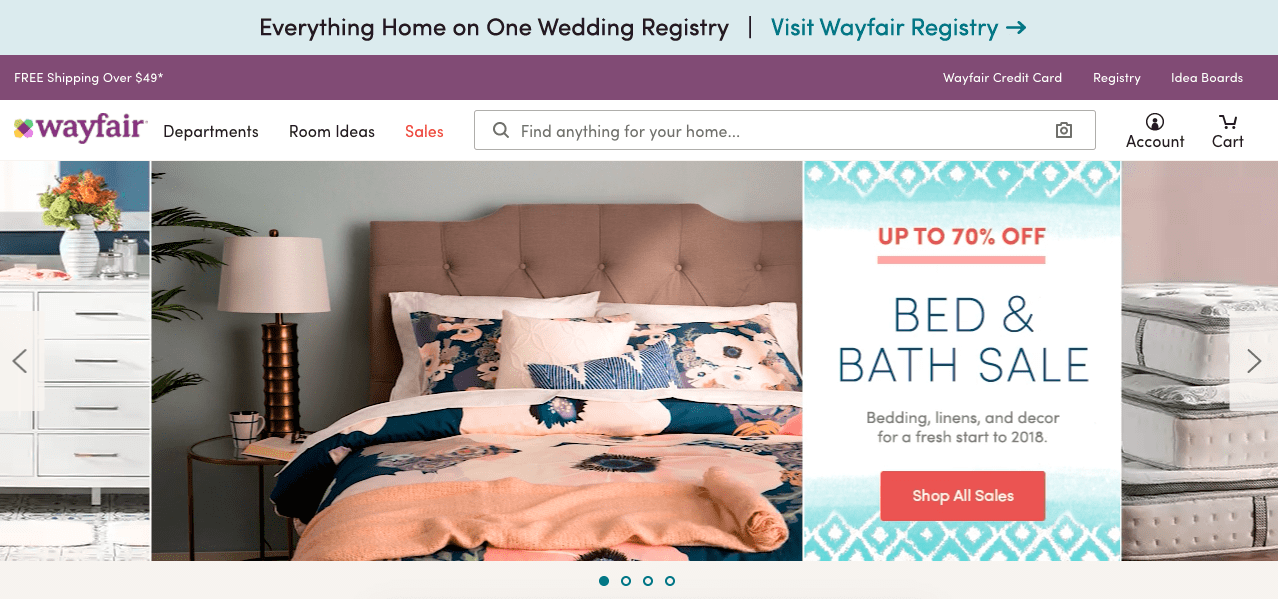 Global promotion elements is now a dominant best practice among best-in-class desktop sites. Executed most commonly with a top ribbon—either on top of the pre-existing header or within a ribbon that is part of the header.
9. Desktop PDP: Bag or Pop-in Cart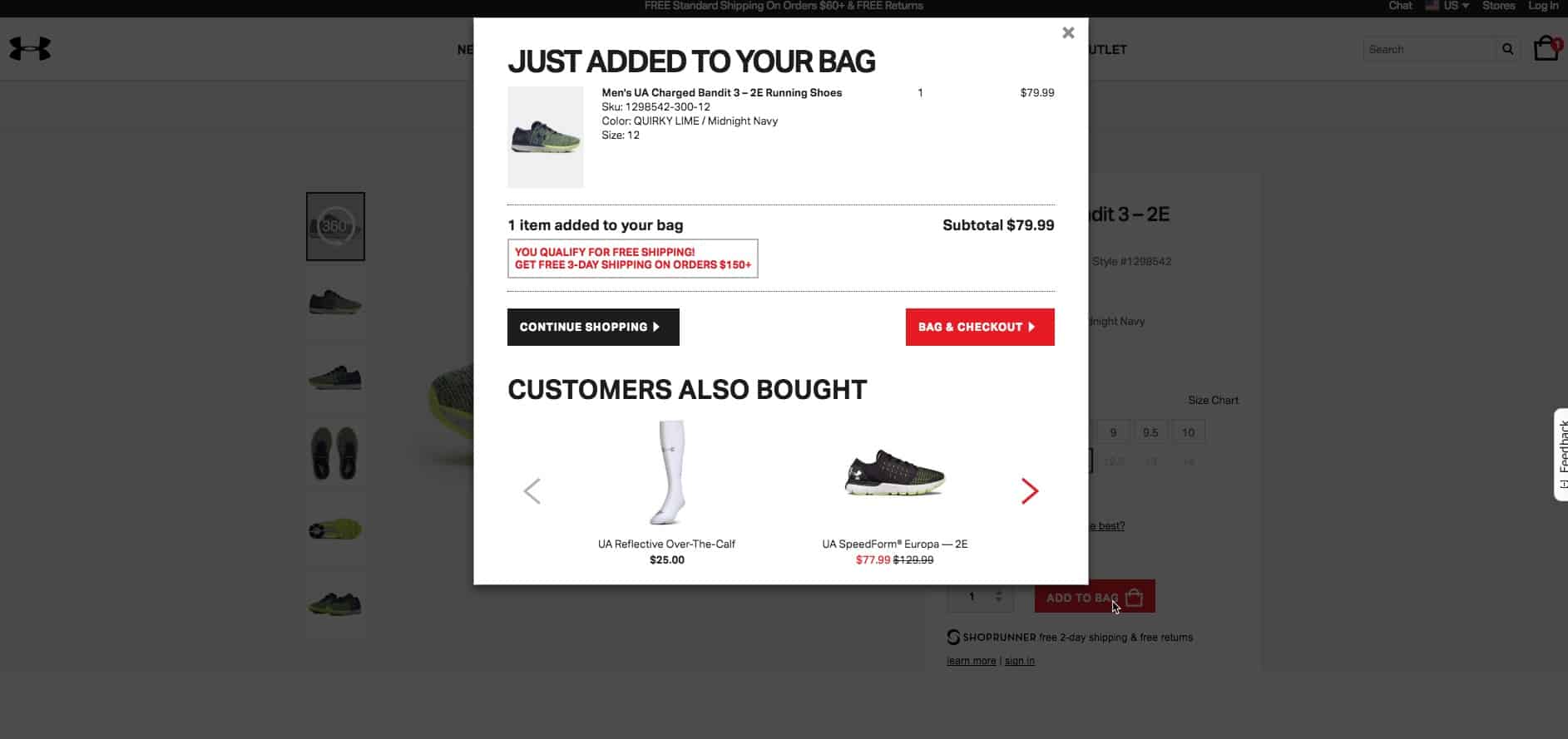 Keeping the user on the page and notifying them with either a pop-in box or drop-down "bag" to represent the cart is now now a dominant best practice. Our rule of thumb is this: sites that average more than 1.6 products per order should not send users to a separate cart page each time they add an item to cart.
10. Desktop PDP: Provides Product Attributes in Cart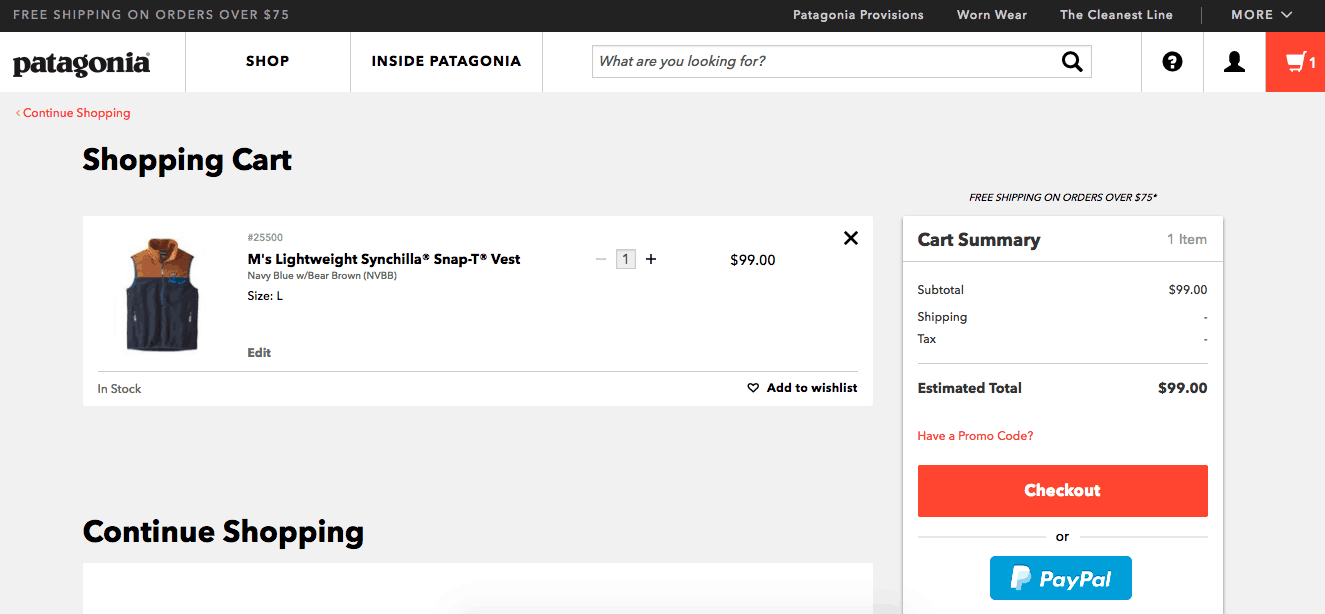 We have long recommended eCommerce companies highlight product features such as color, fabric, fit, finish, size, etc. in the cart. With 19 best-in-class companies now doing so, this feature has finally become a dominant best practice. The Inflow conversion team strongly recommends letting the customer to see the product attributes with the product name and picture in the cart—so they know they're purchasing the correct item.
11. Free Returns (Return Shipping Paid)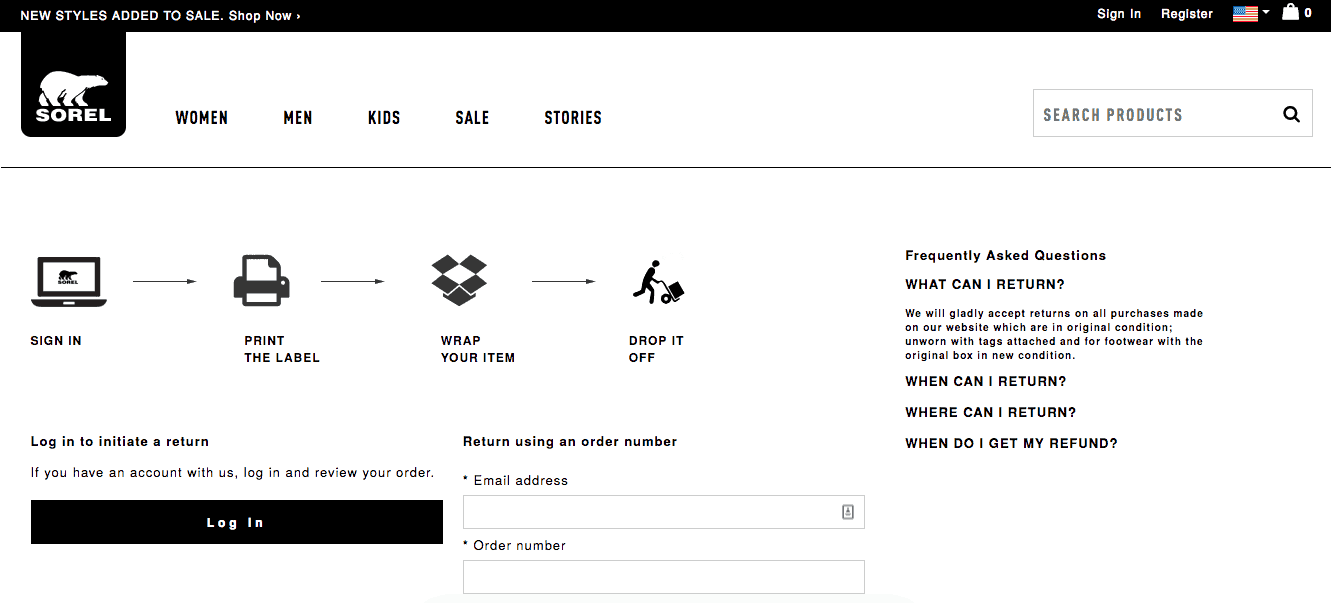 Study after study shows the No. 2 objection that prevents customers from completing an order is the question: "What happens if I don't like it?" Highlighting your free return policy (with return shipping paid) removes this objection. Half of our best-in-class companies now highlight their free returns policy, and the Inflow conversion team highly recommends you test the approach on your own site.
12. Checkout: One Page Checkout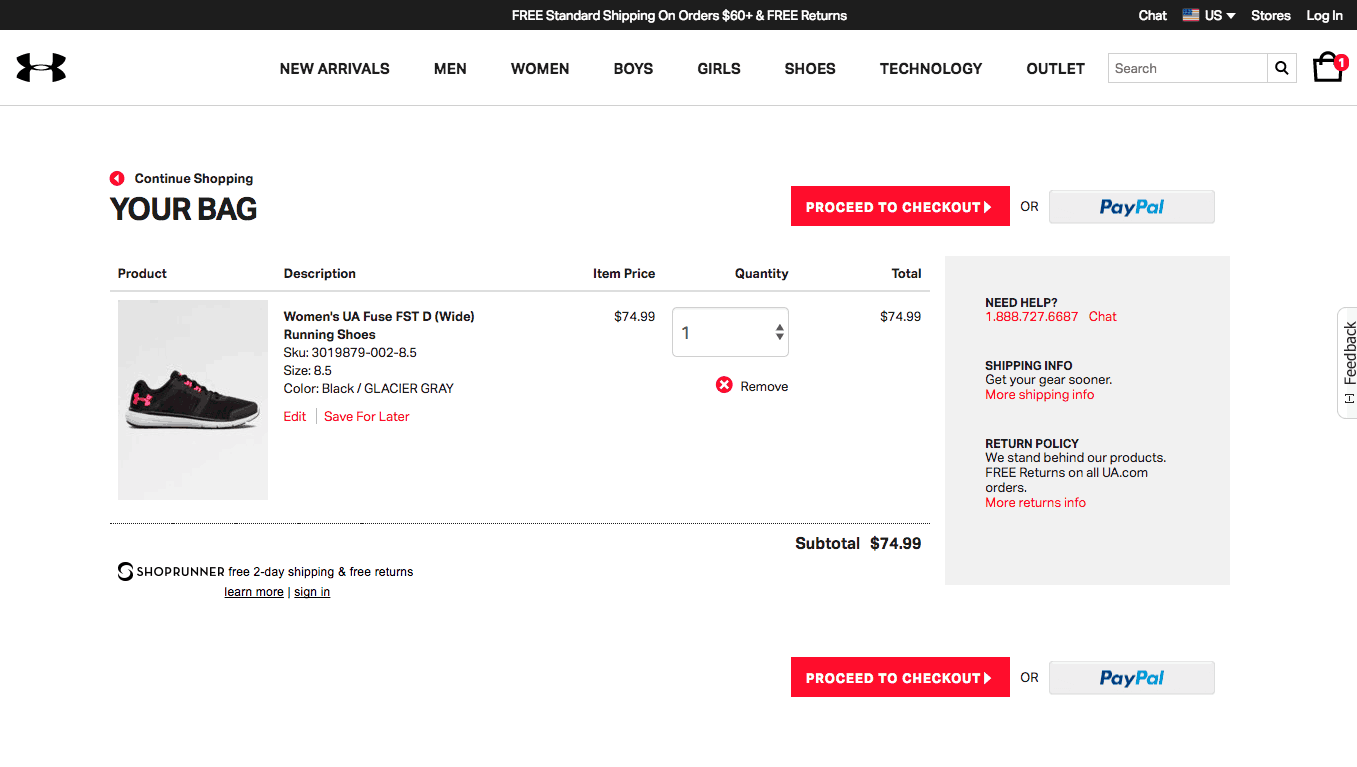 One-page checkout actually decreased in usage from our survey last year. Our advice is to be very clear about how many steps there are and how far along the user is in the process. If you're going to use a single-page design, consider an accordion style checkout—which does this very cleanly.
___________________________________________________________________
This is just a preview of our full 2018 report, which analyzes how the best in class ecommerce brands fair on over 125 mobile ecommerce features, 120 desktop ecommerce features, and hundreds of technology features.
Let's explain our full report in more detail…
Inflow's 270-Point Matrix Report: See the eCommerce Best Practices of 2018
This year, our report has 270 data points showing you what the best-in-class eCommerce businesses are doing to optimize their sites for conversion.
Mobile, desktop, technology stack.
Want to see what competitors are using responsive design? Ad networks? Trust elements in their headers?
It's all here in one place.
This year we generated 2 different matrices (which you can access for free to compare against your own site).
Matrix Report #1: Mobile Optimization
All eCommerce retailers know their traffic is shifting to mobile. They also know mobile conversion rate lags desktop (often by a lot). Thus, we are leading this year's research matrix with mobile conversion optimization features used by the best-in-class eCommerce brands.
We analyzed over 125 mobile features across categories such as:
Responsiveness
Navigation
Product detail page
Checkout Flow
Store Locators
Email marketing
Personalization
Trust
Price
And more…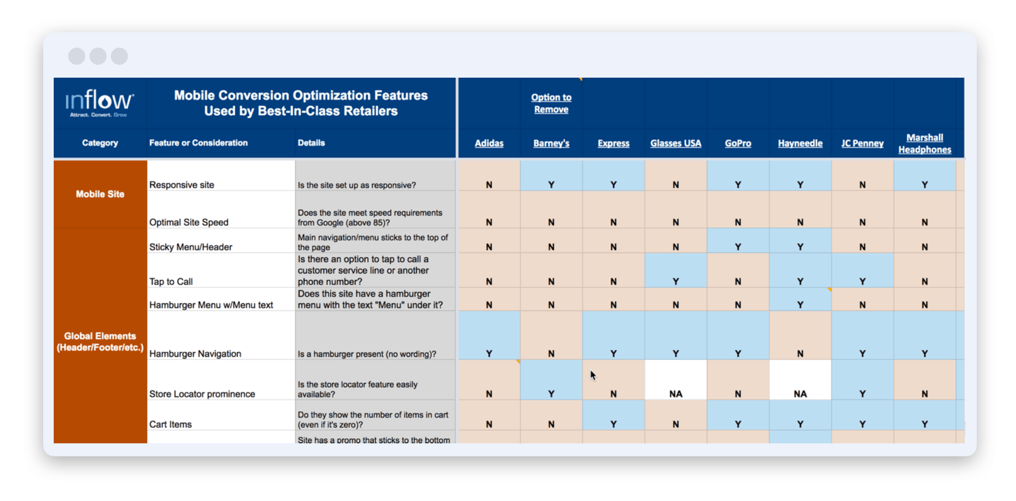 Matrix Report #2: Desktop Optimization
Although mobile is a major area of growth, a huge amount of sales continue to happen on desktop. For this reason, our research details over 100 conversion optimization features used on desktop by best-in-class eCommerce brands.
The full report includes over 110 desktop features such as:
Site speed
Orientation
Homepage
Navigation
Price
Trust elements
Promotional strategies
Personalization
Wish list
And more…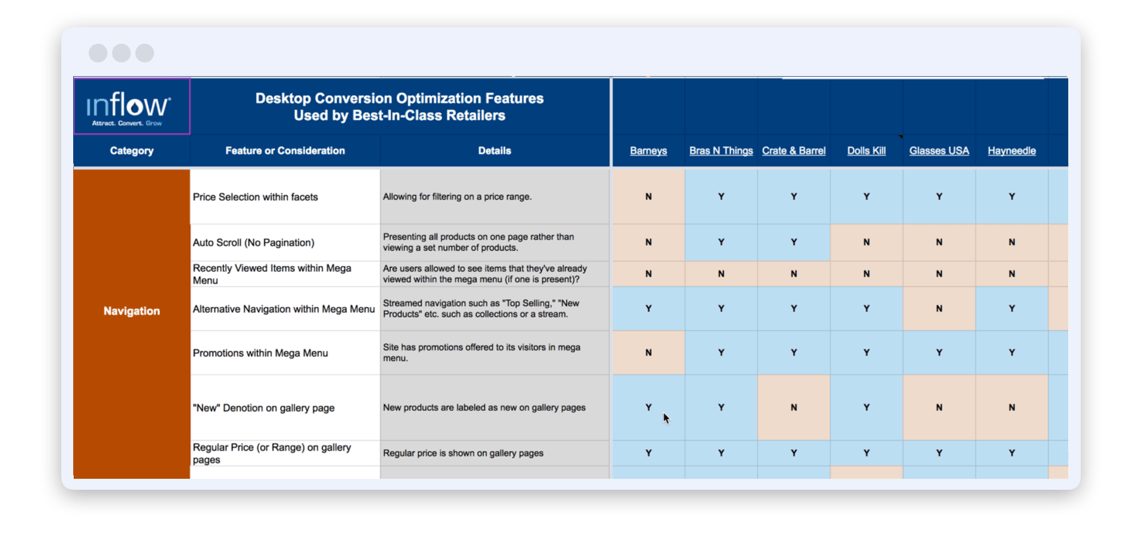 Note: Want to optimize your site to make it best in class? You can talk to us here or schedule a call above.