Editor's note: This case study was originally published in 2018 but still contains valuable lessons on developing an eCommerce branding strategy. For more guidance on creating your strategy through digital marketing, contact our experts today.
On large sporting goods sites like Cabela's, when a customer searches for fishing waders, they'll find that most products cost between $49 and $199. Occasionally, they'll find waders over $200.
But, on the high end of the price range, they'll find $500 fishing waders — the majority of which are made and sold by a Montana company called Simms Fishing: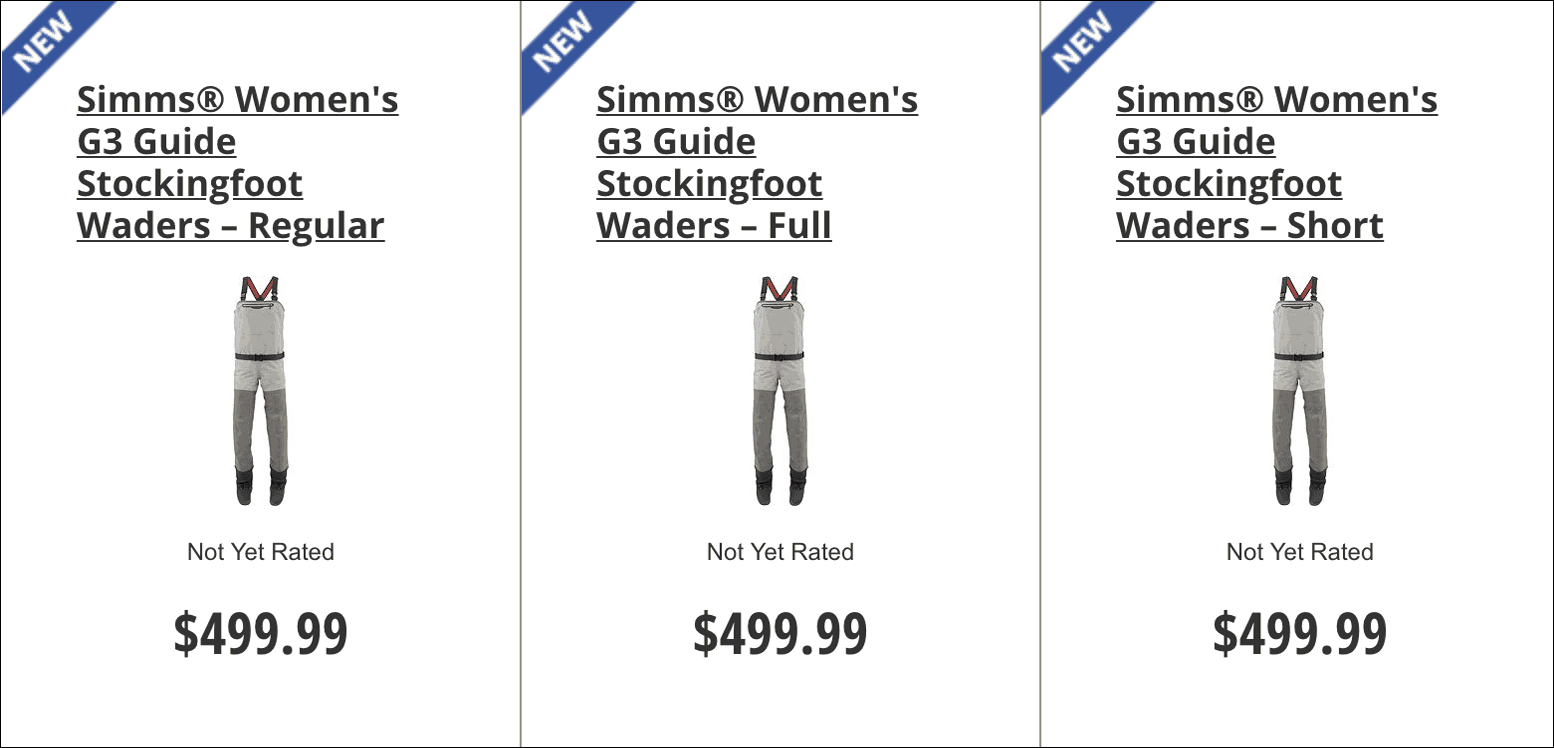 These $499 waders aren't even Simms' top line; the brand's website features multiple products priced at $799.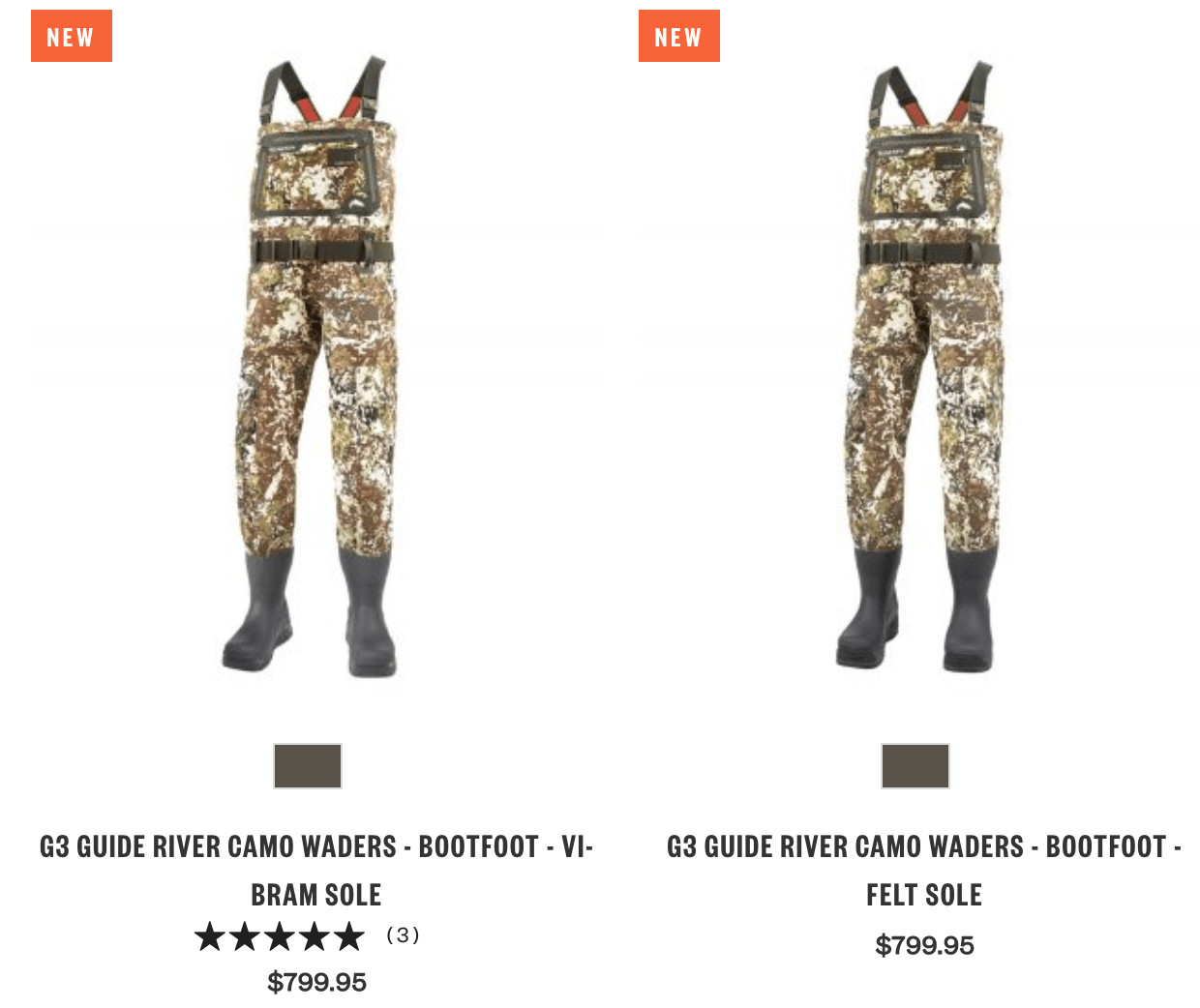 In a market full of $49–$99 products, how has Simms managed to successfully sell products 200% to 400% more expensive?
In this article, we'll explain how this online retailer has built a site and brand with products that many fishing enthusiasts argue are the best in the market, allowing it to command some of the highest prices in its vertical.
We'll also share some insights from Thomas Murray, Simms Director of Digital Commerce, for a closer look at the behind-the-scenes branding going on at this eCommerce business.
Keep reading to learn about:
Which marketing campaign launched Simms' high-end digital strategy
How the team thinks through site design and aesthetic
Why they invest in high-quality copywriting
How they use video to communicate their brand message
And how Simms balanced moving "upmarket" in price with maintaining its appeal to a wide range of customer incomes and demographics
We've worked with dozens of eCommerce stores like Simms to increase traffic, conversions, and sales. Let us create a custom strategy for your online business by contacting us today.
Digitally Selling High-End Products
Anchoring Simms' brand value — and its ability to command such high prices — is the story of how its products are designed and who designs them.
How do you tell this story in a way that resonates with your customers? Simms started with a year-long video content marketing campaign called the "Wader Makers."
The campaign used a series of black and white videos to poignantly tell the story of the Simms employees who design and produce their waders.
Headquartered in Bozeman, Montana, Simms is the only company manufacturing waders in the U.S. Their products are designed by engineers that often leave work and head straight to the river.
As repair technician Chris Golz explains in one of the campaign videos:
"Trying to push the progression of materials and technology to make things better for anglers on the water: You can't do that without a company that has people that wear waders all the time."
The video below is hosted on YouTube. If you need assistance with viewing the video, please contact [email protected].
Simms shared the campaign on its social media channels and featured it at industry trade shows. As of this article's publish date, the primary campaign video has over 46,000 views on YouTube.
It was also picked up by the outdoor industry press.
Field and Stream shared the video on its site, writing, "Even if you don't own a pair of Simms waders, you have to appreciate their team, which is clearly not made up of a bunch of clock-punchers. They're the real deal."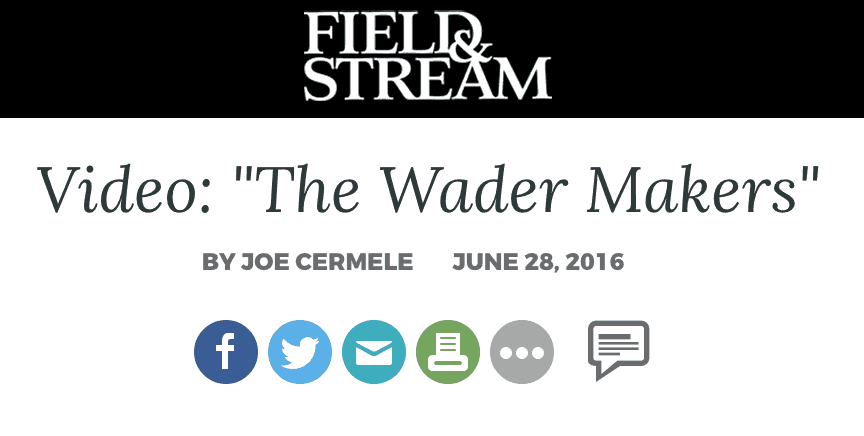 Murray said the campaign served as "a window into the manufacturing folks who were actually making the product, the craftsmanship involved, and the mix of high-touch and high-tech skills that are required to make a product that — frankly — justifies an $800 price tag."
The great success of the campaign also changed the way Simms viewed its online presence, informing the next steps of their eCommerce branding strategy.
Applying the Brand Story Across an eCommerce Site
After the video campaign, Simms turned its focus to the website. How could the brand get the same high-end "real deal" message conveyed there?
"We've done a good job of telling that story and pushing it out through an omnichannel strategy," Murray said. "The challenge for an eCommerce website is: 'How is that story told deep in the site on a single product that somebody might find through organic search — without the context of the flashy homepage or detailed About Us page?'"
Here's how:
1. Tightly Controlled Aesthetic
When you visit simmsfishing.com, perhaps the first thing you'll notice is the consistent aesthetic throughout. It's created by a tightly controlled color palette and specific post-production filters.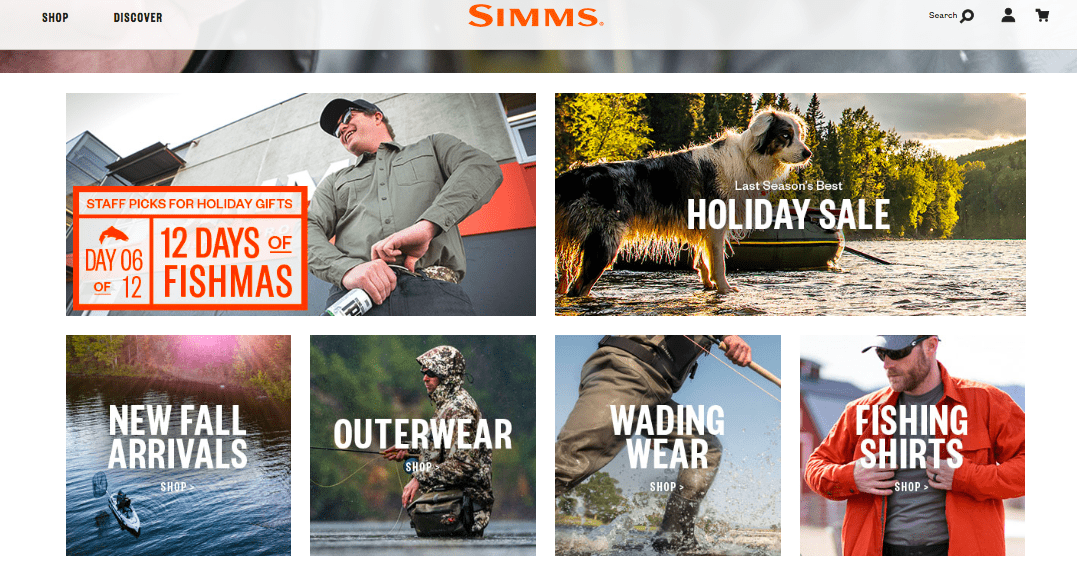 You'll find a matching aesthetic on each of the product pages, helping to create a cohesive, strong brand identity.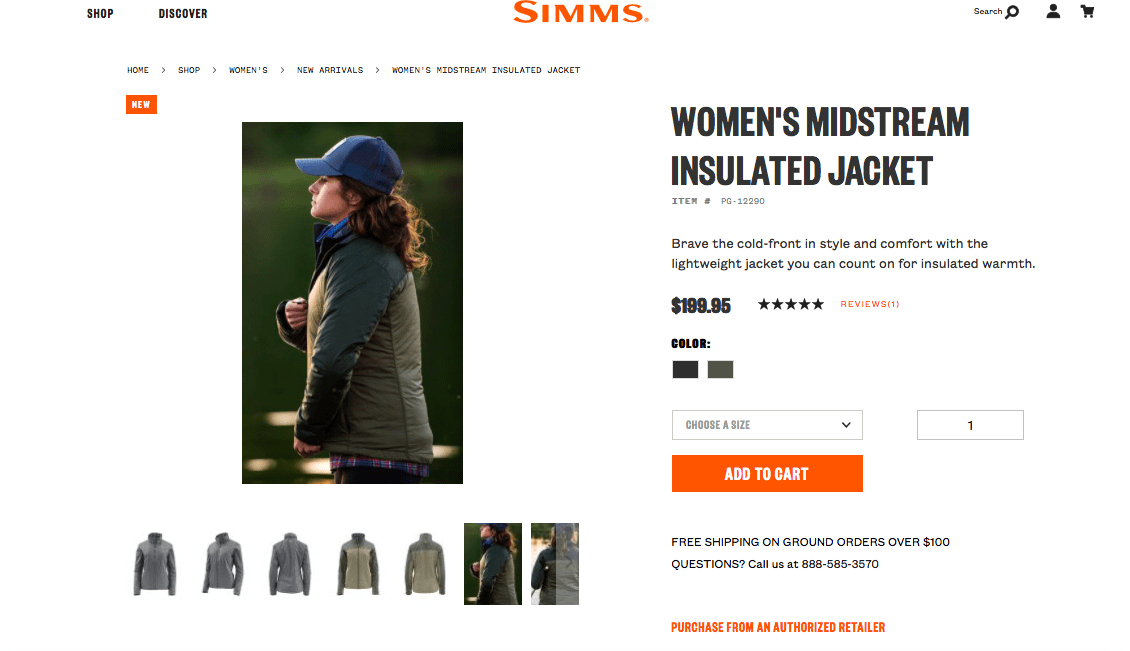 2. Product Copy
In addition to design, Simms has invested heavily in product copy.
Simms' product descriptions are written to "balance the customer's need to find a quick takeaway — not just on the features, but also the benefit of the product," Murray explained.
Of course, Simms products contain unique features specifically designed by and for devoted anglers. But these features are not the only selling point that makes the products high-end. There's also the cutting-edge technology and a commitment to high quality.
Each product page uses exact copy to get all of this across, balancing descriptions of the features, technology, and specifics about the quality of each product.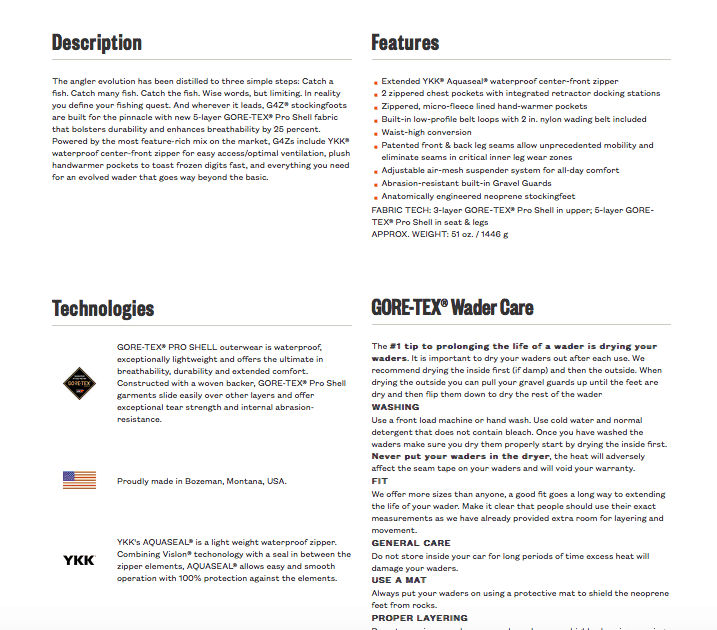 Not just anyone can convey the value and quality of Simms' products. Anyone can write about "cheap waders," but it takes someone in the space to truly describe the difference between ordinary waders and those that Simms makes.
"You can't spend enough on writers to do that," Murray said. "It's not something that a junior writer can just kinda jump in on."
Simms waders are of the highest quality, use the latest technology, and have one of the best guarantees in the business.
Carefully crafted descriptions call out these features — distinguishing Simms from its competitors — and make the case for a higher price tag.
Learn more about crafting compelling eCommerce copy in our detailed copywriting guide.
3. Product Videos
Of course, because Simms' branding efforts started with a video campaign, video is also featured heavily on the site.
Well-produced product videos found on many product pages speak directly to dedicated anglers.
They continue emphasizing the balance of features, technology, and quality. But, perhaps more importantly, they show Simms employees as niche experts.
Many of the videos mix images of an employee explaining the product with shots of the product in action. The videos are also produced using the site's tailored aesthetic.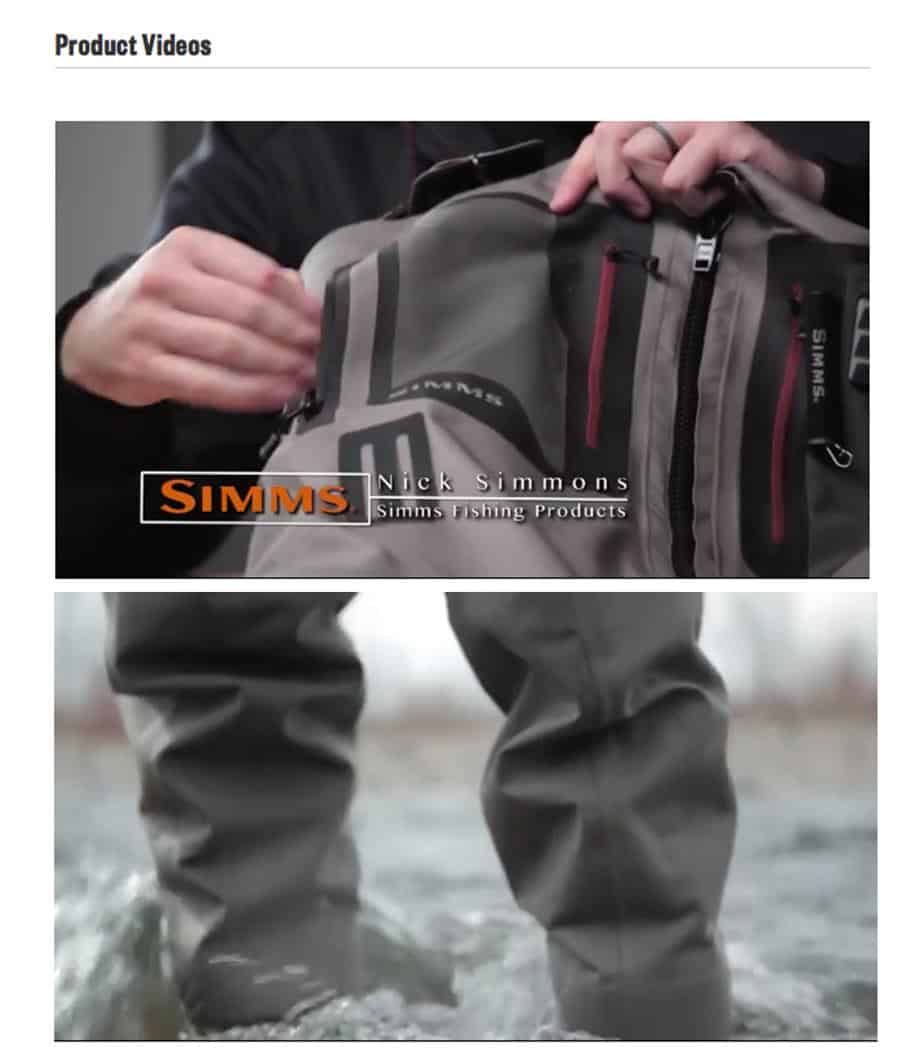 Broadening Their Target Audience
Conveying manufacturing and product quality has done wonders for Simms' ability to market and sell high-priced products — thereby increasing average order value, a welcome result for any company with an eCommerce website.
Simms is also working on growing revenue by broadening their customer base, allowing them to sell a wider variety (and hopefully quantity) of products.
"We're definitely for passionate anglers of all stripes, so we want to be a little more welcoming, not just in the fly niche but also in conventional tackle," Murray said. "The challenge is how to be more welcoming to new anglers and people entering the sport and, frankly, just people who can have some sort of resonance with the lifestyle that fishing entails."
The tools they're using to achieve this goal match what they use to depict their brand's premium status: controlled aesthetic and storytelling, just used in slightly different ways.
1.
Design:
They're Making the Site Warmer
Before the "Wader Makers" campaign, Simms was a very monochromatic site, which matched the black and white campaign videos. It gave the site a classic, hard-edged feel, which they believed would appeal to hard-core anglers.

Post-campaign, they reintroduced color, helping the site feel warmer and friendlier.
2.
Copy:
They're Producing Inclusive Stories
Following the success of the "Wader Makers," Simms has continued its story-driven approach. But now, instead of stories on how the waders are produced, the focus is on producing films and campaigns that depict their diverse customers and spark an emotional connection with shoppers.
Simms partnered with pro-snowboarder Eric Jackson on Alignment, a 35-minute film that shows how Jackson uses fly-fishing to recharge.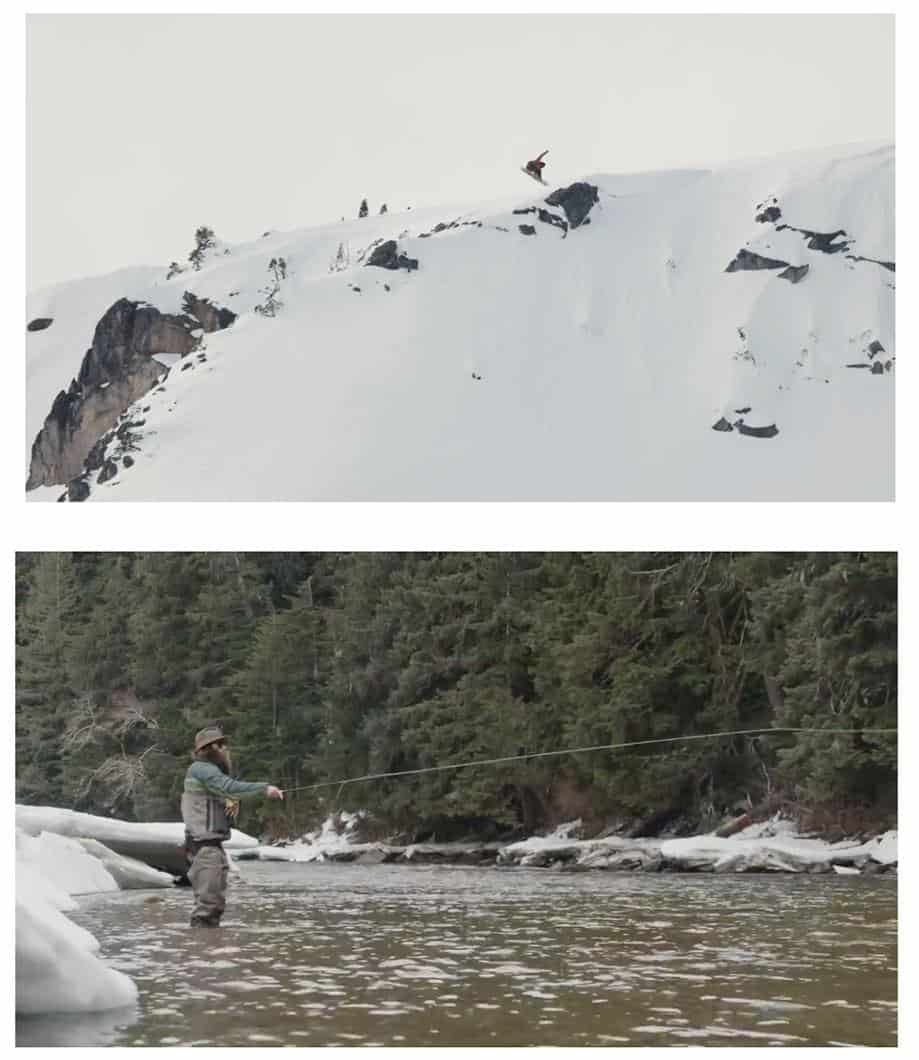 Of course, any efforts to widen Simms' customer base will be a multi-year, long-horizon project. But, as this case study shows, the company has the pieces in place to make it happen — as well as the strategic thinking to continually optimize its approach moving forward.
The video below is hosted on YouTube. If you need assistance with viewing the video, please contact [email protected].
eCommerce Branding: One Piece in the Marketing Puzzle
For companies with a major eCommerce presence, there are often three common goals:
How do we reach and convert more customers?
How do we charge more?
How do we grow?
While targeted digital marketing plays a central role in answering those, Simms shows that the right eCommerce branding strategies are just as important.
With the success of its premium branding effort, spearheaded by its wildly successful "Wader Makers" campaign, the Simms team feels they have a winning formula: a great balance of storytelling, design, and copy that resonates with their customers.
Of course, we can't forget Simms' partnership with our agency to improve conversion rate, grow organic traffic and customer reach, and increase the brand's customer base via a comprehensive digital marketing strategy.
Combine it all together, and only time will tell how far Simms Fishing can cast the line.
Note: Want an in-depth assessment of your online store's performance and a personalized eCommerce marketing strategy for improving your results? Contact us to get started.