Based on early figures, experts are estimating a 7.6% increase in retail sales during the 2022 holiday season.
However, those aren't inflation-adjusted figures — which, at 6.5% annual inflation in December, takes a pretty big bite out of that overall increase.
If you're looking at the recent sales figures for your eCommerce store, you might be feeling the same thing. Yes, revenue increased, but expenses increased on the back end, too, to the point where your brand may not be much more profitable than in years past.
So, how can you strive toward increased revenue without increasing your expenses, too?
Often, the perfect strategy is to increase average order value (AOV).
Today, we'll share a strategic approach for increasing your eCommerce AOV, including 13 budget-friendly tactics for your online business.
But, first, let's start by recognizing whether AOV is the right strategic target for you.
Is Average Order Value the Right Strategic Target for You?
If you're looking to increase revenue, you have three options:
Make more sales
Increase the price of your products or services
Increase the amount you make per sale (AOV)
The key to improving your brand's profitability is knowing which strategy is most likely to yield the biggest results for the lowest cost. (And, no, it may not always be increasing your AOV.)
AOV is defined as the arithmetic mean of orders on your eCommerce site. It's simple to calculate: Take your total order value and divide it by the total number of orders.
Many eCommerce platforms, like Shopify, make it even easier: They give it to you.
Increasing AOV can multiply your eCommerce revenue, because the metric reflects changes that affect every order. Increase your AOV by 25%, and your total revenue increases by 25%, too.
And, instead of achieving that boost by increasing your ad spend by 25% (or more), you might do it with a cost bump of 5% (or less). How? By working with what you already have — leads you've already acquired, an online store you've already built, etc.
However, before jumping in headfirst, you must decide if AOV is the right strategic target for your efforts.
Will the mean justify the end?
First, identify if your AOV metrics are giving you the right information about your sales.
We mentioned that AOV is the mean of your order values, but that's only one way to look at your sales pattern. You will also want to consider the mode and median of your orders (mode being the most common order value; median being the order value directly in the middle of your orders.)
To understand the distinction, let's consider two data sets:
Set 1: ($50, $50, $50, $50, $50)
Set 2: ($1, $1, $2, $75, $171)
For both sets, the arithmetic mean is $50. For Set 1, the median and mode are both also $50.
However, in Set 2, the mode is $1 (it's the most common), and the median is $2 (it's the middle value).
Before you target AOV, compare the mode, median, and mean of your orders. If the three values are close to each other (a pattern more like Set 1), then targeting AOV might be a smart strategy for you.
On the other hand, if your mode and/or median values are very different from your mean, you might benefit from a different strategy. If my order pattern looked like Set 2, for example, I'd look at the customers who made the $75 and $171 orders and do my best to replicate those sales — perhaps by creating a lookalike audience for Meta Ads.
Is the smart money on AOV?
Let's consider two different eCommerce businesses, both with $2 million in average revenue
Store 1 is Heigh Ho Chapeaux, selling kitschy caps and pork pie hats to college partiers looking for a spring break splurge. Store 2 is Deskaganza, selling hand-made custom desks to bestselling authors and successful tech bros who are prepared to put serious money into the place where they make their millions.
(Yes, Deskaganza regrets their name. However, they invested in too many promotional water bottles to change it now.)
Heigh Ho Chapeaux makes 100,000 sales each year with an AOV of $20. Deskaganza only makes 100 sales a year, with an AOV of $20,000.
For Heigh Ho Chapeaux, bringing in more new customers with ad spend might be hard. They're already saturating their market, and buyers tend to have a short sales funnel, with fewer places to tweak the process. It's easier to increase their AOV by $5 (by, for example, offering a pair of matched sunglasses — strategy 3 in our list below).
If your eCommerce store is more like Heigh Ho Chapeaux, with low AOV and many transactions, then our guide below is perfect for you.
For Deskaganza, it will likely be much harder to increase their AOV by the same percentage, for a total of $5,000 per order.
However, if they haven't saturated their market, smart ad spending might increase their sales at or below what they're spending now. In addition, the relatively long sales funnel for Deskaganza takes months and features multiple touchpoints, offering great opportunities for improving conversions.
If your eCommerce store is more like Deskaganza, with relatively few high-value sales, it might be smart to skip the smaller AOV efforts and go straight to strategy 13.
How to Increase AOV with 13 Cost-Effective Strategies
Regardless of your business's situation, you can still attempt to increase AOV without breaking the bank. To help you out, we've listed a few of our favorite tactics below.
Not all of these strategies will work for every website. Your digital marketers should read the entire list, and then get together with your sales and accounting teams to see which options they can implement quickly and at a relatively low cost.
Of course, remember to test any options before wide-scale implementation and monitor ongoing results.
Not sure where to start? Skip to strategy 13 and let our experts evaluate the biggest missed opportunities on your eCommerce site.
1. Focus on your most-expensive product pages.
Let's start at the beginning: People will buy what you sell them, so make sure you're selling them your most profitable products.
Proper search engine optimization (SEO) will make sure that people find your more expensive products on the web. Then, use conversion rate optimization (CRO) to increase conversion rates, encouraging people to buy those products when they reach the page.
2. Create price-based buying guides.
With increasing costs everywhere, comparison shopping is a key step in any customer's buying journey. Make it easier on them by offering buying guides.
Shoppers love buying guides because they make the comparison process much simpler. A price-based buying guide ("Best Backpacks Under $200") is especially useful, because it helps people comparison-shop in the budget and quality range they've decided on.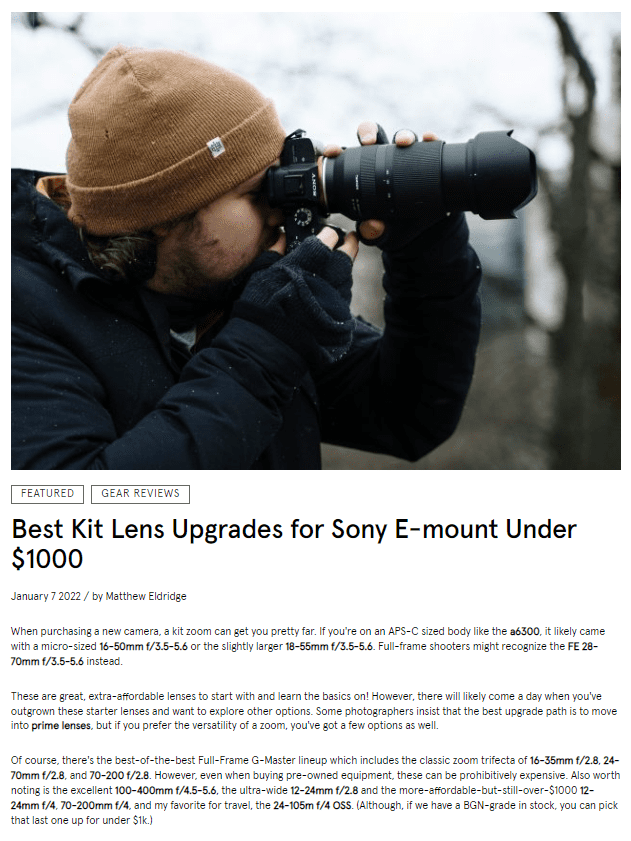 Create buying guides that build trust by explaining why your upscale items are worth the money. You can utilize user-generated content (UGC) and other types of social proof to help make the case.
Learn how we used buying guides to generate six figures in sales in this case study.
3. Offer cross-sells and upsells at checkout.
Once people have already decided to make a purchase at your eCommerce store, they're already primed for additional sales pitches, like upsells and cross-sells.
Upselling means offering an upgraded or premium version of the product they've already decided to buy. Cross-selling means offering complementary products that improve the value of their current purchase.
In both cases, the sales pitch has a high success rate because you're just selling them on the difference, not the full cost.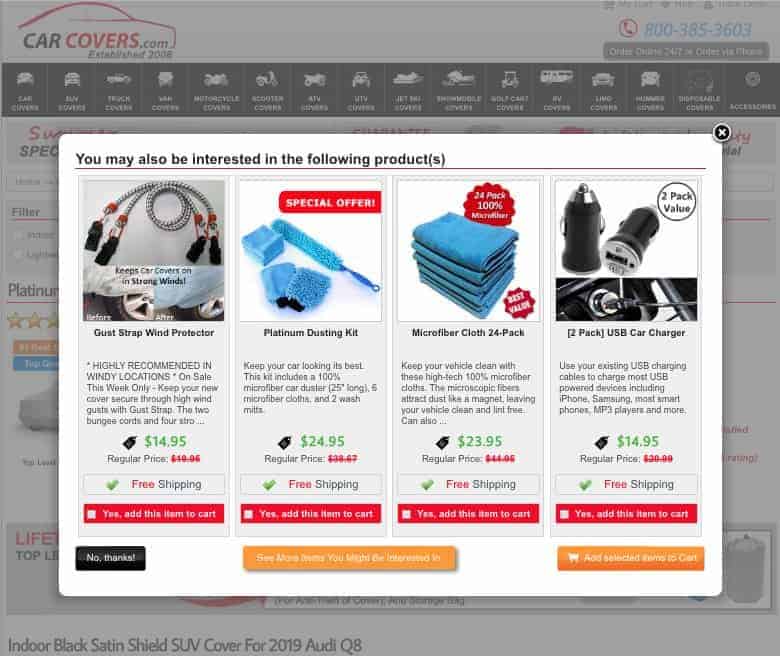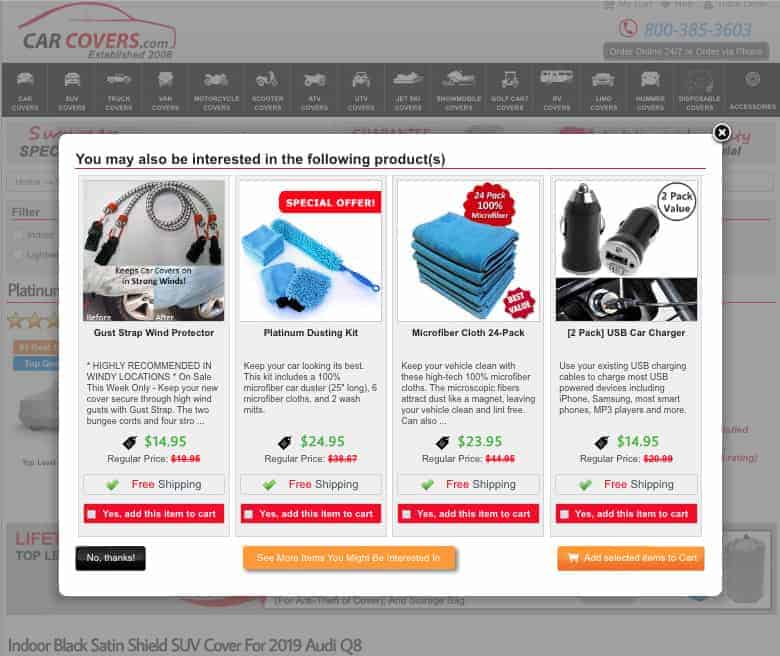 Not sure what cross-sells to offer? Let data be your guide. Check out popular order combinations and offer them under headings like "frequently bought together."
Don't forget to add a "candy rack" at checkout. Sometimes called "downsells," these products might not be so closely related, but they're inexpensive and people might buy them on impulse, "just because," or as a reward for themselves after finding a gift for someone.
It can take time to find the right combination of upsell, cross-sell, and candy rack offerings. Check out our detailed eCommerce upselling case study to jumpstart your efforts.
4. Offer multiple upsell opportunities.
If you didn't read our detailed upselling case study, there's another point we want to make sure you don't miss:
Upselling is not a one-and-done strategy. To be successful, you might need to offer upsells and cross-sells at multiple points — such as pop-ups that appear when people add an item to their shopping cart, and then again at checkout.
Don't offer the same exact pitch each time. Simplify the pitch at repeated views.
But test well; push too often, and you might lose sales.
5. Offer bundles at a discount.
If you can't find a cross-sale combination that works, price might be a barrier. Consider offering a bundle discount for add-ons at checkout. Check with your sales team and accounting department to figure out what pricing strategy might be best for profit margins.
Not sure what bundles to offer? Try product bundles with popular combinations or promote profitable products that aren't selling well on their own.
If all else fails, bundle a product with itself using volume discounts.
6. Hone your product messaging.
All things being equal, consumers will buy the cheaper product. If you want people to buy a more expensive product, you have to tell them why it's superior to the cheaper product.
Sometimes, this means adjusting your pitch to match different marketing campaigns. If you're concerned that this might muddy your marketing message, you can create separate landing pages for different campaigns or direct traffic from distinct campaigns to specific anchor text on the same page.
7. Incorporate product recommendations.
Product recommendations help consumers find the products that will make for satisfying purchases. At the same time, it can gently guide them to higher-priced items as appropriate.
Product recommendations can take many forms. The simplest strategy is to have an automated product recommendation engine. (See our detailed discussion of product recommendation strategies for more information.)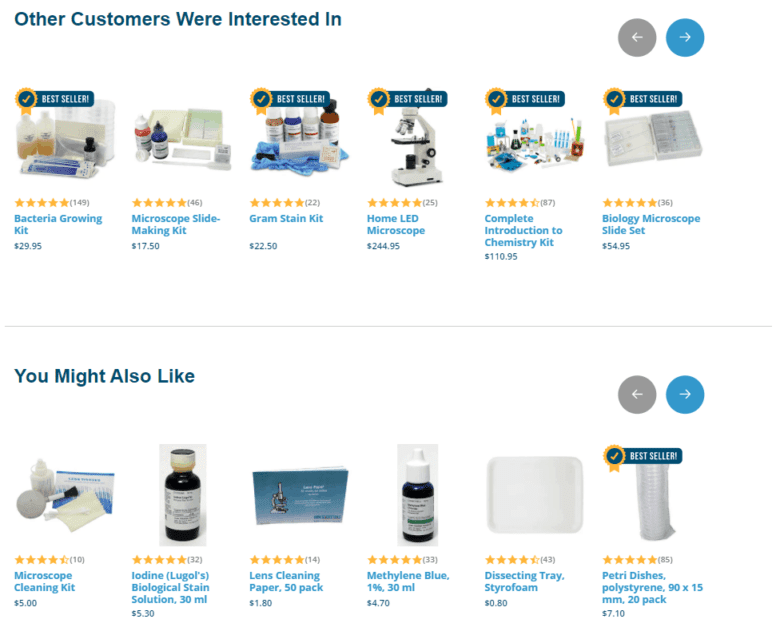 Content marketing is a more demanding strategy for product recommendation.
Create quizzes, infographics, shoppable blog posts, and other content that helps match customers with the perfect product for them. Although it takes more time and effort, done properly this strategy can have outsized results, paying for itself several times over with a significant increase in AOV.
8. Offer free shipping — at a certain point.
Shipping and other unexpected fees are some of the leading causes of abandoned carts.
Free shipping is more than a free gift. Price-based free shipping turns an obstacle into an opportunity for increasing AOV, a strategy that Amazon has utilized with great success. When people see that they can get free shipping for a little more spending, they consider the shipping cost a discount, and it makes them feel justified in making additional purchases.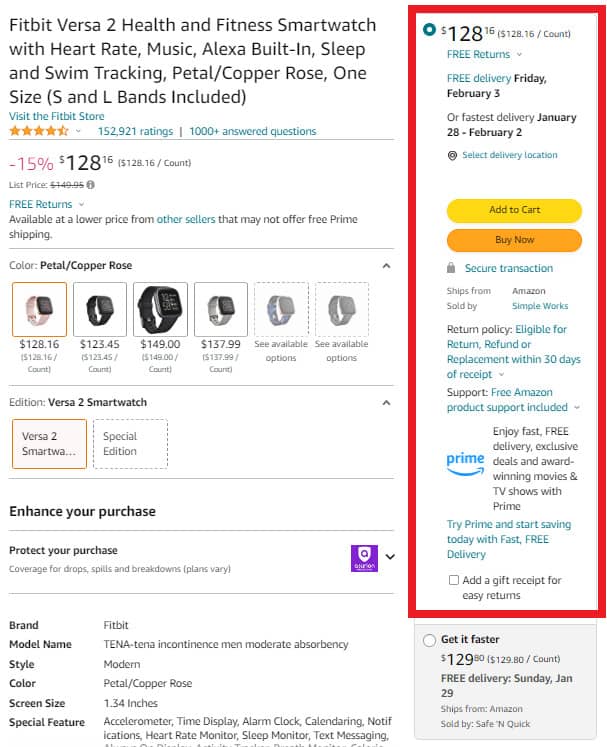 Advertise free shipping at multiple points — and make the free shipping threshold very clear at checkout, possibly linking it to cross-selling.
However, this is another place where you'll want to talk to other departments and decide what minimum purchase should trigger free shipping (to ensure sure it's improving your profit margin, not hindering it).
9. Improve customer retention.
Loyal customers spend, on average, about 67% more than first-time customers. It also costs 80% less to market to existing customers than it does to bring in first-time customers.
Any strategy that lets you spend less and sell more deserves your attention.
Get our tactic for increasing customer loyalty in the guides below:
10. Personalize the customer experience.
Matching customers with items they really want to buy will lead to more conversions and more effective upsells.
With repeat customers, this is relatively easy: Recommend items related to, similar to, or commonly bought with their previous purchases.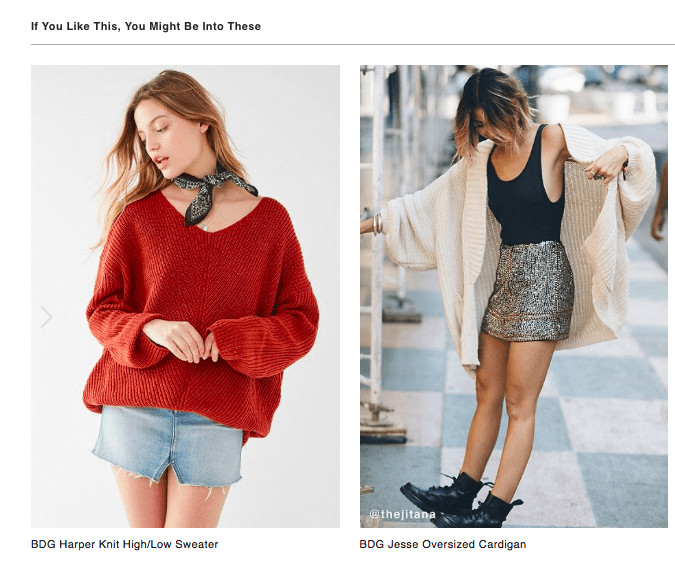 However, you can personalize the shopping experience for first-time customers too, by building landing pages and programming product recommendations that relate to the path customers took to get to your site.
11. Offer flexible payment options.
Buy now, pay later (BNPL) is an absolute must for eCommerce these days. When a customer purchases an item for $100 but only has to pay $25 now, they may feel as if they've "found" $75 — and found money is easy to spend.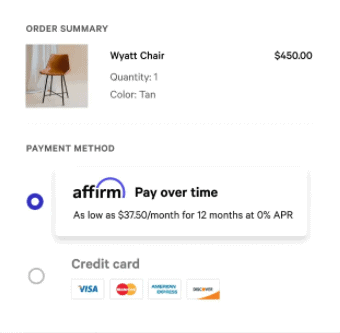 Make sure upsells, cross-sells, and candy rack options are easy for customers to find, especially after they take advantage of your BNPL option.
12. Offer easy returns.
Making a purchase is taking a risk. The more expensive a purchase, the bigger the risk. If you're not a well-known brand, people might be making smaller purchases because it's safer.
Offering easy returns is like giving customers a parachute. It helps them feel safer in taking that bigger risk.
For one of our clients, adding free shipping and returns to an eCommerce store's banner immediately increased their sales by 20%.


Our advice: Make sure your returns policy is highly visible. While this client had already offered free shipping and good returns, they just didn't advertise it well enough — and the heavy promotion made a huge difference to their bottom line.
13. Invest in a CRO audit.
All of the above strategies have been proven to improve AOV — in some cases.
But finding out which strategies will work for your eCommerce site can involve a long period of trial and error.
If you're looking for a list of actionable, low-cost suggestions that you can implement right away, consider a conversion rate optimization (CRO) audit. A CRO audit is a one-time investment that consistently delivers ROI when you implement a few, simple low-cost recommendations.
Please contact Inflow today to schedule a CRO audit by our team of experts.
Boost Your Site Revenue by Focusing on AOV Today
Increasing AOV makes the most of the resources you already have, by leveraging your current eCommerce store to sell more to each of the customers you're already bringing in.
Because AOV multiplies over your transactions, eCommerce stores that make a higher number of smaller transactions tend to benefit more from focusing on improving AOV. It's also important to evaluate whether your AOV is giving you the most important data about your transactions before selecting it as your strategy to improve revenue.
If you're looking for help improving your AOV or finding other strategies to ramp up revenue on your eCommerce site, get started with Inflow's experienced CRO team by requesting a free audit or testing proposal now.