Outdoor recreation is a huge potential marketplace for eCommerce. As the third largest category of consumer spending (after "outpatient healthcare" and "financial services and insurance"), spending on outdoor recreation products alone amounts to nearly $121 billion a year.
That's a lot of opportunity, but it also comes with some major challenges.
We all remember the explosion of interest during the COVID-19 pandemic, but snarled supply chains made it hard for some brands to capitalize on this demand. Today, the sales from that boom simply can't be replicated, competition and costs are rising, and there's always the difficulty of maintaining steady revenue from highly seasonal products.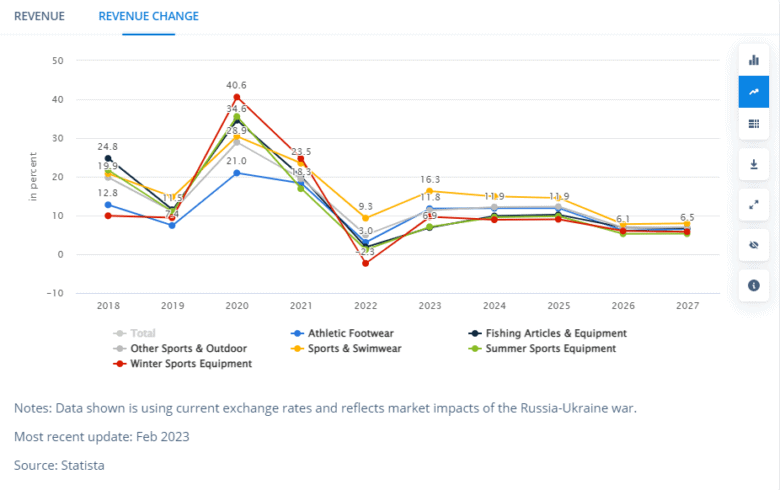 Here at Inflow, we've helped our outdoor and sporting goods clients overcome these new challenges to achieve and maintain high levels of sales. With results like double-digit increases in conversion rates and triple-digit increases in organic traffic, our clients have been able to bring in the business they need to prosper.
In this guide, we'll share 11 of these successful strategies we've used to make it happen — to help our clients climb every mountain and fish customers from every revenue stream.
11 Outdoor Marketing Strategies to Increase Sales in 2023
At Inflow, we have literal decades of online marketing experience. During this time, our marketing agency has worked with numerous eCommerce sporting goods and outdoor brands. Small or large, we've found ways to help them all.

Not all the strategies we've tried have worked, but for this blog, we've highlighted the best of these digital marketing strategies — in other words, those that tend to work for all kinds of outdoor businesses. (It's important to note that we favor long-term success strategies that will bolster your bottom line for years, rather than just grabbing a quick buck here and there.)
Keep in mind: Nothing beats a custom marketing plan. What works for others might not work for you.
If you want to cut short the period of trial-and-error, contact Inflow and let our experts design a custom strategy for your eCommerce sporting goods brand.
1. Understand your brand — and market it.
The most valuable component in a fishing rod probably isn't the reel or the handle, the body, or the line.
It's the brand.
Branding adds value in part because of the promises it makes about the rod itself: high-quality components, ease of use, good warranty, and more.
But the brand also makes a statement about what the rod means, and how it fits into your customers' lives. It's the memory of fishing trips past and the promise of fishing trips to come.
This is not simply hyperbole. In a 2021 study by Amazon, 60% to 70% of shoppers for outdoor recreation gear said that brand mattered to them, depending on the category of sports. We've seen it in action with our clients too.
A strong brand is why Simms Fishing can sell waders for 2x-4x what their competitors charge. By identifying and sharing the story of their brand's craftsmanship and their identity as the only U.S. company manufacturing waders, the Simms Fishing team was not only able to run compelling marketing campaigns — but also justify the higher cost of their products to their customers.
The video below is hosted on YouTube. If you need assistance with viewing the video, please contact [email protected].
That's why branded marketing is our No. 1 tip for outdoor and sporting goods companies. Identify what makes your company different, and lean into that with your marketing strategy. That way, you'll stand out from the competition and build the customer loyalty necessary in today's economic conditions.
2. Use content marketing for year-round sales.
Once you understand your brand, how can you convey it successfully to potential customers? You can't just throw out a branded hashtag and call it a day.
One powerful tool for this is content marketing.
Broadly defined, content marketing is using written and visual content in the form of blogs, articles, social media posts, videos, infographics, and more to advertise your product.
Content marketing solves multiple marketing challenges your outdoor eCommerce store faces, including:
Differentiating yourself from competitors
Building strong brand associations
Keeping your brand top-of-mind during the off-season
With seasonal goods, every business is trying to drive sales at the same time. This leads to a very crowded marketplace.
Content marketing is the perfect solution. It gives you the ideal venue for establishing the personality of your brand, as well as conveying your unique selling propositions (and how they stack up against competitors).
You can use content marketing in the outdoor/recreation industry to build the strong sense that your brand delivers quality, convenience, value, good times, or whatever core values your brand offers.
When people are passionate about an outdoor sport or pastime, they don't forget about it in the off-season. They just switch from doing it to reading about it (or watching videos about it, which can make YouTube a powerful marketing channel for your brand).
If you do it right, your sporting goods/outdoor content marketing can draw a lot of traffic year-round. Our client Mountain House is a great example of this.
As part of their eCommerce SEO services, we helped their marketing team find a writer early on who really knows his stuff — and he regularly produces content that Mountain House's customers want to read. His content is head-and-shoulders above competitors' content, making him a powerful resource for their brand.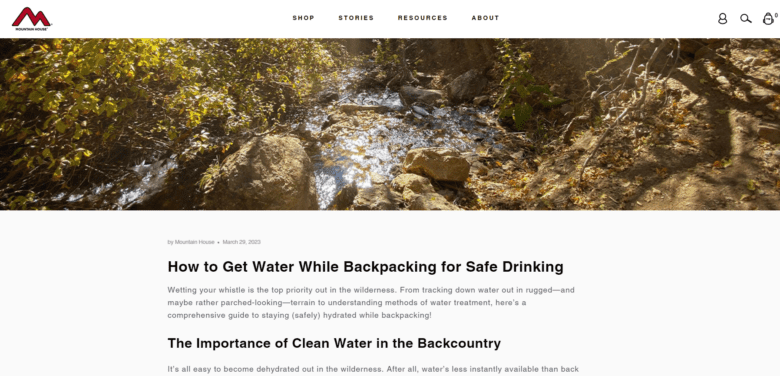 Note that content marketing for outdoor brands can take many forms. While Mountain House does well with blogs and infographics, Simms Fishing commonly uses videos to capture the feelings they want to inspire from their target outdoor enthusiasts.
The video below is hosted on YouTube. If you need assistance with viewing the video, please contact [email protected].
Disadvantages of Content Marketing
Of course, it's important to understand that content marketing also has some potential disadvantages.
Content marketing is rarely quick. It's a long-term strategy that yields benefits over time.
Content marketing can be expensive, especially if you're focusing on video content creation.
Content marketing can be risky if you don't do it right. A content marketing campaign might end with your company spending a lot of money and seeing little to no return, especially if you don't fully understand your brand and your customers.
The content marketing experts at Inflow have overseen many campaigns, and we can help you orient your campaign properly for the marketing terrain you're facing, including hooking you up with content creators, influencers, and brand ambassadors.
Reach out to our team for a custom strategy proposal, or check out our eCommerce content marketing guide for more ideas to get you started.
3. Review historical product and category data often.
To avoid getting lost in the wilderness, it's as important to know where you've been as it is to know where you want to go. Similarly, looking back over your historical sales data can help you understand the seasonality of your products, so you can know what to expect in the future.
This will help you design a proactive marketing strategy — to anticipate trends rather than play catch-up after they happen.
Deep data can be especially important right now. During the COVID years of 2020 and 2021, interest in outdoor activities surged, and many of our clients saw record-breaking years.
Maintaining those record sales is difficult, if not impossible, so it's good to have historical data to compare against. This way, you can see if you've made real progress against more "normal" years, even if you're not hitting record sales.
Looking at historical data can help you see less obvious opportunities, too.
Sometimes, we see a situation where a client has a less popular product whose seasonality overlaps with a more popular product. Adjusting marketing during the shared peak season can lead to increased sales of the less popular product, without significantly impacting the more popular product.
Seasonality is such a big challenge for so many of our clients that we've developed a free Seasonality Analysis Tool that can help you figure out when and how to maximize your Google Shopping ad spend to get the best bang for your advertising bucks.
The video below is hosted on YouTube. If you need assistance with viewing the video, please contact [email protected].
4. Bake seasonality into your marketing campaigns.
Once you really understand the seasonality of your products, you can build marketing campaigns that help drive year-round sales.
This is not just about getting used to the rising and falling demand of the outdoor recreation market. It also means building campaigns that can maximize sales year-round — or knowing when and how to pause your marketing campaigns to save money when sales would be slow.
It can also help you maintain good relationships with your longtime customers. For example, sending them salesy emails in the off-season can make them annoyed, leading to cancellations and a reduced open rate when they might be more likely to buy.
Instead, you can either pause email marketing campaigns or send them engaging off-season content (equipment maintenance, routines to help them keep fit, off-season alternative activities, etc.).
Estes Park Mountain Shop is one great example. Although most of their sales and rentals come in the winter months (and that's when they do most of their promotions), they have built their website with sections dedicated to every season, which can help them promote products year-round.
This gives them a low-cost way to capture more sales in spring, summer, and fall — and continue driving year-round traffic to their site!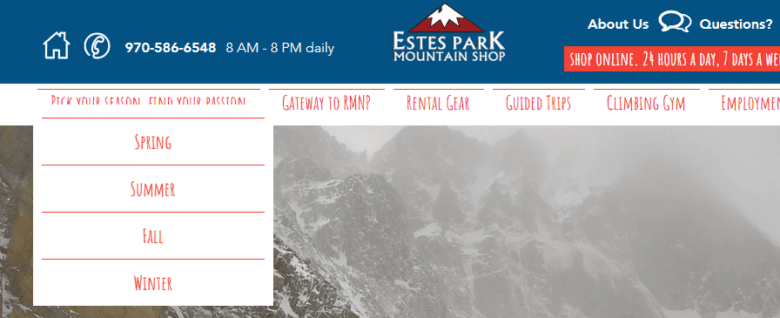 We also use a seasonal approach for the brand's Google Ads campaigns. By analyzing years of their data, we know ahead of time when to pause advertising for products and categories that are out of season. This helps them achieve their desired return on ad spend (ROAS) by only investing when sales are likely to be good.
Similarly, we use this data analysis to restart campaign spending a few weeks before we expect demand to pick up. Not only does this help us know that we're actually capturing all the high-demand traffic, but it also builds up important data that makes automated bidding and targeting more effective when peak season arrives.
5. Strike while the iron is hot.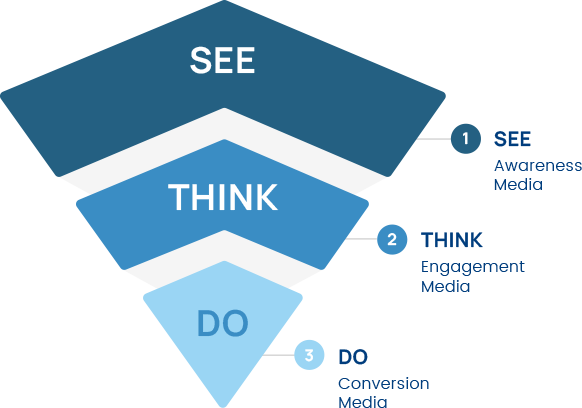 When you are doing full-funnel marketing (as you should), it's important to understand the time it takes for your customers to travel from the top of the funnel (the awareness or "see" stage) to the bottom (the purchase or "do" stage).
This enables you to decide how quickly to move your prospects through the different stages of marketing.
For outdoor sports, the timeline is very short. According to Amazon's research, about half of all purchases in this category occur within 24-48 hours of starting research, with another 35% of purchases happening within a week of starting research.
This means that your remarketing efforts need to be fast if you want to turn nibbles into bites.
6. Build strategies to encourage customer loyalty.
However, needing to act fast doesn't mean you should neglect strategies that can improve your revenue over the long term.
We've talked extensively about the value of improving customer loyalty, and this has never been more important than now. If there's less interest from new potential customers, it's critical to maximize your returns from your existing customers.
Loyal customers can yield much more lifetime value than one-time customers. Not only do repeat customers spend more, but they also make referrals that can ultimately be more valuable than any one customer's spending.
Adding brand loyalty campaigns to your social media, instituting a loyalty program, and engaging customers personally are just a few strategies to improve customer loyalty.
Don't forget to use your email list to remarket to previous customers. Although Amazon says 75% of repurchases occur within six months, that leaves a substantial portion of sales that may come a year or more after an initial sale.
If you sell highly durable goods, like Simms Fishing's waders, you might expect repurchases to fall far outside that window.
7. Start a user-generated content campaign.
User-generated content (UGC) offers huge benefits for your brand. Not only is it relatively inexpensive to produce (it can be nearly free!), but it also shows your product in action. This establishes social proof; people are demonstrating that your product delivers on its promises.
The smart use of UGC can give a big bump to your sales. For Mountain House, using UGC bumped their conversion rate by 13%!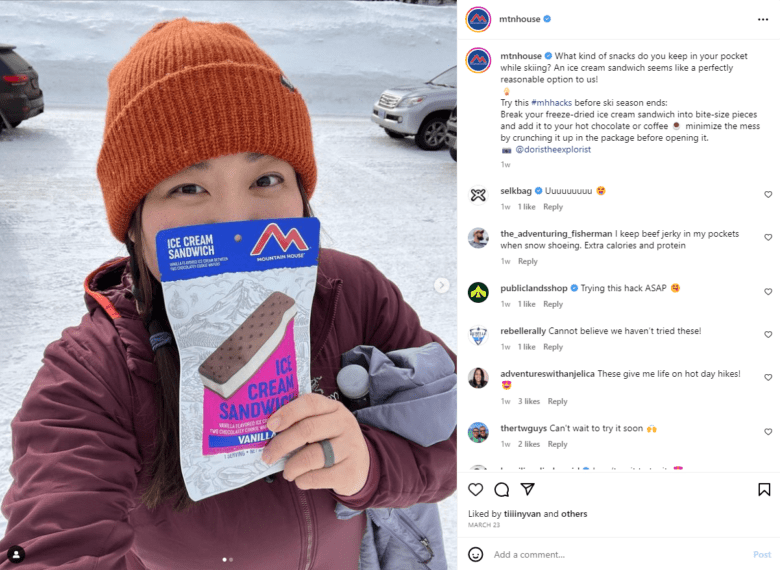 People love sharing pictures of outdoor activities on social media platforms, which means it's often not hard to collect useful UGC.
If you're having trouble, check out our tips for getting and using UGC for your social ad campaigns.
8. Invest in non-branded keywords.
Although brands matter to many shoppers for outdoor gear, it's also important to reach the many, many potential customers who don't yet know your brand exists.
To do this, invest some resources (in the form of search engine optimization, PPC, and content marketing) in non-brand keywords.
General terms like "fishing," "climbing," "camping," and "hiking" may not yield immediate ROAS, but they do offer other important benefits:
They can bring traffic to the website in the off-season, which, as we've established, can help your brand develop new top sellers.
They increase brand awareness.
The small number of conversions from these marketing efforts can be turned into loyal customers and brand advocates to help you build a powerful fan base.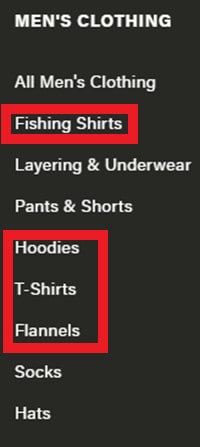 We recently tested this approach when Simms Fishing planned a routine site migration in early 2022. Instead of a simple migration strategy, we took the opportunity to reimagine the site, creating new categories targeting non-branded keywords and new collections for in-demand clothing styles like hoodies, t-shirts, and flannels.
As a result, Simms saw more than a 5,600% increase in non-brand category page traffic.
That's right: They saw 56 times as many visitors to these pages as they did before.
In addition, they saw a 1,100% increase in non-brand keyword footprint — showing up 11 times as often in search results for these keywords. This resulted in a 126% increase in organic traffic — more than double what they had before the migration.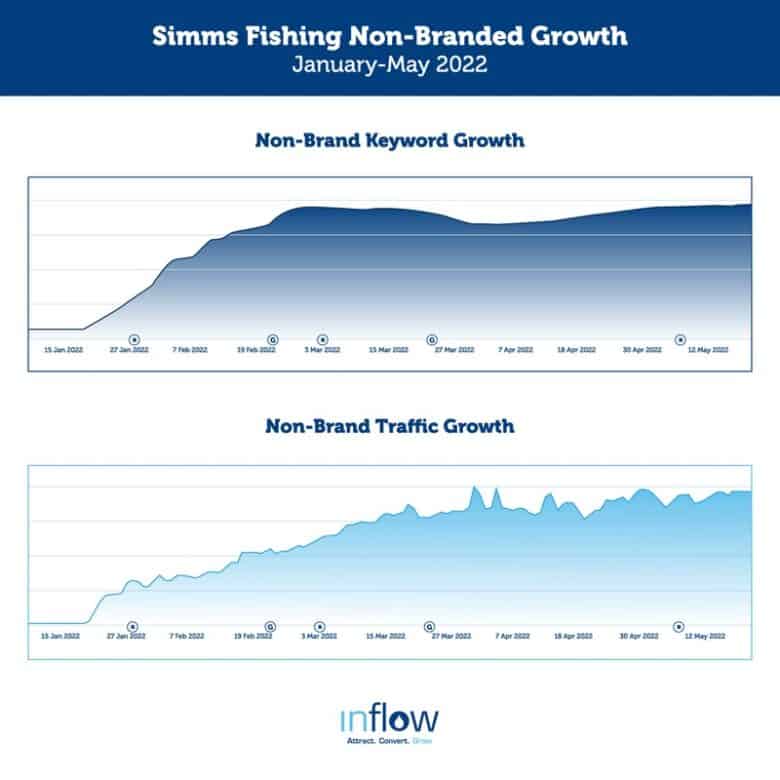 9. Utilize geotargeting to make marketing more efficient
Just as many outdoor products are seasonal, many are geographically limited.
If everybody had an ocean, they'd all be surfing. But not everyone has an ocean, so why waste money marketing surfboards to the ones who don't? (Don't forget that some areas of the country are just more outdoorsy than others.)
Spring also comes at different times to different parts of the country. Lower elevations, southern states, and the coasts can sometimes see spring weather a month or more before higher elevations and inland locations.
This means that a truly seasonal campaign will also be geotargeted — switching on in different target markets as the seasons shift there.
Geotargeting your efforts, especially your PPC campaigns, can reduce your spending and improve your ROAS. It's important to understand that iOS 14.5 and other efforts to increase privacy can reduce our ability for precise targeting, but it's still worth doing what we can.
10. Broaden your audiences.
If you've been paying attention to all our tips so far, you've probably noticed a tension between two different types of strategies.
Some urge you to focus your marketing (using seasonality and geotargeting, for example), while others urge you to widen your marketing (content marketing and non-branded keywords, for example).
The truth is that both tactics can be effective, and you should employ them both.
We often go through rounds of this with our clients, focusing on a target audience until we've got it mastered (and have maximized ROAS and sales). However, when we want to expand sales, we might encourage targeting a new demographic.
For example, after mastering the segment of passionate anglers, Simms Fishing decided they wanted to expand their customer base by becoming more appealing to novices.
Doing this intelligently usually means making a series of choices that work together to achieve the effect you're looking for. Simms, for example, made changes to their design, their copy, and their content marketing.

You have to do this carefully to make sure you're not alienating your established customer base. Sometimes, it makes sense to do some A/B testing before rolling changes out sitewide.
11. Offer generous shipping and return policies.
With the intense competition among outdoor product retailers, you need every advantage you can get.
One of the best ways to get an immediate leg up on the competition is to offer generous shipping and return policies. After all, shipping costs are one of the main reasons why people abandon carts on websites.
Making it easy to return products reduces people's fear about potentially buying products online, where they don't get to look at and feel them before buying.
Depending on your product, it might even make sense to let customers enjoy a significant trial period for testing the product before they decide to keep it. Decide on a trial period that makes sense for your product, and make sure the terms are clear on your website.
Already have generous shipping and return policies, but aren't seeing the benefit you hoped? Make sure customers know you offer these.
Trailcam Pro had free shipping and great return policies but didn't advertise them. Making these prominent and implementing a few other minor changes immediately boosted their sales by 20%!


Create an Effective Outdoor Industry Marketing Strategy Now
Any mountain looks the tallest when you're standing at its foot.
We understand that you might find this heap of marketing strategies for outdoor brands intimidating. Remember, though, that every journey begins with a single step — and if you start at the beginning, you'll find that it's not insurmountable.
Which is not the same as saying that the summit will be easy to achieve.
We've helped many a client who has taken a wrong turn and ended up with little to show for their efforts. If you are looking for an expert trail guide to help your outdoor product eCommerce business grow in this challenging time, request a free proposal, and we'll draw you a map to the top with a personalized sporting goods marketing plan for your specific needs and goals.