We've developed a framework for structuring eCommerce Facebook Ad campaigns, which initial results show can achieve 3x ROAS while targeting top-of-funnel cold audiences in a new way.
We think it's a big advantage to target these audiences, because typically eCommerce brands limit their campaigns to high-frequency remarketing that targets existing audiences for immediate sales. As a result, they miss out on huge opportunities.
So far, our new framework has:
Helped us scale ad spend by 58% while maintaining a 3x ROAS

Boosted purchases by 63%

Increased average purchase value by 44%
In this framework, we think beyond "buy, buy, buy!". As a result, we keep our prospect pool fresh by building new custom audience lists, which lets us access a much larger total audience. It also boosts paid and organic brand searches. Above all, this creates a sustainable long-term sales pipeline. We've based this approach on Avinash Kaushik's 'See, Think, Do' framework.
At Inflow, we work with dozens of eCommerce companies to generate sales through Facebook Ads. You can talk to one of our Facebook advertising specialists to see how we can help you increase ROAS. Get in touch now.
How We Applied '
See, Think, Do'
to eCommerce Facebook Ads
If you haven't come across Avinash Kaushik's 'See, Think, Do' framework before, he splits his prospects into three categories:
See:

The biggest possible

relevant

audience, who haven't yet shown intent.

Think:

A subset of the '

See'

audience who

have

shown intent.

Do:

A subset of the '

Think'

audience who are

most likely

to make a purchase.
This is typically used as a high-level marketing strategy framework. How did we apply it to the nitty gritty of an eCommerce Facebook Ad campaign strategy?
Typically, eCommerce Facebook Ad strategies jump straight to the 'Do' stage. With pressure to hit short-term targets and see quick returns, spending cash on awareness-stage audiences is not a priority. Top-of-funnel has a reputation for being costly, cumbersome, and ineffective for eCommerce — and this is especially true in eCommerce social media advertising. But as we'll see, there's more than one way to target people.
For some paid digital marketing channels, jumping to 'Do' is logical. For example, Google Ads qualify intent by way of keyword search, and so it makes sense to sell hard when bidding on bottom-of-funnel, high purchase intent keywords. However, relying on Google Ads alone limits your audience size to people who are actively seeking an item. You miss out on everybody who doesn't yet know they need it.
Facebook, on the other hand, is the perfect platform for reaching pre-awareness prospects. You can target by who the person is and what their interests are, rather than what they happen to be searching for at that specific moment. Nonetheless, from what we've seen, eCommerce marketers still tend to focus on bottom-of-funnel advertising on Facebook, i.e., retargeting existing audiences.
This seems to be based on the idea that bottom-of-funnel campaigns are necessary to achieve a good ROAS. A strategy aimed at getting exposure to a new cold audience is feared to be too costly. But by using our 'See, Think, Do' based Facebook Ad strategy, we've been able to hit broader cold audiences and scale up the spend while maintaining solid returns.
How We Scaled the Performance of Aviator Gear's Facebook Ads
Aviator Gear is an online store for custom military aviation gear. Their product catalog includes caps, patches, challenge coins, airplane models, stickers, and much more. By structuring their Facebook Ad campaigns around 'See, Think, Do', we target potential customers at the top of the sales funnel and achieve 3x ROAS overall.
Here's how…
The '
See'
Stage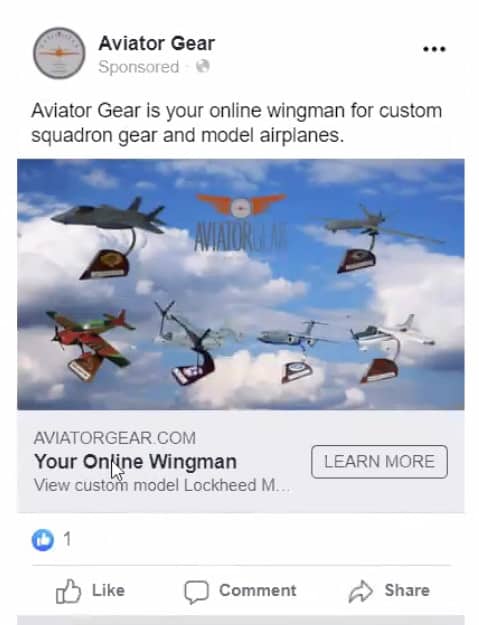 KPI: Cost Per Mille (CPM)
The main goal of Aviator Gear's 'See' stage is to reach as many relevant people as possible. Their target audience is relatively specific: mainly male, military, former military, or interested in military. And of course, US-based. But this is still very broad — and most of these people won't know about what Aviator Gear offers.
To maximize reach, we set the campaign objectives in Ads Manager to 'Reach' (as opposed to Conversions). As a result, Facebook's algorithms push our broad creative to a wide audience with our targeted demographics and interests. The goal is cheap impressions, at scale.
For Aviator Gear, we achieved a super low CPM of $1.07 for this stage. Compare this to a conversion-focused prospecting campaign, which would typically result in a CPM of $8-10!
At this 'See' stage, we want to pique the interest of our broadest possible target audience. They're now aware of the brand, and they interact with the ad in the news feed or visit the homepage. This is when the 'Think' stage begins.
The '
Think'
Stage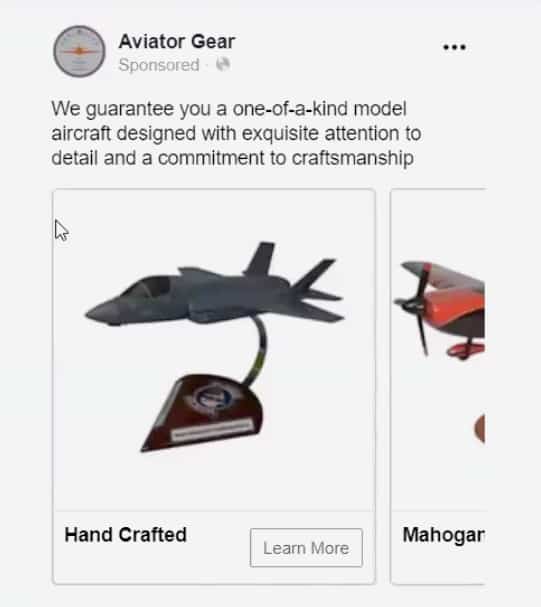 KPI: Cost Per Engagement (CPE) / Landing Page View
For this stage, we drop the cookies and set the remarketing engine in gear. We build custom audiences and target the more qualified people who have visited the Aviator Gear website—or interacted with the brand on Facebook—with unique value propositions for relevant products or categories.
These ad creatives depend on various aspects: including where the audience went on the website and/or how they interacted with the Facebook post.
For these ads, we use Facebook's 'Conversion campaign objective'.
For example, if the initial 'See' creative focused on model airplanes, we'd keep the value proposition at 'Think' tightly-bound to model airplanes. After all, this is what compelled that person to declare some interest in the first place, right?
We usually see the best ROAS here by keeping the 'Think' creative tight to the 'See' creative, but emphasising unique selling points and features in much more depth — e.g. "handcrafted", "mahogany wood", and other aspects. At the 'Think' stage, we are trying to compel the prospect to show meaningful engagement.
We also integrate Google Ads here. When someone clicks on an Aviator Gear ad in paid search or Google Shopping, they populate a Gclid (Google Click ID) that stays valid for their session. We know that this user is lower down the funnel, because they've already searched for what we offer. So, we build a custom audience based on URL rules (i.e. URL must contain Gclid) and hit these prospects with unique value propositions within their Facebook feed.
It's worth mentioning that high-ticket items naturally demand more consideration from a prospective buyer than low-ticket items. This means you need to show some love in the 'See' and 'Think' stages, ideally with video ads and/or carousels that really pique the interest. For low-ticket items (e.g. a $2 patch), you can weigh the budget heavier on the next stage… 'Do'.
The '
Do'
Stage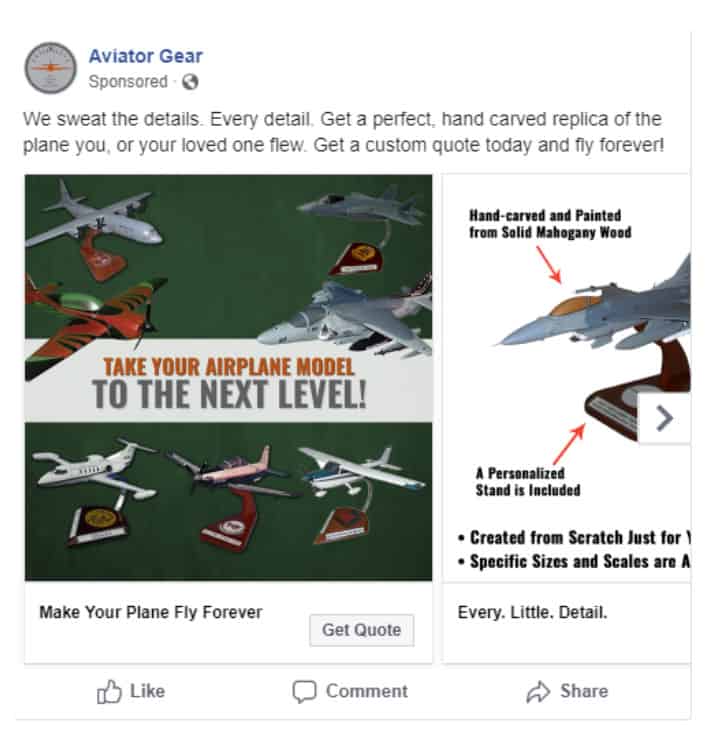 KPI: Cost Per Purchase
Now, here is a tasty statistic: we see a 10x ROAS for the 'Do' stage, after putting our custom audiences through the 'See' and 'Think' stages. What makes this final action-oriented step so effective?
First, we retarget the top 25% of key landing page website visitors (based on time spent on site) from the 'Think' stage, and launch a bold Conversion campaign with strong ad copy and calls to action.
As you know, abandoned carts are a pain in the neck (see our piece on cart best practices), so the other part of our 'Do' stage is to get hesitant people across the line. We implement a dynamic Catalog Sales campaign to showcase the product they already added to the cart, again using strong CTAs such as "buy now" and "jet back to your cart".
Important note: We don't currently offer a comeback incentive (e.g. "complete your order now for 10% off!") but this would be another weapon to try in your Facebook Ad remarketing arsenal.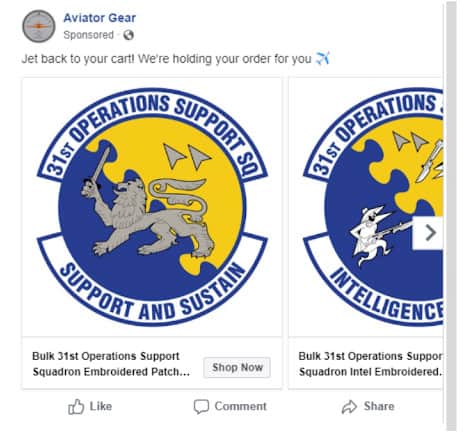 Then, we take these campaigns even deeper by splitting up ad sets based on when a prospect added a product to cart. This structure breaks down into 0-5 days, 6-20 days, and 20+ days. As a result, we can bid more aggressively for the hotter recent leads.
We do ongoing optimization for this stage, using the 'Time Lag Report' on Google Analytics to track purchase behavior and tweak the time windows based on what the data shows.
Final Thoughts…
Overall, we've seen 3x ROAS on the combined ('See, Think, Do' framework) campaigns and 10x ROAS on just the 'Do' portion after sending customers through the previous two stages. The ability to achieve a good ROAS on cold audiences is exciting in terms of the potential for getting new customers.
Many eCommerce brands limit themselves to conversion-focused creatives, which are great for getting a good ROAS on customers already exposed to your brand, but less effective for top-of-funnel prospects. The obsession with conversions also pushes ad prices up. By selling hard with high-frequency ads from the outset, they burn through a small audience quickly, and don't build new lists for retargeting campaigns. This has a law of diminishing returns, making Facebook Ads more expensive.
From the initial goal of impressions at the 'See' stage, you can build qualified custom audiences cheaply and use Facebook Ads as a sustainable channel for eCommerce store customer acquisition.
As you nudge users down the funnel, aim for engagement and sales more explicitly. With its potential for high ROAS, the 'See, Think, Do' approach has put top-of-funnel prospects back on the radar for your eCommerce business.
At Inflow, we work with dozens of eCommerce companies to generate sales through Facebook Ads. You can talk to one of our Facebook advertising specialists to see how we can help you increase ROAS. Get in touch now.