The writing is on the wall: Google Ads manual bidding is on its deathbed. You only need to take a cursory look at the advertising platform to see it.
With the rollout of automatically applied recommendations and new campaign types like Google Performance Max, Google is moving full speed ahead toward automated bidding — removing a crucial element of control for paid search advertisers.
It's tempting to bury your head in the sand, steadfastly grasping your last manual bidding options. But now is the time to start building a Google Ads automation strategy that not only plays nice with Google's new darlings but also protects your precious ad spend from improperly applied auto recommendations.
Over the last year, Inflow's pay-per-click advertising team has been experimenting with this automation (both with and against our will) to discover the best approach for our eCommerce clients. In today's post, we'll share with you our recommended strategy, including how your brand can use these developments in a smart, results-focused way.
Want a personalized automation strategy for your paid search campaigns? Request a free proposal from our team today.
A Brief History of Google Manual & Automated Bidding
For years, our PPC strategists enjoyed an incredible degree of control over our clients' bid strategies. With manual bidding, we were the ones to decide the best ways to spend their valuable ad budget and deliver revenue results.
But, over the last few years, automation is all we've been hearing about from our Google reps. Whether it's new bidding strategies, campaign types, or capabilities, Google has pushed automation hard to our strategists, even so far as offering free ad credit to implement these new developments.
Like many agencies, we rolled our eyes at first. After all, for our eCommerce clients, manual bidding beats automated bidding almost every time. The expertise of a real human, who could deduct trends from years of experience, couldn't be matched by early-stage automation strategies.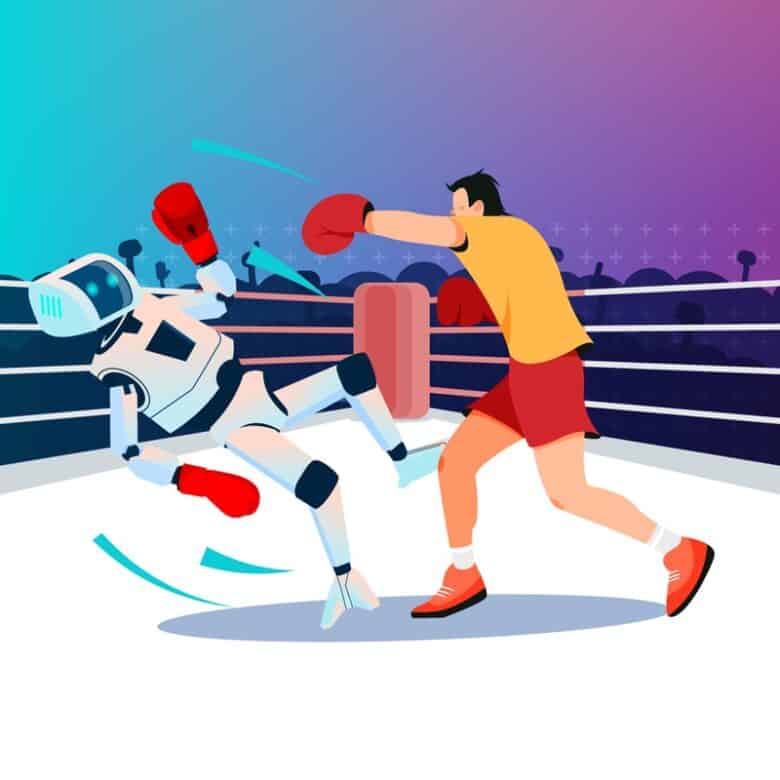 But we've come a long way since then. As Google continues to release more platform trends and changes pushing automation, the capabilities of and data held by machine learning are becoming more powerful — so much so that our Google reps have hinted manual bidding will sunset at some point in 2023.
How Well Does Google's Automation Work?
Whether we like it or not, now is the time to start transitioning from Google Ads manual bidding to the new age of automation.
But just because automation exists in spades on the advertising platform doesn't mean it's smart (or even advised) to apply Google's recommendations willy-nilly.
Unfortunately, Google's automation options still leave much to be desired, especially for those advertisers who aren't well-versed with the ins and outs of the platform. Even if we don't consider the fact that Google changes its definitions without warning (worth a whole other blog in and of itself), the system's AI machine lacks the nuanced understanding to apply its recommendations across a variety of budgets and brands, both big and small.
Remember: Google's automation feeds off your existing campaigns and the new campaigns it runs (known as a learning phase) to determine the best strategy for your brand. Therefore, more data equals better performance — or so you would think.
The reality can be much different. Even eCommerce brands with lots of budgets and SKUs can't totally change to Smart bidding strategies without the risk of spending too much and delivering too few results.
We've seen it happen for a wide variety of our clients, a few of which we'll detail below:
Example 1: The Local Sporting Goods Business
In the summer of 2022, Google pushed Performance Max as its new solution for automated campaign types, using machine learning to improve the delivery and performance of ad placements across its advertising channels. The promise: Delivering the right ad in the right format at the right time to improve conversion rates.
To test out the power of the new campaign type, we switched one of our smaller eCommerce brands completely to Google Performance Max. Unfortunately, it wasn't long before results started tanking and ad spend started spiking — bad for any brand, but especially disastrous for a small company with a limited ad budget!
Contrary to what had been promised, we couldn't just "flip a switch" when it came to Performance Max for this client. We needed more data in the tank to deliver the desired automated results.
So, quickly, we pivoted to a custom campaign structure, which would allow us to scale the account and gather more data before letting automation run loose again.
Example 2: The Successful Pool Supply Store
At the same time as that client was dealing with its PMax disaster, another of our previous clients saw its own mishaps play out with Google automation.
At the urging of their Google rep, this eCommerce client agreed to a "trial" run with Google's Advanced Growth Team, to explore how automated bidding could help optimize their accounts. Previously, they had been using Google Ads manual bidding to manage their accounts — and with impressive results, like 758% ROAS.
It went about as poorly as you might expect.
Contrary to what the rep had said, Google didn't have the system as figured out as it thought. Within the 11-day test period, the campaigns tanked — decreasing ROAS to 295% and spending 181% more in budget to achieve a measly 12% growth in revenue.

In short, Google's automated bidding adjustments cut the brand's returns by more than half.
Understandably, the client quickly pivoted back to manual bidding strategies. But, knowing they couldn't rely on manual CPC bidding forever, they reached out to our paid search experts this fall to start developing a custom strategy that would minimize loss during the transition to automation.
Example 3: The Theoretical Recommendations
Given these experiences with poor Google automation, our team has become more than a little wary when it comes to blindly applying the platform's recommendations across our valued clients' accounts.
And the recommendations provided to one of our small healthcare clients did little to alleviate our concerns.
Already on a tight marketing budget, this client had little room for error when it came to their Google Ads spending. Unfortunately, Google consistently recommended strategies that would work against their small-budget marketing approach.
First off, the recommendation to "bid more efficiently" with a target CPA (cost per action) approach: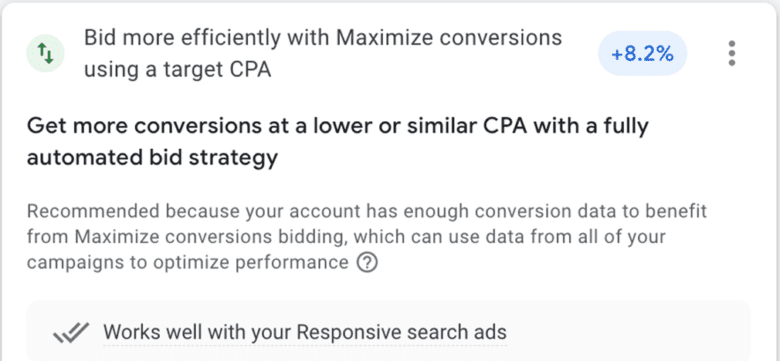 In the past, we've tried to implement this "max conversion" automation on a higher budget, per Google's advice — but this led to a 25% drop in efficiency month over month. If we would have applied this automated bidding strategy, our client would have experienced the same decline in results.
In our experience, implementing an automated Google Ads bidding strategy is not a "one size fits all" solution. Instead, it needs to be handled on a case-by-case basis.
Undeterred, Google kept offering other recommendations, including this suggestion to enable "auto created assets." (By allowing this, you allow Google to scrape your website for images, descriptions, and videos to use in your search campaigns.)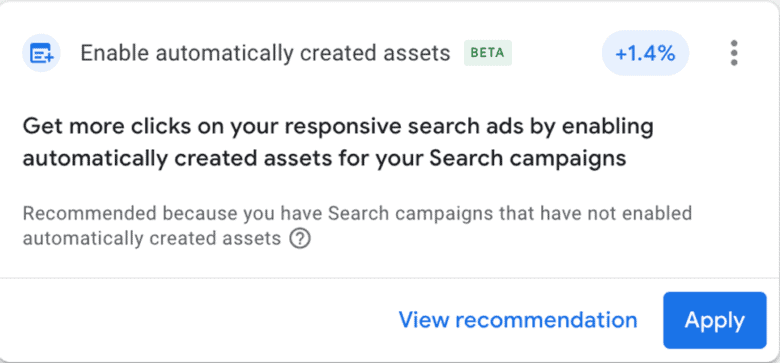 This should set off alarm bells for any brand owner or agency, as it did for us. Giving Google more creative control over your ads, without any input before running, opens up opportunities for disaster — misaligned brand messaging, improper use of creative, and more.
Also of note in this case: "More clicks" does not necessarily equate to better results!
Another "recommendation" for this client: Enable search campaigns to be served on the Google Display Network (GDN).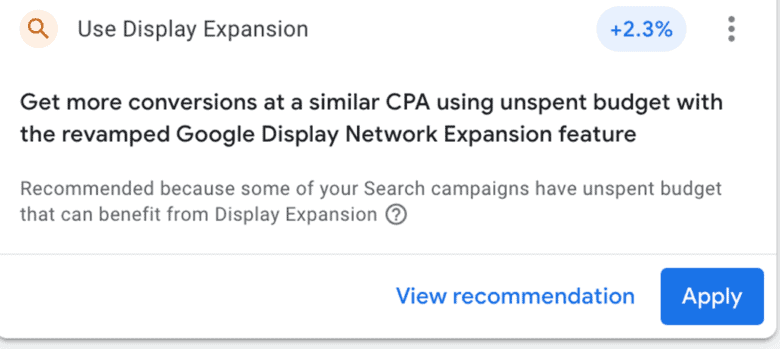 In contrast to what's promised here, GDN typically has lower conversion rates than typical Google search ad placements. In our experience, this means lower account efficiency overall — which would have an outsize effect on this small online business.
What this recommendation actually does?
Gives Google another opportunity to increase its advertisers' ad spend — without necessarily achieving the client's campaign goals.
Moving from Google Ads Manual to Automated Options: Our Strategy
Clearly, automation strategies aren't yet a one-size-fits-all solution for eCommerce brands. Transition your accounts with a "flip-of-a-switch" approach, and get ready to see results like the clients we've mentioned above.
But neither should you ignore automation until it's too late — or risk the same fate, just on a later timeline.
Instead, we recommend a dual approach: testing Google's vast automation machine learning capabilities with the guidance of an expert paid search marketer, like those at Inflow. With a moderator by your side, your brand can identify the best approach for your campaigns and minimize the losses along the way.
Here's the approach we're taking (and the strategy we're happy to apply across your accounts, as well):
Do NOT Enroll in Auto-Applied Recommendations
First and foremost, we advise all of our clients against enrolling in auto-applied advertising recommendations.
We've seen firsthand the negative impacts on campaign performance that these recommendations can create. We've even had to advocate for clients to have credits applied to their Google Ads accounts, due solely to problems caused by these auto-applied changes.
While automation and technology have enhanced much of what we can accomplish as advertisers, they're not yet ready to be used unsupervised. As our clients above can testament, auto-applied recommendations aren't guaranteed home runs — and often end up spending more than our clients are comfortable with during a testing phase.
Instead, we'll use these recommendations as a starting point for our own research into potential test strategies during a phased transition.
Recognize the Power of Automation
Today, Inflow's PPC team is more automation-friendly than we've ever been. Before the latest platform changes, we used it solely for scaling accounts (after we found the right strategies on our own).
Now, machine learning has become so smart that it's no longer just a way to improve your processes. It's transformed what AI can do for our clients' campaigns, thanks to the millions of gigawatts of campaign data sitting within its servers.
Even if we worked with thousands of eCommerce brands, we'd never have access to anywhere near the data that Google does. And, even if we did, our human brains simply couldn't use it as well as automated machines can.
But, while those machines are smarter than us, we still need to police them. It's up to our team to pick and choose the data and automation that best applies to our clients (and which we want to hold off testing until a later time).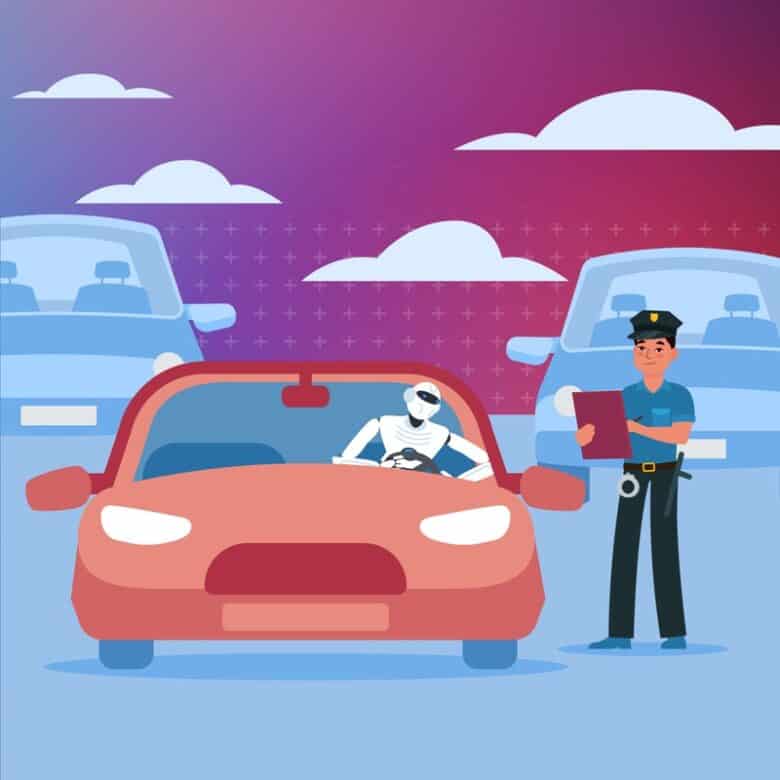 Inflow is not going to the be salmon swimming upstream while Google is pushing us in another direction. Instead, it's all about leveraging that push (and those bid options) to create smarter, more successful campaign strategies.
Take a Phased Approach
A successful transition from Google Ads manual bidding to automated bidding is a journey.
The first step in the process? Take one step back.
Before we start testing automation on any client, we start by building a strategy. We consider which options are best for our client, how we're going to apply them, and when we'll make the partial (and, eventually, complete) switch.
We're big fans of the "fail quick, fail small" approach. By testing automation in bits and pieces, we can keep our clients' accounts profitable overall, even if we experience some revenue losses with certain automation tests.
Trust the Experts, Not Google
To play nice with Google's robots, we need to always remember who's building the automation we're using.
Don't let its audience messaging fool you: With automated bidding, Google is thinking of its business first — ie., how it can make money off of advertisers. If you leave your campaigns in the hands of its automated strategies, you can bet your ad spend will be maxed out every time.
But, by trusting your automation to experts who put your business interests first, you'll be much more likely to maximize your return on investment (ROI), with as little money spent as possible. Strategists will take a leveled, nuanced approach to your campaign transition and management, making as many adjustments as needed to better your performance.
(Of course, agencies who charge a percentage of ad spend in their management fees might be less motivated to take that approach — which is why Inflow is always committed to a flat-rate management fee for all our clients.)
By incorporating factors and metrics like server-side tracking, enhanced conversion attribution, and micro conversion data into a blended ROAS report, we can also look at the bigger picture: not just how automation is affecting Google Ads revenue, but how our clients' performance on this channel is affected by other digital marketing efforts, as well.
Create an Automation-Proof PPC Strategy
When it comes to building successful Google Ads campaigns, just because it's automated doesn't mean that anyone can do it.
As we've proved throughout this article, it's actually the opposite.
While heralded by Google as an easier, simpler way to configure campaigns, automated bidding and campaigns will be the bane of many unprepared advertisers in the months to come.
In our opinion, automation is only helpful for brands when applied with the expertise of a living, breathing PPC marketer. You need the combination of both machine learning and human knowledge for the best results, especially when Google is continually changing the game for us all.
Rather than rely on the guidance of your Google Ads representative, we recommend working with an experienced PPC agency or consultant to build, review, and implement automated strategies into your accounts — in a way that outlasts Google's latest automation changes and makes the most of your brand's paid search investments.
For help navigating Google's latest platform changes, contact our team of experts. We'll craft a custom proposal for your brand's needs and goals that focuses on generating the best ROAS possible — using our unique data-driven, human-powered paid search advertising approach.