Editor's note: This blog was updated in 2023 for accuracy and to adhere to modern best practices.
Are eCommerce businesses too dependent on paid advertising?
We've seen this assertion floating around marketing and startup circles — especially when it comes to the slew of new venture-backed eCommerce startups that have emerged over the past few years with a glut of investor cash available to spend aggressively on advertising.
It's also the central premise of a 2019 article by Andrew Chen, a general partner at a Silicon Valley venture capital firm. His argument? Many companies die from over-reliance on and addiction to paid marketing channels:
"The key insight here is that paid marketing is tricky to grow, at scale, as the primary channel. It's highly dependent on both external forces — competition and platform — as well as the leadership team's psychology when things get unsustainable."
With the rumblings of recession growing larger amid recent tech layoffs, it's time to revisit the topic and ask:
Is paid marketing a dubious channel for eCommerce companies?
Today, we'll debate (and answer) this question of overreliance by looking at a few core pieces of an eCommerce marketing strategy, including:
Attribution: Why you should accurately measure the advertising cost of acquisition by channel
Scale effects: Whether paid channels diminish or don't in efficacy with scale
Saturation: Why most brands are at risk of "saturating" a market with paid ads
Spoiler alert: Based on our experience, most eCommerce brands shouldn't worry about an overreliance on paid marketing — as long as attribution is properly accounted for and return on advertising spend (ROAS) is monitored.
Now, let's get into why.
As an agency that's helped hundreds of eCommerce brands over the last decade grow via paid and non-paid channels, we'd love to assess your paid marketing performance and how it aligns with your business goals. Contact us today to request a free strategy audit.
Understanding True Customer Acquisition Costs
Before we can decide if a company is "overreliant" on paid marketing, we need to have an accurate measure of each channel's customer acquisition cost (CAC).
Simply monitoring "blended" CACs is dangerous, and we've seen it lead companies to waste thousands — if not millions of dollars — on unprofitable marketing spend.
While blended CAC means slightly different things to different people, in general, it refers to tracking a single number for acquisition cost: total sales divided by total marketing costs.
Obviously, this leads to the danger of profitable channels obscuring the existence of unprofitable channels.
For example, if a company was losing money on Facebook ads in a given month, but had their product picked up by Good Morning America and saw an increase in sales from that, their overall company CAC could look good.
However, without proper attribution, those increased sales would hide the fact that Facebook ads were not profitable (or not as profitable) as they thought.
This problem isn't an issue as long as you're looking at CAC by channel.
And, in our experience, the vast majority of eCommerce companies today do this already.
Here at Inflow, we look at CAC and (more importantly) return on ad spend (ROAS) at a far more granular level than just channel:
At the platform level (Google Search Ads, Google Shopping, Facebook, Instagram, etc.)
At the campaign level
At the ad group level
At the specific-keyword level, product level, creative level, etc.
With this approach, we give our clients an extremely detailed understanding of ROAS throughout all paid acquisition programs, down to specific ads and attributes. It's this depth of understanding that lets us do things like lower cost per acquisition from $47 to $9 in Google Shopping and create high-ROAS search advertising campaigns.
Therefore, we recommend all eCommerce companies (if they're not already doing so) think of CAC and ROAS at this granular of a level.
Analyzing Last-Click vs. Multi-Touch Attribution Models
While blended CAC isn't typically an issue for eCommerce brands, there is another attribution problem that many fall victim to — looking solely at last-click attribution in Google Analytics.
Because this is the default attribution in GA, it's an easy mistake to make. However, it can really blur a company's understanding of two important factors:
The true ROI of paid ads
The role that paid ads play in a customer's entire journey with your brand
Last-click attribution assumes that your customer acquisition is linear and takes place on a single device by giving all the credit to the last touchpoint.
In other words: A customer sees an ad. They click on the link and buy from there, (correctly) giving credit to the ad.
But, if that same customer comes in later via organic search to complete their purchase, the ad would get no credit under this model.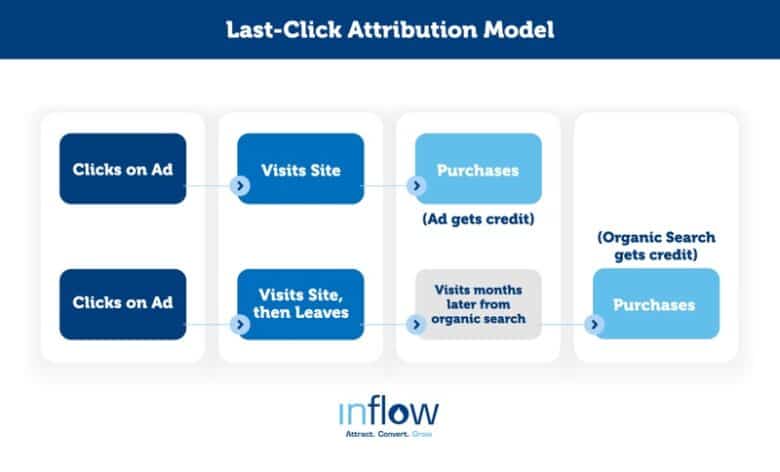 Obviously, this framework is extremely limited.
In today's market, most customers will have multiple touchpoints with your brand before they buy. The average customer may click on your ad, read a few of your Instagram posts, check out some product reviews, and then Google their way to a blog post — all before they ever make a purchase.
When you look at it from the lens of last-click attribution, the blog post will get credited with the sale. The reality is your paid advertising, social media, and content all assisted with that sale.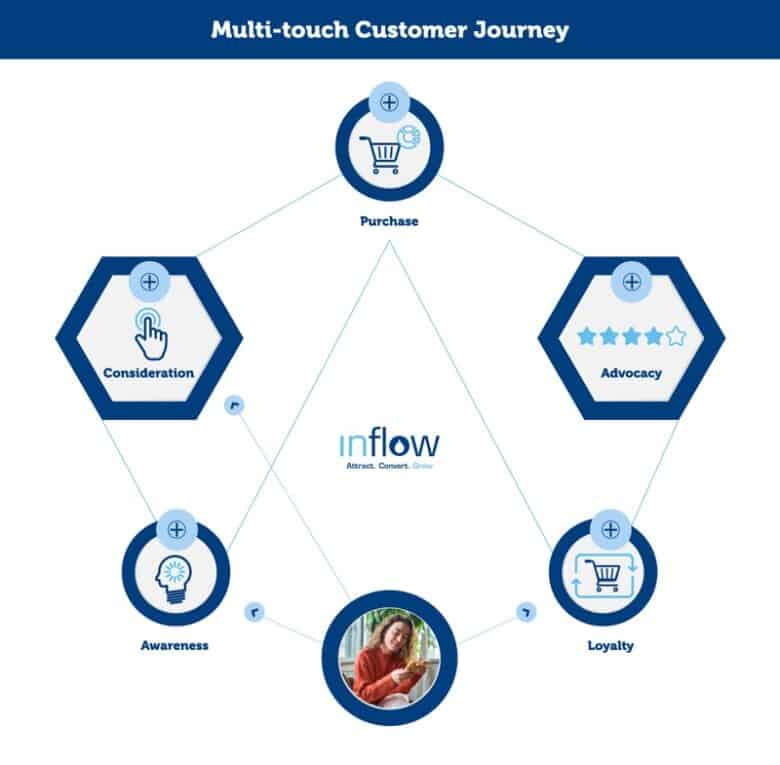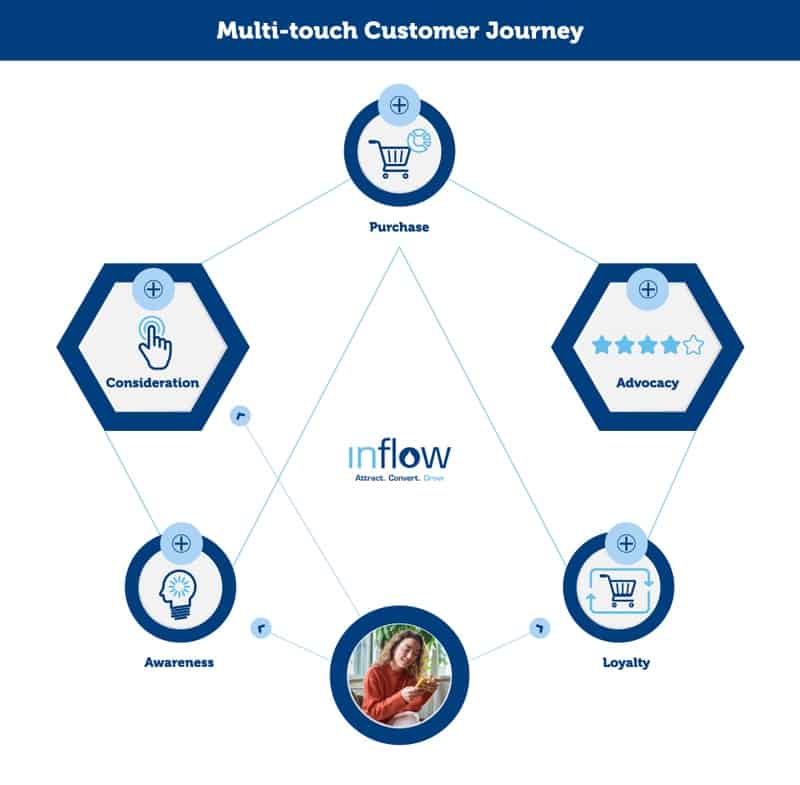 To better understand how those multiple touchpoints are "assisting" with final conversion events, we recommend analyzing your sales metrics via multi-touch attribution models.
Fortunately, the new Google Analytics 4 platform makes that much easier for eCommerce brands with more comprehensive cross-device and cross-platform reporting than its predecessor (Universal Analytics).
A little background: Universal Analytics mostly relies on device ID tracking, resulting in a single shopper triggering several user sessions across different devices. While you could enable user-ID tracking, it was reported separately from other metrics.
In contrast, Google Analytics by default can look for user ID, Google Signals, and device ID, it can deduplicate users to show a much more accurate story about the customer journey — and a fuller picture of a single customer's touchpoints during their buying journey.
By migrating to and hosting your store reporting on Google Analytics 4, your team will better understand exactly how well your paid advertising efforts are performing — and, on the off chance you are over-relying on ineffective paid strategies, be able to remedy any existing strategy errors.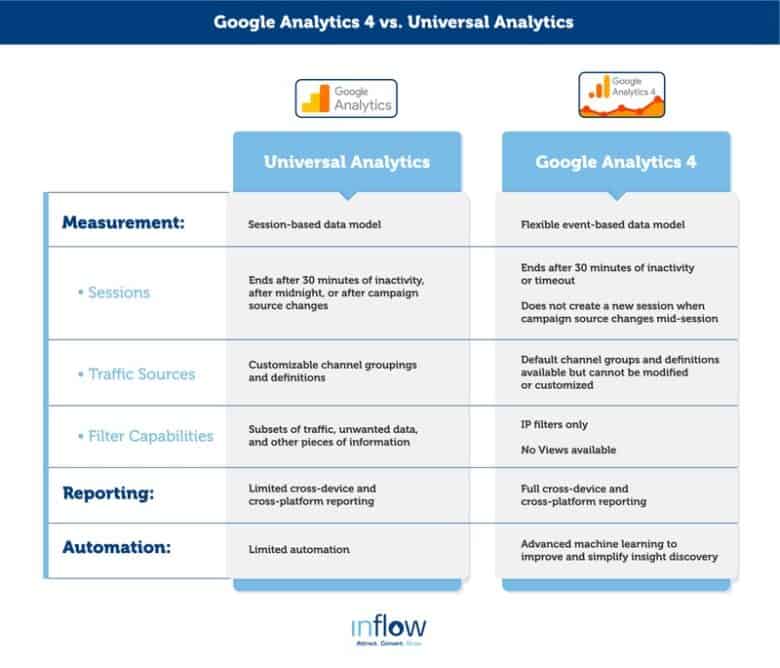 Inflow can help your team transition to Google Analytics 4 and train you for this new type of reporting. Contact us today to get started.
Knowing that Scaling Efforts Doesn't Equal Diminishing Results
Even after properly calculating acquisition costs, understanding attribution, and ensuring that each paid platform, ad campaign, and ad is profitable and meets your company's target ROAS, the "over-reliance on paid marketing" theory argues that eventually, as you try to scale paid channels, your ad costs will grow.
As Chen writes:
"Saturation is also a thing. As you buy up your core demographic, the extra volume comes from non-core, who are less responsive."
In our opinion, this "worry" shouldn't be a worry at all for the vast majority of eCommerce companies.
Here's why.
First, many eCommerce websites sell products that have a steady and consistent demand from new customers. For products like this, you can use paid marketing to consistently get in front of those new waves of consumers looking to purchase your products.
Let's assume you manufacture and sell furniture. Furniture has been in consistent demand for centuries. You'll always have a steady influx of new potential customers looking to buy these goods.
Therefore, the view that there is some "core demographic" of customers who (once you show them enough ads) will tire of them, and that you'll have to move on to less profitable demographics is inherently faulty, because:
Paid channels (like search ad marketing) allow you to serve ads on extremely high-intent keywords ("black 3 seater leather sofa"), which less-interested audiences aren't searching for.
The people searching for that term next month will likely be different from those searching this month. Thus, you won't wear out a single group from over-exposure.
Finally, more than ever before, audiences are inundated with ads everywhere they go. While ad fatigue is a real concern, the odds of an average shopper noticing your ad among all the noise (and making a purchase that deems them no longer amenable) are fairly low.
Second, as we mentioned above, there are so many digital touchpoints today that viewing paid marketing simply as a direct, last-click acquisition channel and nothing more is no longer sound.
In many industries, consumers need to see and build trust with brands before deciding to purchase. They want to compare brands. They want to educate themselves about products. They want to read reviews and see social proof.
All of these touchpoints can be aided with paid marketing.
Thus, we feel that a holistic paid marketing strategy for any eCommerce company will involve getting in front of the consumers in all of these situations.
As you spend more and more, are there diminishing returns from a ROAS perspective? No doubt.
But will most brands really saturate all paid channels and be unable to find as profitable channels to spend more capital? We think this is highly unlikely.
Of course, anything is possible. If you truly have enormous amounts of investor capital waiting to be spent, perhaps you'll reach saturation.
But even after working with hundreds of eCommerce companies for over a decade, we haven't run into it.
Don't Worry. Be Strategic.
Our advice: Don't let the naysayers and ongoing economic concerns stop you from investing in paid advertising. If you do it right (and have the right PPC agency by your side), you'll continue to see results that justify your investment.
The vast majority of eCommerce brands are unlikely to hit 100% saturation levels with paid advertising — and we'd bet that your company is in that majority.
But that doesn't mean you should stop questioning your marketing efforts!
Instead of worrying about saturation levels, focus on improving your ROAS — not just with paid advertising, but with all of your marketing campaigns. Follow the three pillars of understanding discussed in this article, and you'll set the stage for continued brand growth, not stagnation.
Want to find out where your current paid advertising strategy lies in all of this? Our digital marketing experts are happy to help.