I believe that you can see your real eCommerce conversion rate. Regardless of junk traffic, visits by people who'll never buy or how often people come back before buying.
Which is the REAL eCommerce Conversion Rate?

Moving Past Basic eCommerce Conversion Rates
An eCommerce business lives and dies by its conversion rates. While it is always tempting to generate more traffic to a website, it rarely makes sense if the website can not convert visitors into paying customers or sales leads. Conversion rates, therefore, are like a website's scorecard, and if you are going to keep score, you really need to know how the best way to go about it.
Purchase Mindsets
The problem is, there is likely a lot of traffic on your site that is diluting the actions and intentions of the buying customer, to the point where you look at the common Conversion Rate and think, "is that all I am converting?"
10 Reasons people visit sites:
To gather information (they don't intend to buy at that time)
Check prices (may buy if yours is lower if you are the last site they are checking)

To purchase

To check inventory – most prevalent on eCommerce websites of brick and mortar retailers
Order status checkers (makes it look like return visitors are not buying)
To look for work
To see what you have (browsing still happens)
Looking for products you don't even offer (common with niche sites)
Your social network, including your mom
Other reasons
Conversion Rates
Conversion Rates can, therefore, be deceptive. (See how deceptive the eCommerce Conversion Rate presented by Google Analytics can be).
But Conversion Rates are meaningful, especially if you are looking at Unique Conversions/Unique Visits, however, they are not giving you the best picture of how your site is converting visitors that are interested in buying. I call these qualified visitors.
Who is a Qualified Visitor?
A visitor is qualified after they show that they are more than just a browser, a job seeker, a friend or someone looking for a product you don't have. While there is no perfect way to identify these people statistically, a good start is identifying pages people might visit if they truly are a prospective customer or lead.
You may want to start with something this simple:
INCLUDE visitors to your product pages AND have visited AT LEAST 2 pages on the site AND stayed on site for at least 30 seconds
EXCLUDE visitors who went to your site's careers section
EXCLUDE visitors from traffic sources that have not converted in the last 30 days
Here is how you would create a SWAY Segment in Google Analytics.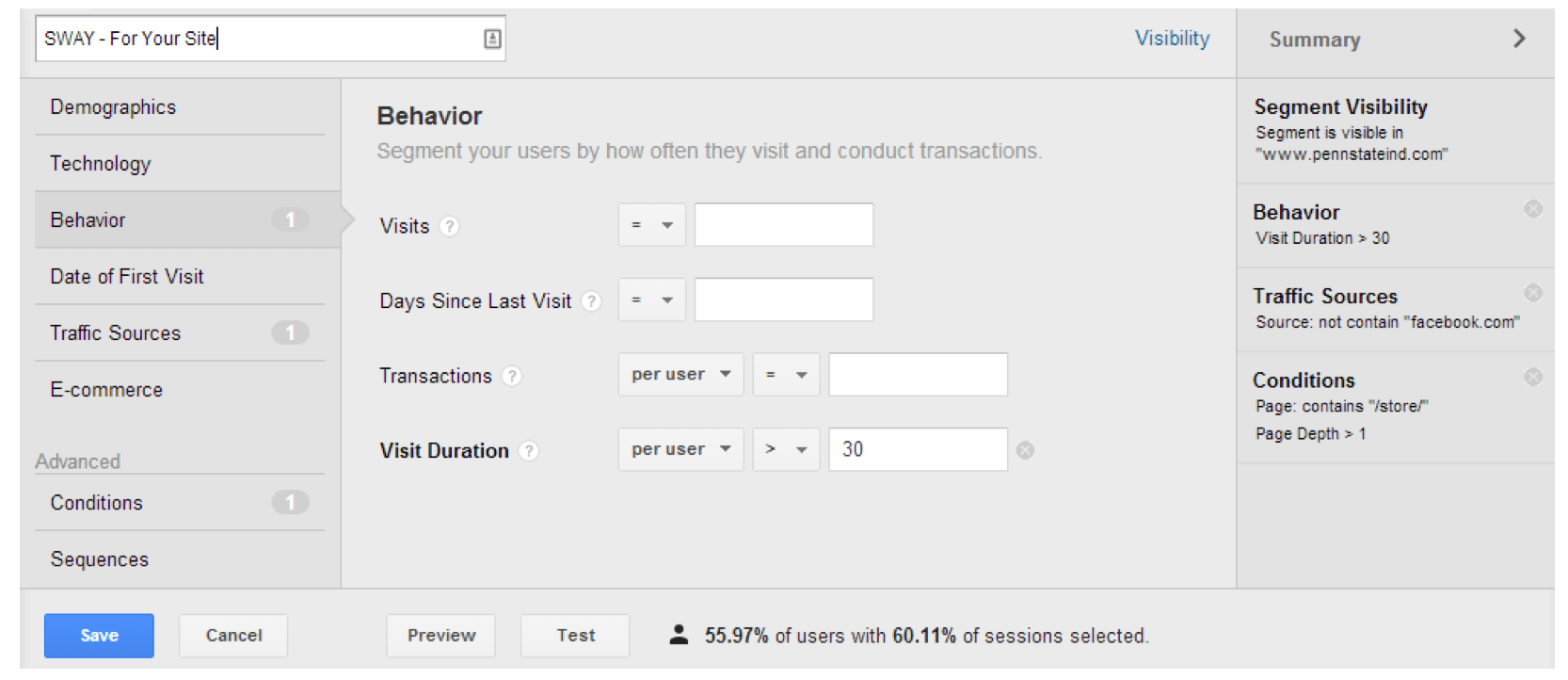 SWAY (Persuasion) Rate
Now that you have your Qualified Visitors (QV), you can start calculating the rate at which these visitors convert into purchases. I call this the SWAY Rate. For us, this is the most important Conversion Rate on a website and the one we focus the most on lifting.
Calculate the SWAY Rate
So your common "Conversion Rate" (Unique Purchases/Unique Visitors) does not tell you about nine out of the 10 visitor types above. That is why you need to calculate the SWAY Segment applied. Once you have this, you will see it correlates much closer to your sales volume than the overall conversion rate.
The SWAY Rate Formula is below:
(Number of Orders/Q-Visitors) Where is a Q-Visitor is the numbers of unique visitors with your SWAY advanced segment applied? Here is an example:
Take the number of the Qualified people on your site.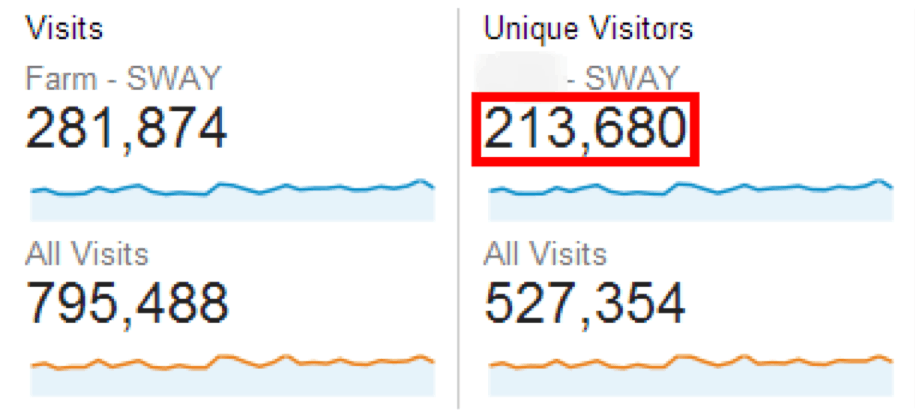 Then take the rate of people who added to their shopping cart, and actually ordered.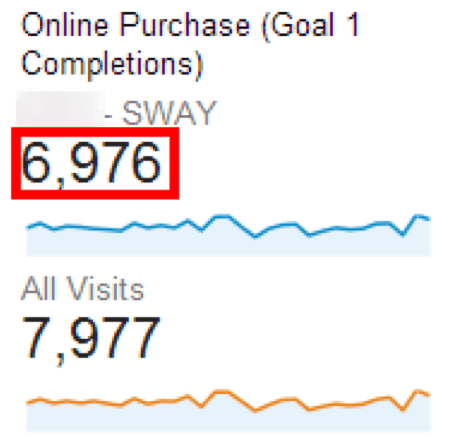 Now, divide visitors into purchases and multiply by 100 to get the SWAY Rate.
(6,976 Purchases/213,680 Q-Visitors) *100 = 3.26(%)
Example
Here is an example of a brick and mortar retailer's eCommerce site. While their overall conversion rate has increased just 42% over 2 years of optimization, their SWAY (real) conversion rate has increased 105%. The reason for the difference: they started Display Ads, improved PPC ROI at the expense of the PPC Conversion Rate – which is awesome! and increased traffic from outside their region, which converts lower due to lack of brand awareness, plus other stuff). But, when we look at the SWAY rate, we see that qualified visitors converted much better.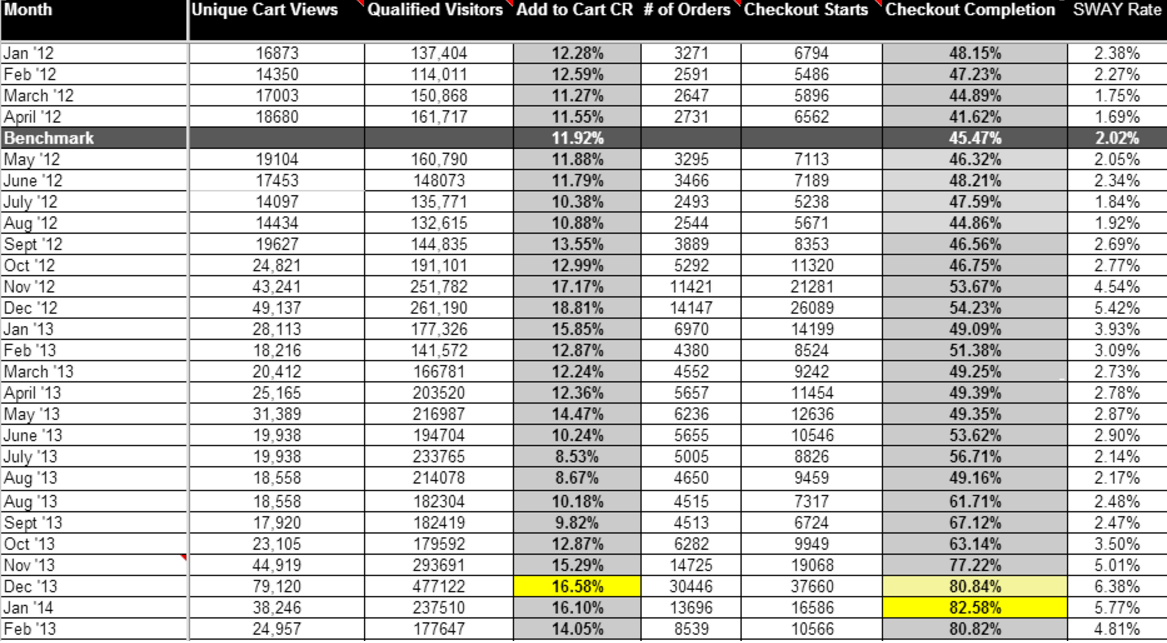 Note: You might notice that the checkout funnel micro conversion rate increased from 45.47% to 80.82% (77% improvement). Interestingly enough (not surprising to us in our experience though), this improvement happened without ANY changes to the Checkout flow. Zero, Nata, Zip! This happening solely because the experience before the Checkout improved and people entered the Checkout flow with more confidence. We call this the Straw Effect (where the Checkout was simply the straw that broke the camels back).
Now, Calculate your Own
I hope this helps you cut down the "noise" of what you measure on your sites, and gives you something more meaningful to measure. This should allow you to better measure how well you are persuading those who are more ready to buy. Don't forget, you may need to work on getting more Q-Visitors, especially if your bounce rate is high.
I know it is not as "Simple" as website conversion rates and the people you present your metrics to might want simple. Just remind them that accurate metrics are simple metrics, and think about how long it would take to explain to them why sales are up and the site conversion rate is down (it will take at least one hour, and a white board, trust me).