Conversion rate is where the rubber meets the road for your eCommerce site. You can bring in traffic all day with SEO, Google Ads, social media, and more — but if you can't convert that traffic, your business won't be profitable.
Most eCommerce sites have a relatively low conversion rate (the 2022 average conversion rate being about 1.3%). The flip side: More than 98% of your website traffic holds potential, meaning even small increases in conversion rates can have a huge impact on your bottom line.
In today's guide, we'll discuss every page type of your website as it relates to conversions. Obviously, this is a big job. So, we'll further break it down by steps of the conversion process, helping you narrow down which of the below strategies might work best for you.
However, if this list overwhelms you, don't worry. Our team is happy to help you develop a custom strategy based on the unique needs of your site.
We've helped many eCommerce websites find their "conversion killers" and dramatically increase their conversion rates to improve their bottom line. Find out if we can help you.
What Is an eCommerce Conversion Rate?
First, let's review the basics. An eCommerce conversion rate compares the number of people visiting your site with the number of sales you are making.
There are two different ways to calculate this number: session-based and user-based. (Learn more about each, and which method we recommend, in our guide.)
Conversion rate is an imperfect measure of success, only one of several metrics you should use to track your site's success. If you bring in more traffic, it's likely that your conversion rate will drop, at least initially. To balance your understanding of conversion rate, incorporate other numbers (like traffic, CPA, etc.) into your data, too.
Conversion rate optimization (CRO) isn't the only way to increase your revenue, but it's a critical place to start.
After all, a conversion rate of 5% is considered outstanding — but, even then, a website is still letting 95% of its traffic go. The potential to capture even a fraction of that unrealized traffic makes CRO a powerful tool for your eCommerce website.
A Note about eCommerce Conversion Tactics
In writing this article, we assume that your eCommerce site is already drawing good traffic levels from multiple sources. From that traffic, you're getting conversions, but at the not-quite-sustainable or barely sustainable levels. By reading this guide, you want to increase the profitability of your eCommerce business.
If you aren't getting enough traffic to your website, you need to look at search engine optimization (including technical SEO), PPC marketing, organic social media, and paid social media to improve your site traffic before messing with CRO.
But how do you know whether traffic or conversion rate is the biggest problem for your website?
A good starting point is the 2% rule. Take your current monthly website traffic (users are better than sessions, but both work) and multiply by 2%. Multiply that number by your current average order value (AOV).
Traffic x 0.02 x AOV
If that number is a reasonable revenue goal for your business, then you're in the right place. Improving your conversions is definitely the right next step.
Otherwise, revisit ways to improve your traffic. Bonus: Many CRO strategies also improve SEO. We've helpfully labeled these as "twofers" in our list below.
However, if you have low traffic and your AOV is zero, you'll need to focus on conversion strategies instead. Once your site is getting some conversions, then you can re-evaluate where your efforts are best spent.
Note: A general CRO strategy will also likely increase your AOV, but if AOV is your main priority, consider a specific upselling or cross-selling approach instead.
How to Improve eCommerce Conversion Rate: 44 Strategies to Try
A solid eCommerce conversion rate optimization strategy covers your entire website. Potential customers can be lost at any point in the buying cycle, from your acquisition to checkout.
To make our CRO tactics more useful, we've divided them into sections:
Not sure where to start? Spend some time with Google Analytics or review other data on your site visitors. Try to understand your users' paths through your site and where they stop moving toward a purchase.
If you don't have enough data to come to a conclusion, reconsider the traffic question we posed above, or simply start with the top of the list and go through it in order.
For best results, we recommend continually testing your website and the changes you implement. Consumer behavior is constantly changing, and some strategies fall victim to their own success, so use constant A/B testing to make sure you're using the optimal marketing strategy for your target audience.
In our opinion, the best way to get results is to work with a CRO testing team that can identify your biggest opportunities for improvement and determine the best path to achieve those results. If you think your business is ready for that kind of program, please contact Inflow today.
Entire Website
If you don't know where you're losing your customers in the shopping journey, start with these CRO test ideas.
Some of these changes will impact all website visitors — and can make a big difference to your conversion rate. In fact, many of the strategies below are ones you should already be deploying to give your visitors a positive user experience.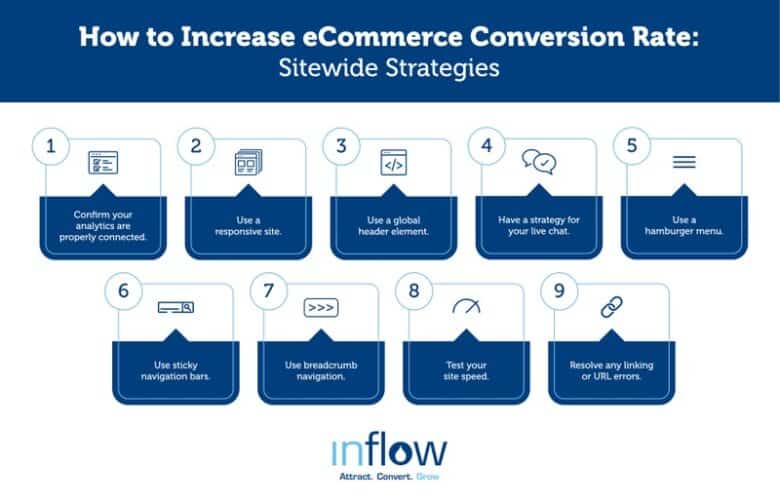 1. Confirm your analytics are properly connected.
How can you even be sure what your conversion rate is if you aren't getting good data from Google Analytics?
Unless your Google Analytics accounts are properly connected, you could be receiving inaccurate data on traffic numbers, the source of traffic, page visits, or other vital metrics.
Start by using our guide to audit your Google Analytics accounts and ensure you're getting clean, efficient tracking data.
2. Use a responsive site.
A responsive site reads data from each visitor about the device they're using to view your website. It then adjusts its display to (ideally) ensure each visitor gets the same content, just arranged better for their particular device.
You want to make sure that visitors are able to use your site whether they're online shopping with a smartphone, a desktop, or even a smart TV. Responsive sites let you do this, though you should make sure to test your site on as many devices as you can to be sure it's working properly.
As a side benefit, this twofer will also improve your site's Core Web Vitals score, which can help improve your organic SEO.
3. Use a global header element.
Your global header appears on all pages of your website, which means there's no better place to promote sales or special offers.
Remember the age-old "Rule of 7": A customer needs to see your message at least seven times before making a purchase. People can reach those seven sightings a lot faster if it's on each page of your website.
Although the Rule of 7 isn't scientifically validated, we've seen the value of offers in the headers; entry and exit offers will improve conversions 90% of the time.
4. Have a strategy for your live chat.
Live chat is a potentially useful conversion tool — or it can be a cold mess that leads to poor customer service, even virally bad incidents.
If you want to use live chat, have a plan for staffing it with customer service agents. (Live chat AI chatbots are not advanced enough to improve conversions.) Contractors can provide these services. Evaluate their offerings carefully, then choose one you trust to do the job right.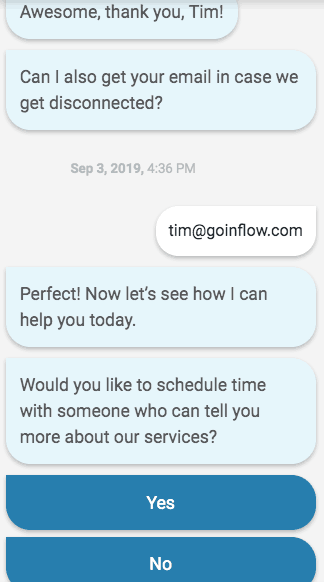 If you can't invest the time and money to do this right, it's usually best to remove this from your website until you can.
5. Use a hamburger (drop-down) menu.
A drop-down menu helps clean up your navigation by putting some navigation items out of sight when not in use. We often call this a "hamburger" menu because the common icon for it (three horizontal lines) looks kind of like a hamburger.
While designers have said hamburger menus are outdated for nearly a decade, the data support that these are still widely used by website visitors, especially by mobile visitors on sites where browsing behavior dominates, like clothing stores and home and garden stores.
Use this universal symbol, or one of its variants (döner, bento, kebab, or meatballs), and place it prominently on the upper left or upper right of your header. You can increase menu engagement by up to 50% by putting the word "menu" near the icon.
6. Use sticky navigation bars.
The current trend is toward longer pages, which are generally better for conversions. The more engagement you get from users, the more likely they are to scroll down on your website.
However, when people scroll down, they don't always like to scroll back up. You can keep these users on your site more easily if you have a header and/or navigation bar that scrolls with them.
Otherwise, there's always the "back" button on the browser or phone, which is more likely to take them from your site, perhaps never to return.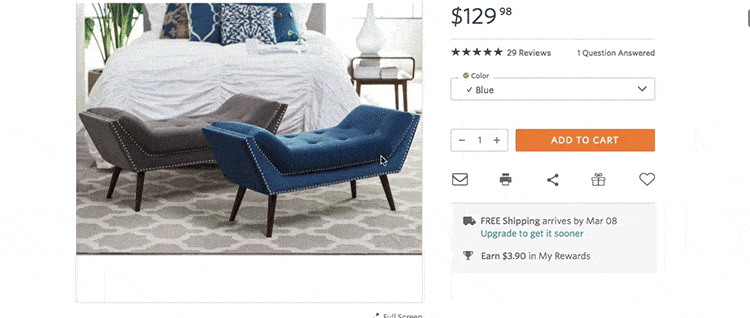 7. Use breadcrumb navigation
Another important tool for helping users navigate your site is breadcrumb navigation. This shows the path between your home page and categories, subcategories, and product pages.
This not only helps with navigation; it can also improve product discovery by providing extra visibility for categories relevant to users who enter your site via a product page.
8. Test your site speed.
Site speed is another twofer: It improves conversion and SEO.
Users hate clicking on a search result that loads slowly, so if your site has a long load time, Google will demote your site. Because users hate slow-loading sites, you can also lose many potential sales when your pages just aren't loading fast enough.
You can use PageSpeed Insights to check your site's performance.
Some quick tips for improving your site's speed:
Enable caching, which is especially important for returning visitors.
Optimize your images.
Evaluate plugins and remove slow loaders.
Change the loading order so the most important elements load first.
Streamline your code.
Reduce redirects.
Use a content delivery network (CDN).
These can help your site load as quickly as possible, so you don't lose hard-won traffic.
9. Resolve any linking or URL errors.
Look, another twofer!
Linking and URL errors will affect your eCommerce store's ranking in the SERPs. Redirects slow your site, so reduce them to a minimum. Remember: You can easily lose a potential customer if they click on the product they want and come up with a broken link.
Homepage
Consider your homepage the storefront of your online store. Customers won't always enter your site through the homepage (you will often direct them elsewhere first), but while browsing, most customers will find their way here sooner or later.
We have a detailed guide to eCommerce homepage best practices you can read, so we'll be brief here.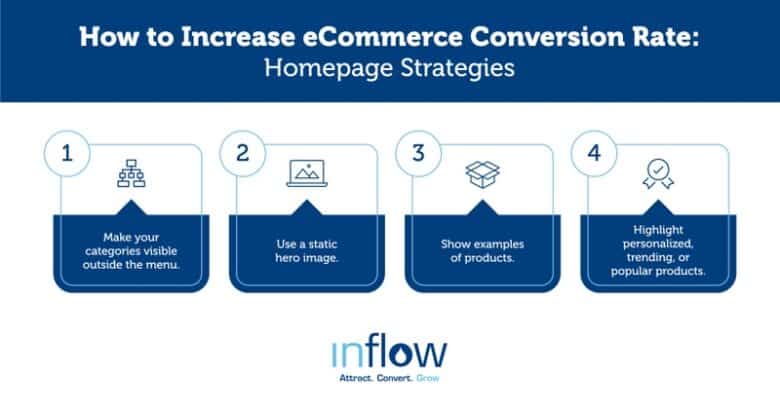 10. Make your categories visible outside the header or hamburger menu.
Categories are important for navigation and critical to conversions, so make sure potential customers can find these easily on your website, especially when browsing on mobile devices.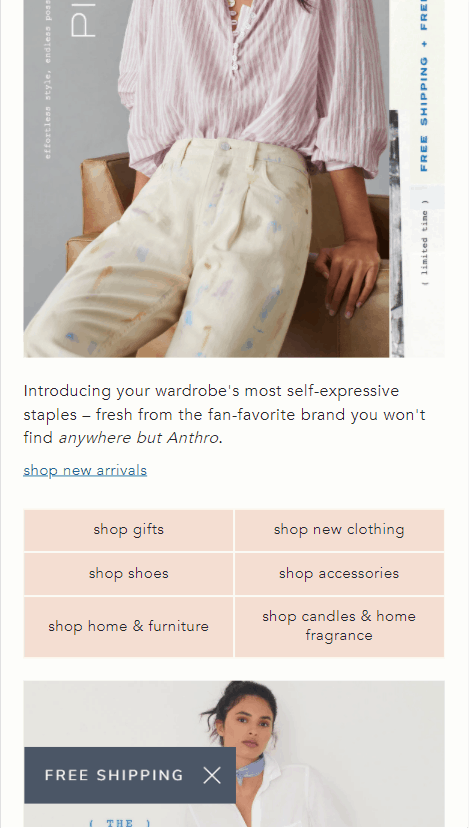 11. Use a static hero image instead of a carousel.
Carousel headers can dilute your brand image and obscure key offers.
Our research shows that on mobile devices a static image performs better 70% of the time. On your desktop site, a single well-chosen image works slightly better, too.
12. Show examples of products on your homepage.
If nothing else, this strategy helps users understand that you are an eCommerce site that sells products. It might seem obvious to you, but to a visitor who doesn't know your brand, it can be hard to determine whether you're a retailer and what products you sell.
Having products on your homepage shortens the path for visitors from the first visit to purchase. By cutting the number of clicks to conversion, you make purchasing easier.
13. Highlight personalized, trending, or popular products.
Ideally, display products on your homepage that are relevant to the user. Populate the display based on user data, such as previous visits or entry paths.
Without data, display products that are currently trending or popular overall.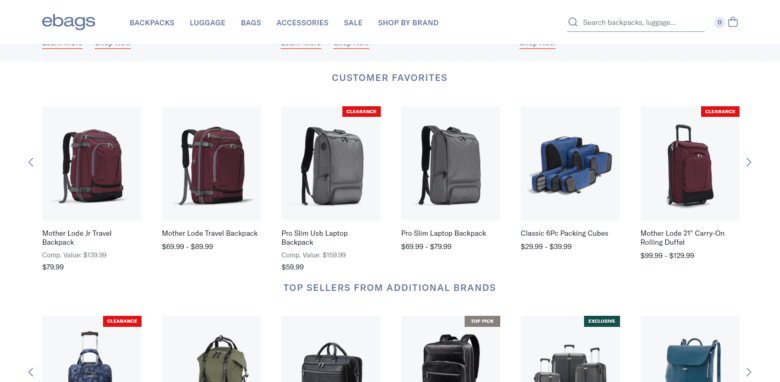 Site Search & Filters
Your internal site search function helps customers find the products they're looking for. It's popular on desktops and the preferred method for mobile users to navigate your site.
It also provides you with valuable information that you can use to improve SEO and CRO.
14. Make your search option visible outside of your menu bar.
Don't bury your site search in your hamburger menu. Instead, make it a highly visible independent element.
How visible? Since many users prefer it over categories, start by making it as visible as your product categories.
15. Customize your internal search engine.
Make sure your internal search engine is serving your users' needs with autofill, category suggestions, and recommended results that pop up even when a user's search returns no results.
16. Use faceted navigation.
Faceted navigation lets customers narrow down your products to quickly find what they're looking for. Some examples are letting customers sort by price, availability, color, and more. Make sure customers can select more than one product filter at a time.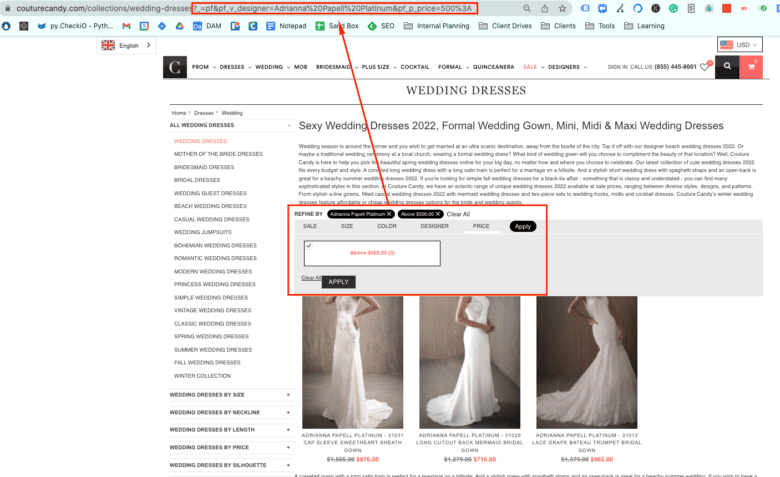 For more information on how to deploy this, see our complete guide to faceted navigation.
Category Pages
Category pages are the workhorses of your website. Browsing customers will frequent these pages often to weigh their options and narrow their consideration to a few different products.
As a result, these pages can often make or break your CRO efforts.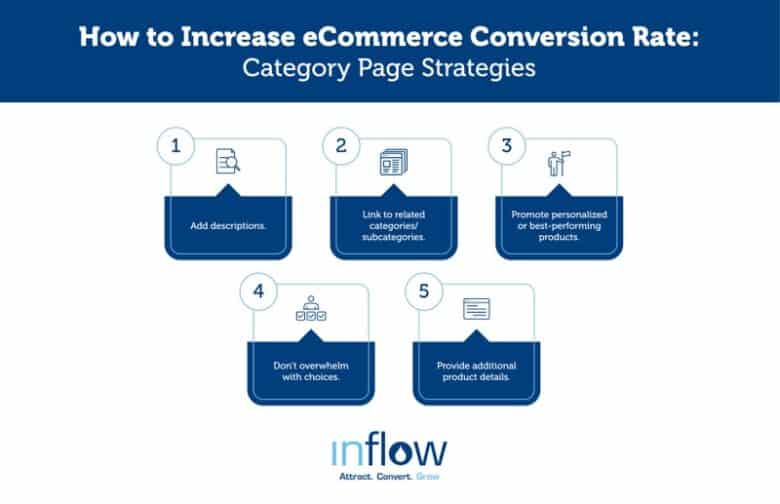 17. Add descriptions.
A brief description of what the category is can be a powerful twofer. First, it can improve SEO for category pages; we've seen it increase organic traffic to category pages by nearly 50%!
Secondly, a category description also helps users understand when they're on the right page, since this isn't always clear from the category name.
18. Link to related categories or subcategories.
In your breadcrumb navigation, make sure you include not only the current category page but also related categories and subcategories.
It's also helpful to put subcategories and related categories in the page description.
19. Promote personalized or best-performing products and promotions.
Don't sort category pages randomly. Instead, sort by the products you think your customers are most likely to want.
If you have information on a user, put personalized product suggestions first. Otherwise, lead with best-performing products and those you are promoting.
20. Don't overwhelm with choices.
When faced with too many choices, customers can experience choice paralysis. If your category pages are overwhelming to customers, reduce the number of choices by grouping choices into subcategories and/or hiding the least popular choices under a "more options" button.
21. Provide additional product details.
Most customers rely on ratings to make their eCommerce buying decisions. Providing this information on the category page can help users narrow down their options faster.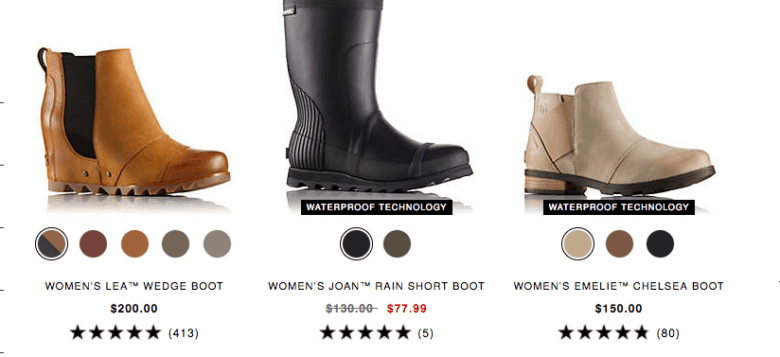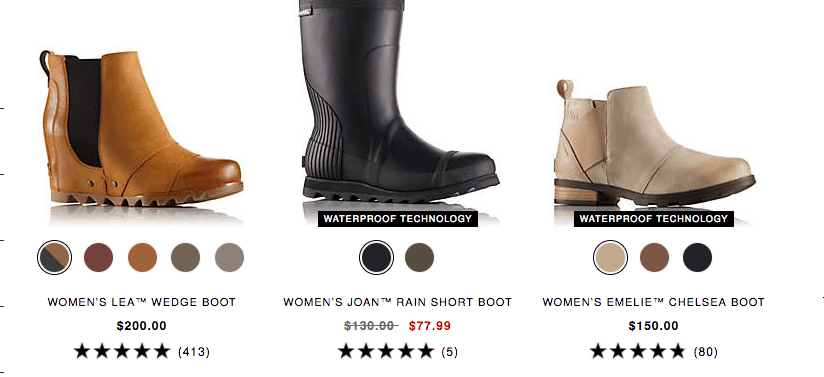 Also take this opportunity to flag items with labels — like "new," "low stock," or "best value" — to create a sense of urgency.
Product Pages
Product pages are where the plow meets the earth, to keep with our workhorse metaphor. This is where most people make the decision to buy.
If you've done everything right up to this point, it might only take a gentle nudge to push them to convert. But it's still important to give that nudge and get rid of a few big stones that might be stumbling blocks.
For more ideas about how to implement these suggestions, review these product page design examples.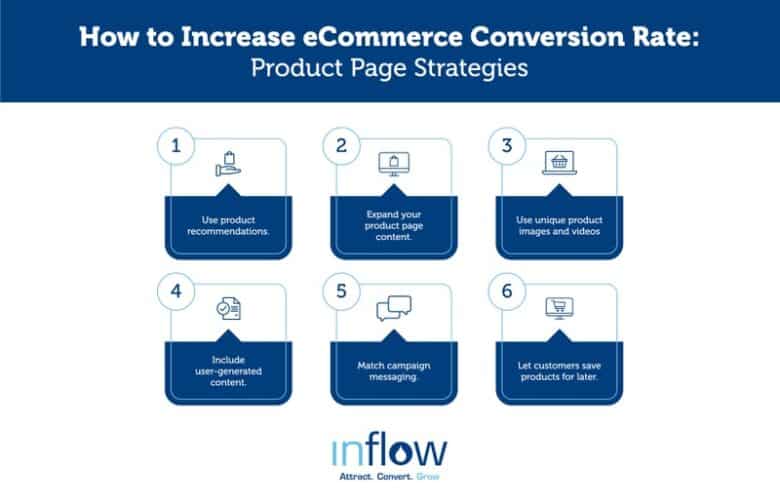 22. Use data-driven product recommendations.
Product recommendations can help you capture customers who think the product they're looking at is "not quite right." Analyze your user data to provide the most relevant suggestions or suggest relevant and associated products.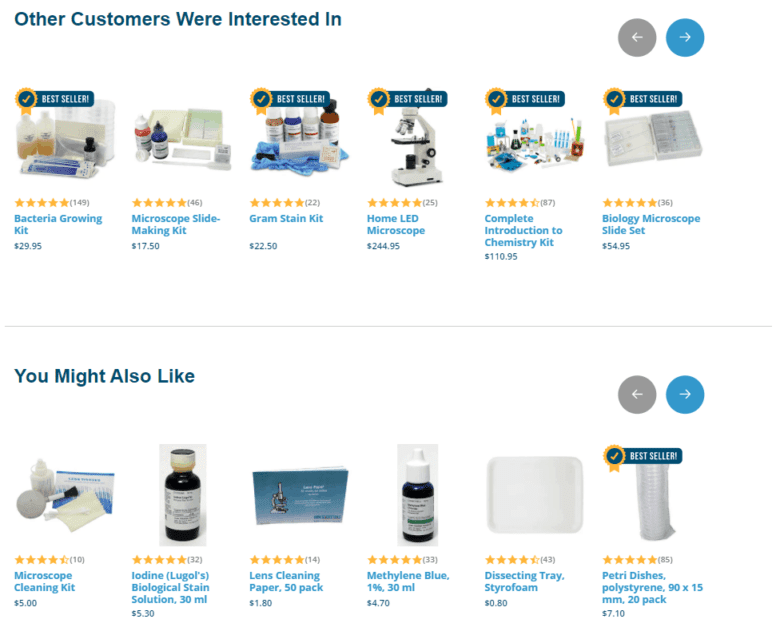 Learn more about this strategy with our complete guide to eCommerce product recommendations.
23. Expand your product page content.
Expanding content on your product pages is a great twofer. It can improve your organic SEO traffic, especially for valuable long-tail keyword searches. It also lets you add more persuasive content and calls to action (CTAs) that can help people make purchasing decisions.
Add more content to your:
Product descriptions
Product features
Technical specifications
Customer reviews
FAQs


Find more actionable strategies in our complete guide to product page SEO.
24. Use unique, attractive product images and videos.
You always want to use images that make products look appealing to wear and use. If you must, manufacturer's images are better than nothing — but whenever possible, capture your own high-quality images to distinguish yourself from other retailers who might be selling the same product.
Provide several angles on the product, and include images that provide scale and/or show the product in use.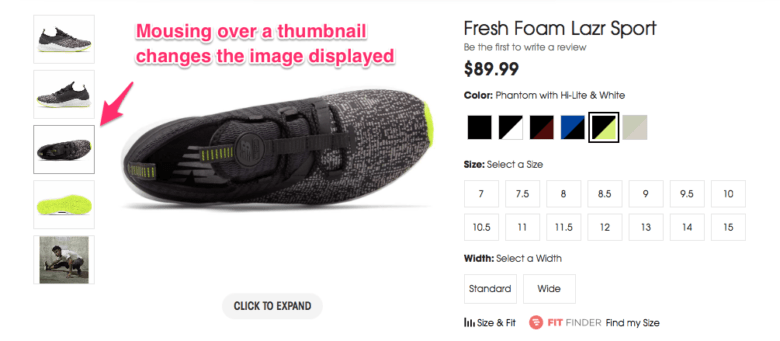 Speaking of scale, it's not always clear from specifications which dimension is the length, width, and height. If that's the case, provide an image that includes the dimensions on it.
Use descriptions and alt text on all images. (This is mostly for SEO, but it kind of counts as a twofer.)
25. Include user-generated content.
User-generated content (UGC) is a powerful selling tool. It gives social proof of your product's value.
Of course, you should include product reviews on your product page, but that's just the beginning. Reuse images of your product from customers, testimonials, videos, and more.

Review our team's tips for obtaining and using UGC.
26. Match messaging.
You can kill conversions from an ad campaign if the central benefit isn't featured or is hard to find on your product page.
When you have an ad campaign focused on certain benefits, either rework your product page to highlight those benefits, send visitors to a custom landing page for that campaign, or direct them to the part of the page showing that benefit.
27. Let customers save products for later.
Having a wishlist function lowers the commitment threshold for users to mark a product and can reduce cart abandonment. It also means abandoned carts reflect higher customer commitment, which can help focus your cart recapture efforts.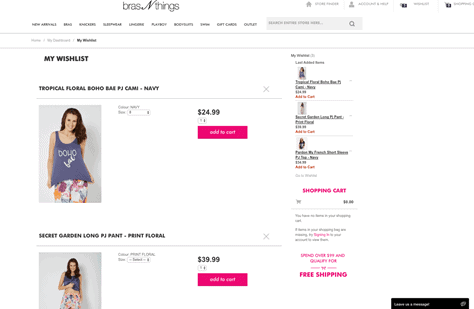 Checkout Flows
Some customers wait until they've made a decision to add items to their cart. Others use the cart and checkout as part of their decision-making process.
These strategies will help you maximize conversions from both types of online shoppers, improve customer loyalty, and increase profitability.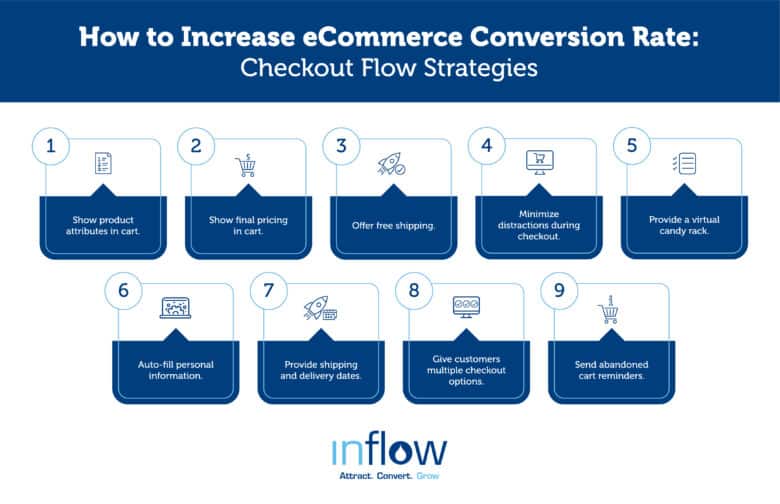 28. Show product attributes in cart.
Always make product attributes (such as size, color, etc.) visible in the shopping cart. This helps shoppers confirm that they've made the right decision.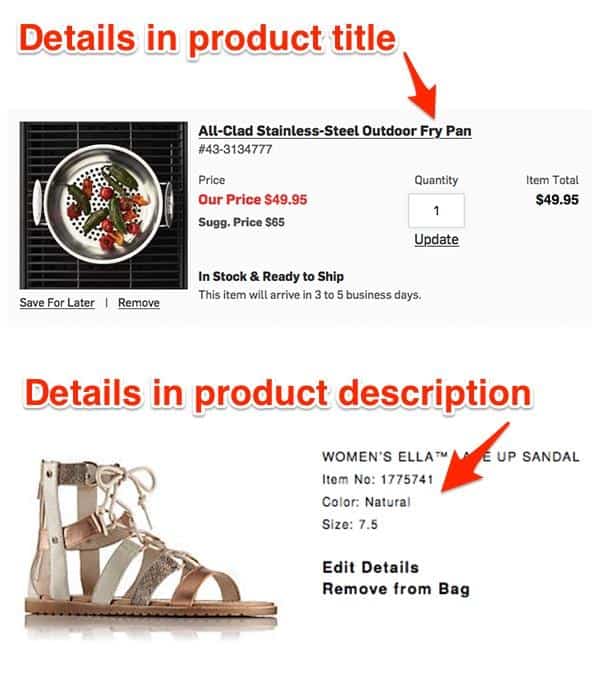 Consider adding a small product image, as well. You'll have fewer returns and more happy customers.
29. Show final pricing in cart.
Do your best to incorporate all coupon codes, promos, taxes, fees, and shipping costs as soon as possible in the checkout process. The later these items appear, the more likely customers are to abandon their cart and have the feeling that you were trying to "lowball" them to make a sale.
30. Offer free shipping.
Costly shipping is the number one reason why shoppers abandon carts on eCommerce sites. Therefore, free shipping is a powerful enticement to get shoppers to buy.
In our best-in-class research, more than 90% of leading sites offer free shipping. Amazon has leveraged this to great extent.
You might not be able to offer free shipping on all orders, but it's worth your time to consider what order values might make it worth it to you. Test different setups and promos to find the sweet spot for improving your profitability with free shipping.
31. Minimize distractions during checkout.
You want to make sure customers stay focused when they're in the process of checking out. To do this, display their order summary (including details and a picture) throughout the checkout process. Hide your overall site navigation on checkout pages.
32. Provide a virtual "candy rack."
The only reasonable distraction customers should have is the ability to add more items to their cart. Take advantage of the opportunity to cross-sell and upsell customers with items related to their purchase and/or popular items you think they might like.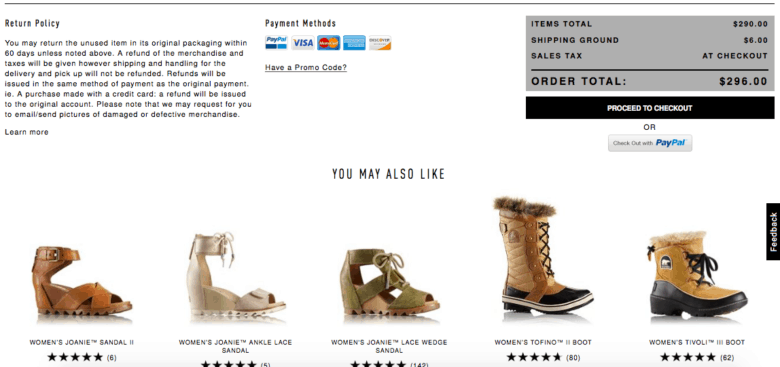 Use headers to make it clear which is which to make snap judgments easier. You don't want customers to get choice paralysis here.
33. Auto-fill personal information.
Make checkout as easy as possible by auto-filling fields in your form. Take information from a customer's account, social media integration, or cookies.
Just make sure to test these integrations so you know they're working!
34. Provide accurate shipping and delivery dates.
It's important to provide shipping information to your customers, as this can influence their decision. Confirm that the dates you're displaying are accurate and reasonable, given your current workflow and timetables.
35. Give customers multiple checkout options.
The second most common reason why shoppers abandon carts (after shipping costs) is being asked to make an account to complete their order. To avoid this, give customers a guest checkout option, as well as payment options to create an account or sign in to an existing account.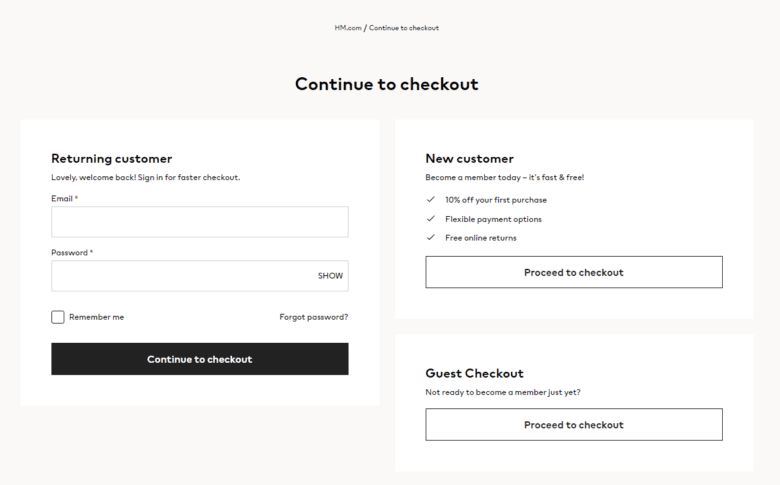 Try to integrate multiple payment methods, including credit cards, PayPal, Apple Pay, and buy now, pay later (BNPL) functionality.
36. Send abandoned cart reminders.
Research shows that, on average, about 70% of carts are abandoned on eCommerce sites. Even the best-performing sites have about 50% cart abandonment.
To minimize this, develop a cart recapture strategy, including emailing potential or returning customers when you have an email address. These emails should focus on the common reasons why your shoppers have abandoned their carts, and offer enticements to encourage customers to finish transactions.
Strategic Content
Strategic content can be a powerful twofer, but it's also a high-investment strategy.
When you're at the CRO stage, focus first on content that analytics show to be terribly low-performing (pages where a lot of customer journeys stop). Then, create a comprehensive plan for strategic content going forward, so that you can educate your customers and bring in more converting traffic.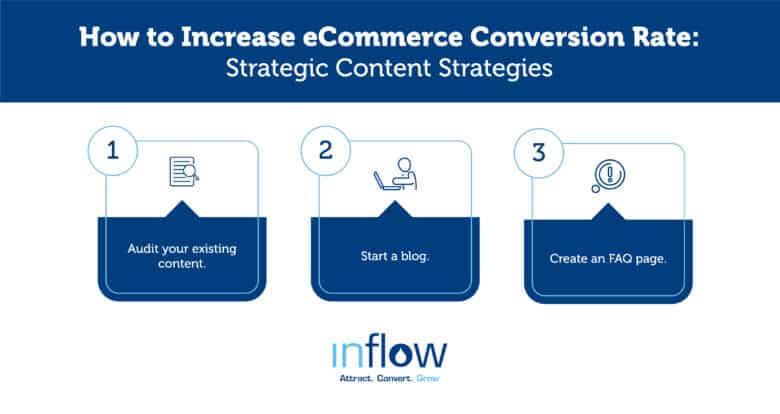 37. Audit your existing content to remove low performers.
As we mentioned above, start with a quick review of your analytics to determine which pages might be dragging down your conversion rates.
Over the long term, it's worthwhile to put in the time and effort for a comprehensive site audit. Utilize our eCommerce Content Audit Toolkit for a better idea of how to improve your site's content.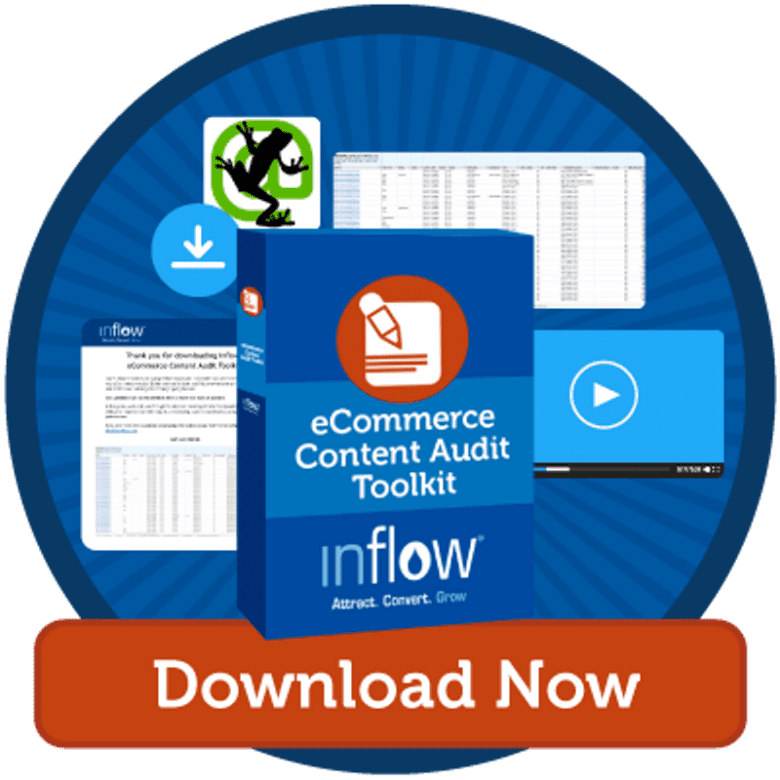 38. If you don't have a blog, start one!
Strategic blog content is a twofer strategy we almost always recommend for our eCommerce clients.
Having a high-quality blog helps you to build links and generate traffic to help your organic SEO efforts. It also gives you the opportunity to educate potential customers about the value of your products, customer service, or other unique selling propositions.
39. Create an FAQ page.
FAQ pages are powerful twofers. You can use them to target specific common searches and bring more traffic to your site. Doing this right can win you coveted search positions above the normal first ranking, like featured snippets and "People also ask" placement.
However, this is also an important resource for customers on your site, removing doubts and concerns that might keep them from completing a purchase.
Pop-ups & Interstitials
Pop-ups and interstitials are high-risk, high-reward strategies. When they work, they can really work — but when they don't, they can tank your conversion rates and even your organic performance.
Test these thoroughly and follow our best practices for pop-ups to avoid negative effects.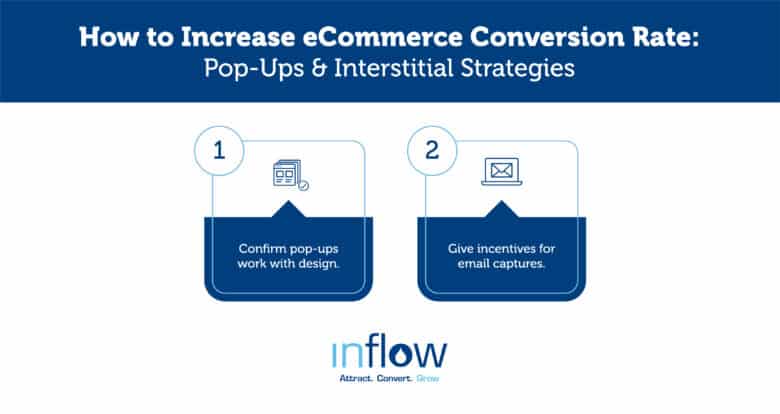 40. Confirm pop-ups work with website design.
You don't want a pop-up to hide important website information and navigation elements. Try it on different screens and devices to be sure it's compatible with the devices your customers are most likely to use.
Don't forget to talk to your SEO team to confirm the pop-ups you're using don't impact your Core Web Vitals scores or technical SEO efforts.
41. Give incentives for email captures.
The most valuable emails to capture are from future customers. However, you can put people off and turn them into never-customers with an overly aggressive attempt to get emails or make people create an account.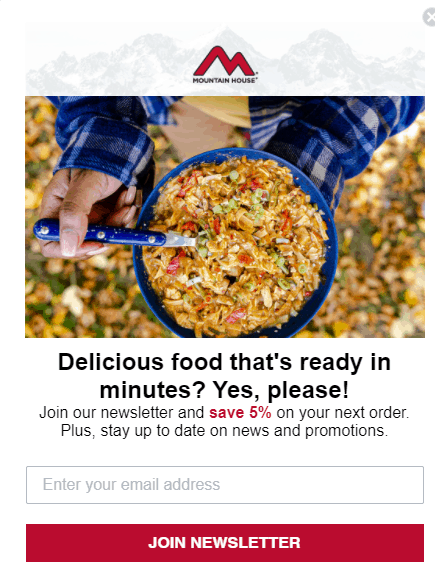 Soften the request with a little incentive. Audiences will consider different things worthwhile in this context, so test various offers to see what works for your potential customers.
Customer Accounts
While you don't want to force potential customers to create an account, remember that these accounts can be the backbone of your customer loyalty efforts.
Your return customers are more valuable than new ones, so give your shoppers a good reason to become members and come back to your site again.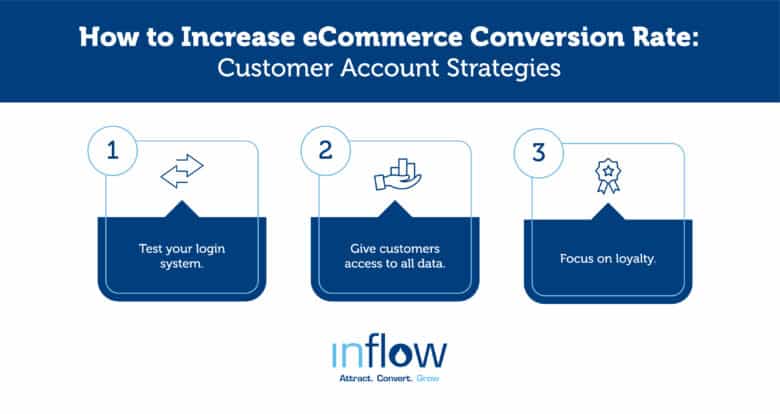 42. Test your login system.
It should be easy for customers to log into their accounts. Make sure the login buttons are visible and that your login system integrates properly with popular password management apps and plugins.
A savvy way to ease login is to integrate email accounts and/or social media with your site. Not only does this make it easier for customers to log in, but it also gives you more data to leverage in your personalized offers.
43. Give customers access to all important data.
When customers log in, they should have access to all their important information. Make sure they can access their:
Recent orders
Current orders
Personal information
Notification settings
Email subscriptions
Reward club points
Basically, any information they might want to check, review, or edit should be available for them to view. This will make customers happier with their account on your site and more likely to use it again.
44. Focus on loyalty.
Use the information you have on customer accounts to improve their loyalty. When reaching out via email or social media to previous customers, make sure to target them in ways that appeal to heart, head, and hand loyalty.
Remember that marketing to previous customers costs one-fifth of what it costs to get new customers, and repeat customers spend as much as 67% more than new customers.
Build Your Customized Conversion Optimization Strategy Today
Whew! That's a lot of strategies. But we've tested them all and know that they all work for some eCommerce sites.
However, what works for one site may not always work for another. Identifying which ones will work for your website can involve a lot of trial-and-error testing. Expect to experience additional costs and lose some customers along the way, though it will eventually pay off in the long run.
Want to save yourself all that trial and error? Let Inflow's CRO experts deploy our experience to find the strategies that are likely to work for your eCommerce site. Start by requesting a free audit and proposal today.
Not ready to hire a digital marketing team? Download our Conversion Optimization Testing eBook for more helpful guidance as you start testing these conversion strategies on your site.