If your brand wants to find and attract customers from across the world to your website, you'll need a thoughtful, comprehensive international SEO strategy.
But, because of its complexities, developing and implementing this strategy can take a long time, even for major online brands like Gaia.
However (like most search engine optimization efforts), when done right, it's well worth the time spent.
In today's case study, we'll give you a behind-the-scenes look at our recent international SEO work for Gaia, as well as the organic performance lifts generated by our optimizations — including a 41% increase in international subscriptions.
And, if you want a custom international SEO strategy for your site, too, we're always happy to help.
Client Background
Gaia is a premium video content producer that serves viewers across the world. Their content focuses on "conscious-expanding" films, original shows, yoga and meditation practices, and more.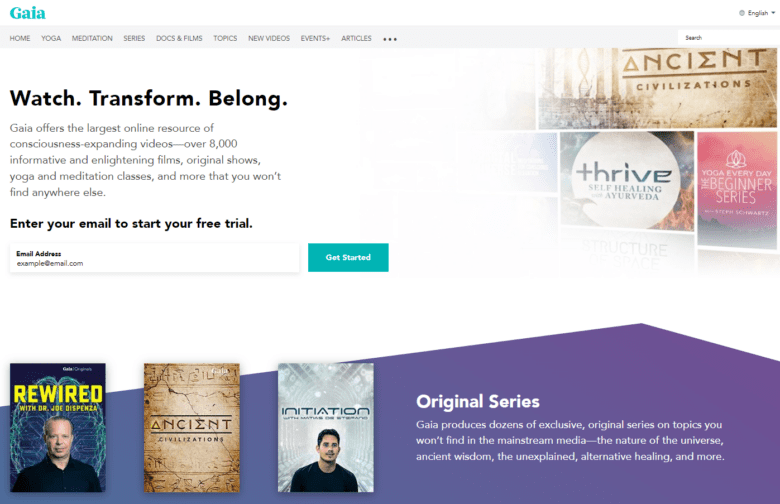 As an international brand, they've been expanding into foreign language content — most notably, Spanish, French, and German.
To ensure that content was as search-engine-optimized as their foundational English content, Gaia asked for Inflow's help in developing a custom international SEO strategy to help their foreign language series rank, drive organic traffic, and increase their subscriber base.
International SEO: The Basics
A successful international SEO strategy is much more than just adding a drop-down language selection box on a web page. You need separate pages with separate URLs, and you need a completely unique content marketing strategy to populate those. (Google Translate won't cut it.)
As you develop that strategy, there are also some important questions your SEO team needs to answer:
Will your strategy be language-specific or location-specific?
Do you want to use subfolders, subdomains, or country code top-level domains (ccTLDs)?
Who will write your international content?
As with all web content, Google chooses what it wants to display for foreign-language searches. International SEO gives Google the signals to understand which content you're serving — and increases your chances of showing up in the organic search engine results for the right international markets.
Gaia's International SEO Strategy
Like many sites, Gaia's prior international strategy was to use a drop-down language selector on their site, as well as parameter URLs — but they had no separate, indexable web pages to optimize for the foreign language SERPs.
This was priority #1: Get those pages up and optimized from the technical side, submit them for indexing, and see what organic results we could create.
Our experienced SEO team took a five-step approach to make it happen.
Step 1: Create the Subfolders.
First, we chose to implement subfolders (also known as subdirectories), which would identify our foreign-language content on Gaia's site with appropriate URL addendums: /es/series, /de/series, and /fr/series.

Why did we choose language-specific subfolders over country-targeted subfolders?
In Gaia's case, any web pages targeting countries in South America and Spain would contain the same content Spanish-language content — even though the audiences live in different nations and have varying dialects within the language itself.
If we were to go a country-targeted route, it would lead to duplicate content and confusion for search engines on which content to rank where. (As noted above, search engines are the ultimate deciders; just having the country code in the URL wouldn't guarantee that page would be shown for search results in that country.)
However, if Gaia had existing country-specific content (such as different video series content for different countries), we could have applied language-specific subfolders without these worries.
Learn more about why we recommend subfolders instead of subdomains in this case study.
Step 2: Implement Content Language.
With our subfolders set up, we could add hreflang tags to our pages, which specify the page's language to Google and its crawl bots. Hreflang tags also tell Google what a page's equivalent is in different languages.
While hreflang implementation can be complicated from a technical perspective, the strategy itself is pretty straightforward. (Read more about hreflang SEO best practices here.)
Step 3: Resolve Site Migration Errors.
To make the technical internationalization process easier going forward, Gaia's development team migrated its series pages from WebApp to WordPress. With that migration came a few technical SEO errors to work through.
XML sitemaps: To better index the new international subfolders, we recommended additional XML sitemaps for each language. (Unfortunately, due to technical complications, there was an initial delay in this completion. That being said, we found that search engines were still able to crawl through the hreflang tags to reach the new content without the sitemaps.)
Outstanding redirects: While every series page required new redirects, the impacts of these redirects (or lack thereof) were not all equal. Outstanding redirects for some of the Spanish subfolders affected performance most drastically in Mexico, where that content was most popular. This initially impacted traffic and impressions before they coasted back into regular numbers.
Step 4: Add More Content.
A crucial part of any SEO strategy? Content.
Fortunately, in the case of Gaia's series pages, we were able to expand existing content as part of this technical optimization, using episode descriptions that already lived elsewhere on the site. We moved those descriptions to the new series pages and removed any links to the original content source.
With more content on the international series pages, Gaia now had more opportunities for search engines to crawl and index the URLs.
All that being said, the crucial next step is further optimizing this content for improved future organic performance.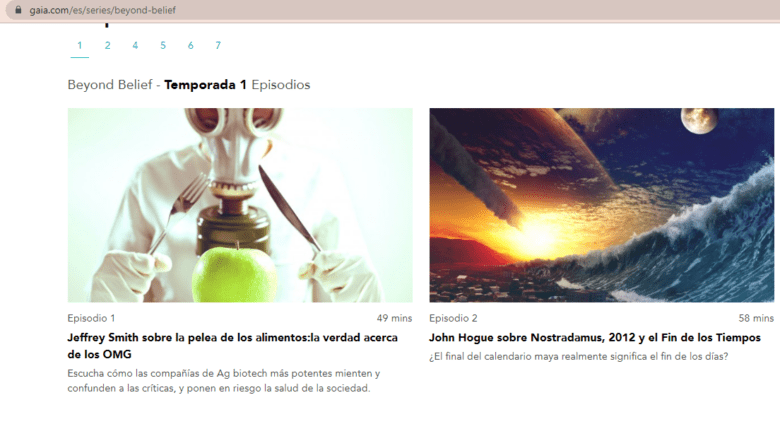 Step 5: Add Season-Specific Pages & Pagination.
As the final piece in our international SEO puzzle, we had one big question to answer: With so much content on Gaia's series pages, should we use pagination to make more of it crawlable and gain traction on season-specific queries?
After reviewing competitors' strategies, we decided to conduct some keyword research, evaluate search volume, and review organic clicks and impressions over the past 16 months. In doing so, we found that viewers were actively searching for specific seasons of Gaia's series, which would fit perfectly with our proposal for paginated season URLs.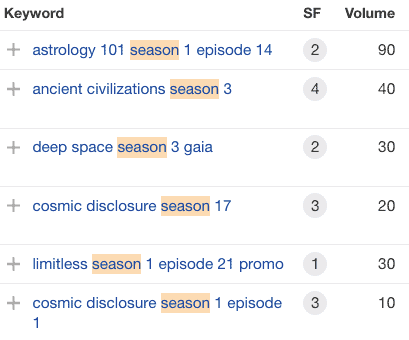 Thus, we closed out our international SEO efforts by implementing customized pagination on the new foreign-language series pages.
The Results
With so much time and effort put into this project, Gaia needed to know: Did they reach the goal of seeing increased organic visibility in their key international markets?
The answer: A resounding yes.
In comparing two three-month periods and looking at all organic traffic that didn't include the U.S. (pre- and post-updates), we saw a 41% increase in organic subscriptions and a 3.3% increase in users.
(Note the GTM tracking issue that occurred during launch; organic performance recovered quickly after the error was fixed.)

Looking at individual language results (discussed below), the results were even more impressive.
Note: Our SEO changes were launched on May 26, 2022, one day after a Google algorithm update on May 25. While we can't isolate the effects of one from another, the lack of any negative impact was celebratory enough for us — especially because Gaia lives in the "alternative health" space that is frequently affected by algorithm updates.
Spanish Content
While Gaia focuses globally on the Spanish-speaking market (thus, our choice to use language-specific subfolders), they're also hyper-focused on Spain and Mexico as top locations for their target audiences.
Spain
Organic subscriptions: 333.3% increase
Organic users: 73.2% increase
Organic clicks: 84.5% increase
Organic impressions: 88.6% increase
Ranking keywords: 58.5% increase

Mexico
Organic subscriptions: 12.5% increase
Organic users: 6.5% increase
Organic clicks: 8.4% increase
Organic impressions: 114.5% increase
Ranking keywords: 24% increase
French Content
For its French content efforts, Gaia focused on its international markets in (where else?) France.
Organic subscriptions: 1,080% increase
Organic users: 301% increase
Organic clicks: 328.2% increase
Organic impressions: 152.5% increase
Ranking keywords: 65% increase

German Content
Finally, for its German international content, Gaia focused its efforts on the country of Germany.
Organic subscriptions: 110% increase
Organic users: 51% increase
Organic clicks: 45.5% increase
Organic impressions: 69.5% increase
Ranking keywords: 56.3% increase

Looking to Gaia's Future
For all the time and effort it takes to do it right, international SEO clearly works — and the results from this project were enough to justify optimizing even more page types in the future for Gaia.
And, while the increases in organic clicks, users, and impressions are useful, the biggest (and most welcome) surprise came from the increase in organic subscriptions for each language — as we didn't expect to see this effect so soon after implementation.
Like all SEO efforts, international SEO takes a long time to work. Still, the almost-immediate increase in subscriptions proved that Gaia's new pages were offering what people wanted, even within these international markets.
Moving forward, our team will work closely with Gaia to build out international content for all of its page types, to replicate this SEO success and get all of their fantastic content ranking across the globe.
If you want the same for your website (whether you run a subscription-based business model, eCommerce, or another site type), request a free proposal from our experienced digital marketing team today.