When it comes to most website migrations, it's all about parity: making sure your content, site architecture, and overall organic performance stay as consistent as possible.
But, every so often, we get presented with the unique opportunity to add substantial improvements during a site migration project (and, no, we're not just talking about technical improvements).
Today, we'll explain how an investment in new category pages and site content during such a migration helped one of our eCommerce clients not only maintain their SEO performance — but actually improve it by leaps and bounds for a 126% overall increase in organic traffic.
Along the way, we'll share some of our recommendations for making the most of a platform migration from Magento to Shopify, whether you stick to the basics or embrace these bigger opportunities for improvement.
Remember: If you want results like this for your upcoming migration, contact our team for a custom migration proposal.
Client Background
When Simms Fishing first partnered with Inflow's SEO team in September of 2018, their branded traffic and revenue were strong. But, to compete with others in the industry, they needed to step up their non-branded keyword footprint and traffic with strategic content marketing efforts.
Over the next few years, our team helped Simms optimize their technical site performance and expand their strategic SEO content for their online store.
But the biggest opportunity for non-brand scalability actually emerged as we started preparing for a planned site migration in early 2022.
In re-platforming to Magento from Shopify, Simms gave our team a unique chance to reorganize site content and set the foundation for future non-branded growth.
Why Migrate from Magento to Shopify?
Like many eCommerce businesses, Simms' SEO capabilities were limited within the Magento platform.
As the deadline approached for the site to move to Magento 2, the platform's limitations (and the increased price) led their team to look in other directions — at which point our team recommended Shopify.
In contrast to Magento, Shopify offers a few benefits for SEO and internal teams. Not only was it cheaper to use, but its plug-and-play options also made future content edits much easier, eliminating the need to rely on development teams for every little change in the backend.
In addition, Shopify's search functionality and categorization options were the perfect solutions for the non-branded growth strategy Simms was following. In this new platform, we could easily add new pages to achieve our goal, without the complications that Magento would have presented when doing the same.
Note: While Shopify is a great option for eCommerce sites, it's not always the best option. Do your research to find the best eCommerce platform for your SEO needs, and don't hesitate to reach out to our team anytime for a personalized recommendation.
Our Magento to Shopify Migration Checklist for Simms
Below, you'll find the specific steps we followed for Simms' Magento to Shopify migration, taking into account their SEO goals as a company.
If you're embarking on your own site migration, we recommend reviewing our comprehensive eCommerce site migration checklist as a starting point. That way, you can ensure all of your necessary checks are complete before considering any more complex optimizations, like those we'll detail below.
1. Identify and Resolve Technical Errors.
Before we could dive into new content during Simms' migration, we first had to complete our usual migration technical optimizations.
This included reviewing:
Structured data
Metadata
Broken links and redirects
Site architecture
Analytics tracking
And more
Of particular focus was Simms' existing 404 errors, which over time had created large redirect chains slowing down the site. Fixing these 404 errors during this step kept the chain from getting longer with a new redirect after the migration was complete.
By identifying and resolving technical errors first, we could better ensure that any new content we added would get indexed quickly and serve up a positive user experience for our readers.
2. Analyze Non-Brand Keywords.
While it's not as technical of a checklist item, reviewing keyword strategy is an important part of our eCommerce migration process. For Simms in particular, this meant analyzing their non-brand keyword performance, so we could prioritize the content optimizations to be made after the migration was complete.
In looking at their existing keywords, we saw several places where valuable non-brand, product keywords had been combined into one category page. For example, a single page included both "shoes" and "sandals" keywords, as did another page targeting both "t-shirts" and "hoodies."
Competing eCommerce stores, on the other hand, broke up these products into separately optimized pages, targeting unique long-tail keywords within each specific category — for example, "button-down shirts" and "UV protection."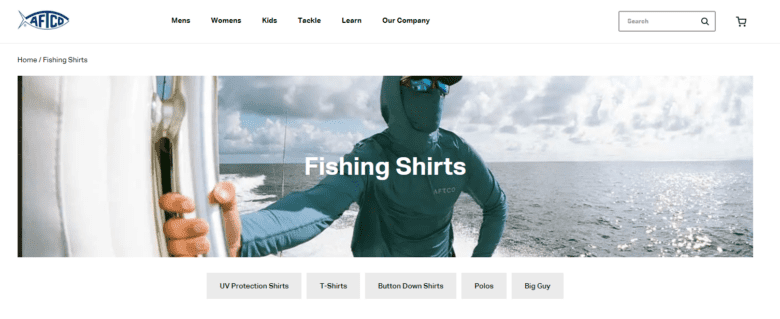 With Simms' current keyword strategy, these queries would be impossible to reach, because they were all meshed into one encompassing product page.
Therefore, we used our analysis to identify all the possibilities for splitting out these keywords and better targeting them with the new site.
3. Create New Collection Pages.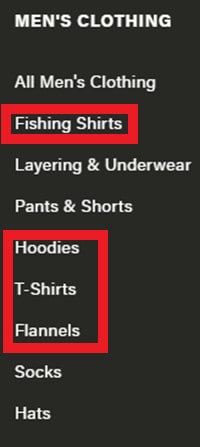 With the new ease of creating product and category pages allowed by Shopify, we could now go about adding new SEO content to target those aforementioned keywords.
As one example, we segmented our original "fishing shirts" category into several different new pages, each targeting different search queries:
Hoodies
T-shirts
Flannels
We took the same approach with their other product lines, including hats ("gaiters" vs. "hats") and shoes ("wading boots" vs. "wading shoes" vs. "flip-flops").
Not only did these new collection pages make sense from an SEO perspective, but it was also much needed from a product inventory standpoint. As a growing brand, Simms only continues to add to its product offerings, and more category pages prevent overwhelming the customer with too many product listings on one single page.
4. Optimize New & Existing Content & URLs.
Now that we had separate category pages created, we could go back and reorganize our existing site architecture to better point visitors (and search engine bots) to the proper pages on Simms' sites.
Specifically, we split out main category pages like /t-shirts-hoodies into new, more specific URLs, including:
/fishing-flannels/
/fishing-t-shirts/
/fishing-hoodies/
From there, we optimized on-page copy, titles, and meta descriptions to target these new long-tail keywords and provide more topical authority for these pages. (Of course, we also implemented some strategic internal linking to help readers find the pages they were looking for!)
The result: A cleaner, more detailed category page structure to match our newly re-platformed site.
The Results
While most eCommerce brands can be satisfied with only a slight decrease in organic performance after a site migration, our new content work with Simms took their results beyond the expected.
Just four months after migration, Simms' site saw a stunning increase in non-brand organic performance, including:
5,642% increase in non-brand, category page traffic
1,095% increase in non-brand keyword footprint
And, when reviewing all the new long-term keywords Simms was ranking for after the site launch, the cause-and-effect was clear — it was because of our newly added, detailed category pages.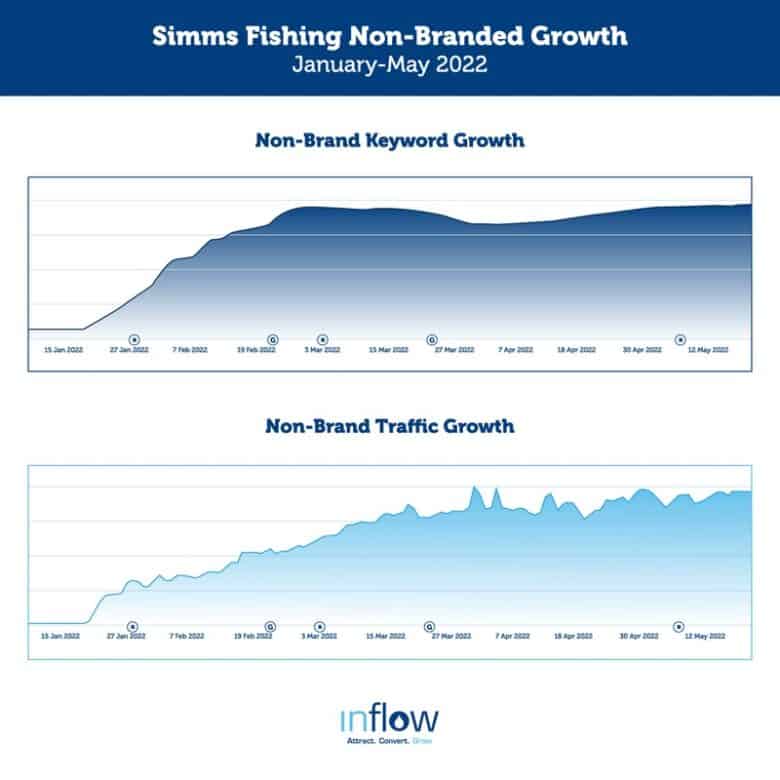 Almost 10 months after we completed the migration, Simms' organic traffic continued to grow. The brand reported a 126% increase in organic traffic YOY and is exploring an expanded SEO engagement to grow that presence (and its online sales) even more.
Moral of the story?
SEO site migration services are about so much more than fixing redirects. An experienced SEO team is essential for understanding your current search engine optimization strategy, its failings, and where you can improve with your new eCommerce platform of choice.
Without our foresight to make these content additions when we did, Simms Fishing would still be playing catchup to its competitors — not experiencing the significant ongoing growth from these content improvements.
If a site migration project is on your to-do list, don't wait until after you launch to get your eCommerce website evaluated by professionals. Reach out to our digital marketing team today to request a free, personalized proposal designed for long-term organic growth and sales.
Until then, review our other migration resources below: