Your eCommerce site's goal should be to match shoppers to products as seamlessly as possible. In order to accomplish this, you'll need to consider an important SEO file: the sitemap.
Your sitemap (or, more likely, sitemaps) helps search engines understand the pages on your site and all of the products you offer — so they can better show your pages to searchers. Sitemaps can also help guide visitors through your site to find what they're looking for and discover products they never knew existed.
Whether you're setting up a new site, preparing for a site migration, or looking to improve the performance of your existing site, handling your sitemaps properly can make a big difference in your site's performance.
In this blog, we'll show you how, by explaining:
What an eCommerce sitemap looks like
How to choose the best sitemap(s) for your eCommerce site
And how to create one from scratch, when necessary
eCommerce Sitemap: What It Is & Why It's Important
A sitemap is exactly what it sounds like: a map of your eCommerce website.
These files are important for eCommerce businesses because they help:
You organize your site
Customers find what they're looking for
Search engines deliver relevant products/pages in searches
While sitemaps do hold value for customers (more on that later), the most important function of a sitemap is for search engines.
By listing everything on your website, sitemaps help search engines understand the relationships between your pages, images, and products. Search engines use these files to crawl your website and index your pages, so that your content can show up in the most relevant way in search results. In turn, this brings traffic to your site and can drive sales.
Without a proper sitemap setup, indexing is much harder. Google might take more time to find your pages (especially if they live deeper in the site architecture or are orphaned), and your products, images, and videos might not show up in the search engine results pages (SERPs) — losing out on potential revenue.
For this reason, a well-organized sitemap is an important component of SEO success.
Types of eCommerce Sitemaps
There are several types of sitemaps that eCommerce businesses can use:
Diagrams
In the initial planning process, it's a good idea to create a sitemap for your personal use. We call this a sitemap diagram.
With this, you can:
Organize your existing content into a better website structure
Understand how pages fit into your marketing funnel
Discover gaps in your content
For a very simple site, you might sketch this on a piece of graph paper. But, for most sites these days, we recommend a sitemap template, like Moqups, Slickplan, or others.
Remember: Your diagram is just for your business, providing the foundation on which your official sitemaps will be built. The more in-depth you get with this first map, the easier the next steps will be.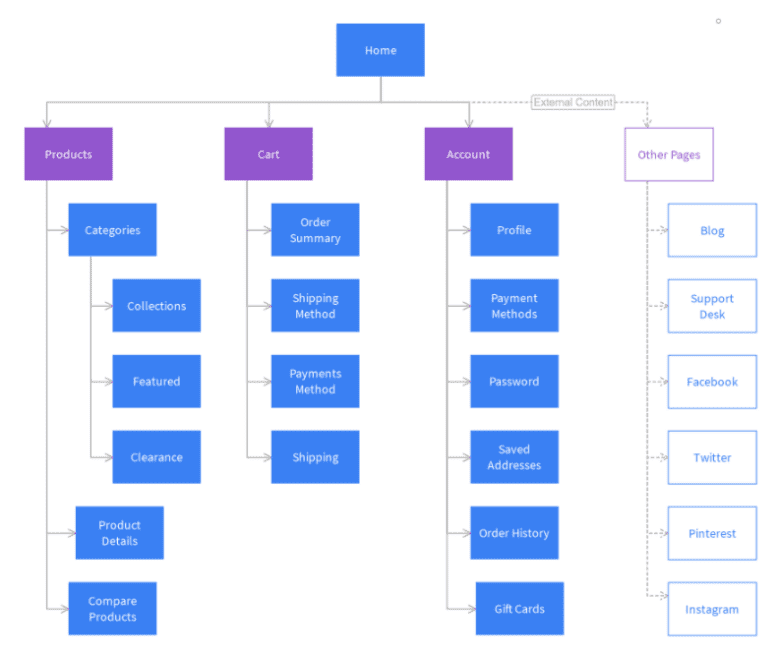 XML Sitemaps
XML sitemaps are the most important for eCommerce sites. They're specifically written for search engines to get your site indexed properly, so customers can find your products through organic search.
This is more than a simple list of links. These XML files contain important information about your site's pages, telling search engines how to handle all the pages on your site.
For example, if you sell your products internationally, you may have the same available and indexable content on multiple pages throughout your site — just in different languages. You can use an XML sitemap to help search engines understand that relationship and to avoid duplicate content penalties.
Of course, these files also ensure your videos and images get properly indexed.
XML sitemaps are critical for all websites — but especially large ones. Search engines often don't crawl the entire site, so the sitemap can be a good way for them to find pages that are further down in the site architecture.
With all the necessary formatting and attributes, these files can be complicated to create. We recommend that you use a plugin (see below), to automatically update and format yours, or leave it in the hands of your eCommerce SEO agency. 
Here's an example from our client Earthkind:
HTML Sitemaps
Finally, you have an HTML sitemap, which aids visitors and search engines in navigating your eCommerce website.
This is a simple list of links to all the web pages that potential customers can browse to, helping them discover new products and product categories on your website.
Here's an example from The Good Guys, an Australian retail chain: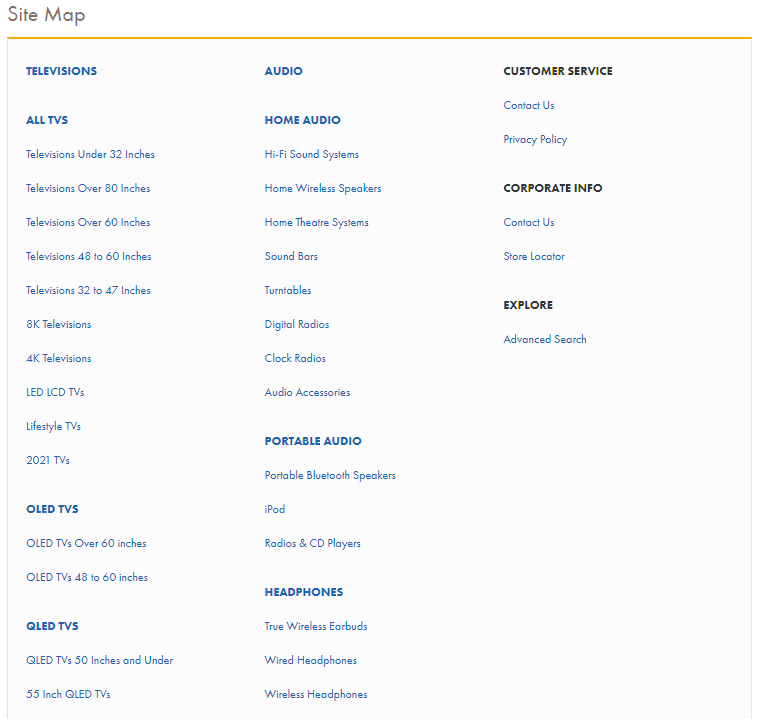 Note how the pages are categorized for easy browsing according to what the company wants to promote to visitors, with headings for televisions, OLED TVs, QLED TVs, etc. From there, the map gets into more specific categories by size, resolution, age, and more.
What this sitemap doesn't include? Individual product pages, which could make it too bulky and difficult to navigate.
HTML sitemaps also provide a secondary function for eCommerce businesses: They support search engine crawlers by helping them find category pages.
Because customers are more likely to use top navigation menus than sitemaps, many eCommerce retailers create an HTML file that is better for search engines than for human visitors. Take this example from Macy's: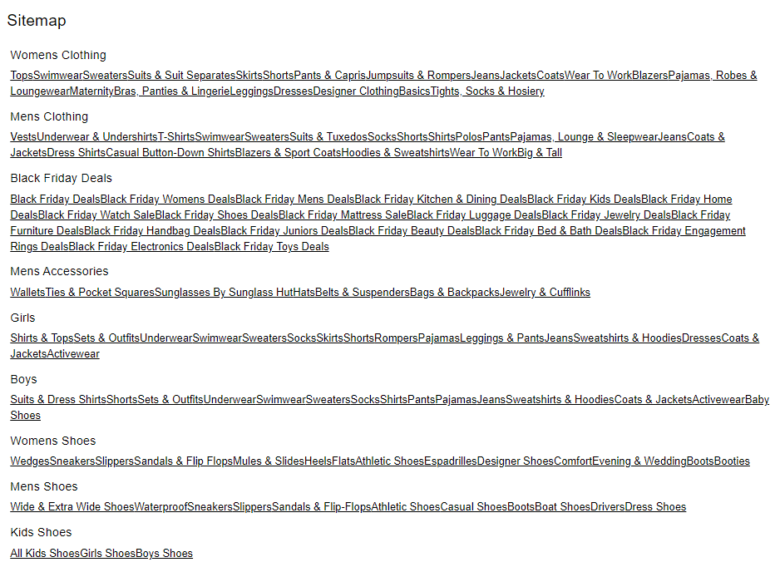 This is a list of links that only a bot could love, helping crawlers associate each page with its corresponding category.
However, it doesn't make it as easy for the human shoppers who do view this page to find what they're looking for.
If you're going to create an HTML sitemap, we recommend making it user-friendly. It doesn't take that much more work, and even a slight bump in sales will pay for that extra time.
A good UX also has SEO benefits: It communicates to Google that you're providing a human-friendly interface to users, an important factor in site quality.
Note: While an HTML sitemap is not absolutely necessary for a website, it is highly recommended — especially when you have a site with 10k+ pages.
XML vs. HTML
So, how do you decide which is the best approach for your site?
Because of its importance to search engines, an XML sitemap is always necessary. No matter how small your eCommerce site is, this file must always be created and submitted to Google Search Console to ensure proper indexing of your content.
An HTML sitemap, on the other hand, isn't always necessary, unless you have a larger site (as mentioned above). If well-designed, it can be a benefit to users who stumble upon it, but it's not as critical to search engines as an XML version.
The Best Decision: Use Both
If you have an extremely large website and really want to see SEO success, we recommend creating both an XML and an HTML sitemap.
With both, you offer an improved user experience by helping visitors find the pages they're looking for and reaffirm to Google the proper relationship between products and category pages, so it can easily crawl and index the proper pages.
How to Create a Sitemap for an eCommerce Website
How you create this file will depend upon the type of sitemap you're using. (When in doubt, reach out to technical SEO experts for advice.)
Manual HTML Sitemap Creation
You can create an HTML version manually, giving you the advantage of selecting and organizing web pages for your human visitors.
Step 1: Select your pages.
Add all the important pages that you want to get indexed (like category pages). If you have a smaller site, you could also include individual product pages.
Order the pages logically, so that people browsing your site can find what they're looking for.
Step 2: Add page details.
List all pages with their clear, simple titles in a readable font. Add links so users can click the title to reach the page. Note: Titles can easily become spammy if you are adding similar words to each over and over, so this should be avoided.
Make sure you're linking to the accurate URL (don't put "http" when the page is an "https"). Include the full URL (http://www.example.com/category/), not a relative URL (/category/).
Step 3: Submit for indexing.
Once it's complete (and after every modification), you should submit the file to search engines using Google Search Console and Bing Webmaster tools (which now includes Yahoo!).
We also recommend adding a link to the file in the site's footer or toward the bottom of the page template; this ensures that users can find it and search engines will crawl it.
Tools for Automatic XML Sitemap Creation
XML sitemaps are often more complicated, so we don't recommend that you create yours manually. They're also cumbersome to manage; someone on your team needs to know when every page is created or removed from the site, so they can update the sitemap accordingly.
Instead, use one of the many tools available to do it for you. Some may even be included in your eCommerce platform (like Shopify's automatic sitemap generator).
Here are a few to consider. Make sure that the plugin you choose works with your particular platform!
Whichever you end up using, don't forget to submit your XML sitemap for indexing. Do this by adding a line to your robots.txt file that includes the URL of your sitemap.
Do's and Don'ts
To make sure they work properly, follow these best practices for XML sitemaps:
DO use consistent, fully qualified URLs. DON'T include session IDs in URLs.
Make sure all URLs are full URLs that direct properly to the page. Remove any session IDs and any other tracking codes that might appear. These can interfere with crawling.
All listed URLs should be 200 status that don't redirect.
DO put your sitemap at the site root. DON'T use relative URLs.
A sitemap only applies to the dependent pages from where it's located, so make sure you put it at your site root to cover all files on your site. Remember: You still have to use the full URLs, not the relative URLs from that root page.
DO use only canonical URLs. DON'T forget annotations for related URLs.
Google only wants to see your canonical URLs (the ones you want to show up in search results) in your sitemap. Reminder: A "canonical URL" means that the page's canonical link points back to it, not to a different page.
For example, if you have related pages (such as a mobile page or a translation of the page in another language for another region), designate those using annotations.
DO limit your sitemap to 50,000 URLs and 50 MB. DON'T exceed 10,000 URLs, if you can.
The maximum size is 50,000 URLs and 50 MB. Never exceed these limits.
However, those maps that are smaller — no more than 10,000 URLs — could possibly get indexed more quickly and thoroughly. If you have more URLs than this, you should put them in separate sitemaps, with a sitemap index file that links to each of them.
DO put videos and images in their own sitemaps. DON'T forget to include them in the index file.
You can put videos, images, and other media into your primary sitemap, as long as you follow proper protocol and include necessary attributes.
However, creating separate video and image maps might help them get indexed better. Just make sure to include them in the index file.
DO choose high-priority pages to include. DON'T bother with the <priority> attribute.
Include all the web pages that you think are important and should be indexed. This tells Google that they matter.
However, don't bother filling in the <priority> attribute; Google ignores it anyway.
Start Building Your eCommerce Sitemap Today
Your sitemap — especially the XML version — is an important component of your success in the SERPs. It helps ensure your category pages, products, images, and videos appear for relevant search terms and phrases.
However, these files may not always be the easiest to manage, especially when you're migrating your eCommerce website. If you need assistance, our SEO team is always happy to step in.
Request a free proposal anytime to see how Inflow can help.