Knowledge Graph Optimization (KGO) allows you to control more of the first-page real estate within Google search results for branded searches, and can be perceived by searchers as adding legitimacy and trust to your brand.
Also, by defining and connecting entities with machine-readable schemas, you'd be helping the next generation of computers learn more about the human race, which will feed their machine learning algorithms and hasten the development of artificial intelligence (AI), which will either destroy humanity or save us from ourselves.
In other words, it's important stuff!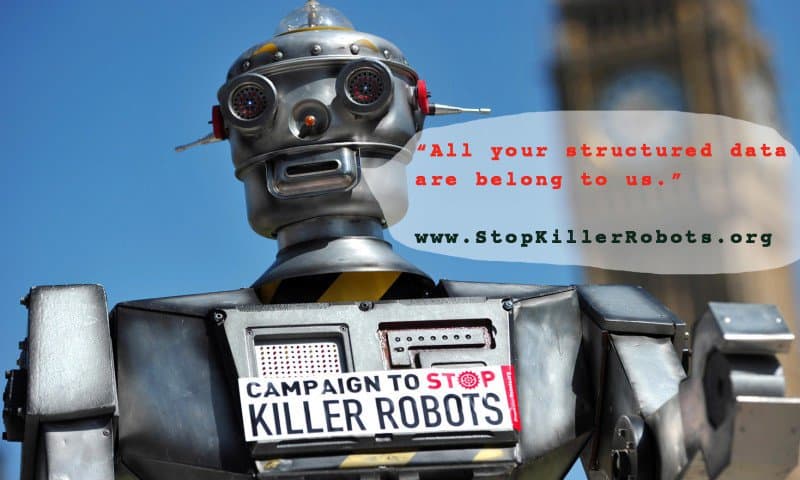 It stands to reason that the more you help Google understand your brand and its relationship with other entities, the more easily you'll be able to rank for the keywords and topics most important to your brand – the ones for which you DESERVE to rank. The relevant ones. The ones that turn into $.
These enhanced search results, known as "Knowledge Boxes" or "Knowledge Graph Boxes," typically only display when someone is searching for a brand or person. They are generated using machine-readable, structured data and various open data sources, most notably Wikipedia, WikiData and the now-deprecated Freebase.
To "optimize" (or obtain) the Knowledge Graph Box for your brand, you can contribute to open data sites like those above, and you can mark up data on your own site. I cover the "How" part in this Kapost guide. The rest of this page deals with the "Why," as in, "Why should you care?"
Knowledge Graph results are not to be confused with local business listings, shown below for Kapost, which appear in the same spot within Google search engine result pages (SERPs).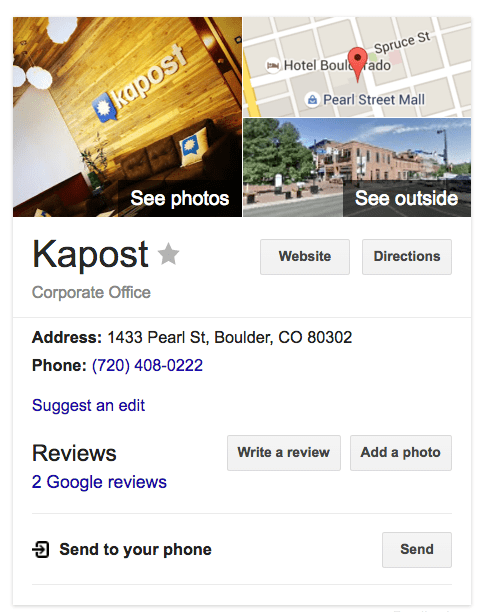 Local business listings are easily obtained here, and include your logo, map, address, phone number, reviews, photos and other relevant information. In some cases, such as with brick-n-mortar stores, you may actually prefer a local listing over a Knowledge Graph Box, but well-known entities can have both in one. Hat tip to Dr. Pete for the following two examples:
Empire State Building
Disney World
The length of the Knowledge Graph expands with the amount of "brand-owned" content. As seen in the image below, Williams-Sonoma controls much more of the SERP real estate for their brand than Sur La Table does. You can read more about this comparison here.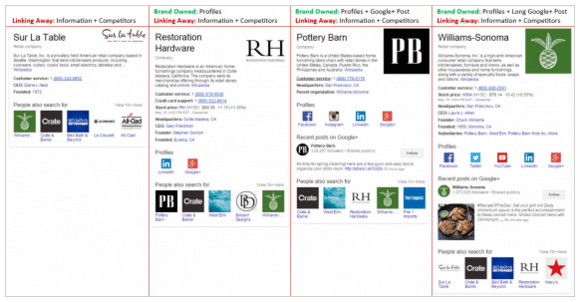 We're Inflow, the eCommerce marketing agency. There is also a company called Inflow Inventory that develops Inventory Management Software. They're not our direct competitor because we're in different industries, but they sometimes rank higher than us for the word "Inflow."

Google sees a search for the word "Inflow" as ambiguous. Do they mean the song, the digital marketing company or the software company? By defining our entity for Google, we now see an invitation for users to search for our brand instead, while also disambiguating which is which by using the phrase "Online Marketing Company." Interestingly, this happens even though we are not ranking No. 1 for the phrase.
Having a Knowledge Graph listing allows us to regain potentially lost traffic for branded searches.

It is no accident that Google uses a phrase like "Online Marketing Company" to describe our brand. That's how we have "defined our entity" to Google in several places, including Wikipedia and the NAICS code in our JSON-LD script (more on that in this post).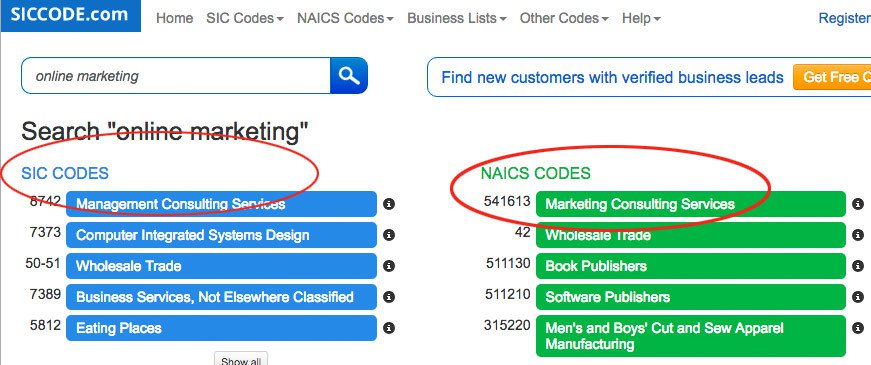 Getting Answers
The Answer Box and Knowledge Graph Box are both closely related, but take up different real estate in Google SERPs. What I like about Answer Boxes is that they tell you what Google "understands" about your entity in response to human-language queries.
For example, because of the way we've defined our brand as an entity for Google and marked up relevant information in the right places, the search engine feels confident enough about how it has understood the data to provide an instant answer for questions like this: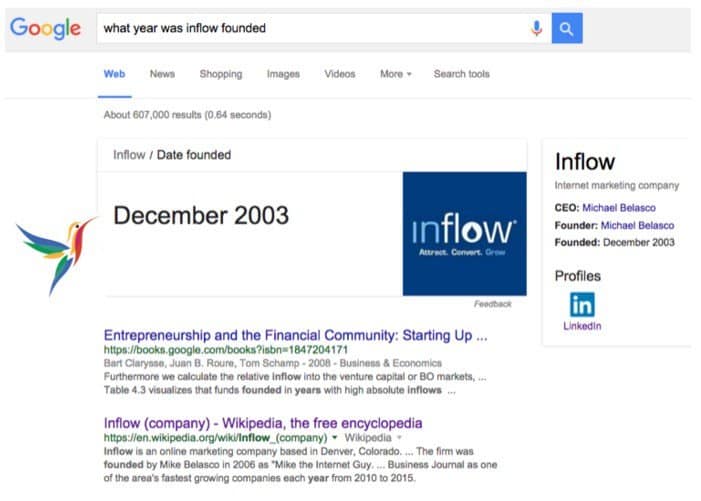 Just as "Inflow" is defined as an "organization" entity, our CEO and Founder Mike Belasco is also defined as a "person" entity. The connection between these two entities (the person and his organization) has also been defined in machine-readable format.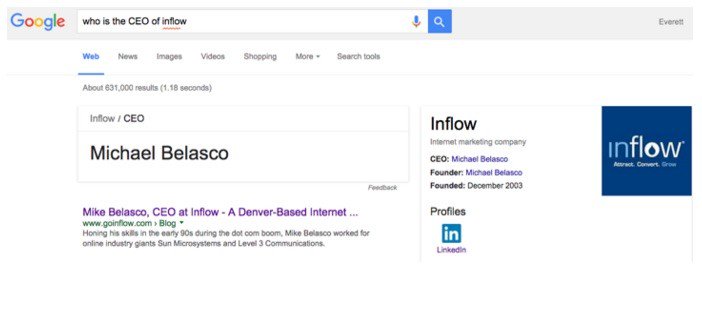 By defining and connecting entities across the Web, including your own site, social profiles and open data sources, you are helping machines like Googlebot understand you better, which allows them to bring more relevant traffic to your site, among other things.
If you're ready to give it a try, check out this how-to guide on Kapost, which contains some tips for obtaining and optimizing your Knowledge Graph listing. Have fun! And thanks for helping us mark up the Web for our future AI-robot overlords.