If your online business offered a shopper all the products they wanted — even suggesting those they didn't know they yet needed — why would they look anywhere else?
That's the goal of product recommendations.
Strategically adding recommendations to your eCommerce website can increase your sales by up to 20% — and your profitability by up to 30%!
But integrating these product recommendations isn't as simple as just installing a widget. You need a well-designed, data-driven strategy to put the right recommendations in front of the right shoppers, so you can get the most revenue from your product recommendations.
Our guide is here to help.
In this article, we'll cover:
How product recommendations work
Why they're so important for eCommerce success
And how to build an effective product recommendation strategy
How Do Product Recommendations Work?
It's devilishly simple to add product recommendations to your website — but it can be fiendishly difficult to get them to work properly.
While you can easily add any old product recommendations to your site, making the right recommendations can be challenging. Most small businesses start by adding a product recommendation display on their website and manually deciding which items to display.
But, as your site grows, you can make it easier on yourself by using a product recommendation engine (also called a product recommendation system).
Product recommendation engines are typically apps or plugins that you install on your website. There are two basic strategies that their algorithms use when deciding which products to recommend to consumers:
Collaborative filtering systems use data aggregated from numerous customers to predict which products will be of interest to which customers. An AI doesn't know that cookies and milk taste good together, but it knows that cookies and milk are frequently bought together.
Content-based filtering systems use data compiled from a customer's previous shopping behavior to predict what they might be interested in. It might know, for example, that a certain customer usually orders coffee to go with their cheesecake. So, the next time that customer orders cheesecake, it knows to recommend coffee.
It's also common to use hybrid filtering systems that blend both methods above, as you can see in the example below: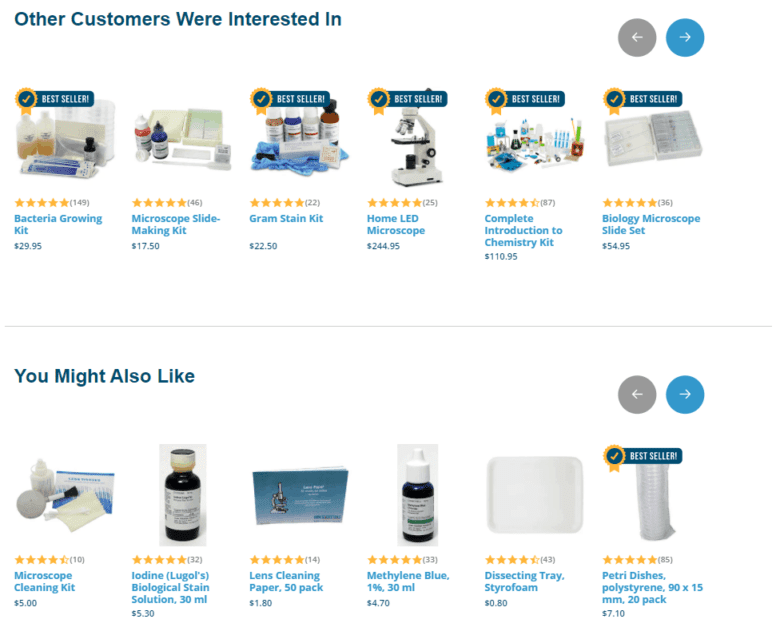 Getting recommendation algorithms to work properly depends on having a large pool of behavioral data and being able to leverage that data into terms the system can understand and implement.
Don't have a lot of detailed customer data? You can manually create rules, called merchandising rules, dictating which related products to show to which customers. It can also help you make sure your seasonal and trending recommendations are leading the trend, not following.
Why Is Product Recommendation Important?
Retailers work hard to get customers to their eCommerce sites. Product recommendation helps you maximize the value of customers once you have them there.
Offering recommendations improves your visitor value by:
Upselling customers
Cross-selling customers
Creating customer goodwill
Product recommendations can include upgraded items at a higher price point (upselling) or related items (cross-selling) to increase average order value (AOV).
When you predict which products a customer might want, it also creates a better customer experience — one where your site visitors feel you really understand and care about them. This can increase customer loyalty, which can dramatically increase the value of your shoppers over time.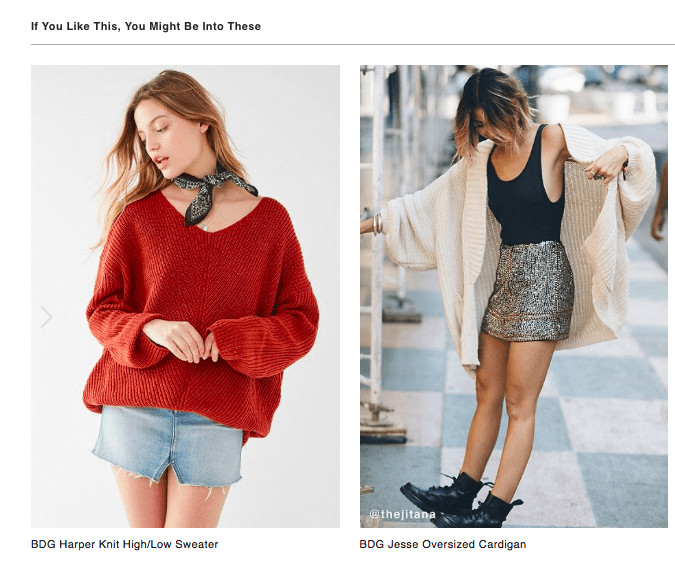 How much of a difference can personalized product recommendations make?
In 2012, researchers estimated that Amazon made about 35% of its revenue through product recommendations.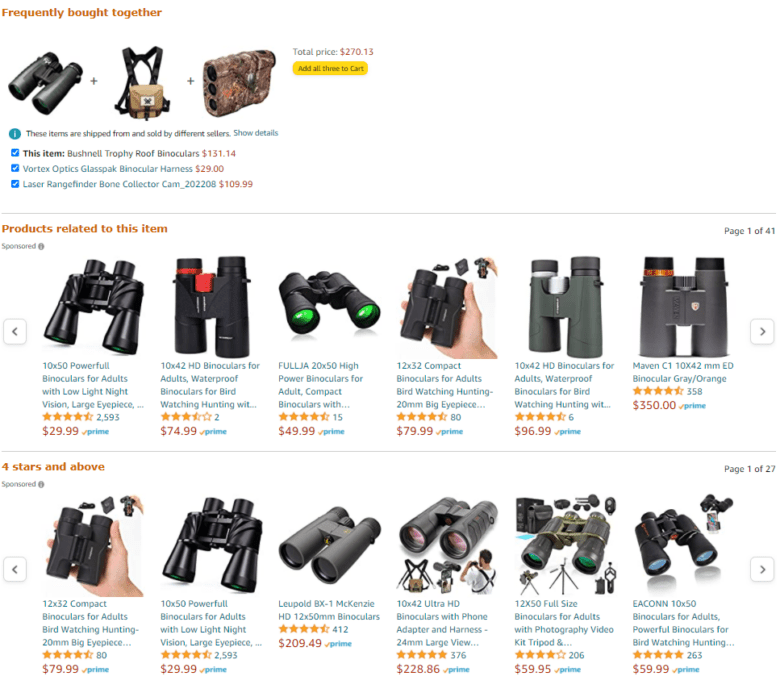 While Amazon itself is silent on that question today, other brands aren't. Netflix touts the fact that 70% of content viewed through its service comes from recommendations, netting the company over $1 billion in 2016 alone.
If you already have a well-designed eCommerce site, implementing product recommendations may net you an immediate increase in revenue of 3–4%.
A Word of Caution
However, product recommendations are not a silver bullet. In fact, a study from 2018 indicates that more conservative estimates top out around a 10% increase in revenue.
Why? Over the long term, recommendations can cannibalize your other sales efforts. We can't know, for example, whether people buying recommended products wouldn't have instead purchased the product they were originally looking at.
In many cases, product recommendations might just shift around sales on your site, not necessarily increase them.
In our experience, the eCommerce sites that get the best results from product recommendations are usually those that already have high traffic and sales volume, which gives them the data they need to segment and target their audience. If you don't currently have those advantages, identifying the right product recommendation strategy can be time-consuming.
These days, having product recommendations on your site is mission-critical, but they can be frustrating. It's hard to be competitive without product recommendations, but it's also hard to be competitive with them.
If you want an expert's guidance in creating the best strategy for your business, our CRO team can help.
How to Create Your Product Recommendation Strategy
While product recommendation engines are easy to install, an effective product recommendation strategy can be hard to implement.
In our experience working with dozens of eCommerce stores, we've found the following to be the most effective approach. However, as always, these are guidelines, not hard-and-fast rules.
The closest thing to a rule? You should always test strategies before implementing them
We recommend working closely with your conversion rate optimization (CRO) team to find the best tests for your business.
Don't have a dedicated CRO team? Request a free proposal to learn how Inflow can help you.
Step 1: Understand Your Customers
The key to an effective product recommendation strategy is understanding your customers.
That means knowing where potential buyers are on their customer journey, which is often broken down into four stages:
Awareness: A customer has a need or pain point, but they haven't fully defined it yet.
Consideration: A customer has defined their need or problem. They're weighing possible solutions.
Decision: A customer eliminates some solutions to focus on the one or few they will purchase.
Validation: Having made a purchase, does the customer feel good about it? Do they want to buy more or recommend the solution to friends and/or family?
Even if you don't have much data on a first-time customer, you can target product recommendations to their stage in the buying journey.
Some examples:
In the awareness stage, offer "best-selling products" as recommendations.
In the consideration stage, refine those recommendations to include options or alternatives to the current solution, including upsells.
In the decision stage, offer accessories to complement the current solution — but nothing that makes them reconsider their initial buying decision.
In the validation stage, re-offer accessories, as well as refills and repurchases opportunities.
To understand customer journeys in more detail, we recommend:
Looking at customer data
Interviewing customers
Watching traffic journeys on your website
Engaging customers on social media
Talking to people who interact directly with customers
Once you understand what types of questions and/or searches customers make at different stages in their journey, you can use a combination of engagement strategies (SEO, paid search, social media) to bring customers to the pages that best match those particular stages — then use product recommendations to make those pages more effective.
Step 2: Decide Which Products are Relevant
Once you understand your customers' journeys, it's time to start applying that to your merchandising rules.
There are three main strategies you can use:
Customer data
The best tool for deciding product relevance is customer data.
Ideally, you can use a customers' previous visits to your site, their purchase history and/or browsing habits to help you steer them to personalized recommendations. For example, if they have abandoned shopping cart items, you might not only remind them of their saved products, but also offer them alternatives they might like better.
However, if you have little or no data from previous visits, you can use data from a new visitor's current session to select relevant products. This might include:
The customer's location
Browsing history
Search terms that brought them to the site
Ads that brought them to the site
Social media activity that brought them to the site
For example, a customer's location can help you determine whether to offer them an overcoat or a swimsuit wrap.
For less obvious distinctions, collaborative data can help you determine whether there are local bestsellers that you should offer. Search terms, ads, and social media all give important clues about the types of products your customers might be looking for.
Trends
Understanding your products' trends is critical to making good product recommendations when you have little or no personalized customer data.
Here's what we suggest:
Recommend bestsellers and popular products.
Recommend seasonal products — but frontload them early in the season, gradually reducing their prevalence as the season winds down.
Recommend sales and discounted items. People love a good deal, and will often take advantage of them even if it's not what they were initially looking for. Sales and discounts work especially well as add-ons, if you have the buying thresholds for free shipping, bonus gifts, etc.
Page context
Other times, you might not have data on what brings a potential customer to your site (such as when they are using an incognito browser).
In this case, you should still personalize product recommendations based on what you do know, such as the page they're visiting.
Home page: Our eCommerce home page best practices recommend using a combination of bestsellers and trending items.
Category Pages: Bestsellers and trending category products work well.
Product Pages: Continue offering similar products that are relevant alternatives.

Use your previous data to suggest what people ultimately buy after viewing the item, and build a record of the current session to refine recommendations based on what a customer browses.

Shopping Cart Pages: Offer complementary products rather than alternatives.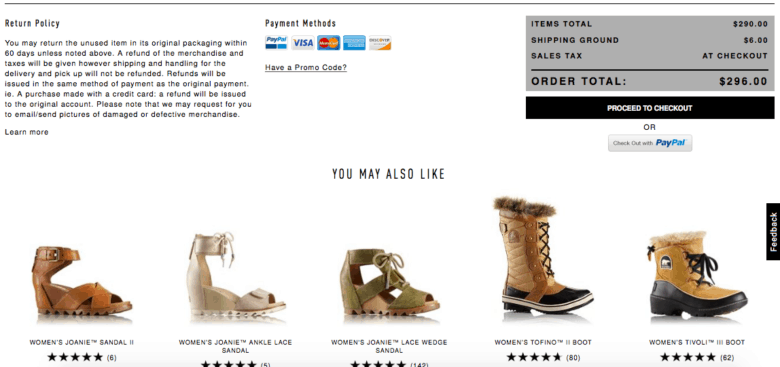 Step 3: Choose the Right Recommendation Engine
Manual product recommendations are not a bad place to start. However, as your site grows, you add more products, and your customer base expands and diversifies, manual product recommendations quickly become unmanageable. Seasonal variability and changing customer trends and behavior are even more difficult to incorporate manually.
Having a product recommendation engine is critical to getting the best upsell results. Machine learning means that these engines can offer more quality recommendations over time — saving you a great deal of time and money.
Unfortunately, our team hasn't found a standout product recommendation engine that we can recommend. Instead, we suggest your eCommerce website try a few options to see what performs best for your brand.
Consider:
While results are important, we also recommend choosing a product recommendation engine that's easy for your team to use. Remember, you'll want to adjust your rules often to get the best results.
If you can't do this without breaking your site or spending hours working with tech support, the engine might be more trouble than it's worth.
Step 4: Test, Test, Test
Initially, A/B testing is crucial to make sure that you're using a sound recommendation strategy. However, you can't simply "set and forget" even the best of conversion optimization approaches.
Be prepared for recommendation strategies to eventually run their course. They might be effective at first but diminish over time. They might be victims of their own success, or customer behavior might change.
Don't wait for sales to dip: Test different recommendation strategies regularly, perhaps every few months.
Some changes to try include:
Recommending different products
Recommending successful products on different pages
Offering products at different stages of the customer journey
Offering different sales or deals
Changing the appearance or design of your recommendation display
Changing the placement of recommendations
Adding recommendations in new places (more pages, as pop-ups, etc.)
Removing rules to give more control to your AI software
Finding the best products to include (and knowing where to put them) can be an essential part of your homepage, category page, and product page design.
Over time, your product recommendation engine should learn and improve its suggestions, letting you relax some merchandising rules in favor of automation.
Step 5: Think Outside Your Website
Product recommendations are a powerful marketing tool that you should incorporate into many aspects of your marketing campaign.
Incorporate product recommendations into:
Email marketing
Display ads
And more
Of course, product recommendations are a powerful tool for remarketing, too. Use any data you have to bring customers back for additional purchases.
You can also use product recommendations to capture new website visitors and customers. Geotargeted display ads with popular local favorites, for example, can be more successful than generic display ads.
Create a Custom Product Recommendation Strategy Now
When used right, product recommendations can significantly increase sales, revenue, and profitability.
However, it can be difficult to identify a successful strategy. Even if you're using a powerful product recommendation engine, you must use customer insights to create the rules the engine will follow.
Most likely, you're already using a product recommendation strategy to improve sales. However, if you're unhappy with your results and aren't sure how to improve them, our team is happy to help.
Request a free proposal from our CRO experts today. We'll help you design a comprehensive conversion optimization strategy for your online store.
Want to design that strategy on your own? Check out our additional guides now: