Editor's note: This blog was originally published in 2016 and was updated in Sept. 2021.
If you're anything like me, you can't stand hearing Christmas music as you shop for your Halloween costume.
Don't get me wrong, I love the holidays — seeing family, giving gifts to loved ones. I just love it for about a week, not an entire quarter.
As much as I would love to just ignore the holidays until they're upon us, retailers can't afford to be so shortsighted.
Many companies go into a code freeze sometime between Halloween and Thanksgiving. Avoiding major changes during this crucial time allows a team to focus on getting the most out of holiday sales without risking website downtime.
In other words, any major projects you want to get in before the holidays need to be planned now.
Today, I'll help you prep for that process by explaining:
What a code freeze is

Why it's important for your holiday marketing strategy

And which five best practices to follow with this process
What is a Code Freeze?
Before we get into whether your eCommerce business should implement a code freeze, let's get on the same page about exactly what this is:
Simply put, a code freeze is a period of time in which developers stop coding any changes to a website. The site's code is truly "frozen" at that point in time, most often to prevent any issues during a busy time of the year (ie. the holiday season).
Every developer has their own definition of a code freeze. It could mean a complete lockdown of website coding, or it could mean that stricter rules and regulations must be met before any new changes are made.
Either way, the bottom line is this: Don't expect any big changes or updates to occur during your code freeze.
eCommerce Holiday Code Freeze Best Practices
Now that you know what a code freeze is, you're probably wondering two things:
Should

we have a code freeze during the holiday season?

If so, what do we need to optimize on our website

before

the holiday rush?
I'll tackle those questions (and more) below.
Remember that your developer knows your website best. I always recommend speaking at length with your teams well before the holiday season to create a comprehensive plan that works for your site and business requirements and performance goals.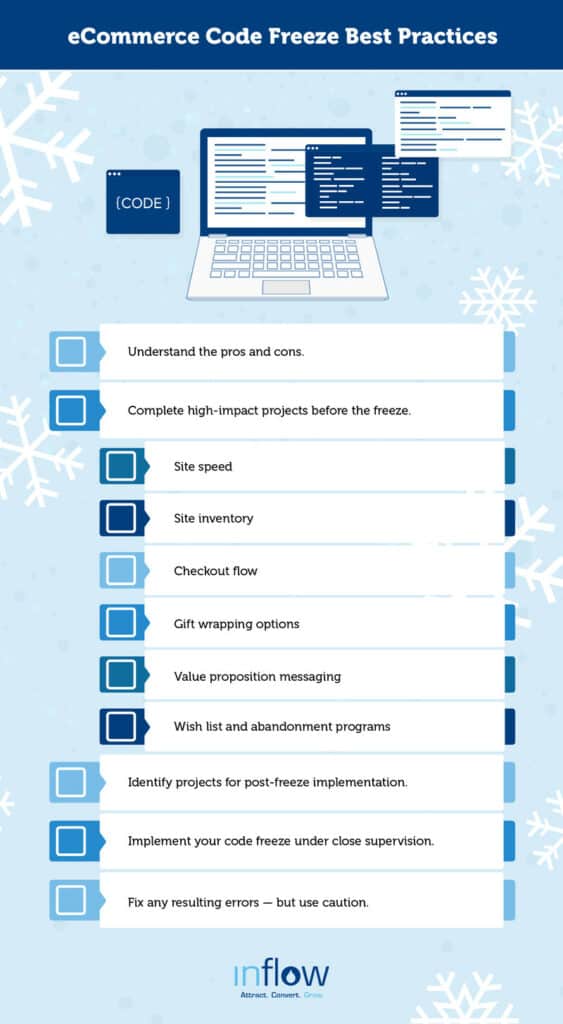 1. Know the pros and cons of a code freeze.
Depending on who you're talking to, a code freeze can be a controversial topic. Many programmers will argue that code freezes are in direct conflict with an Agile development approach, while others will laud their advantages for particular development processes.
I won't get too in-depth with those arguments, because, honestly, the only person whose opinion matters is your developer's.
However, you should be aware of the basic pros and cons associated with this strategy.
The advantages of a code freeze are numerous. In addition to making sure your site doesn't crash on a critical day like Black Friday, a code freeze:
Prevents unexpected changes and additional bugs from being introduced during code updates

Provides a great opportunity to test non-code-related strategies (like content marketing) without confounding factors

Stabilizes (or even boosts!) your conversion rate
However, a code freeze isn't always a foolproof solution. You should consider a few things before implementing this for your site:
Code freezes can sometimes lead to incomplete or poorly written code when trying to finish projects by the deadline.

They can also lead to poorly planned projects that don't account for all possible use cases, as product owners frantically try to get their wish lists completed.

Finally, code freezes can prevent teams from working on low-risk projects that might have huge upsides.
I recommend you talk with your developer and your marketing team about all of these factors before making a decision.
But, as long as you have everything in order prior to the freeze, it can be an invaluable strategy for a successful holiday season.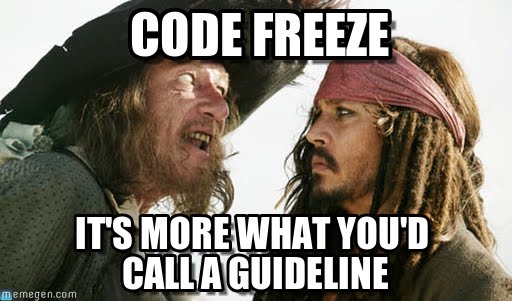 2. Complete high-impact projects before freezing your site.
A code freeze is no good if you're capturing a subpar website performance. You want your website to be as optimized as possible before freezing it, especially if you're heading into the busiest time of the year.
Any high-priority optimization projects in your backlog should be implemented before your freeze period, with one caveat:
Make sure that you can actually complete those optimizations with the care and detail they require. Otherwise, you could be harming your user experience and/or introducing even bigger site issues with even less time to fix them.
Generally speaking, here are the areas of biggest opportunity:
1. Site Speed Optimization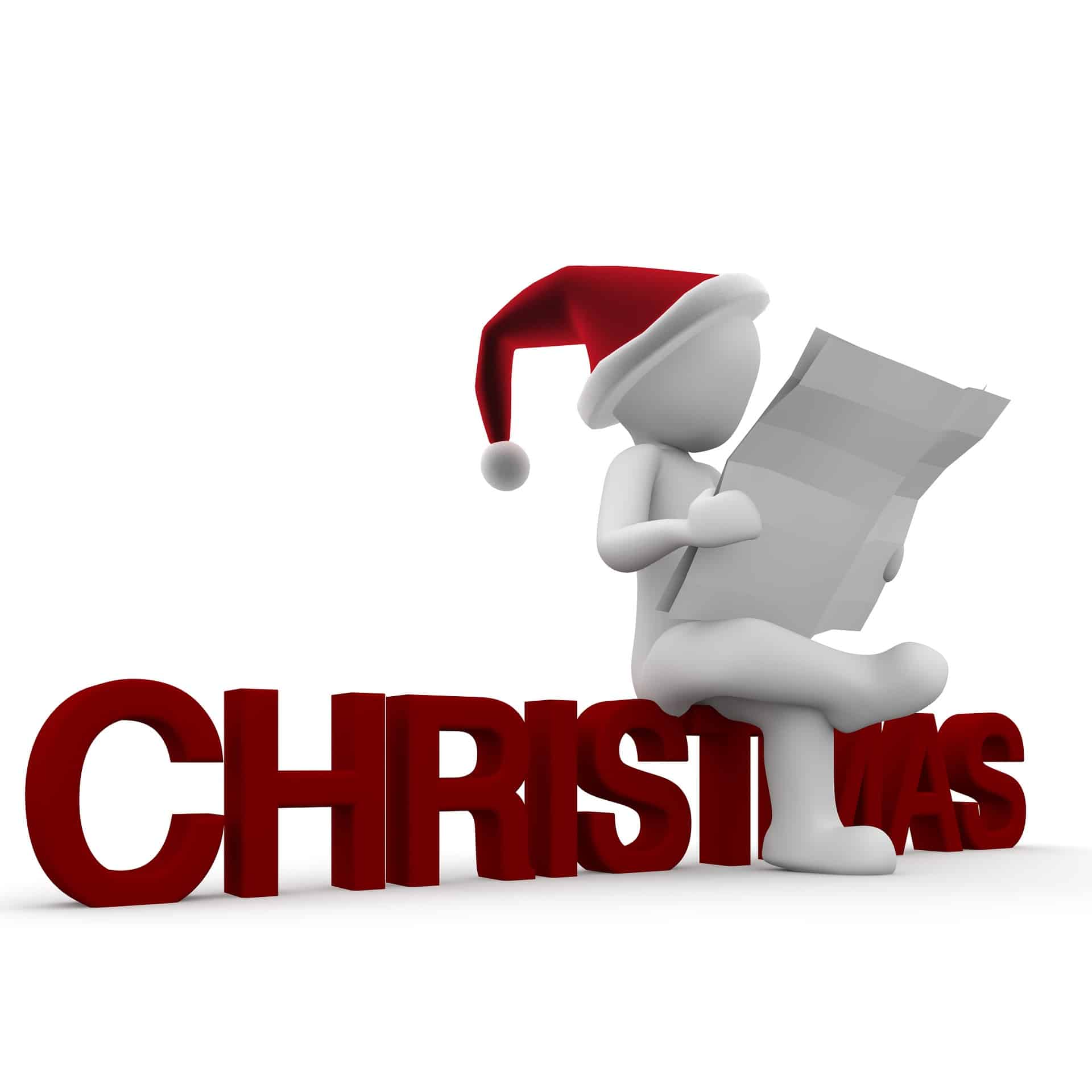 Site speed is, not surprisingly, one of the largest factors in conversion rate optimization. With each second of load time your customers have to wait, the more likely they will be to bounce, even before they've ever seen your site!
This will impact not only your conversion rate (if your analytics even gets to load in time to count the user), but your pay-per-click and organic traffic performance, as well.
Unfortunately, site speed solutions often require time or high-risk updates. Moving content to a CDN, for instance, has the ability to take down your entire site, if not done carefully.
Likewise, caching pages and images can result in users seeing dated content. If your prices change but someone has cached a sale price on a promotional banner, this can cause major headaches for your customer service team.
None of these changes should be rolled out during a busy period, so make sure you have enough time to implement (and test) any site speed optimizations before the code freeze. However, even the smallest gains in speed going into the holidays will be worth your resources, so do what you can to prepare for high traffic numbers — and save the biggest projects for after the upcoming shopping season.
2. Site Inventory
Your product inventory is your gold mine during the holiday season, and you need to make sure it's as accurate as possible before hitting "freeze."
Your inventory should always correctly reflect:
Actual product stock

Delivery timing (no one wants to purchase a gift that arrives on Jan. 6!)
You can also implement stock-based, urgency messaging to entice users to buy now (with phrases like "Only two left!"). However, if you want time to test this strategy before the code freeze, make sure you're doing it today.

3. Checkout Flow
If you have any plans to change your checkout back end — offering free shipping, changing shipping providers, adding address verification, international support, etc. — you need to do this well in advance of the early-bird shoppers. These changes often require major updates to your order processing, and you'll need time to work out the kinks.
The last thing you need during the holidays is to wonder why your customers aren't getting the things they need in time or, even worse, why they're not completing their orders.
4. Gift Wrapping Options
While it's part of the checkout backend mentioned above, gift wrapping is important enough to deserve its own section. Ordering gifts online is becoming a much more common practice as families are separated across the globe, and the pre-purchased wrapping options take a load off their shoulders.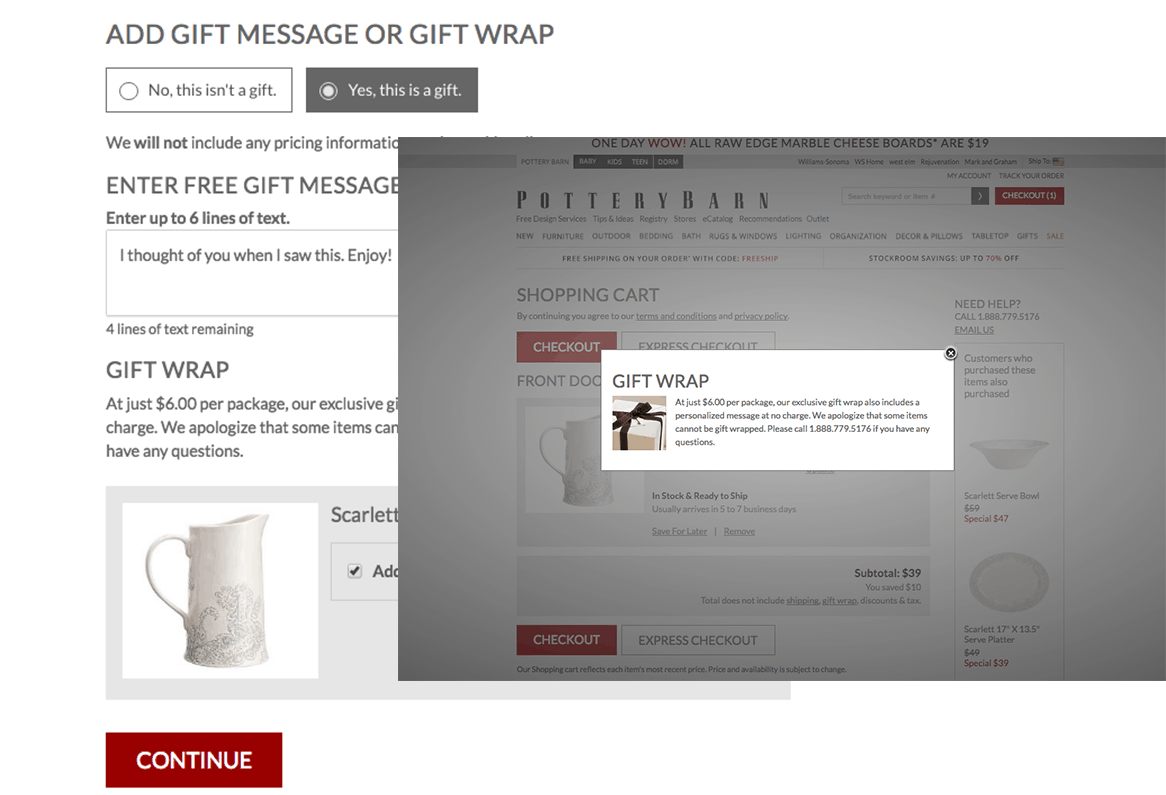 Offering gift wrapping may seem as simple as hiring some staff to wrap packages; however, it also requires you to flag the order as a gift and add a new line item to the order. Both of these require changes to the backend processing system, which you do not want to be altering during your peak period.
5. Value Proposition Messaging
While not technically difficult, identifying your winning value proposition messaging requires a huge scope of work — and should be on your list to complete prior to your code freeze.
Once you've identified your winning messaging through tests, look for third-party tools that help streamline these processes. For example, if you offer free returns, consider a tool like Linc, which adds advanced package tracking, manages order history, and helps users easily print return labels right from your site.
You want to complete all of these steps with time to fix any issues before users start shopping for the holidays.
6. Wish List and Abandonment Programs
A wish list is a great feature for any eCommerce website. This gives customers the ability to not only select items and save them somewhere, but to also share that list with others. You can build a program around wish list abandonment that's similar to your shopping cart abandonment strategy.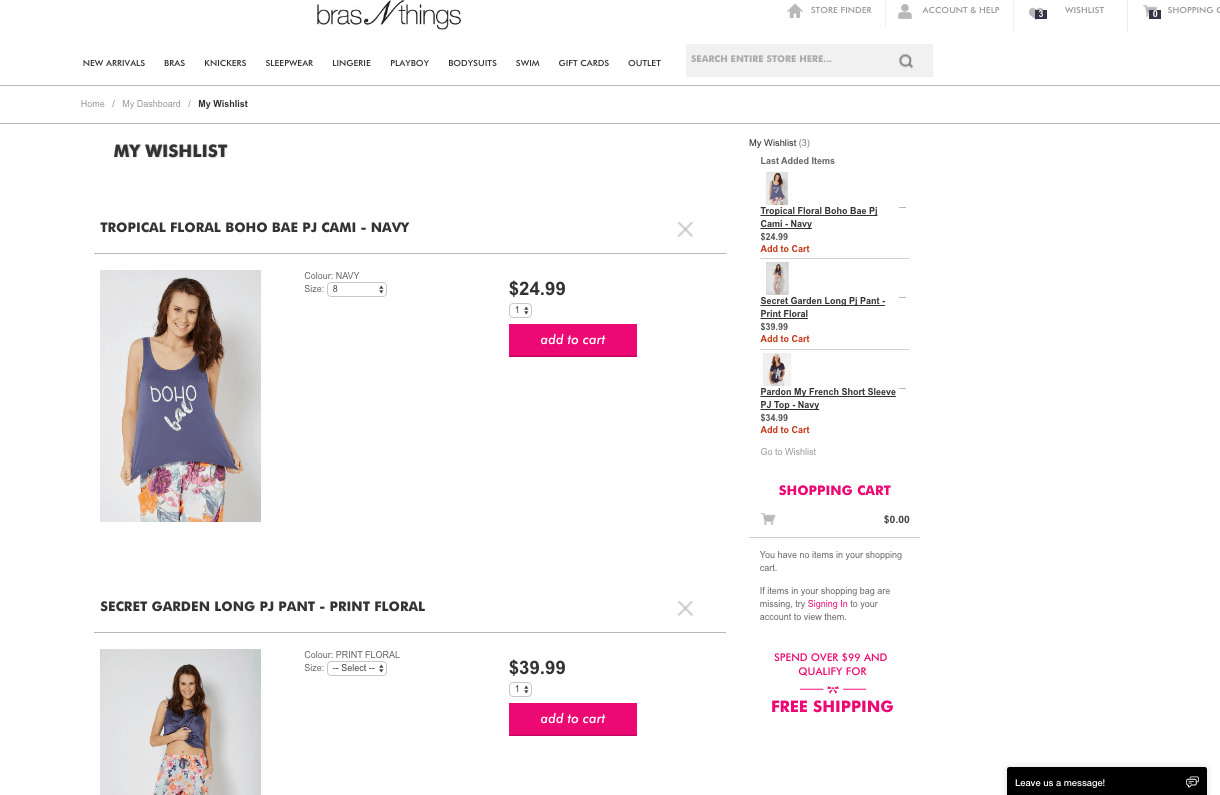 While this program is not technically risky, it is somewhat complex in terms of user experience. Make sure you have everything running smoothly before you promote this feature (and certainly before you freeze your site).
For all the benefits of this functionality, you will actually hurt yourself more by rolling it out with a poor user experience or tools that don't work as advertised.
3. Identify which projects need to wait until after the freeze is thawed.
At this point in the quarter, there's simply no way you'll be able to roll out all of your projects before your code freeze — and that's okay. Equally important in your prep process is identifying which new features need to wait until after the holidays to get their due attention.
One example: Product reviews.
Reviews are only powerful when you have enough volume to give an average rating and show that users actually buy the products. If you rush to get this in now and have no items reviewed around the holidays, it actually might be detrimental to your conversion rate. Users will think these items are never bought or, even worse, that your site is not popular and might not be trustworthy.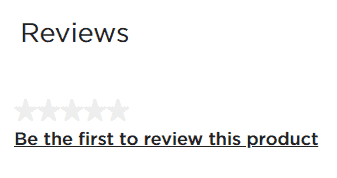 Instead of rushing out reviews now, wait until early next year to launch the program. In the meantime, use an email program to solicit enough reviews to be compelling.
Another example: Any tool with learning algorithms, such as site search and cross-sell platforms. Install these too close to the holiday season, and they won't have had time to "seed" and learn enough to be effective.
4. Implement your code freeze under close supervision.
Now that you've crossed all the must-dos off your list, it's time to actually implement the site freeze.
Your best bet is to leave this step up to your developer, unless you're highly skilled in HTML and handle most of your site projects. They know exactly which code needs to be frozen and in what order for the highest chance of success.
If possible, bring on a few extra developers to help with code review and catch any errors or issues prior to the freeze, especially if you have a one-person development team. The more eyes, the better — and the less chance that any major problems slip through and affect your holiday shoppers.
You should also use this step to establish any freeze policies. How severe must an issue be before the freeze is thawed? Which updates can be pushed back until the holiday shopping season is over? Knowing these protocols in advance will make it easier for all involved.
5. If anything goes wrong, fix it — but with caution.
If no big issues are exposed during your holiday traffic spike, pat yourself on the back — you did well.
But, if site issues do arise, don't panic. You can still "unfreeze" your site by pushing it back into a production environment. From there, make any necessary updates (Iike bug fixes or other new code changes) with your developers' help. Just be extremely cautious to avoid introducing any new bugs or issues when you literally can't afford to have your site go down.
If you have a stellar developer on staff, you can trust them to tackle these updates efficiently and effectively. But don't forget to give them grace should something go awry, and recognize that there's always a degree of unpredictability when it comes to code playing out in real life.
Conclusion: Do What's Right for Your Site, Even if It's a "Code Frost"
Every eCommerce website is different, and only your developer can tell you whether a code freeze is the right choice for the upcoming holiday season.
Ultimately, the key strategy at this time of year is to mitigate risk. If you have risky website projects that you want to complete before the holidays, they should be tackled now, whether they're on the above list or not. Smaller changes, even if they're high on your list, could be pushed back — and even implemented during the next few months, as long as the risk level is low.
In that case, you'll want to consider a "code frost" instead. This hybrid approach allows your developers to roll out any small website changes as needed, without risking bugs, crashes, or other huge missteps during the holiday season.
If you're not sure what approach is best for your site, get on your developer's calendar today. And, should you need help identifying the projects that will have the biggest impact before the holidays, reach out to our conversion rate optimization team anytime for a free proposal.