In this post, we'll compare the two highest-rated software providers in the personalization engine space: Monetate and Certona.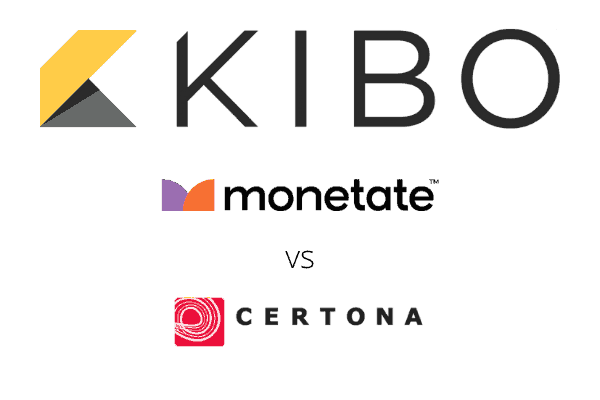 Monetate and Certona are respectively rated the #2 and #1 Personalization Providers according to the Internet Retailer Top 1000. In the process of writing this article Kibo Commerce (which owns Certona) actually acquired Monetate. Kibo will be keeping the two platforms separate for the foreseeable future, so the question of Monetate vs. Certona is still very relevant for eCommerce businesses.
What do these eCommerce personalization engines do? Before we get into the specifics of each leading personalization engine, let's take a moment to review what the general capabilities of tools like Monetate and Certona are.
What is a Personalization Engine Good for?
Certona highlights six key capabilities in their guide on Understanding Personalization Capabilities:
Collaborative filtering:

Also referred to as the "Wisdom of the Crowd", collaborative filtering does not focus on the individual behavior of shoppers, but rather collects data on how groups of people react to specific assets on your site.

Customer segmentation:

Segmentation allows you to target subsets of groups based on the specific attributes of those shoppers (such as customer intent and purchase history).

Rule-based personalization:

Business rules allow you to define, test and execute different experiments while still meeting your specific business goals.

Real-time profiling

: Profiling is one of the most powerful aspects of personalization, this helps you create individual shopping profiles in real-time and customizes the experience for those customers accordingly.

Predictive modeling:

Predictive modeling uses many techniques from data mining, machine learning, and artificial intelligence (AI) to predict the future behavior of shoppers.

Data integration:

Data integration is the process of leveraging data from various sources to gain additional insights into each and every shopper.
In the experience of eCommerce businesses we've spoken to, there are three main use cases that both Monetate and Certona can handle well, these include:
Product recommendations

Content recommendations (and content personalization)

Dynamic UI changes (i.e. changing the navigation to match a customer profile)
Now that you know the high-level functionality and use cases for personalization engines, the question then becomes:
Are Monetate and Certona functionally different in terms of their capabilities, or are they extremely comparable platforms with different branding?
The short answer is: There are major differences in their capabilities as well as the users they are best for. To illustrate these differences, let's discuss the use cases and unique features of each platform.
Note: Do you want to know more about getting started with personalization on your eCommerce store, or want to improve your personalization such as product recommendations?
Get in touch with our CRO team today to get started.
Monetate vs. Certona: Use Cases of Each Personalization Engine
Although these two software providers are similar, they do have several unique features that they each specialize in. If we had to break down the differences of each platform in a single sentence:
Monetate specializes in testing and optimization, while Certona specializes in AI-powered personalization throughout the customer journey.
Is one tool better-suited for your eCommerce store's needs than the other? Do you even need either of them? Let's zoom in to review the unique features and use cases of Monetate and Certona in a bit more detail.
Monetate: Use Cases & Unique Features
As mentioned, Monetate is best known for its testing and optimization capabilities. The platform lets you launch controlled experiments to test everything from creative, recommendations, messaging, and UI changes. There are a few different types of tests you can run with Monetate, including:
A/B testing:

these are used to determine the better of two content, product, or UI variations.

Multivariate testing:

these are used to test more than two components of a website.

Dynamic tests:

these allow you to test multiple features, monitor results in real time, and then automatically allocate more traffic to the winners.
One of the unique aspects of the Monetate platform is that you can combine your own customer data with third-party data from their personalization exchange. The personalization exchange is meant to help solve the "cold start" problem faced by consumer retailers who don't have existing customer data for the software to model off of.
By supplementing your customer profiles with third-party data from such as behavioral, attribute, and location, Monetate's user data from external sales channels can help fill the gaps in your own data to enable the full use of the platform.
In addition to the data exchange, the platform also has an open architecture that allows for data integrations and APIs to feed data into the decision engine from your existing analytics systems.
Another one of the main use cases of Monetate is for personalized product recommendations (Certona also has this capability). You can either choose to manually curate product recommendations, or you can use their algorithmically driven recommendations if you have a larger product catalog.
Monetate makes product recommendations by factoring contextual attributes about the shopper. For example, in the screenshot below you can see several examples of customer attributes like the Lifetime Purchases and Most Frequently Bought Category: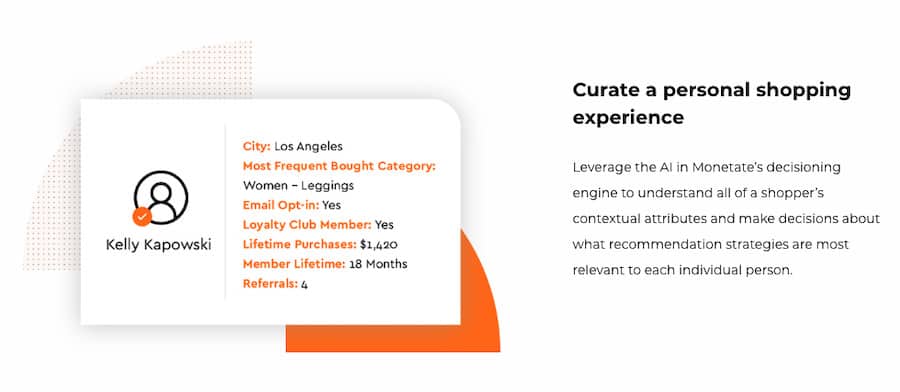 In addition to customer attributes, recommendations can be made based on things like the weather, ratings, inventory status, audience segmentation, or almost any other attribute you deem appropriate.
If you want to read an example of a company using Monetate for product recommendations, check out this case study of Helly Hansen using their geotargeting capabilities to deliver customized experiences based on the local weather conditions.
Certona: Use Cases & Unique Features
Similarly to Monetate, Certona allows you to personalize product discovery by rearranging your catalog to feature the most relevant and complementary products at the top of the page.
One of the unique features of Certona in terms of product discovery is that you can engage customers with interactive content to help expose relevant products and build customer profiles (what Certona calls "exceptional content experiences").
For example, in the screenshot below you can see a popup designed to help with audience building. It prompts the user to answer a questionnaire to help them find the right product:
Another unique feature of Certona is its predictive search engine, which populates recommended products based on a customer's search term and buyer intent. As you can see in the screenshot below, the search bar becomes a visual recommendation engine:
In addition to personalizing the customer experience of your website, Certona offers personalization capabilities that can be applied to the following use cases:
Brick-and-mortar shopping:

allows you to connect online and offline customer data.

Contact centers:

lets you automate manual merchandising processes to help your representatives recommend relevant upsells and cross-sells.

Email:

allows you to send dynamic email campaigns that are tailored to each customer.
If you want to read an example of a company using Certona, check out this case study of PUMA, which used the platform for real-time behavioral profiling and personalized product recommendations for their large catalog without increasing labor costs.
Monetate vs. Certona: Pros & Cons of Each Personalization Engine
Since Monetate and Certona are the top two leaders in the personalization software market, they've also been extensively reviewed by consumers, so let's look at a few of the commonly mentioned pros and cons of each platform.
Monetate: Pros and Cons
One of the main advantages of Monetate that many consumers highlight is its ease-of-use. Like any other software platform, there is a learning curve and more complicated tests do require a bit of web development, but many say that their WYSIWYG interface can easily be taught to entry-level marketers.
One of the limitations of Monetate that several consumers mention is their lack of training videos, and the fact that the platform is not built for running more complex tests that require extensive web development.
Pros of Monetate:
More of a self-serve user interface: you can test virtually anything with relative ease including A/B tests, multivariate tests, and dynamic tests.

Ease-of-use for building and deploying experiments in your website or marketing campaigns with an intuitive WYSIWYG interface.
Cons of Monetate:
Several consumer reviews mention that the interface is relatively simple to use once you get the hang of it, but there is still a learning curve and a lack of training videos in the documentation to help you become a power user.

The platform is not built for running more complex tests that require extensive web development.

Pricing is not transparent.
Certona: Pros and Cons
Although users have reported in reviews that Certona is a bit harder of a platform to learn how to use, it excels in its scalability and integration capabilities compared to Monetate. If your company offers a wide breadth of products and services and you want to personalize a large amount of the customer experience, Certona may be well-suited for you.
Rather than a hands-on platform that someone on your team works on, Certona is all about their account management. They will work with your team to optimize your personalization efforts. So if you're looking for more of a hands-off, managed solution, Certona might be right for you.
One of the limitations of Certona is that while you can run A/B and multivariate tests, their Smart Test & Analytics platform does require you to go in and identify the winning test that you want to promote.
This is contrasted to Monetate's dynamic testing capabilities, which identifies and takes action on winners without the need for human intervention (even if it may just be a few clicks). While they have complementary features, given the enterprise-level pricing, many businesses will likely not opt for a combination of Certona and Monetate.
Pros of Certona
Well-suited for companies with a wide breadth of products and services that want the ability to run more complex tests.

As highlighted on

TrustRadius

, their visual search has a strong return and improves the discovery process for customers.

The strength of their personalization algorithms — they currently hold 13 patents for AI-driven algorithms.

Many consumers say the account management is very helpful if you're looking for more of a managed solution.
Cons of Certona
As mentioned

on Gartner

, ease of deployment is a bit lower with Certona compared to Monetate (you will likely rely on Certona's account management, while Monetate might allow you to have

more

of a hand in things).

As with Monetate, pricing is not apparent on the site and may likely be tailored to your store and use cases.
Criteria for Choosing Between Monetate and Certona
Of course, we're all going to have specific business needs for choosing a personalization platform, but we've broken down the process into 6 main criteria to think about when choosing between Monentate and Certona. These include:
Platform Ease of Use
Monetate may be right for you if you want a simple interface that you can teach less-technical marketers how to use. Certona may be right for you if ease of use is not your top priority and instead want to be able to build more complex experiences with web development.
Self-Serve Platform vs. Managed Solution
Since Monetate has a more user-friendly UI, it can more of a self-serve platform where you can be involved in setting up and testing different experiences. Certona, on the other hand, is a bit harder of a platform to learn how to use, but they are known for having excellent account management if you're looking for more of a hands-off, managed solution.
Use Case: Personalization vs. Testing & Optimization
While Monetate is still a personalization engine, it's best known for its testing and optimization capabilities. Certona is less of a testing platform and more of an end-to-end personalization platform.
Size of Your Product Catalog
Both Monetate and Certona can certainly handle large catalog sizes (for example, auto parts and accessories).
They are also helpful for handling updates to dynamic catalogs that merchandisers are often changing from season to season (for example: fashion), and the account managers on the Monetate or Certona team can take care of this big regular task that your internal team might not have the bandwidth for.
Unique Platform Features
Both platforms have similar features like product recommendations, but there are several unique features of each platform that may be of interest to you. Namely, Certona's predictive visual search engine and Monetate's third party data exchange. If you already have and store data prepared well for personalization, you can plug in to Certona much easier — with less of a technical headache. If you are missing that data, Monetate can step in with their data exchange to fill in the gaps.
Price
Price is, of course, another consideration for all businesses and some users report that Certona is priced slightly higher since it is more of a managed solution. However, neither company is transparent on price and they likely adjust pricing to individual clients depending on the business and use cases of the tools.
Summary: Monetate vs. Certona
There's no question that one of the most powerful technologies in eCommerce right now is personalization in the customer journey. Personalization is more than just product recommendations; rather, it should be thought of as a steady delivery of unique experiences starting from the very first touchpoint to the end of the buyer's journey.
Both Monetate and Certona can be complements as part of a larger commerce platform to enable personalization. That said, businesses will likely choose one platform over the other depending on the use case and how hands-on or hands-off they want to be rather than opting for both platforms.
Note: If you have a solid JavaScript developer, you will probably be able to do some of the personalization that these platforms offer yourself. If you just have a one-off use case, or a small product catalog that doesn't require large updates to enable personalization, this might be the more cost-effective way to go.
That said, if you're in a business that is constantly changing, (for example if you're in an industry like fast fashion) you may feel like you need to hire someone full-time just to handle all the product recommendations. In that case, the price paid for AI assistants like the addition of Monetate or Certona might make sense to enhance revenue and customer lifetime value — especially compared to hiring a full-timer to handle that on your own team.
As Meyer Sheik, the former CEO of Certona said in a Q&A, one of the main challenges that retailers and brands face when it comes to personalization is that they lack the technology infrastructure and internal resources to stand something like this up on their own.
One of the key takeaways that we learned from speaking to eCommerce business owners about their experience with personalization engines is that whichever platform you go with, there is still going to be a good amount of technical training needed to get everything up and running. So make sure someone from your team gets a technical onboarding from the personalization platform's team to be safe.
If you do decide to go with one of these personalization engines and want to get everything set up correctly, that's where Inflow can help. We've helped leading eCommerce companies implement personalization into their businesses to help drive more purchases and revenue from their customers.
If you're looking for a team to help you personalize your customer experience to help increase conversions, schedule a call with us here.