The era of Google's Performance Max is officially upon us. With it comes a strategy adjustment for any eCommerce brand that's previously relied on pay-per-click advertising to sell its products.
We've talked at length about why this new Google Ads automation will change how companies do their business — but today, we'll show you the power behind the program by telling you how PMax has completely transformed the PPC landscape for one of our most successful eCommerce clients: KEH Camera.
Keep reading to learn how we helped KEH transition from manual to automated ad campaigns for stellar results, including a 76.3% increase in revenue for their paid advertising efforts.
Find out what Performance Max can do for your eCommerce business by contacting our PPC team today.
Client Background
KEH Camera is an online retailer that sells secondhand professional, collectible, and everyday camera gear. The brand is also a long-term Inflow client.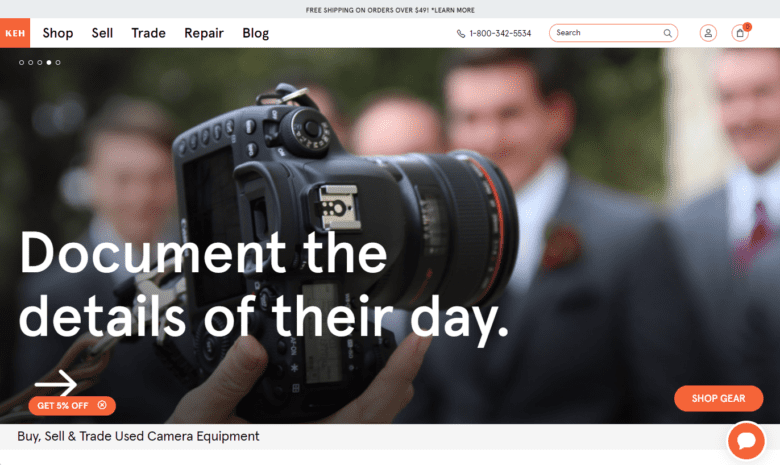 We've been partnering on paid search advertising strategies since before COVID, helping to drive results like a 413% increase in ad revenue, year over year.
Throughout 2022, KEH's paid search campaigns consistently brought about half of the business's entire revenue, with their Shopping campaigns leading the way and delivering the highest return on ad spend (ROAS) of all campaign types (minus branded).
For most of that time, we operated with an "If it's not broken, don't fix it" mindset, making small adjustments to maintain the high performance we were used to.
But, with the sunsetting of Smart Shopping in September 2022, that approach had to change — and fast.
The Challenge: In Comes Performance Max
Digital marketers had seen the signs for months. Automation was Google's new priority, and new campaign types made it clear to anyone working within the advertising platform.
So, when Google announced the gradual transition of Smart Shopping campaigns to new Performance Max campaigns in the summer of 2022, it didn't come as a shock to our team.
Performance Max offered many advantages, namely the ability to serve product listing ads (PLAs) across not only Google Search but also the entire Google Display Network, including YouTube, Gmail, Display, and more.
The challenge: We wouldn't know exactly where those ad formats were being served — and whether those placements would be guaranteed to hit the revenue- and transaction-focused goals KEH had.
Fortunately, here at Inflow, we'd been testing Google's automation for a while, giving us the foundation to make smart strategy adjustments on behalf of our client.
The Approach: A Gradual Transition
Google's announcement may have fooled other digital agencies into switching over from Smart Shopping to Performance Max on a dime — but, to protect our client's valuable ad spend and revenue, our team took a more measured approach.
We knew that KEH's PMax campaigns would likely perform well, due to the high volume of traffic our previous campaigns were driving and the large ad budget we were using. This, in turn, would give Google plenty of signals from which to optimize campaigns and, ideally, deliver acceptable results.
That said, we knew that not all of our Smart Shopping campaigns would transfer over to PMax on a one-to-one basis.
So, here's what we did:
Step 1: Paused Existing Smart Shopping Campaigns.
Before we could even consider transitioning our Shopping campaigns to Performance Max, we needed to give them the tools to succeed — in this case, the assets that PMax needed to perform well.
The information held in our existing Smart Shopping campaigns could only fill so many of the asset needs of Performance Max. If we had allowed Google to automatically generate PMax campaigns from these, the results certainly would have been disappointing.
To prevent that from happening, we paused all automatically generated PMax campaigns and re-enabled our traditional Shopping campaigns using automated bidding strategies.
Step 2: Consolidated Existing Shopping Campaigns.
KEH had a plethora of Smart Shopping campaigns (70+ to be exact!), all of which served particular target audience demographics and marketing objectives.
But, to ensure positive performance from Performance Max, we needed to consolidate those campaigns — so we could send as much data as possible into each new PMax campaign.
We evaluated our existing Smart Shopping campaigns, consolidating similar ones into a single campaign. That way, we'd be able to easily feed that data and campaign into PMax with little hassle.
Note: In manual campaign structures, we've always advocated for a tiered campaign structure. But, because Performance Max doesn't allow for negative keywords, there was no point in using multiple tiers in these automated bidding campaigns — another reason you can't simply "switch over" to PMax without testing.
Step 3: Prioritized Best Performers.
For our initial PMax testing, we started with our best-performing campaigns. These would have the best chance of success on the new platform, reducing the chances of any significant impacts on our previous performance record or our client's bottom-line revenue.
At the same time, we continued to run specific Smart Shopping campaigns. This way, we could continue gathering the valuable data needed to transition those into PMax later on (which, given Google's announcement, we knew would happen eventually).
Step 4: Tested & Optimized.
As we expected, not all of our initial Performance Max campaigns were home runs. Despite the promise of machine learning, expert human optimization was still needed to rein in low-performing campaigns and make adjustments to turn them around.
For example, several Shopping campaigns that we tested in Performance Max didn't perform as well as they had under our team's previous (manual) oversight. By adjusting the target bidding strategy (in this case, using Maximize Conversion Value both with and without a Target ROAS setting in place), we reversed that trend — and, where necessary, turned off certain PMax campaigns until we could gather more data.
On the other hand, several campaigns excelled beyond our expectations, too.
As a test, we ran several short-term (7–14 day) sale campaigns in Performance Max. We expected poor results, given that PMax is all about gathering data over time — but, to our surprise, the campaigns delivered great results, including:
A New Year's campaign that accounted for 16.1% of all Performance Max revenue in the month of January at a 12.1x ROAS.
An "overstock" sale that produced a 10x ROAS in a short period of time.
Our hypothesis: KEH Camera already had so much campaign data, traffic, and budget that it expedited the learning curve for those smaller, shorter sales campaigns.
We also discovered that Google was true to its word in saying it would prioritize PMax above all else. When we originally kept similar Standard Shopping campaigns running at the same time as their PMax counterpart, the PMax campaign quickly started to cannibalize the Shopping one, forcing our team to move more budget to the higher-performing, automated campaign.
Step 5: Increased Our PMax Footprint.
After dipping our toes in Performance Max late last year, we began to slowly transition the majority of KEH's paid ad campaigns to PMax, keeping an eye on results and optimizing as needed.
Starting by allocating 0.03% of ad spend to PMax in August 2022 (and receiving 0% of revenue back), we gradually scaled our investment in this campaign type — jumping up to 36.5% ad spend/42% of revenue in November 2022 and all the way up to 56% ad spend/54% of revenue in January 2023.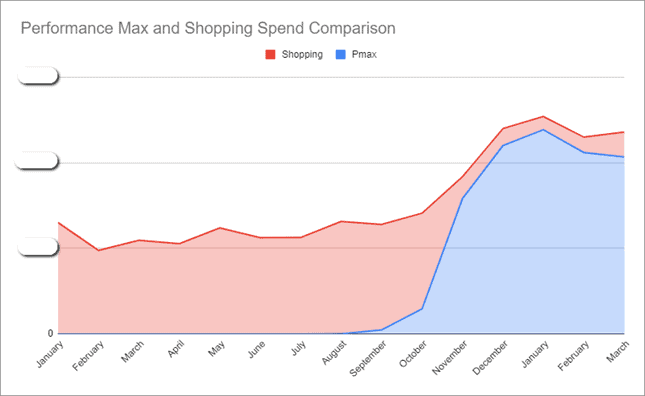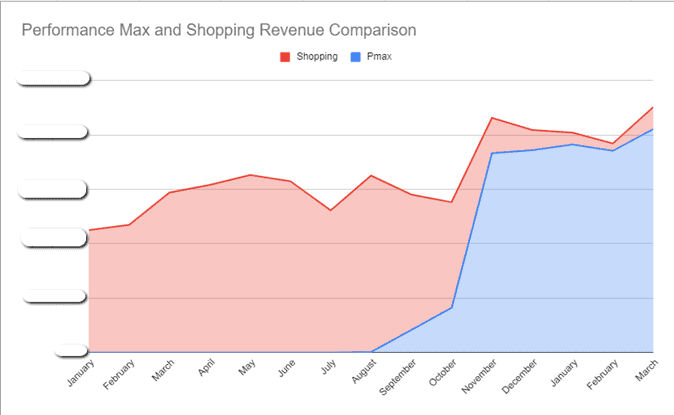 And, as we'll detail below, the results followed suit.
The Results
Any transition to Performance Max without a significant revenue drop should be considered a success. But, for KEH Camera, PMax has actually outperformed its Standard Shopping campaigns by a mile — and is the key reason our team continues to hit revenue targets month after month in 2023.
In comparing the first quarter of 2022 (Standard Shopping) to the first quarter of 2023 (PMax), KEH was able to achieve:
76.3% increase in ad revenue
44.1% increase in transactions
And, in the last six months alone, our Performance Max campaigns have delivered a 9.93x average monthly ROAS.
For eCommerce brands like KEH with aggressive goals (and the ad spend budget to back it up), properly strategized Google Performance Max campaigns can be the perfect solution for scaling business growth, online sales, and overall revenue.
In fact, thanks to PMax, KEH has been able to increase its revenue targets for the rest of 2023 by a seven-figure number — with an actually realistic strategy to get there!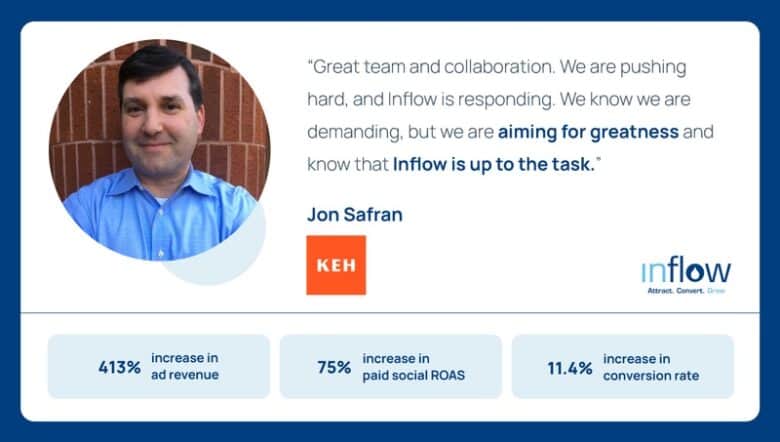 If you want to see the same scalable growth with your online business, our digital advertising team is happy to help.
Request a free proposal today to learn how Inflow can help you transition your ad campaigns into successful Performance Max marketing strategies that help you reach your business goals, month after month.