Tomoson.com is a service to find bloggers who are interested in doing product reviews or where bloggers can find products that they would like to review. It's currently in beta and free, but once out of beta, I expect that there will probably be some type of paid account required.
Setting Up a Campaign
You start by creating an ad, or a "promotion" with information about your product and who you want to apply to review it. You can choose to manually approve or auto-approve bloggers and set a start and end date for bloggers to apply, how many bloggers you want to give products to and you can also set a quality minimum based on Twitter followers, Facebook friends and Alexa rank. You can offer to do a contest as well.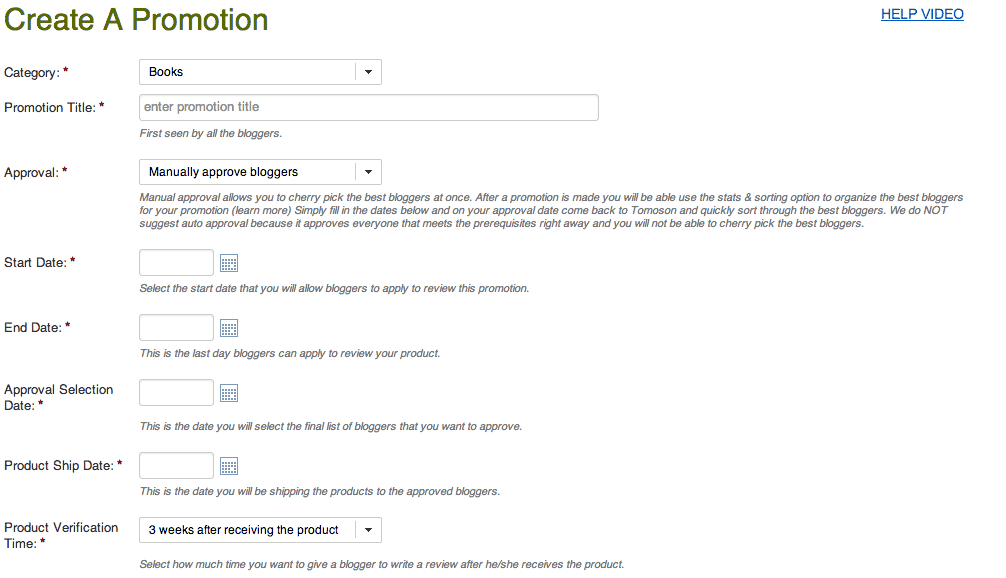 They have a drop-down menu to set a product verification time, but the only option is 3 weeks. I really don't like the 3 week deadline they give bloggers. I feel like the deadline forces the bloggers to rush and put out lower quality reviews. I wouldn't mind waiting longer for bloggers to fully use a product and write a review as it fits their schedule.
Blog Quality
Tomoson lets anyone with a blog join their service, so the quality of the blogs are what you'd expect. There are a lot of low-quality product reviewer and mommy blogs – the kinds of sites created for the sole purpose of getting free products instead of benefiting the readers.
There are also a ton of blogspot.com throwaway blogs. I'm not saying all Blogspot blogs are throwaway blogs. There are many great blogs on Blogspot. I'm just saying that people create low-quality websites on Blogspot (or Wordpress, Weebly, etc.) and use them to get free products through Tomoson. Google has actually targeted these free open platforms for penalizations in their algorithm updates due to the amount of low-quality blogs living in these systems, even their own Blogspot platform.
Since anyone can apply to Tomoson, it's really up to you to choose who gets to review your products. You aren't forced to give your product away to crappy websites.
Customer Service
I had some hiccups with my campaign because my client had told me that they sent out products, but it turned out that they actually hadn't sent any to a whole batch of bloggers. Since I marked the product as shipped in Tomoson, those bloggers were then on a 3 week deadline, but they never got their product, so they were receiving warning messages from Tomoson about getting their reviews online, but they had no product to review.
If bloggers post a review late, it affects their ratings in Tomoson, so I started getting a lot of angry emails. I contacted support and explained the problem and they were able to remove the ship date for all of my bloggers so that they wouldn't receive any more messages or penalties. That was a huge relief to me and all of the reviewers. Customer support was very helpful, courteous and fast.
Quality of Reviews
Most of the reviews were pretty short, which I think was due to the short 3-week time limit. They were all also very approving of the product. I should be happy with that, but I really wanted honest reviews with at least some criticism or suggestions of how the product could be better. I would have felt like it was more truthful that way. I'm sure our client doesn't mind all the praise though.
The Ratings System
Once a review is complete and online, it's the promoters turn to write a review and give a rating to the reviewer. This is a good idea in theory, except for the fact that the rating and review is visible by the product reviewer and everyone who visits their profile. This makes it extremely difficult to provide an honest rating because it gives the blogger an opportunity to edit their product reviews if they receive a poor rating from the company who gave them the product.
I think this rating system scares businesses away from giving honest ratings. If you look at any of the blogger profiles, you'll see what I mean. Just about everyone has a whole profile full of 5-star ratings, but if you read the reviews on their sites, you'll see that many are not deserving of 5 stars.
Before realizing this, I was trying to be fair about giving ratings and then I had one blogger contact me asking why I only gave her a 4-star rating. I definitely did not feel safe rating the reviewers after that.
The rating system needs to be removed or should be modified in some way. For example, it could be used for internal use only. Only in rare cases should a blogger show up as a 5-star reviewer, just like what you'd expect with any type of rating system.
Final Thoughts
After getting a better sense of how the whole system works, in the future I will definitely place stricter quality guidelines during the initial campaign setup and I will probably limit my promotions to only 5-10 bloggers at a time.
Tomoson is in beta, so the system is a little buggy and it could use a little more functionality, for example better sorting and filtering options, but it's actually a pretty useful service and it's not too difficult to use. I would definitely recommend giving it a try, but I highly suggest testing it with a very small campaign at first.