Editor's note: This article was originally published in 2018. It has been updated for accuracy and to reflect modern practices.
Product reviews raise conversions and boost SEO rankings — and they're a must-have for every eCommerce site.
Consider these stats from Bazaarvoice:
62% of shoppers say they are more likely to buy a product if they can view customer videos and photos.

66% of shoppers say photos from previous shoppers impact their decision-making process.

75% of shoppers prefer seeing

customers'

photos and videos on online stores over professional imagery.
Bottom line: If you're not using eCommerce product reviews on your site, your revenue is suffering.
In today's blog, we'll help you choose between the product review platforms out there to find the best one for your business, by explaining:
Which features your product review software must have

How the best customer review platforms compare

And how to start gathering flattering and detailed reviews from your customers
The Hidden Benefit of eCommerce Product Reviews
Obviously, well-written and positive user reviews will directly impact your site conversions. Even negative reviews can be helpful; research shows that 82% of customers seek out negative reviews and that a shopper is more likely to purchase a product when it has negative reviews.
But that isn't their only benefit.
This user-generated content (UGC) can also naturally expand your site's organic keyword footprint, benefitting your SEO marketing efforts. No keyword-stuffing is necessary when your customers naturally use the most relevant words and phrases for your audience.
Check out this example from an Amazon review for an espresso machine, featuring important words like "coffee," "espresso machine," and "perfect espresso":

The more reviews you have for each product, the more opportunities you have for these key phrases to pop up.
Top Product Review Platforms: 2022
With countless platforms to choose from, selecting one can be overwhelming.
For this guide, we'll focus on some of the top review platforms out there, based on number of users (according to BuiltWith.com):
Number of Active Users (2022):
Trustpilot: 2,451,386
Loox: 155,035
Yotpo: 65,569
Shopper Approved: 8,696
BazaarVoice: 8,082
Verified Reviews: 7,561
Feefo: 6,692
Kudobuzz: 5,366
PowerReviews: 3,976
TurnTo: 2,133
Note: This is not a complete list of popular platforms, and figures are subject to change over time.
However, rather than provide an in-depth review of every software solution (pun intended), we'll instead focus on a few key features that these options do (or don't) have. That way, you can better understand which of them your brand needs — and be able to make the best decision for you.
Here's a breakdown of these top review platforms based on some of those features: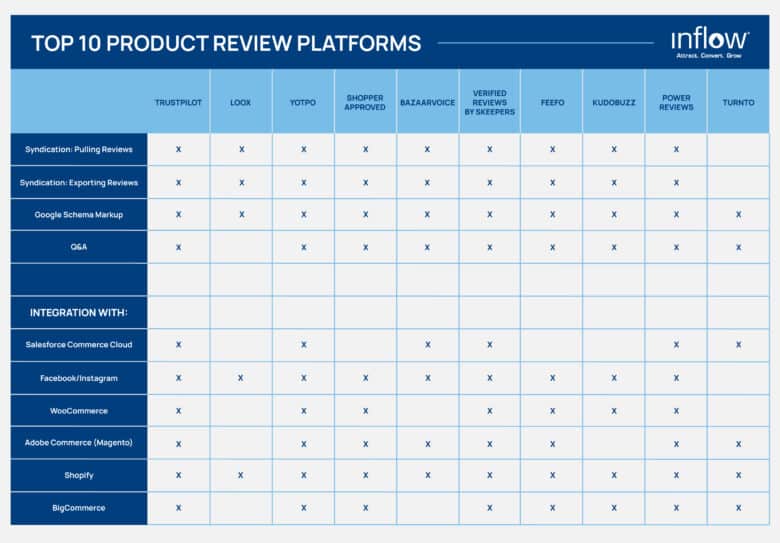 What About Native Tools from eCommerce Platforms?
Many eCommerce platforms, like Magento and BigCommerce, offer their own native product review software. However, in most cases, we'd recommend against using these options.
While the review feature itself may seem to fit your needs in the present, as your business grows, you may outgrow the native app. More importantly, these native apps don't have the robust feature sets and capabilities of the specialized review platforms mentioned above. Instead, they're more like an eCommerce Swiss Army knife, whereas the more advanced and customizable tools can yield better results for your business.
To avoid the headache of migrating online reviews when you eventually outgrow a native tool, we recommend beginning with a platform that is more scalable.
Features to Look for In Your Product Review Software
When choosing a review management platform, it's important to know which features will work best with your audience.
Review software contains many more useful features than just rating products. From curating social content from your customers to turning customer feedback into actionable product insights, you can do more with a robust platform.
In this section, we've listed a few key features that we recommend for all retailers and brands searching for a new product review platform.
1. Schema Markup & Connection to Google Merchant Center
Being able to expose your reviews and star ratings to Google is an absolute priority for all eCommerce sites.
Google uses these reviews on organic and text-based paid ad listings, as well as product listing ads (PLAs).
When these reviews appear in the search engine page results (SERPs), they give you a few advantages. They boost your site authority and transparency around your products, and they enhance click-through rates.
And, if you're a brand that sells products elsewhere, these reviews will appear for any site that's enabled them — improving your brand awareness.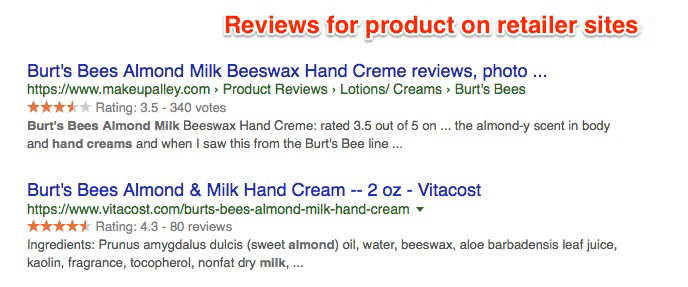 When you use this product schema markup, it will automatically be picked up by Googlebot for use in organic listings.
PLAs and paid ads, however, don't rely on this schema markup. Instead, they use a feed that connects to your Google Merchant Center.
Many of the best customer review platforms are considered third-party review aggregators and have a direct feed to Google. Otherwise, you can upload your product review feed to your Google Merchant Center.
To learn more about how reviews show up in Google, watch Trustpilot's recorded webinar.
2. Other Integrations & APIs
Additional integrations can be invaluable in your product review software. These can allow you to connect to and pull data from:
eCommerce platforms, like Magento, Shopify, and BigCommerce
Social media platforms, like Facebook, Instagram, and Pinterest
Sales and CRM platforms, like Hubspot and Salesforce Commerce Cloud
Other review sites, like external retailers and platforms you've previously used
3. Questions and Answers
"Real-time" product question and answer sections are incredibly popular on mid-size and larger eCommerce sites. It can be a powerful feature that makes your customers feel heard — as long as answers are timely.

Some Q&A tools allow site owners and other consumers to answer questions. This is extremely helpful; if your team can't find an answer or provide one as quickly as you'd like, questions can still be answered by other customers in the meantime.
Remember: If you implement a Q&A section to your site, have a system in place to efficiently answer customer questions. If more than a few hours go by, the opportunity to make a sale gets weaker and weaker.
4. Image and Video Reviews
Today, your customer reviews can't just be words. They need to also include images and videos from other buyers.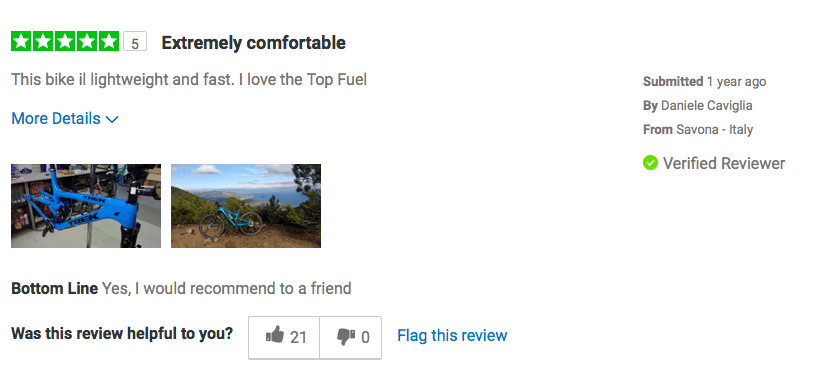 Customers today have come to expect user-generated content on product pages. In fact, 72% of consumers say real customer photos and videos are the content they most want to see when making purchasing decisions, and 80% say they'd be more likely to purchase a product if the website had photos and videos from real customers.
Even more important: 58% of consumers have left an eCommerce store without purchasing because the site didn't contain any customer reviews or photos.
Fortunately, these photos and videos are an automatic feature for all of the top review platforms today.
5. Consumer Curated Content
Some specialized platforms take their multimedia capabilities further than simply adding images and videos to product reviews.
Yotpo, for instance, enables businesses to curate their customer content (from reviews and Instagram), secure rights to the photos, and then use them across the site and in social media ads.

We recommend looking for this feature in your product review software, especially if you sell visually appealing products that take on a life of their own on Instagram. It's a great way to build your brand's social proof.
Tips for Getting Started
Once you've chosen a product review platform (revisit our list and matrix if you need help), you now need an implementation strategy. 
Below, we'll discuss some of the best practices and features we often test with our eCommerce clients.
If you're looking to implement a product review strategy for your site, we can customize and optimize our approach for the best customer experience.
How to Collect Reviews
1. Make sure customers are verified purchasers.
Reviews from folks who haven't actually purchased a product can damage the reputation of all of the reviews on your site — and potentially the reputation of your site in general.
Non-buyers can leave reviews for any number of reasons. They might simply want to have their opinion out there, or competitors can take advantage by leaving negative feedback to make their products look better.
Don't use a generic "leave a review" option on your product pages, as this opens up space for unverified reviews. Instead, create a new review generation process that involves requesting responses through email marketing or requiring customers to sign in to an account.
2. Make sure the product was delivered before requesting the review.
If your site asks a buyer to review a product before they actually receive it, you'll only serve to annoy the customer and make it even less likely they'll review later on.
Many review management tools can be integrated with your delivery system. That way, the request for a review won't be sent until after the system reads "delivered."
We usually recommend sending a request for review a week after product delivery.
3. Incentivize leaving reviews with a coupon.
Offering a discount in exchange for a review nurtures customer retention and loyalty while also providing content for other customers.
It's a win-win — increasing the likelihood that you'll receive a review and incentivizing your customer to buy again.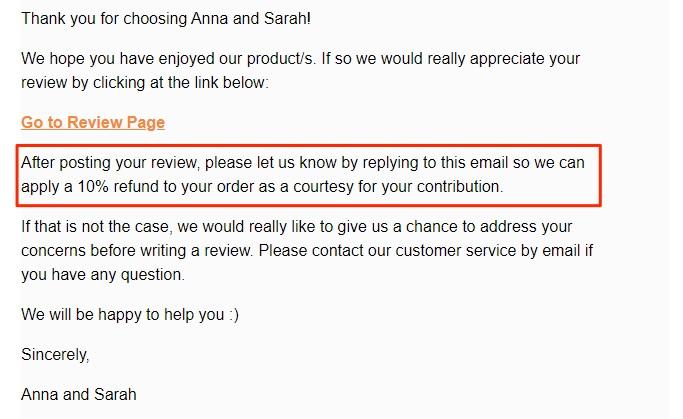 How to Display Reviews
1. Don't display ratings or reviews until you've reached "critical mass."
Empty review sections can damage your reputation and conversion rate. If you have many products that have one to three reviews and then other product pages with no reviews at all, it can look as if people are not buying from you. This can be read as a distrust factor for your site or brand. Don't display reviews at all until the majority of your products have multiple reviews.
2. Show ratings above the fold.
We recommend showing a product's rating above the fold (usually near the product name) and linking to the actual reviews lower on the page.
If most of your products have a high ratings, place them near the price of the product, too, which can aid conversions.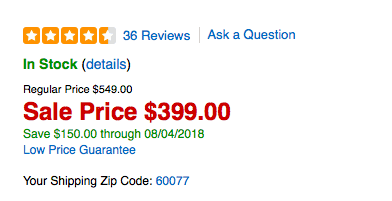 3. Allow sorting by star rating.
Once you have enough positively reviewed products, you're ready to start using them to your advantage.
Start by allowing sorting by star rating, a feature customers have come to expect in eCommerce product page design. It saves their time and will help build your site's trust and loyalty.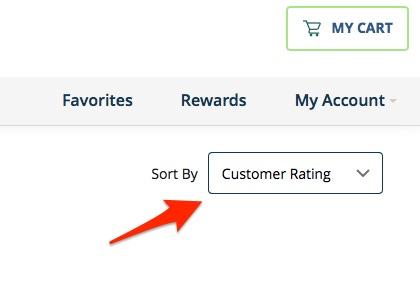 4. Test displaying star ratings on gallery pages.
While it can sometimes aid in conversions, you'll need to test whether displaying the star ratings on your gallery pages works for your site.
If you have the volume to filter products on gallery pages by reviews (as well as many positive reviews for most of your products), this is a great conversion optimization feature to test.
When a customer clicks on the product's stars on the gallery page, they should be taken to the product page, where the reviews actually live.
As we'll discuss below, reviews themselves should only be found in one place — ideally the product page, not the category page.
5. Configure your Google schema markup and connect to your Google Merchant Center.
Google schema markup ensures your product data is visible to Google for use in organic search listings. If this is an option for your platform, make sure it's configured correctly (each platform manages this markup differently).
Most major eCommerce platforms are set to handle schema markup automatically, but you'll also want to authorize the platform to upload data to your Google Merchant Center.
Need Help Finding the Right Product Review Platform?
Product reviews are non-negotiables for the modern eCommerce business. But, with so many options and implementation strategies out there, finding the right platform (and maximizing its efficiency) can take a great deal of time and effort.
Fortunately, Inflow's team is here to help.
Whether you want guidance on selecting the right product review software or are looking for a personalized approach to increase sales with reviews, our conversion optimization team can make it happen.
Contact us today to request a free site audit and personalized strategy for your online business.