Product reviews raise conversions and boost SEO rankings. They're a must-have for every eCommerce site.
BazaarVoice found that site visitors who interact with both reviews and customer Q&A are 105% more likely to purchase. Another product review provider, Reevoo, found their customers boost conversions by 2.7x on average.
eCommerce product reviews directly impact conversions, but this isn't their only benefit. User-generated content can naturally expand your site's organic keyword footprint as well.

Even negative reviews can be helpful. Reevoo's research found that 68% of people trust reviews more when they see both good and bad scores. In addition, the conversion rate is 85% higher for people who seek out negative reviews.
It should be clear that you need product reviews on your site. But who should provide them? There's no shortage of tools to choose from.
When choosing a review platform, it's important to know which features will work best with your audience. What follows are the features we recommend for retailers and brands—plus an implementation strategy for adding reviews (and other crowdsourcing features) to your site.
Note: Want help selecting the right platform for your business? We've worked with dozens of eCommerce companies to strategically integrate product reviews into their site. Contact us here.
Choosing a Platform for eCommerce Product Reviews
To start with, here are some of the top-performing product review tools and the number of live websites with the tool installed, according to builtwith.com:
Number of Active Users
Yotpo: 77,377
BazaarVoice: 30,013
Feefo: 14,347
PowerReviews: 7,880
Reevoo: 4,294
TurnTo: 3,209
TestFreaks: 386
Next we'll dive into some of the things you should consider when choosing between them.
We Don't Recommend Native Tools from Platforms Like BigCommerce
We recommend avoiding the use of native review platforms inside hosted and other out-of-the-box eCommerce tools like Magento and BigCommerce. While the review feature itself may seem to fit your needs in the present, as your business grows, you may outgrow the native app. More importantly, these native apps don't have the robust feature sets and capabilities of specialized review platforms.
You can avoid the headache of migrating reviews when you outgrow the functionality of the native tool by beginning with a platform that is more scalable. In addition, specialized review platforms (compared to a Swiss-Army-knife eCommerce tool) generally yield better results with your review program overall.
1 Necessary and 5 Nice-to-Have Features
Review software contains many more useful features than just rating products. From curating social content from your customers to turning customer feedback into actionable product insights, you can do more with a robust platform.
Already know what you're looking for? Skip to a matrix of product review platforms and their features.
Necessary Feature: Schema Markup and Connection to Google Merchant Center
Being able to expose your reviews and star ratings to Google is an absolute priority for all eCommerce sites. Google uses reviews on organic and text-based paid ad listings, as well as product listing ads (PLAs).
Brands: You'll want reviews available to boost your site authority and the transparency around your products.
Retailers: It's important for the reviews from your site to show up in search results to enhance click through rate.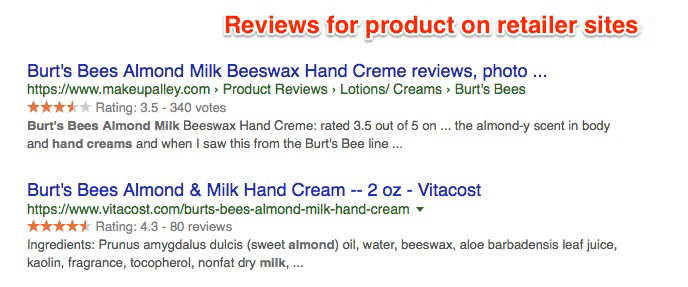 The schema markup is automatically picked up by Googlebot for use in organic listings.
PLAs and paid ads, however, don't rely on the schema markup. Instead, they use a feed that connects to your Google merchant center. Many of the platforms we address below are considered third-party reviews aggregators and have a direct feed to Google. Otherwise, you can upload your product review feed to your Google merchant center.
To learn more about how reviews show up in Google, we recommend Trustpilot's recorded webinar.
Nice-to-Have Feature: Other Integrations and APIs
Other integrations can be invaluable, from ecommerce platforms like Magento, Shopify, and BigCommerce, as well as social media platforms: Facebook, Instagram and Pinterest for consumer products, or Hubspot and Salesforce Commerce Cloud for B2B businesses. Yotpo has a robust set of integrations that includes all of the above and many more.
Nice-to-Have Feature: Questions and Answers
We're starting to see more product question and answer sections in mid-size and larger sites. It's a powerful feature, as long as the answers are timely.
Some Q&A tools allow site owners and other consumers to answer questions. This can be useful because having answers doesn't depend solely on crowdsourcing and also ensures that questions are answered in a timely manner. If more than a few hours go by, the opportunity to make a sale gets weaker and weaker.

Nice-to-Have Feature: Image and Video Reviews
Consumers are looking for more from product reviews, such as images and videos from other buyers.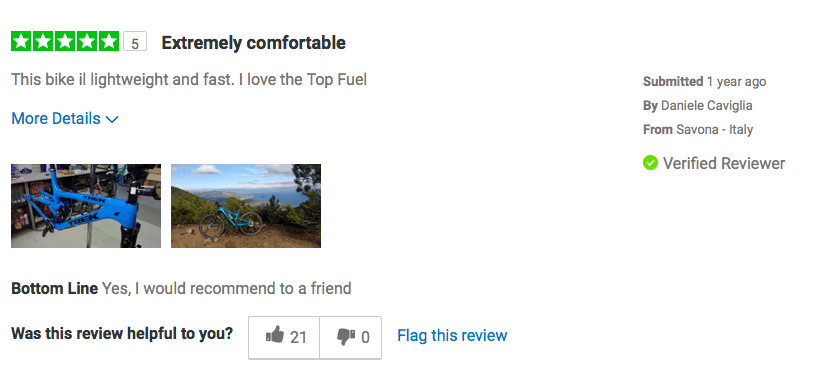 Nice-to-Have Feature: Consumer Curated Content
Some specialized platforms are taking their multimedia capabilities further than simply adding images and videos to product reviews. Yotpo, for instance, enables businesses to curate their customers' photos (from reviews and Instagram), secure rights to the photos, and then use them across the site and in social media ads.

Nice-to-Have Feature: Separate Website Review Sections
When you have a lot of reviews, it can be useful to have a separate section of your site dedicated to reviews.
K9 Sports Sack uses a separate review section of their site to highlight the amount of good reviews they have around their products and to build their brand. This is also another example of utilizing image reviews to visually show customers using a brand's products.
While we don't always recommend creating a specific review section, in some cases, this can be a smart SEO tactic, because a review section can rank for product review searches.
A Comparison of the Top 7 Product Review Platforms
To summarize everything we've covered so far, here is a breakdown of the features offered by the top seven product review software platforms.
Note: Wondering which features are most important for your business? Let's talk. Contact us here.
How to Get Started
If you've chosen a product review solution, you now need an implementation strategy. Here are some of the practices we use to implement reviews on our client's sites.
How to Collect Reviews
1. Make sure they are verified purchasers.
Reviews from folks who haven't actually purchased the product can damage the reputation of all of the reviews on your site — and potentially the reputation of your site in general. Non-buyers can leave reviews for any number of reasons. They might simply want to have their opinion out there. Or competitors can leave negative feedback to make their products look better. Don't use a generic "leave a review" option on the product page. Having a generic review CTA on product pages is how you collect reviews from non-verified purchasers.
2. Make sure the product was delivered before requesting the review.
A site asking buyers for a review before they actually get the product is just annoying. Some of the tools actually tie into your delivery system so they can tell when the product has been delivered. In this case, a week after delivery is a good timeframe.If you don't have that level of detail, estimate the delivery date as best you can and add a week.
3. Incentivize leaving reviews with a coupon.
Offering a discount in exchange for a review nurtures customer loyalty while also providing content for other customers. It's a win-win.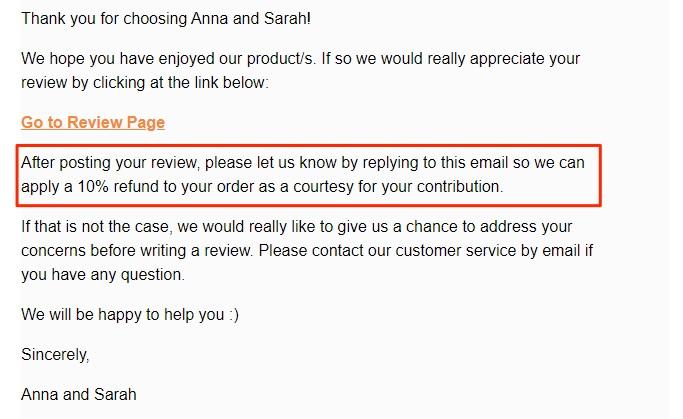 Note: Want help collecting reviews from your customers? We can create and implement a product review strategy uniquely tailored to your site. Contact us here.
How to Display Reviews
1. Don't display ratings or reviews until you've reached "critical mass."
Empty review sections can damage your reputation and conversion rate. If you have many products that have one to three reviews and then other product pages with no reviews at all, it can look as if people are not buying from you. This can be read as a distrust factor for your site or brand. Don't display reviews at all until the majority of your products have multiple reviews.
2. Show ratings above the fold—typically by the product name and price.
Show a product's rating above the fold, usually near the product name, and link to the actual reviews. If many of your products have a high rating, place them near the price of the product as well, which can aid conversions.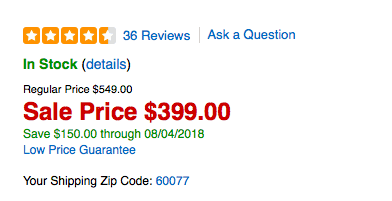 3. Allow sorting by star rating.
Once you have enough products that are reviewed positively, you're ready to start using them to your advantage. Start by allowing sorting by star rating, which is a feature customers have come to expect. It saves their time and will help build site trust and loyalty.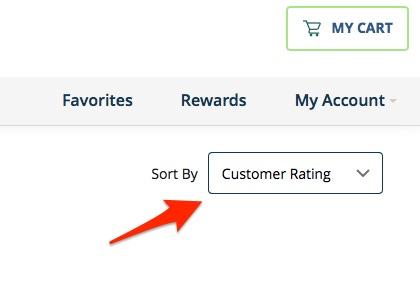 4. Test displaying star ratings on gallery pages.
While it can aid in conversions, you'll need to test whether displaying the star ratings on your gallery pages works on your site. The usefulness of this feature greatly varies from site to site and only makes sense if you have many positive reviews for most of your products.
If you have the volume to filter products on gallery pages by reviews, this is a great feature to test.
When a customer clicks on the stars, it should take them to the product page. As we'll discuss below, the reviews themselves should only be found in one place — ideally the product page, as opposed to the category page.
5. Configure your Google schema markup and connect to your Google merchant center.
Google schema markup ensures your data is visible to Google for use in organic search listings. If this is an option for your platform, make sure it's configured correctly, as each platform manages this markup differently. Most of the big platforms are set to handle schema markup automatically, but you'll also want to authorize the platform to upload data to your Google merchant center. These are some of the best practices and features we often test with our own clients. If you're looking to implement product reviews and other crowdsourcing features, we can optimize the experience for your customers.
Note: Want help selecting the right platform for your business? We've worked with dozens of eCommerce companies to strategically integrate product reviews into their site. Contact us here.