With great products comes great responsibility — including the need to write and optimize descriptions for an ever-growing list of product offerings.
Oftentimes, this endeavor seems so overwhelming that eCommerce marketers have no idea where to start. So, they end up doing nothing.
Just like how ignoring your bills at home won't make them disappear, ignoring the ever-important task of reworking your product copy is not the solution to your website woes. Fortunately, with some forethought and planning, product copywriting can be effective, efficient, and — most importantly — not an unnecessary time-suck.
In this blog, we'll tell you exactly how to scale your eCommerce product copywriting, either manually or with the help of a few choice tools.
Remember: If you want a few experts to do it for you, our team is always happy to help.
How to Scale eCommerce Product Copywriting
Before you dive into your product descriptions, you need to have a plan.
Here's our proven strategy, based on our decades of experience writing product descriptions for eCommerce retailers. Use it to feel less overwhelmed, more in control — and be more likely to attract and convert customers.
Step 1: Prioritize your plan of attack.
Step 2: Prune or no-index low-ranking, low-converting pages.
Step 3: Rewrite thin and/or duplicate content.
Step 4: Decide which types of product descriptions to write.
Step 5: Create a team and designate responsibilities.
Step 6: Frequently check in on your progress.
Step 1: Prioritize your plan of attack.
When your eCommerce website has a long list of product descriptions to optimize, it's tempting to just blindly go about rewriting products to start somewhere.
Instead, you need to prioritize.
Take the following things into consideration when deciding which pages to improve first: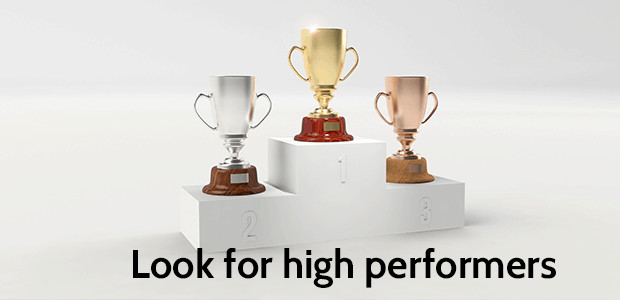 High-converting pages:

Make what's already working even better. Put the products with the highest conversion rates (and the most sales) on your optimization to-do list.

High-ranking pages:

If you have specific products that rank well in the search engine result pages (SERPs), prioritize those first for optimization.

Below-the-fold performers:

Landing pages that receive significant traffic from keywords ranking in positions 6–10 on the first page are diamonds in the rough. Moving these up one or two positions can pay off big. Review your "page two performers" for the same reasons.
It may seem counterintuitive to prioritize improving your more successful pages over your less successful ones, but here's the truth: Your high-ranking and high-converting pages are your money makers. Your goal is to make more money and drive more traffic to your website.
So, why not improve the good stuff first, and then focus on the pages that could use some extra work?
Step 2: Prune or no-index low-ranking, low-converting pages.
Now that you've identified which pages should be optimized first, it's time to look at those under-performing pages. You're probably the last person to admit it, but I bet you have a bunch of products that haven't driven a single visit or transaction in a long time.
I'm not suggesting you get rid of these products entirely. That's more of a merchandising decision, and those products may do quite well for your online store at certain times of the year.
Instead, make them invisible to Google by no-indexing them. This way, you'll prevent index bloat, which can hurt your rankings in the SERPs.
No-indexing ensures your low-ranking products don't appear in the search results. It's also a process that can be reversed in the future. If you decide to eventually improve these pages by fixing thin, duplicate content, you can remove the no-index follow tag.
Learn more about pruning thin, duplicate, and underperforming content with former Inflower Everett Sizemore's guide.

Step 3: Rewrite thin and/or duplicate content.

Oftentimes, eCommerce sites have tons of products with copy that's rehashed on dozens of other sites (i.e. manufacturer product descriptions). This duplicate content hurts rankings in the SERPs, so it's wise to make these products a priority. Run a Copyscape scan (or use the Siteliner tool) to determine which products of yours contain duplicate content, then rewrite accordingly.
Likewise, you'll want to beef up thin product descriptions. This makes them more engaging for the user and shows Google that your product page copy is, in fact, valuable content.
We also recommend boosting your product descriptions to at least 150–300 words. If you have a premium product that ranks super well and drives a lot of sales for your eCommerce store, pump it up to 400–500 words.
But don't just write words just for the sake of reaching a word count! Make sure your content is unique and helpful for the user, while incorporating natural keywords and SEO copywriting best practices.
Step 4: Decide which types of product descriptions to write.
There are dozens of ways you can go about writing product descriptions. Here are a few ideas that may work for you:
Standard Product Descriptions
These are typically long descriptions that highlight primary product features. They can be set up in tabbed formatting, or you can incorporate intro copy and additional bullet points at the bottom of the page. Don't forget to include product images, too.
Check out this example from Couture Candy: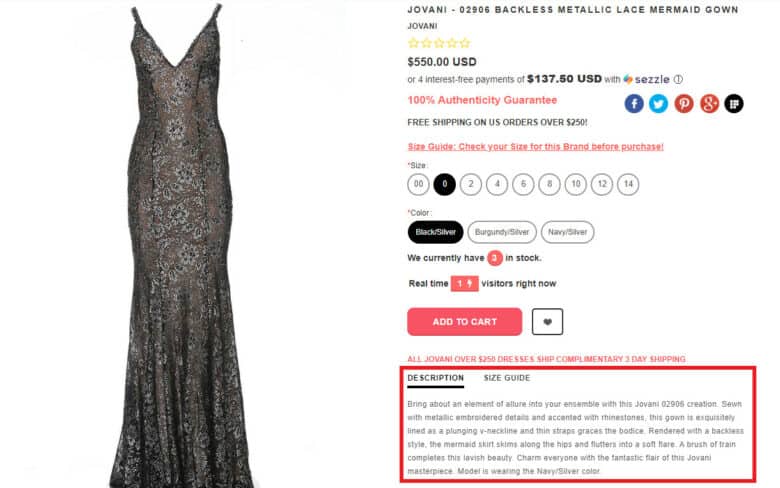 Premium Product Descriptions
These eCommerce product descriptions should be reserved for your top-selling, most popular products. This copy should engage and inform your potential customers, incorporating high-quality content like video, social proof (in the form of customer reviews and testimonials), and interactive infographics.
Here's another example, this time from Fitbit: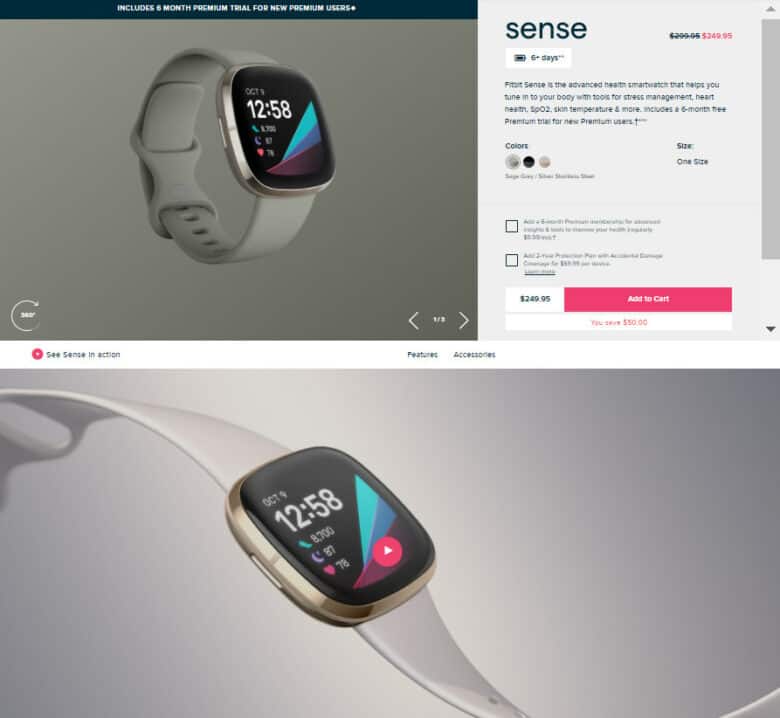 Step 5: Create a team and designate responsibilities.
Improving your eCommerce product descriptions is not a one-person job. You need a team of eCommerce SEO experts, knowledgeable staff, and a skilled writer(s) working together to get the results you want in a reasonable time frame.
For reference, our product copywriting team is broken up into:
Strategists:

Strategists essentially steer the direction of the entire copywriting project. They complete keyword research, keep tabs on page analytics, and integrate SEO best practices into the project for continual improvement.

Copywriters:

Not all strategists have the time to implement their recommendations. We recommend designating a separate copywriter (or several) to accomplish this step. You can hire a copywriting agency, find a freelancer through a website like

Upwork

or

Writer Access

, or bestow this duty to someone in-house.
Should you decide to outsource your strategy and/or copywriting work and hire product description writing services, make sure whoever you hire has a firm grasp on your product or service — especially the copywriter. We suggest an on-boarding meeting with your copywriter to cover tone of voice (as well as the technical aspects of your products), so they have enough information to work with.
Step 5.1: Look into product copy generator tools.
If you don't have the bandwidth or money for human-powered product copywriting, you might take advantage of artificial intelligence to get started.
Keep in mind: You'll still need an actual human to oversee this process and create the data templates (Excel, CSV, or JSON files) for the AI to work off of. It takes a bit of effort at first, but it sure beats writing copy for hundreds of product descriptions from scratch!
Many AI copywriting tools offer free trials, so you can test out their offerings and find what works best for your site. We'll share just a few that our SEO team has tried and found helpful:
1. Ja

sper

Highly rated Jasper is the SEO darling of automated copywriting. A Starter account gives you access to product descriptions, as well as a multitude of other short-form marketing copy. All you need is the product name, a brief description, your desired tone, and output language to generate copy options.
2. Copy.ai
Copy.ai specializes in basic, short-form marketing text, which makes it great for product copywriting. You choose the kind of copy you want, input some basic information, and be presented with up to 10 results at a time.
3. Content Villain
Like many of the tools we'll list here, Content Villain also generates basic, short-form marketing copy. The platform offers the standard eCommerce product copywriting model, as well as detailed models for food products, SAAS products, and Etsy products — with an Amazon model on the horizon.
4. NeuralText
NeuralText is very similar to Copy.ai in its short-form copywriting results. However, if you're looking for a product that produces long-form copy, too, note that NeuralText's results aren't as impressive — and that you'll be required to write a full sentence for each section before the tool generates any copy.
5. Snazzy
If you're looking for a free AI copywriting tool, Snazzy may be the best choice for you. You can run up to five requests per day for free — and upgrade to unlimited requests for just $25 a month.
6. Peppertype.ai
Peppertype.ai is similar to Copy.ai and NeuralText. The tool is still in early development stages and offers a free plan for up to 10,000 words. Models include eCommerce product descriptions for websites and for Amazon.
7. Wordsmith
This brainchild of Automated Insights essentially works like Mad Libs. You upload your product data sheet and build a template (or use the provided one) to serve as the foundation for your product descriptions. Then, Wordsmith takes the data from your imported sheet, throws it in the template, and pushes out eCommerce product descriptions for you to download in spreadsheet format.
A Note about Auto-Generating Product Descriptions
AI-written product descriptions are not foolproof. We do not recommend blindly implementing auto-generated product descriptions without a spot-check system. Create a strategy with your team to confirm the eCommerce product copy is suitable for your listings and your website.
In addition, unless you sell only one type of product, not all your products will use the same template or datasheet.
For example, if you only sell picture frames, you can probably get by with having only one template and one data sheet, as all of your products' specs and features will be similar. However, if you sell picture frames, furniture, and kitchen appliances, you'll definitely need more than one template and set of data to create compelling copy for your products.
Bottom line: AI product copywriting isn't the easy solution it claims to be. If you don't want to set up your templates and review your results, consider entrusting your project into the hands of human experts from the start.
Step 6: Frequently check in on your progress.
When you're working with thousands of product pages, it's easy to get lost. Minimize distractions and hold yourself accountable with a set update schedule and a strategy for evaluating your work.

With Product Copywriting, Every Little Bit Counts
Don't let the stress of thousands of product pages keep you from rewriting your product descriptions. Sure, it will take time to complete them all — but even the smallest changes made now can pay off big time in the months to come. (The proof is in our case studies.)
Whether you choose to complete the project in-house, with the help of an SEO agency, or by relying on product copy generator tools, make a strategy first. Trust us: You'll thank us later.
Want to learn more about our agency's product description writing services? Drop us a line anytime, and we'll get you a free proposal for your eCommerce business's specific needs and goals.