Shopify Plus and Magento 2 Commerce are two of the most popular eCommerce platforms for mid-market and enterprise-level online retailers. This post outlines their differences to make it easy to see what each platform offers for large and fast-growing stores.
While there are other great comparisons of Shopify Plus and Magento Commerce written, many of the ones we found were written by partners or affiliates of the platforms, and may be biased.
(Full disclosure: At Inflow, we are a Shopify Partner, but this does not extend to Shopify Plus, which is a separate platform and a separate partnership.)
In writing this comparison, we sent a query out asking eCommerce business owners and consultants when they would choose one platform or the other.
Their answers revealed that, rather than one being "better" than the other, Shopify Plus and Magento 2 Commerce both have specific advantages.
According to nearly everyone we spoke to, how complex your store's requirements are is what should drive the decision. If the initial answer is "simple," Shopify Plus may be better. If your store's needs are complex: Magento 2 Commerce is likely the way to go.
A significant number of the eCommerce brands we work with choose to host their stores on Magento 2 Commerce and Shopify Plus. We've also assisted clients in performing site migrations to one platform or the other.
Below, we'll first break down the basic differences between Shopify Plus and Magento 2 Commerce. Then, we'll zoom in a bit further on their most important aspects for retailers to see if they match your store's requirements.
Let's get started.
Note: Are you looking to move to an enterprise eCommerce platform? Schedule a talk with us today to get our recommendations on the right platform for your brand, help migrating to it, and/or optimizing for growth.
Shopify Plus vs Magento Commerce: Overview
To start, here is a summary of useful information about each platform: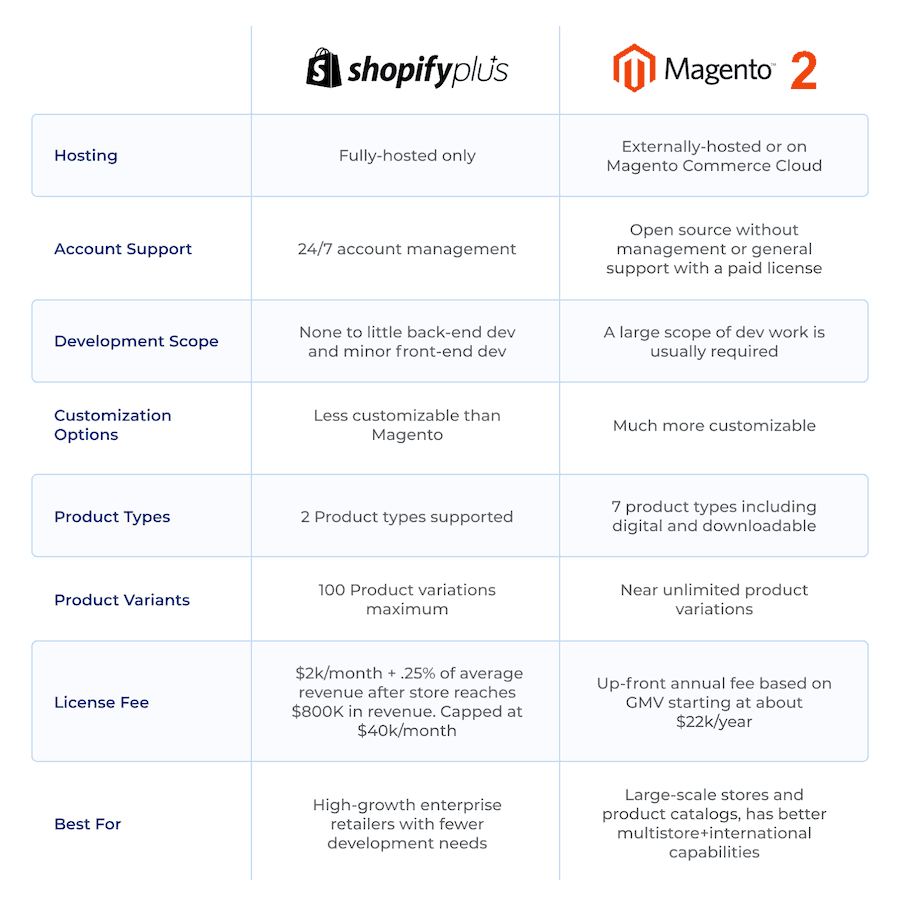 Shopify Plus Overview
While it's inarguably an enterprise platform, in many ways, Shopify Plus is geared toward existing Shopify stores that are ready to scale further.
Shopify's own brand began by servicing smaller retailers. They have since grown quite a bit — and so have the growth stages they service.
As a result, Shopify Plus is the iteration of Shopify geared toward mid-level and enterprise-level companies. Compared to Shopify, the "Plus" adds:
More apps, advanced features, and customization

including a customized, responsive checkout.

More customer support

from Dedicated Shopify Plus Account Managers and Launch Managers.

Flat pricing

of $2,000 per month for retailers with less than $9.6m in yearly sales.
Shopify Plus' offering differs from Magento's because:
Shopify Plus is available as fully-hosted

only

while Magento has

both

hosted and non-hosted options.

Offers 24/7 managed account support that includes minor front-end development.

It requires far less backend development compared to Magento.
Overall: Shopify Plus is the more user-friendly version of an enterprise-level eCommerce platform. Smaller eCommerce teams whose needs require them to focus on product and marketing over pouring resources into development will likely prefer Shopify Plus.
Magento Commerce (Formerly Magento Enterprise)
Magento is its own software and service ecosystem that was acquired by Adobe in 2018. It comes in a few different flavors to cover businesses of all sizes and needs:
Magento Open Source (formerly Community Edition or "CE")
There is a large community of Magento developers out there as a result of Magento's continual free download of their core software. This is for businesses with advanced development capabilities on their end who don't require support or hosting from Magento.
Magento Commerce (formerly Magento Enterprise/Enterprise Edition or "EE")
In this article, we will be referring to Magento Commerce throughout. Unlike Magento Open Source, Magento Commerce comes with a license fee as well as support and other resources from Magento. There is also a hosted version branded as Magento Commerce Cloud that is folded into the Adobe Experience Cloud.
Compared to Shopify Plus, Magento Commerce's offering is different because:
You can use Magento Commerce as a fully-hosted or externally-hosted platform

Magento Commerce is much more customizable than Shopify Plus

Magento Commerce is more apt for large product catalogs, product variations and attributes, and multi-store management.
Overall: Magento is geared toward businesses that can devote more time and resources toward the development and maintenance of their store. The tradeoff here is a wider range of capabilities with more work, cost, and often a longer development timeline.
Shopify Plus vs Magento Pricing Comparison
Right off the bat, we can see that each platform is better-suited toward different growth stages, applications, and product catalog sizes. As a result, their pricing varies considerably.
According to Kathryn Valentine, a business consultant to apparel companies, "Shopify is the Honda; Magento is the Ferrari."
Valentine told us that smaller companies (under $25M, even $50M) will find the maintenance of a Magento site more time-consuming and expensive than their organization and budget are built for. That makes Shopify Plus the best option for start-ups and high growth businesses under ~$25M, and Magento the winner over $100M.
Companies in between these sizes will need to assess how important their DTC business is and if they are ready to make the investment in site maintenance.
Shopify Plus Costs
In general, Shopify's pricing tends to be less expensive and thus better-suited to mid-stage growth periods.
License Fee:

The monthly license cost is $2k plus .25% of average revenue after your store reaches $800K in revenue. The maximum monthly fee is capped at $40k.

Transaction Fees:

Shopify Plus is not transparent on their pricing, but we have seen transaction fees reported of 1.6% + 0.35 and 2.15% + $0.30 per transaction (as of December 2019). Shopify Payments is the default processor, but if you use a third-party payment provider, there's an additional 0.15% transaction fee on top.

Hosting:

Hosting is included under Shopify Plus' $2000/mo license fee as an optimized package. It also includes upgrades and maintenance, security and SSL certificates, payment card industry (PCI) compliance, and technical support.

Migration and Build Costs

: These will vary, but they will generally cost less than a Magento migration or website build. Typically, a Shopify Plus site build will be a mid-five-figure cost and typically stays under $100k.
Magento Commerce Costs
The total cost of a website built with Magento will likely be more expensive because more development is usually needed. This means it's well-suited to companies who want a lot of backend functionality.
License Fee:

Unlike Shopify's monthly + transaction and revenue fees pricing model, Magento's license is an annual up-front fee based on merchants' Gross Merchandise Value (GMV) and company size. As a result, the pricing for Magento varies a lot. Licensing starts at about $22k per year.

Transaction Fees:

In contrast to Shopify Plus, Magento's model is based on giving retailers ownership of all their own operations. The only transaction fees are those run by the processor you choose. With Magento, you can set up your own external payment gateway as well.

Hosting

: You can host Magento on any server you choose. If you opt to host on Magento 2 Commerce Cloud, this includes both the Magento license and hosting. Pricing is not transparent, but the base cost of Magento 2 Commerce Cloud is around $3,333 according to

eCommerce Guide

— this linked article (written by two experienced platform consultants) has a very detailed breakdown of potential costs that both Shopify Plus and Magento 2 Commerce can incur.

Migration, Build, and Maintenance:

As a general guideline, expect a $100k cost to a Magento 2 Commerce migration or build. Maintenance with Magento Commerce is an ongoing thing. You'll likely pay a Magento developer on retainer to take care of what Shopify Plus folds into their license fee: patches, upgrades, module installations, and other maintenance needs. This will usually cost in the low-to-mid 4 figure range per month, but can go up to 5 figures per month for complex stores.
Now, let's take a look at what these different pricing models gets you in terms of the platforms themselves.
User-Friendliness and Support
Shopify Plus
Built Primarily for Non-Devs
The basic version of Shopify is already designed to be user-friendly for busy eCommerce owners. Thus, it requires less development work in comparison to most other basic platforms.
Shopify Plus retains this principle, but adjusts them to enterprise-level needs by adding:
More API integrations

Access to theme code

Exclusive apps

Analytics reports
Shopify was designed for eCommerce businesses that are just getting started. Shopify Plus presents a similar solution that retains much of the core usability that people upgrading from Shopify to Plus are used to. Plus, more robust support and features.
Magento 2 Commerce
Built for Developers and Advanced Customization
Magento has some experience under its belt, but its users have to also. This isn't a basic, user-friendly experience, which is fine for those more familiar with developmental coding.
In addition to the advanced features Magento provides out of the box, it can also be customized to suit specific needs. The tradeoff is that retailers running Magento Commerce typically have a dedicated development team to build additional features.
Overall, it's a decent choice if you're already skilled at developing. Magento can provide a more customized, luxury shopping experience, but requires much more time, effort and money to maintain.
Features
We want to make this simple for you to parse through.
Below, are what we see as the core feature differences to bear in mind when selecting between Shopify Plus and Magento 2 Commerce.
Shopify Plus
Shopify Plus adds:
Dedicated Shopify Plus account managers

Unlimited staff accounts

A multi-store dashboard

Access to Shopify's Liquid theme language for code-level changes

Shopify Scripts editor which allows you to customize checkout

Shopify Flow (Shopify's eCommerce automation platform, which uses a visual builder)

Shopify Launchpad — a tool to automate sales campaigns and product launches

Bulk customer data import tools.
Compared to Magento, Shopify Plus has features that make it a lot more frictionless to get a store up and running.
Magento 2 Commerce
That said, compared to Shopify, Magento makes it easier to manage complexities such as:
Multiple brands

Multiple vendors

Stores across multiple countries

Promotions and discounts using a built-in promotions engine

Bigger product catalogs with complex attribute combinations

Different product types (Magento supports 7 core product types while Shopify has 2)

Native handling of product bundles and product attributes

International currencies and global shipping
In other words, if you have thousands of products and potential combinations of attributes, Magento is a clear winner. If you're launching products in multiple stores, in multiple countries, with multiple promotions, currencies, and languages: Magento is way better for that than Shopify Plus.
Scalability
Scaling needs differ between different retailers. Are you scaling primarily for more traffic and sales? For more products, marketplaces, or vendors? Or for a combination?
Shopify Plus
Shopify Plus is a great choice when "scalability" translates to readiness for more traffic and orders.
Shopify Plus' platform and hosting is designed with scalability in mind, thinking about the fluctuation of traffic and transactions for eCommerce. This is one of the main advantages of the platform.
The casual developer doesn't have to worry about infrastructure and can focus on strategy instead without wondering if performance will suffer for it thanks to Shopify Plus' fully-hosted platform.
While your store is on Shopify's servers rather than your own, those servers will be ready for whatever comes.
Magento
When scaling your business means scaling products and marketplaces along with traffic and transactions — Magento Commerce is the better choice.
In terms of server capabilities, Magento Commerce Cloud is comparably prepared for volume fluctuations to Shopify Plus' servers. If you are hosting Magento Commerce yourself, you'll need to prepare for fluctuations accordingly.
As the running theme here has been: it's going to take more work on your end if you want to use Magento Commerce, but you'll be able to do a lot more in terms of managing your online retail empire.
Multiple Brand and Multiple Store Management
Magento allows you to manage multiple stores from one interface, while Shopify Plus involves managing multiple stores as their own entities under the same account. In terms of capability and cost: Shopify Plus can't really stack up to Magento's multi-store architecture.
For example, Magento's dashboard allows you to set product attributes like name and price at store and global levels. You'll need to find a workaround to do this with Shopify Plus and this will likely be a plugin that adds to the monthly cost.
Additionally, Shopify charges for the gross merchandising volume (GMV) of each additional store. So that additional cut of revenue to Shopify needs to be factored in when planning an expansion; not so with Magento.
Extensions and Apps
Both platforms have a dedicated marketplace of apps and extensions that add functionality, visual changes, and other options to your store.
Shopify Plus
As a SaaS offering, Shopify Plus has an ecosystem of third-party apps that require their own separate licenses. When comparing the native functionality of apps and extensions, users often report more and better functionality with Magento's extensions.
You will need to weigh the costs of additional licenses with Shopify Plus to enabling that same functionality on Magento Commerce with a developer or a matching extension.
There are a lot of apps that provide services that aren't found natively in Shopify, such as Recharge, which provides monthly billing for subscription businesses. However, users tend to prefer Magento's native subscription billing over Shopify's.
Magento 2 Commerce
Magento has its own robust marketplace for extensions (and services). These allow for functionality that you simply can't do in Shopify Plus.
For example, with certain Magento extensions you can:
Turn your Magento store into a multi-vendor marketplace. (Meaning: vendors can upload their products to your store and manage orders on its front end through individual portals.)

Add more robust customer support functionality

Enable accounting and finance within the platform

Enable custom shipping and fulfillment solutions natively
In other words, there's a lot more you can do with Magento compared to Shopify Plus — but those capabilities should be needs for your business.
Summary and Conclusion

When to Choose Shopify Plus
Shopify Plus is the option for those newer to the eCommerce web-developing world, or who want to be a little more hands-on in customizing their website without extensive developer knowledge. Shopify Plus is easy to use, affordable, and very difficult to break.
For retailers willing to work within the features provided directly by Shopify or provided by Shopify Apps, Shopify is a great choice. You can work with an agency and build a great looking storefront quickly and focus more of your time on customer experience, demand generation, and retention.
You don't need to place as much time and resources into development and hosting with Shopify Plus as you do with Magento Commerce. If your needs are not that complex and you prefer to focus on product and marketing, Shopify Plus is likely the right solution.
When to Choose Magento Commerce
Magento's advantages over Shopify Plus were summed up nicely by John Moss of English Blinds, one of the eCommerce CEO's we heard from:
"For us, the multi-store, language, and payment method options that are possible under Magento Commerce but not Shopify Plus was the clincher that saw us decide in favor of Magento Commerce. Shopify Plus's multiple instances of 'equivalent' features just don't offer the same level of functionality," he said
"Unlimited product variants in Magento Commerce with a cap of 100 product variants in Shopify Plus is something else to bear in mind if you keep a large inventory," he continued. "Magento Commerce is also much more flexible in terms of integration platforms while Shopify Plus only works with Shopify's own API integrations, which might well be sufficient for many, but was a downside for us and limited our potential future scalability.
"Finally," he said, "Magneto Commerce's option for open-source code versus Shopify Plus' proprietary alternative was the icing on the cake. Again, this might not be an issue or something most businesses will need, but having the option allows for superior flexibility and future growth."
In other words: If flexibility and control over your website's development are important, Magento 2 Commerce is the clear winner.
Are you planning a move from your current eCommerce website to a more robust platform like the ones discussed here? While we have written about some of the complexities in migrating ecommerce platforms, we strongly encourage you to chat with us before starting the process.
Talk to one of our enterprise eCommerce experts today by clicking here or filling the form below.