There's no shortage of website platforms out there today, but there's also no denying that Shopify holds the position as one of the most popular platforms for eCommerce businesses.
But, why is this — and what does mean for your eCommerce brand?
Whether you're deciding between Magento or Shopify, considering the move from another platform, or just starting your eCommerce selling journey, this guide is for you. Today, we'll discuss the practical applications of Shopify for online businesses, including the pros and cons you should know before migrating your site.
At the same time, we'll give a few examples of our clients who have made the switch — and how it worked out for them.
Shopify by the Numbers
First, let's talk about Shopify's domination in the world of eCommerce platforms.
According to Built With, which tracks technology usage by online companies, Shopify claims the largest share of eCommerce websites, sitting at 27% of global usage. In the United States, 33% of sites use Shopify, with WooCommerce coming in a distant second at 23%.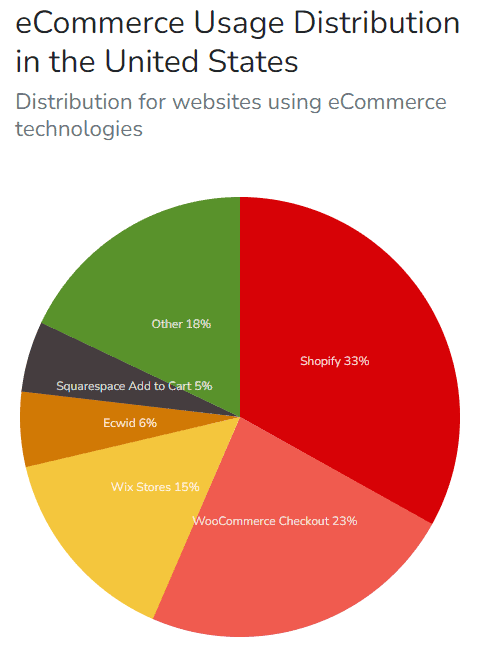 For reference, Magento and BigCommerce (two other popular eCommerce platforms) claim 0.66% and 0.43% of the top 1 million sites on the internet. Shopify sits at 28.41%.
We've seen this trend at Inflow, too. At any given time, about one-third of our clients use Shopify for their website hosting needs. In addition, many of the eCommerce website migrations that we handle involve moving from another platform to Shopify.
Why?
Shopify remains one of the easiest eCommerce platforms out there to set up and use. It's the darling of small businesses and provides many advantages for both new and rapidly growing websites.
That's not to say it doesn't come with its own shortcomings.
Below, we'll discuss those disadvantages (and the assets that draw so many store owners to this platform) to help you decide if Shopify is right for your site.
Should You Use Shopify for Your eCommerce Site?
"Popular" doesn't always mean "best," especially when it comes to such a nuanced decision as choosing an eCommerce platform for your online shop. There are many factors to consider — pricing, search engine optimization (SEO), size, and more — when comparing your options.
That said, there are a few common reasons why online businesses (including Inflow clients) turn to Shopify for their virtual storefront:
Pros of Shopify
1. No developer needed
In most cases, Shopify provides everything an eCommerce website manager needs to add, remove, and change online content. It's a vast advantage over other platforms like Magento, which often require an experienced team of developers to be on call for every little content update.
In most cases, this is due to the extreme customization of those platforms. While that capability does allow for a unique look and more design capabilities for those eCommerce sites, it also makes it nearly impossible for a marketing team to make content improvements. In fact, some of our client's SEO efforts have been stalled in the past by developer needs — even for something as simple as changing title tags!
In comparison, user-friendly Shopify provides a simple, out-of-the-box setup. While its default website builder may not offer the most unique (or attractive) options, it allows beginners to set up stores efficiently and start selling products quickly.
And, for all those times when you do need a developer, you'll never be left without options.
2. Plethora of developers, plugins, and app options
With Shopify, you'll have a world of developers, plugins, and accessory apps right at your fingertips — all to be accessed through the Shopify App Store.
Because of Shopify's popularity in the marketplace, there's always someone looking for a better way to do things on the software. From marketing tools to SEO plugins and more, the Shopify library is always growing.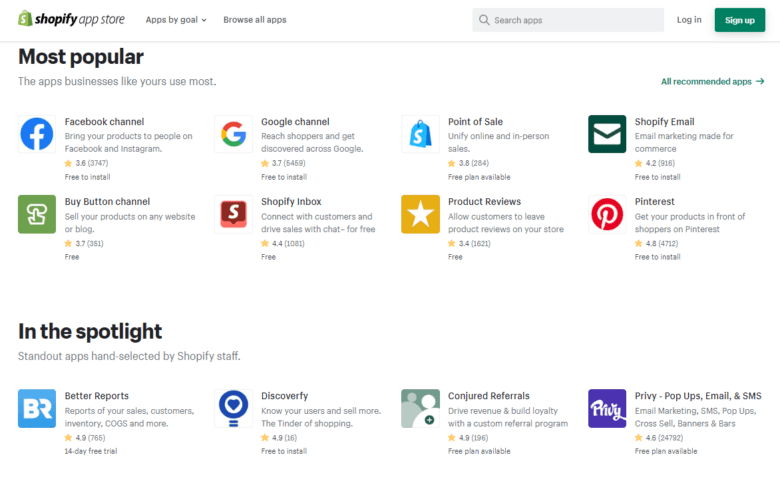 Remember, not every third-party app will work perfectly for your site. You'll need to comb through the thousands of options and try out a few that claim to meet your needs. Not all of them are free, either, so the money you save on a developer with this platform may be spent trial-and-erroring plugins.
If you have an eCommerce marketing agency, ask them for their app and plugin recommendations.
3. Cheaper than upgrading custom-built sites
If your eCommerce store is running on a highly customized platform like Magento, you'll likely pay more and more to upgrade that site as time goes by. In fact, when many of our clients compare the cost of upgrading their platform to Magento 2 or 3, it's much cheaper (and easier) to transition all of their content to Shopify instead.
Because of Shopify's "plug-and-play" templates, content can painlessly be migrated from one platform to another. But, when you have highly customized content like that created on Magento, moving it (even to an upgraded version of the same platform) can take a great deal of time and money.
That said, moving from a customizable platform to Shopify won't always be cheap. One of our clients recently began its migration to Shopify and, due to the complicated nature of their old platform, moving their blog of fewer than 100 posts will cost upwards of $10,000. (But imagine what a larger blog down the line would have cost!)
On the other hand, moving a blog from a WordPress subdomain to Shopify is a piece of cake — whereas, with a platform like Magento, you'll need to create new individual pages for each blog.
So, before you choose to either upgrade your current platform or transition to Shopify, review your pricing options in detail. Don't forget to talk to your SEO and development team, too; their preference for one platform or another may be worth its weight in gold.
4. Simple technical SEO capabilities
From an SEO perspective, Shopify offers ease of use for technical updates matched by few others.
In addition to helpful plugins like Yoast SEO, the Shopify platform also provides:
Proper default robots.txt files settings (ie., Shopify already blocks indexing of pages like site search URLs and filtered URLs)
Automatically generated sitemaps
Streamlined search functionality and categorization capabilities
Schema and metadata editing
All of this, in turn, can open up new opportunities for your eCommerce SEO strategy.
Take, for example, our client Simms Fishing. When we migrated their site from Magento to Shopify, the new platform made it easier to separate out their bloated category pages. During the migration, we split up those pages into smaller, more niche categories — leading to a 5,600% increase in non-brand, category page traffic and a 52% increase in overall organic traffic.
Making these changes on Magento would have been close to impossible. But, with Shopify's simple setup, the updates were easy — and the results more than worth the effort.
Therefore, from an SEO agency's perspective, Shopify is a much better platform than others for implementing most content and technical optimizations.
Cons of Shopify
No eCommerce platform is perfect. While there are many advantages to using Shopify, there are some drawbacks specific to eCommerce sites.
1. Limited product hosting ability
Because Shopify is designed with low barriers to entry (ie. any startup eCommerce brand can create and host its own store), it's not always the best choice for larger sites that sell thousands of products.
In our experience, Shopify limits the crawling speed of bots after a certain amount of pages. Typically, this is only a problem for eCommerce retailers that have thousands (or tens of thousands) of product pages. This can limit the amount of data Google or your SEO team receives from your site, hampering your SEO strategy.
Google's crawlers have also experienced issues with Shopify sites in the past, although they are typically solved quickly.
If your site hosts thousands of products, talk with your SEO team for their recommendation on the best platform for your site size.
2. No automatic tax collection
One of the biggest downsides of using Shopify for eCommerce sites is its failure to gather state sales taxes. Unlike other major platforms, Shopify payments only use default sales tax rates, and the platform does not file or remit those taxes on your behalf. 
Depending on your state tax laws, this can be a minor inconvenience or a major hurdle. We recommend reviewing Shopify's resources on gathering sales tax and speaking with a local tax attorney to see where your business lands on the spectrum.
3. Limited custom tech SEO fixes
While's Shopify biggest advantage is its no-developer-needed capabilities, there's a flip side: The platform makes certain custom technical SEO changes harder to accomplish.
For example, even though its default robots.txt file settings are ideal for most, Shopify limits your access to editing that file (although recent updates may see this soon improved). This can make it difficult for your team to implement changes to indexed and noindexed pages and will often require a developer's help.
You'll also find limitations in Shopify's filtering/faceted navigation capabilities. By default, the platform's robots.txt file disallows the crawling of second-level filter URLs and instead canonicalizes them to the main category page. This can make it difficult for large sites to gain those crucial long-tail keyword rankings.
Some of these issues can be resolved with the proper plugin and add-on, such as Yoast SEO. However, if your SEO team needs to frequently complete detailed technical changes, Shopify's features may impede their ability to do so (and the results you see).
4. Flat website hierarchy
Another common concern for brands switching over to Shopify is the platform's inherent flat website structure. In other words, you can't control the hierarchy of your website pages (which, obviously, isn't ideal for SEO best practices).
Typical eCommerce site architecture often looks like this:
Yourwebsite.com
Yourwebsite.com/category-page/
Yourwebsite.com/category-page/sub-category-page/product
Shopify, however, requires you to use collections pages with only a single category designation. Therefore, you're unable to create sub-category pages and pass "link equity" from your most popular categories to a lesser searched sub-category page.
Therefore, product pages always come off the root domain, which is why a site's hierarchy remains flat — for example:
Yourwebsite.com
Yourwebsite.com/collections/category-page/
Yourwebsite.com/collections/category-page/products/product-page

Canonical to Yourwebsite.com/product-page
There is a creative solution to this "problem." We recommend creating a main category Shopify page that links to your collections pages, making those your subcategory pages instead.
By virtue of internal linking, you'll have created a logical linking structure for search engines to follow:
fishingwebsite.com/pages/outerwear

fishingwebsite.com/collections/rain-jackets/

fishingwebsite.com/product
What's Best For Your Website?
For most eCommerce companies, Shopify is a valid provider that comes with a multitude of advantages and very few drawbacks. However, every site is different, and your team will need to conduct thorough research before investing in a new platform — and the lengthy migration process that comes with it.
Bottom line: In our experience, Shopify is best for those online businesses that:
Have limited development resources
Sell a small number of products (less than 1,000)
Invest heavily in SEO content blogging
Are looking for easy, out-of-the-box hosting and marketing features
But, if you're looking for detailed customization capabilities or your business sells thousands of products, Shopify may be too limited for your needs.
We recommend you speak at length about these Shopify pros and cons with your web development and SEO teams. While they will have different insights, each will play a key role in the process ahead and should be an active participant in your ultimate choice.
Don't have an SEO team to consult? Our team of experts is happy to review your current SEO strategy and platform options to recommend the best choice for your site. Request a free proposal anytime to get started.
In the meantime, review our other resources to learn more about eCommerce platforms, including Shopify alternatives: