Having a coupon form field extremely visible in the cart and checkout causes potential customers to go off and look for coupons — potentially decreasing conversion rates.
About the Play
This play will help you quickly determine if a coupon code prompt is being displayed to a level that would cause shopper distraction and possible cart abandonment. The Clipper one of the easiest, and most effective tactics from our eCommerce Marketing Playbook.
Who's It For?
eCommerce Directors
Conversion Optimization Professionals
Anyone in Charge of Running an eCommerce Site
When to Use It:
Whenever your checkout process includes a prompt for entering a discount/coupon/offer code, as shown below. This is especially true for sites that also have low conversion rates, or significant dropouts in the checkout funnel on the page with the coupon prompt.
How to Execute The Clipper
Visit a product page on your site and add an item to the cart. Once in the cart, look to see if your site shows a promo code field. If you do not see a coupon code field in the cart, navigate into the checkout process and see if you have a coupon code field or prompt in the checkout process.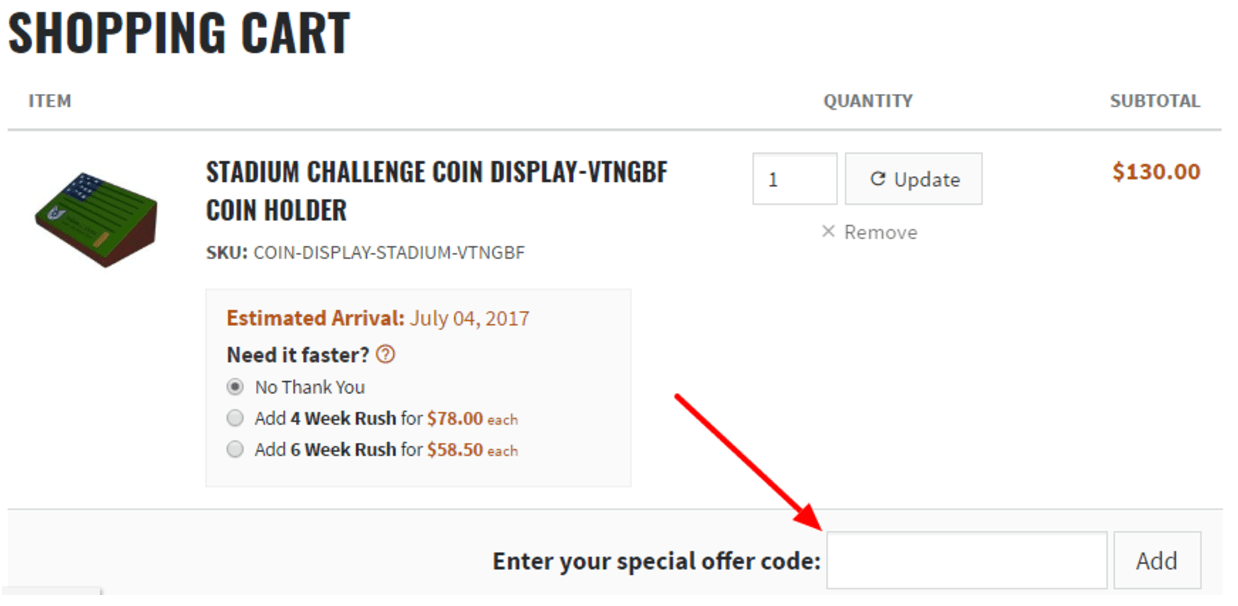 Is that you above? Does your Cart or Checkout pages have a coupon field exposed? If so, this is a promise from you to the customer that there are discounts out there to be found, if they care to be resourceful enough!
At this point, the best case scenario is that you have seeded a coupon on RetailMeNot.com and others so the user will find it easily, come back, and buy. This way, you only give up, say 10 percent to the customer and 8 percent to the affiliate site, burning 18 percent of the revenue you could have otherwise kept. Yes, that is the best case because you made the sale, captured the customer's information, and can now work on their lifetime value.
All other scenarios involve customers not buying because they got lost searching for a coupon code (RetailMeNot.com will send them to your competitors too!), frustrated because they can't find a code that works, or all the above, as well as telling other potential customers about that place they later purchased from (not your site).
Is it serious? You can figure that out quickly!
Google your company name and see if one of your top branded suggested searches (Google suggests search term to you as you type in your search term) is related to coupons.
See example below using UberSuggest.com for the company "Aviator Gear".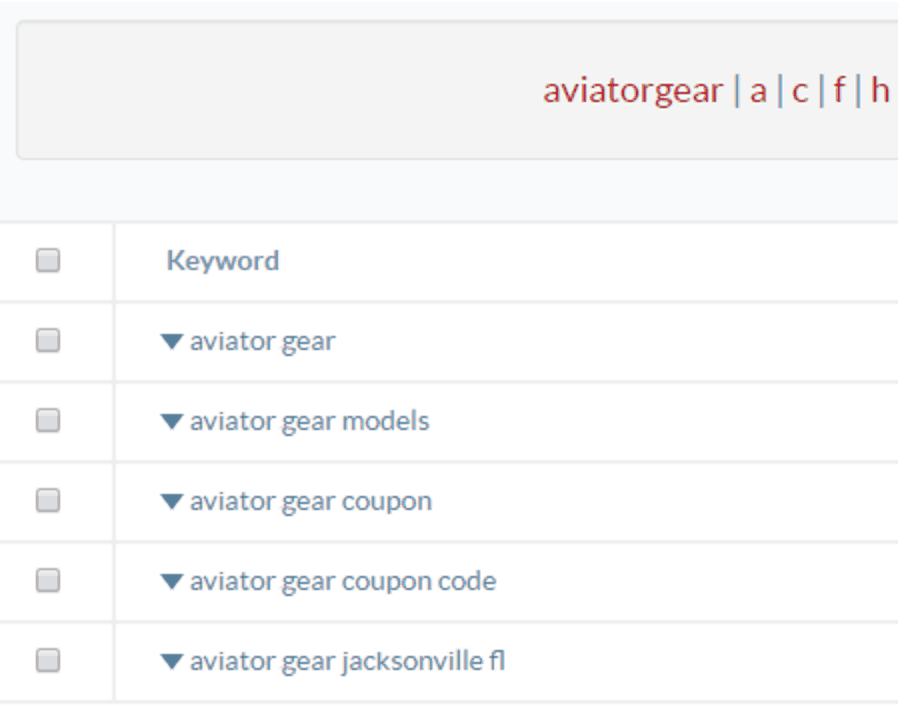 If so, here is what you need to do:
Make the ability to redeem codes less obvious by hiding a form field behind a link that is not directly in the user's eye path (for most sites, if a customer has a discount code, they are going to be motivated enough to use it) See example below: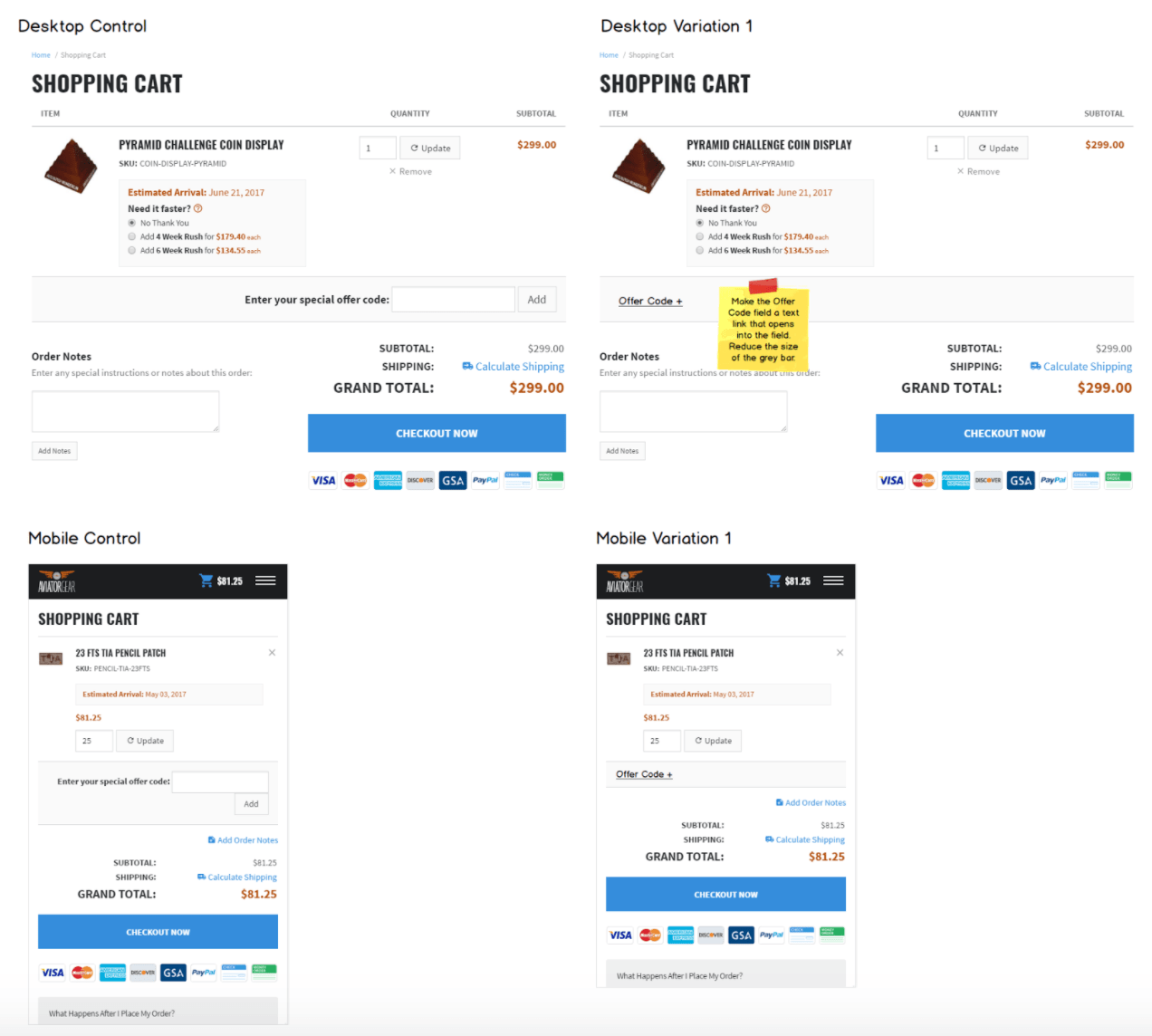 Other tips or info to help with execution
You should also consider what to do if a user enters an old coupon code. The best response your site can give is a "Wow, that is old! Try our latest and greatest coupon." and pre-populate that into the form field for them.
Pitfalls or common mistakes to avoid
If you have a printed "Catalog" that has coupons in it, the test may not work as well with Direct Traffic (will be obvious in test analysis).
If your company is highly promotional (more than 20 percent of sales include a promo redemption), then this may not work at all.
The Clipper Resources
Conversion Optimization Case Studies
eCommerce Conversion Optimization Best Practices
7 Legacy eCommerce Features You Can Kick to the Curb