Did you know Google will soon be giving more weight to what their mobile bot finds on your website than what's found by the desktop-oriented Googlebot they've used to crawl the web for the last decade? Learn more here.
About the Play
The Stalker is from page six of our eCommerce Marketing Playbook, which outlines three tactics from SEO, PPC and Conversion Optimization for a total of nine eCommerce marketing "plays". This play will help SEOs prepare their website for Google's "Mobile First" update by crawling and rendering the site with settings that mimic the mobile-centric "Googlebot" crawler.
Who's It For?
Search Engine Optimization Professionals
SEO-Savvy Marketers Familiar with Screaming Frog
When to Use It:
This is a good exercise for any site, but it is most important for SEOs working on domains with a dynamic mobile aspect, meaning the content itself, the or user-experience, might change significantly. Use The Stalker when:
Crawling "app-like" mobile sites (e.g. Single Page Web Application)

In this example the SPA is only served to mobile visitors. The standard desktop site is served to others. the mobile site, or when the mobile site is on another domain.

Crawling "dynamically served" mobile sites

In which content not only shifts in size and location (as in responsive fluid grid) but entire paragraphs might be removed from the mobile version, as outlined here.
This play involves crawling your entire website using a mobile crawlbot that can render JavaScript, HTML, and CSS into a mobile-sized version of the page.
You will then have a screenshot of how the page appears when rendered by a mobile crawler, as well as data about any differences between the two versions, such as different content, meta tags, or other technical SEO features.
Why Stalk Your Own Website as a Mobile Crawler?
We recently came across a domain on which every Title Tag on the mobile version of the site was the same: "Brand Mobile Site". There were hundreds of thousands of these. On that same site, there was a technical issue causing the Rel Canonical tag to break on mobile, but not on desktop. This would have likely been catastrophic in the short term once Google rolled out their "mobile first" index for all users (including those on desktop).
How to Execute The Stalker
Get Screaming Frog
First, if you do not have the latest version of Screaming Frog (7.+), go download it. The free version gives you 500 URLs, but not all of the necessary features. We recommend buying the software, which is very affordable.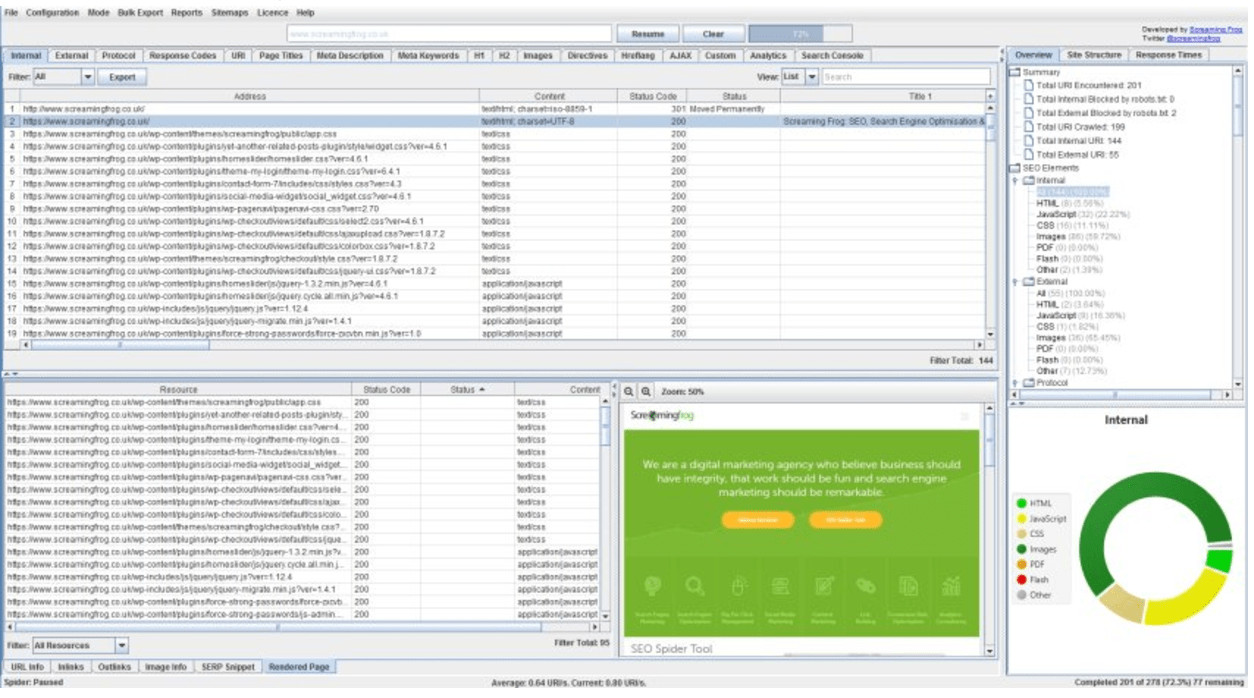 You can do the same thing with DeepCrawl, Sitebulb, and other SEO crawlers with some adjustments to the process below.
Put Screaming Frog Into Mobile Stalker Mode:
Open Screaming Frog and click "Configuration" in the top menu. Then from the dropdown, select "Spider".
Go to the "Rendering" tab and select "JavaScript" from the dropdown. If this is your first crawl of the site in mobile mode, we recommend checking "Enable Rendered Page Screen Shots," which will drastically slow things down, but will show you what the rendered mobile page would look like to Google.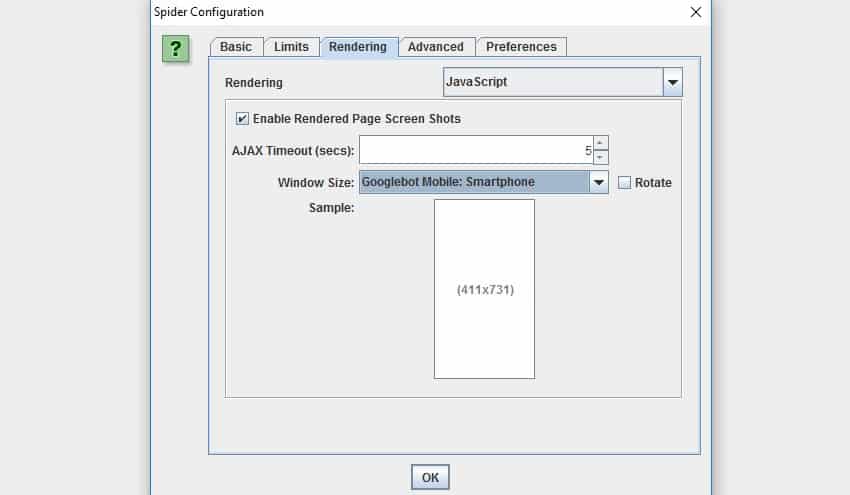 Learn more about Screaming Frog's Rendering feature, and other configuration options in their setup guide. If this is your first time using Screaming Frog, start here.
Run All the Reports
My favorite way to start is by exporting all of the reports, and opening them up one at a time in Excel, looking for anything suspicious, such as thousands of duplicate title tags that just read "Mobile Site" or missing/broken rel canonical and rel alternate tags.
Screaming Frog offers many helpful views and reports for determining the health of your website. Who knows what you're going to find until you crawl and render as a mobile spider!
The Stalker Resources
Screaming Frog SEO Spider V 7.0 (now with JS rendering)
Screaming Frog JS Crawling Setup Guide