When your brand started advertising on Facebook, it may have taken some time for you to find a campaign that worked.
But nothing lasts forever, especially when it comes to social media marketing. Today, you might see the revenue from that campaign plateauing or, even worse, declining.
Your next step can be scary. How do you find your new successful marketing strategy without burning through too much of your operating capital?
The answer is A/B testing.
Facebook's A/B testing lets you experiment with different ad strategies without a huge financial investment. This systematic ad optimization approach helps you efficiently zero in on winning strategies for your brand, leading to increases in clicks, conversions, and revenue.
Make haphazard social ad experimentation a thing of the past with this complete guide, where we'll cover:
What Facebook A/B testing is and how it works
How to set up your own A/B tests on Facebook
And which test ideas we recommend for eCommerce brands
Table of Contents
What Is A/B Testing in Facebook Ads?
A/B testing (also called split testing) is an effective strategy for creating winning Facebook ads.
You might think you know what appeals to your audience — but, before you start spending hundreds or thousands of dollars on Facebook advertising, it's better to be sure.
A/B testing lets you use smaller ad spends to figure out which of your ads perform best. This way, you can confidently direct the majority of your spend to winning ads only.
With A/B testing, you can simultaneously run two ad variations to refine factors like:
Copy
Creative (including images, videos, and gifs)
Layout
Target audience demographics, including:
Timing
Landing page
And more
Basically, you can refine every aspect of your ad performance using A/B testing.
However, it's important to test only one variable at a time to avoid drawing the wrong conclusions about your tests.
Why It's So Useful for Social Media Marketers
When you've been in digital marketing as long as our team, you've seen best practices come and go. You can read experts' opinions morning, noon, and night, and none of that will guarantee that you'll get good returns when your ads hit the feed.
The only way to know what works is to run smart tests and draw the right conclusions from those.
In the past, you might have tested different ad campaigns by releasing them all on a large scale, wasting more money than you would like on the failing ones. A/B testing lets you run ads on a smaller scale. Using the test results, you can put your ad budget into the working ads, which helps you maximize your return on your advertising budget.
This controlled, affordable approach is so efficient that you can deploy it on a regular basis to ensure you're still using the most effective approach to reach your customers.
How to A/B Test Facebook Ads
The best way to run A/B tests is to simply use Facebook's Ad Manager Toolbar.
While there are many tools out there that claim to make this process easier, Facebook has already created a very usable interface that lets you effectively run ad tests. In fact, it even offers multiple approaches to A/B testing through its "Experiments" tool, ad duplication, and new campaign creation.

Facebook already provides a step-by-step walkthrough of its A/B testing platform. So, in this section, we'll instead give a top-level overview of the strategic choices involved along the way.
Step 1: Determine Goals for Your Test
Your business goals will direct your testing strategy. Consider common campaign objectives like:
Improved revenue
Better click-through rate (CTR)
Reduced ad spend
Greater exposure
Increased website traffic
Higher-quality lead generation
More newsletter subscribers
Based on these goals, you can select appropriate metrics and targets.
For example, your goal might be to find a new audience where you will get 25% more conversions. In this case, your A/B tests will focus on different audiences, and you will keep testing until you find a target audience that yields 25% more conversions.
Step 2: Brainstorm Test Ideas
Before you set up an A/B test on Facebook, take time to think about what you want to test.
Not sure where to start? Check out our recommended test ideas for eCommerce businesses to help you get your creative juices flowing.
Try to strike a balance between the tried-and-true and some radical new approaches. While it's good to stick with some strategies that have always yielded good results, it's also a good idea to explore some new tactics.
Think of yourself as a farmer and Facebook as your farm. Continually planting the same crop in the same field will eventually lead to diminishing yields. To ensure you always have good harvests, you need to be ready to either plant different crops (have new ad ideas) or rotate fields (find new audiences).
Consider these factors when brainstorming:
Draw off what you already know about your customer base. Are there parts of that customer base you're not currently targeting? Are there people you think might like your product that you haven't yet been able to reach?
Take stock of any creative assets you have but aren't using. Consider how they might be profitably deployed.
Don't forget to look at what your competitors are doing. Any ad campaign your competition runs on a sustained basis must be doing something for them, and it might have some lessons for you. (Use Facebook's Ad Library to view your competitors' ads.)
It's tempting to get comfortable when you have ads that are performing well. However, this is the best time to be testing. Not only do you have the resources to afford to test, but you also have the luxury of time to find the best replacement strategy.
You don't want to end up in the situation where you're facing diminishing returns on your current Facebook ad campaign and are frantically looking for something — anything — to take its place.
Step 3: Set Up Your Tests
Setting up A/B tests using the Facebook Ads Manager is very simple. It takes just four steps:
Go to your Ads Manager. This is the main table that shows all your ads, with header tabs for campaigns, ad sets, and ads.
Select the existing ad you want to run an A/B test on.
When you select an ad, the A/B test box will appear above the table. Click here.
Follow the step-by-step instructions to pick testing options and set up your test.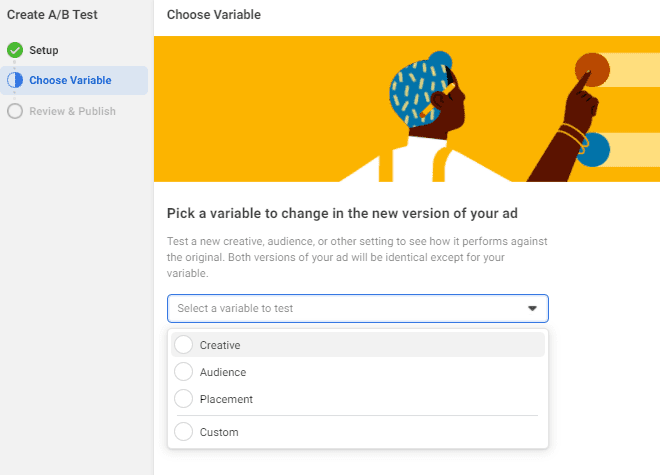 The key to a successful A/B test is testing only one variable at a time. This means that if you're doing a test on the creative, for example, don't also change the copy.
Choosing a time frame and daily budget for your tests depends on your overall campaign budget and your typical customer buying cycle. Make sure you are running tests long enough and large enough to get adequate evidence of a winner.
Facebook will provide you with an estimate of your test's statistical significance based on the variables you have chosen. It recommends a power level of at least an 80% chance of determining a winner over the course of the experiment.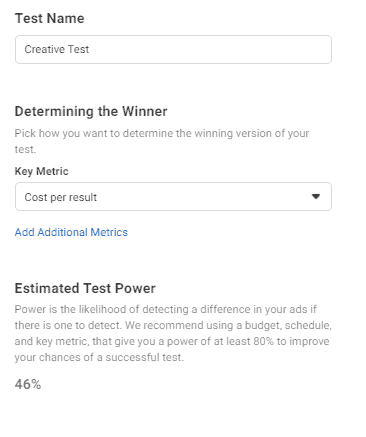 You can also set up an A/B test from the Experiments tab by selecting two existing campaigns to run against each other. This is a good approach if you find it easier to create the two ads outside Facebook's A/B test dialogue.
Step 4: Evaluate Your Test Results
Facebook offers four standard events to use as the metric for your campaign:
Cost per result
Cost per click (CPC)
Cost per 1,000 people reached
Cost per purchase
You can integrate Facebook's report with your own data to calculate additional key performance metrics (KPIs), such as:
Cost per acquisition (CPA)
Return on ad spend (ROAS)
Conversion rate
If you're lucky, Facebook will determine a winner and stop the test early if you let it.
But not all split test results are going to show clear winners. Sometimes one ad might perform better in one metric than in another.
If you've hit your goal for this testing campaign, great! Start deploying your new ad.
Otherwise, proceed to step 5.
Step 5: Do It All Again
Hopefully, one of your ads performed better than the other. Use this as your starting point for the next test. If the new ad was a clear step in the right direction, take the differentiator (copy, creative, timing, etc.) and tweak it further.
If the better ad was only a slight improvement, consider exploring a different direction and adjusting different variables in follow-up tests.
8 Test Ideas for eCommerce Businesses
These are some of the standard tests that we recommend for eCommerce businesses advertising on Facebook. We've used these for many of our clients in the past and gotten great results.
1. UGC vs. Non-UGC
User-generated content (UGC) is a powerful tool for social ads. Since UGC can be anything from a comment to a tweet to a video review, experiment with utilizing UGC in every and all parts of your advertising.
Running your first UGC test can be eye-opening. When we ran an A/B test for our client Blendtopia, we found that UGC generated more than ten times as many sales as the original ad copy and image.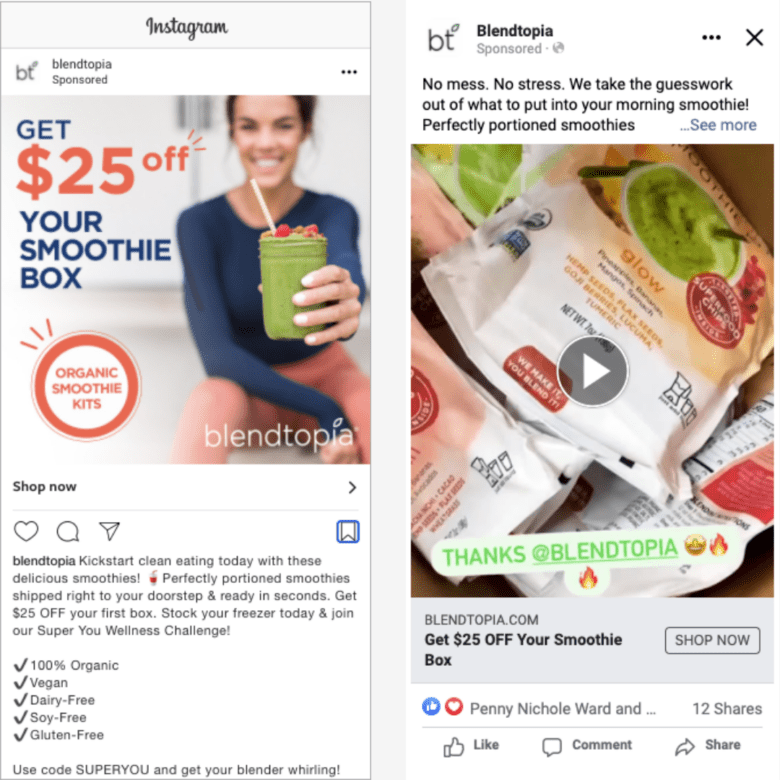 UGC was also critical to increasing Vitrazza's Facebook Ads revenue by 90%, helping them hit their first million-dollar month!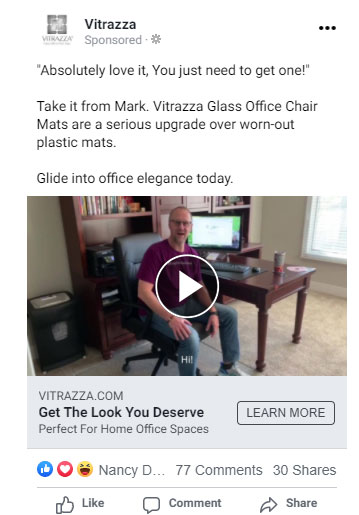 2. Video vs. Image
If you're running campaigns with images, it's worthwhile to try using video. (Video was also key to our $1 million revenue for Vitrazza.)
We know: Video can be expensive to produce. But it doesn't have to be.
First, you can use UGC strategies to mine quick, effective videos from customers. If you don't have access to that, try producing your own video content. It doesn't have to be high-quality to be successful, either (more on that below).
If original video is still out of reach for you, Facebook offers a few helpful alternatives, such as carousel ads, gifs, and boomerangs.
3. High- vs. Low-Production Value
If you've invested in high-production-value photos or video, you might assume that it's the best way to reach your customers. However, sometimes low-production value creative can actually reach your customers better, especially if you're incorporating user-generated content.
Again, that's part of how Vitrazza hit its first million-dollar month.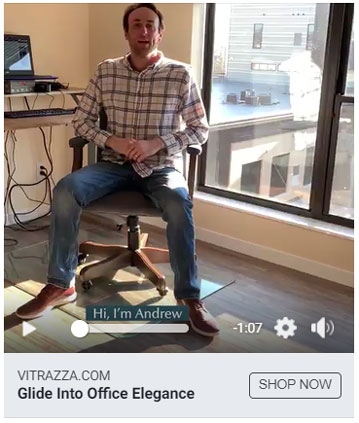 4. Video Length
How long (or short) should your ad videos be?
Longer videos can contain more information and make more selling points. Shorter videos, on the other hand, often hold a customer's interest better.
Test both a longer video and a shorter one to see which works better for your brand.
5. Sale vs. Review Copy
Your sales department can sometimes come up with just the right slogan to attract customers.
Other times, it's your customers who really know how to sell your product. After all, they're the ones who bought it (and they can tell you exactly why they did).
Test sales copy against excerpts from customer reviews to see which performs better.
6. Call to Action
What's the perfect final pitch to get the all-important sale?
It can take a lot of adjusting to get your call to action (CTA) right, which means it's a perfect opportunity for A/B testing.
CTAs are easy to change, and they can make a big difference, so it's worthwhile testing a few versions before starting your full-scale ad campaign.
7. Copy Length
We know that you can go on forever about your product, but nobody wants to read that on your Facebook ad. Or do they?
Test the length of copy to find the right text that communicates all the important information — without losing your customers.
Sometimes, the obstacle isn't customers; it's Facebook itself. Adespresso's research reveals that Facebook algorithms assume people don't want to see long blocks of text, so keep that in mind, as well.
8. Influencers vs. Real Customers
Influencers are social media stars. By focusing their talents on gathering a following, they have built an audience that could be worthwhile to tap into. Bonus: They also know how to create well-produced videos and images and convey key information in a way that social media audiences respond to.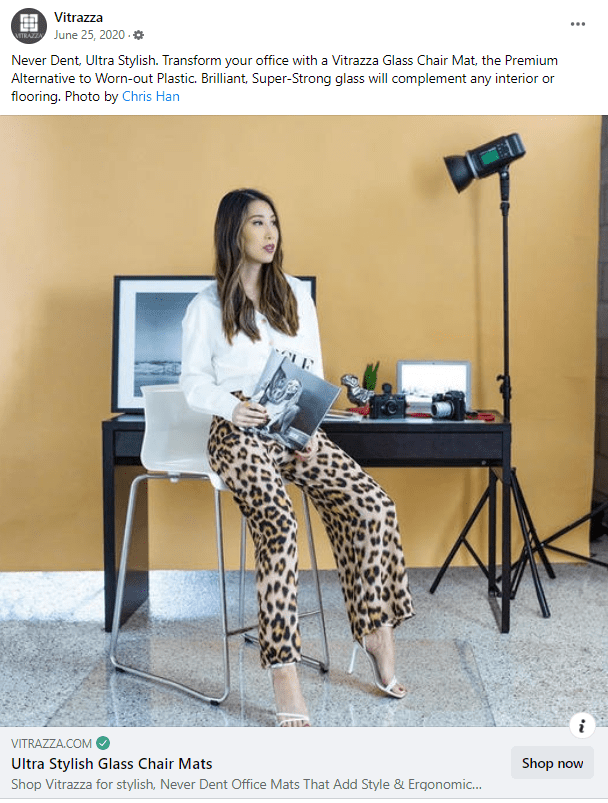 That said, using an influencer can cost money. Sometimes an influencer is worth the cost, but other times it's not. Test to find out.
Start Your A/B Testing Now
Facebook ads can make or break your eCommerce business. They can be your best digital marketing technique, or they can be a money pit that sucks in all your operating capital.
A/B testing helps you ensure you find the right ad strategy for your business, without wasting an excessive amount of spend.
As you launch your A/B tests, remember that your business is unique. While we've used these test ideas successfully for many of our clients, we know the importance of constructing a custom campaign for every business. Instead of taking our words verbatim, use this article as a jumping-off point for your own A/B testing.
That way, you'll find the strategy that works best for your brand.
Successfully designing an ad campaign takes a lot of work. If you're not sure where to start or if you haven't been able to make your Facebook ads work, let us do it for you.
Our paid social team has experience running these tests, breaking down the data, and building ever-more-successful ads. Contact us today to request a free proposal and personalized strategy for your eCommerce business.
Until then, check out our other helpful Facebook Ads resources: