How do the top U.S. eCommerce companies dominate the search engines?
What tactics do they use to drive traffic? And what could you learn and apply to improve results for your own business by studying their methods?
To answer these questions, we analyzed recent research from eMarketer, which studied the top 50 U.S. eCommerce companies by revenue. The complete research is hidden behind a paywall, but we've summarized the research for you here.
We then used data from Ahrefs to analyze how well these companies were doing at SEO. Here's a simple chart of the companies we looked at with their revenue numbers: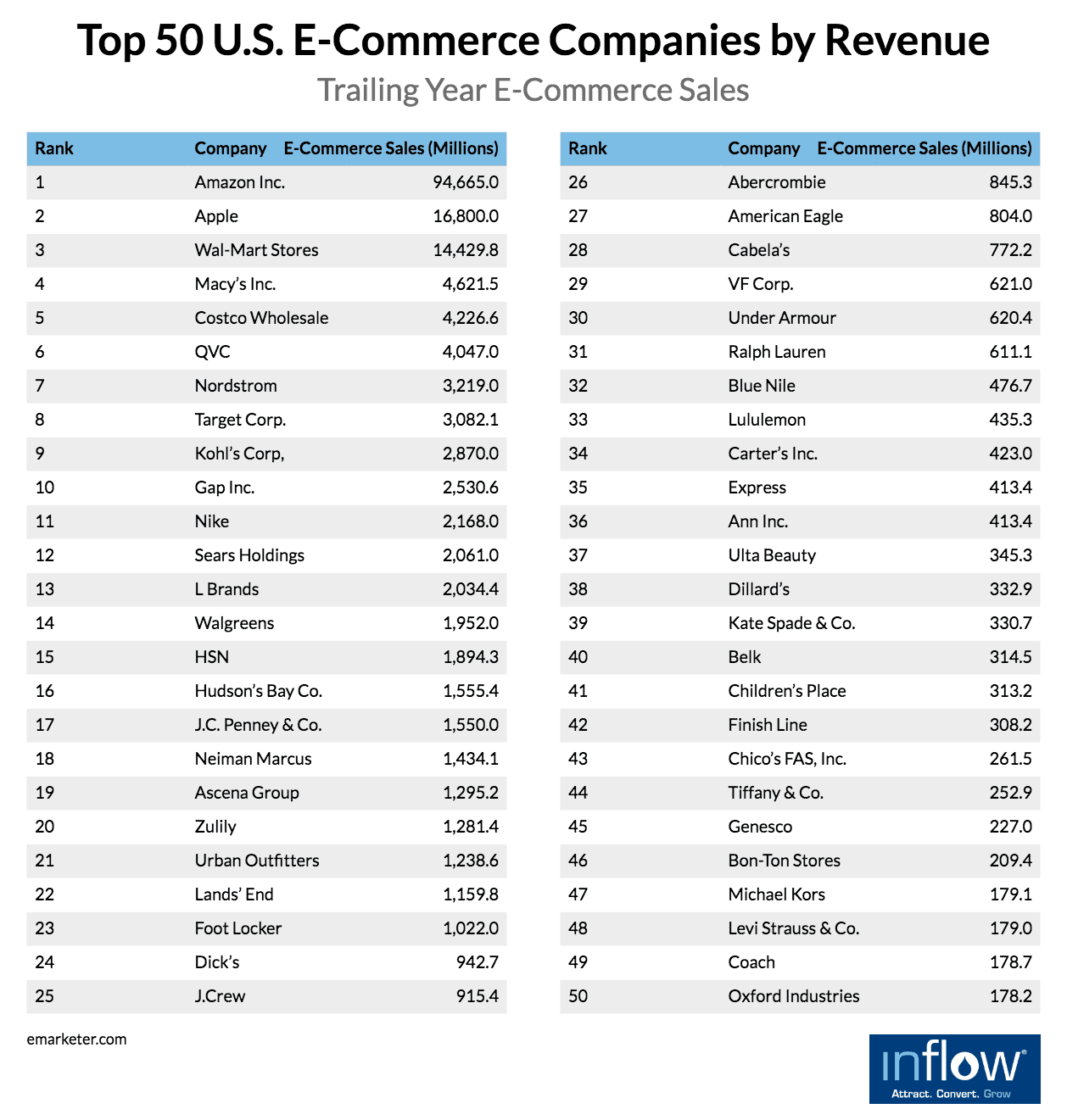 As we expected, they dominated, receiving thousands, if not millions, of visitors in organic SEO traffic per month.
Since several of these companies are conglomerates of smaller eCommerce companies, we decided to exclude them from our analysis. We also excluded the top three eCommerce companies for some graphs simply because their large numbers dwarfed all the other sites.
We wanted our analysis to go a little deeper and show that dominating SEO is more than the basics. Yes, you need to earn backlinks and rank for keywords. But that isn't the whole story.
Some companies get significantly more traffic and revenue while having fewer backlinks and ranking for less keywords. Modern SEO relies on many factors.
Some of our key findings:
All companies get significant SEO traffic, but traffic alone is not a direct indicator of revenue.

Ahrefs Domain Rating does not appear to be a strong predictor of traffic and revenue for the companies we researched.

The number of keywords ranking is a strong predictor of traffic.

Companies can dominate without indexing a lot of pages.
Note: Interested in a personalized SEO strategy for your eCommerce website? We can help. Contact us here.
All Companies Get Significant SEO Traffic
All of the companies on the list received a tremendous amount of SEO traffic.
What immediately jumped out to us was how much more traffic the top three companies (Amazon, Apple, and Wal-Mart) received than the other companies. This is reflected in the revenue numbers as the top three companies were the only ones with over 10 billion in revenue.
There seems to be a correlation between revenue and traffic. We mapped the companies traffic against their revenue to find out:
The line on the graph is a best fit line that approximates the linear relationship of the data points.
What we see is that while there is a correlation between traffic and revenue, it's not a perfect one. Some companies make three times as many dollars per SEO visitor than others. This reinforces how SEO success is about way more than just raw traffic.
How well are you converting that traffic? Are you upselling that traffic as well as other companies? Are you ranking the right page for the right keywords?
Even though there are millions of articles online written about how important traffic is, traffic is a bit of a vanity metric. Some of these companies have similar revenue numbers, but one has to maintain the higher cost of serving three times as many visitors. If your SEO isn't attracting the right people, then you can watch your traffic soar but not your revenue.
Lastly, of course, non-SEO traffic may play a big role in the revenue estimates from eMarketer for these top 50 eCommerce companies. In particular, paid advertising (both paid search and paid social) is, of course, a big driver of sales for many eCommerce companies including these.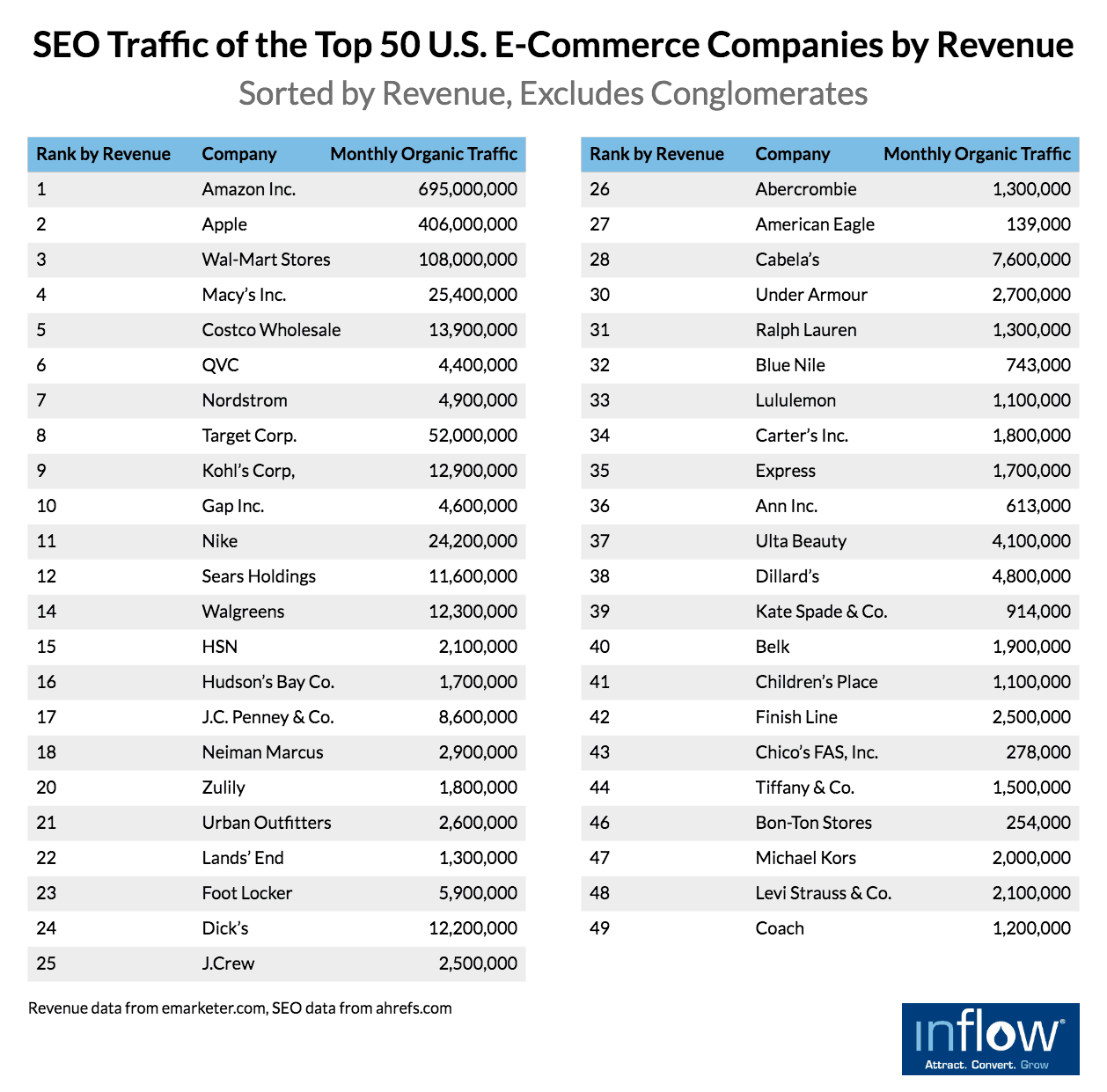 Number of Pages Indexed Is NOT Correlated With SEO Traffic or Revenue
A simple understanding of SEO might lead you to think that if you index more pages then you'll rank for more keywords, leading to more traffic and revenue. What our analysis shows is that this line of thinking can be spectacularly wrong.
We saw no correlation between the number of pages indexed and traffic, keywords, or revenue. It's hard to find any way that total amount of pages correlates to any of the other metrics.
To show our point, here's the relationship between revenue and number of pages indexed: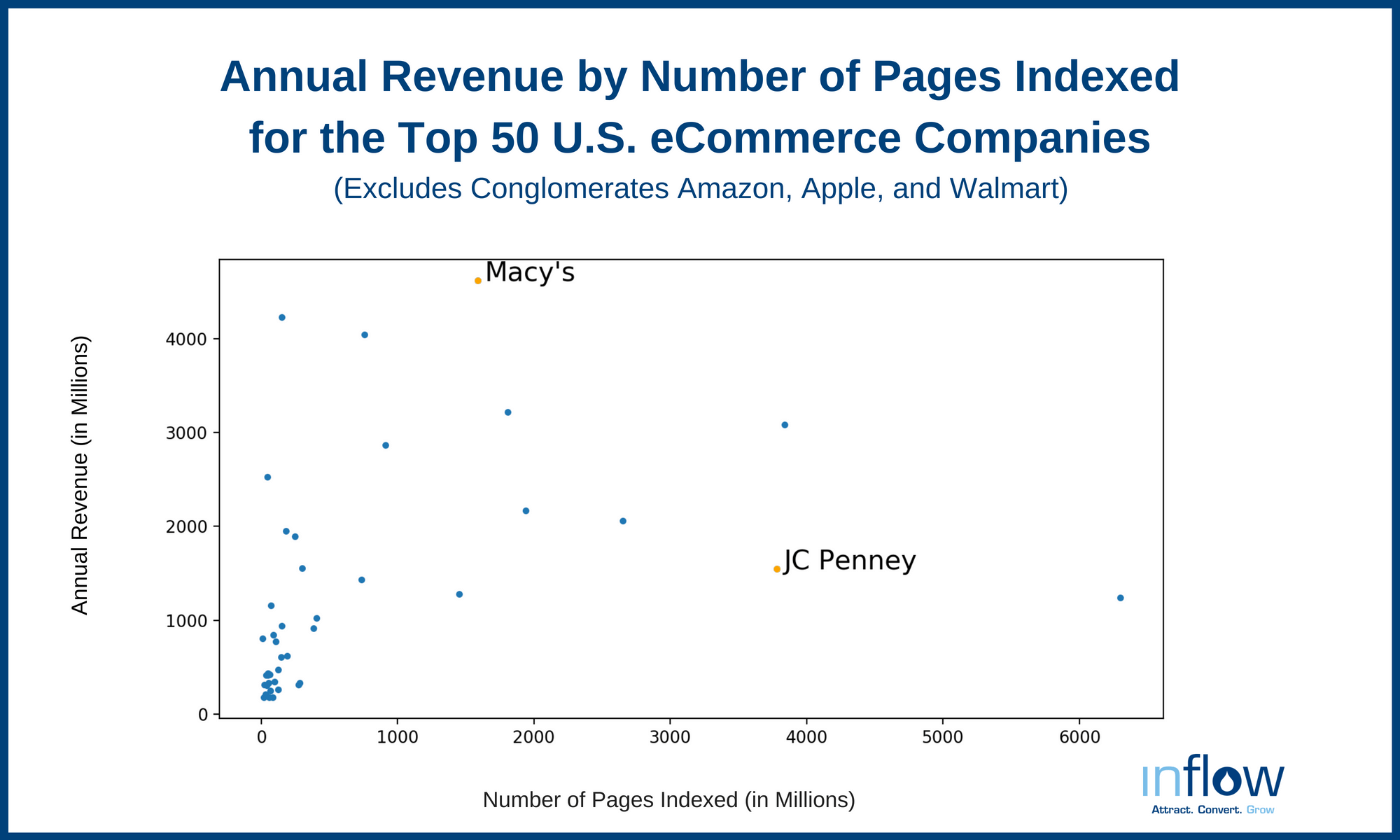 No clear correlation. For example, Macy's indexed 1.6 million pages with 4.6 billion in revenue while JC Penney indexed 3.8 million pages with 1.5 billion in revenue.
You may think revenue isn't expected to be correlated to indexed pages because there are non-SEO sources of traffic. Well, here's the relationship between traffic and pages indexed: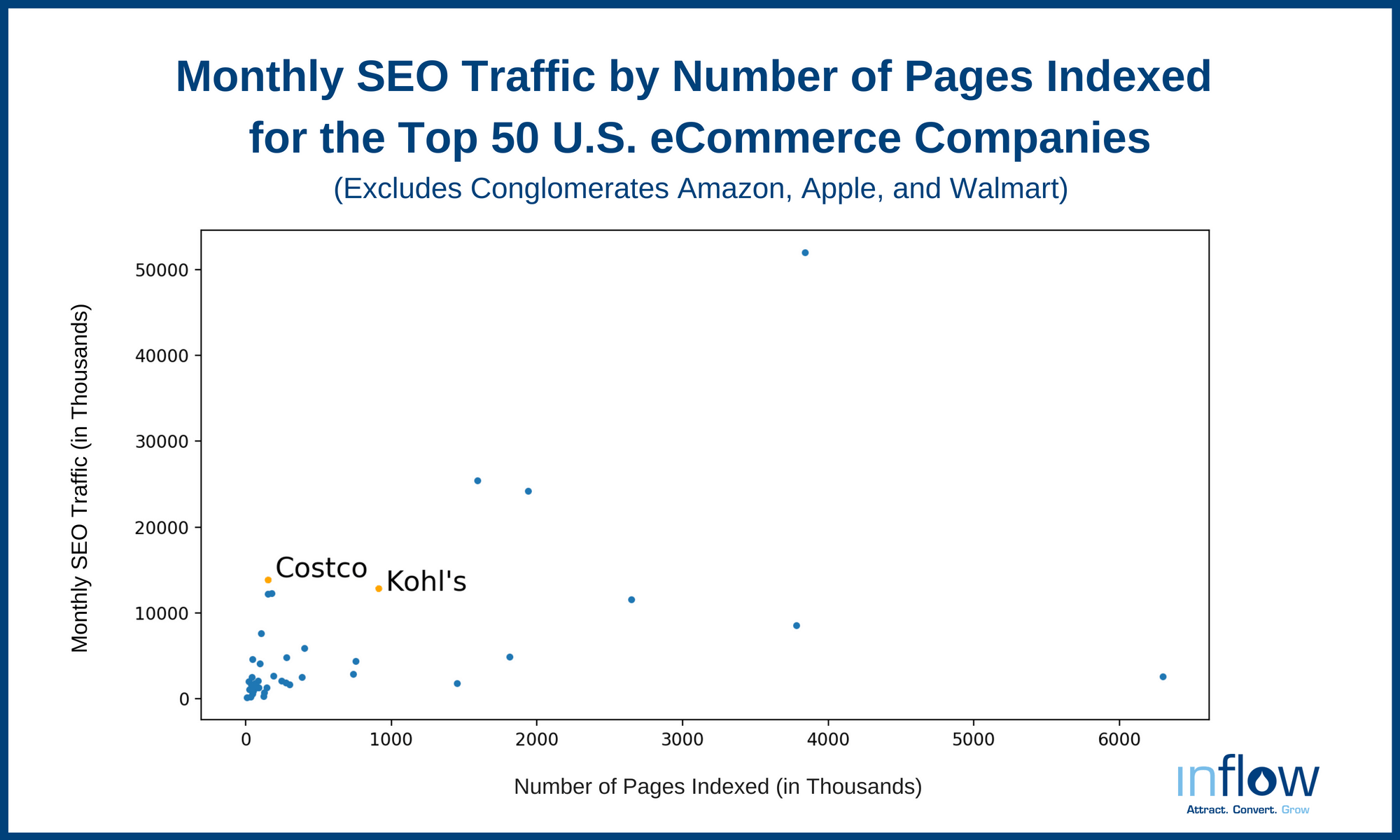 Again, no correlation. This is why we often look for index bloat when working with our eCommerce clients—to help them improve their results by removing some of these unnecessary pages. The companies on the right have (relatively speaking) huge sites with thousands of indexed pages, but most are not leading in terms of SEO traffic.
Notably, Costco and Kohl's both get over 10 million visitors a month from organic traffic but have relatively fewer indexed pages.
There are several reasons that Costco has so much search traffic. One is that it has extraordinarily strong brand power. Consider that many of Costco's top keywords (like "costco tires", "costco photo", and "costco optical") have "costco" in them. Having such a memorable brand causes Costco to get more targeted search traffic.
Another reason could be that they're indexing several unnecessary pages. This means they're getting a lot of traffic, but it's not targeted or revenue-generating. We call this cruft—pages that aren't getting traffic at all— dragging down the performance of every other page on the site.
Finally, here's the relationship between the number of keywords a site ranks for and pages indexed:
While more pages could mean more chances to rank and earn traffic, that isn't always the case. In fact, we've helped a client grow their search traffic by decreasing the number of pages indexed.
As the chart shows, increasing the number of pages you index is no guarantee of ranking for more keywords. You can rank for more keywords with a smaller amount of quality pages. We've developed a Cruft Finder tool and process to help our clients with just this problem.
Of course, if you sell a lot of products, then attempting to rank a lot of pages can be the correct course of action. It all depends on the state of your business.
We can think of a few explanations as to why some of these companies do better even though they index less content. They may have less inventory with higher prices. They might prioritize ranking category pages (like a page selling all mobile phones) instead of ranking individual product pages (like the page for the iPhone 7). Or, they want to focus all of their effort on a key set of keywords and pages.
The good news here is that this shows that offering more products is not the only way for an eCommerce company to grow. Marketing existing products efficiently can lead to great results.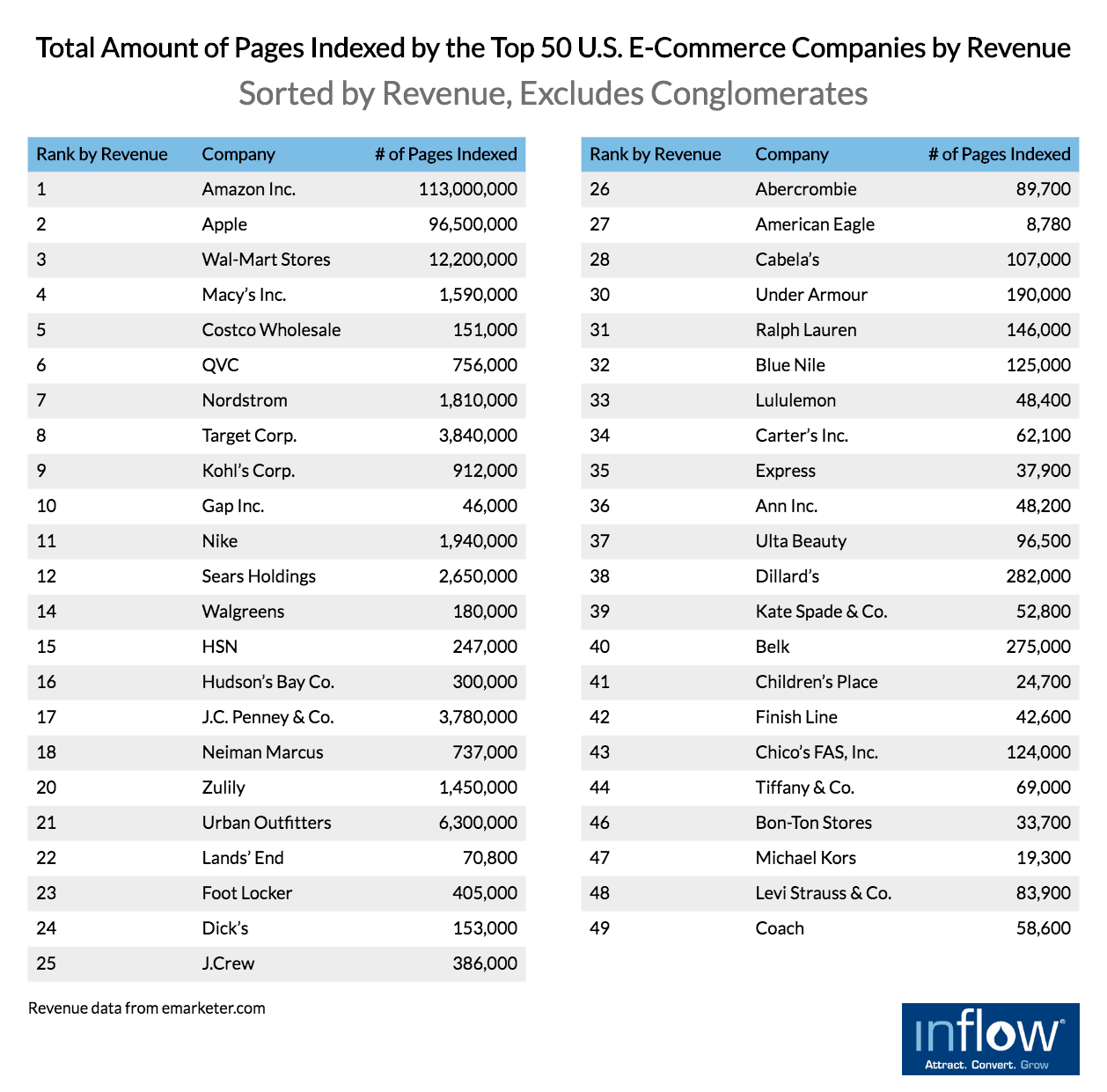 Ahrefs Domain Rating Seems to Be a Weak Predictor of Traffic and Revenue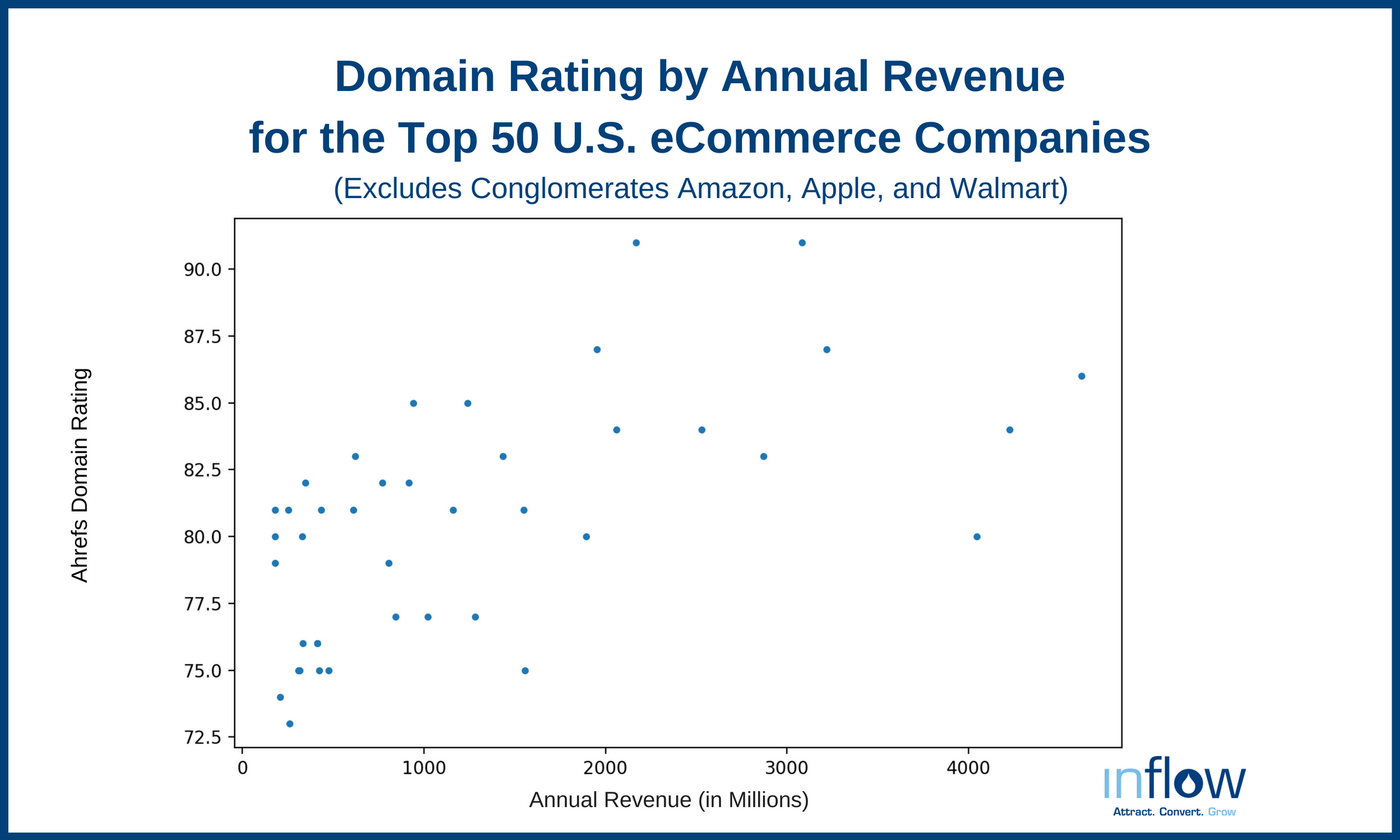 Ahrefs has a Domain Rating system that measures how well a site will rank on Google on a scale of 1-100. The scale is logarithmic, so a site needs to increase its backlink profile significantly to make any ten point jump. Each ten point jump is harder than the last (going from 1 to 10 is easier than 10 to 20).
Keep in mind that 83% of sites have a Domain Rating of 0-5, but the lowest Domain Rating we saw on this list was 73. This is another indicator of how well all of the companies on this list have utilized SEO.
While Ahrefs uses referring domains to determine Domain Rating, we saw a weak correlation between Domain Rating and revenue. This makes sense as the strength of the website helps a site rank for a keyword but is not everything.
These sites all have established themselves in Google's eyes, so it probably weighs other factors much more heavily. Getting an extra hundred—or even thousand—backlinks wouldn't move the needle for most of these companies.
Of course, for smaller sites that are getting established, every solid backlink can be valuable.
Ahrefs requires a paid subscription to check the Domain Rating of a site. For a free alternative, look at the Domain Authority metric from Moz. It also ranks sites on a 1-100 logarithmic scale. You can see the Domain Authority of any website using Moz's Link Explorer tool.
Referring Domains Is a Decent Predictor of Success
While there are many ranking factors for SEO, total amount of referring domains is still considered to be one of the strongest predictors of overall SEO ranking potential. To quantify how well these sites have created backlinks, we analyzed the amount of referring domains each site has. We looked at both dofollow and nofollow backlinks as there is still some debate as to how impactful nofollow links are.
We can see that these eCommerce companies have done a spectacular job at link building. From this analysis, it's impossible to know how many links were actively or passively built.
For almost all of the sites, we can see that most referring domains have at least one dofollow backlink. Thus, it's hard for us to analyze how much of an impact nofollow backlinks have on these sites rankings.
When we look at the relationship between revenue and backlinks, we see the same trend that we saw with traffic: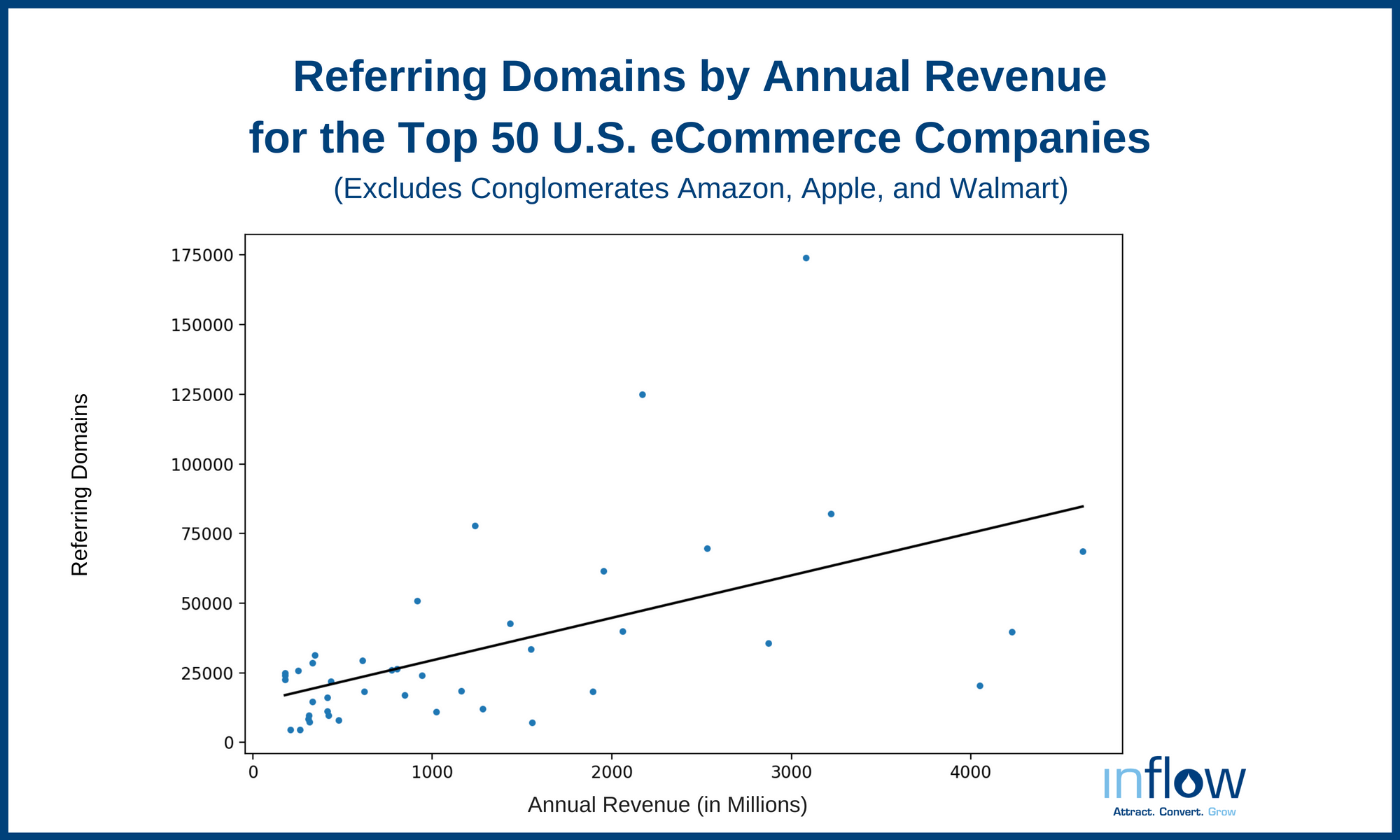 There is a relationship here, but it's not a strong one.
This shows why modern SEO needs to take more than just backlinks into account. There are many factors that go into a successful SEO campaign.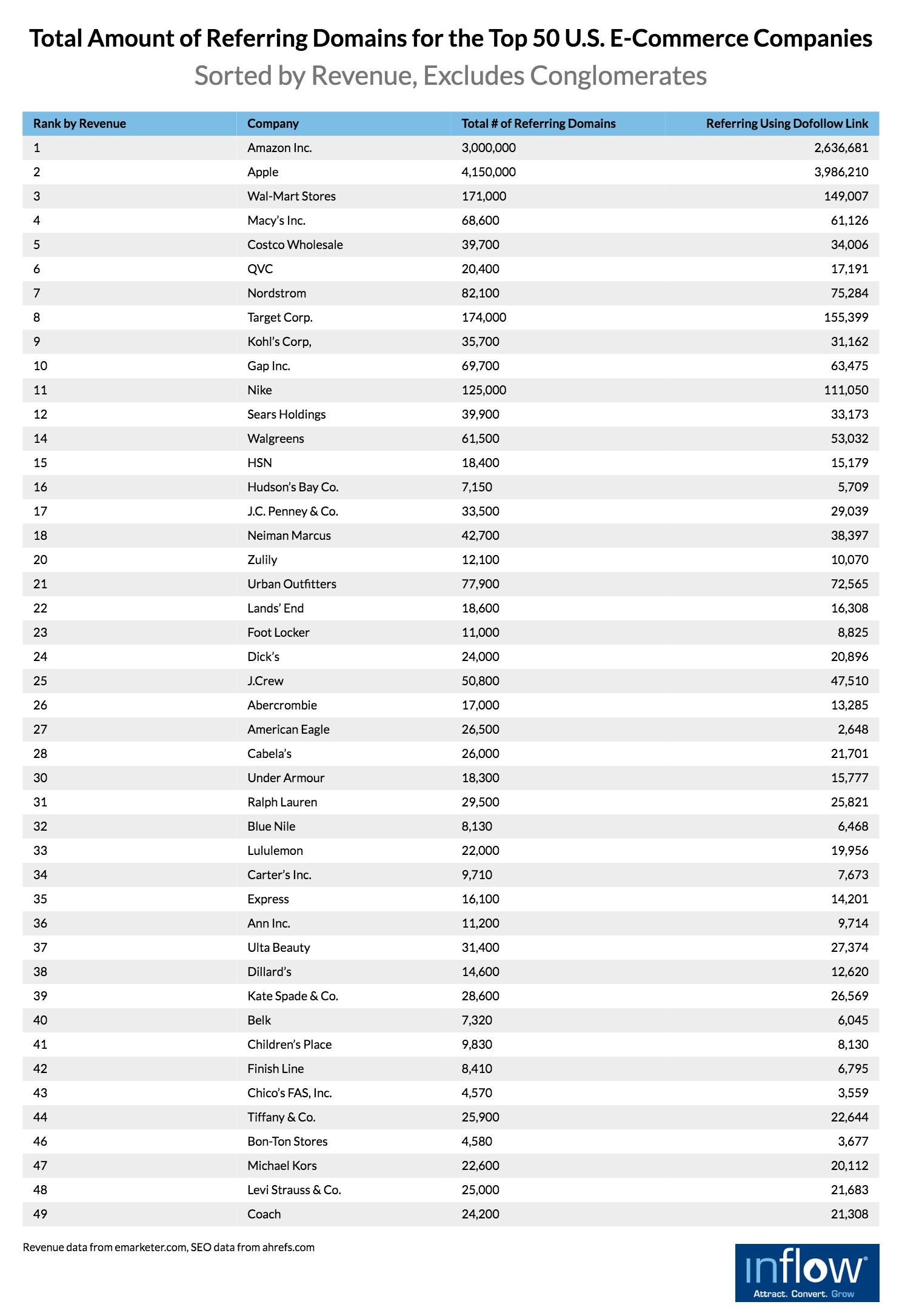 All Rank for Several Keywords in an Almost One-to-One Ratio with Traffic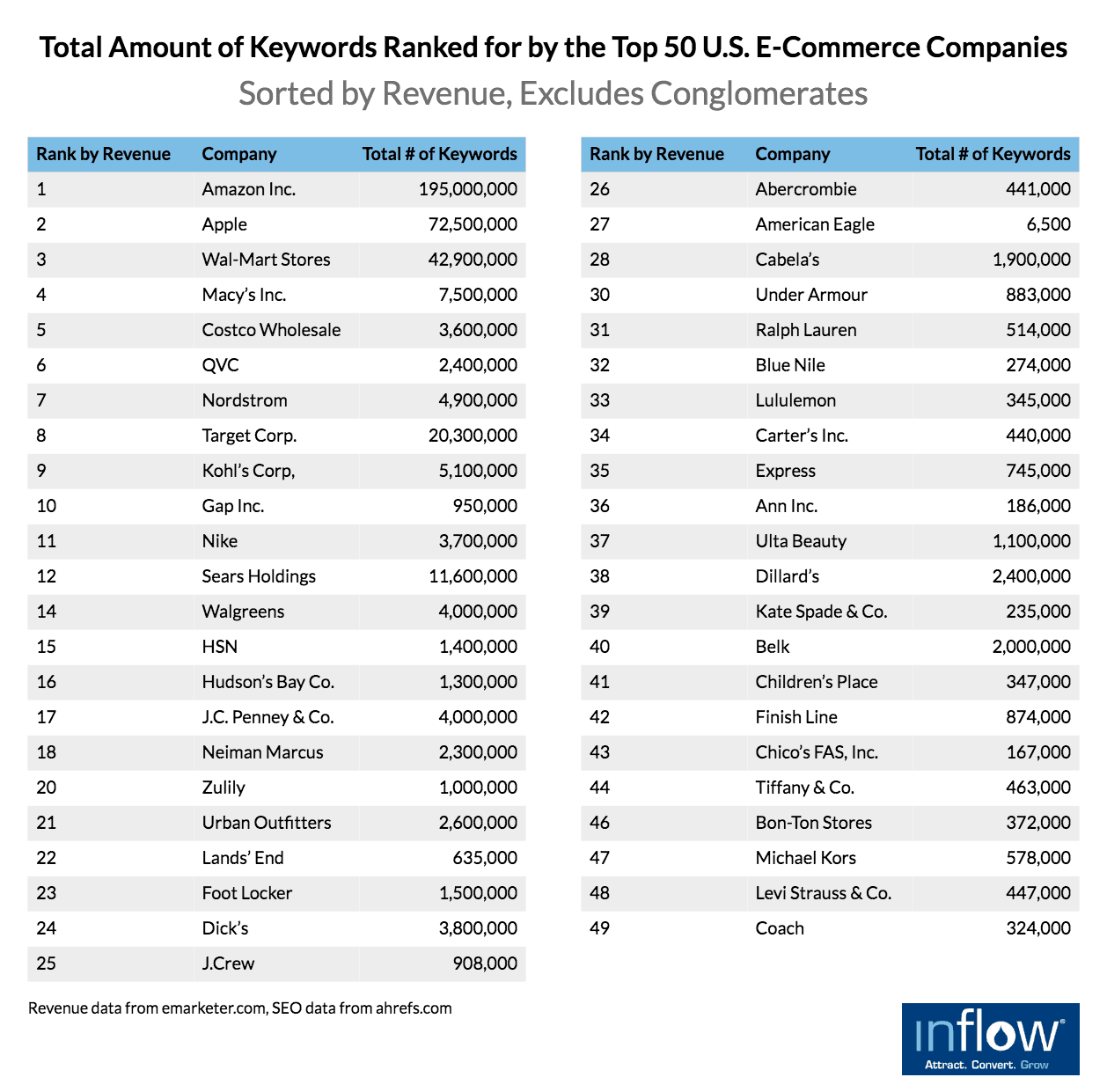 When we looked at the number of keywords each eCommerce site ranked for, it was obvious that the overall ratios were similar to those of traffic and revenue. The top companies ranked for the most keywords: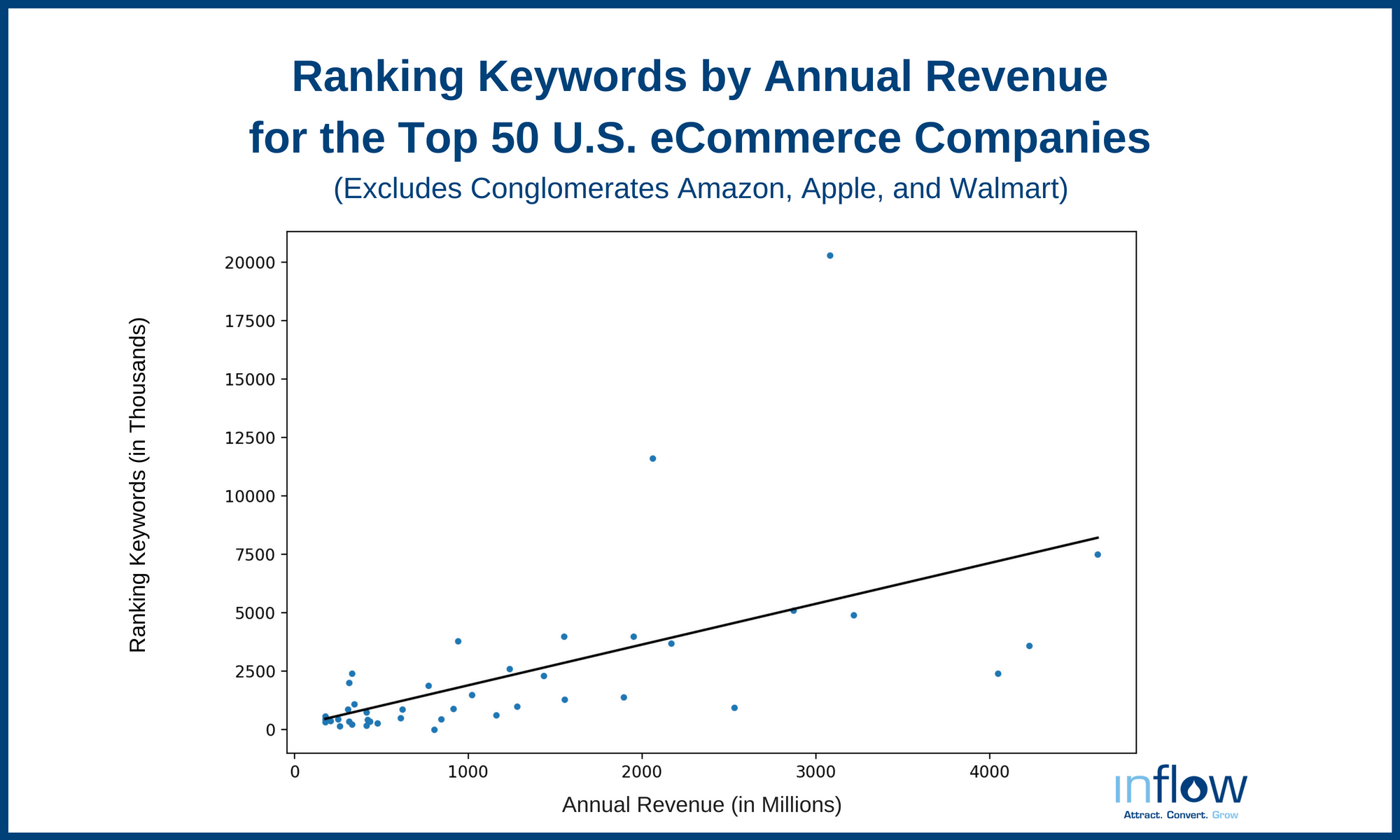 Also interesting is the relationship between traffic and number of ranking keywords: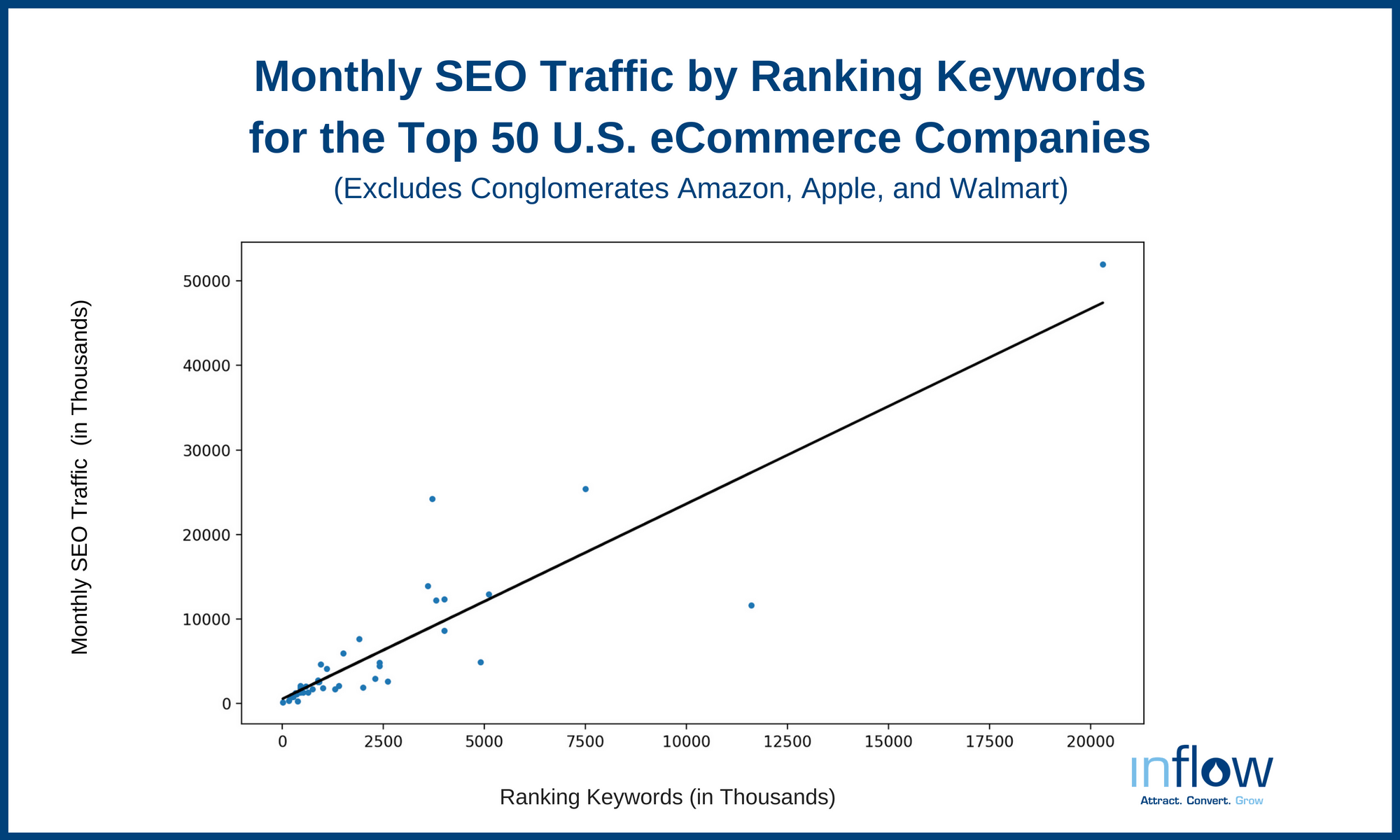 While there is a general correlation between keywords and traffic, the amount of traffic generated per keyword varied significantly. Consider this chart of traffic-to-keyword ratios: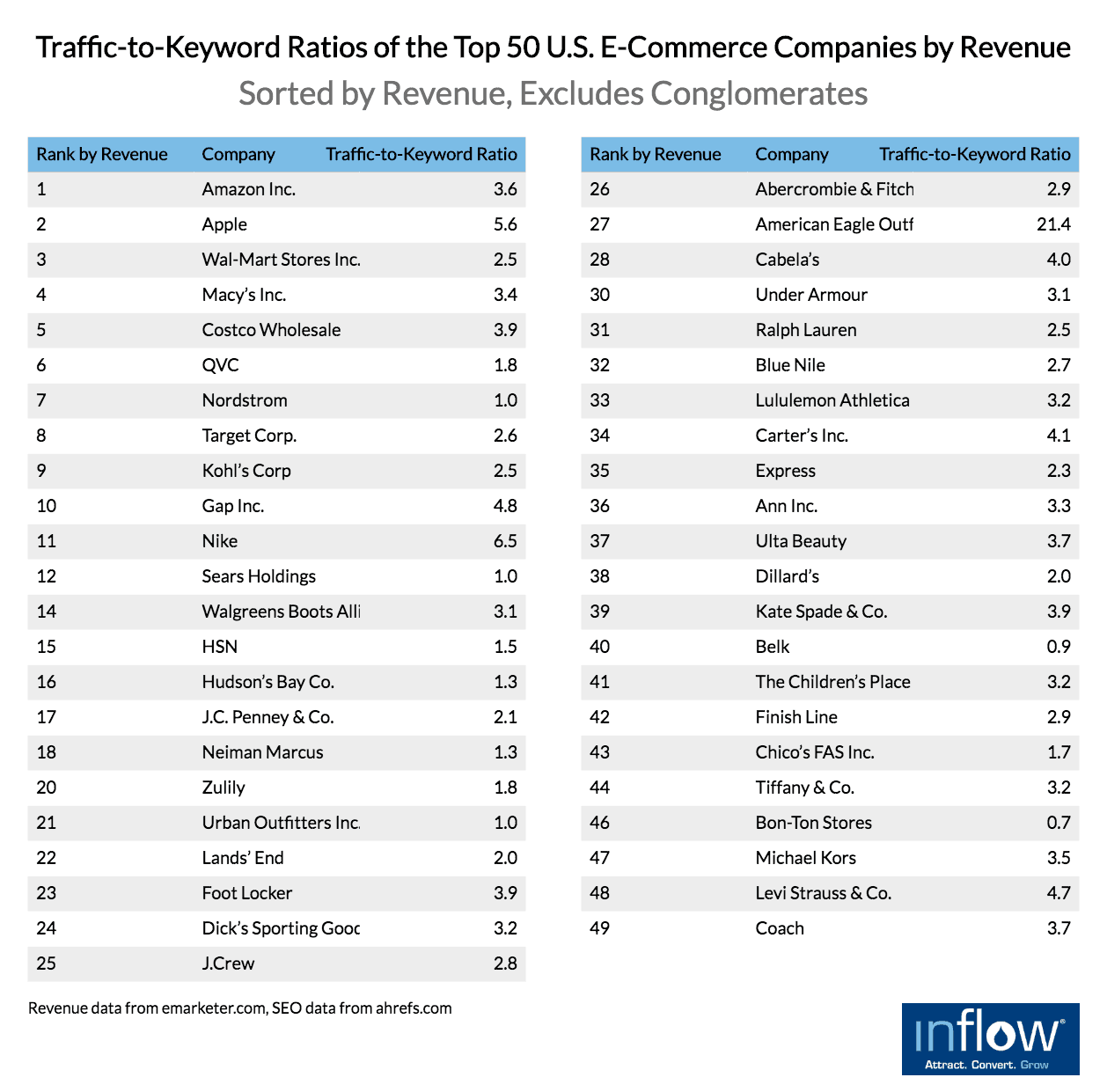 So while more keywords lead to more traffic, there is still a lot of choice in deciding what keywords to target. Do you target keywords with 100 searches per month or with over 1,000 searches per month?
We thought that industry might explain this. If you sell products in an industry with more long-tail searches, then you'll want to rank for more keywords with less traffic. If you sell products in an industry with shorter and more general searches, then you'll want to rank for less keywords with more traffic.
We went through our list and couldn't find anything to back that up. Consider two similar companies: Nike and Under Armour. Nike ranks for 3.7 million keywords and gets 24 million visitors a month. Under Armour ranks for 883,000 keywords and gets 2.7 million visitors a month.
It seems that there are other factors, like how strong your brand is, that determine what the best approach is for your business.
In Closing…
Here are our biggest takeaways:
You must consider more than just raw traffic when maximizing sales from SEO.

Indexing more pages can be harmful if you're not careful.

While Domain Rating is a general measure of success, you can see companies with similar scores and wildly different amounts of traffic and revenue.

Focus on quality: you may earn more backlinks but know that companies succeed with relatively few referring domains.

Be strategic about the type and volume of keywords you target.
If you want to master eCommerce SEO, then you have to go beyond the simple stuff. Even if you get a lot of backlinks or rank a lot of keywords, that's not a guarantee for more meaningful traffic. SEO ranking systems (like Ahrefs' Domain Rating) are useful but don't tell the whole story.
SEO can also force you to make decisions that don't have an obvious answer. Do you attempt to rank for more keywords with less traffic or do you attempt to rank for less keywords with more traffic? How many pages do you index? Have you built up enough authority where link building may not be as useful anymore?
The good news is that SEO is solvable. New companies are constantly popping up that get traffic from SEO. As long as you make the right decisions, SEO can provide a tremendous amount of traffic.
Note: Want an expert evaluation of your eCommerce SEO strategy? Contact us here.