Editor's note: This report was originally published in January 2020. It has been updated for accuracy and to reflect modern practices.
Our research shows it time and time again: The trust badge that you choose for your eCommerce site can have a huge impact on your customer conversion rate.
To maximize yours, it's all about finding the right one for your audience.
As part of our ongoing analysis of eCommerce website best practices, we've continually tested various trust badges from third-party brands for more than a decade. While the standouts remain the same, the top performers are often changing — which means our testing never stops.
In this guide, we'll discuss what our most recent study reveals, as well as what your online business should know about incorporating an eCommerce trust seal onto your site.
What is an eCommerce Trust Badge?
As the name suggests, an eCommerce trust badge is an icon you display on your website to indicate your customers can trust your brand.
Typically, these badges come with security features that keep your customers' credit card and personal information safe. They're part of the overall SSL (Secure Sockets Layer) certificate system that encrypts certain information sent across the web.
There are several types of trust badges and providers:
Safe checkout processes (Norton, PayPal, Shopify)
Accepted payment options (Visa, Mastercard, PayPal)
Third-party endorsements (Better Business Bureau, Google Trusted Store)
SSL badges (Trustlock, Symantec and child brand Verisign)
Money-back guarantees
Free shipping and free returns
For the sake of this report, we'll focus on the first category: the "safe checkout" trust badges.
What's the Best Website Trust Badge for eCommerce?
Back in our 2018 tests, two heavy-hitters outperformed the rest: Norton and McAfee. Our 2020 report revealed a brand that achieved a conversion lift above those options.
But, in our 2022 reports, we learned that branding may not be as important as we originally thought.
We'll walk you through each report below, to give you the fullest picture of the ever-changing online retail landscape:
Background: Our 2018 Comparison of Trust Badges
In 2018, we tested a set of widely used trust badges on our clients' eCommerce websites. Specifically, we evaluated third-party "security" trust badges, rather than any payment badges or icons representing money-back guarantees.
We tested the following logos:
McAfee SECURE
Norton Secure
Authorize.net
TrustGuard
Trustwave
GeoTrust
BizRate
BBB (Better Business Bureau)
What we learned:
Several of these security badges actually lowered conversions, while some didn't affect conversions at all.
Meanwhile, the "McAfee SECURE" and "Norton Secure" trust badges conclusively increased sales for our clients' websites.
Once we found that these trust badges were the most likely to increase conversions for our clients, we narrowed our test even further, by comparing McAfee vs. Norton trust badges. At that time, McAfee's trust badge was more likely to increase conversions than Norton's.
But it was a different story entirely in 2019.
Our 2019 Comparison of Trust Badges
In 2019, we tested Norton and McAfee trustmarks against TrustedSite on a handful of our clients' sites. Those tests repeatedly concluded that TrustedSite was the trustmark most likely to lift conversions on those websites.
While our tests got the best result from displaying the TrustedSite mark, every website is unique. The same result may not necessarily occur on a different website, due to various brand and audience factors.
Therefore, we recommend that every online store add a secure trust badge like TrustedSite to see what happens — but don't forget to test it against other badges, too.
If you want an expert to handle that testing process for you, our conversion rate optimization team is always happy to help. Get a custom proposal for your site today.
McAfee vs. Norton vs. TrustedSite
On the four enterprise eCommerce websites on which we tested these security logos, TrustedSite repeatedly displayed a conversion lift when compared to Norton and/or McAfee.
You can find two of these test details below.
Test 1: Burt's Bees
This test was exclusive to McAfee vs. TrustedSite, because our control was an existing McAfee trust badge.
The full test consisted of:
Control: Existing McAfee badges.
Variation 1: Replace all existing McAfee badges with TrustedSite badges.
Variation 2: No floating badges; replace cart and checkout badges with TrustedSite badges.
Variation 3: No trust badges.
Results: Variation 1 was the winner. Replacing all existing McAfee badges with the TrustedSite badge resulted in an 8.72% increase in the conversion rate at 93% confidence.
In addition, all the TrustedSite variations outperformed the control. All variations using trust badges (TrustedSite and McAfee) outperformed variations that had no trust badges.
We can say with confidence that, for Burtsbees.com, visitors prefer to see a trust badge — and that TrustedSite instills more trust in this audience than McAfee.
Test 2: CarCovers.com
CarCovers.com had previously tested Norton vs. McAfee on its website. In that past test, Norton got more conversions than McAfee. 
In this new test, we compared TrustedSite vs. Norton.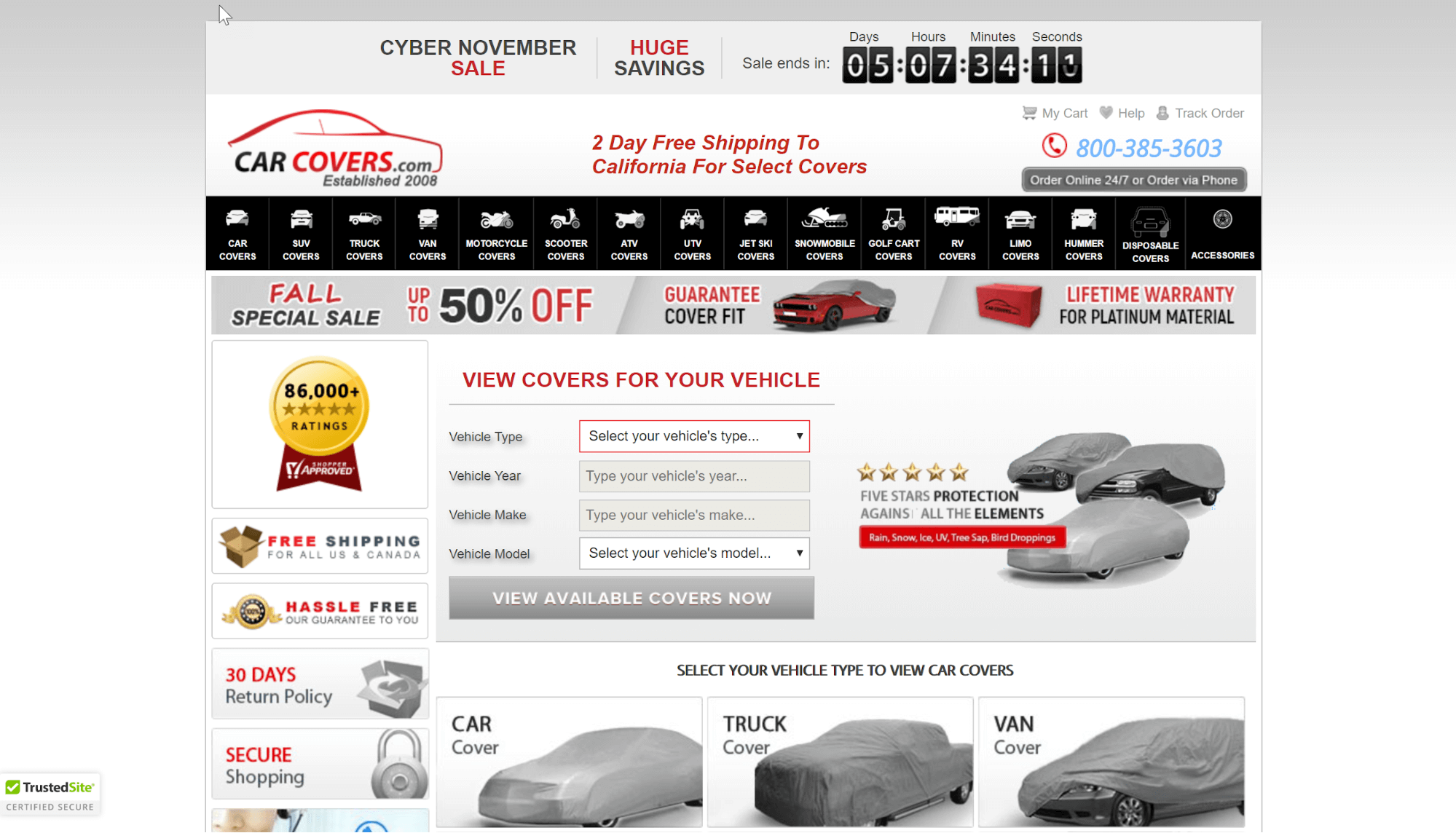 Results: TrustedSite won, with a 2.6% increase in conversion rate at 80% confidence.

Remember: Even a slight increase in your conversion rate can yield a great ROI from the testing required to get it implemented. While it could seem like a minute change, testing something as small as a trust badge and getting that 2.6% increase assists the bottom line for any business.
Our 2022 Trust Badge Tests
As evidenced in these two reports, what works to build trust today may not work as well in a few years. That's why we recommend all eCommerce stores continuously work on their "trust" factor with customized, ongoing testing.
Here at Inflow, we practice what we preach — which means, in 2022, we once again tested new trust badge options on several clients' sites.
This time, we introduced a new variable: generic trust badges, not associated with any brand.
We compared our control against two variations:
Text Only: "Your credit card information is safe and secured by SSL."
Generic Badge: "You are safe."
Results: The second variation outperformed both the control and the first variation, with a 1.2% conversion rate increase at 81% confidence.

Revisiting Norton
At the same time, we continued to test Norton and McAfee on our clients' sites. Unfortunately, McAfee's trust badge proved too expensive for many of our clients, so we instead focused on Norton in our tests.
For most of our clients, Norton continued to perform well, especially when we experimented with page placement. When comparing the control location on a client's site with the placement below the checkout button, the latter option outperformed the former, for a 2.9% conversion rate increase at 89% confidence:

Note: After Norton's rebrand, its logo performance on our clients' sites decreased. While anecdotal, it's more proof that continual testing is key to keeping up with customer preferences.
Choosing the Right Badge for Your Website
It can be hard to attribute why one site's visitors might prefer to see one eCommerce trust badge or another. So much depends on your target audience, the products you're selling, customer reviews, your brand, and more.
That's why, if you're adding a trust badge to your website, you can't skip out on the testing steps. You might begin with our research and choose one of our top performers — but until you test it against your other options, you can't be confident that you're getting the best conversion rate possible.
Want a team of experts to run these tests for you? We're always happy to help.
Why Your eCommerce Site Still Needs a Trust Badge
From our years of running tests, we've learned a few things about the world of trust — what customers want, how to best earn their confidence, and more.
It all boils down to these three takeaways:
1. Consumers prefer to buy from brands they trust.
Today, almost anyone can create an eCommerce business. That means modern customers are exponentially inundated with offers, emails, and websites that they have no familiarity with.
At the same time, the world's largest corporations are regularly involved in widely publicized data breaches of their customers' personal information. It's no wonder that 40% of shoppers say they no longer buy from brands they love because of trust concerns.
But trust today is about more than just the brand and its level of familiarity for a potential customer. It's about the visitor's experience and point of view, too.
Take Burt's Bees, a large, well-known brand that still saw a significant increase in conversions when displaying trustmarks. That's because brands tend to speak to the level of product trust, not necessarily the online purchase experience on their eCommerce store.
Thus, not only do trust badges work, but they're also crucial for customers who want to ensure a site and online transaction is safe and secure.
2. Trust is about more than online security and personal information.
Modern shopping risks have shifted. Concerns that used to circle solely on website security have now expanded into eCommerce performance, scam avoidance, business practices, shipping fulfillment, and protection of customer data — to name just a few.
Based on this (and the test results we've seen), there is still a very real need for trust badges, particularly those that address multiple areas of business trust in addition to security.
For example, the TrustedSite system addresses both security (scans for malware, viruses, and valid SSL certificates) and trust concerns (verified business information, shopper identity protection, and issue-free orders).
A comprehensive trustmark like this puts consumers at ease throughout every step of the online shopping experience.
3. Trust badges regularly increase conversion rates.
Even if security isn't top-of-mind when customers prepare to enter their credit card information on the checkout page, it's at least bottom of mind. 
And our test results prove it:
Conversion rates were lower in control tests we ran on eCommerce sites without a trust badge displayed.
Trust badges from lesser-known online security brands can lower conversion rates.
Trust badges from brands with more widespread recognition are the most likely to increase conversions.
Find the Right Badge for Your Site Today
While website security badges certainly aren't the only factor when it comes to trust (or SEO, or sales, or anything else), we have seen the eCommerce conversion rate on our clients' websites improve when a trustmark is present through the customer's journey on the site. 
In other words, it's important to display the trustmark on each webpage — including the homepage, all landing pages, all product pages, the shopping cart, and checkout.
But here's the tricky thing about customer trust: It looks different for every eCommerce brand and audience. That's why different badges vary in their effects on eCommerce conversion rates.
In addition to the actual logo graphic and messaging the audience sees, the eCommerce brand, its website, and the audience all interact as factors in a badge's effectiveness. Therefore, we always recommend running a test on your own website, rather than assuming you'll get a similar result to another site's test.
If your business has the means, start by testing well-known and trusted brands like Norton, McAfee, and TrustedSite against a control of no badge at all. The control test is essential: In the past, we've conducted tests where a trustmark seemed to increase online shoppers' security concerns.
You may also consider more specialized trustmarks that are relevant to your particular industry, like "sustainably harvested." (Bonus: There are plenty of free trust badges online, no design required.)
Remember: Your results will only be as good as the test you design. If you'd rather have an expert CRO analyst design and run these tests for you, Inflow is here to help. We've found small changes that lead to big results on hundreds of eCommerce sites — and we can do the same for you, too.
Contact our conversion rate optimization team for a free proposal now.