Editor's note: This article was originally published in 2016. It has since been updated for accuracy and to reflect modern practices.
No eCommerce customer wants to buy from an unsecured site. Before giving their credit card information, addresses, and other information, they want to know their data is safe, not subject to breaches or other compromises.
For this reason, having a secured site obviously boosts your conversions. But did you know that securing your site with a Secure Sockets Layer (SSL) certificate can impact your SEO performance, too?
When we first published this piece, Google was pushing its secured site initiative, incentivizing website owners with a "search engine rankings boost" for secure sites and alerting Google Chrome users of unsecured websites. 
Today, SSL certificates are a must for any site, eCommerce or not. Finding the right one, maintaining it, and understanding its SEO impact, however, continues to be a challenge for many businesses.
In today's guide, we'll give you the low-down on what your online store needs to know, including:
Which types of SSL certificates are available
How they may impact your marketing performance
And how to choose the best one for your site's needs
Types of SSL Certificates
Whether you don't yet have an SSL certificate on your site, or your current certificate is about to expire, you'll need to periodically review your options.
Clients often ask us, "Which SSL certificate should I choose?" — but first, they need to understand which types are available to them.
Currently, there are three major types of SSL certificates::
Domain Validation certificates (DV)
Organization Validation certificates (OV)
Extended Validation certificates (EV)
Within these three categories, you'll likely find a variety of certificate options, including Wildcard SSL, multi-domain SSLs, and more. (Our client Sectigo compares all these options in detail.)
Here's a nice breakdown of each category from HostingAdvice.com: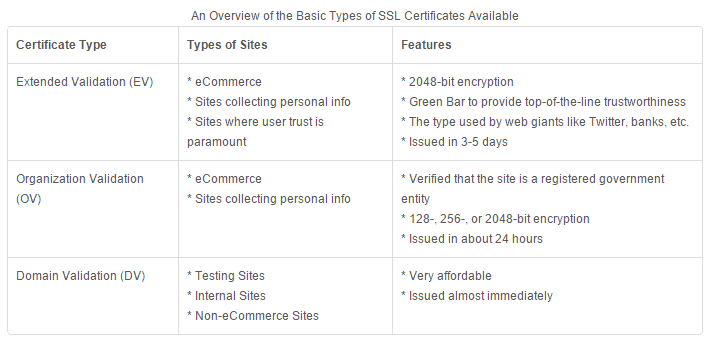 As you can see above, if you run an eCommerce site, you'll need both an EV certificate and an OV certificate at a minimum. But, given the affordable cost of a DV certificate, we recommend purchasing one of those, too.
Bottom line: The more data security you can provide for your customers, the better browsing experience they will have. 
How to Choose an SSL Certificate for Your eCommerce Site
SSL certificates are sold by certificate authorities (CAs). You can buy SSL certificates directly from the CA or sometimes more expediently and seamlessly through your hosting company.
Here at Inflow, we recommend our client Sectigo, which also sells security certificates through SSL247 and Sitelock. They offer a wide range of options to choose from and can help you identify the best choice for your business.
That said, there is no "bad" choice when it comes to SSL certificates. Because most providers offer similar products, your decision will come down to budget, desired warranties or guarantees, number of subdomains, and your development team's capabilities. 
When in doubt, speak with your internal stakeholders and ask potential providers plenty of questions, which will help you identify the best certificate for your needs.
Other options include:
How SSL Certificates Affect Your Digital Marketing
If you're looking for a new SSL certificate, speak with your IT team and/or web developer. Together, you can evaluate your needs, options, and budget to choose the best option for your site.
As an eCommerce marketing company, we also recommend considering how your SSL choice will impact your digital efforts — mainly, your search engine optimization and conversion rate optimization strategies.
SSL and SEO
When Google first pushed SSL certification in 2016 as a website ranking signal in the algorithm, it was part of their overarching strategy to deliver better (and safer) search results to their users in a time where manner websites were not secure.
Today, the vast majority of websites have secured their certificates, begging the question: How much does SSL affect SEO rankings in 2022?
Not as much as it used to.
For most websites, having an SSL certificate is just one small ranking factor in a complex SEO strategy. In other words, you can't just rely on an SSL certificate to improve your organic performance; you must also invest in technical SEO, content marketing, and other tactics.
However, in a situation where all else is equal with a competitor, having an SSL certificate could push your site over another in the search engine results pages (SERPs).
In our opinion, an SSL certificate is more important for another strategy: improving your conversion rate.
SSL and Conversions
Bottom line: The more trust your customers have in your website, the more likely they will be to convert.
That's why having an SSL certificate (as well as strategically chosen eCommerce trust badges) is more important for conversion rate optimization than anything else.
Trust is one of the biggest factors when users decide where to shop. Knowing a site is secure from hackers and other risks, especially when personal or payment information is requested, can make a huge difference in a customer's purchasing decisions. 
If you can address this trust concern up front by showing your site to be secure, you overcome that objection before the user even has a chance to consider this factor. Displaying that little green padlock in the address bar allows your user to breathe easy from the get-go — and be more comfortable with the potential of purchasing from your HTTPS website.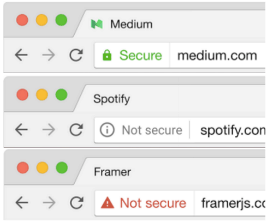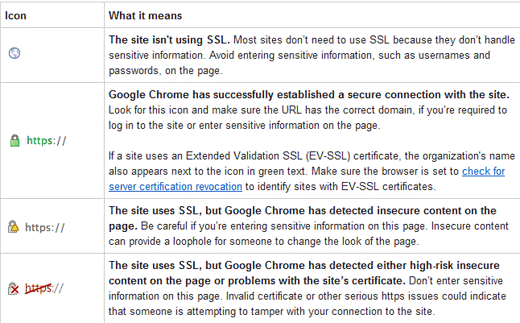 Broad trust seals on your site also help your user experience and conversion rates. But the familiarity the user has with your third-party trust seals can impact how much it helps; having an unrecognized logo on your site can sometimes hurt your conversion rate, so choose your trust seals carefully.
The provider of your SSL certificate need not be the same provider as other trust elements or security services. Displaying well-recognized trust logos (like Google Trusted Store or BBB) throughout the shopping process can have the same — if not a bigger — impact on user behavior than displaying your SSL certificate brand, especially if that provider is not commonly known.
It's also important to remember that, from a conversion perspective, the level of your SSL certificate is unlikely to have a huge impact. To the average user, the display difference between the levels of verification is unnoticeable. Additionally, very few website visitors actually click this area to see the details of the certificate. 
Unless your site requires the added security for some reason — dealing in highly sensitive information, working with security professionals, etc. — you can probably get by with the cheaper options.
As always, we recommend you test this on your site before committing to a long-term engagement. Most SSL companies will facilitate this testing as a free trial or short-term engagement.
Build Customer Trust with an SSL Certificate Today
Whether your site is eCommerce or not, having a proper SSL certificate is critical for building your customer trust. The more comfortable your shoppers are with your website security, the more likely they'll be to make a purchase.
While it's important to have a secure site and show trust badges, remember that these elements need not specifically name brands or display logos, especially if they're not well-known. If you have a CRO team, they can run A/B tests to determine which logos most effectively move the needle for your site — and improve your overall bottom line.
Don't have a CRO team handy? Inflow is happy to run these tests for you as part of a customized conversion rate optimization strategy. Whether you're looking for a one-time audit or project, or you're ready for a continuous testing engagement, we can build a proposal around your needs, budget, and goals.
Get started by contacting our team today.