It's no secret that today's shoppers are getting harder and harder to please. According to a 2015 study, humans' attention spans are rapidly shrinking — and stood at a meager 8 seconds in 2013.
A decade later, digital marketers continue to compete with focus times that are smaller than a goldfish.
So, how can you combat this phenomenon and make an impact on shoppers' social feeds, especially when you only have a short window to secure a purchase?
In today's case study, we'll give you a few strategies to try, based on the tests we've run for our client Blendtopia.
A Little Background
Blendtopia is a smoothie subscription service that started working with our agency in the fall of 2021. Like many eCommerce businesses, their Facebook Ads success was hit hard by the iOS 14.5 update in April 2021. Previously stellar results were slipping away, and the brand was losing the market share they had worked so hard to build.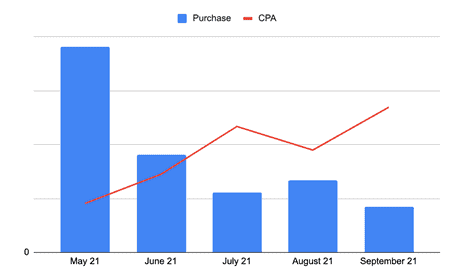 They teamed up with our social media advertising team to regain their historical stability and create the foundation needed for future account scaling.
Knowing that the holiday season would be a slow time for sales (customers aren't focused on their health during indulgent holiday meals), we used the first few months of our partnership to analyze customer behavior and identify opportunities for growth.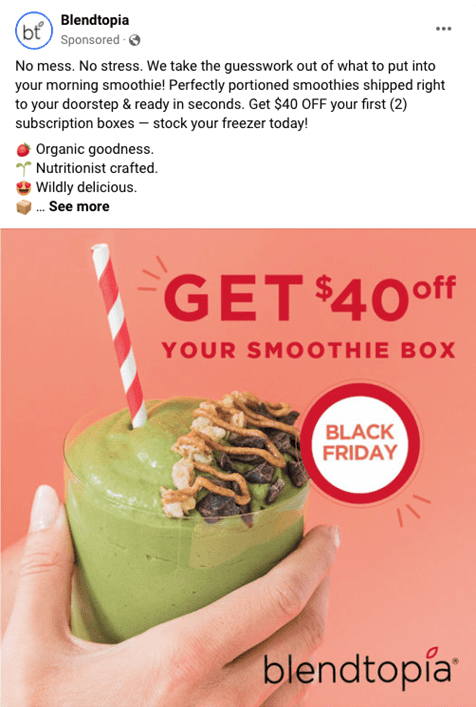 Finding the Hole in the Funnel
In order to use our proven "See, Think, Do" social ads model, we first needed to understand the audiences in each of those funnel stages. The iOS 14.5 update made that a little trickier; the historical attribution models we had grown to rely on were much smaller, giving us only a seven-day peek into audience actions after seeing our ads.
Our full-funnel approach broke down as so:
Top of funnel: Target a wide audience to encourage window shopping on the Blendtopia site.
Middle of funnel: Target audiences who had engaged with ads or visited the Blendtopia site.
Bottom of funnel: Target audiences who had added items to cart before abandoning them on the Blendtopia site.
As we ran our initial experiments, we saw continued growth in our top- and bottom-funnel campaigns — but our middle-funnel campaign consistently struggled to produce any notable results.
So, we looked a little closer at the data.
While evaluating our middle-of-funnel performance, we saw that our reach hovered between stagnant to dropping. At the same time, our cost per purchase (CPA) was beginning to shoot up, indicating that the cost to convert those smaller, less-qualified audiences would only continue to rise.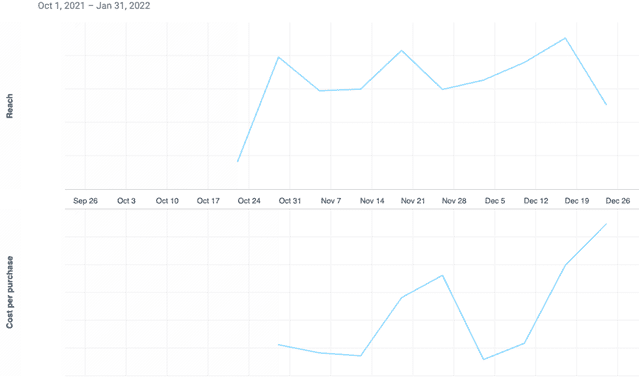 Turns out, for a quick-purchase product like a smoothie subscription, the "consideration" phase is almost non-existent. It makes sense; Blendtopia's product is a small commitment, not one that customers ponder over for days before purchase.
Our audience was quickly moving back and forth between top- and bottom-funnel stages, with hardly any time spent in the middle. The ad spend put toward that second stage, therefore, would continue to underdeliver.
Keeping that and the shortened buying journey in mind, we rearranged Blendtopia's funnel campaigns, eliminating the second stage altogether. While the top-of-funnel campaign remained the same, we tightened up our bottom-of-funnel audience. Customers would remain in this stage of the funnel for:
7 days after visiting the Blendtopia website
14 days after adding an item to their cart or initiating the checkout process
Once that time passed, our strategy would place those customers back at the top of the funnel. If they failed to engage with our ads again, they would fall out of our target audience entirely.
Good news: The strategy worked. As we continued to focus more on our top-of-funnel and bottom-of-funnel customers, our reach and purchases began to scale at the same rate.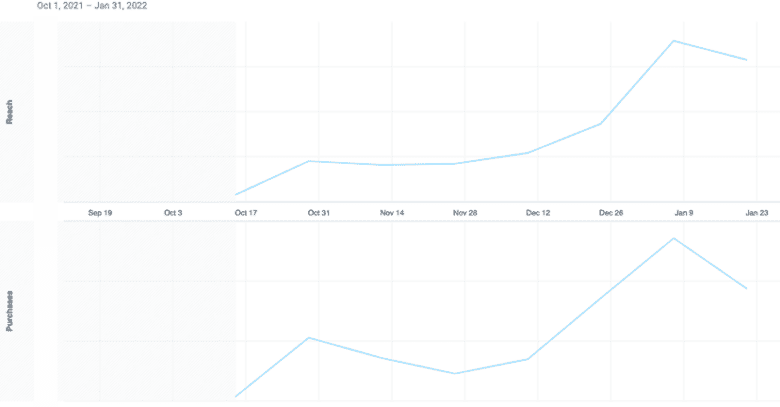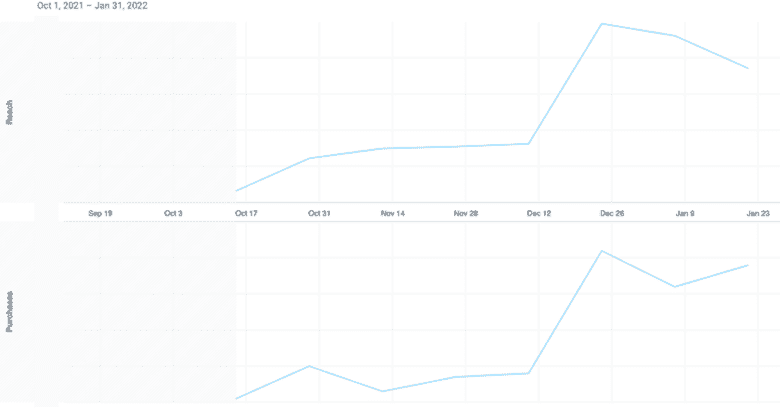 Our Advice to You
Don't just assume that your social media audience will behave in the expected manner. As you test your first campaigns, home in on their buying behavior. How long are customers staying in each funnel? When do they stop engaging with your ads altogether?
While a three-stage funnel may work well for most eCommerce businesses, don't be afraid to shrink (or expand) yours to get more juice out of your audiences.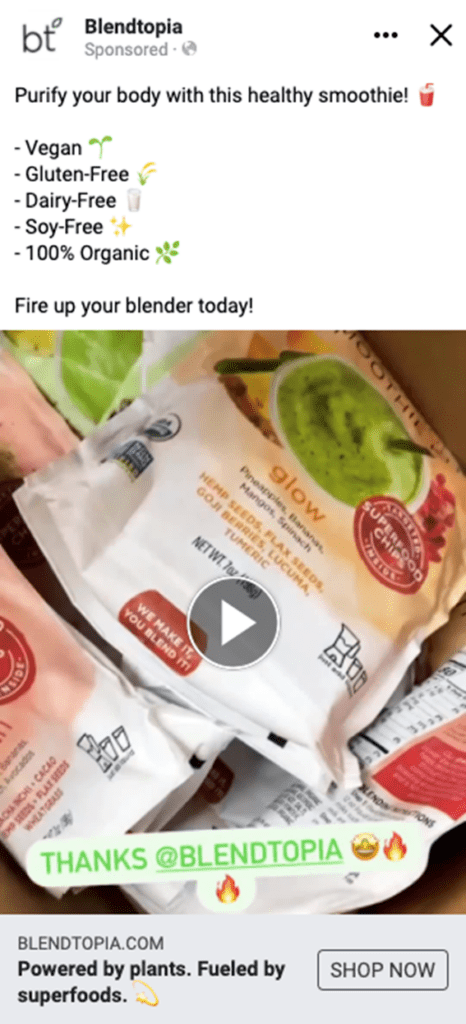 Doubling Down on Social Proof
While a shortened buying cycle can be an advantage for Blendtopia, it's a double-edged sword when it comes to the price of their products.
Price has long been an obstacle for Blendtopia's marketing. In order to purchase a box (and make the shipping costs worth it for the brand), customers must buy eight smoothie packages, which can average around $100. And, when their shoppers make decisions on such short timetables, that cost can often be the make-or-break for conversions.
So, as we've done with other clients, we decided to provide social proof for our Facebook audiences — by employing user-generated content.
User-generated content is great for many reasons:
It's authentic and convincing. There's no contrived "marketing messages" that can turn away customers.
It fits seamlessly into social media feeds. UGC looks like content from friends and family and, for that reason, is more likely to be viewed.
It provides better ROI. Oftentimes, user-generated content is free or comes with a low investment. Compare that with its success, and you'll come out ahead.
Blendtopia already had an assets library full of UGC opportunities when we came aboard. Partnerships with high-profile influencers and Billo allow the brand to create high-quality UGC at scale, and they put it to use in their marketing campaigns.
Since we're data nerds here at Inflow, we decided to put the well-beloved UGC to the test.
For the new year, Blendtopia ran a "Super You Sale," employing both user-generated and non-user-generated content. While the campaign as a whole generated 105 purchases, the non-UGC ads only accounted for nine of those sales — a measly 8.6%.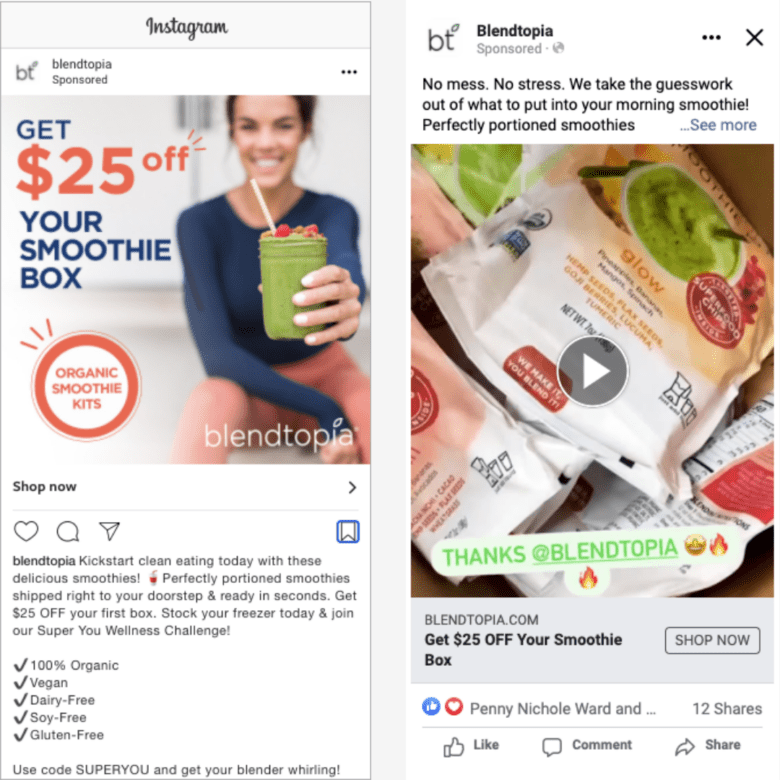 Our Advice to You
If you're not yet using user-generated content in your social media advertising, it's time to jump on the bandwagon. The barrier to entry is often low (especially if your customers are already posting about your products), and the return can be great.
Services like Billo, Yotpo, and ShortStack can help you get started.
Create an Attention-Grabbing Strategy Today
Today's social advertising landscape is a crowded one — and with customer attention shrinking by the year, standing out (and making the sale!) can seem impossible.
But, with a little testing and some creative brainstorming, you can create the strategy that works best for your online business, even if it goes against "conventional" wisdom.
As you test out your Facebook Ads strategies, don't just look at the bottom-line ROAS. Consider granular details like engagement, attribution timelines, and more for a fuller picture of your brand's performance.
Need help analyzing those metrics and creating a custom strategy for your business? Contact Inflow's team of social advertising experts today to request an account audit and personalized proposal for your goals.