When news of Apple's iOS 14.5 first hit digital marketers' inboxes, there was an uproar. How would paid social advertisers continue to run effective ad campaigns without crucial audience data?
Six months later, the outlook is not so bleak — and we've actually discovered a few strategies to keep Facebook ads working for your brand in this new privacy landscape.
In this blog, we'll share:
What Apple's iOS 14.5 update is
How iOS 14.5 is affecting our clients' Facebook ads and campaigns
And which strategies we're using for our eCommerce clients
What is the Apple iOS 14.5 Update?
In some ways, Apple's 14.5 update was like many before it — tackling bugs and other issues in the iOS software and aiming to improve user experience on mobile devices.
However, there was one change in particular that sent ripples across the advertising world: a new privacy update that gave iOS users the ability to opt-in or opt-out of third-party data tracking by mobile apps.
The app tracking transparency update went fully into effect in April 2021, and research shows that only 4% of American iOS users are currently opting into ad tracking when presented with these new notifications (as seen below).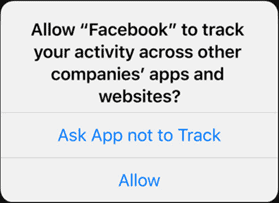 What Does iOS 14.5 Mean for Facebook Ads and Advertisers?
With audiences increasingly opting out of tracking, advertisers have lost a lot of data. Whereas before they had access to information gleaned from third-party tracking apps, that's now gone — as are the customer insights that data provided.
In short: Audiences are shrinking, conversions are not being attributed properly, and delayed attribution has made reporting trickier to do (and understand) for all involved.
Just one example: Where before our strategists were able to optimize campaigns toward a 28-day click or view window, Facebook has now limited that to a 7-day click/one-day view window. So, if your customers take a longer buying journey before purchasing your product, that purchase may not be ultimately attributed to Facebook — simply because of incomplete tracking.
The biggest impacted audiences we're seeing are website custom audiences and app activity custom audiences. That's why it is imperative that advertisers use customer list audiences and engagement custom audiences.
Therefore, ad sets and audiences that performed well in the past may not show the same results today — because Facebook now has less data with which to create those target audiences.
You can read more about potential iOS 14 effects on your campaigns in this guide from Facebook.
What We've Discovered Since April 2021
When news of the iOS update first broke, we (like most digital marketers) weren't sure what to expect. After a few months of wonky reporting and trial-and-error strategies, we've now learned a few key things:
Conversion events are being underreported. Because of this, your cost-per-acquisition may be artificially inflated and your return on ad spend artificially deflated.
AEM conversions aren't accurately reporting. Aggregated event measurement (those customers who have opted out of data tracking) isn't accurate in Ads Manager.
Audiences have shrunk. In turn, retargeting and remarketing campaigns have taken a huge hit in efficacy.
Lookalike audiences aren't working as well. With the reduced user data, Facebook is having a hard time finding "similar" people to create these audiences.
Testing is taking longer. Due to delayed attribution, any Facebook advertising tests run now need a minimum of 7 days to report significant results.
7 Recommendations for Facebook Ads Post-iOS 14
The iOS 14 privacy changes don't mean you have to give up on your Facebook advertising efforts. You simply need to pursue a more complex and tailored strategy.
After working with these changes for six months, our strategists are now implementing a few key tactics to get the best results for our clients — tactics you can emulate for your own campaigns:
1. Consolidate your approach.
Unfortunately, in this new age, more campaigns don't mean more data. Instead, we recommend scaling down your strategy by running fewer campaigns and combining your ad sets.
By streamlining your Facebook ads strategy, you can further optimize your budgets and audiences during this period of unknowns. Then, when you have reliable data from those smaller campaigns and audiences, you can start testing on a larger scale.
2. Target larger audiences.
In the past, many of our clients found success targeting smaller/niche interests, like "design students" or "interior designers." But, now, the demographic data simply isn't there for such a small audience.
Instead, target interests that will have a much larger audience, such as "design." You can also combine certain interests in your ad sets for maximized performance.
3. Manually review your campaign growth.
Because of the constant changes and unreliable data, our strategists are no longer using "automatic rules" for scaling ad accounts. Instead, if we see an ad set that is hitting CPA or ROAS goals, we'll manually increase that budget in 72-hour increments — and, of course, closely monitor the results to see what's working.
4. Use longer look-back windows.
Due to delayed attribution windows, we recommend focusing your attention on three-, seven-, and 14-day windows instead of your daily ad performance. Audience data is simply not accurate enough to be evaluating your metrics on a day-to-day basis; you'll find the most precise data to come over longer periods of time.
5. Test, test, test.
As mentioned, significant data is only emerging from tests that run at least seven days, so advertisers will need to spend more money to get the data they're used to. However, we truly believe this kind of extended, detailed testing will benefit our clients more in the long run.
In fact, testing was a big part of our own strategy-building over the last few months. Here's an example:
For one client, we split users of iOS devices and Android devices into separate adsets. Historically, we knew that typically 70–80% of spend and conversions came from iOS users. But, when we ran this test, Android users took up the majority of the spend, their ROAS was almost double that of iOS users, and conversions were a third of that of iOS users.
Since we know that iOS users didn't suddenly stop purchasing from Facebook, we concluded that the data coming from this audience was heavily lacking on the platform — and were prepared to make necessary strategy adjustments to keep that in mind.

6. Look at other data points.
Unfortunately, Facebook reporting is likely to never be the same since the advent of iOS 14.5. But, rather than mope over the data we've lost, we decided to look at the other data we do have — even if it's not found in the platform itself.
Google Analytics can provide some great insights for the bigger advertising picture. For our clients, we're integrating a few data points into reports:
Conversions (last-click purchases)
Conversion value
Assisted conversions (which we know Facebook assisted in)
Assisted conversion value
AEM (aggregated event measurement) conversions
Many Facebook advertisers (including our own paid social strategists) are also turning to Blended ROAS — a brand's total revenue divided by the total ad spend across all channels. While it's not as detailed as past ROAS data, it can provide a fuller picture of where your paid social advertising dollars are working, in conjunction with your other digital marketing efforts.
7. Use a post-purchase survey.
Just because you're not automatically receiving user data doesn't mean you can't gather it. We recommend implementing a post-purchase survey to gather more details about your customers and their buying habits.
Post-purchase surveys don't have to be complicated, and they can be a great way to cross-reference data that you receive in Google Analytics and Facebook — to better understand the efforts that paid social is bringing to the marketing mix. You could set these surveys up internally, or you could use third-party platforms like:
Don't Let iOS 14 Scare You Away from Paid Social
As digital marketers, we're navigating the new world of Facebook ads post-Apple's-iOS 14 update together — and there is still plenty more to be learned. However, we truly believe that paid social media advertising is still a huge opportunity for eCommerce businesses, and we encourage every brand to explore (or double-down) on this path, however they can.
If all this talk about data makes your head spin, our helpful strategists are always happy to answer your questions and take a look at your Facebook reporting. Request a free proposal anytime to get started.