If you want to be successful with eCommerce search engine optimization, you can't just focus on high-volume keywords — especially when it comes to your product detail pages (PDPs).
Sure, high-volume phrases like "fishing gear" may seem like important targets for clients like Simms Fishing (and they are, on other web pages). But, if you want to attract organic traffic that will actually convert, you'll need to get more specific — with long-tail keywords.
So, how do you optimize for long-tail, complex keywords like "stocking foot breathable durable chest waders" — without creating a terrible, keyword-stuffed user experience?
In this blog, we'll show you how — with our seven product page SEO best practices.
Table of Contents
How to Optimize an eCommerce Product Page for SEO
Ready to bring in valuable long-tail searches to increase your revenue and profitability?
Our seven-step process for SEO product page optimization will get you there.
Inflow has years of experience working with retailers in the continually evolving world of eCommerce SEO. Along the way, we've developed a strategic process for optimizing your PDPs to improve search visibility and attract long-tail searchers ready to buy.
We'll walk you through every step below.
But, if you want an expert's help analyzing and optimizing your eCommerce product page SEO, reach out anytime for a free proposal.
Step 1: Create a Keyword Strategy
Creating a keyword strategy is just as important for your product pages as for any other type of page on your eCommerce site. The process, however, isn't exactly the same.
1. Conduct Keyword Research
Start with a keyword research tool like Semrush or Ahrefs. Here, you'll see many potential keywords to target for your product page.
If you're working with an existing product page, you can use Google Search Console to see which terms are currently driving traffic to each product.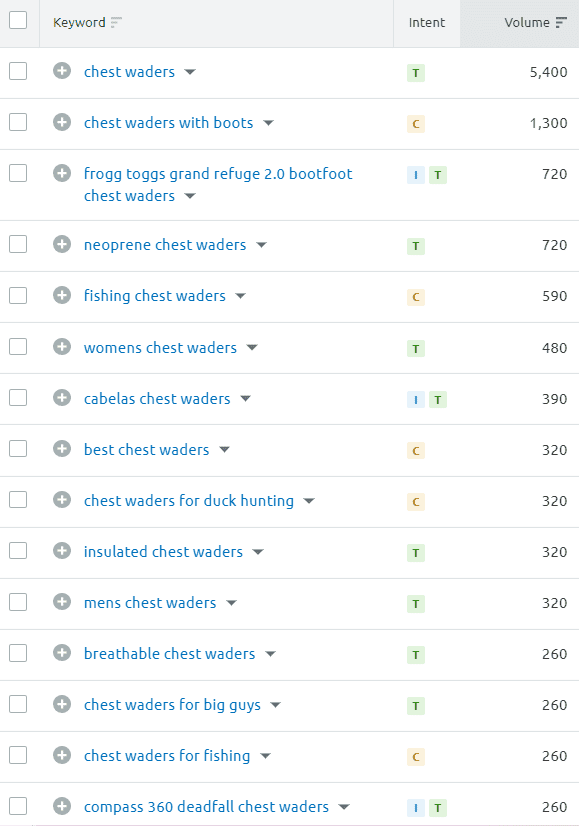 When selecting a primary keyword for your product page, make sure it's unique. It should be very specific, and it may not have much search volume. This is okay. The key here is to make clear what distinguishes one page/product from another.
Targeting specific terms for product pages keeps you from competing with your category pages. It also ensures that whoever lands on those pages will find a product that closely matches the intent of their search.
We recommend creating a matrix to track the target keywords of different pages, so you can minimize overlap and cannibalization (when web pages steal search traffic from each other).
Finally, make sure your keywords have transactional intent. You want your optimized product pages to show up when people are searching for products to buy, not just browse.
For more details, check out our advanced guide to eCommerce keyword research strategy.
2. Optimize On-Page Elements & URLs
Meta data doesn't appear on your product page. Instead, it's information that search engines and browsers use when displaying data about your page in the SERPs.
Here's an example of how EarthKind's Stay Away Spiders formula appears in the search results, with meta data highlighted:

Here's how you should optimize each feature:
Title Tags
Title tags display on search engine results to identify your page to searchers. At a minimum, you should include the:
Brand of product
Name of product
Distinguishing characteristics
These characteristics might be color, flavor, whether it's a men's or women's product, and other specific aspects of that product.
Finally, make each product title tag unique.
Meta Descriptions
Meta descriptions are longer and can include more information. Give a quick summary of the product and include a brief call to action.
Although meta descriptions aren't a direct ranking factor, include the primary keyword and any secondary keywords that make sense.
Remember: Your primary target for meta descriptions is the searcher. You're trying to increase your click-through rate (CTR). Make your meta description accurate, or else risk increasing your bounce rate.
If you don't supply a meta description, the search engine will select its own description from the text on the page, sometimes with humorous results.

Don't get hung up on your meta descriptions. The truth is, Google will usually ignore whatever you've written in favor of selecting its own text.
Product Names/H1s
Usually, your brand and product name will be used as the main heading (H1) for your page. This makes the page clearly identifiable for both consumers and search engines.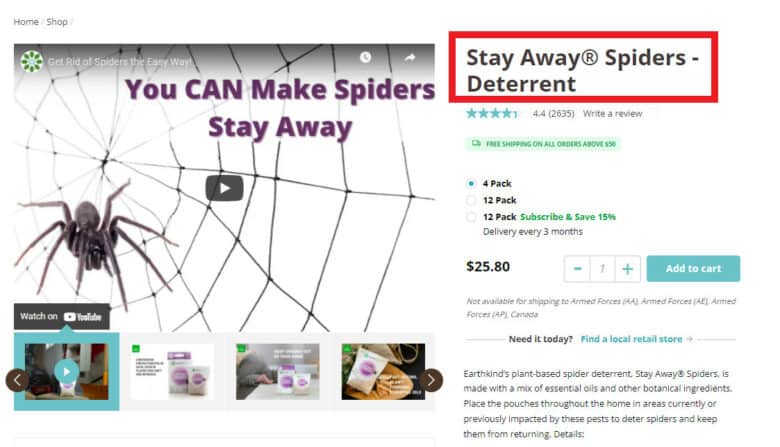 How many descriptors you put in your H1 depends on your keyword research, the product branding, and how important those aspects are to make the page unique.
For example, if you sell a women's and a men's version of a product, and they have separate pages, include "men's" or "women's" in the H1. However, if one page includes multiple colors, don't include a color in the H1.
URLs
When making a new product page, assign it a descriptive URL whose structure is consistent with your other product page URLs. This is as much for your purposes as for SEO; it will help keep you organized when working on your eCommerce website.
We recommend using the structure brandname.com/product/productname.
However, it's best to avoid redirecting product URLs, so even if your old pages don't follow this rule, that's fine.
The most important lesson: Make sure that the URL is always accurate to the product on the page.
Step 2: Flesh Out Your Product Page Content
As with any other page on your site, it's important to include quality content on your PDPs — or your pages will be unlikely to rank highly in the search results.
There are three main rules for your product content:
1. Use unique content.
Don't use the manufacturer descriptions. Other eCommerce stores may be selling the same product; if you all use the same descriptions, your rankings could be negatively affected due to duplicate content. Instead, write unique descriptions for all products.
2. Avoid thin content.
The more content you have on your product pages, the more chances you have to describe and sell your product (and strategically use target keywords). We recommend using at least 300 words of high-quality content on every page. After all, if a product isn't worth 300 words, is it worth a place in the SERPs?
3. Don't keyword stuff.
The content of the product page should be directed at the consumers for the product. Make sure the information is well-written and helpful for consumers — not focused only on the search engine. Use keywords as appropriate, but don't insert them if it doesn't sound natural.
Beyond these rules, you have a lot of flexibility in writing PDPs. Make sure to include all the information people need to be sure this is the right product for them. In addition, choose features that let you naturally include keywords in the content — and sell the product's value.
Here are some possible sections to include on your PDPs.
Product Descriptions
Most product pages should have a product description. This not only helps users identify when a product is right for them, but it also gives Google a predictable place to look for a replacement meta description.
Consider these two descriptions of Orange Pekoe tea.

This Tetley description is focused more on the company than on the tea. The description sounds generic, as if the company might use the same description for any tea, simply inserting the different variety in the one place it appears.
In comparison, the Harney & Sons description has a much more personal feel: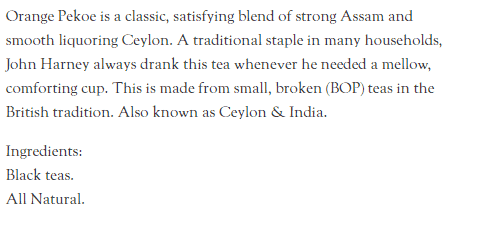 This description focuses on the types of tea used and the specific flavor of the tea. Although it invokes the company name, it does so in a personal way, inviting you to think of Mr. Harney as a lover of tea.
And, when it came to highlights in the SERP, Google actually chose to use this content over the page's supplied meta description!
Product Features
Product features are typically a bulleted list with specific details about the product.
It should include the main features a shopper looks for in a product, including:
What the product is best used for
What is or isn't included (e.g., if there's another part needed)
Capacity/size
Compatibility with other products
Although often structured as a bulleted list, features typically use narrative descriptions that can include evocative words to help "sell" a shopper. For example, pockets can be described as "generous" in size or "convenient" in placement and number.
Don't just say what a product is used for: Help people imagine the pleasure that comes from using your well-designed product for its intended purpose, like Moonlight Bridal does.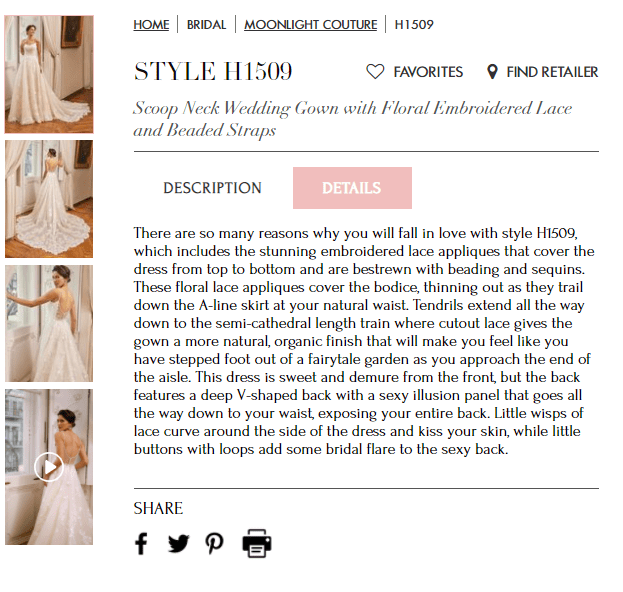 You can also help consumers do their comparison shopping by highlighting consistent features within a product category.
Technical Specifications
Technical specifications should lay out all the details of a product. Try to include all the possible information people might need to know to select the product.
Yes, this might have significant overlap with the features, but the technical specifications should be laid out in a sparser format that makes it easier to scan and understand.
Consider these two technical descriptions for the same air fryer toaster oven.
Amazon's technical specifications combine aspects of both features and specifications, creating a jumbled mess. It's hard to find specific information.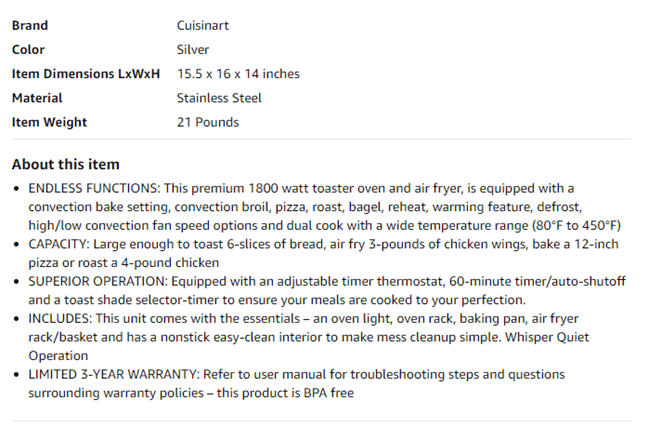 On the other hand, the Bed Bath & Beyond specifications are laid out in a single, clear bulleted list that makes it easy to find the information a customer is looking for.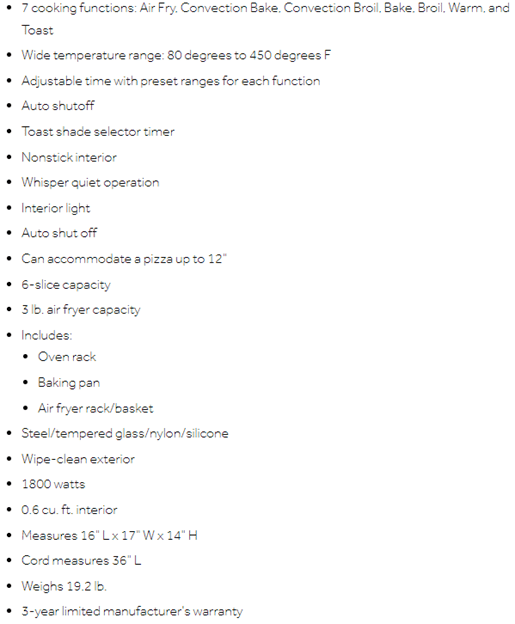 Reviews
Don't forget to include customer reviews for a product on the product page.
Product reviews are one of the most effective types of user-generated content (UGC) to deploy for improving sales. (The only exception is if your product has a significant number of poor reviews.)

FAQs
Question and answer sections are both useful for consumers and valuable for SEO. Most product pages have two versions of this feature: a live version continually updated by actual customer questions, and a carefully curated version your team updates as necessary (the latter of which we'll focus on in this section).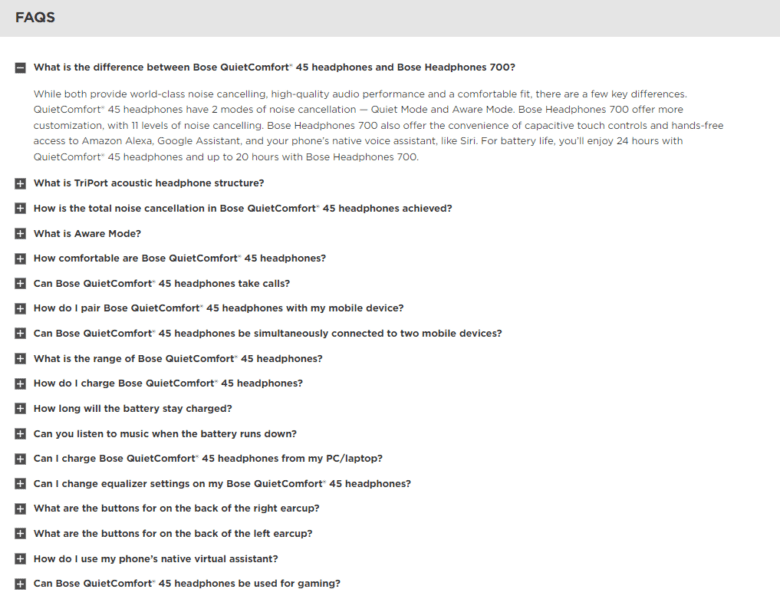 Select questions that allow you to write significant content around, including the use of important keywords. But don't just use SEO keyword research to choose these questions; talk with your customer service and marketing team to answer the questions they frequently receive from customers, too.
Make sure to markup these sections with schema to increase the odds that they will be chosen as an FAQ rich result.
For more helpful product page content recommendations, read Inflow's eCommerce copywriting guide.
Step 3: Optimize Your Images
Product images should be optimized, just like the other elements of your content. When you're uploading images, make sure that your file name, alt text, and title tags include the brand name, product name, SKU, and other important details.
Remember that technical aspects of your website matter for optimization, too. Large images can slow down your site, which can impact your organic traffic performance.
To ensure your images don't drag your site down, follow Google's advice to:
Properly size images
Use modern formats
Encode images efficiently
According to Google, you should never serve an image that's larger than the user's screen will display. Use responsive images, image content delivery networks (CDNs), or vector graphics to optimize image size.
Tip: Modern image formats like WebP or AVIF compress better than old-fashioned PNGs and JPEGs.
Read more about analyzing and improving your site speed with our guide to Core Web Vitals.
Step 4: Use Schema Markup
Schema markup allows you to structure a page's content so that search engines better understand what they're looking at. This helps Google display more information about your page in the search results, including rich snippets.
You can test and validate your schema code as you're putting it together, and then review whether Google is registering it.
We usually recommend three types of structured data for eCommerce businesses' PDPs:
Product Schema
Product schema lets Google see and understand more information about your products, including price, ratings, availability, sizes, colors, and more. What it chooses to display depends on the search it's responding to.

Breadcrumb Schema
Breadcrumb schema lets Google display navigation information about your page. This can help searchers understand the page before they click on it so they know what they're visiting.
It also sends signals to search engines about the site architecture and categorization of the PDPs, as well as provides valuable internal linking.

FAQ Schema
FAQ schema makes it easier for Google to pull answers from your site to supply answers to common questions (as seen in this example from Google itself).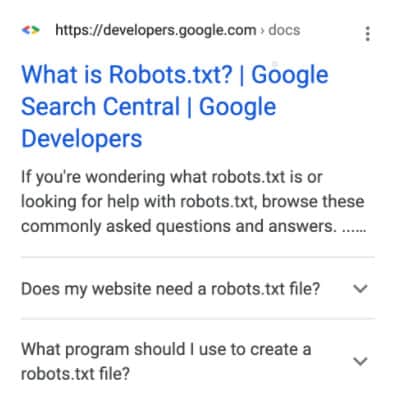 Learn more about implementing schema markup (including coding examples) in Google's how-to guide.
Step 5: Optimize Your Page Experience
Google wants to deliver quality content results for all its users. This includes not only the content on the page but the user experience as well.
Because Google's algorithm prioritizes the mobile experience, make sure you're testing product page performance on mobile. Use this link from Google to test whether your page is mobile-friendly.
Page speed is key to a good browsing experience, so you also need to ensure your website is loading quickly for users and the layout isn't shifting too much during page load. Google's PageSpeed Insights tool can help, as can our guide on Core Web Vitals for eCommerce sites.
Finally, make sure you're delivering the same quality brand experience to mobile and desktop users. Don't prioritize one over the other; provide equitable page content and user experience for all.
Step 6: Organize Your Site
Organization is important for you, your customers, and search engines for several reasons.
First, organization helps you keep track of all your content. If you're planning a complete audit and refresh of product pages, it's much easier to accomplish if all your pages are organized. You'll avoid duplicating pages or missing pages that might cause problems in the future.
It also helps you organize your products into collections and categories that make it easier for customers to browse your online store.
Site organization also helps your potential customers browse your site to find the products they're looking for.
Let's say that a shopper found this page for M's G3 Guide Waders on our client Simms Fishing's website.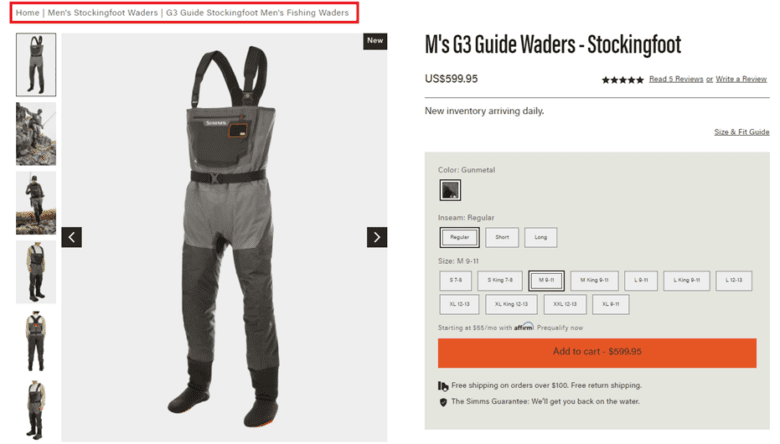 They look like a quality product — but, if the product isn't in the shopper's budget, they might want to look at other options in stockingfoot waders.
To do this, a user might go to the main site navigation, or they might spot the breadcrumb navigation above the image panel (highlighted). That's not just a visual aid; it includes a clickable link taking them to the category page for all the stockingfoot waders Simms sells, such as the Tributary waders.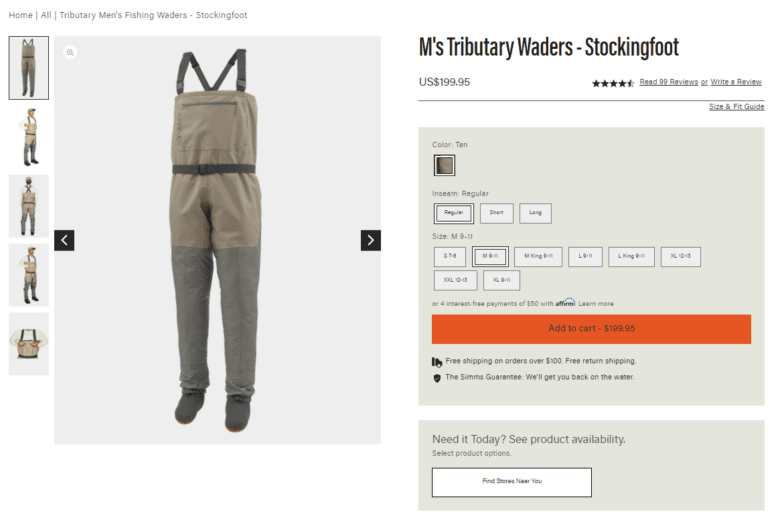 The more options you give consumers for quickly and easily finding alternate products on your site, the less likely they are to leave your site and look for those alternatives elsewhere.
Step 7: Add Internal Linking
Digital marketers often know the importance of earning external backlinks, but internal linking is also critical for your eCommerce website.
Strong internal linking helps Google understand the relationship between pages on your website by giving signals about the importance and hierarchy of those pages.
A product page should link to all items in its breadcrumb path, as well as other relevant pages (like similar products or related products often bought together, such as refills or accessories). For example: If you have a brand overview page, all products of that brand should link back to the brand page.
Learn more about building credible internal and external links with our eCommerce Link Building Guide.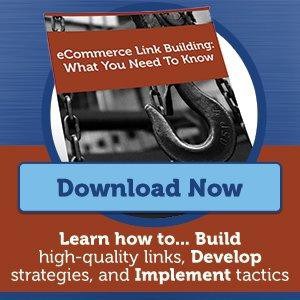 Create Your SEO Product Page Strategy Now
If you've even skimmed through our SEO product page strategy, you'll realize that optimizing your product pages isn't just a matter of doing one or two things and seeing an uptick in rankings and sales.
The process is ultimately worth it, but it takes an investment of significant time and effort to do right.
To make sure you're getting the best return on this investment, prioritize product pages that generate the most transactions and profit (considering revenue and profit margins) for your business. Check out some of our DIY resources to get started:
If you find these strategies daunting, or if you've tried them and aren't seeing the results you'd like, it may be time to enlist some assistance — and Inflow is always happy to help.
Request a free proposal from our eCommerce marketing team anytime to get actionable strategies targeted to your business — and a team of expert SEO strategists who can implement them for you.