Let's say you're a boutique online bakery that wants to increase sales. Your brief digital marketing education tells you content is key to driving traffic and, ultimately, revenue for your online business.
So, you decide to write about a topic you know better than anyone else: "How to Make Chocolate."
Your blog is well-researched with high-quality content that includes a helpful step-by-step guide and video of you making chocolate. It's also hugely successful: It shows up on the first page of Google, millions of people view your website, and it's shared widely on social media.
But the blog never leads to a single sale. Not a cake. Not a cookie. Not even one of the bakery's signature chocolate-and-hazelnut cannolis.
What gives?
The problem: In all your content planning, you failed to account for search intent. As an eCommerce company, you can't just produce content that draws high organic traffic numbers. You also have to bring high-intent traffic — traffic that will lead to people buying what you are selling.
In this extensive guide, we'll show you how to increase that high-intent traffic for your site, by explaining:
What search intent is and why it's so important
How to build search intent into your eCommerce SEO strategy
And how to produce intent-optimized content in three simple steps
What Is Search Intent, and Why Is It Important?
Google's job is to give people what they want when they perform a search. In order to do that, Google has to know what those searchers want.
In other words, the algorithm has to identify search intent — ie., why that person is making that search in the first place.
Google is the most popular search engine because it has gotten very good at anticipating keyword intent. By learning what people mean when they search particular phrases, and offering autocomplete suggestions that match that intent, it's the flagship for what we've come to expect from our search experience.
So, if you want your content to show up for the right kinds of searches — the searches made by potential buyers — you have to learn Google's way of looking at things. Then, you can write your content according to its grammar rules, making it clear how to match your content with searchers who are looking for the products you sell.
That way, you don't just draw a lot of traffic — you draw the right kind of traffic that will lead to sales, either now or in the future.
Four Basic Search Intents
As SEOs, we usually divide queries into four basic types of search intent:
Informational
Commercial Investigation
Transactional
Navigational
1. Informational
Informational queries are focused on gathering information. These queries often have the highest search volume as they attract a broad audience. Sometimes, they're easy to answer with a single word or number. Others require more detailed information.
Informational searches are often constructed as questions, such as:
"How to train a dog"
"Why is the sky blue"
Other times, these searches have keywords that signal an informational intent, such as:
"LaGuardia directions"
"Chocolate recipes"
But often informational searches are just words without context:
"Bell hooks"
"South America"
For these basic search phrases, Google infers intent based on the behavior of previous searchers with the term. It's not uncommon to see search engine results pages (SERPs) with a mish-mash of content, simply because Google can't figure out the intent of the searcher.
Looking back at our poor bakery's example, it's clear that "how to make chocolate" has nothing to do with buying baked goods. Instead, it's searched by those who want to DIY the process — arguably, the exact opposite of the traffic our bakery wants to attract.
2. Commercial Investigation
Commercial investigation is a more recently coined search intent type. In a commercial investigation search, people are often in the early stages of product research and are looking for information to help them make their decision.
This type of query typically includes signals like quality words ("best," "cheapest," "top"), requests for reviews, locations, or explicit comparisons. Examples:
"Best chocolate cake in Denver"
"Leaf vs Bolt"
"Plumber near me reviews"
3. Transactional
Transactional queries often occur when someone has finished their research and they know what they want to buy. Any questions asked only include "where," "when," and "how much."
These high-intent keywords typically include a brand or specific product name, action words ("buy," "shop," "download"), price words ("cheap," "discount," "price"), product descriptors (colors and sizes), and searches for better deals ("coupon," "special offer," "sale").
Examples include:
"Playstation 5"
"Merrell Men's Moab 2 Size 10"
"Hu chocolate sale"
4. Navigational
Navigational queries are used by people to help navigate the Internet.
People may be looking to log in to a website they use frequently, or they may want to navigate to a specific website without typing in the full URL. They may have decided the brand or seller they want to buy from, but not the specific model or option.
This is a very common type of search, and the reason why "facebook" is the most common search phrase on Google today.
Usually, this type of search includes the brand name with some additional keywords like "login" to help the searcher get to the specific page. Examples include:
"Twitter login"
"Gmail"
"Inflow"
"Hersheyland"
How to Use Search Intent in eCommerce SEO
Understanding user search intent is a critical tool for developing an effective content marketing strategy. It can even help you refine your Google Ads strategy for Search and Shopping ads.
This doesn't just work for external searches, either. Optimizing for search intent can improve your internal site search SEO, too.
Understanding these strategic benefits is easier if you conceptualize them in terms of the sales funnel or buyer's journey. Consider the search intent that a buyer will utilize at each stage of their journey and build that into your content strategy:
Awareness: When a potential buyer is aware of their problem but not how to solve it, they will use mostly informational searches. This is best for optimizing blogs, listicles, and other general content. 
Consideration: When a potential buyer is trying to decide between potential solutions, they will utilize mostly commercial investigation searches. Buying Guides and Comparison pages work great when optimized for this intent. 
Decision: Once a potential buyer has decided which is the best solution for them, they will utilize transactional and navigational searches to help them with the buying process. Product pages work best when optimized for transactional intent. 
Validation: Navigational searches are common in the validation stage as buyers return to your site for reviewing, making future purchases, or recommending your product to friends and family. Or, they might make these searches to check out your return or exchange policy. 
Understanding the link between search intent and the buyer's journey can help you target your marketing strategy.
Knowing how Google classifies each type of keyword search can help you connect content optimized for that keyword to the perceived user intent, and, therefore, help your content show up before your competitor's material. Optimizing for user intent can also help you avoid putting time and effort into content that isn't going to perform the way you hope it might.
Reading search intent isn't always easy, however.
For example, you might think it would be great if your bakery would show up for the search: "best chocolate mousse." After all, "best" is a common feature in commercial investigation searches.
However, if you look at the SERPs for this search, you see that it's made up almost entirely of recipes. That's because Google reads the intent of this search as informational.
If you're optimizing for this search, you'd better have a recipe.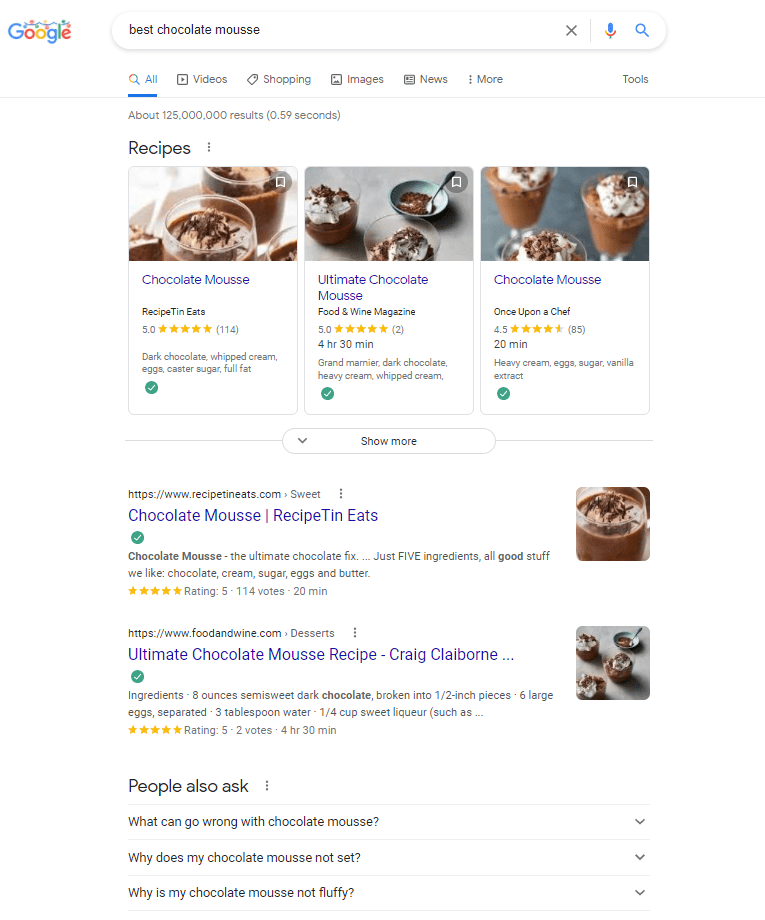 In fact, Google is so confident that this specific search is informational, it puts ads at the bottom of the page rather than the top. If you're considering spending ad money on this search, you'll want to know that your ad will appear in this disadvantaged position.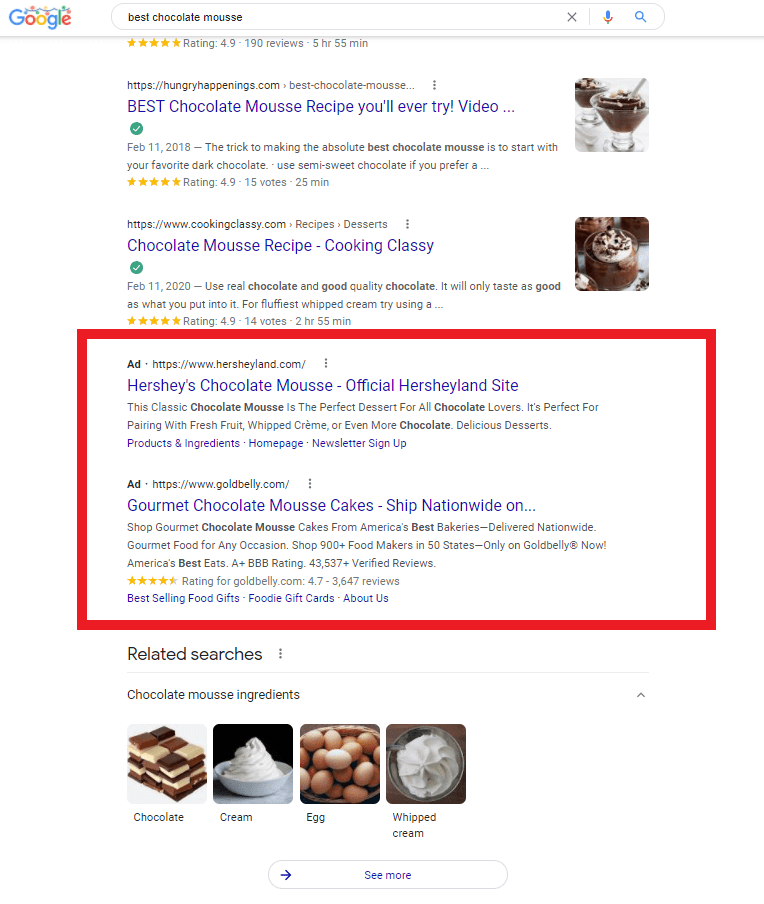 Moral of the story: Learning to read search intent from the SERPs is a critical skill in optimizing your content for search intent.
How to Produce Intent-Optimized Content
To maximize the performance of your content, you'll want to make sure it's optimized for the (correct) search intent you wish to target.
You can achieve this effectively with a three-step approach:
Understand the Search Intent
Make Sure Content Matches the Intent
Create Content That Meets or Exceeds Current Results
Follow this process, and in no time you'll create content that draws the kind of traffic needed to improve the sales on your eCommerce site.
Step 1: Understand the Search Intent for a Keyword
Before you can optimize for the search intent for a keyword, you must know exactly which intent Google associates with that query. You can usually discover this by completing a Google search and reviewing the results page for that keyword, looking to see which features Google displays.
Linking SERP Features to Intent
For example, let's revisit the search for "best chocolate mousse." You can see several features here that Google associates with an informational search.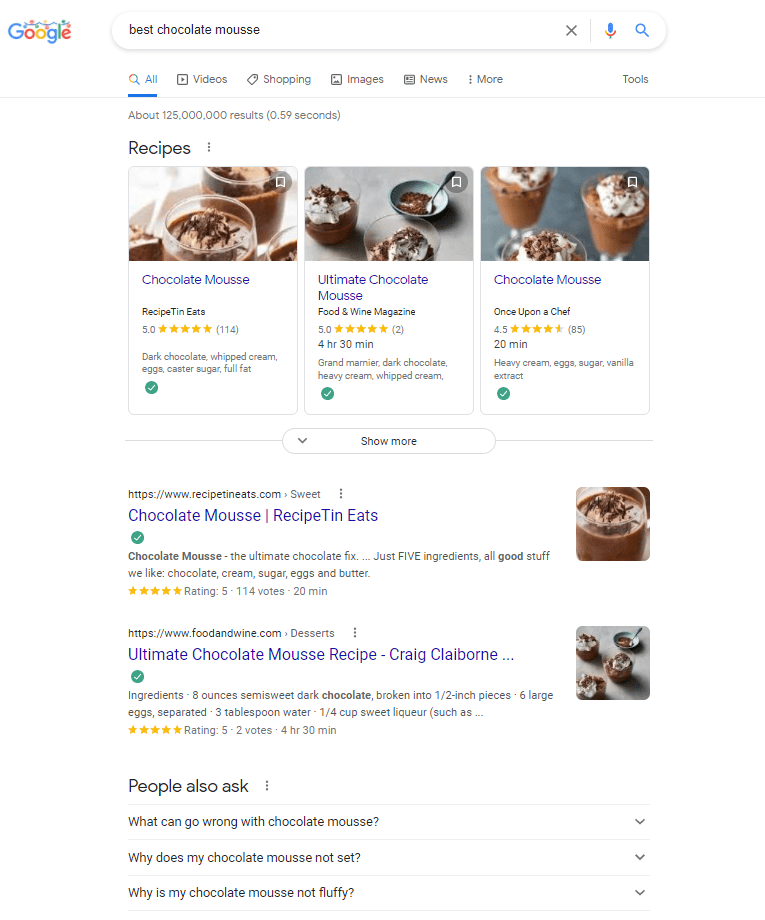 First, you'll find a "Recipes" block at the top of the results. Next, after a few lucky search results, there is the "People also ask" block, full of questions specifically related to the preparation of chocolate mousse.
After that comes a block of instructional videos, including several with key moments highlighted.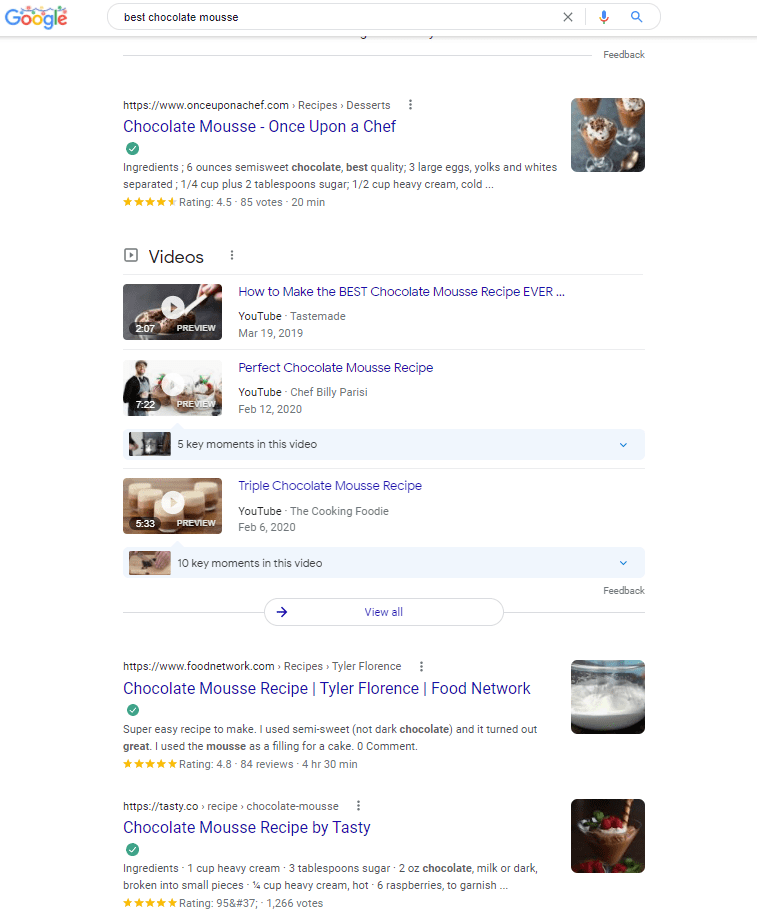 Ads are listed after all the organic search results, followed only by a "related searches" block that features recipe ingredients, and finally other search queries about the making of chocolate mousse.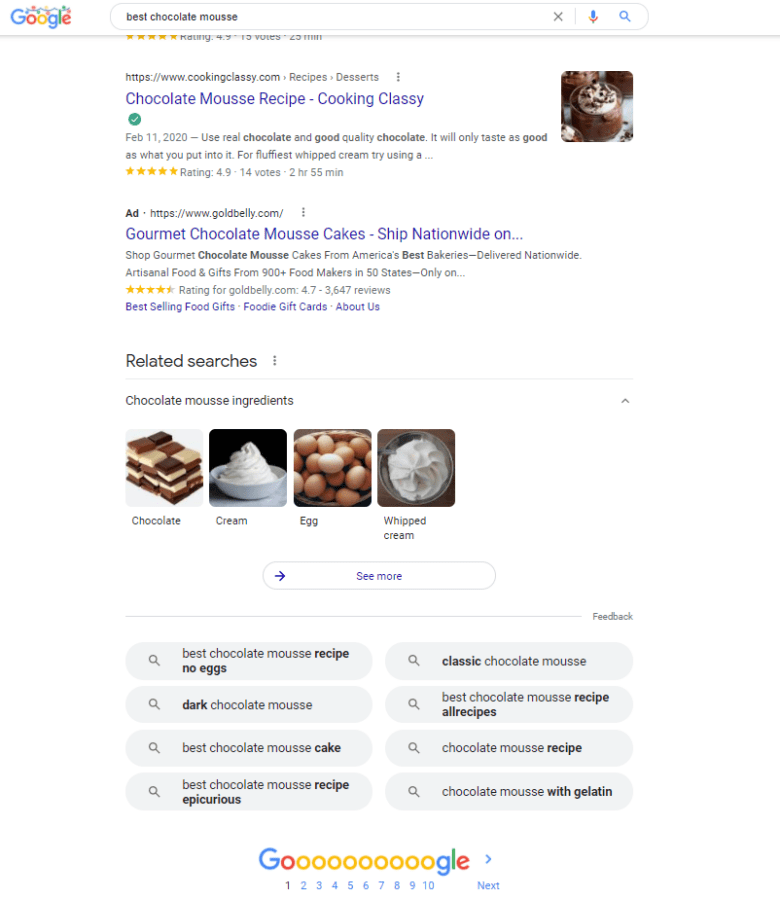 Compare this with the features in the search "best chocolate mousse in Denver."
This SERP begins with ad results for chocolate mousse cakes for delivery. Then, it features a local block of results, showing bakeries, including reviews and their locations on a map.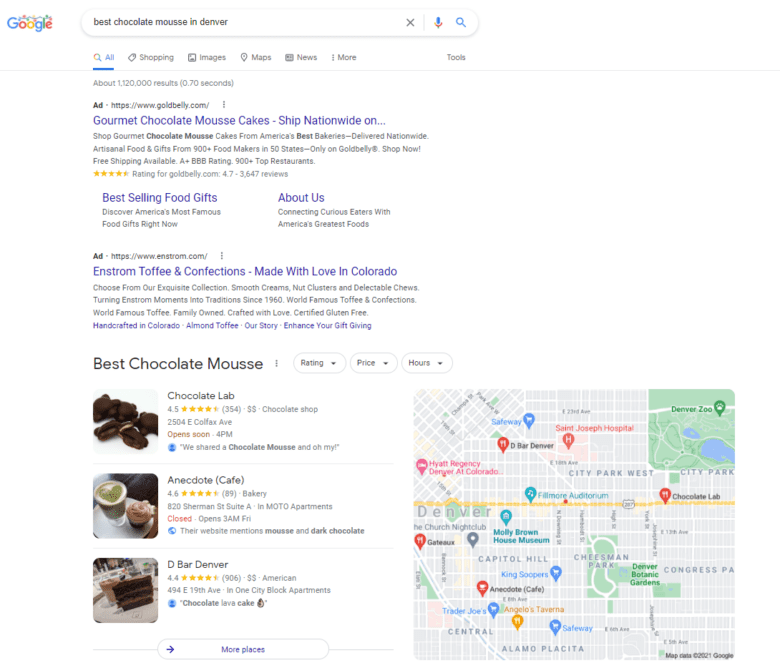 Below the map are more ads. The top results are Yelp and Foursquare recommendations. There are still recipes in the SERP, but they're very low on the page, just above the final ad and related searches.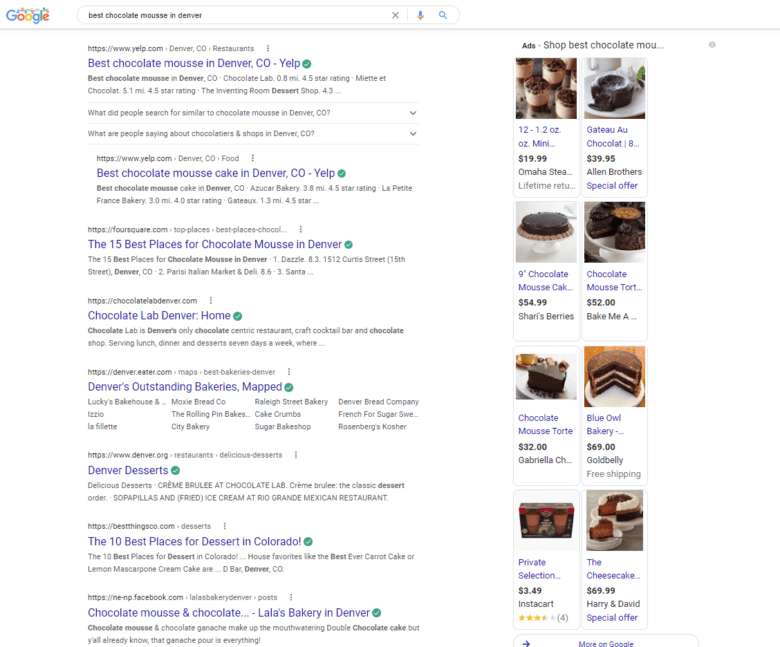 Note how adding words can dramatically change search intent. This is critical to understanding how long-tail keywords work, and why they're valuable to your eCommerce site.
Here are some features you might see on different types of searches:
Informational Intent: Featured snippet, knowledge card, videos, People Also Ask, recipes
Commercial Investigation: Ads, Shopping results, related or popular products, local pack
Transactional Intent: Ads, Shopping results, knowledge card, local results, related or popular products
Navigational Intent: Site links, knowledge panel
It's common to see features overlap between differing search intents. Search intent is not a discrete category; it's more like a continuum, with many searches representing a blend between intents. To try to satisfy all searchers, Google blends features on its SERPs.
Analyzing positional clues and the ranking of results can help you focus on the best terms for your content.
Using Keyword Research Tools to Identify Search Intent
When selecting target keywords, you can always manually search each phrase combination until you come across the ones that seem like a good fit. However, it's easier to narrow it down using a keyword tool, which identifies searches based on their features.
Here at Inflow, we frequently use Ahrefs' Keywords Explorer (although Moz and Semrush also have good tools), which lets us identify search terms that include certain SERP features. This way, we can quickly track down the keywords that match the search intents we want to target.
In addition, this tool allows us to look at the historical rankings for a keyword search. We can analyze whether the search intent is stable or evolving, which can help us decide whether the phrase is a good target for our content
For best results, it's a good idea to manually look at the SERPs, too. You can learn a lot from the nuances of the page that don't come up from the Keyword Explorer.
You can also learn more about understanding search intent in our in-depth guide to eCommerce keyword research.
Step 2: Make Sure Your Content Matches the Intent
Next, you have to make sure that the content you are creating matches the types that Google wants to present for results. To do this, you have to make sure your content is:
Appropriate
Satisfying
Enticing
Appropriate Content
Appropriate content means that its type reflects what Google believes people are searching for with this intent.
For informational searches, for example, articles and blog posts are common. For commercial investigation searches, some blogs may appear, but more often category pages show up best. For transactional searches, product pages work best.
Satisfying Content
You also have to make sure the content will satisfy the search intent with the correct genre, sometimes called the format.
If you want to show up for an informational "how to" search, you must supply a "how to" guide. If people are trying to find a product comparison, you need to provide a real product comparison, not just take the opportunity to talk up your product.
Enticing
Finally, your content must be enticing to the potential human user.
Google's ultimate goal is to entice people to click on results. So, its algorithm favors results that achieve high click-through rates.
This is where you have to do a little reverse social engineering, and (sometimes) adjust your titles for the years and seasons.
For example, at the time we're writing this blog, it's just over a week before Christmas — so many of the top search results for "best chocolate bars" include "holiday" and "gift" in the title.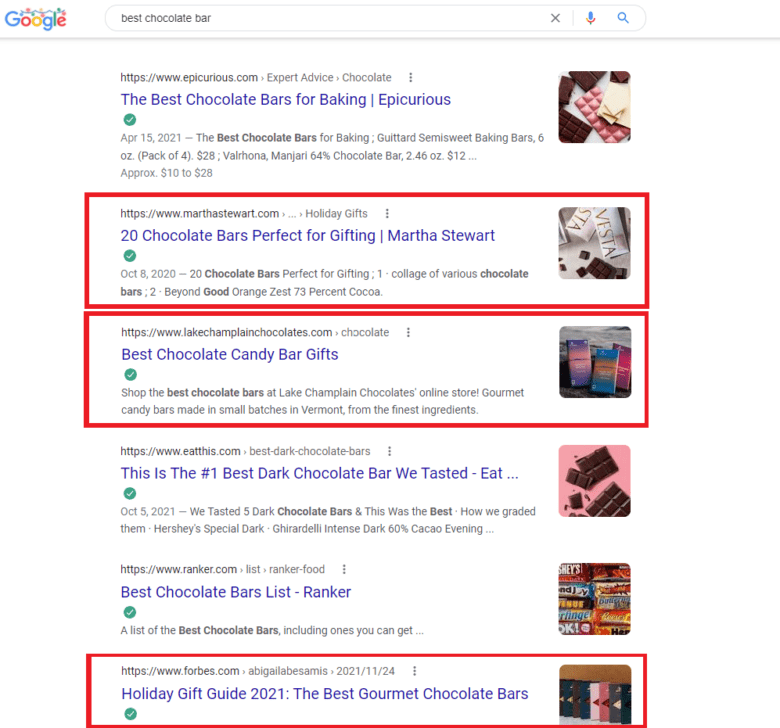 You can sometimes do well to buck the trend in an intriguing way that still fits search intent. For example, check out the high-ranking "news" listicle on vegan chocolate bars.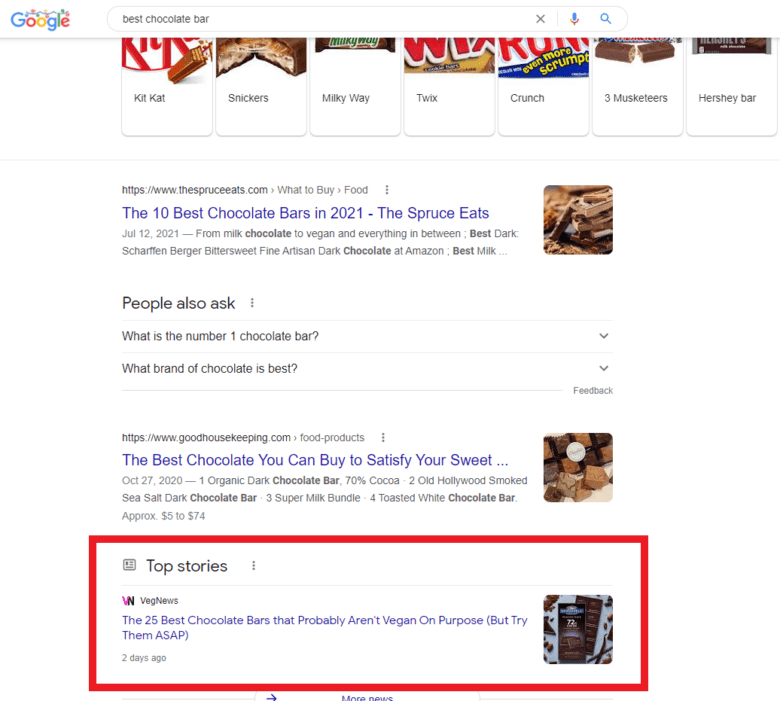 Step 3: Create Content That Meets or Exceeds Current Results
Once you've identified the keywords you want to target and know the type of content Google is looking for in its search results, it's time to specifically gun for the top results.
You can use this technique either for creating new content or tweaking your existing content — it's similar to performing a content gap analysis.
Look at the Top Results
First, you want to click on all the top results and get a sense of what they're doing in terms of approach, format, and media. If the pages all look the same, you'll probably want to make your page largely similar.
If there are different approaches to the topic, note them. If possible, you'll want to synthesize these approaches.
Read the Top Results
We know: Nobody reads anything online. People just skim the content to get what they're looking for.
But, if you want to make content worthy of topping the SERPs, you have to do what every content creator does: Study the competition.
As you read, note all the ideas contained in all the top results. If possible, make sure that your new result includes all the information contained in all the top results.
Sometimes the results take different approaches, and you can't include everything. But, whenever possible, try to borrow as much as possible from all the top results.
Figure Out What's Missing
Although the current results are good, they likely miss some information that Google (and searchers) thinks is important. If you're an expert on the topic, these gaps might be immediately visible to you. However, don't rely solely on your expertise. Look at the clues Google gives about the information it thinks is important.
First, check out the People Also Ask feature, if it's there. Try to answer any questions in the feature that the top results aren't answering. Then you can look at the related searches for further information.
Using this strategy, you can create content that does what the best results do — and more!
With good technical SEO (title tags, meta descriptions, etc.), strong site authority, backlinks, and a little luck, your pages will find themselves among the top results. Plus, because you've targeted the proper search intent, you know the traffic you bring in is more likely to drive conversions.
Bottom Line: SEO Is Nothing Without Search Intent
Intent is a critical part of search engine optimization, especially for eCommerce. It's the difference between people who want to make their own chocolate cake and those who want to buy your chocolate cakes.
Understanding this distinction is critical if you want your digital marketing dollars to bring in revenue, not just traffic. It's not an easy thing to incorporate, but it is worthwhile.
If you need help evaluating your SEO strategy and whether your current content is targeted to search intent, Inflow's team can help. Request a free proposal today to get a personalized strategy for SEO success on your eCommerce site.