Editor's note: This case study was originally published in February 2018. It has since been updated for accuracy and to reflect modern practices.
Sometimes, when it comes to conversion rate optimization, the simplest changes in site design can make all the difference.
Case in point: Our work with Trailcam Pro, an eCommerce site that sells trail cameras.
Today, we'll walk you through how one basic — but incredibly important! — website change helped this online business immediately increase sales by 20%.
We'll also explain why it worked — and how you can use the psychology behind it all to improve your online conversion rates, too.
Client Background
TrailCam Pro's customers are hunters, wildlife researchers, and people looking to monitor activity around a cabin or a house. Most of their buyers live in the U.S.
In 2018, TrailCam Pro's team came to us looking to boost their online conversion rates, sales, and overall brand revenue through ongoing CRO testing.
And, of all the tests that we ran, one had the biggest, most immediate impact on their results by far.
It involved adding a small (but crucial!) free shipping and returns notification to their global header.

While the resulting 20% increase in sales is certainly impressive, as strategic digital marketers, we were equally interested in the "why" behind it all — the psychology of why it worked, the other customer objections killing site purchases, and the ways to replicate these results for other online retailers that do (and don't!) offer free shipping options.
And that's what we'll discuss in detail below.
More interested in generating the same results for your business than reading our full case study? Contact our CRO team today to get started.
The Psychology of Objections
Let's start with some basic eCommerce customer behavior.
Everyone who visits your website has questions (a.k.a. "objections"). These are those questions your brand has to answer to get a purchase — the education and trust you must offer and build to create satisfied and loyal customers from the get-go.
In eCommerce, site visitors almost always have two main objections:
Will I have to pay for shipping?
Can I return it if I don't like it?
Thanks to subscription models like Amazon Prime's two-day shipping, most online shoppers today have come to expect free and fast shipping and returns from online stores — so much so that most browsers behave almost irrationally:
If you don't offer free shipping and returns, your business is already at a disadvantage. (That's why we recommend testing some degree of eCommerce free shipping [thresholded or not] to see the impact on sales and overall revenue.)
But, just because you offer free shipping and returns doesn't mean you're getting the most juice possible out of it!
Enter TrailCam Pro.
Have Free Shipping? Advertise It!
What's fascinating about Trailcam Pro is this:
The company already offered a free shipping policy when we started working with them.
People just didn't know it.
The site included no mention of free shipping or returns until a customer went all the way to the cart or checkout page — which means a significant number of people came to the site ready to buy but left before adding an item to their online shopping cart.
All because they were worried they'd have to pay for shipping costs.
For this reason, we immediately recommended highlighting this option in the global header. This marketing tool would follow shoppers throughout the site, subtly reminding them of the answer to two of their biggest questions while browsing.
For TrailCam Pro, we added the notification just to the right of the logo — immediately increasing conversions, sales, and revenue for the online business.
(Of course, we always recommend testing the placement of this free shipping offer on any eCommerce site — and can happily run those tests for you as part of our CRO services.)

Other Trust Elements to Include
The free shipping promotion was easily the most impactful change we made — but it wasn't the only change we made to TrailCam Pro's site.
There are a variety of trust elements that you can add to your eCommerce website design to overcome customer objections and create confidence in your products and brand.
Like all conversion rate optimization elements, these are worth testing before implementing. Customer behavior is changing rapidly; what works for one site may not work for another, or may not work for the same site just a few years later! (RIP, McAfee.)
For TrailCam Pro, these were the trust features we found to deliver improved conversion rates and sales from shoppers:
1. Customer Service Phone Number
By adding TrailCam Pro's customer service line and hours of operation in a similarly visible spot, we let customers know that there was help available if they needed it.
You can also test adding an AI chatbot or live chat option for more immediate shopper assistance (but only if you have the resources to do it properly).
2. Social Media Followers

Displaying the company's 44,000 Facebook likes provided social proof that the company was known by a large existing customer base.
Note: This was a best practice for eCommerce website design in 2018, when this case study was first written. Today, this trust element is less useful — and could potentially be harmful due to its outdated look. As with all design changes, we recommend significant testing before applying this across your site.
3. BBB A+ Rating
An A+ BBB rating was another way to provide social proof that Trailcam Pro was a company that new customers could trust.
However, per our 2023 Best in Class research, trust badges are rapidly on their way out when it comes to eCommerce site design, so proceed cautiously before implementing them on your site.
Alternatives include offering more checkout options (like buy now, pay later) or more customer reviews and social proof.
Answering Other Objections in the Buying Process
While the question of shipping fees is a big one for today's online shoppers, it's not the only objection that arises during the browsing process.
Once a shopper has narrowed down their search to one product, other common questions include:
What happens if it breaks?
Do they have any in stock?
What are my delivery options?
Do they accept my preferred credit card or payment method?
For Trailcam Pro, we knew in advance where people had these questions — so, we answered them in relevant places during the checkout process.
Example: What Happens if It Breaks?
Several companies make a big deal about their warranties on their homepage — but that's too early.
At the beginning of their search, people are just trying to find the right product. Until they do, talking about warranties is just a waste of real estate.
So, for TrailCam Pro, we held the mention of the two-year warranty until the customer made it to the product page.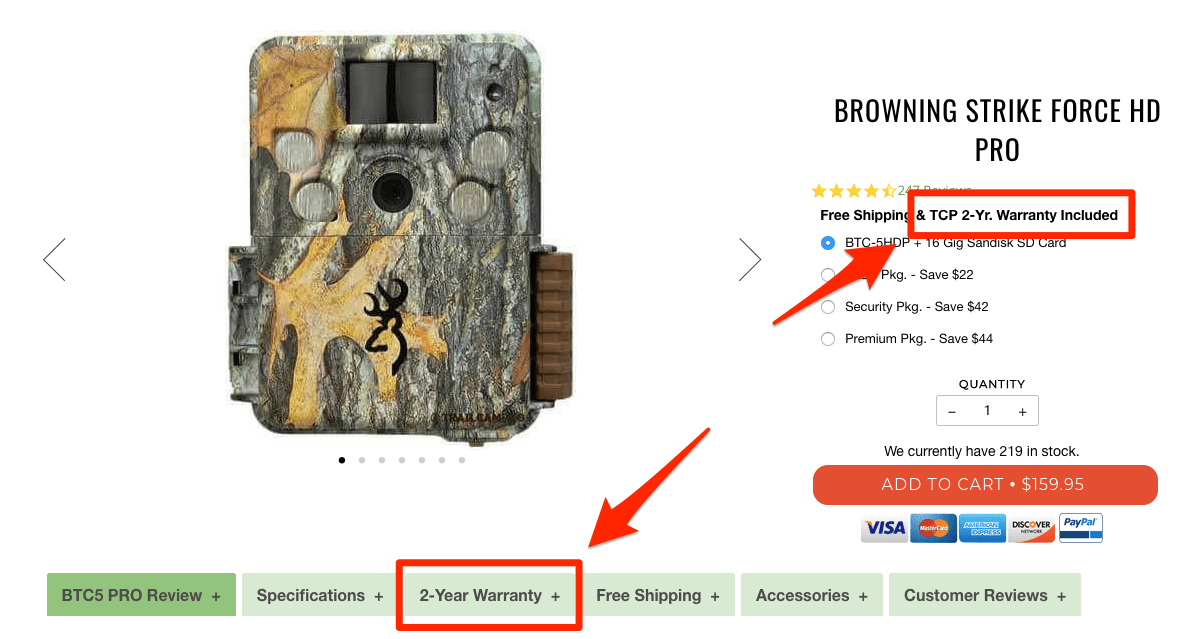 We reiterated the guarantee again — even bigger this time — on the cart checkout popup: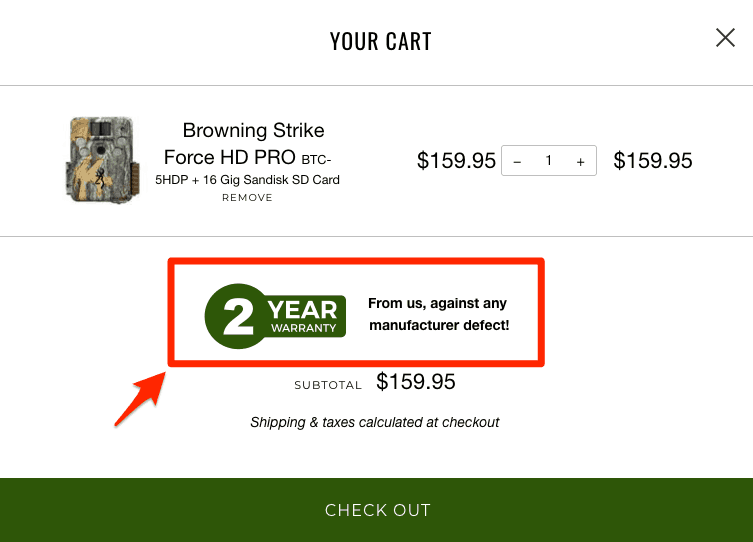 The checkout page is the perfect place to mention warranties because it's your last chance to convert. Your customer is ready to complete the purchase, but this is the time in which any lingering questions make their final appearance ("What happens if this breaks after I buy it? Can I send it back?").
Featuring the warranty on the product and checkout pages provides answers to those objections at exactly the right moment in the process.
Beyond Shipping & Returns: Study Your Customers to Improve Your Results
While offering free shipping and free returns is a huge lesson to be learned from this case study, it's not the main point we want to make. Instead, we wish to impact a far more general piece of advice, one that can apply to any eCommerce store:
Know your customers.
Specifically:
What are their objections?
What do they value?
What do your competitors offer that they value?
What's holding them back?
The first step: Gain insights into what your customers are thinking. Consider what's happening in their minds as they navigate your site. What questions or objections arise along the way?
Then, use that knowledge to test improvements on your site through smartly designed CRO experiments.
If you answer your customers' questions, you can significantly increase the total sales you make on your site.
As with all things CRO, your website visitors are unique. It's helpful to benchmark your strategies against our Best in Class sites.
Want an expert to design and test the perfect experiments to lift your site's conversion rates and online sales?
Contact our CRO experts today to see what conversion best practices (like free shipping thresholds) can be applied successfully to your site. Together, we'll build a customized, advanced strategy designed for your specific audience, budget, and eCommerce business goals.
So, what are you waiting for? Get started today.