It may be premature to declare the end of the credit and debit card era — but it's not too early to say that any business not adding new payment methods to their checkout processes could be left behind by competitors and customers alike.
These new payment methods, broadly known as "buy now, pay later" services or BNPL apps, are set to grow by 274% in the next few years, totaling nearly $1 trillion in transactions by 2026. That's about 25% of the total value of physical goods bought on eCommerce sites.
With the acceptance by major online stores like Amazon and Walmart, these plans have newly established credibility in the market — and they can be a boon to your online business, too.
This guide will help you join the BNPL revolution by teaching you:
How payment installments work
Why they're important for your eCommerce business
And which 10 top platforms to consider for your brand
How eCommerce Installment Payment Apps Work
BNPL apps offer customers another payment option when they make online purchases. Instead of using their credit card, debit card, or eWallet to pay for the entire cost of their purchase, shoppers can pay for the purchase over a series of small payments, typically interest-free and at no additional cost to themselves.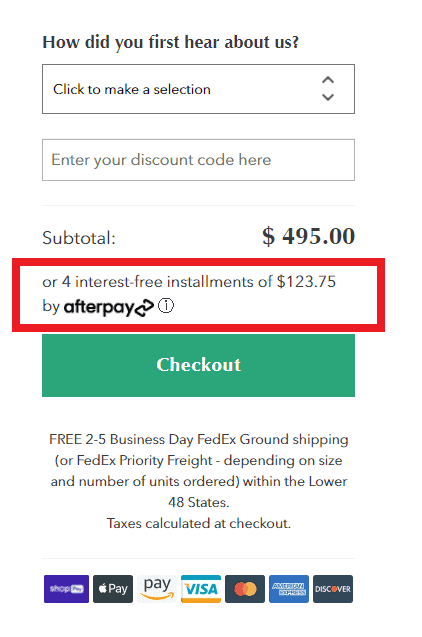 From a business standpoint, BNPL works as a plugin that isn't much different from the other options on your existing purchase gateway. It's like adding credit cards or PayPal to your eCommerce site.
But, like credit cards or PayPal, these "buy now, pay later" apps incur transaction fees and other costs, including minimum or maximum transaction limits.
Why They're Important for Your Online Business
At the same time online credit lines and BNPL apps are expected to grow dramatically, credit cards are facing a decline.
Only about half of Millennials have a credit card, but they're not the only ones cutting their cards to take control of their personal finances. Even as American household debt increased by $85 billion in the first quarter of 2021, credit card debt declined by $49 billion.
Retailers saw their receipts rebound in 2021, but people weren't putting those purchases on credit cards. Instead, people are more frequently using debit cards and BNPL apps. Overall, about 70% of Americans would rather use BNPL than high-interest credit cards, with 87% of shoppers aged 18-40 expressing this preference for in-store and online shopping.
BNPL used to be seen as an aid for people with bad credit history who couldn't qualify for credit cards. Now, more and more shoppers, especially young shoppers, are ditching credit cards in favor of these apps for small and large purchases.
But BNPL apps come with profitable benefits for retailers, too. Adding BNPL apps to an eCommerce site can increase purchases.
eCommerce businesses see a 20–40% increase in conversions and an average order value (AOV) increase of 60–80%, according to case studies by the various platforms listed below. That's a powerful supplement to your eCommerce holiday marketing this year and can help you improve revenue long after the holiday shopping season, too.
10 eCommerce Installment Payment Companies & Apps to Consider
There's plenty to consider when choosing the best "buy now, pay later" app for your store. This short guide will dive into the details of a few options, but we recommend offering more than one to give your shoppers flexibility in their purchases.
1. Affirm
How It Works: Customers apply for a loan at checkout. Depending on the customer's credit score and the type of purchase, Affirm will offer loans with either 0% or 10–30% interest rates. Customers usually get an option that lets them choose the number of payments, with a disclosure of the interest they will pay.
Integrations: Integrates with all major platforms like Shopify, Magento 1 and 2, WooCommerce, Salesforce Commercial Cloud (SFCC), as well as dozens of smaller platforms. See the complete list here.
Cost: Affirm says its costs are variable, but a typical fee to a business is 5.99% + $0.30 per transaction.
Key Benefits:
Business directory could drive traffic to your site.
Offers more flexible options for payment and allows for larger purchases up to $17,500.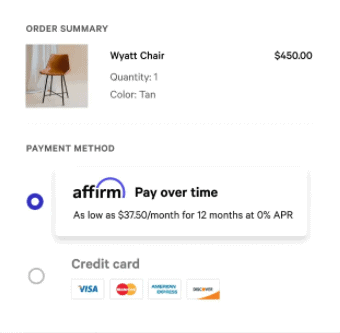 2. PayPal Credit
How It Works: With PayPal Credit, customers apply for a line of credit through their PayPal account. Then, they can choose to pay with their PayPal Credit line rather than their eWallet balance.
Integrations: Some website design platforms (such as BigCommerce, Shopify, Squarespace, Wix, and GoDaddy) have easy integrations. Other platforms (including Magento, SFCC, and WooCommerce) may require more work to implement.
Cost: Because PayPal Credit is integrated on the customer side, there is no additional cost to the merchant.
Key Benefits:
No additional cost to the merchant.
Customers manage the option on their account.
3. Shopify Shop Pay Installments
How It Works: Some Shopify merchants can offer customers the option of dividing their purchase cost into four equal, interest-free payments with Shop Pay. This is eligible for purchases of $50–$3,000.
Integrations: This option is only available if you have a Shopify store.
Cost: 5.9% + $0.30 per transaction.
Key Benefits: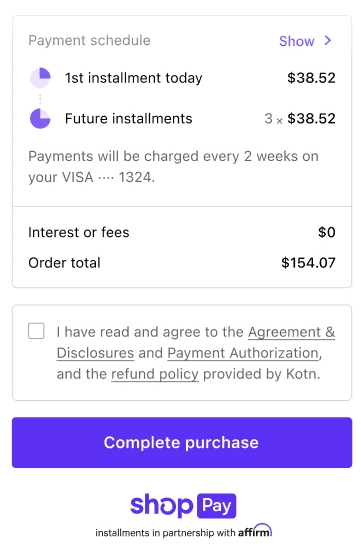 4. AfterPay
How It Works: With AfterPay, customers sign up for a line of credit through the app. They can spend that credit at your store, dividing their purchase cost into four interest-free payments. Over time, the amount they can spend increases, though some stores may find that customers' spending limits are smaller on certain sites.
Integrations: Currently, AFterPay offers integrations for major platforms like Shopify, Magento 1 and 2, WooCommerce, and BigCommerce, among others.
Cost: AfterPay is not very forward with its cost to merchants. Sources say there's a $0.30 transaction fee, plus commission fees that range from 3–7%. For a fuller picture, reach out for a consultation.
Key Benefits:
Store directory might drive traffic to your site.
Many AfterPay users are in Australia and New Zealand, which makes it valuable for target audiences in this region.
5. Global Payments
How It Works: Global Payments is a large payment processing company that offers BNPL services to its users, hence the off-brand name. We couldn't find much information online about the program, except that it lets customers break a purchase into payments and that some might have the option of 0% interest.
Integrations: Emphasis is on enterprise platforms like Magento, Oracle Commerce, and SFCC, but the program also supports shopping cart programs like Shopify, WooCommerce, and Ecwid.
Cost: Pricing upon proposal.
Key Benefits:
Simple integration for existing Global Payments users.
6. Klarna
How It Works: Customers download the Klarna app to their phone or computer. After a soft credit check, they can use it to finance payments. Klarna offers three financing options: Customers can divide a purchase into four interest-free payments, pay in 30 days, or finance a purchase for up to 36 months.
Integrations: Klarna offers integrations with Shopify, WooCommerce, Magento, SFCC, EpiServer, and PrestaShop, among others.
Cost: Klarna's cost depends on the type of financing customers choose. All have a $0.30 transaction fee, but interest-free payments cost 4.99% for merchants, pay in 30 days costs 5.99%, and long-term financing costs 3.99%.
Key Benefits: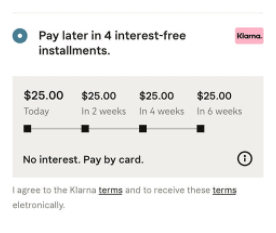 7. Zip Payments (Formerly QuadPay)
How It Works: Zip utilizes the market clout of Visa to let customers divide their purchases into four equal payments, charging them a $1 fee per payment. The cost of the financing is applied as a token to the customer's existing credit.
Integrations: Options include BigCommerce, Magento 2, Shopify, Salesforce, and WooCommerce.
Cost: 5.9% + $0.30 per transaction.
Key Benefits:
Widespread acceptance might drive more adoption of this platform in the future.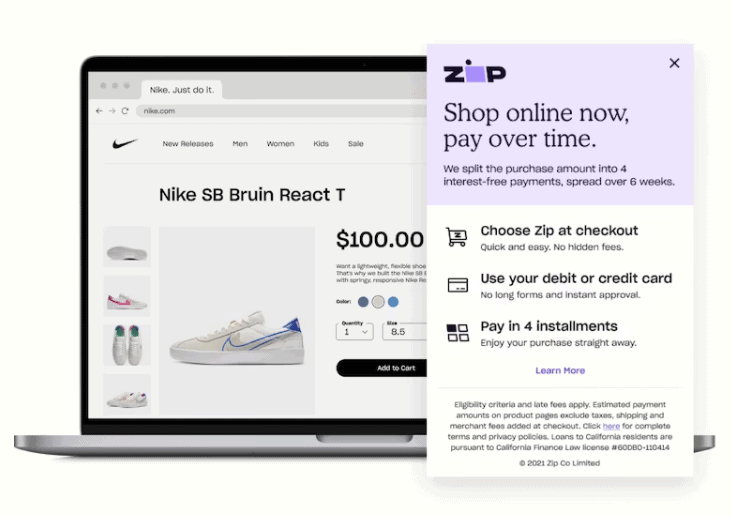 8. Sezzle
How It Works: Customers sign up for the mobile app and complete their application before shopping. Each time they make a purchase, they have the option to use Sezzle to divide their purchase into four equal payments with no interest. There's no set credit limit, but first-time shoppers may only be approved for purchases of $50–$100, gradually increasing with a positive payment history.
Integrations: Sezzle offers integration with many platforms, including Shopify, BigCommerce, Magento, SFCC, WooCommerce, and more.
Cost: 6% plus a $0.30 transaction fee.
Key Benefits:
Building limits with responsible spending can be an attractive gamification for customers.
9. Splitit
How It Works: Splitit works by adding purchases to a customer's existing credit cards, so customers are protected from incurring additional debt. With Splitit, they can divide their purchase into multiple payments, from three to 24 monthly installments. Customers will never incur a late fee for missed payments or late payments. However, because these costs are linked to their credit card, they might have to pay interest or charges according to that agreement.
Integrations: Options include Shopify, Magento, WooCommerce, SFCC, PrestaShop, and BigCommerce.
Cost: Splitit fees vary, depending on whether you opt to get paid as customers pay (fee: 1.5% + $1.50 per installment) or receive the full amount up-front (3% + $1.00 per installment).
Key Benefits:
The brand of responsible spending might be appealing to some customers.
The different fee structure might make it less expensive for businesses.
10. Partial.ly
How It Works: Partial.ly lets you set the limits for financing options your customers can choose from. Choose down payments, scheduled monthly payment amounts, and repayment timing that fits with your business. Unlike some other options, you retain the risk of offering payment plans, although Partial.ly gives you extensive tools for identifying and managing risky buyers.
Integrations: Current integrations include Shopify, WooCommerce, BigCommerce, PrestaShop, Magento, and Opencart.
Cost: 5% + $0.30 per transaction. This covers credit card fees if customers make payments with credit cards.
Key Benefits:
Ability to customize payment plans for your business.
Offer a Payment Plan to Customers Today
Bottom line: If you're looking to maximize conversions and sales for your eCommerce business, it's a best practice to offer one or more BNPL options in your checkout process. Breaking down some of the barriers to conversions is always a good idea, and you'll likely find that any one of these approaches will improve your sales.
But, with plenty of options to choose from, it can be hard to decide which is best for your site. We recommend doing your research, understanding the terms that various services offer, and (most importantly) considering which appeals most to your customers.
Want to test out a few BNPL options? Our CRO team can design personalized tests for your site to help you find the best "buy now, pay later" option for your customers. Request a free proposal anytime to get started.