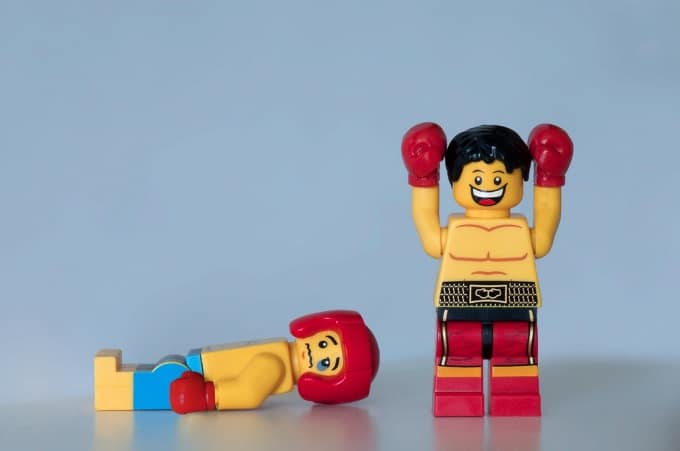 *This post was updated for accuracy in December 2020.
In order to crush the competition, you first need to know exactly who you're up against.
Easier said than done in the digital world, right? Wrong.
Businesses have long identified competitors somewhere in their marketing strategy, but oftentimes online organic competitors can be different. You may find out that online you don't have much keyword overlap with someone who you thought was your competition, but have a ton of overlap with a website you've never seen.
Finding your competitors' websites doesn't have to be a chore. Here at Inflow, we frequently run competitive analyses for our clients (and ourselves!). (In fact, you can request one for free at the end of this blog.)
We've created a straightforward process to efficiently identify competitors and their successes. Along the way, we also discovered a few simple ways for your site to hold its own against those competitors — even enough to surpass them in organic rankings.
Here, I describe them in detail to help you get your site in shape for the big fight.
How to Find Your Competitors Online
Competitive analysis usually starts out as the long tedious process of searching Google for your most important keywords and seeing who shows up. That's one way to do it (and one we'll talk about in detail below), but there are other options, too.
Here are a number of other tactics and analysis tools that can be utilized during this process:
Ask your client (or boss).

Use Ahrefs.

Use Semrush.

Use Spyfu.

Use Moz

Search Google using your top keywords.

Use SimilarWeb.com.

Use the "Related:" search operator in Google.
Whatever path you choose (and we suggest a mixture), we've recommended some helpful tools that can probably provide more thorough results.
Step 1: Ask Your Client or Boss
If you work with a digital marketing agency, or if you're a new in-house marketing employee, ask the owner of the business you work for who they think their competitors are.
I always start here, because there have been many times when a client of mine named off a competitor's website that did not show up when doing keyword searches (more on that below). These are also sites that your boss feels most adamant about beating in the search results.
It's important for both you and management to understand that competition in the search results is not always your competition in real life. Some of your real-life competitors might not rank well at all in the search engine results, in which case competitive analysis will not be as valuable.
It's still useful to know who your real-life competitors are, though, because it will help you understand the entire landscape of your industry.
Step 2: Find Competitors' Websites with Keyword Research
Start a Seed List of Keywords
Before you can overtake your competitors in organic rankings, you need to have an idea of what kind of keywords they're targeting. Knowing these keywords will also help you expand your master list of competitor websites.
You should already have an idea of what these search terms are, but if not, there are a few steps for how to find out what keywords your competitors are using:
Use your noggin and think of obvious keywords for your industry.

Look at what keywords your competitors use on their most important pages.

Run your website and your competitors' domain names through Ahrefs, Semrush, SpyFu, or Moz.

Run some searches in Google or Google's Keyword Planner tool.
Brainstorm Important Keywords Based on Searcher Intent
The first thing you need to do is identify a few of your most important keywords.
Think of specific keywords that have purchase intent, rather than research/information-seeking intent. For example, if you sell contact lenses, start with keywords like "buy contact lenses" and not keywords like "how long can I wear contact lenses."
Thinking about the purchase intent of your keywords while doing your research is great because it gives you a better feel for what's happening in the search results and can also result in a large list of keywords that might not have shown up in another tool.
Conduct Your Search with Helpful Research Tools
We know keyword research can take a lot of time to do right. Fortunately, there are several paid and free tools to find keywords on a competitor's site.
Ahrefs, Semrush, SpyFu or Moz
Ahrefs, Semrush, SpyFu, and Moz all have similarities and can get you going with a free or pretty cheap trial. You get a lot more data with paid accounts, but it's not absolutely necessary.
They are all pretty easy to use. Simply enter your URL (or a competitor's URL) into the field on the main page, and each tool will spit out some data. You'll see both paid keywords and organic keywords, both of which are useful.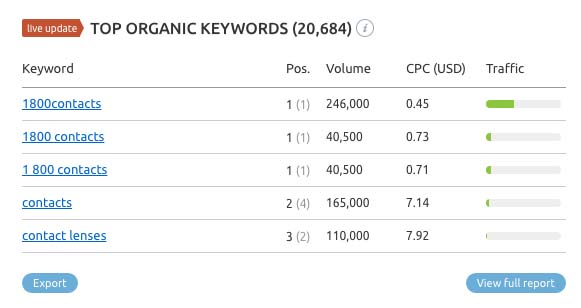 If you use the free version of SpyFu, you are limited to seeing only the top five keywords. This might be enough to get you started, but you'll get a lot more valuable info out of the paid versions of each of these tools.
If you're interested in the latter, check out our complete guide to Semrush keyword research.
In October 2021, Moz launched a beta version of a new competitive analysis tool called True Competitor. If you're already a Moz subscriber, you can use it like you would Semrush's, Ahrefs', or SpyFu's tools.
Search Google Using Your Top Keywords
When you have a basic list of industry keywords, it's time to use them to find your top competitor sites.
Ontolo used to have a great tool we used frequently. You'd enter a list of keywords, and it would automatically search Google for all those keywords, counting how often competing sites would show up. If a site showed up 10 times for 10 keywords, it's a pretty good indicator they are kicking butt in your industry.
Unfortunately, that tool no longer exists, but you can still use the concept to do the same thing manually.
Start by searching Google for your top keywords and see which ones show up frequently. You can eyeball it to save time, or you can really dig in for more data.
If you want to dig in, change your Google search settings to show 100 results and download a Chrome plugin like Link Grabber (or use this sweet bookmarklet if you're old school) to extract the URLs from the search results page. Search your keywords, compile the URLs in a spreadsheet, sort alphabetically, and count!
You'll end up with a large list of competitors and the specific pages that are ranking for those keywords.
While it's designed for pay-per-click ad searches, Google's Keyword Planner Tool can also help you find competitors' keywords. You can use it to search for words or phrases related to your products or services, and the tool will suggest keywords for you.
Put those back into Google's main search to find more competitors' websites to add to your list.
Step 3: Look for Similar and Related Sites
Identifying target keywords is helpful but, to do it well, you probably need to devote time and money.
If you're short on one or both, you can still find your online competitors with two easy and free search tools: SimilarWeb.com and the "Related:" Google search function.
Use SimilarWeb.com
SimilarWeb is a great free tool that lets you enter a URL (such as your own) to identify similar and competing websites. You only get five results with the free version, but the great thing about this site is that you can enter your competitor sites to find more related sites.
After a few runs, I usually end up with a solid list of at least 10–20 good competing sites.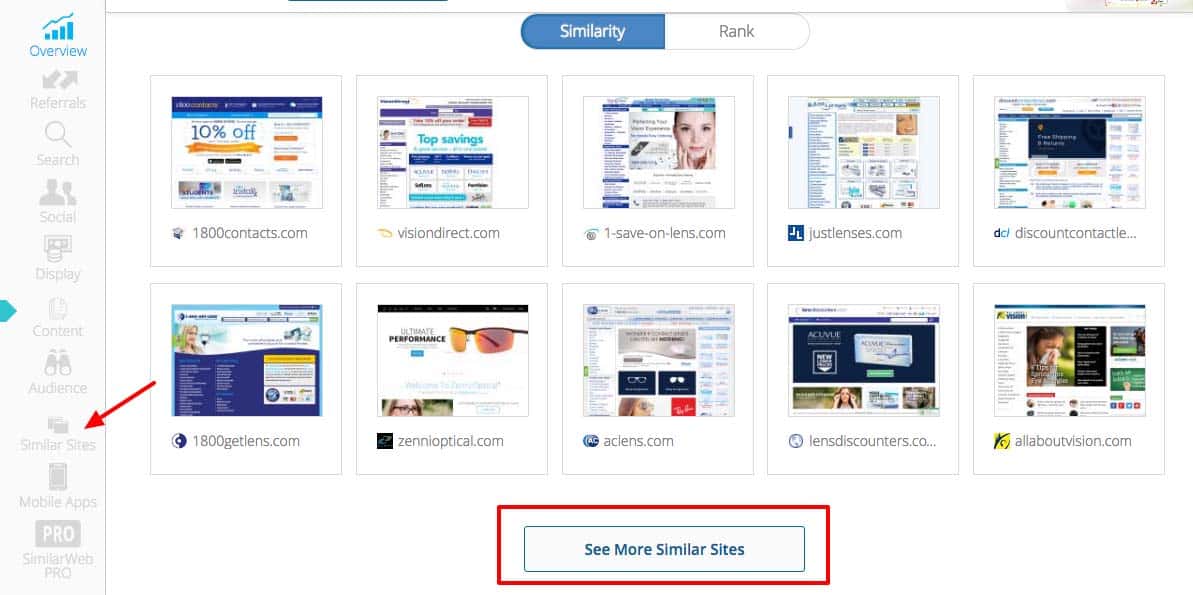 Use the "Related:" Search Operator in Google
This is a long-forgotten search operator that I never hear anyone talking about anymore, but it's one of my favorites. It works a lot like SimilarWeb, but this data is coming straight from Google. These are the results that Google feels are most related to your site (or your competitors).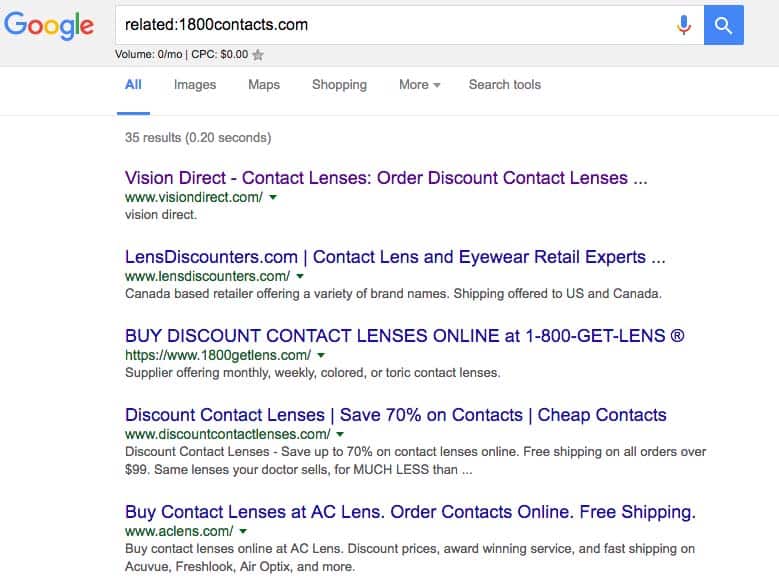 Find Out What Your Competitors are Doing Right
You should have an amazing list of competitor URLs by this point. To emulate their search rankings success, however, you'll need to do a bit more research into their sites. What are they doing well? What successes can you emulate from their website?
If you're not sure how to start the deeper analysis, start by:
Looking around their site

Identifying their top-performing content

Monitoring competitor mentions
Evaluate Competitors' Websites
This one is probably obvious, but I thought I should point out some things that you might not have considered.
When looking through their site, ask yourself:
Do they have a blog?

Do people comment?

Do they update it regularly?

What types of content do they publish?

Do they link to their social profiles?

Are they active on those profiles?

Do they do any events?

Webinars, conferences, community-based, etc.

Where are the calls to action?

Are they using pop-ups?

Do they have an email list?

If so, you should subscribe to stay on top of their work.

Are they offering coupons?

Do they have unique and useful content on the homepage?

What about category/product pages?
To make this process easier, we've created a free SEO Competitor Analysis Template. Download it today to organize and analyze your findings — or, if you'd rather have an expert do it for you, request a complimentary competitor analysis from our SEO team now.

Identify High-Performing Competitor Content
There are three tools that I use regularly to find top-performing content on competitors' websites.
Ahref's Content Explorer

Moz's Top Pages Report

Buzzsumo
Ahref's Content Explorer gives you the domain ranking of the page, how much organic traffic the page is estimated to have, and the estimated traffic value. Look at the pages with the highest traffic value, and click the "Organic Traffic" box to get a list of the top keywords.
Ahref's Content Explorer is great because you can use advanced search operators just like you would in Google. So, if you want to search a specific site, you would use the "site:competitor-site.com" operator. You can also search by author, titles, and Boolean (And, Or, +, -) to really customize your search.
Link Explorer allows you to find the best-performing pages on your competitors' sites as determined by incoming links. Go to the "Top Pages" report to find this information.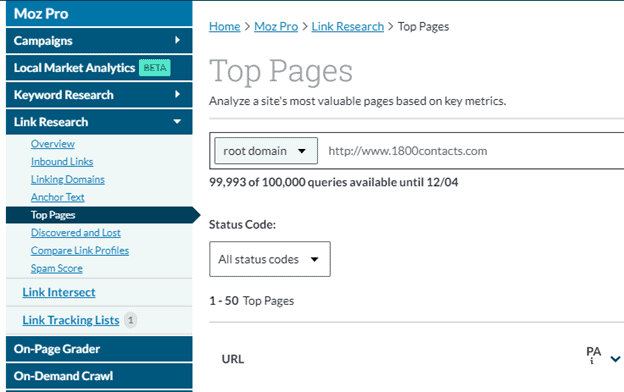 Buzzsumo will show you the top pages as calculated by social media shares. This is great because you can sort by social network.
For example, if you're a B2B company, you might want to pay more attention to the content that's performing well on LinkedIn.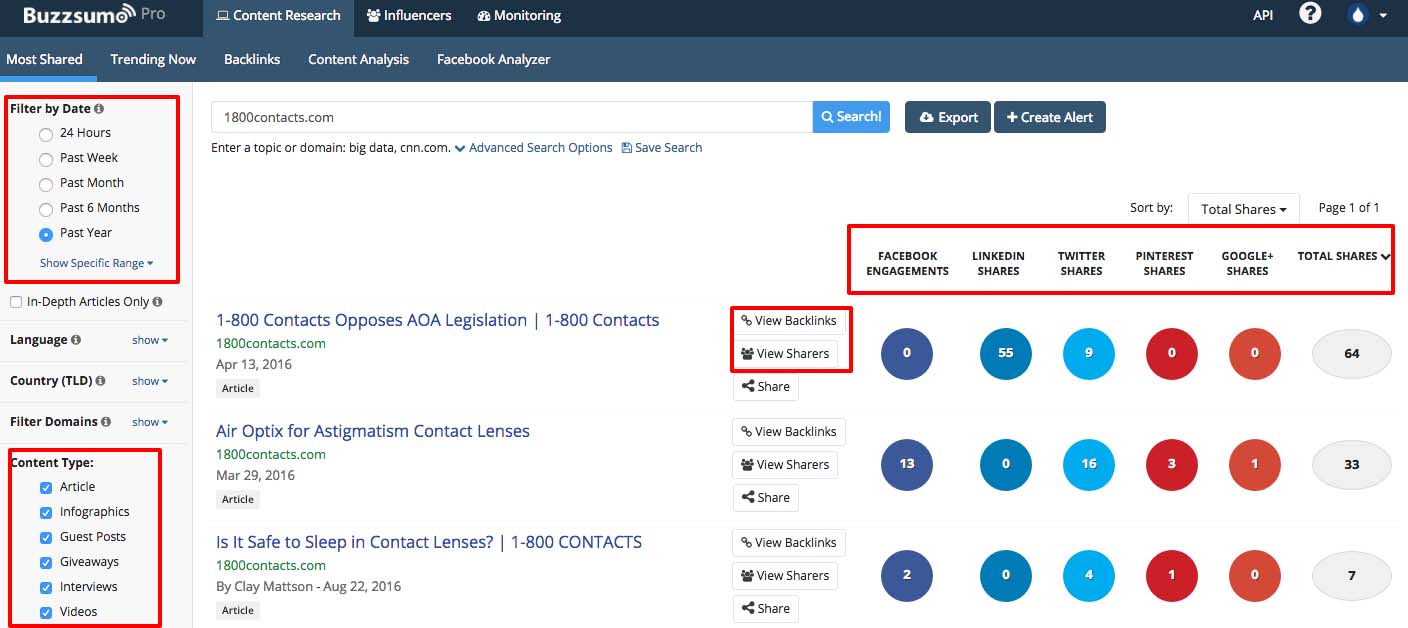 You can also filter by date, language, country, and content types (infographic, interview, guest post, etc.).
I also recommend reading our guide on conducting a competitor content gap analysis, which includes helpful step-by-step instructions for analyzing these results in more detail and creating an actionable content strategy from your findings.
Monitor Competitor Mentions
If you always want to be kept abreast of what your competitors are up to and where they're getting links and social mentions, set up some alerts in places like Google Alerts, Talkwalker Alerts, and Ahrefs.
Google Alerts and Talkwalker Alerts
Google Alerts and Talkwalker Alerts are very similar. They have slightly different results, but you probably only need to use one.
At one point, Google Alerts shut down RSS feeds, and everyone moved over to Talkwalker Alerts (this was when people still used RSS feeds). Google Alerts eventually brought RSS feeds back, but I wanted to mention Talkwalker Alerts because it's always good to have an alternative. Google has a tendency to sunset useful services if they don't perform well. You never know!
With either one, I recommend setting up at least two alerts for your top competitors:
One for their main domain, without the subdomain or "http" (for example: "competitor.com"). If you use the "www," the alert will only trigger if it finds the URL with "www" in front of it — but sometimes sites won't add the "www" to the text, and you might miss it.

One for their brand name, if it's different from their URL. This is especially useful if they have two words in their name. If it's a brand that has two words placed together, you might want to create an additional alert to catch the mentions with spaces, just in case.

You'll need to use quotes with more than two words to make sure the alerts only search for those words in that exact order

.
Ahrefs Content Explorer
The Ahrefs Content Explorer tool works like Talkwalker and Google Alerts but with more filtering options.
Search a brand's name in quotation marks, with "-site:domain" (example: "Inflow" -site:goinflow.com). To find unlinked mentions, you'll need to run these results through a custom search with Screaming Frog SEO Spider or another tool. Ahrefs provides a helpful walkthrough of the process here.
It takes a little extra work, but if you have an Ahrefs account, it can be a good investment of your time.
Use the Data to Improve Your Site's Performance
The final step in your competitor analysis is using the information you've found and determining how you can mirror your competitor's success.
Doing so will let you overtake them in organic rankings and make you the designated champ in your industry.
Start by:
Creating gap content

Emulating competitors' top content

Getting links where your competitors are
Create Gap Content
This is the process of finding which keywords a competitor is ranking for — and which you are not. These are content gaps.
Your competitors are getting traffic for these keywords, and you're missing out. You want to fill those gaps by creating useful content that will naturally drive traffic to your site.
I mentioned this blog post earlier, but it's worth mentioning again: Keyword Research with Semrush. Check out steps 5 and 6 of that post to learn the process of finding content gaps. You will need a paid account with Semrush for this one to work.
Ahrefs also has a content gap tool that's very useful for this type of analysis.
Emulate Competitors' Best Content
As you identify content gaps and determine which keywords you want to target, you should also pay attention to the best-performing content on your competitors' sites. This may or may not be keyword-based. For example, if you use Buzzsumo and see a certain blog has been shared thousands of times, you may want to try your own hand at that topic.
When you find a competitor's article that you want to recreate (to make better, of course), you can also Buzzsumo to see who linked to it and who shared it. If those people liked the original article, they will probably like yours, as long as it's different/better/higher quality.
Reach out to those people when your article is finished.
Get Links Where Your Competitors Are
Do you love business jargon? Because, if so, you'll love this "low-hanging fruit" link-building tactic.
Look at the link profiles of all your top competitors' websites, and try to get links where they have received links. You can use backlink tools like Link Explorer (part of Moz Pro – $149/mo), Ahrefs ($99/mo), and Majestic ($49.99/mo). If you want something free, and don't mind limited data and a bunch of ads, try Backlink Watch.
Look for opportunities like sponsorships, forums you can participate in, product reviewers, affiliates you can work with, industry conferences you can attend or sponsor, podcasts you can advertise on, bloggers and influencers you can work with, and so on. Digging through competitor backlink profiles is a long and boring process, but you can learn a lot about your industry along the way.
Keep in mind that you don't want to get links from every and any site that your competitors have received links from. You need to review these sites for quality; otherwise, you might end up with a Google Penguin penalty. We use Moz tools at Inflow, and we usually start by looking at domains with a Domain Authority of 30 or higher. From there, it's a matter of reviewing the site for potential spamminess.
Your entire link strategy shouldn't be based on what your competitors are doing, but it's a good start.
Get more link-building ideas by downloading our eCommerce Link-Building Guide today.

Start Finding Your Site's Online Competitors Now
Now that you know all of the steps involved, good luck finding those competitors and knocking them out!
Competitor analysis is a crucial part of a successful SEO marketing strategy, especially in the crowded industry of eCommerce. If you have more questions about how to find your competitors online, or want our experts' take on how you compare against them, reach out to our team today.
We'll be happy to provide a free SEO competitor analysis and/or comprehensive competitive content marketing strategy to help your brand improve its SERP rankings and drive more traffic to your eCommerce website.
Request Your Free
SEO Competitor Analysis Now
*Lego Knockout photo courtesy of pj_vanf