In the face of diminishing returns on Meta advertising platforms, Pinterest stands to be the new frontier for eCommerce brands chasing sellable audiences.
But, while both Facebook and Pinterest are social channels, the similarities end there — and marketing teams that stick with the same-old approach will be headed straight for the land of disappointing returns.
This was exactly where Cardboard Cutout Standees found themselves at the end of 2021. After spending months investing in Pinterest Ads and never getting further than the brand-awareness stage, it would take a reimagined approach to drive the online sales their business needed.
In today's case study, we'll walk you through the Pinterest eCommerce strategy we employed for this client to bring their campaigns back from the dead.
We'll share our modified funnel approach to this platform, explaining how it led to significant (and steady) results month over month, including an average monthly 4.82x return on ad spend (ROAS) and a 250% increase in sales — even during the brand's slow season.
Client Background
Cardboard Cutout Standees is a long-term Inflow client, one that our paid social team has partnered with since early 2020. While our focus thus far had been on the juggernauts of Facebook and Instagram, CCS isn't a brand to shy away from new opportunities — which is why their team began experimenting with Pinterest in 2021.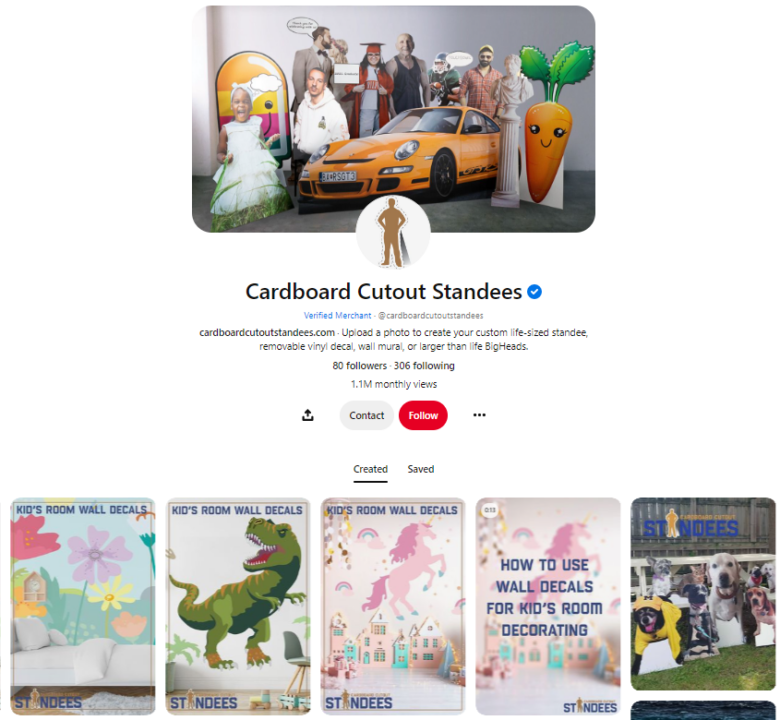 But, with levels of varying success and little time to properly manage or optimize their campaigns, CCS turned its Pinterest accounts over to the Inflow team in May 2022.
Our goal: Find the shopper audience we knew existed on the platform and consistently drive them from browsing to converting.
The Unique Challenges of Pinterest
Unlike platforms like Facebook and Instagram, Pinterest is not a guaranteed funnel for eCommerce sales. Instead, it's mainly a brainstorming and ideation board for its users, who typically save pins for later inspiration and use.
But, with the right strategy and targeting, you can turn those ideas into tangible purchases and business revenue.
Take, for example, an average Pinterest user. In this case, they're planning to redecorate their children's bedrooms, pinning ideas they find on the app and saving them for later consideration. But, when the right pin comes along, they're actually three times more likely to convert than users on other social platforms.
The challenge: Getting them from that initial brand awareness stage to final conversion, especially for purchases with longer consideration phases.
Our Pinterest Marketing Strategy: A Modified Funnel Approach
When CCS began their Pinterest campaigns, they knew there were engaged shoppers on the platform. But, with too-specific targeting and campaigns focused solely on brand and product awareness, they were caught in the trap that many eCommerce stores experience on this platform.
They needed a new campaign strategy that focused on both top-of-funnel and bottom-of-funnel audiences, delivering multiple touchpoints along the way to remind and push shoppers to final purchase — all the while maintaining the high-quality aesthetic Pinterest users have come to expect.
Finding the Right Shoppers — Engaged or Not
To be successful with your Pinterest eCommerce strategy, you first need to understand the type of customer that exists on this platform. You need to know why they are here (for brainstorming and ideation purposes), and use your ads to show (not tell) them why your product is the perfect solution for their needs.
Assume your audiences act like those on Facebook or Instagram, and your advertising efforts will be dead on arrival.
Cardboard Cutout Standees' shoppers fall into a few different demographics — parents, grandparents, college students, etc. — but they all have one thing in common: They're browsing on the Pinterest site. In other words, they're open to product suggestions and recommendations, even if they're not at the purchase stage quite yet.
Many of these users employ high-intent search terms during their research, which you can incorporate into your ad campaigns. (You can evaluate the popularity of terms related to your business using Pinterest Trends.)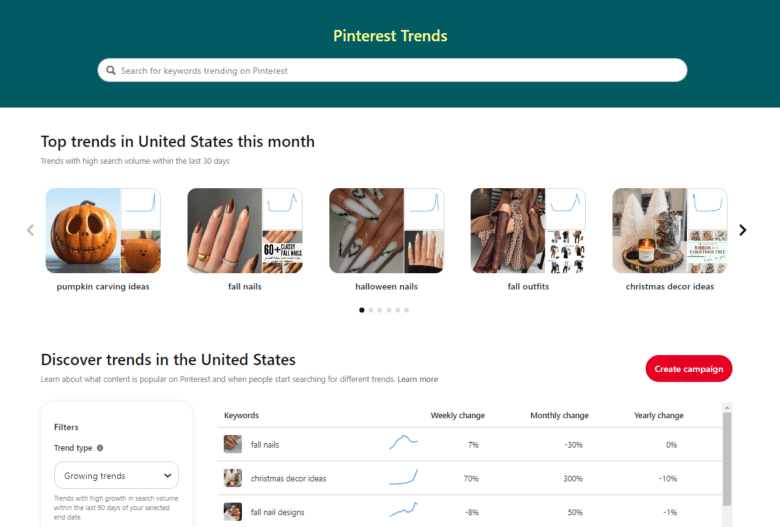 Using Pinterest's detailed targeting options and our team's knowledge of paid search advertising, we're able to create a broad group of shoppers for our ad campaigns, targeting everything from different sports (American football, basketball, hockey, etc.) to decor (kid decor, DIY kids room decor, boys wall art, etc.) to various parenting topics (childcare, parenting advice, toddlers and preschoolers, etc.).
The more audiences you can target (and the more specific you can get), the better chance of keeping those shoppers in your campaign funnels and getting a final purchase on your eCommerce website.
And, just like with search engine optimization (SEO), your target audiences don't have to be actively searching for high-intent or purchase keywords to prove their value. Brand awareness is a key goal with Pinterest — and you can't achieve conversions without it.
Bye, Bye, Middle-Funnel Ads
Notice something missing?
To maximize our campaign return and keep our audiences moving through the funnel, we actually removed middle-funnel ads and campaigns from our strategy.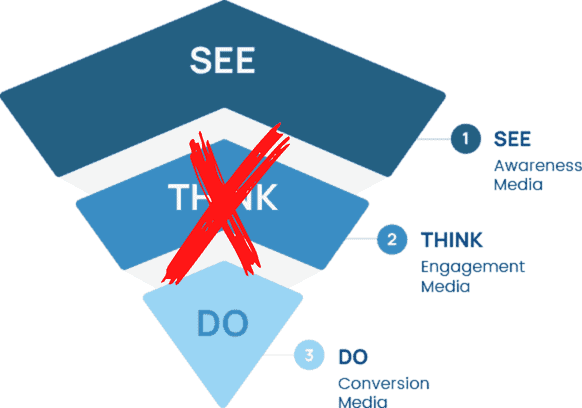 The reasoning: Because of the high amenability Pinterest users have to buying products, we don't have to get as specific with our advertising. In most cases, these users will either be viewing our ad for the first time or they've already clicked to our website to learn more. There's simply no need to invest in a middle-funnel consideration campaign; it would only serve to waste our client's valuable ad budget.
Instead, our eCommerce Pinterest strategy focuses on two goals:
Brand Awareness: Top-of-funnel campaigns that introduce our products to users.

In many cases, these are very similar to ads we run on the Meta platform.

Conversion: Retargeting campaigns for customers who have visited the site and are actively considering a purchase.

These campaigns deliver a high amount of impressions and a stellar ROAS.
With this dual approach, we keep the shoppers moving in and out of the sales funnel, eliminating the opportunity for them to get "stuck" in the consideration phase for too long.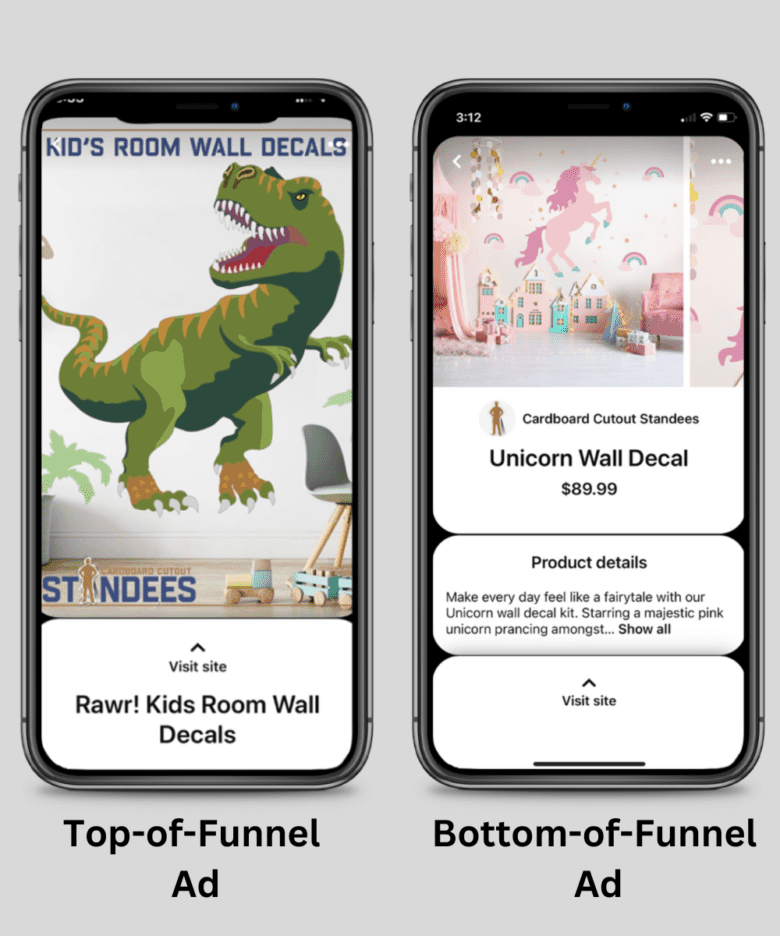 Serving Specific Copy & Creative
Now that we had our audiences and campaign strategy, it was time to prep our ad creative and copy.
Pinterest has a very specific post aesthetic. Not only is it a very visual-forward social network, but high-production-value content is king — not just for fitting into the feed but also for convincing shoppers to take a second look at your ad in the first place.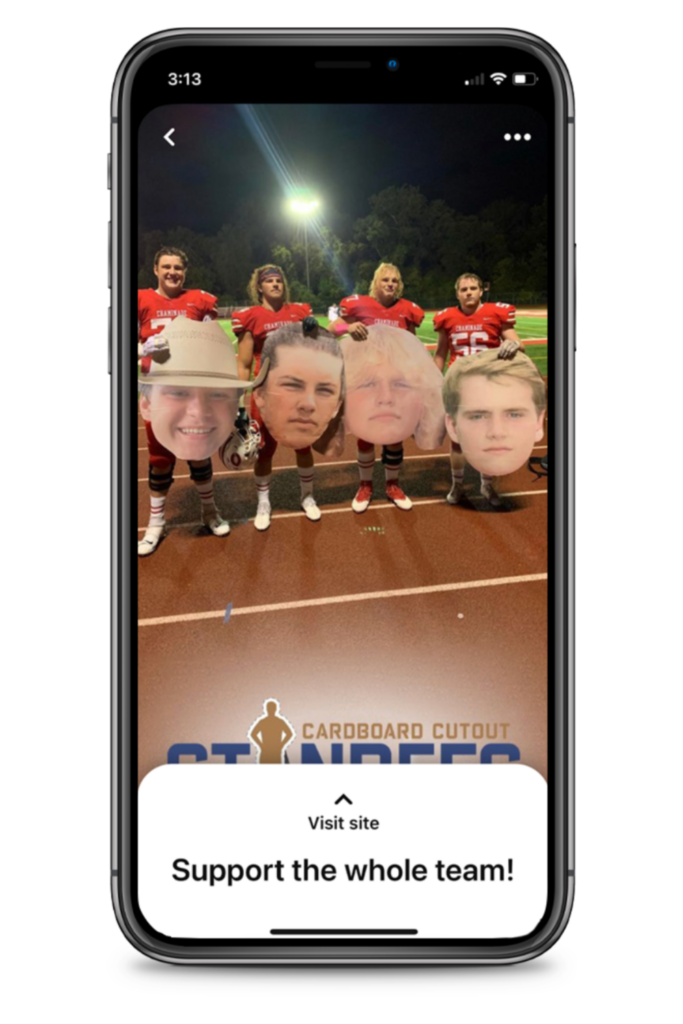 In many ways, this runs directly contrary to the authentic, user-generated-content ad style currently dominating platforms like Facebook and TikTok.
But, with a little bit of testing, we were able to identify use cases for both styles of creative — taking advantage of CCS's existing media library to create their promoted pins.
It seems obvious, but different styles of creative resonate with different audiences, even on an aesthetically pleasing platform like Pinterest. For example, we found that low-production-value, user-generated content performed better for CCS's sports audiences, while higher-production-value pictures and videos were more successful for parent-focused products like wall decals and a variety of retargeting ads.
We took the same testing approach with ad copy, experimenting with conversion-focused copy ("Fast production and free economy shipping!") and awareness-focused copy ("Our newest wall decals and mural make decorating easy.") to connect with Pinners at both stages of the funnel.
The Results
Typically, when it comes to social media advertising, we prepare our retail clients for three months of testing before significant results appear.
But, just one month after launching Cardboard Cutout Standees' new campaigns at the height of their busy season, we delivered a 6.9x ROAS — a staggering improvement from their 2021 results.
From there, we were able to maintain an average 4.82x monthly ROAS over the next six months, with a 250% increase in Pinterest-assisted purchases.
Even with the off-season approaching, the results don't seem to be slowing down anytime soon; November still delivered substantial campaign growth during a traditionally slow time for the online store.
Get Your Own Pinterest eCommerce Strategy Today
It all goes to show: What we lost in our Pinterest strategy (middle-funnel campaigns) we more than made up for in ROAS and eCommerce sales.
As you consider advertising on this platform, don't get fooled into using the same approach for Pinterest as for your other channels. Its different audience deserves a widely unique online marketing strategy, one that doesn't shy away from experimentation with targeting and copy.
Don't have a digital marketing team that can make it happen? Let our experts bring this knowledge to your accounts and reduce the time and money your team wastes in inefficient testing.
Contact us today to request a free strategy proposal, tailored to your eCommerce business's goals, strengths, and current ad performance.