In digital marketing, you never make promises you can't keep or set goals you can't reach. But sometimes ad copy, the right message, and opportunity line up to produce results that blow away any conventional expectations. 
Today, we're sharing an incredible case study about a client of ours, Seltzer Goods. They're a B2C brand that sells uniquely inspired home goods for modern living. Like most businesses at the start of the Covid-19 crisis, they saw a sharp drop in orders. But instead of hunkering down, they decided to double down and increase ad spend during this time.

Here's a snapshot at the Facebook Ad Campaign results: 
9.68x Return on Ad Spend (ROAS)

785% Increase in Revenue from Previous Month

$4.87 Cost Per Customer Acquisition (CPA)
And something else happened as a result of the paid ads campaign as well.
Sitewide organic metrics increased significantly. 
Organic traffic sitewide conversion jumped to 6.6%

Monthly organic traffic increased 183% from the previous month

Brand query + product searches jumped 931% 

Non-branded search query impressions jumped 200%
This case study shows the strong connection that paid search campaigns can have on organic rankings for a business. That's why in this article we're going to walk you through the exact ad copy, placements, and processes we used to generate these results. We're also including helpful tips along the way to guide you in thinking through the ad creation process. 
Now, let's dive in and take a look at how everything was done.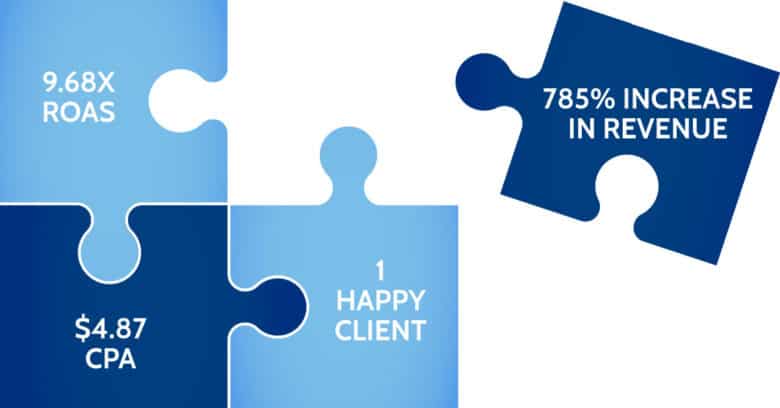 Defining the Scope of the Project
When we met with Seltzer goods the challenge was that they needed more sales from their B2C products to offset the impact COVID-19 had on the wholesale side which drove a majority of their business. 
Seltzer Goods is an eCommerce store that offers fun, unique, and meaningful products, including some artistically unique jigsaw puzzles. The company had the right products and plenty of inventory; it just did not have enough awareness of these products among consumers.

The solution we came up with was: 
1 Facebook Ad

1 Instagram Ad

Strong Creative

Strong Ad Copy

Finding a receptive (cold) audience

Carefully Scale Ad Budget
Setting up the Facebook Ad
While the Facebook Ad account had never run ads before, we did help Seltzer Goods get the Facebook pixel on its site before kicking off our engagement. This gave us a major advantage because Facebook had been collecting data on purchasers and site visitors ahead of time. We were able to hit the ground running, with jet packs. 
The Campaign
We've used a similar Facebook Ad strategy with other eCommerce stores which gave us a great framework to start. We utilized a single campaign completely targeting cold audiences and no remarketing ads. We wanted to reach new audiences and see how they responded to the ad creative.
 When you set up a Facebook Ad campaign you can choose between: 
Awareness (ex, Brand Awareness, Reach)

Consideration (ex, Traffic, Engagement, Lead Generation)

Conversion (ex, Conversions, Catalog Sales, Store Traffic)
We went with a conversion-based campaign optimized toward purchases.
This tells Facebook and Instagram to serve the ad to users within an audience who are most likely to take action. This process helps weed out the clickers and lookie-loos and sends more qualified people into your funnel from the start. 
When to Scale the Budget
We scaled up the budgets 10 to 15 percent every couple of days, as long as the return on ad spend (ROAS) was 5x. It is important to incrementally scale the budget, as opposed to dramatically increasing it, so that Facebook's algorithm is not jolted too hard.
 A more significant increase can wreak havoc on well-performing campaigns and hurt ROAS or cost per acquisition (CPA) metrics because Facebook has to adjust to the new information and determine the best way to serve it. 
The Ad Set
When creating an Ad Set on Facebook it's easy to get lost looking at all the potential options you can select. We kept it simple and opted into all devices and automatic placements. 

It's amazing how good Facebook's and Instagram's machine learning and artificial intelligence have gotten. The more options you give the platform to display your ad, the better the results. 
We also utilized a 1-day click delivery optimization given that the lower price point of the product lent itself well to the impulse buy from the consumer. The default optimization is a 7 days click or 1-day view so make sure to change it.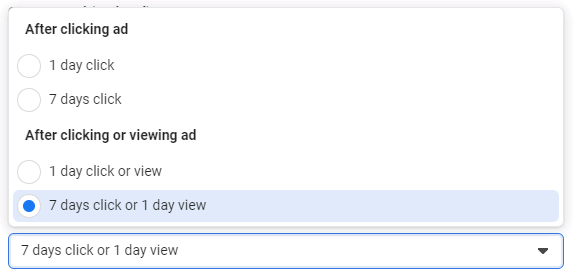 The default option is better suited to brands and products that have a bit longer buying cycle or products that cost upward of $100. 
Ad Set Targeting
For targeting, we started with an interest-based audience ad set that was closely related to the puzzles we were selling. Then we quickly added in lookalike audiences for 3 segments of visitors that took action on the site:
Key page visitors 

AddToCart users

Purchasers once the seed audiences (+1,500) were sufficient 
Having the Facebook pixel properly implemented and firing on key events such as ViewContent, AddToCart, and Purchase helped us expedite the data collection on the seed audiences and build better lookalike audiences faster. 
Pro Tip: Take note of the age of your lookalike audience: For example, a 14-day lookalike audience could look and behave dramatically differently from a 180-day lookalike audience, particularly during abnormal time periods such as pandemics, holidays, or Black Friday and Cyber Monday. 
When we implemented the lookalike audiences, we used the existing post ID from the interest-based ad sets.

This allowed us to retain social proof from the original ads. Social proof occurs when the likes, shares, and fun comments from an ad are retained and act as a positive signal to Facebook's algorithm and potential buyers. 
We applied a clean and consistent naming convention structure from the campaign to the ad sets, the ads, and the UTM tagging on the back end of the URL. Doing this helps streamline optimizations within the campaign and makes reporting much easier. 
Additionally, it allowed us to leverage the power of Google Analytics in addition to the native reporting from Facebook Business Manager. Leveraging the power of Google Analytics is often overlooked in the accounts we audit.
Breaking Down the Different Facebook Ads
We decided to run two different ad creatives against the same copy.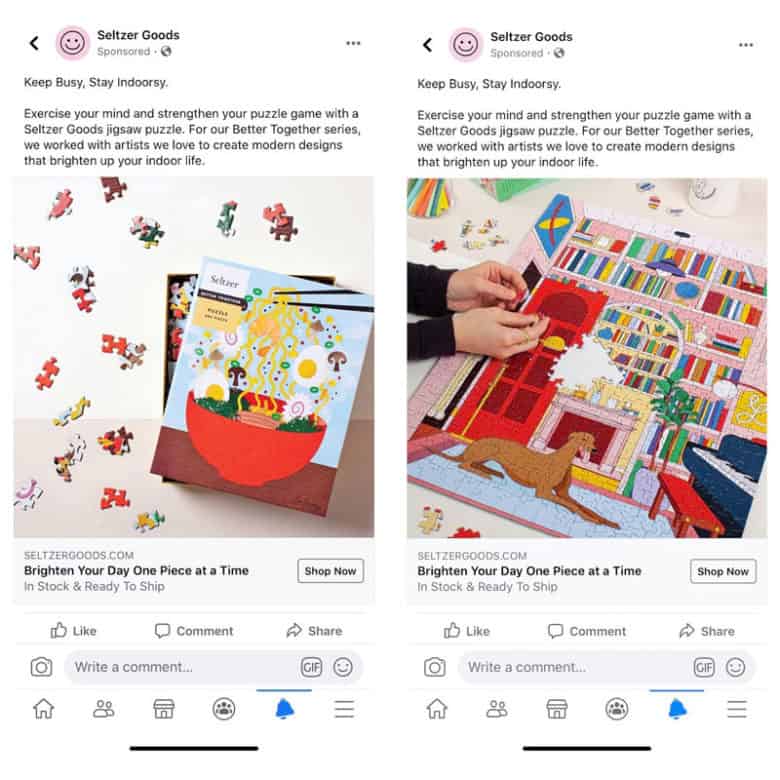 The Ad Creative
When creating the Facebook ad we selected single-image ads in a 1:1 ratio. Since the majority of social media consumption is happening on mobile devices, the 1:1 ratio gives advertisers the best chance of showing the ads in an optimal format to a wider audience. 
The creative we used is great for Facebook and Instagram advertising because it captures and accentuates the fun, bright, and artistic essence of the puzzle. It does a good job of stopping the proverbial scroll and captures a user's attention. 
Here's the first Ad creative we used: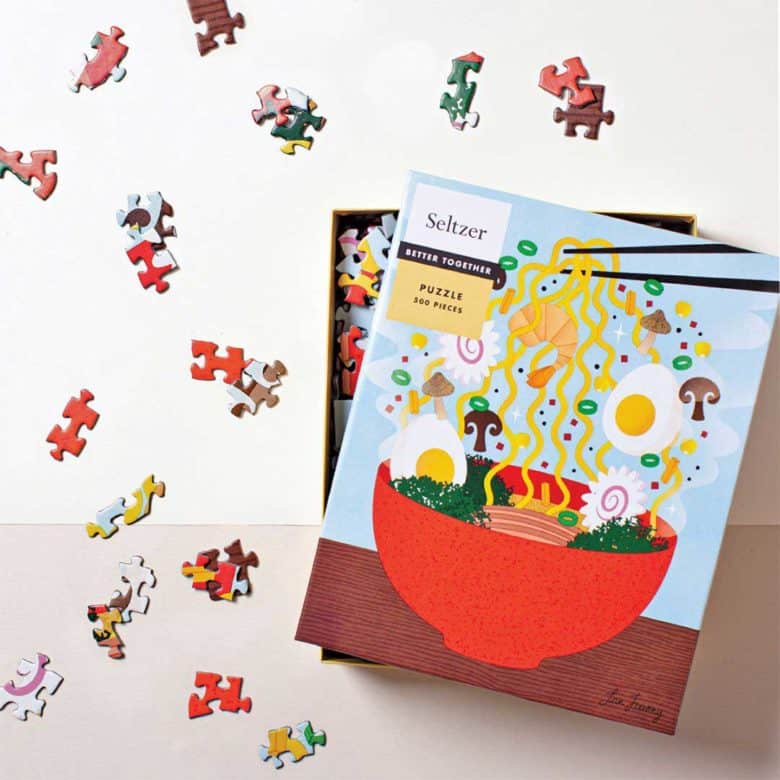 Here's the second Ad creative we used: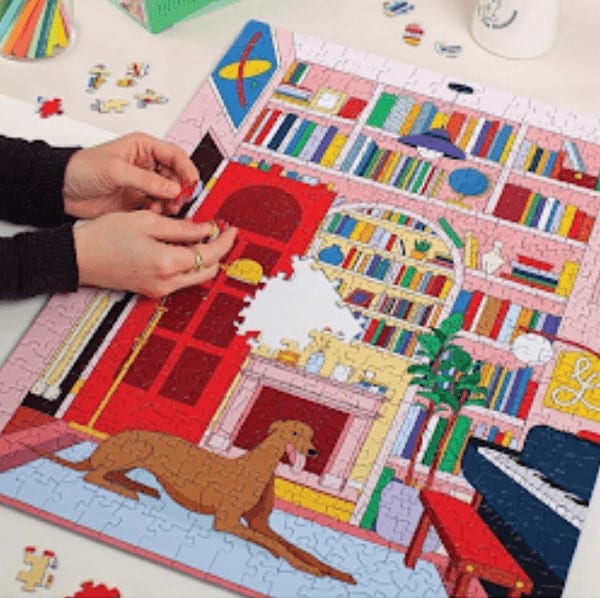 Remember, your ad creative (image, video, or carousel) is the most important factor in a successful ad. It is the one thing that is exclusively yours. Inflow will help you prioritize your creative and vigorously test it to ensure you're leading with the best possible creative. 
The Ad Copy
Here's why we like the ad copy:
It's relevant. Seltzer Goods recognized the value of people staying indoors during the time frame of the ad and added a fun flair to the notion of staying indoors. 

It's positive. Exercising the mind is something that everyone, from doctors and nurses to grandmas, aunties, and your seven-year-old nephew, can agree is good for you. 

A natural call to action was woven into the primary text field: "Strengthen your puzzle game." This statement invoked a subtle nudge in the form of a challenge. Who doesn't respond when called on in such a clever fashion?

A message of togetherness was promoted through the Better Together series, which featured puzzles with modern designs from artists who mean something to the brand. The Better Together series is unique to Seltzer Goods, and by highlighting this information in the ad, users had one more way to connect with the company. 

On Facebook and Instagram, the headline "Brighten Your Day One Piece at a Time" was at the bottom of the ad, which is certainly not your standard headline, like "Get Your Puzzle Today!" or "Hurry, Supplies Are Limited!" This headline encompassed positivity and hope and left no doubt that this puzzle would provide a spark of joy for the purchaser. 

The statement "In Stock & Ready To Ship" was also critical to stress that the puzzles were actually in stock and shipping. During a time when many brands and marketplaces failed to communicate that a product was out of stock until the customer reached the add-to-cart or checkout phase, the fact that the company reassured consumers upfront that its products were ready to go was the final piece to this puzzle. 
Key Campaign Takeaways
Effective creative and copy are your not-so-secret weapons. Stay true to your brand, delight your customers with an ad creative, and you'll win every time. 
Scaling vertically and horizontally can reap huge benefits. You have to have good seed audiences for strong lookalikes. The more recent the seed audience, and the larger the seed audience, the better. 
With our strategy, we were able to generate:
4.5 ROAS (9.68 ROAS with Facebook attribution)

Less than $10 CPA ($4.87 CPA using Facebook attribution)
This accounted for 25 percent of the total revenue at a minimum, or 50 percent if you consider the many touch-points Facebook is able to measure. 
Site-wide sales, however, amounted to the previous seven months of sales in total according to Google Analytics. What was unique about this growth was how growth in one marketing channel led to growth in a completely different one. 
Something to take note of is now that there's more brand awareness, it would make sense to start running Google PPC Ads which can continue growing revenue and repeat purchases. Each Ad platform has a specific purpose and should be used at the right time.
How Paid Ads Affect Organic Search Metrics
After everything was calculated, paid social ads only accounted for 25% of the total revenue generated in this 30-day campaign. 
There's still another 75 percent of the generated revenue unaccounted for, which we attribute to other channels—organic, direct, and referral traffic—that also experienced significant increases in performance.
What can we learn from the campaign's impact on organic, direct, and referral traffic? Facebook and Instagram ads do have a quantitative and qualitative positive effect on these channels. 
While we acknowledge that the time frame was opportune for puzzle vendors, we also know that no marketing effort exists in a silo. We have other partners that experienced increased demand, traffic volume, and transactions as a result of COVID-19, but we are also in a unique situation here because the only marketing change we implemented was focused solely on Facebook and Instagram ads. 
Increased Referral Traffic
The increased exposure of the puzzles and the brand from the paid social campaign led to great backlink and referral traffic coming from sites such as BuzzFeed and Architectural Digest, an increased search traffic (analysis to follow), and a more well-established social presence with increased organic performance.
Here are top-level source comparisons that demonstrate the increase in organic, direct, and referral traffic. We compared the first month we launched our initial Facebook campaigns to the month before.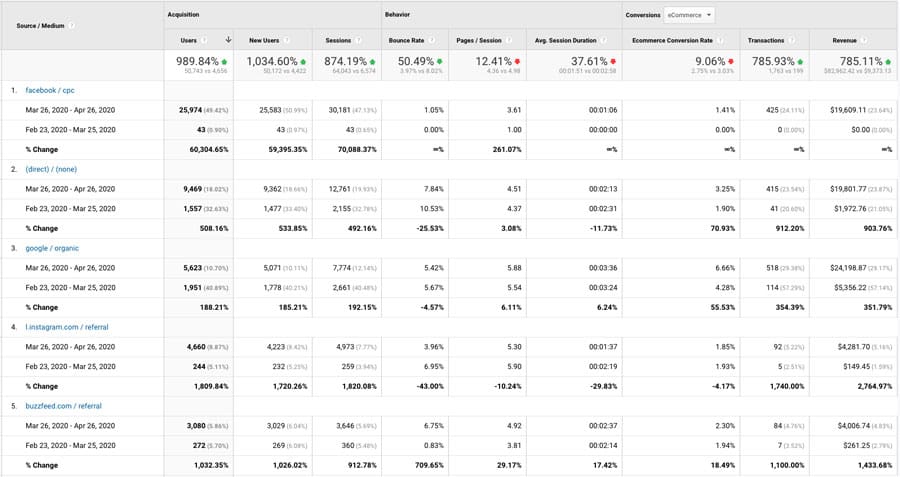 Here are the key takeaways from this data. With paid Facebook and Instagram ads being the only change in marketing tactics, we saw the "rising-tide-lifts-all-boats" effect.

Here are the key takeaways from this data. With paid Facebook and Instagram ads being the only change in marketing tactics, we saw the "rising-tide-lifts-all-boats" effect. In addition to the new cost-per-click (CPC) traffic, direct and organic channels skyrocketed in both traffic volume and conversion rate (185 to 533 percent and 351 to 903 percent, respectively), suggesting both an increase in demand and intent.

Impact of Social Referral Traffic

Furthermore, we saw that some of the referral traffic, such as that from BuzzFeed, found Seltzer Goods through Facebook and Instagram ads, and we saw the same increase in the number of users, the number of conversions, and conversion rates as well (1,026, 1,001, and 18 percent, respectively). 
The impact continued when we examined the organic side of Facebook and Instagram themselves. Organically, the Instagram referral source itself is taking off (~1,700 percent increase in traffic and transactions). This speaks to an increased level of engagement and intent from the users consuming Seltzer Goods content. 
Pro Tip: Be sure to utilize proper UTM structures and naming conventions on your final URLs within Facebook Business Manager. Doing this will allow you to track performance back to Google Analytics and compare different attribution models, which will give greater insight into the overall impact the campaigns had. 
_________________________________
Increased Organic Traffic
Google organic showed strong improvement across the board, and with a conversion rate of over 6.6 percent, we wanted to dig a little deeper and see what we could learn. Here's a fun screenshot that shows a comparison between organic traffic during the time period the ads were running and the previous period, a 183.35 percent increase in users.

Naturally, we wanted to know what types of queries were surging in organic traffic. To analyze the traffic, we used Google Search Console. What we found was highly encouraging for anyone who is struggling to convey the value of Facebook beyond Facebook's attribution model. 
We  the search queries into two primary categories and subcategories:
All Brand Traffic (i.e., Seltzer Goods)

Brand traffic + product-specific mention (i.e., Seltzer Goods + puzzles/pens)

Brand traffic + puzzle product-specific mention (i.e., Seltzer Goods Ramen puzzle)

All Non-Brand Traffic (i.e., 500-piece jigsaw puzzles, paper plants, seven-year pens)

Non-brand traffic with a puzzle product-specific mention (i.e., Ramen Noodle Bowl puzzle)
Organic Search Metrics that improved:
Total brand impressions increased by 105 percent. 

Search clicks increased by 319 percent 

Resulting in a Click Through Rate (CTR) increase of 105 percent. 
Not only did the paid social ads have an impact on the volume of branded search queries in the search engines, but they also had a remarkable impact on the intent of those queries (further reflected by the increased conversion rate). 
Deeper Analysis of Search Data
When we sliced the data further, we saw impressions from Brand Queries + Puzzle jumped 931 percent, with an 831 percent increase in clicks.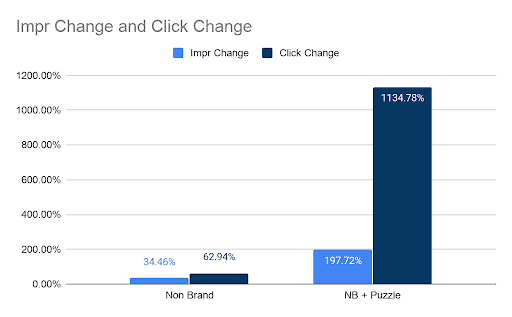 Even more exciting, the non-brand segment of puzzles showed nearly a 200 percent increase in impressions accompanied by a 1,134 percent increase in clicks—the segment with the largest increase in CTR (315 percent). 
While this is a smaller portion of traffic, it reflects the target market we were engaging and lends credence to social PPCs' impact as a branding effort. As mentioned before, we can confirm that there were no active SEO adjustments made during this time that would have had an impact on organic traffic.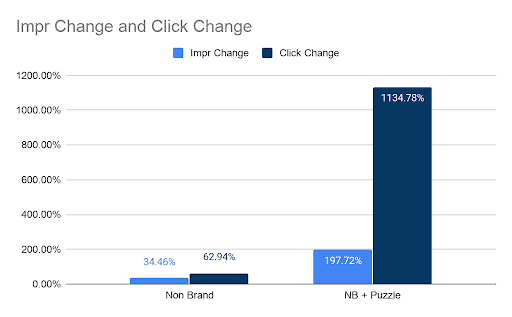 This data is particularly encouraging for two reasons: 
It shows the correlation between strong paid social media campaigns and organic traffic from a brand-awareness, upper-funnel perspective

It demonstrates the correlation between a strong paid social media campaign and its impact on the bottom of the funnel. 
Summary
It's very likely there would have been an increase in puzzle sales given the demand due to COVID-19. However, without the strong Facebook and Instagram ads campaign, the results would not have been as explosive across all digital channels.  
The brand awareness that led to links (and more traffic and sales) and brand searches likely wouldn't have increased to such a degree, nor would we have expected the lifts in organic social. It's hard to parse the exact impact, but we believe that we took a wave of potential performance and turned it into a tidal wave of sales.
Ultimately, Facebook and Instagram ads accelerated the incredible increase in traffic and expansion in traffic portfolios and intent to purchase behavior. By combining relevant targeting and strong creative that embraces both the brand voice and the advertising platform capabilities, we were able to deliver the right message to the right audience at the right time. All of these elements are critical in running a successful digital marketing campaign that has wide-reaching impacts across the entire digital ecosystem. 
This case study success wouldn't have been possible without something worthwhile to advertise. Seltzer Goods has several products that radiate fun, brightness, and positivity. Its advertising messaging and creative stayed true to its brand. It delighted its customers by offering great experiences and first-class customer service, including handwritten notes with the purchases! Follow this formula for success, and you'll win every time. 
Contact us. We'll help you create winning paid social media strategies that impact your digital ecosystem, measure those results, and put you on a path for continuous improvement.