Editor's note: This report was first published in 2018. It has since been updated for accuracy and to reflect our current research.
Of the top 10 eCommerce brands in the world right now, five of them are U.S.-based companies. So, if you're looking to improve your eCommerce Facebook advertising, there's no better place to start than with these retail giants.
As part of our ongoing research into eCommerce best practices, we took a closer look at exactly what these brands are doing with their Facebook ads — to not only guide our clients' current strategies but also keep a pulse on the changing behavior of modern customers.
In today's report, we reveal what we've learned.
We'll cover the current landscape of eCommerce Facebook ads, based on plentiful examples. While some strategies have changed since our initial report in 2018, others have stayed the same. To our surprise, some even go against generally accepted eCommerce Facebook advertising strategies.
Keep reading to learn the answers to the following questions:
How are top eCommerce companies using Facebook ads?
What kinds of creative and copy should brands be pushing?
How are industry leaders adjusting their Facebook ad strategies in response to algorithm and iOS 14.5 changes?
Which Facebook ads perform best for eCommerce?
What can your brand learn from the top online stores?
Note: If you want to create a best-in-class Facebook ads strategy based on this research, Inflow's team is always ready to help.
Our Research Methodology
The data set we used for this report is a representative sample of Facebook ads being run by top U.S.-based eCommerce companies.
We compiled this list of 11 brands according to a variety of reports by eMarketer, Oberlo, SimilarWeb, and Statista. These companies included:
Amazon
Best Buy
Chewy
Costco
eBay
Etsy
The Home Depot
Kroger
For this report, we solely looked at Facebook Ads, excluding any Instagram Ads, Audience Network Ads, and Messenger Ads.
We evaluated all the public aspects of these ads available in Facebook's Ad Library, focusing on ad text, headlines, link descriptions, and ad creative.
For reference, here are some helpful definitions:
Ad Text: the body of the ad
Headline: the main call-to-action
Link description: the text below the headline
Ad Creative: single image, video, or carousel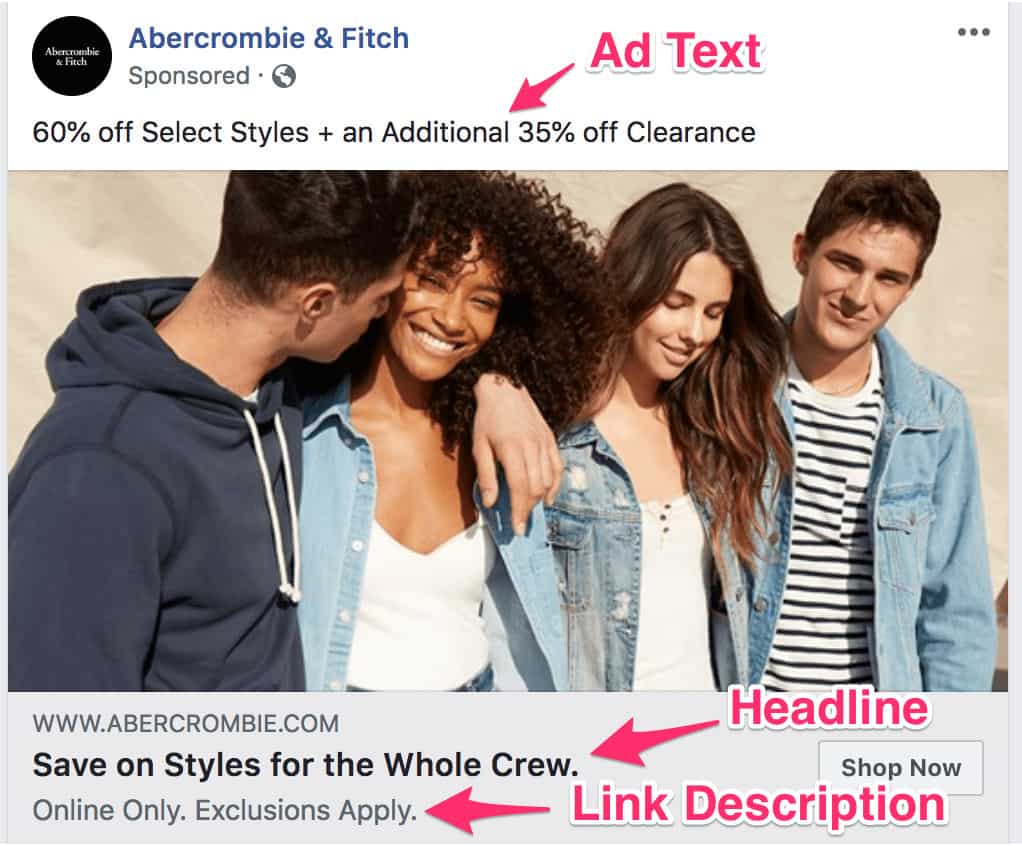 How to View Competitors' Ads on Facebook
If you want to dive deeper into this data, Facebook offers several transparency options.
To see the ads that a competitor is running on Facebook, first go to that brand's page.
From there, scroll down to the Page Transparency Box on the left-hand side.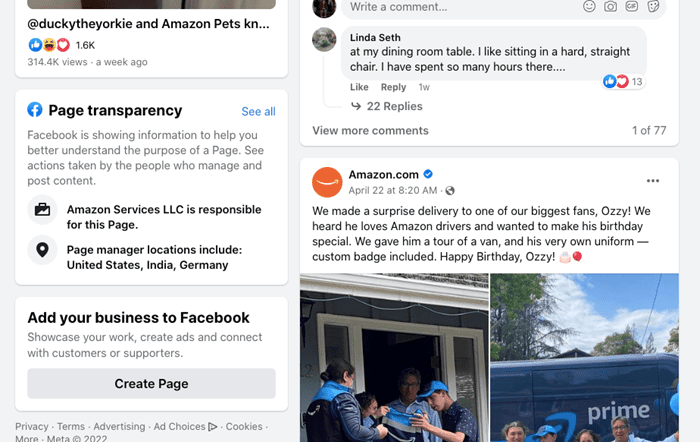 Click "See All."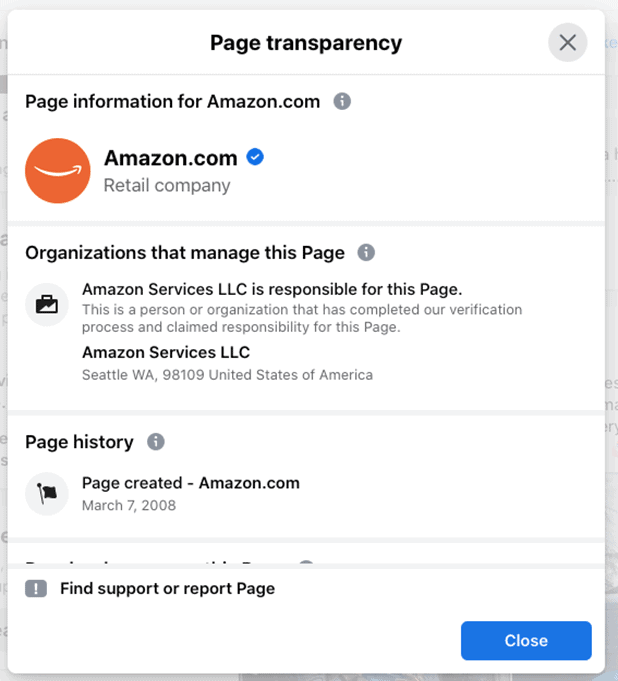 Scroll down to "Go To Ad Library."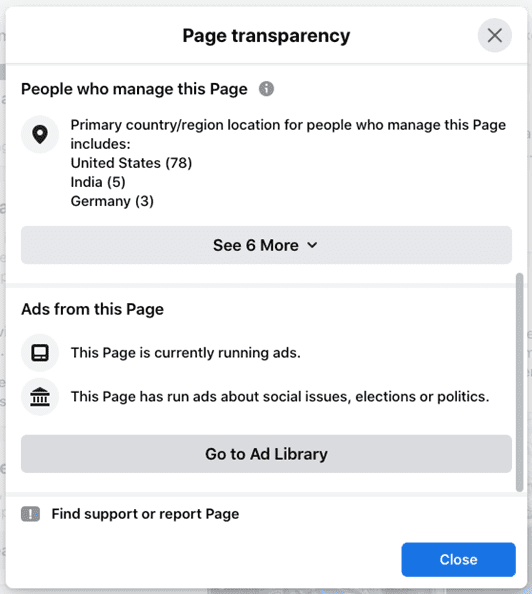 From there, you can see some (but usually not all) of the ads a company is running. (You can also access this directly by searching a brand's name within Facebook's Ad Library.)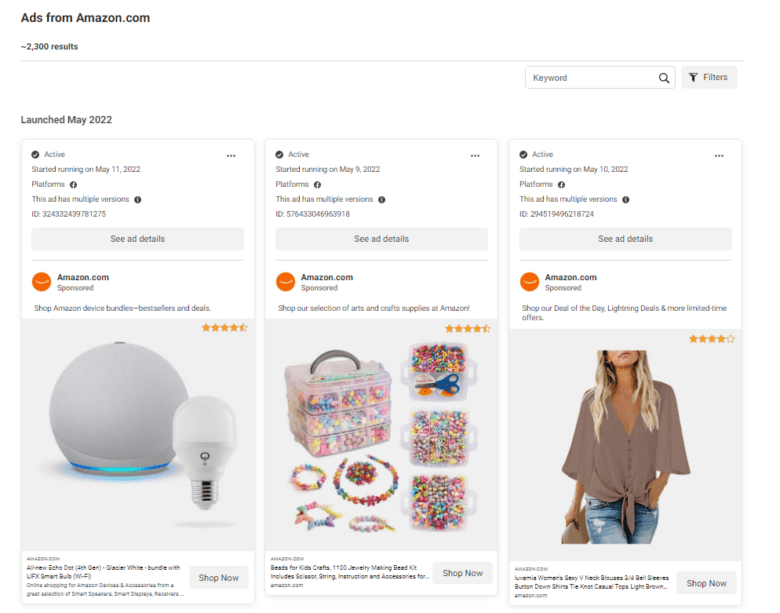 For brands with a large number of ads (like Amazon), there can be far more ads running than shown by Facebook in its library. There can also be many variations of each ad that change based on dynamic targeting, retargeting, and other factors.
As a result, Facebook often only shows a handful of useful and representative ads being run by a page.
By reviewing your competitors' ads here, you can learn more about:
Opportunities for target audiences, including potential customers
Copy and creative strategies
What's currently working for your competitors
And how you can co-opt that for your brand, too
Best eCommerce Facebook Ad Examples: Trends & Strategies to Try
In our research, we uncovered seven trends and best practices for your eCommerce company to consider when it comes to Facebook ads.
We'll also share some good eCommerce Facebook ads examples and how you can replicate them in your own paid social campaigns.
Not all of these strategies will be home runs for your company, but they provide an actionable starting point for brands looking to expand or enhance their current Facebook ads strategy.
Here are our biggest takeaways:
Top eCommerce companies don't appear to follow all the standard advice regarding Facebook ads. Strategies like running ads to collect email addresses, for example, seem non-existent in this space.
Brands aren't trying to hide the fact that they're running an ad. They make their offers obvious.
Most ads have limited text and full-size images that focus on products or product categories.
Most companies are running image ads without text.
Single-image ads are the most popular ad type now, although video ads can be beneficial.
1. Focus on Revenue, Not Engagement.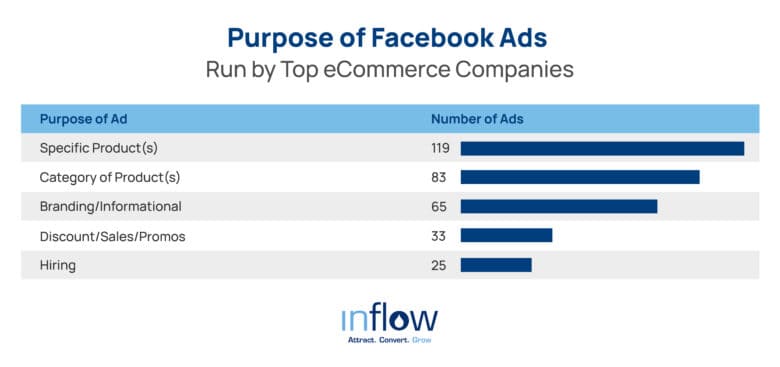 Hardly any of the ads run by industry leaders are mining for engagement. You'll very rarely see ads asking for email addresses, likes, or follows.
Instead, all top brands used their ads to promote single products or product categories, with occasional ads for sitewide sales and daily deals.
These brands are selling products, which means their ads are heavily focused on driving revenue. We found that most of these ads follow the KISS (Keep It Simple, Silly) method.
In other words, ads are straightforward, with minimal text or other distractions.
When you run ads on Facebook, you're not going to fool your audience into thinking your posts are organic. So, you might as well run play up the "ad" part of your ad!
Focus on encouraging your Facebook users to click through to the product page, rather than boosting engagement.
That said, certain brands are using Facebook ads to share supplemental features, employment opportunities, or social proof. For example, The Home Depot has run ad campaigns that promote its new app, rather than any specific product: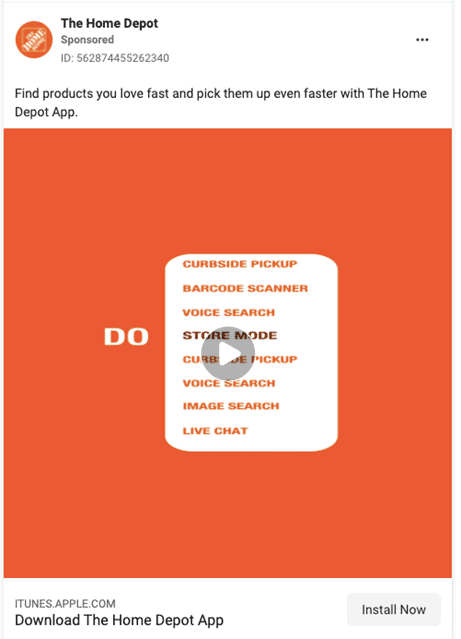 Still, the vast majority of top campaigns right now are aimed at driving revenue (as yours should be, too).
2. Keep Your Ad Text Short.
Most of the eCommerce Facebook ad examples we found had very minimal ad text. Generally, this meant a single sentence, sometimes two.
We rarely saw ads with more than 1–3 lines to read, with an average ad text length of 18.9 words. This matches up with the industry average as a whole (as reported by AdEspresso in 2018.)
Any ads with longer ad text usually included a disclaimer about terms and restrictions or a longer-form customer testimonial.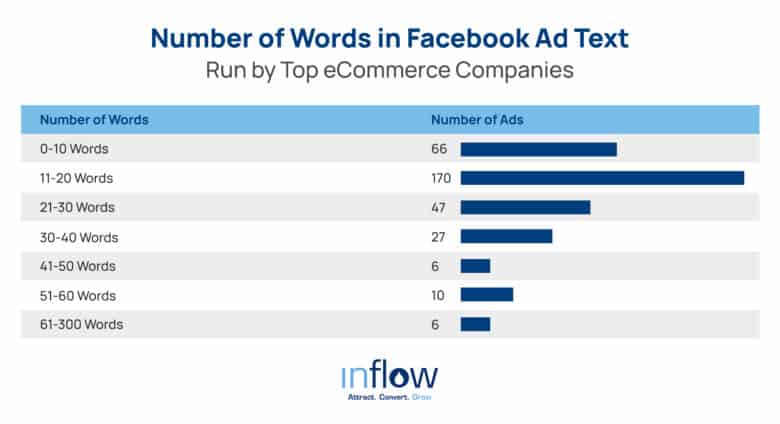 Keeping ad copy short focuses the attention on the product advertised in the image and doesn't distract from the visual interest.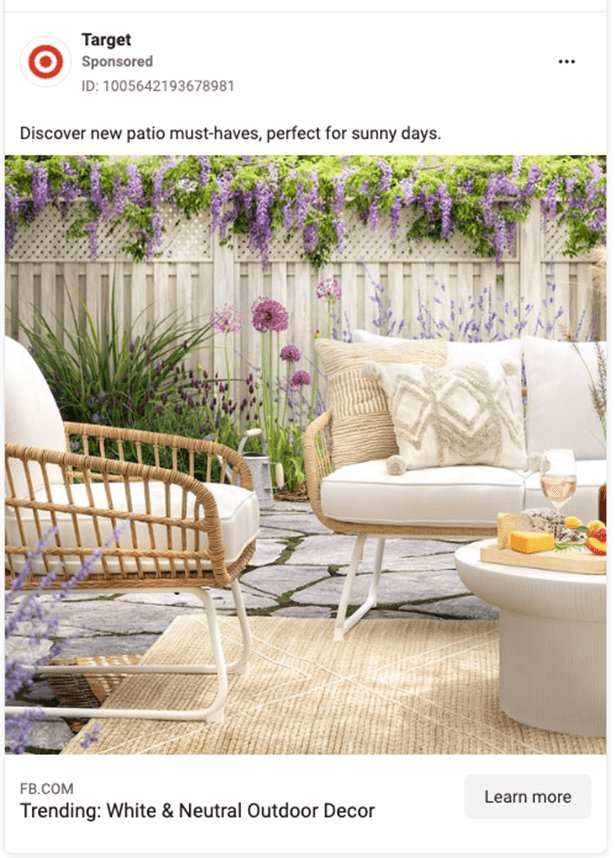 However, certain brands in our study embraced longer ad text, usually as part of branding and storytelling — or, in a nod to ongoing labor shortages, as a way to entice potential candidates in hiring ads.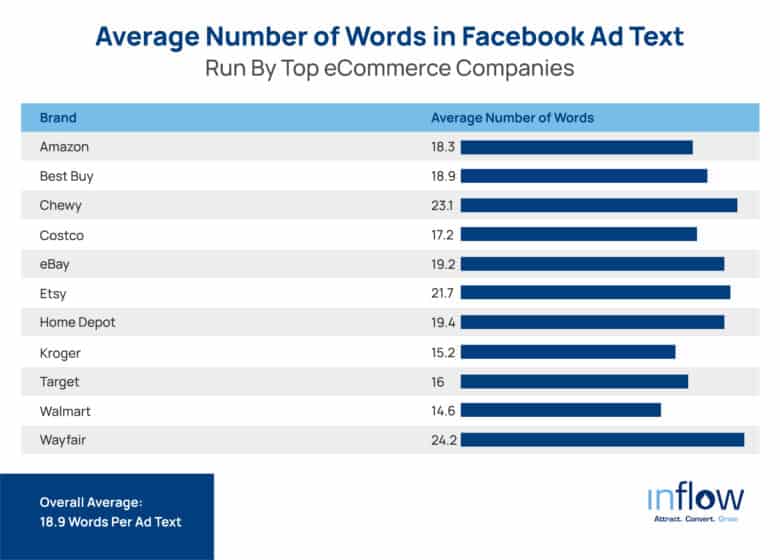 Take, for example, Chewy. Because the brand sells pet products that can be found anywhere, Chewy's ads must lean into brand-building and creating a connection with their customers, both by offering free shipping and speaking personally to pet owners.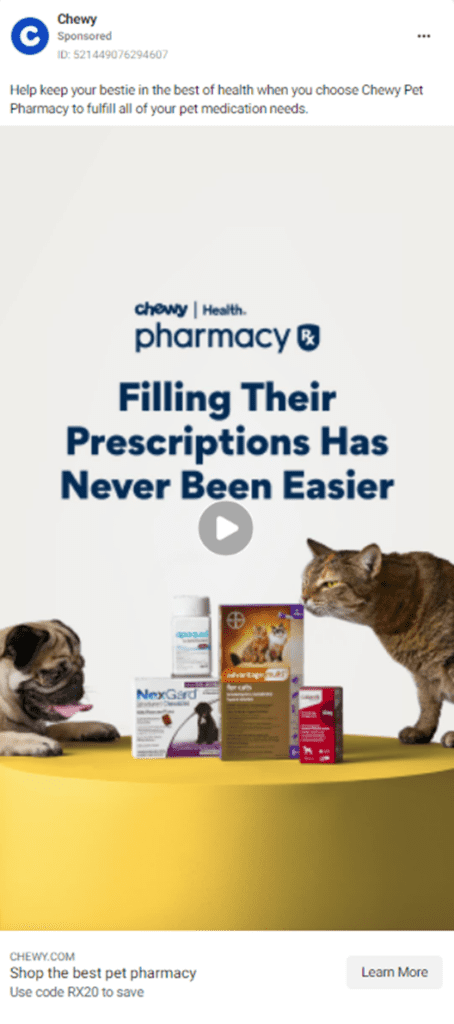 Another anecdotal trend to note: We rarely saw companies making use of emojis in their ad copy — which makes sense when an ad's purpose is purchase, because emojis are more useful in increasing customer engagement.
Hot Tip: Most of the top brands' ad text incorporated aspirational marketing rather than focusing on a customer's pain points. A spot of optimism in an otherwise chaotic Facebook feed might help boost your customers' moods and promote a purchase!
3. Use Short Headlines, if Using Them At All.
There are three ways we're seeing brands use headlines:
No headline (keeping the ad simple and straightforward)
A short headline as a CTA
A longer headline, featuring the lengthy name of the product, category, or legal jargon
Short headlines (or no headlines) are by far the most common theme among top eCommerce companies.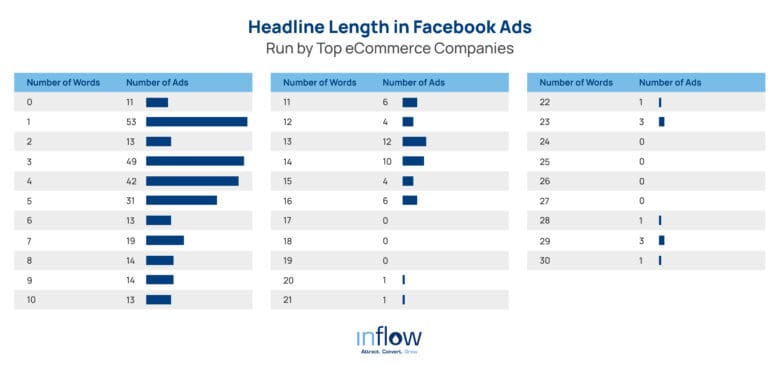 If a company was using a headline at all, it frequently was to use this space as an additional call to action (CTA).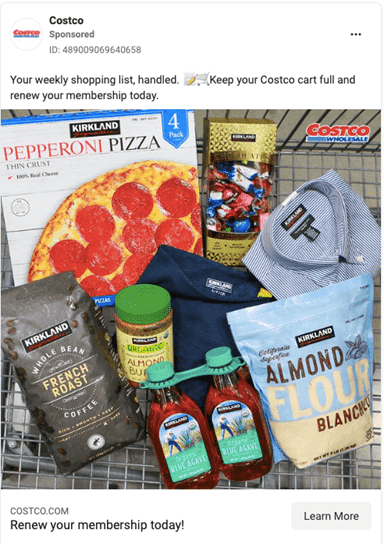 Because the headline comes at the end of an ad, it makes sense that this space be used minimally, perhaps as a reminder of the CTA or as a holding space for legal language.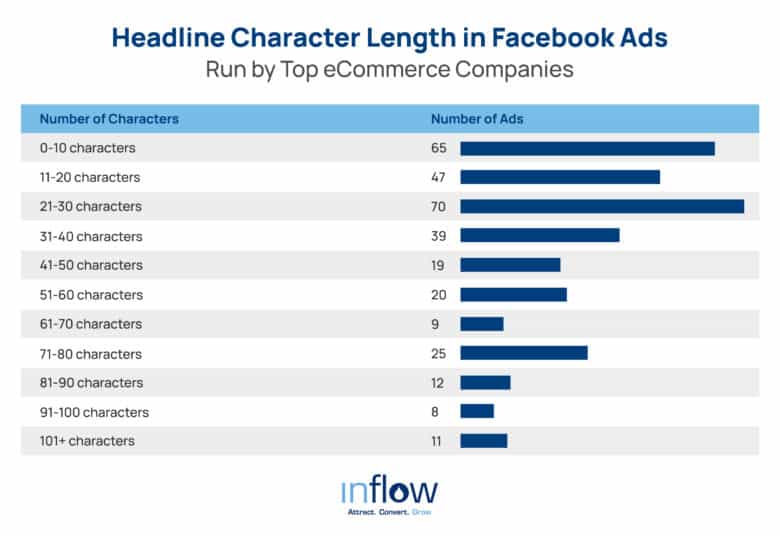 4. Don't Stress the Link Description.
Most ads run by top eCommerce companies didn't include link descriptions.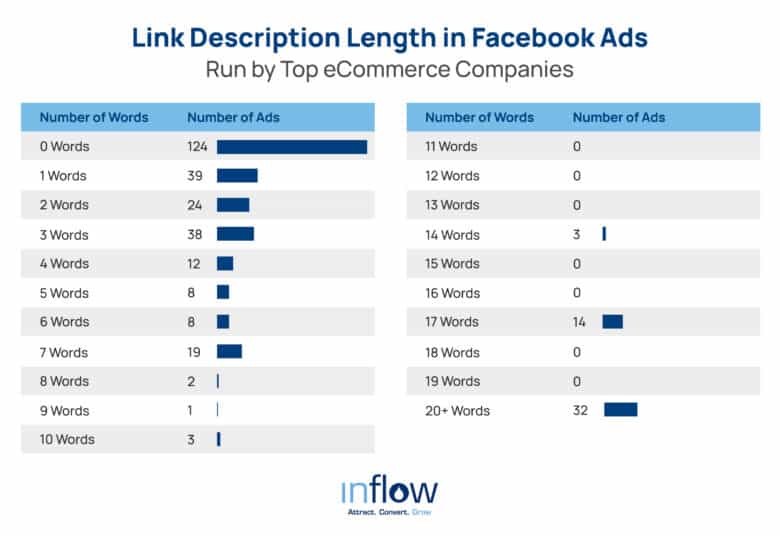 For those that did, they didn't often literally describe the link.
Instead, most link descriptions are used as an area for brands to host a disclaimer or specific description of the products — for example, telling the audience that prices may vary depending on location, or what the specific name of the product or service being advertised is.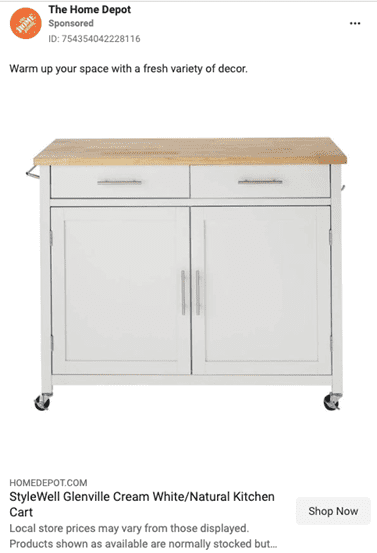 We frequently saw text overflow on link descriptions (as demonstrated above), further indicating the low importance of this section.
If Facebook users can't read the entire text, don't put your most important copy at the bottom of the ad where it just runs off the page anyway.
5. Use Straightforward Calls to Action
Most of the CTAs we found in our research this time around were very straightforward ones — calling the customer to "Shop Now" or "Shop [this specific product or category] for a Limited Time," rather than trying to be clever and creative.
When we last conducted this research in 2018, CTAs were more engaging. But today, in 2022, brands are keeping it very simple and very obvious to highlight the value proposition of the product and current sales.
Also of note, we're seeing the word "shop" used the most when it comes to current CTAs — again, very to-the-point and revenue-focused.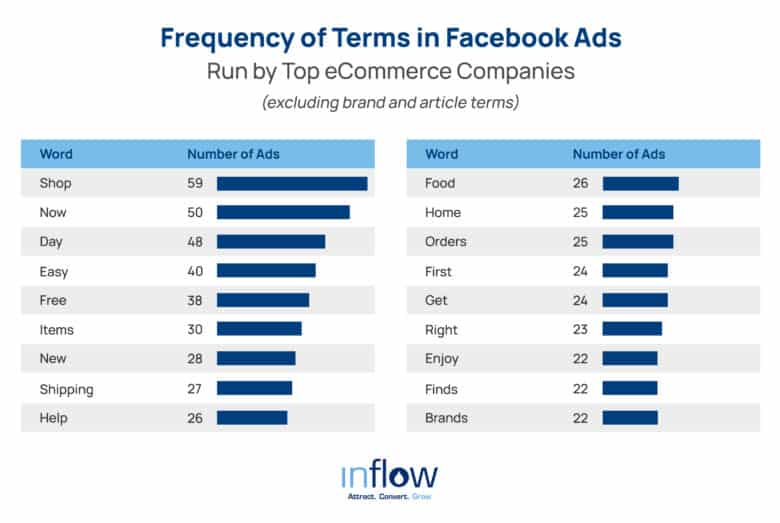 6. Let the Product Speak for Itself.
Often, the Facebook ads we researched featured only an image or a video — with no additional text.
Some brands were experimenting with text on ads, but they tended to keep the text to five words or less (67% of ads in our report).
Most of the ads featured a simple photo of the product being advertised on a white or light grey background.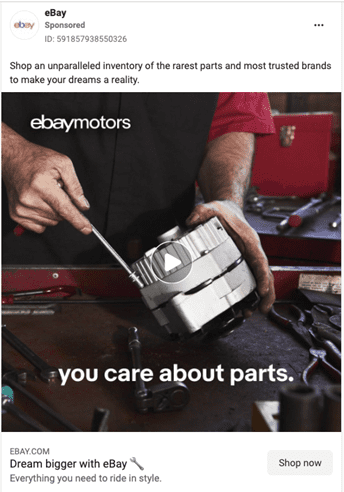 Today's marketers aren't going for over-the-top, eye-catching visuals. The simple nature of the ad creative reiterates much of the rest of our findings — that these eCommerce giants are keeping their advertising simple and revenue-focused.
This strategy relies on careful targeting and audience awareness of your brand or product. Relevance is key when it comes to simple, product-driven advertising.
7. Keep It Simple with Single-Image Static Ads.
When we created our original report, the Facebook carousel ad was the most popular product ad format. We've seen the popular types of ads shift a bit over the years since.
Today, most of the ads being run by top eCommerce companies are single image ads.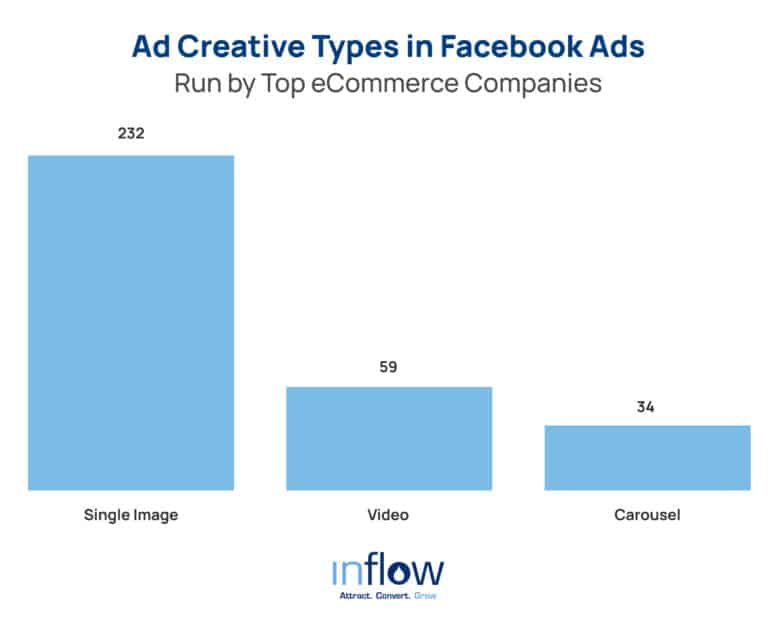 As you can see from many of the eCommerce Facebook ad examples we've shared here, current ads often highlight a specific product or category with one high-quality graphic.
That said, video ads are still a popular choice — but be mindful to keep the creative human-focused if you go this route. Most Facebook video ads by industry leaders highlight influencers, employees, or affiliates, offering a clear value proposition conveyed through real-life scenarios.
Video ads do not often highlight a product or category without also incorporating social proof and testimonial feedback from trusted sources.
As an example, Walmart recently launched a video-heavy campaign focusing on hiring more CDL-A drivers. Even this campaign is clearly communicating an aspirational value proposition that includes human-centered creative: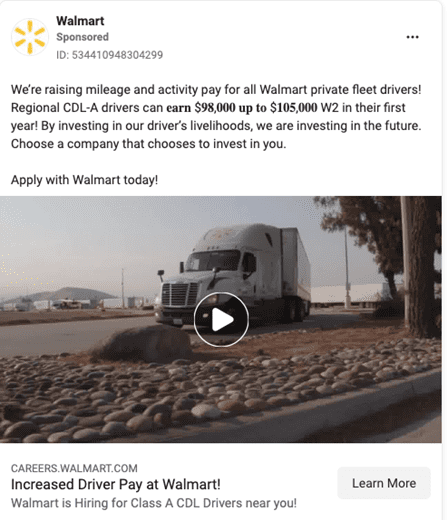 Our Advice: Test Before Adapting Any Strategy
In some ways, the findings we present in this article seem completely contradictory to common Facebook ad campaign strategy suggestions.
For example, we've found that many brands try to use Facebook ads to increase brand awareness or to get more Facebook fans — but that often doesn't deliver the best ROI.
Other Facebook Ad strategists suggest that video is where all online advertising should be, but today's top eCommerce companies are using video much more conservatively.
While all of this research is interesting to dive into, there's an important caveat: We can't say from this study whether these ads are successful at driving sales and increasing conversion rates for these major brands.
Keep in mind that what works for household names may be different than what works for smaller businesses. Our experience in offering social media advertising services to a variety of eCommerce stores has taught us that any paid social strategy should be highly customized to match your unique goals and the market you're trying to reach with your efforts — not a copy of your competitors' strategy.
For example, you need to consider the length of the buyers' journey. Do you have a quick-buy product with little to no consideration period? Or do you have a more expensive product that requires more time and financial investment from your audience (and for which a retargeting ad would be key)?
Each of these will require slightly different digital marketing strategies.
Even with so many variables, the fact that all of the biggest eCommerce businesses are investing in Facebook ads is a strong hint that the ROI is there to justify the investment.
Whether you want to incorporate these trends into your strategy, or you're looking for a brand-new Facebook Ads approach for your business, Inflow's paid social team is happy to help. Request a free proposal today to see how we can improve your performance and revenue.