In today's digital-first environment, data-driven decision-making is the cornerstone of successful businesses. Whether it's crafting a compelling PPC campaign or optimizing a website for SEO, understanding user behavior is essential.
Google Analytics 4 (GA4) and Google Tag Manager (GTM) have become indispensable tools in this regard. They offer insights into website traffic, user interactions, and conversion paths, helping businesses fine-tune their strategies.
But, to truly harness the power of these platforms and ensure that your digital marketing efforts are paying off, ongoing GTM and GA4 monitoring and support are vital. Otherwise, you risk missing out on crucial data needed to successfully optimize your campaigns.
Here at Inflow, we've been configuring the nitty-gritty bits of Google Analytics for countless clients over the last year. If there's anything we've learned, it's that GA4 isn't a "one-and-done" situation — and you can't expect your initial setup to encompass everything that your business needs to succeed.
In this blog, we'll offer 10 reasons why you should employ an agency like ours for continuous GTM and Google Analytics account monitoring in the months to come:
1. Keeping Pace With Platform Updates
The digital landscape is in a constant state of evolution. What's at the forefront today might become old news in just a few short months.
This is especially true for tools and platforms like GA4 and GTM, which continually adapt to new technologies and market demands.
Consider the release frequency of GA4 alone: From January 2023 until October 2023, Google Analytics had an impressive 33 new releases. That means, on average, every month brings two to three updates or enhancements to the platform.
Such regular updates signify Google's dedication to refining and expanding its analytics capabilities.
This constant evolution underscores the importance for businesses to remain vigilant and adaptive. Falling behind on even a few updates can mean missing out on essential features or data points that can provide critical insights into user behavior and site performance — or even interfere with (or break!) the tracking code you set up earlier.
Ongoing monitoring and support ensure that your business is always in sync with these changes. By consistently updating your analytics setups, you can harness the latest functionalities and derive the maximum value from your data (more on that later).
Hint: You can always keep an eye on Google's analytics updates here.
2. Ensuring Data Integrity and Accuracy
Accurate data is the backbone of any effective digital strategy. Whether you're optimizing PPC campaigns, refining SEO strategies, or assessing user interactions on your website, the data you rely on needs to be both precise and reliable.
However, even small errors in tracking setup or misconfigurations in GA4 or GTM can lead to skewed analytics data that, if unnoticed, can divert your strategies in the wrong direction.
Consider a scenario where a new marketing campaign is launched using a unique UTM parameter — but due to an oversight, this UTM parameter hasn't been accounted for in GA4's default channel grouping. As a result, traffic from this campaign could be wrongly categorized, say, under "Direct" rather than "Paid Search."
This misclassification can lead to a significant undervaluation of the campaign's effectiveness and misinform decisions regarding budget allocation and optimization.
With ongoing Google Analytics support and monitoring, you ensure that such discrepancies are spotted early and rectified promptly. Regularly auditing and reviewing your GA4 and GTM setup guarantees that the data feeding into your reports is as accurate as possible.
And, in the realm of digital marketing, where decisions often hinge on detailed insights, maintaining impeccable data integrity is crucial.
3. Adapting to Website and Business Evolutions
Businesses are dynamic entities; they evolve, expand, and sometimes pivot to new strategies or markets. Similarly, websites undergo redesigns, feature additions, and structure changes to better serve business objectives and user needs.
With these evolutions, the analytics setup also needs to adapt to ensure it accurately captures the right data.
Imagine launching a new product category on your eCommerce platform or restructuring your services on the website. Such changes can introduce new user interactions, conversion paths, or even entirely new conversion goals.
If your GA4 and GTM aren't updated in tandem with these changes, you could miss out on capturing valuable insights about how users are interacting with these new elements.
For instance, a business might introduce a chatbot feature to improve customer service. If the GA4 and GTM setups don't evolve to track interactions with this chatbot, the business might remain oblivious to its performance: Are users finding it helpful? Is it leading to more conversions or higher user satisfaction?
Ongoing monitoring ensures that, as your website and business strategies evolve, your analytics configurations are also updated. This continual adaptation ensures you're always drawing insights from every corner of your digital ecosystem and making informed decisions based on comprehensive data.
Note: Google Analytics 4 support is always included as part of our comprehensive website migration services, to ensure all of your site updates are properly accounted for and tracked in your GA4 properties.
4. Maximizing Advanced Features and Integrations
Neither GA4 nor GTM are static platforms. They're continuously enhanced with new features, capabilities, and integrations to cater to the diverse needs of businesses and the larger digital ecosystem.
Not staying updated can mean missing out on leveraging these powerful features to their full potential.
For example, GA4 introduced a feature known as "BigQuery Export," allowing users to export their data into Google BigQuery for advanced analysis. By integrating with BigQuery, businesses can combine GA4 data with other historical data sets, perform more complex analyses, and uncover deeper insights that wouldn't be possible within GA4 alone.
Similarly, GTM has seen the introduction of various new tag templates and integrations over time. These APIs simplify the process of deploying third-party tools on your website. Without ongoing Google Tag Manager support and monitoring, you might still be doing things the old way, missing out on easier, more efficient methods of achieving the same goals.
The video below is hosted on YouTube. If you need assistance with viewing the video, please contact [email protected].
Let's consider another real-world scenario:
Suppose you're using a customer relationship management (CRM) tool like Salesforce, and GA4 rolls out a deeper integration feature for it. Without proper monitoring and updates, you might never realize that this new integration can allow for better audience segmentation, retargeting, and even lead attribution by syncing website activity with CRM data.
In essence, failing to keep up with these advancements means not maximizing the potential benefits they can bring to your digital strategy.
By continuously monitoring and updating your GTM and GA4 setups, you ensure that you're always using the latest tools and features at your disposal, streamlining processes, and gleaning better insights from your data.
5. Complying with Privacy & Security Demands
In our digital age, privacy concerns and data security can't be ignored. Users are more aware of their digital rights, and governments are implementing stricter regulations to ensure those rights are protected.
Tools like GA4 and GTM, which handle vast amounts of user data, need to be continuously monitored and updated to stay compliant with the latest rules and best practices.
Here are some points to consider:
Consider this example: A business has been collecting data on its European audience without properly obtaining consent, going against GDPR guidelines. An ongoing monitoring system would have flagged this issue, prompting the necessary adjustments in data collection practices. This could include implementing consent banners or adjusting tracking settings in GTM to align with legal requirements.
In essence, ongoing GA4 and GTM support ensures that you're not only adhering to the latest privacy and security standards — but also preserving the trust of your users and avoiding potential legal pitfalls.
The video below is hosted on YouTube. If you need assistance with viewing the video, please contact [email protected].
6. Advancing Your Data Analysis and Actionable Insights
GA4, with its comprehensive analytical capabilities, offers insights that, when used to their full potential, can guide transformative business strategies.
However, these advantages are best realized with regular monitoring and support.
Why?
The video below is hosted on YouTube. If you need assistance with viewing the video, please contact [email protected].
Consider an eCommerce business that has recently launched a new product line. With GA4's custom event tracking, they can monitor specific interactions related to this product, such as clicks on its promotional banner or time spent on its landing page. And, with regular analysis of this data, the business can quickly gauge the product's reception, adjust marketing strategies, or even make changes to the product based on real-time feedback.
In summary, actively engaging with GA4's analytical features through continuous support helps businesses stay agile, making informed decisions that align with their current objectives and the evolving preferences of their audience.
7. Understanding Multichannel User Journeys
From social media to organic search, from email campaigns to direct traffic, understanding the complex web of user interactions is crucial for any business aiming for growth.
GA4, with its emphasis on user-centric data, is designed to provide a clear picture of these multichannel journeys. But, to tap into its full potential, ongoing monitoring and support become indispensable.
Here's why:
Consider a business that runs both paid search advertising campaigns and organic content marketing efforts. Without a clear understanding of multichannel user journeys, they might attribute a conversion solely to the last interaction — say, a click on a paid ad.
However, with GA4's insights, they might find that the user first discovered the brand through an organic blog post, then interacted with a social media post, and finally converted through a paid ad. This deeper understanding can significantly influence how they allocate their marketing budget and resources.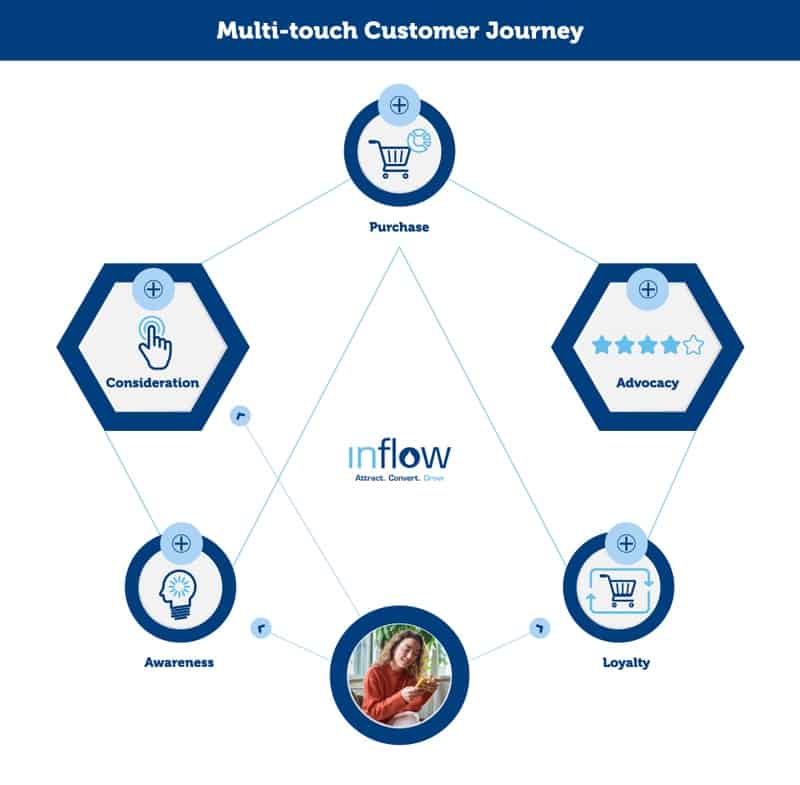 By continuously monitoring and optimizing for multichannel user journeys in your Google Analytics property, you can ensure your business is making the most of every touchpoint, leading to more effective strategies and better ROI.
8. Optimizing Campaign Performance and Budget Allocation
In the competitive digital marketing landscape, every penny counts. Ensuring that campaigns perform at their peak and budgets are allocated efficiently is paramount.
With ongoing GA4 monitoring, you gain real-time insights into which campaigns are driving results and which might need tweaking or re-evaluation. For instance, if an email marketing campaign is showing higher engagement and conversion rates compared to a paid ad campaign, resources might be reallocated for maximum impact.
Furthermore, GA4's advanced features allow for segmenting audiences based on behavior, enabling you to target your campaigns more effectively.
Take, for example, a company running multiple campaigns across Google Ads, Facebook, and email. By consistently monitoring results in GA4, they can quickly determine which platform is yielding the best ROI and adjust their budget accordingly.
This not only optimizes current campaigns but also informs future strategies, ensuring every marketing dollar is put to its best use.
9. Detecting & Correcting Anomalies in Real Time
As website traffic ebbs and flows, new challenges and anomalies can suddenly appear, sometimes without a clear immediate cause. A sudden drop in traffic, a spike in bounce rates, or a decline in conversions can happen at any moment.
These anomalies, if left unchecked, can severely impact business metrics and, eventually, the bottom line.
With ongoing GA4 monitoring, you're not just passively observing data; you're actively looking for unusual patterns or disruptions in the data flow.
Say, for instance, a product launch is expected to draw substantial traffic to a website. But instead of the anticipated spike, GA4 shows a decline. Immediate monitoring can pinpoint whether there's an issue with the campaign link, a page loading error, or some other hindrance affecting user experience.
Similarly, for online retailers, a sudden drop in checkouts could indicate problems with the payment gateway. Real-time monitoring ensures these anomalies are not just detected but rectified promptly, ensuring smooth user experiences and consistent business operations.
In short, continuous oversight of GA4 is like having a 24/7 guard, always on the lookout for potential threats or glitches that could disrupt your digital strategy.
10. Optimizing Conversion Paths and Funnels
We all know that conversions are king. They're the tangible proof of a campaign's effectiveness, showing that users are not just visiting but also taking desired actions — be it signing up, making a purchase, or downloading content.
However, while driving traffic to a site is crucial, ensuring that traffic navigates seamlessly and converts is equally important.
GA4 provides a detailed view of user conversion paths, shedding light on the routes users take before they make a decision. But just having this data isn't enough; ongoing monitoring and support ensure that this information is consistently used to refine and enhance conversion paths.
The video below is hosted on YouTube. If you need assistance with viewing the video, please contact [email protected].
For instance, if a particular landing page is seeing high traffic but low conversions, it might indicate a disconnect between user expectations and the content provided. Continuous monitoring can highlight such discrepancies, prompting necessary changes.
Moreover, with the evolution of user behaviors and preferences, conversion funnels can also shift. What worked a few months ago might not be as effective today.
By maintaining regular oversight of GA4 data, your business can adjust its funnels in real-time, ensuring you're always aligned with user behaviors and trends.
Your goal is to make the journey from a visitor to a converter as frictionless as possible, and ongoing GA4 support is pivotal in achieving this objective.
The Bottom Line: Why Continuous GA4 and GTM Oversight Pays Off
Falling behind on tracking and data analysis can cost your business more in missed opportunities and inefficiencies than the investment required for ongoing GTM and GA4 support.
Ensuring your tracking systems are up-to-date and leveraging the latest features not only provides a competitive edge but also ensures that marketing budgets are allocated effectively.
In the long run, the return on investment for consistent monitoring and support far outweighs the costs, driving optimal performance and maximizing the potential of every digital initiative.
—
Learn more about Inflow's continuous GTM and GA4 support by contacting our team today. We'll build a custom scope of work for your business needs, making sure you get the data and insights you need to achieve your goals.
In the meantime, check out any of our other Google Analytics resources below: